KGB Map of Alien Bases On Earth
There are many reports of underground bases reported around the world.  A comprehensive list can be found here compiled by Bibliotecapleyades  and another list can be found here compiled by UFO-Aliens.
New York City  There is an entrance to the tunnels in New York City "in the vicinity of Midtown Manhattan that can be reached through an abandoned elevator shaft that only very few know about
The Nahanni Valley (Canada) Entrance  This covers 250 square miles in the southern end of the Mackenzie Mountains of Canada. It lies almost 550 miles due west of Fort Simpson on the Mackenzie River of northwest Canada. Hot springs and sulfur geysers keep the valley warmer than the surrounding areas by about 30 degrees year -round (the valley is above 60 degrees latitude), making it perpetually mist-covered. This valley is inhabited only by animals as people entering the valley are usually found headless and quite dead. The Indian tribes of the area avoid this valley. (These tribes include the Ojibways, the Slave, the Dogribs, the Stoney, the Beavers and the Chipweyans.) This valley is often referred to as "the Valley of the Headless Men.
The Liyobaa Cave Entrance  This was sealed off by Catholic Priests who believed it to be an entrance to "Hell." "The village of 'Liyobaa' or to translate, 'The Cavern of Death,' was located in the province of Zapoteca, somewhere near the ancient village of 'Mictlan' or the village of the 'Underworld.
"The Cavern of Death was actually located in the last chamber of an eight chamber building or temple. This temple had four rooms above the ground and four more important chambers built below the surface of the Earth. This building was located in "Theozapotlan," and the tunnel entrance led one beneath a mountain.
KGB Map of Alien Bases On Earth
United States Underground Cities, Bases and Tunnels Systems
GOVERNMENT MAP OF UNDERGROUND TUNNELS
For the complete list see:   http://www.bibliotecapleyades.net/sociopolitica/esp_sociopol_underground18b.htm
These areas were found off a government map showing just some of the underground bases in the United States.
EDWARDS AIR FORCE BASE :From Edwards a tunnel goes to Vandenberg Air Force Base From Vandenberg you back up to Edwards and go Southeast to subterranean base at a place that the map designates as Cat., which probably means Catalina Island, showing a flying saucer there so alien space crafts are probably seen there.
The map shows an underground base and a tunnel going into it at a place called 29 palms.
The next place on the map where an underground base is, is the Chocolate Mts.
There appears to be a site in Nevada at Tonopah, Area 51 at Groom Lake, and a place designated as COG AFB.
In Arizona we have sites at Wickiup and Page.
Utah there is one at Salt Lake City (R&D AFB).
There is one in Riverton "M", Denver, Colorado, Colorado Springs, COG Creedo and Delta.
In New Mexico they are at Dulce, Taos, Los Alanos, ALB, AFB, Datil and Carlsbad.
In Texas there is one at Lubbock. Denton "908" (C.O.G) seems to have an isolated one, Ft. Stockton and in Old Mexico there is one at Chihuahua.
Tulsa Oklahoma has one and just NE of there we appear to have one with a saucer coming out of it.
Hutchison AFB Kansas has one.
Google Earth UFO Alien Human Secret Base
Arizona Tunnels and Caves
GRAND CANYON – Cave[s] near the confluence of the Colorado and Little Colorado rivers. Hopi legends say that their ancestors once lived underground with a friendly race of "ant people" [not to be confused with the sinister "mantis" people described by several abductees], but some of their kind turned to sorcery and made an alliance with lizard or serpent men known as the "two hearts", which dwelt in still deeper caverns below. The "flood" of evil and violence forced the peaceful Hopi's to the surface world. An explorer named G. E. Kincaid claimed to have found "one of" the ancient caves, in which were reportedly discovered Oriental, Egyptian & Central American type artifacts.
Smithsonian archaeologists S. A. Jordan and associates also explored the man-made cavern with hundreds of rooms, enough to hold over 50 thousand people. The underground city is about 42 miles up river from El Tovar Crystal Canyon and Crystal Creek, and about 2000 feet above the river bed on the east wall. John Rhodes after 3 years of field research reportedly discovered the Grand Canyon city, which is now being used as a museum for elitist groups and has lower levels that are being used by "super secret black book operatives", which can only be entered via a stainless steel door at the bottom of a stairwell deep within the "city" that is "guarded by a very lonely soldier staring into the darkness… dressed in a white jumpsuit and armed only with an M16 assault rifle to ward off his imagination."
Source: ARIZONA GAZETTE, March 12, 1909 & April 5, 1909; Robert Morning Sky; John Rhodes
Top Extra Secret Underground Alien Bases, Part 1.
South America
Karl Brugger, in his book The Chronicle of Akakor (Delacorte Press., N.Y., 230 pp), gives the history – as given to the author by one of their chiefs – of the Ugha Mongulala tribesman, whose ancestors were allegedly part of a vast empire which covered South America in ancient times. Some of these ancient people, the chief claimed, left the planet in aerial vessels to explore other parts of the solar system and beyond, leaving behind vast subterranean cities beneath the Andes mountains and western Brazil.
In 1971, due to the constant encroachment of white settlers or invaders into their territory, 30,000 survivors of the Ugha Mongulala allegedly escaped to this ancient system of underground cities, consisting of 13 separate subterranean complexes all connected by tunnels, one of which is said to extend to Lima, and others of which are located throughout the Andes Mountain range of Peru.
Saga Magazine's UFO Annual [980, p4], under the heading 'Cave Martians', described a bizarre encounter with subterranean creatures which seemed to have consisted of some type of automaton-like forms, perhaps on a reconnaissance mission from an underground civilization. The story involved a tunnel near Xucurus, Argentina(?), some 90 miles from Buenos Aires. The tunnel was discovered by agriculturalist Gerardo Cordeire, and found to contain nine connecting passages and strange inscriptions on the walls.
From it's entrance "men nine feet tall, green, with antennas on their heads, and square legs" were seen to emerge, and which, according to hundreds of witnesses from the town and nearby locals, resembled enormous "portable radios."
Camouflaged "Alien Bases" on our World
"There is an ancient legend among the Hindus of India that tells of a civilization of immense beauty beneath central Asia. Several underground cities are said to be located north of the Himalayan mountains, possibly in Afghanistan, or under the Hindu Kush. This subterranean Shangri-la is inhabited by a race of golden people who seldom communicate with the surface world. From time to time, they travel into our land through tunnels that stretch in many directions. Entrances to the tunnels are believed to be hidden in several of the ancient cities of the Orient. Tunnel entrances are said to be in Ellora and the Ajanta caverns in the Chandore Mountain range of India."
Eric Norman
Click here for more information
BRAZIL
One tunnel in Brazil is near Ponte Grosse in the state of Parana. (Fruit orchards were seen here.) Another entrance in Brazil is near Rincon, state of Parana. Also, in the state of Santa Catarina, Brazil, near the city of Joinville there is a mountain containing an entrance to the tunnels. (Santa Catarina is an area alive with subterranean activity, including strange 'singing' from underground.) Another entrance in Brazil is in the state of Sao Paulo near Concepiao. Still another entrance in Santa Catarina near Gaspar has subterranean fruit orchards.
"The states of Santa Catarina and Parana, Brazil are honeycombed by a network of Atlantean tunnels that lead to subterranean cities."
The Maltese Cave Entrance  This entrance is located on the island of Malta, near the small village of "Casal Paula." (This village is built on the "Corradino" plateau, and overlooks the capitol town of Malta, "Valletta," as well as Grand Harbour.) In 1902, workmen digging a well in Casal Paula fell into a subterranean cavern. The well was being dug for a house on "Hal Saflienti," the main street in Casal Paula. The cavern the workers had fallen into connected with an entire complex of caves and tunnels. This entrance is known as the "Hypogeum of Hal Saflienti." (In Latin, "Hypogeum" is the name for an underground structure.) "The tunnels under the Hypogeum have been sealed off even since a school took 30 students into the caves and disappeared, guide and all. Search parties were never able to locate any trace of the people and children.
The Staffordshire, England Entrance  Somewhere in Staffordshire, England, a lonely field exists in which a laborer discovered a large iron plate beneath the dirt. The "hatch" was large and oval, with an iron ring mounted on it. This entrance led into the tunnels. The field is in a valley surrounded on almost all sides by woods. The laborer was digging a trench for some purpose. The incident was reported in "A History of Staffordshire" by Dr. Plot, who wrote the book in the late 1700s. It may be possible to find the entrance if it can be ascertained exactly which valley the laborer was digging in.
The Dulce, New Mexico Base  An underground Military Base/Laboratory in Dulce, New Mexico connects with the underground network of tunnels which honeycombs our planet, and the lower levels of this base are allegedly under the control of Inner Earth beings or Aliens. This base is connected to Los Alamos research facilities via an underground "tube-shuttle." (It can be assumed that such a shuttle way would be a straight-line construction. It should then be possible, by using maps and some deduction, to determine the most likely location of this base, especially since the general location is already known.) Beginning in 1947, a road was built near the Dulce Base, under the cover of a lumber company. No lumber was ever hauled, and the road was later destroyed. Navajo Dam is the Dulce Base's main source of power, though a second source is in El Vado (which is also another entrance). (Note: The above facts should also help to locate the base.) Most of the lakes near Dulce were made via government grants "for" the Indians. (Note: The September, 1983 issue of Omni (Pg. 80) has a color drawing of 'The Subterrene,' the Los Alamos nuclear-powered tunnel machine that burrows through the rock, deep underground, by heating whatever stone it encounters into molten rock, which cools after the Subterrene has moved on. The result is a tunnel with a smooth, glazing lining.)" (Note: Where would the molten rock go? And what has been done with this concept since 1983?)
Bechtel (BECK-tul) is a super secret international corporate octopus, founded in 1898. Some say the firm is really a 'Shadow Government's working arm of the CIA. It is the largest Construction and Engineering outfit in the U.S.A and the World (and some say, beyond)." "The most important posts in U.S.A. Government are held by former Bechtel Officers. There are over 100 Secret Exits near and around Dulce. Many around Archuleta Mesa, others to the source around Dulce Lake and even as far east as Lindrich. Deep sections of the Complex connect into natural Cavern Systems. (Note: The elevators, lights, and doors at Dulce Base are all magnetically controlled.)
The area around Dulce has had a high number of reported Animal Mutilations." The researchers at Dulce Base have also abducted several people from Dulce's civilian population and implanted devices of various types in their heads and bodies. (Note: Livermore Berkeley Labs (where?) began producing blood for the Dulce Base in the mid 1980s, and Human and Animal abductions slowed considerably. It may be worthwhile to check-out Livermore Berkeley Labs.) DELTA group (from the National Recon Group) is responsible for security of all Alien-connected projects. The DELTA symbol is a Black Triangle on a Red Background. Dulce Base's symbol is a Delta (triangle) with the Greek Letter "Tau" (t) within it, and then the entire symbol is inverted, so the triangle points down, and the "Tau" is also inverted. Christa Tilton (was abducted and taken to Dulce Base) She is the editor of "Crux" magazine, which deals with UFOs, abductions, etc. P.O. Box 906237 Tulsa, Oklahoma (zip ?????)
Bases in the United States Mt. Ranier, Washington State Mt. Lassen, Tehama County, California Death Valley, California Superstition Mountains, Arizona Mt. Shasta, California Brown Mountain, North Carolina Mt. Ranier Entrance.
A very active UFO base exists beneath Mt. Ranier. There are also said to be underground "vaults" containing records of the ancient Lemurians. (Note: F.L. Boschke wrote the book "The Unexplained" about the mysteries surrounding Mt. Ranier.) The ice cap of Mt. Ranier contains a maze of corridors and caves. In August of 1970, scientists climbed to the top of Mt. Ranier, and entered these caverns and tunnels. Evidence was found indicating that a small lake exists deep beneath the ice cap. It is possible that one could find a way to get beneath Mt. Ranier through these tunnels.  The Mt. Lassen Entrance Mt. Lassen in Tehama County, California is an entrance to a large underground city. Near the foot of Mt. Lassen is a town called Manten. A man named "Ralph B. Fields" lived (lives?) there, and found the entrance to the underground city. His friend "Joe" was with him. The cave entrance is in the side of the mountain, at a little over 7,000 feet above sea level, and is near a rock outcropping suitable for camping under.
Death Valley, CA. Entrance.  Local Indian legends speak of a tunnel that runs beneath the desert. (Note: The book "Death Valley Men," tells the story of 3 people who are supposed to have found an underground city connected with this tunnel, and who actually took treasures from it. The entrance to the Death Valley Tunnel is in the Panamint Mountains down on the lower edge of the range near Wingate Pass, in the bottom of an old abandoned shaft. The bottom of the shaft is collapsed, opening an entrance into a large tunnel system containing much treasure. These tunnels connect with the surface also through arches (like large windows) in the side of the mountain and they look down on Death Valley. They're high above the valley now, but they were once on the edge of the water, and were accessed by boats. The "windows" in the Death Valley side of the Panamint Mountains are about 4,500-5,000 feet above the bottom of Death Valley, and are across from Furnace Creek Ranch. From these openings you can see the green of the ranch below you and Furnace Creek Wash across the valley. (So, with high-powered binoculars or a telescope, you should be able to see the openings from the Furnace Creek Ranch, or Wash.) You can drive down Emigrant Canyon towards Death Valley. You can then park beside the road between Furnace Creek Ranch and the Salt Bed. (From here, the windows should be visible through binoculars.) Indian legends of the Paiutes Indians speak of the people who used to live in the Panamint's caverns.
The Mt. Shasta, CA Entrance  There are tunnels beneath Mt. Shasta that lead to a UFO base there, as well as tunnels that connect with the vast world-wide tunnel network. The Lemurian city "Telos" is said to exist beneath Mt. Shasta. William Hamilton has done much research on Mt. Shasta and the tunnels. He has privately published a book entitled "Alien Magic" 249 North Brand Boulevard, Suite 651 Glendale, CA 91203
The Brown Mountain Entrance  Brown Mountain is in North Carolina near Morganton. Morganton is "about 15 miles north of an actual highway marker which has been posted by the state providing any visitor the best view" of Brown Mountain. Brown Mountain is an area in which many strange lights have been seen. There are entrances that lead inside the mountain to an isolated (?) Alien base.
The cast of Ghost Hunters to host panel at AlienCon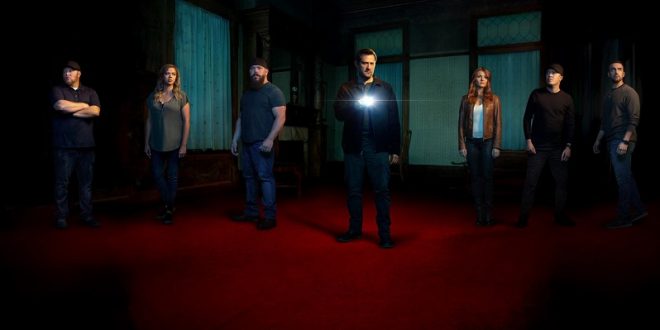 AlienCon the world's first convention dedicated to seeking the truth about extraterrestrial existence and solving the mysteries of the universe, has announced new program details for the October 4-6 event in Dallas, Texas. A+E Networks previously announced celebrity guests at AlienCon Dallas will include HISTORY's "Ancient Aliens" contributors Giorgio A. Tsoukalos, David Childress, Nick Pope, Caroline Cory, Jason Martell, John Brandenburg, Travis Taylor, and Jonathan Young.
The entire cast of A&E's "Ghost Hunters," one of the most successful paranormal series of all time, joins AlienCon Dallas for a panel discussion, Inside the World of A&E's "Ghost Hunters," on Saturday, October 5 at 2:20pm.
Have you ever wondered what it takes to investigate the paranormal? Hear from paranormal expert Grant Wilson and his new team of investigators. For the first time ever, this team of seven paranormal investigators – Wilson, Daryl Marston, Kristen Luman, Brandon Alvis, Mustafa Gatollari, Brian Murray and Richel Stratton – are sharing their approach to investigations, the cutting-edge technology they use, and how they research and prepare to go into a hunt.
Panel:  Inside the World of A&E's "Ghost Hunters"
Saturday, 10/5 at 2:20PM 
Grant Wilson, team leader/executive producer, and panel moderator
Daryl Marston, co-lead investigator
Kristen Luman, co-lead investigator
Mustafa Gatollari, site analyst/researcher/paranormal investigator
Brandon Alvis, tech manager/paranormal investigator
Richel Stratton, paranormal investigator
Brian Murray, paranormal investigator
There will also be two panel discussions regarding the Skinwalker Ranch
Panel: The Secret of Skinwalker Ranch
Friday 10/4 at 1:40PM
Panel: The Future of Skinwalker Ranch
Saturday, 10/5 at 11:00AM
Fans can learn more about ticket packages, special celebrity guests, and up-to-the-minute AlienCon Dallas programming information by visiting TheAlienCon.com.

AlienCon, owned by A+E Networks® in partnership with Prometheus Entertainment and produced by Mischief Management, LLC, is a three-day fan event inspired by HISTORY®'s hit series, Ancient Aliens®. AlienCon offers the opportunity for like-minded people to come together to challenge existing beliefs and seek disclosure of all kinds in an environment that inspires discovery and discussion.  The event will feature over 150 hours of original programming, sneak peeks and exclusive panels. Attendees can meet and mingle with their favorite celebrity guests.
More information can be found on the AlienCon website: TheAlienCon
A Taos Close Encounter of the Hunters and Aliens Kind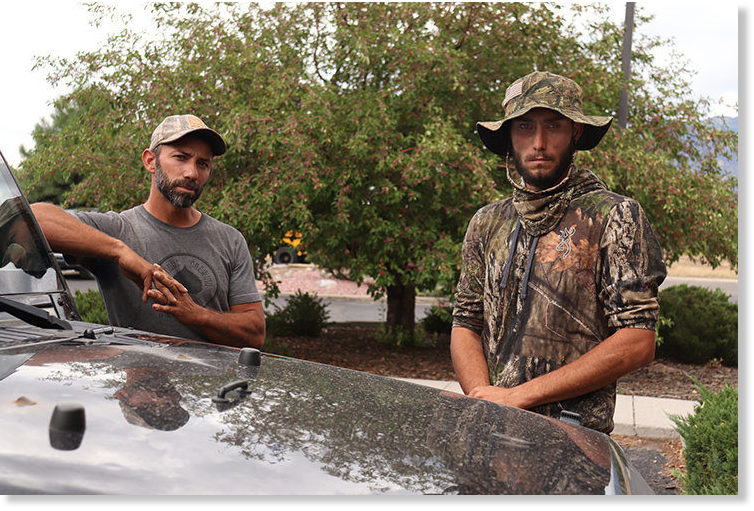 © Jesse Moya/Taos News
Staci Matlock
Taos News
From left, Josh Brinkley and Daniel Lucero were out bow hunting for elk near Cerro de la Olla Monday (Sept. 2) northwest of Taos when they had a strange encounter with a gigantic white structure that then disappeared. A day earlier, Brinkley saw what he thought were two hunters, but later described as oddly clothed "very tall figures with oversized heads." The two men are still trying to figure out what they saw.
Bow hunters Josh Brinkley and Daniel Lucero, dressed in camouflage gear, looked a little uncomfortable sitting in chairs at a local newspaper.
The Santa Fe County residents had just come into Taos after several days in rugged terrain near Cerro de la Olla, also called Pot Mountain, northwest of town near Ute Mountain.
They had a strange tale to tell and they weren't sure of their reception.
"We're a couple of guys that don't believe in much, but we believe now," Brinkley said.
They went hunting for elk.
They encountered aliens or something else so strange they don't know what to call it.
Brinkley, 41, said he's been going to the Pot Mountain area hunting for 15 years. He had never seen anything particularly odd.
He said he works construction and on movie sets. He's a family guy who doesn't want anyone to think he's crazy.
He and Lucero have worked together for eight years.
They say they aren't prone to seeing things and didn't particularly believe in aliens.
Odd Figures
Opening morning of bow hunting season was Sunday (Sept. 1). The two men had gone a couple of days early to scout the area for elk. Lucero, 26, had never been there.
They set up along the tree line on different sides of a field and waited. After three hours and no elk, Brinkley became restless. It was about 9:30 a.m.
"I take off walking, creeping around through the woods, looking for elk," Brinkley said.
He reached the top of the mountain where there's a caldera, a kind of wide bowl left behind by a collapsed volcano. He went to the edge on the southwest side. As he walked to the edge he noticed two figures on his side of the caldera. He thought at first they were hunters. But, they were "very tall shapes of these beings, standing side by side, staring right at me," he said.
He walked toward them across the brushy field. He estimates they were about 35 yards away. As a bow hunter, where measuring distance is critical to hitting a target, he said he's pretty adept at it. He went around the bush and looked again. The figures were gone.
He looked around and didn't see them. "Figured I would talk to them. They were gone, just gone," Brinkley said.
He thought more about what he had seen: With their lower half concealed by bushes in the caldera, he had only seen them from the waist up. "The shape that would be like their heads, it looked like they had huge hoods on. It looked like two ribbons coming off either side to a point at the top and bottom (like a banana). The right side was black, left side was white and a little shiny. Torsos were kind of black, I couldn't see many details. It definitely looked like clothes. In middle of the oval was just gray."
He thought maybe it was the back of hunters' heads. "But it looked too strange, too crazy."
Later, he drew what he could remember of them in a leather bound sketchbook he carries with him. And he drew what he saw next.
Weirded Out
Brinkley hurried back to where Lucero was still waiting. Still no elk. "I was a little weirded out," he told his friend.
He told Lucero he had seen a couple of hunters and that's probably what had scared off the elk. He couldn't bring himself at first to say what he might have just imagined.
They went back to camp. "I couldn't take it any more," Brinkley said. "I told him what I saw was weird. They were too tall, their heads were too big to be hunters."
"Anyone who knows me knows I don't tell these weird stories."
Lucero said he had known something was up when Brinkley had walked quickly and noisily up to his position at the field. Normally his friend is quiet, a hunter's slower, more measured speed through the bushes.
After Brinkley told him, Lucero felt a little weird, too. "I didn't know what to believe," Lucero said.
Brinkley kind of wrote off what he saw.
A Strange Structure
On Labor Day (Sept. 2), they headed out again to hunt early in the morning and hiked all around the area. No elk. They got back to their Jeep at about 2:30 p.m.
"We couldn't figure out why there was no elk," Brinkley said.
They decided to drive to the other side of the mountain and see if there were other hunters or four-wheelers scaring off the elk. As they drove, the men saw no signs of any wildlife at all, they said.
They drove about 10 minutes, when they saw it. They both work with movie sets. At first they thought it was a movie base camp. "It's this big tent structure, like a circus tent, 50-60 feet tall. Coming off the left of it was this long building, almost like what you would build for an archery lane for target practice. It was a third the height, but really long, maybe a couple hundred feet."
They were about a quarter mile away and couldn't see the bottom of the structure.
They watched it for about a minute as they drove.
"What is it," he asked Lucero, "a base camp for a movie? Or are they building an alien ship set?"
They drove down a little hill, lost sight of the structure for at most five seconds, Brinkley said.
"When we topped the hill, it was gone. Just gone."
Lucero said he was watching it the whole time while Brinkley drove except for those few seconds. "There was no dust, there was nothing," Lucero said.
They drove around the area searching for what they had seen until dark.
Nothing.
"I just know it was real," Brinkley said. "It was huge and white and then gone."
'Profoundly Unsettling'
When the two men reached a place with cell signal, they told a few friends what they had seen. They thought about calling the Air Force. A friend put them in touch with Peter Davenport, longtime executive director of the National UFO Reporting Center in Washington state.
Davenport confirmed they had called him. "It was a dramatic story," he said. "If it is true, it is profoundly unsettling."
He said out of the thousands of calls he gets every year about supposed alien sightings, they rarely describe seeing aliens on the ground.
They aren't the first hunters to see something they can't explain. Four hunters in Challis, Idaho, in 2000 described having a large triangular craft hover a couple of hundred feet above them before moving off over the mountains.
After listening to some 350,000 phone calls over 25 years, Davenport thinks he can tell those that are credible.
This was one of them, he said.
Brinkley and Lucero said they weren't drinking and weren't on drugs.
The hardest thing is telling their story. "People probably think we are insane," Brinkley said
He said he didn't believe in UFOs. "I sure do now," he said.
Lucero said he doesn't know about aliens. "I just know I've never seen anything that big just disappear."
"The two aliens, you can say I imagined that. But you cannot explain something that big just — gone," Brinkley said.
After telling their strange tale, the hunters did what they came to do – go try one more time to find elk.
New Mexico Hunters Have ET Encounter on Pot Mountain
Let's answer a few of the obvious questions right away. Yes, there really is a Pot Mountain in New Mexico. No, it has nothing to do with marijuana. Yes, that may absolve the two ET-spotting hunters from accusations that they were high when they claim to have seen two tall big-headed, half-black/half-white aliens on Pot Mountain. No, they weren't trying to be politically correct with that description. Yes, one saw the creatures and both saw something that was either their tent or their means of transportation. And no, they didn't take any pictures. However, it's an interesting story and UFO expert believes their sincerity in telling it.
"We're a couple of guys that don't believe in much, but we believe now."
Josh Brinkley and Daniel Lucero were still in their bow-hunting camouflage clothing when they told their story to the Taos News. The friends and co-workers have been hunting together for elk for years, but this was Lucero's first time on Cerro de la Olla – an inactive volcanic mountain northwest of Taos named Mountain of the Pot or Pot Mountain because of its pot shape. Brinkley brought him there a few days before the September 1 opening day of elk season to scout for some good spots. However, he was alone and wondering why there were no elk around when he had his first close encounter.
"[I noticed the] very tall shapes of these beings, standing side by side, staring right at me. The shape that would be like their heads, it looked like they had huge hoods on. It looked like two ribbons coming off either side to a point at the top and bottom (like a banana). The right side was black, left side was white and a little shiny. Torsos were kind of black, I couldn't see many details. It definitely looked like clothes. In middle of the oval was just gray."
Brinkley estimated the creatures were 35 feet from him. As he walked around a bush to get a better look, they disappeared. He told the Taos News that he returned to Lucero but hesitated before telling him about the unbelievable encounter with the two tall beings. They returned to the same area the next day and still saw no elk. That's when both hunters had a close encounter of the tent kind.
"It's this big tent structure, like a circus tent, 50-60 feet tall. Coming off the left of it was this long building, almost like what you would build for an archery lane for target practice. It was a third the height, but really long, maybe a couple hundred feet."
As they drove around to get closer, they lost sight of the structure for less than five seconds. When they had a view again of where it was … it wasn't.
"When we topped the hill, it was gone. Just gone. There was no dust, there was nothing, I just know it was real. It was huge and white and then gone."
They had no further encounters. In addition to the Taos News, they told their story to Peter Davenport, the executive director of the National UFO Reporting Center, who was intrigued by the witnesses claiming to see actual alien creatures and added this comment to the report of the call.
"NUFORC was impressed with what we perceived to be the apparent sincerity of the caller during the telephone conversation with him."
One discrepancy between the two accounts – NUFORC says there were three witnesses while the Taos News says there were only Brinkley and Lucero. That might be cleared up with an official written account to NUFORC by the witnesses, but that hasn't happened yet.
What did Josh Brinkley and Daniel Lucero see? Taos is well-known as a center for New Age beliefs, but it and New Mexico in general have had their share of strange incidents and alien encounters, ranging from the mysterious Taos hum to the Roswell UFO crash to extraterrestrials living in caverns near Dulce to the alleged 1948 'flying saucer' crash in Hart Canyon near Aztec with 14 to 16 small humanoid corpses found in the wreckage.
Is the incident on Pot Mountain just a good title for a major motion picture or a real close encounter? It would have helped their case to have photos instead of drawings and another witness who is not also a friend and co-worker. It would have also helped if there were footprints of the ETs and imprints or other evidence of the mysterious tent.
Keep looking up … unless hunting season has started.
Source: Mysterious Universe