KGB Map of Alien Bases On Earth
There are many reports of underground bases reported around the world.  A comprehensive list can be found here compiled by Bibliotecapleyades  and another list can be found here compiled by UFO-Aliens.
New York City  There is an entrance to the tunnels in New York City "in the vicinity of Midtown Manhattan that can be reached through an abandoned elevator shaft that only very few know about
The Nahanni Valley (Canada) Entrance  This covers 250 square miles in the southern end of the Mackenzie Mountains of Canada. It lies almost 550 miles due west of Fort Simpson on the Mackenzie River of northwest Canada. Hot springs and sulfur geysers keep the valley warmer than the surrounding areas by about 30 degrees year -round (the valley is above 60 degrees latitude), making it perpetually mist-covered. This valley is inhabited only by animals as people entering the valley are usually found headless and quite dead. The Indian tribes of the area avoid this valley. (These tribes include the Ojibways, the Slave, the Dogribs, the Stoney, the Beavers and the Chipweyans.) This valley is often referred to as "the Valley of the Headless Men.
The Liyobaa Cave Entrance  This was sealed off by Catholic Priests who believed it to be an entrance to "Hell." "The village of 'Liyobaa' or to translate, 'The Cavern of Death,' was located in the province of Zapoteca, somewhere near the ancient village of 'Mictlan' or the village of the 'Underworld.
"The Cavern of Death was actually located in the last chamber of an eight chamber building or temple. This temple had four rooms above the ground and four more important chambers built below the surface of the Earth. This building was located in "Theozapotlan," and the tunnel entrance led one beneath a mountain.
KGB Map of Alien Bases On Earth
United States Underground Cities, Bases and Tunnels Systems
GOVERNMENT MAP OF UNDERGROUND TUNNELS
For the complete list see:   http://www.bibliotecapleyades.net/sociopolitica/esp_sociopol_underground18b.htm
These areas were found off a government map showing just some of the underground bases in the United States.
EDWARDS AIR FORCE BASE :From Edwards a tunnel goes to Vandenberg Air Force Base From Vandenberg you back up to Edwards and go Southeast to subterranean base at a place that the map designates as Cat., which probably means Catalina Island, showing a flying saucer there so alien space crafts are probably seen there.
The map shows an underground base and a tunnel going into it at a place called 29 palms.
The next place on the map where an underground base is, is the Chocolate Mts.
There appears to be a site in Nevada at Tonopah, Area 51 at Groom Lake, and a place designated as COG AFB.
In Arizona we have sites at Wickiup and Page.
Utah there is one at Salt Lake City (R&D AFB).
There is one in Riverton "M", Denver, Colorado, Colorado Springs, COG Creedo and Delta.
In New Mexico they are at Dulce, Taos, Los Alanos, ALB, AFB, Datil and Carlsbad.
In Texas there is one at Lubbock. Denton "908" (C.O.G) seems to have an isolated one, Ft. Stockton and in Old Mexico there is one at Chihuahua.
Tulsa Oklahoma has one and just NE of there we appear to have one with a saucer coming out of it.
Hutchison AFB Kansas has one.
Google Earth UFO Alien Human Secret Base
Arizona Tunnels and Caves
GRAND CANYON – Cave[s] near the confluence of the Colorado and Little Colorado rivers. Hopi legends say that their ancestors once lived underground with a friendly race of "ant people" [not to be confused with the sinister "mantis" people described by several abductees], but some of their kind turned to sorcery and made an alliance with lizard or serpent men known as the "two hearts", which dwelt in still deeper caverns below. The "flood" of evil and violence forced the peaceful Hopi's to the surface world. An explorer named G. E. Kincaid claimed to have found "one of" the ancient caves, in which were reportedly discovered Oriental, Egyptian & Central American type artifacts.
Smithsonian archaeologists S. A. Jordan and associates also explored the man-made cavern with hundreds of rooms, enough to hold over 50 thousand people. The underground city is about 42 miles up river from El Tovar Crystal Canyon and Crystal Creek, and about 2000 feet above the river bed on the east wall. John Rhodes after 3 years of field research reportedly discovered the Grand Canyon city, which is now being used as a museum for elitist groups and has lower levels that are being used by "super secret black book operatives", which can only be entered via a stainless steel door at the bottom of a stairwell deep within the "city" that is "guarded by a very lonely soldier staring into the darkness… dressed in a white jumpsuit and armed only with an M16 assault rifle to ward off his imagination."
Source: ARIZONA GAZETTE, March 12, 1909 & April 5, 1909; Robert Morning Sky; John Rhodes
Top Extra Secret Underground Alien Bases, Part 1.
South America
Karl Brugger, in his book The Chronicle of Akakor (Delacorte Press., N.Y., 230 pp), gives the history – as given to the author by one of their chiefs – of the Ugha Mongulala tribesman, whose ancestors were allegedly part of a vast empire which covered South America in ancient times. Some of these ancient people, the chief claimed, left the planet in aerial vessels to explore other parts of the solar system and beyond, leaving behind vast subterranean cities beneath the Andes mountains and western Brazil.
In 1971, due to the constant encroachment of white settlers or invaders into their territory, 30,000 survivors of the Ugha Mongulala allegedly escaped to this ancient system of underground cities, consisting of 13 separate subterranean complexes all connected by tunnels, one of which is said to extend to Lima, and others of which are located throughout the Andes Mountain range of Peru.
Saga Magazine's UFO Annual [980, p4], under the heading 'Cave Martians', described a bizarre encounter with subterranean creatures which seemed to have consisted of some type of automaton-like forms, perhaps on a reconnaissance mission from an underground civilization. The story involved a tunnel near Xucurus, Argentina(?), some 90 miles from Buenos Aires. The tunnel was discovered by agriculturalist Gerardo Cordeire, and found to contain nine connecting passages and strange inscriptions on the walls.
From it's entrance "men nine feet tall, green, with antennas on their heads, and square legs" were seen to emerge, and which, according to hundreds of witnesses from the town and nearby locals, resembled enormous "portable radios."
Camouflaged "Alien Bases" on our World
"There is an ancient legend among the Hindus of India that tells of a civilization of immense beauty beneath central Asia. Several underground cities are said to be located north of the Himalayan mountains, possibly in Afghanistan, or under the Hindu Kush. This subterranean Shangri-la is inhabited by a race of golden people who seldom communicate with the surface world. From time to time, they travel into our land through tunnels that stretch in many directions. Entrances to the tunnels are believed to be hidden in several of the ancient cities of the Orient. Tunnel entrances are said to be in Ellora and the Ajanta caverns in the Chandore Mountain range of India."
Eric Norman
Click here for more information
BRAZIL
One tunnel in Brazil is near Ponte Grosse in the state of Parana. (Fruit orchards were seen here.) Another entrance in Brazil is near Rincon, state of Parana. Also, in the state of Santa Catarina, Brazil, near the city of Joinville there is a mountain containing an entrance to the tunnels. (Santa Catarina is an area alive with subterranean activity, including strange 'singing' from underground.) Another entrance in Brazil is in the state of Sao Paulo near Concepiao. Still another entrance in Santa Catarina near Gaspar has subterranean fruit orchards.
"The states of Santa Catarina and Parana, Brazil are honeycombed by a network of Atlantean tunnels that lead to subterranean cities."
The Maltese Cave Entrance  This entrance is located on the island of Malta, near the small village of "Casal Paula." (This village is built on the "Corradino" plateau, and overlooks the capitol town of Malta, "Valletta," as well as Grand Harbour.) In 1902, workmen digging a well in Casal Paula fell into a subterranean cavern. The well was being dug for a house on "Hal Saflienti," the main street in Casal Paula. The cavern the workers had fallen into connected with an entire complex of caves and tunnels. This entrance is known as the "Hypogeum of Hal Saflienti." (In Latin, "Hypogeum" is the name for an underground structure.) "The tunnels under the Hypogeum have been sealed off even since a school took 30 students into the caves and disappeared, guide and all. Search parties were never able to locate any trace of the people and children.
The Staffordshire, England Entrance  Somewhere in Staffordshire, England, a lonely field exists in which a laborer discovered a large iron plate beneath the dirt. The "hatch" was large and oval, with an iron ring mounted on it. This entrance led into the tunnels. The field is in a valley surrounded on almost all sides by woods. The laborer was digging a trench for some purpose. The incident was reported in "A History of Staffordshire" by Dr. Plot, who wrote the book in the late 1700s. It may be possible to find the entrance if it can be ascertained exactly which valley the laborer was digging in.
The Dulce, New Mexico Base  An underground Military Base/Laboratory in Dulce, New Mexico connects with the underground network of tunnels which honeycombs our planet, and the lower levels of this base are allegedly under the control of Inner Earth beings or Aliens. This base is connected to Los Alamos research facilities via an underground "tube-shuttle." (It can be assumed that such a shuttle way would be a straight-line construction. It should then be possible, by using maps and some deduction, to determine the most likely location of this base, especially since the general location is already known.) Beginning in 1947, a road was built near the Dulce Base, under the cover of a lumber company. No lumber was ever hauled, and the road was later destroyed. Navajo Dam is the Dulce Base's main source of power, though a second source is in El Vado (which is also another entrance). (Note: The above facts should also help to locate the base.) Most of the lakes near Dulce were made via government grants "for" the Indians. (Note: The September, 1983 issue of Omni (Pg. 80) has a color drawing of 'The Subterrene,' the Los Alamos nuclear-powered tunnel machine that burrows through the rock, deep underground, by heating whatever stone it encounters into molten rock, which cools after the Subterrene has moved on. The result is a tunnel with a smooth, glazing lining.)" (Note: Where would the molten rock go? And what has been done with this concept since 1983?)
Bechtel (BECK-tul) is a super secret international corporate octopus, founded in 1898. Some say the firm is really a 'Shadow Government's working arm of the CIA. It is the largest Construction and Engineering outfit in the U.S.A and the World (and some say, beyond)." "The most important posts in U.S.A. Government are held by former Bechtel Officers. There are over 100 Secret Exits near and around Dulce. Many around Archuleta Mesa, others to the source around Dulce Lake and even as far east as Lindrich. Deep sections of the Complex connect into natural Cavern Systems. (Note: The elevators, lights, and doors at Dulce Base are all magnetically controlled.)
The area around Dulce has had a high number of reported Animal Mutilations." The researchers at Dulce Base have also abducted several people from Dulce's civilian population and implanted devices of various types in their heads and bodies. (Note: Livermore Berkeley Labs (where?) began producing blood for the Dulce Base in the mid 1980s, and Human and Animal abductions slowed considerably. It may be worthwhile to check-out Livermore Berkeley Labs.) DELTA group (from the National Recon Group) is responsible for security of all Alien-connected projects. The DELTA symbol is a Black Triangle on a Red Background. Dulce Base's symbol is a Delta (triangle) with the Greek Letter "Tau" (t) within it, and then the entire symbol is inverted, so the triangle points down, and the "Tau" is also inverted. Christa Tilton (was abducted and taken to Dulce Base) She is the editor of "Crux" magazine, which deals with UFOs, abductions, etc. P.O. Box 906237 Tulsa, Oklahoma (zip ?????)
Bases in the United States Mt. Ranier, Washington State Mt. Lassen, Tehama County, California Death Valley, California Superstition Mountains, Arizona Mt. Shasta, California Brown Mountain, North Carolina Mt. Ranier Entrance.
A very active UFO base exists beneath Mt. Ranier. There are also said to be underground "vaults" containing records of the ancient Lemurians. (Note: F.L. Boschke wrote the book "The Unexplained" about the mysteries surrounding Mt. Ranier.) The ice cap of Mt. Ranier contains a maze of corridors and caves. In August of 1970, scientists climbed to the top of Mt. Ranier, and entered these caverns and tunnels. Evidence was found indicating that a small lake exists deep beneath the ice cap. It is possible that one could find a way to get beneath Mt. Ranier through these tunnels.  The Mt. Lassen Entrance Mt. Lassen in Tehama County, California is an entrance to a large underground city. Near the foot of Mt. Lassen is a town called Manten. A man named "Ralph B. Fields" lived (lives?) there, and found the entrance to the underground city. His friend "Joe" was with him. The cave entrance is in the side of the mountain, at a little over 7,000 feet above sea level, and is near a rock outcropping suitable for camping under.
Death Valley, CA. Entrance.  Local Indian legends speak of a tunnel that runs beneath the desert. (Note: The book "Death Valley Men," tells the story of 3 people who are supposed to have found an underground city connected with this tunnel, and who actually took treasures from it. The entrance to the Death Valley Tunnel is in the Panamint Mountains down on the lower edge of the range near Wingate Pass, in the bottom of an old abandoned shaft. The bottom of the shaft is collapsed, opening an entrance into a large tunnel system containing much treasure. These tunnels connect with the surface also through arches (like large windows) in the side of the mountain and they look down on Death Valley. They're high above the valley now, but they were once on the edge of the water, and were accessed by boats. The "windows" in the Death Valley side of the Panamint Mountains are about 4,500-5,000 feet above the bottom of Death Valley, and are across from Furnace Creek Ranch. From these openings you can see the green of the ranch below you and Furnace Creek Wash across the valley. (So, with high-powered binoculars or a telescope, you should be able to see the openings from the Furnace Creek Ranch, or Wash.) You can drive down Emigrant Canyon towards Death Valley. You can then park beside the road between Furnace Creek Ranch and the Salt Bed. (From here, the windows should be visible through binoculars.) Indian legends of the Paiutes Indians speak of the people who used to live in the Panamint's caverns.
The Mt. Shasta, CA Entrance  There are tunnels beneath Mt. Shasta that lead to a UFO base there, as well as tunnels that connect with the vast world-wide tunnel network. The Lemurian city "Telos" is said to exist beneath Mt. Shasta. William Hamilton has done much research on Mt. Shasta and the tunnels. He has privately published a book entitled "Alien Magic" 249 North Brand Boulevard, Suite 651 Glendale, CA 91203
The Brown Mountain Entrance  Brown Mountain is in North Carolina near Morganton. Morganton is "about 15 miles north of an actual highway marker which has been posted by the state providing any visitor the best view" of Brown Mountain. Brown Mountain is an area in which many strange lights have been seen. There are entrances that lead inside the mountain to an isolated (?) Alien base.
Scientists think aliens could be living in other universes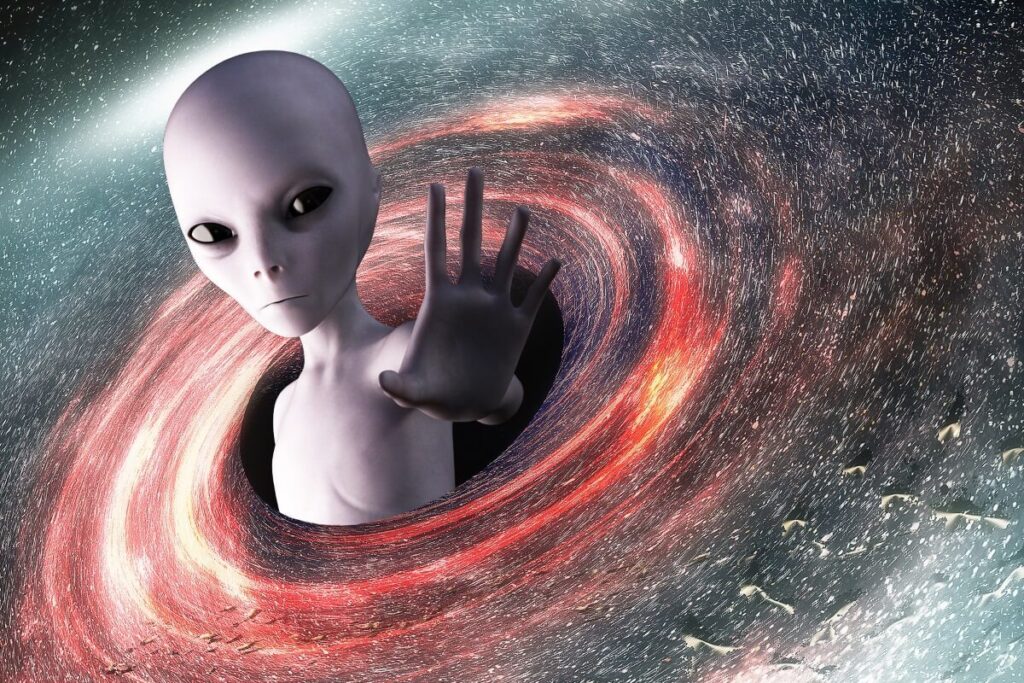 Alien life could exist in other universes, according to a group of scientists studying a mysterious force known as dark energy.
Previous theories suggested our universe has the perfect amount of dark energy, which acts against gravity and is making the cosmos expand at an accelerated rate.
It was understood that any more would create such rapid expansion that stars and planets wouldn't have time to form.
The multiverse theory, first put forward in the '80s, said there was a "luckily small" amount of the force in our universe.
But researchers at Durham University in England claim these celestial bodies would still have formed even if a universe had 100 times the dark energy that ours does.
They used giant computer simulations to suggest that, if other universes exist, they may be just as likely to harbor life.
"The formation of stars in a universe is a battle between the attraction of gravity and the repulsion of dark energy," said professor Richard Bower of Durham University's Institute for Computational Cosmology.
"We have found in our simulations that universes with much more dark energy than ours can happily form stars. So why such a paltry amount of dark energy in our universe?
"I think we should be looking for a new law of physics to explain this strange property of our universe and the Multiverse theory does little to rescue physicists' discomfort."
Their findings are published in two related papers in the journal Monthly Notices of the Royal Astronomical Society.
And their simulations were created using the EAGLE (Evolution and Assembly of Galaxies and their Environments) project – one of the most realistic programs mapping the observed universe.
The dark energy conundrum has plagued scientists for years, said Jaime Salcido, a postgraduate student of Durham University.
He added: "Our simulations show that even if there was much more dark energy or even very little in the universe then it would only have a minimal effect on star and planet formation."
The widely accepted eternal inflation theory claims our universe came into existence with a brief burst that saw the universe expand at a rapid pace.
Some suggested this meant that, in some regions, the universe is still expanding and will continue to grow infinitely.
In doing so, it creates multiverses: an endless supply of universes much like our own, populated with Earth-like planets, societies and even individuals that resemble us.
Source nypost.com
Also published on Medium.
Amazing Filtrations: What if Nibiru is a great Anunnaki spacecraft?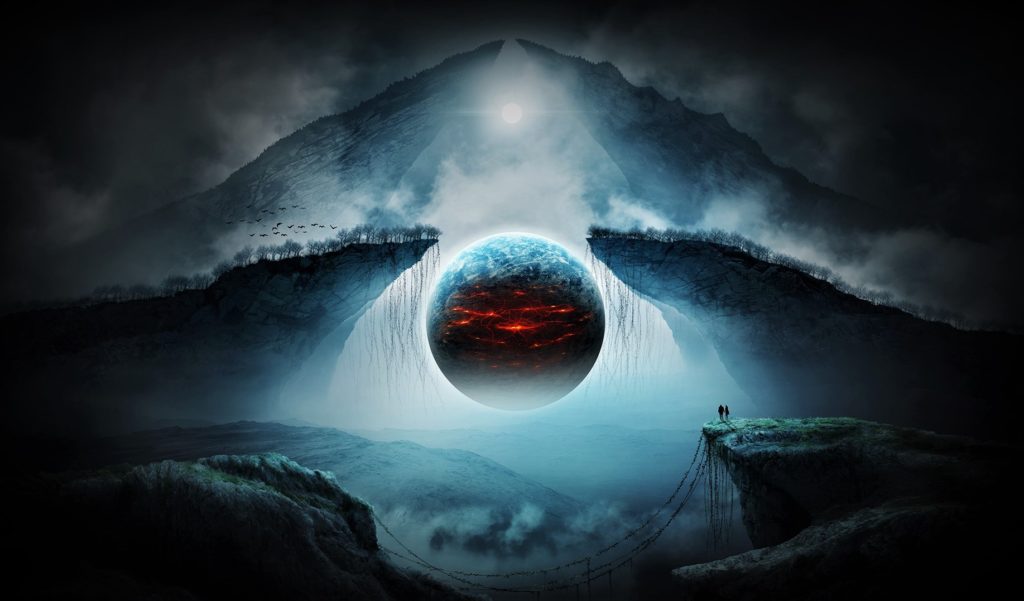 According to recent leaks, Nibiru is not the "destroyer" that supposedly approaches Earth. Nibiru, is a great interstellar ship of exorbitant dimensions that yes, it is coming towards the Earth, but it does not seek to destroy us. Nibiru, is a great interstellar entity related to us. And indeed it is related to the Anunnaki people, who have already been with us and will be once again.(nibiru)
Nibiru is not a planet or a star or a brown dwarf. It is a spaceship. A planetary-sized spacecraft. It was artificially constructed and put into orbit as a "planet" around our binary (currently in the Kuiper Belt) to be used as God "ax" or instrument of punishment or judgment through two energy systems solar. It is larger than Earth and is equipped with 'timeless' technology that dates back millions of years, so its use is endless.
Not only can it attack or punish planets, it can also change its orbits and inclinations … or transform them. It has an incredible variety of energies, lasers and functions developed and incorporated throughout its history and travel, plus it has universal communication systems and special espionage units, with camouflage capabilities (just like the Star Trek ships) . It is supposed to have an orbit of 3,600 years, but this may not be a fixed length.
On board Nibiru are the Annunaki, as well as a variety of aliens or humanoids from our entire universe, including the reptilian, insectoid, gray, Pleiadian, Sirian, Arcturian, and so on infinitely (yes, once again, as in Star Trek) .. Where do you think they got the idea from Star Trek? It is a real collection that represents all forms of life and technologies through our solar system and beyond.
Nibiru already passed "close" to Earth and got rid of the dinosaurs, destroyed Maldek, caused the "universal floods", and left the genetically improved human beings at various points in their history. Nibiru also contains a universal library with the knowledge of the history of all life in our sector of this universe. Nibiru is something like the Death Star in 'Star Wars', but it's not necessarily bad. It simply works for what is designed, or to execute, and that is to patrol or monitor our part of the cosmos.
Many religions that speak of their God or of the Lord actually referred to Nibiru, which is the house or the source of all those belief systems. It also acts as the United Nations, for the discussion and resolution of interplanetary conflicts. He has great power and is feared and respected wherever he goes.
So, Nibiru is not our destroyer, scientifically it is not conceived the fact of the existence of wandering planets, since they would always be exposed to the gravitational forces of the different celestial bodies, and also they are not objects that can be manipulated at will. Nibiru is a massive interstellar ship that does; If you are at our address .. How do you stay? Watch the following video with more information about Nibiru from the hand of Planet Snakedos and his secret informant .. and do not forget to leave us your comment below!
Is There Any Plausible Reason Why Aliens Would Evolve To Look Like Us?
In science fiction movies and TV shows, intelligent aliens are usually the same basic shape as humans: two arms, two legs and a head. But why would creatures that evolved on a completely different planet look so similar to us? We asked some experts, and they told us the most likely explanations for humanoid aliens.
Top image: Artwork by Wayne Douglas Barlowe
The truth is, aliens tend to look like us in science fiction for a couple of basic reasons: budget, and relatability.
"Most aliens in SF are humanoid because humans produce SF," says Michael H. New, an Astrobiology Discipline Specialist at NASA. "While we are interested in the 'other,' our conception of otherness is often limited."
And a lot of experts firmly believe that aliens would not look at all like humans. For example, Stephen Jay Gould claims that life that evolved elsewhere would look totally different from us — and in fact, if you "reran the tape" from the beginning of life on Earth, you wouldn't end up with humans on this planet either. The emergence of humanoids on Earth is a totally random event that was a fluke, even with the exact conditions that we arose from.
But let's say that we do meet aliens, and they turn out to be bipeds with a roughly human-like shape… how do we explain that?
Panspermia
This is the most common explanation for creatures that look sort of like us turning up all over the universe. Either humanoid aliens spread their DNA across the galaxy to give rise to creatures in their image, or the DNA just spread through the galaxy on its own, on asteroids and stuff.
Star Trek: The Next Generation reaches for this explanation in the episode "The Chase," pictured above. And it's the centerpiece of the recent movie Prometheus, as well.
"I'm of the strong opinion that if humanoid aliens exist, they must have some genetic heritage in common with human beings," says Mark A. Bullock with the Southwest Research Institute. He'd find that easier to believe than the notion that humanoids could evolve independently elsewhere. Plus "it's been shown that panspermia is quite a viable mechanism, so the interchange of genetic material between worlds is not out of the question."
If the galaxy really did turn out to be full of humanoid aliens, "some kind of panspermia wouldn't be a bad explanation," New tells io9. "We're bilaterally symmetric and bipedal because our ancestors were." It's entirely possible that if certain events had played out differently, the dominant species on Earth would have had a very different shape.
The Burgess Shale, which is roughly 500 million years old, "displays a wide range of body plans, only some of which are still seen on the modern Earth," adds New. So he believes you'd need some outside intervention to account for humanoid aliens.
Bullock sounds a similar note, saying that the Cambrian explosion, 600 million years ago, "saw a great deal of evolutionary experimentation with body plans," some of which could be a glimpse of life forms that we might see on other planets.
At the same time, panspermia is only really likely at the microbial level, cautions Joan L. Slonczewski, a biology professor at Kenyon College and science fiction author whose books include A Door Into Ocean and The Highest Frontier. Beyond microbes, panspermia doesn't really make much sense as an explanation for humans' own development.
Convergent Evolution
Or maybe humanoids just evolved on other planets, separately from us, because they just arrived at the same destination via other paths?
There are certain things about humans that helped us rise over other primates, says James Kasting, a distinguished professor of Geoscience at Penn State University. Our opposable thumbs helped us grasp tree branches, and also hold tools. And walking upright was useful, as well. Finally, being warm-blooded helped us to power our big brains.
"I would think that there's a good chance that intelligent alien life evolved in more or less the same way and would thus bear some resemblance to humans," says Kasting. "Not necessarily a close resemblance, though."
The upright-walking, bipedal, two-armed posture "seems to have evolved independently in various unlikely contexts, from meerkats to velociraptors," notes Slonczewski. "Maybe it just makes sense to have two feet to move, two hands to manipulate something, and a sensory 'head' with as wide a view as possible. Then again, that's what we have, so it makes sense to us."
We've seen enough examples of convergent evolution on Earth to believe that it could happen on other planets as well, notes Steven J. Dick, the 2013-2014 Baruch S. Blumberg NASA/Library of Congress Chair in Astrobiology at the Library of Congress. "For example, the eye has been reinvented many times independently, as have wings in insects, birds and bats. Fish and marine mammals such as dolphins have evolved streamlined shapes for their water environment."
Dick recommends the 1981 book Life in Darwin's Universe: Evolution and the Cosmos by Gene Bylinsky, which argues that "a limited number of engineering solutions" are possible when it comes to successful life forms.
The Man Who Collects Mid-Century Modern Cameras
5/09/18 9:30pm
But Dick adds that you can't discount environmental factors which would ensure that life on other planets would look at least somewhat different, including gravity. Dick tells io9:
Because they would have been shaped by their own unique planetary environments, organisms would be different from us in the particulars, just as there is great diversity of life on Earth, including the different requirements of land and water organisms. More generally, gravity imposes size limitations on life; from the cell to the whale is a large range indeed, but the food system of the whale (and the dinosaur on land) must strain to feed such a large structure, even as the heart struggles to sustain its blood flow. Life on a low-gravity planet might be free to soar upward both in the plant and animal kingdom, while life on a high-gravity planet would be correspondingly stifled.
Bilateral Symmetry
Let's say that the notion of aliens separately evolving bodies that have more or less a human silhouette is kind of unlikely — it's still possible that bilateral symmetry could be a constant among intelligent life forms, say some experts. This refers to the fact that your left and right sides are more or less the same, with an eye, an ear, an arm and a leg on either side.
"Bilateral symmetry appeared independently several different times in the evolution of larger organisms on Earth," says Bullock. "So bilateral symmetry may be a common feature of intelligent life, regardless of whether its specific body plan."
And once you get bilateral symmetry, you are going to start drifting in the direction of a vaguely humanoid body plan, argues Bjørn Østman with Michigan State University. The symmetry means you'll have an even number of limbs — which is most likely going to be four, rather than six or more, which don't convey enough of an advantage to justify the extra limbs.
"Even on earth there are lots of animals that have more than two pairs of limbs," concedes Østman. "But I think that the reason why we have lots and lots of animals that hva four limbs is that that's highly advantageous. It just happens to be mechanically a very good solution to traversing a rugged landscape."
And once you have a lot of quadripeds on land, one of those quadripeds is going to start using its front limbs to manipulate tools. "If you can free two limbs to manipulate tools, then it becomes very advantageous to develop high intelligence," notes Østman.
So assuming an intelligent alien is symmetrical and has some of its limbs devoted to tool use, then it might end up being roughly bipedal, says Østman. And the sensory organs, like eyes, will have to be forward-looking and not too far away from the tool-using limbs. Which means you end up with something like a head, because the nervous system will be close to the sensory organs for maximum efficiency.
Thus those two factors — symmetry and tool use — may lend themselves to something at least vaguely similar to a human shape, in Østman's view.
"If we were to eventually find other intelligent life in the universe, they would be humanoid, I think," Østman concludes. "I find that a high probability." But at the same time, he admits he's in the minority, and most other scientists agree with Gould that humanoid life is unlikely to evolve elsewhere.
Source io9.gizmodo.com
Also published on Medium.