KGB Map of Alien Bases On Earth
There are many reports of underground bases reported around the world.  A comprehensive list can be found here compiled by Bibliotecapleyades  and another list can be found here compiled by UFO-Aliens.
New York City.  There is an entrance to the tunnels in New York City "in the vicinity of Midtown Manhattan that can be reached through an abandoned elevator shaft that only very few know about
The Nahanni Valley (Canada) Entrance.  This covers 250 square miles in the southern end of the Mackenzie Mountains of Canada. It lies almost 550 miles due west of Fort Simpson on the Mackenzie River of northwest Canada. Hot springs and sulfur geysers keep the valley warmer than the surrounding areas by about 30 degrees year -round (the valley is above 60 degrees latitude), making it perpetually mist-covered. This valley is inhabited only by animals as people entering the valley are usually found headless and quite dead. The Indian tribes of the area avoid this valley. (These tribes include the Ojibways, the Slave, the Dogribs, the Stoney, the Beavers and the Chipweyans.) This valley is often referred to as "the Valley of the Headless Men.
The Liyobaa Cave Entrance.  This was sealed off by Catholic Priests who believed it to be an entrance to "Hell." "The village of 'Liyobaa' or to translate, 'The Cavern of Death,' was located in the province of Zapoteca, somewhere near the ancient village of 'Mictlan' or the village of the 'Underworld.
"The Cavern of Death was actually located in the last chamber of an eight chamber building or temple. This temple had four rooms above the ground and four more important chambers built below the surface of the Earth. This building was located in "Theozapotlan," and the tunnel entrance led one beneath a mountain.
KGB Map of Alien Bases On Earth
GOVERNMENT MAP OF UNDERGROUND TUNNELS
For the complete list see here:
These areas were found off a government map showing just some of the underground bases in the United States.
EDWARDS AIR FORCE BASE: From Edwards a tunnel goes to Vandenberg Air Force Base From Vandenberg you back up to Edwards and go Southeast to subterranean base at a place that the map designates as Cat., which probably means Catalina Island, showing a flying saucer there so alien space crafts are probably seen there.
The map shows an underground base and a tunnel going into it at a place called 29 palms.
The next place on the map where an underground base is, is the Chocolate Mts.
There appears to be a site in Nevada at Tonopah, Area 51 at Groom Lake, and a place designated as COG AFB.
In Arizona we have sites at Wickiup and Page.
Utah there is one at Salt Lake City (R&D AFB).
There is one in Riverton "M", Denver, Colorado, Colorado Springs, COG Creedo and Delta.
In New Mexico they are at Dulce, Taos, Los Alanos, ALB, AFB, Datil and Carlsbad.
In Texas there is one at Lubbock. Denton "908" (C.O.G) seems to have an isolated one, Ft. Stockton and in Old Mexico there is one at Chihuahua.
Tulsa Oklahoma has one and just NE of there we appear to have one with a saucer coming out of it.
Hutchison AFB Kansas has one.
Arizona Tunnels and Caves
GRAND CANYON – Cave[s] near the confluence of the Colorado and Little Colorado rivers. Hopi legends say that their ancestors once lived underground with a friendly race of "ant people" [not to be confused with the sinister "mantis" people described by several abductees], but some of their kind turned to sorcery and made an alliance with lizard or serpent men known as the "two hearts", which dwelt in still deeper caverns below. The "flood" of evil and violence forced the peaceful Hopi's to the surface world. An explorer named G. E. Kincaid claimed to have found "one of" the ancient caves, in which were reportedly discovered Oriental, Egyptian & Central American type artifacts.
Smithsonian archaeologists S. A. Jordan and associates also explored the man-made cavern with hundreds of rooms, enough to hold over 50 thousand people. The underground city is about 42 miles up river from El Tovar Crystal Canyon and Crystal Creek, and about 2000 feet above the river bed on the east wall. John Rhodes after 3 years of field research reportedly discovered the Grand Canyon city, which is now being used as a museum for elitist groups and has lower levels that are being used by "super secret black book operatives", which can only be entered via a stainless steel door at the bottom of a stairwell deep within the "city" that is "guarded by a very lonely soldier staring into the darkness… dressed in a white jumpsuit and armed only with an M16 assault rifle to ward off his imagination."
Source: ARIZONA GAZETTE, March 12, 1909 & April 5, 1909; Robert Morning Sky; John Rhodes
Top Extra Secret Underground Alien Bases, Part 1.
South America
Karl Brugger, in his book The Chronicle of Akakor (Delacorte Press., N.Y., 230 pp), gives the history – as given to the author by one of their chiefs – of the Ugha Mongulala tribesman, whose ancestors were allegedly part of a vast empire which covered South America in ancient times. Some of these ancient people, the chief claimed, left the planet in aerial vessels to explore other parts of the solar system and beyond, leaving behind vast subterranean cities beneath the Andes mountains and western Brazil.
In 1971, due to the constant encroachment of white settlers or invaders into their territory, 30,000 survivors of the Ugha Mongulala allegedly escaped to this ancient system of underground cities, consisting of 13 separate subterranean complexes all connected by tunnels, one of which is said to extend to Lima, and others of which are located throughout the Andes Mountain range of Peru.
Saga Magazine's UFO Annual [980, p4], under the heading 'Cave Martians', described a bizarre encounter with subterranean creatures which seemed to have consisted of some type of automaton-like forms, perhaps on a reconnaissance mission from an underground civilization. The story involved a tunnel near Xucurus, Argentina(?), some 90 miles from Buenos Aires. The tunnel was discovered by agriculturalist Gerardo Cordeire, and found to contain nine connecting passages and strange inscriptions on the walls.
From it's entrance "men nine feet tall, green, with antennas on their heads, and square legs" were seen to emerge, and which, according to hundreds of witnesses from the town and nearby locals, resembled enormous "portable radios."
Camouflaged "Alien Bases" on our World
"There is an ancient legend among the Hindus of India that tells of a civilization of immense beauty beneath central Asia. Several underground cities are said to be located north of the Himalayan mountains, possibly in Afghanistan, or under the Hindu Kush. This subterranean Shangri-la is inhabited by a race of golden people who seldom communicate with the surface world. From time to time, they travel into our land through tunnels that stretch in many directions. Entrances to the tunnels are believed to be hidden in several of the ancient cities of the Orient. Tunnel entrances are said to be in Ellora and the Ajanta caverns in the Chandore Mountain range of India."
Eric Norman
Click here for more information
Brazil
One tunnel in Brazil is near Ponte Grosse in the state of Parana. (Fruit orchards were seen here.) Another entrance in Brazil is near Rincon, state of Parana. Also, in the state of Santa Catarina, Brazil, near the city of Joinville there is a mountain containing an entrance to the tunnels. (Santa Catarina is an area alive with subterranean activity, including strange 'singing' from underground.) Another entrance in Brazil is in the state of Sao Paulo near Concepiao. Still another entrance in Santa Catarina near Gaspar has subterranean fruit orchards.
"The states of Santa Catarina and Parana, Brazil are honeycombed by a network of Atlantean tunnels that lead to subterranean cities."
Alien Base in Scotland
The Maltese Cave Entrance.  This entrance is located on the island of Malta, near the small village of "Casal Paula." (This village is built on the "Corradino" plateau, and overlooks the capitol town of Malta, "Valletta," as well as Grand Harbour.) In 1902, workmen digging a well in Casal Paula fell into a subterranean cavern. The well was being dug for a house on "Hal Saflienti," the main street in Casal Paula. The cavern the workers had fallen into connected with an entire complex of caves and tunnels. This entrance is known as the "Hypogeum of Hal Saflienti." (In Latin, "Hypogeum" is the name for an underground structure.) "The tunnels under the Hypogeum have been sealed off even since a school took 30 students into the caves and disappeared, guide and all. Search parties were never able to locate any trace of the people and children.
The Staffordshire, England Entrance.  Somewhere in Staffordshire, England, a lonely field exists in which a laborer discovered a large iron plate beneath the dirt. The "hatch" was large and oval, with an iron ring mounted on it. This entrance led into the tunnels. The field is in a valley surrounded on almost all sides by woods. The laborer was digging a trench for some purpose. The incident was reported in "A History of Staffordshire" by Dr. Plot, who wrote the book in the late 1700s. It may be possible to find the entrance if it can be ascertained exactly which valley the laborer was digging in.
The Dulce, New Mexico Base.  An underground Military Base/Laboratory in Dulce, New Mexico connects with the underground network of tunnels which honeycombs our planet, and the lower levels of this base are allegedly under the control of Inner Earth beings or Aliens. This base is connected to Los Alamos research facilities via an underground "tube-shuttle." (It can be assumed that such a shuttle way would be a straight-line construction. It should then be possible, by using maps and some deduction, to determine the most likely location of this base, especially since the general location is already known.) Beginning in 1947, a road was built near the Dulce Base, under the cover of a lumber company. No lumber was ever hauled, and the road was later destroyed. Navajo Dam is the Dulce Base's main source of power, though a second source is in El Vado (which is also another entrance). (Note: The above facts should also help to locate the base.) Most of the lakes near Dulce were made via government grants "for" the Indians. (Note: The September, 1983 issue of Omni (Pg. 80) has a color drawing of 'The Subterrene,' the Los Alamos nuclear-powered tunnel machine that burrows through the rock, deep underground, by heating whatever stone it encounters into molten rock, which cools after the Subterrene has moved on. The result is a tunnel with a smooth, glazing lining.)" (Note: Where would the molten rock go? And what has been done with this concept since 1983?)
Bechtel (BECK-tul) is a super secret international corporate octopus, founded in 1898. Some say the firm is really a 'Shadow Government's working arm of the CIA. It is the largest Construction and Engineering outfit in the U.S.A and the World (and some say, beyond)." "The most important posts in U.S.A. Government are held by former Bechtel Officers. There are over 100 Secret Exits near and around Dulce. Many around Archuleta Mesa, others to the source around Dulce Lake and even as far east as Lindrich. Deep sections of the Complex connect into natural Cavern Systems. (Note: The elevators, lights, and doors at Dulce Base are all magnetically controlled.)
The area around Dulce has had a high number of reported Animal Mutilations." The researchers at Dulce Base have also abducted several people from Dulce's civilian population and implanted devices of various types in their heads and bodies. (Note: Livermore Berkeley Labs (where?) began producing blood for the Dulce Base in the mid 1980s, and Human and Animal abductions slowed considerably. It may be worthwhile to check-out Livermore Berkeley Labs.) DELTA group (from the National Recon Group) is responsible for security of all Alien-connected projects. The DELTA symbol is a Black Triangle on a Red Background. Dulce Base's symbol is a Delta (triangle) with the Greek Letter "Tau" (t) within it, and then the entire symbol is inverted, so the triangle points down, and the "Tau" is also inverted. Christa Tilton (was abducted and taken to Dulce Base) She is the editor of "Crux" magazine, which deals with UFOs, abductions, etc. P.O. Box 906237 Tulsa, Oklahoma (zip ?????)
Bases in the United States Mt. Ranier, Washington State Mt. Lassen, Tehama County, California Death Valley, California Superstition Mountains, Arizona Mt. Shasta, California Brown Mountain, North Carolina Mt. Ranier Entrance.
A very active UFO base exists beneath Mt. Ranier. There are also said to be underground "vaults" containing records of the ancient Lemurians. (Note: F.L. Boschke wrote the book "The Unexplained" about the mysteries surrounding Mt. Ranier.) The ice cap of Mt. Ranier contains a maze of corridors and caves. In August of 1970, scientists climbed to the top of Mt. Ranier, and entered these caverns and tunnels. Evidence was found indicating that a small lake exists deep beneath the ice cap. It is possible that one could find a way to get beneath Mt. Ranier through these tunnels.  The Mt. Lassen Entrance Mt. Lassen in Tehama County, California is an entrance to a large underground city. Near the foot of Mt. Lassen is a town called Manten. A man named "Ralph B. Fields" lived (lives?) there, and found the entrance to the underground city. His friend "Joe" was with him. The cave entrance is in the side of the mountain, at a little over 7,000 feet above sea level, and is near a rock outcropping suitable for camping under.
Death Valley, CA. Entrance.  Local Indian legends speak of a tunnel that runs beneath the desert. (Note: The book "Death Valley Men," tells the story of 3 people who are supposed to have found an underground city connected with this tunnel, and who actually took treasures from it. The entrance to the Death Valley Tunnel is in the Panamint Mountains down on the lower edge of the range near Wingate Pass, in the bottom of an old abandoned shaft. The bottom of the shaft is collapsed, opening an entrance into a large tunnel system containing much treasure. These tunnels connect with the surface also through arches (like large windows) in the side of the mountain and they look down on Death Valley. They're high above the valley now, but they were once on the edge of the water, and were accessed by boats. The "windows" in the Death Valley side of the Panamint Mountains are about 4,500-5,000 feet above the bottom of Death Valley, and are across from Furnace Creek Ranch. From these openings you can see the green of the ranch below you and Furnace Creek Wash across the valley. (So, with high-powered binoculars or a telescope, you should be able to see the openings from the Furnace Creek Ranch, or Wash.) You can drive down Emigrant Canyon towards Death Valley. You can then park beside the road between Furnace Creek Ranch and the Salt Bed. (From here, the windows should be visible through binoculars.) Indian legends of the Paiutes Indians speak of the people who used to live in the Panamint's caverns.
The Mt. Shasta, CA Entrance.  There are tunnels beneath Mt. Shasta that lead to a UFO base there, as well as tunnels that connect with the vast world-wide tunnel network. The Lemurian city "Telos" is said to exist beneath Mt. Shasta. William Hamilton has done much research on Mt. Shasta and the tunnels. He has privately published a book entitled "Alien Magic" 249 North Brand Boulevard, Suite 651 Glendale, CA 91203
The Brown Mountain Entrance.  Brown Mountain is in North Carolina near Morganton. Morganton is "about 15 miles north of an actual highway marker which has been posted by the state providing any visitor the best view" of Brown Mountain. Brown Mountain is an area in which many strange lights have been seen. There are entrances that lead inside the mountain to an isolated (?) Alien base.
Vatican prepares conference on extraterrestrial life
A conference with an extraordinary theme will be held at the Vatican on February 12: The Universe and Possible Encounters with Other Civilizations.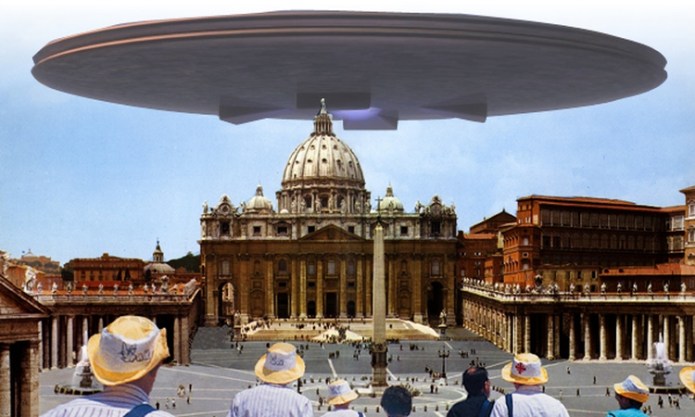 As is known, Catholicism represents one of the most important religious currents in the world, it has an ancient and modern cultural heritage.
Accumulated information from several centuries suggests that UFO students know that this organization knows more than it needs to recognize encounters with alien races and the existence of unknown flying objects.
From 2 March 2020, the Vatican will allow several researchers from various countries to access information from the end of Pope Pius XII's pontificate, that is, from 1958 to the present day.
The Vatican is considered one of the most important centers of historical collection in the world. It has about 150 thousand documents, 650 different files in an extension of 85 linear kilometers of shelves, which are said to allow to know 8 centuries of history.
Everything suggests that there may be an opening for the revelation of the existence of extraterrestrial life in the universe and, possibly, be in our world.
On February 12, the conference will be held under the title: The Universe and Possible Encounters with Other Civilizations, sponsored by Nazionale Ufological Center, an Italian organization that has members related to the Vatican and the Italian government.
It will be presented by Vladimiro Bibolotti, a freelance journalist, aware of the UFO phenomenon since 1975, and a member of this Center since 1995, of which he was president until 2019.
Bibolotti has an experience that accredits him as a specialist in ufology. He also has connections that connect him to the Vatican.
Bibolotti mentioned in 2014 that:
"if massive contact occurs or the existence of extraterrestrial life is revealed, all religions would have to join new scenarios, in addition to creating another worldview".
This Center is related to the organization founded by Tom DeLonge, who participated in the public release of US Navy UFO videos.
In 2019, the UFO phenomenon was marked by the recognition of American agencies, which are taking a new turn in their knowledge.
Within the clergy, what is related to the UFO phenomenon is considered strange and denied, but supposedly they would be changing their irreducible positions.
Of course, ufology and the Vatican have more in common than we want to recognize, and everything suggests that some answers can be found in their archives.
Perhaps this opening can be significant so that, once and for all, it is established that we are not alone in the universe.
Bradford UFO reports include fast-moving oblong over Horton Bank Top and craft-like white ball near Wyke
REPORTS of UFO activity in Bradford over the last five years have included a fast-moving oblong object with flashing lights over Horton Bank Top and a craft-like white ball near Wyke.
Since the start of 2015, police in the city have recorded three incidents that include keywords 'Alien' or 'UFO' within the incident log text.
Details of the reports were revealed after a Freedom of Information request by the Telegraph & Argus.
In August 2015, a caller in the Toller area reported seeing an oblong shape with three red lights with three flashing blue lights above it at about 11pm. The report says: "It was moving exceptionally fast.; it went as far as Horton Bank Top, then back, went again and then came back."
In August 2017, there were reports of a UFO in an unknown location in Bradford. The report says: "This is triangle shaped and red/blue and white lights can be seen; he states the UFO is hovering at a distance but is slightly moving.; he states the sky is clear."
In April 2018, officers received a call from Wyke. The incident log reads:
"Caller reporting she has seen a UFO on 22/2 that she has taken video of; seen a bit after 1900; caller states she was woken up by this; the UFO is a white ball in the sky then turns into a blue-purple ball; 'it looks like a craft' with lights; caller filmed this from her house out the window; seemed to turn with caller as she looked at it ; sounded like a helicopter; the UFO was over caller's house for a while, unknown how long it was there for; only 1 object seen; caller looking from front of her house."
The T&A submitted the Freedom of Information request after receiving a video clip from Juran Harrison in late November of a strange light in the sky above the Tong area of Bradford.
That incident on Tong Road at 4.36pm on Tuesday November 26, was described as a "possible UFO sighting" and attracted great interest from readers, so we thought we'd find out what other 'UFO reports' had been made in recent years.
Secrets of UFOs and Peenemünde
The exciting topic of UFO flights has long gained popularity. This is both the secrets of alien technology, and our understanding that we are not alone in the universe. That is why we are interested in the research of space agencies, aimed at the world of the Universe and the Earth.
Virtually nothing is known about UFOs, except for the sensational stories that exist on the brink of fiction. Not everyone believes in the plausibility of these stories, although they sincerely want everything to turn out to be reality. So what secrets does UFOs have and what is happening on Earth?
Since time immemorial, people have described the appearance of strange, human-like creatures. They flew to us in heavenly ships and brought their knowledge, shared their experiences. Almost all civilizations of ancient times took an example from aliens. People saw in them the gods who came to Earth to help find peace and harmony.
Residents of different tribes, as far as possible, sought to imitate the creatures that came from heaven. People changed the shape of skulls, built buildings similar to alien ships. They performed many other actions that would bring them closer to the image of the gods.
However, humans are as mortal as civilizations and ages themselves. Time passed with the secrets and knowledge of peoples. Today, the amazing past is reported only by cave paintings, ancient letters and drawings on the walls of temples.
UFO secrets lie on the surface so that people know that they are not alone and are developed cosmic civilizations.
Secret 1. Aliens have long been living on Earth. The assimilation of alien creatures and people has occurred. Thanks to this, humanity continues to evolve to this day.
Secret 2. UFO's are in the bowels of the Earth. This is confirmed by the results of archaeological excavations and geological explorations. Under the Earth are thousands of ships and burials of unknown creatures.
In some caves in different countries, skeletons completely different from people and animals rest. Subsequent analysis and reconstruction of the persons buried showed that these creatures are not human. Their origin is unknown, and the structure of the body is fundamentally different from the human.
Secret 3. UFO activity in the places of geological faults, where there is increased magnetic radiation (magnetic anomalies) and some other anomalous zones.
This may be due to the fact that aliens are studying the structure of the Earth and observe the growth of our civilization. However, the anomalous zones could have been created by aliens. It is possible that in these places a large base is disguised or something like that. This is just the smallest part of what we know about UFOs.
Secrets of Peenemünde.
Around the 30s, the embodiment of revolutionary ideas in the field of aircraft of an unusual design began. One of the prominent designers was Irman Mayer. He developed a device diagram in the form of a flying saucer, which had a ring-shaped screw in the center.
A curious scheme was aimed at protecting important parts of the device. This also made it possible to place a large number of guns on board, which was of no small importance. True, the design had a theoretical appearance and when it was embodied in reality, there were many technical problems. But this was precisely the beginning of the Peenemünde project.
Soon, the young but talented Irman Mayer drew the attention of Heinrich Zimmerman. The designer was literally obsessed with devices in the form of flying disks (those same UFOs), and unusual structures of engines of flying machines. Zimmermann really liked Mayer's theory and he hastened to invite him to his design laboratory.
I must say that Zimmerman was not disappointed in his decision and together with the inventors achieved a lot. If you search, you can find several photos with the hulls of aircraft developed by Zimmerman and Mayer.
Between 1942 and 1943, there were many statements in which eyewitnesses spoke about unusual designs in the form of basins, pancakes, plates, discs. In the middle if the "flying saucers" was a large transparent bulb. Mysterious devices were in the hangar of the Peenemünde training ground. Soon it was reported about the aircraft with a turbojet engine JUMO-004B, which had a speed of 700 km / h and had a landing speed of 60 km / h.
The only minus of this device was instability in flight. This was told by one of the prisoners of the concentration camp near the Peenemünde training ground. When the apparatus was tested in 1943, after a successful take-off, it turned over due to the influence of a side wind, subsequently fell and exploded. But who knows how the development of such flying structures was completed and whether this project found a productive completion.