Various types of folklore can be found all over the world. Japan in particular has some very interesting, as well as creepy urban legends. The majority of them are based on onryo, or vengeful spirits that have had something unfortunate or tragic happen to them when they were alive and who let their anger out on innocent victims- often by frightening and/or killing them. 

Tek Tek or Teke-Teke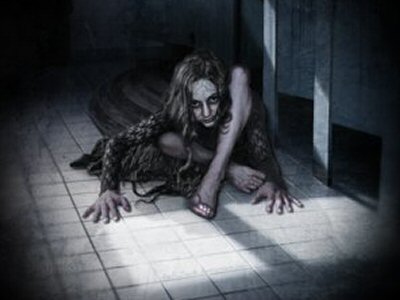 Tek Tek or Teke-Teke is an urban legend from Japan about a girl who fell under a train and was cut in half. She took a long time todie and now her ghost roams through Japan, dragging her top half along using her claw-like hands. Every time she moves, she makes a "teke-teke" sound.
There is a story about a young boy who was leaving his school one evening when he heard a noise behind him. Looking back, he saw a beautiful girl sitting at a window. The girl had her arms propped up on the window sill and was just staring out at him. He wondered why she was there, because it was an all-boys school. When she saw him looking back at her, the girl smiled and hugged herself so that she was holding her elbows. Then suddenly, she leaped out of the window and landed on the ground outside. The boy realized with horror, that she was missing the lower half of her body.
She made her way towards him, clawing along the ground and running on her elbows making a tek-tek-tek-tek-tek sound. The boy was filled with terror and revulsion. He tried to run, but he was frozen to the spot. Within seconds, she was upon him and she took out a scythe and cut him in half, making him into one of her own. When kids tell this story, they warn each other about Tek-Tek. They say she carries a sharp saw or a scythe, and if she catches you, she'll cut you in half and you'll become just like her. She is said to chase children who play at dusk. She is also known as "bata-bata" (again, the sound of it running on its (elbows) or ; The Girl That Runs On Her Elbows.

Aka Manto (Red Cape)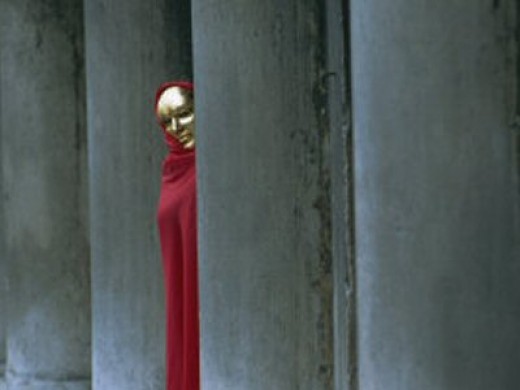 Aka Manto is a spirit which haunts bathrooms, usually the last toilet stall in the women's/girl's bathroom. Some versions describe him as wearing a mask to cover his extremely handsome face, which had caused him stalking problems in life. When the unlucky victim is on the toilet, a mysterious voice will ask them if they want red paper or blue paper. If you answer red paper, you are killed violently and drenched in blood. If you ask for blue, you are strangled or bled dry, leaving your face/skin blue. Attempting to ask for any other colour of paper will result in hands appearing (sometimes coming out of the toilet you're sitting on), that will drag you into the fires of hell. In other versions the ghost will simply ask you if you want a red vest and will then rip the skin from your back. He could also ask you if you want a red or blue cloak. The only answer that will spare the person is to refuse anything he offers. 
Fatal Fare

 

This story concerns a lone taxi driver making his way along a road during the night. Legend goes that a person will suddenly appear from the night darkness and hail the taxi. The person will only ever sit in the back of the car and will ask to be taken to a place the driver has never heard of. When the driver mentions this, he is assured that he will be given directions. The passenger then feeds the driver increasingly complex directions which leads them down streets and alleys, through many towns and even in some instances all the way from the city to the countryside. After traveling this distance and still seeming no closer to any destination, the driver becomes uneasy. He turns around to the back seat to ask the passenger exactly where they are – but he is suddenly shocked to find that the passenger has vanished. The taxi driver turns back to the steering wheel; only to drive off the edge of a cliff.

Gozu (Cow Head)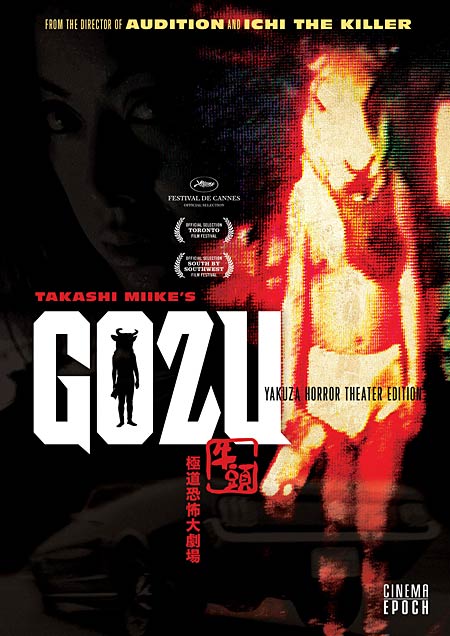 Gozu (Ox-head), also known as Cow Head, is a Japanese urban legend about a fictional story called 'Cow Head'. Supposedly the Cow Head story is so horrifying that people who read or hear it are overcome with fear so great that they tremble violently for days on end until they die. One variation involves a teacher who tells a bored group of school children the story, resulting in both children and teacher becoming catatonic and losing their memory. Other variations include the detail that no one is able to retell the story since they die after hearing it. The Cow Head story was rumored to be an unpublished piece from sci-fi writer Sakyo Komatsu, but there is no evidence to link the author to the legend. A Ukrainian folktale called Cow's Head does exist, about a woman who receives good fortune by offering food and shelter to a disembodied cow's head that visits her one night, as well as a 2003 film called Gozu, directed by Takashi Miike, neither of which are linked to the urban legend. 

Jinmenken (Human Faced Dog)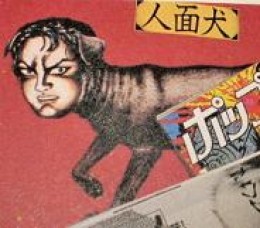 Jinmenken are dogs, but with human faces that supposedly appear at night in Japanese urban areas and run along highways at extremely fast speeds. The jinmenken can also talk, but reports say that they will either be rude or will ask to be left alone. Unlike most Japanese urban legends, the human-faced dog is not widely known to kill those unlucky enough to meet it, though they are said to be escaped scientific experiments or the spirits of road crash victims. There is also speculation that witnesses who say they have met a jinmenken have actually come across Japanese macaques, which accounts for the quadrupedal movement, dog-like fur, human face and the human-like noises the jinmenken can supposedly make. 

Kokkuri-san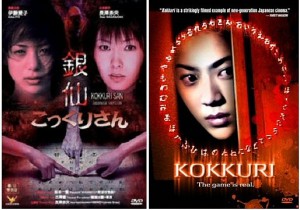 Kokkuri is a Japanese version of a ouija board, which became popular during the Meiji era. Rather than using a pre-bought board with letters and a Planchette, 'players' write down hiragana characters and place their fingers on a coin, before asking 'Kokkuri-san' a question. This is a popular game in highschools and, similar to the western ouija board, several rumours and legends surround it. Some include Kokkuri-san only telling players the date of their death, while others say you can ask Kokkuri-san anything but you must finish the game correctly, either by saying goodbye to Kokkuri-san before leaving the table, or disposing of the kokkuri game utensils within a certain time limit, such as spending the coin or using the pen which wrote the hiragana. Failure to do so will result in misfortune or death for the players. 

Kuchisake-onna (Slit-mouthed Woman)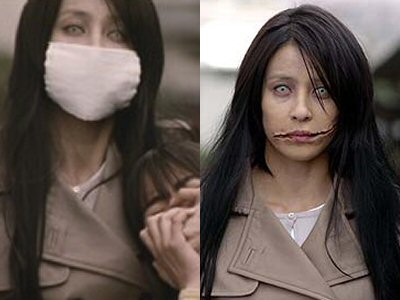 Children walking alone at night may encounter a woman wearing a surgical mask, this is not an unusual sight in Japan as people wear them to protect others from their colds or sickness. The woman will stop the child and ask, 'Am I beautiful?'. If they say no, she kills them with a pair of scissors she always carries with her, but most children will answer yes, in which case the woman asks 'How about now?' and removes her mask to reveal her mouth has been slit from ear to ear. Regardless of whether the child answers yes or no at this point, the woman will kill them, if they say no, they are cut in half, and if they say yes, she cuts their mouths to be exactly like hers. To escape the Kuchisake-onna, you can answer her second question with "You're average" or "So-so", and you can escape while she is confused, or you can throw fruit or sweets at her which she will pick up, thus giving the victim a chance to run. One other way is to ask her if you are pretty, she will get confused and leave. 

Toire no Hanako-san (Hanako-san of the Toilet)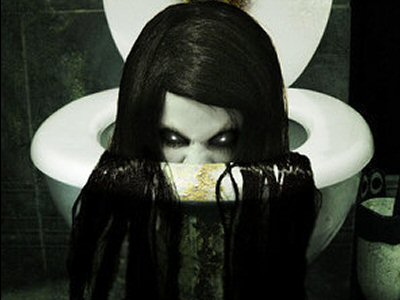 Toire no Hanako-san is a famous legend associated with Japanese elementary schools. The story tells of an omnipresent ghost who is thought to be the spirit of a student who committed suicide due to excessive bullying or "ijime". However the entity is also known to just appear for no apparent reason. Hanako-san is a popular legend in elementary schools in Japan, and supposedly haunts the fourth stall of the girl's bathroom. Characterized by a pair of stark gleaming eyes, the spirit scares any person who sets eyes on it. Not known to be malevolent or vicious in any way, Hanako-san is simply an eerie entity that only serves to severely scare its victims.