Giants often appear In the Japanese myths. There are even legends that the heyday of their culture and civilization fell on 40-60 thousand years ago. It is believed that the current Asuka Park was the center, and possibly the capital, of this antediluvian civilization of giants.
It is important to note that official science dated these stones to the 7th century AD, but detailed studies were not carried out, and the assessment was given on the basis of household items found in this region. Clearly, the stone sculptures are much older, and the artifacts found belong to relatively modern Japanese civilization.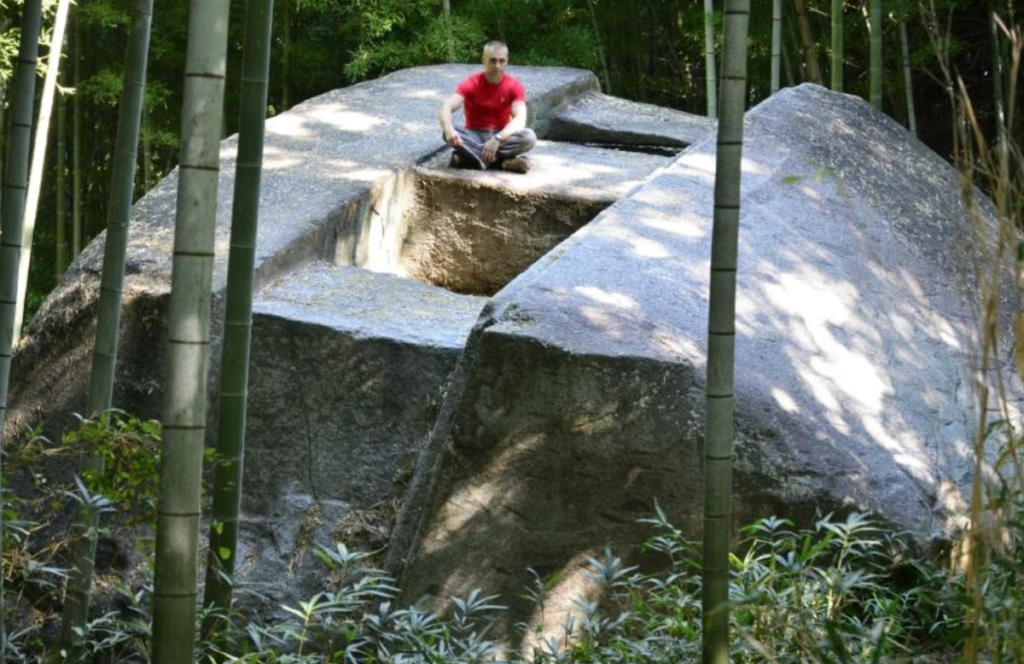 Only on the territory of the park are processed megaliths tens of thousands of years old and weighing from 350 tons to 1500 tons. Such blocks are comparable only to Baalbek, where incredibly gigantic blocks with mechanical processing were also found. To imagine that an ancient technician decided to cut some unthinkable figure out of a whole rock looks like a senseless and stupid exercise. In addition, academic science claims that Japan is certainly one of the ancient civilizations, but not so much as to be tens of thousands of years old.
In this case, myths come to the rescue. Giants are described as good merry fellows, demigods are the descendants of gods and human women. It is noteworthy that such motifs can be found in the myths of many ancient civilizations. As if initially on Earth there were ape-like people along with the descendants of the gods.
Local folklorist Isura Masazuki claims that Asuka Park contains not just megaliths, but details of ancient stone devices. In principle, such forms really resemble some components of something larger. Then the question of hypothetical giants will become even more obvious in favor of their reality. It is one thing when the Egyptian pyramids were built from relatively small blocks, and it is quite another to make something out of parts weighing 1000 tons.
By the way, there is also a presumed tomb in the Asuka Park. Alas, no skeletons or household items were found, but the bed itself measures 4.5 meters by 1.8 meters which is clearly not for a human sized body. Some images are carved in stone on several megaliths. Some believe that they have a map of the star house of the gods, according to another version, this is information about the life of giants.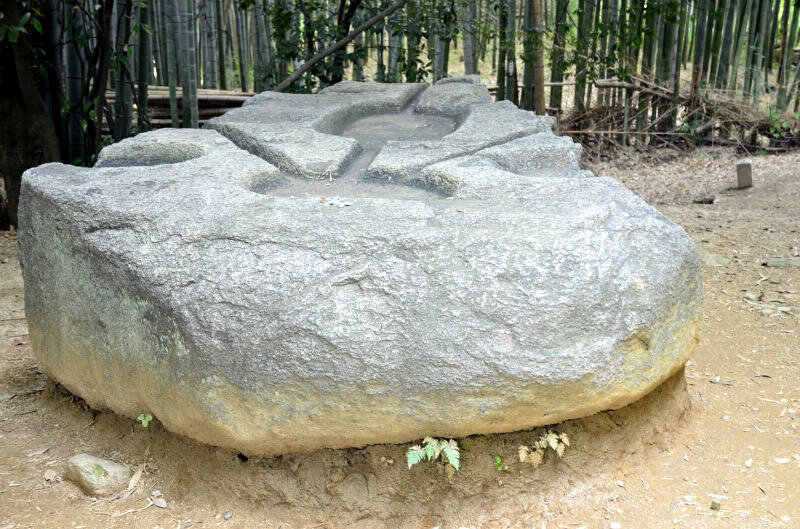 The Ishi-no-Hoden megalith
Not far from the small Japanese city of Takasago, archaeologists were conducting a study of rocks when they noticed a huge stone of an uncommonly regular shape. After examining the object more carefully, the scientists considered that in front of them was a part weighing 600 tons. According to some assumptions, we are talking about a hidden ancient mechanism.
Work on the study of the megalith is difficult for ethical reasons. A Shinto monastery was built around it.
Even with a visual inspection, the Ishi-no-Hoden megalith resembles a giant piece from a more complex technique. A prismatic protrusion was left on one of its planes – it is logical to imagine that the spike was intended for implantation into the mechanism.
"The authors of this object had to remove tons of stone from the rock and somehow polish it to an almost mirror shine. At the same time, we did not find a single quarry nearby," Dr. Kaoru Tokugawa from Osaka University told reporters.

On the side surfaces of the megalith there are also grooves, which could also serve to move the stone itself along the counterparts in a larger structure, which looks more logical.
The surface treatment of the megalith does not look like manual work; rather, some kind of mechanical tool was used that could not chip, but grind hard rock. But questions, nevertheless, are rather caused by the purpose of a strange stone, which many private researchers unofficially call the "key".
There are many hypotheses but unfortunately, in this case one has to guess, since there are no written sources of that era left.