Jack the Ripper unmasked: How amateur sleuth used DNA breakthrough to identify Britain's most notorious criminal 126 years after string of terrible murders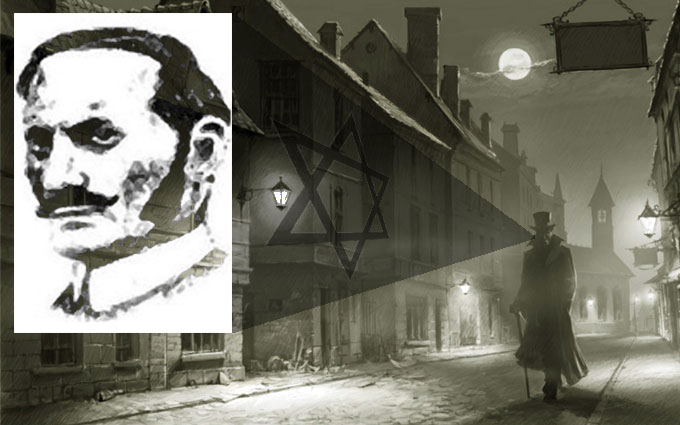 From: dailymail.co.uk
It is the greatest murder mystery of all time, a puzzle that has perplexed criminologists for more than a century and spawned books, films and myriad theories ranging from the plausible to the utterly bizarre.
But now, thanks to modern forensic science, The Mail on Sunday can exclusively reveal the true identity of Jack the Ripper, the serial killer responsible for at least five grisly murders in Whitechapel in East London during the autumn of 1888.
DNA evidence has now shown beyond reasonable doubt which one of six key suspects commonly cited in connection with the Ripper's reign of terror was the actual killer – and we reveal his identity.
A shawl found by the body of Catherine Eddowes, one of the Ripper's victims, has been analysed and found to contain DNA from her blood as well as DNA from the killer.
The landmark discovery was made after businessman Russell Edwards, 48, bought the shawl at auction and enlisted the help of Dr Jari Louhelainen, a world-renowned expert in analysing genetic evidence from historical crime scenes.
Using cutting-edge techniques, Dr Louhelainen was able to extract 126-year-old DNA from the material and compare it to DNA from descendants of Eddowes and the suspect, with both proving a perfect match.
The revelation puts an end to the fevered speculation over the Ripper's identity which has lasted since his murderous rampage in the most impoverished and dangerous streets of London.
In the intervening century, a Jack the Ripper industry has grown up, prompting a dizzying array of more than 100 suspects, including Queen Victoria's grandson – Prince Albert Victor, the Duke of Clarence – the post-Impressionist painter Walter Sickert, and the former Liberal Prime Minister William Gladstone.
Gruesome: A contemporary engraving of a Jack the Ripper crime scene in London's Whitechapel
It was March 2007, in an auction house in Bury St Edmunds, that I first saw the blood-soaked shawl. It was in two surprisingly large sections – the first measuring 73.5in by 25.5in, the second 24in by 19in – and, despite its stains, far prettier than any artefact connected to Jack the Ripper might be expected to be. It was mostly blue and dark brown, with a delicate pattern of Michaelmas daisies – red, ochre and gold – at either end.
It was said to have been found next to the body of one of the Ripper's victims, Catherine Eddowes, and soaked in her blood. There was no evidence for its provenance, although after the auction I obtained a letter from its previous owner who claimed his ancestor had been a police officer present at the murder scene and had taken it from there.
Yet I knew I wanted to buy the shawl and was prepared to pay a great deal of money for it. I hoped somehow to prove that it was genuine. Beyond that, I hadn't considered the possibilities. I certainly had no idea that this flimsy, badly stained, and incomplete piece of material would lead to the solution to the most famous murder mystery of all time: the identification of Jack the Ripper.
When my involvement in the 126-year-old case began, I was just another armchair detective, interested enough to conduct my own extensive research after watching the Johnny Depp film From Hell in 2001. It piqued my curiosity about the 1888 killings when five – possibly more – prostitutes were butchered in London's East End.
Despite massive efforts by the police, the perpetrator evaded capture, spawning the mystery which has fuelled countless books, films, TV programmes and tours of Whitechapel. Theories about his identity have been virtually limitless, with everyone from Prince Albert Victor, the Duke of Clarence, to Lewis Carroll being named as possible suspects. As time has passed, the name Jack the Ripper has become synonymous with the devil himself; his crimes setting the gruesome standard against which other horrific murders are judged.
I joined the armies of those fascinated by the mystery and researching the Ripper became a hobby. I visited the National Archives in Kew to view as much of the original paperwork as still exists, noting how many of the authors of books speculating about the Ripper had not bothered to do this. I was convinced that there must be something, somewhere that had been missed.
By 2007, I felt I had exhausted all avenues until I read a newspaper article about the sale of a shawl connected to the Ripper case. Its owner, David Melville-Hayes, believed it had been in his family's possession since the murder of Catherine Eddowes, when his ancestor, Acting Sergeant Amos Simpson, asked his superiors if he could take it home to give to his wife, a dressmaker.
Incredibly, it was stowed without ever being washed, and was handed down from David's great-grandmother, Mary Simpson, to his grandmother, Eliza Smith, and then his mother, Eliza Mills, later Hayes.
In 1991, David gave it to Scotland Yard's Crime Museum, where it was placed in storage rather than on display because of the lack of proof of its provenance. In 2001, David reclaimed it, and it was exhibited at the annual Jack the Ripper conference. One forensic test was carried out on it for a Channel 5 documentary in 2006, using a simple cotton swab from a randomly chosen part of the shawl, but it was inconclusive.
Most Ripper experts dismissed it when it came up for auction, but I believed I had hit on something no one else had noticed which linked it to the Ripper. The shawl is patterned with Michaelmas daisies. Today the Christian feast of Michaelmas is archaic, but in Victorian times it was familiar as a quarter day, when rents and debts were due.
I discovered there were two dates for it: one, September 29, in the Western Christian church and the other, November 8, in the Eastern Orthodox church. With a jolt, I realised the two dates coincided precisely with the nights of the last two murder dates. September 29 was the night on which Elizabeth Stride and Catherine Eddowes were killed, and November 8 was the night of the final, most horrific of the murders, that of Mary Jane Kelly.
Found at the scene: Russell Edwards holds the shawl he bought in 2007, allegedly handed down from a policeman who took it from the scene, which had the incriminating DNA on it
I reasoned that it made no sense for Eddowes to have owned the expensive shawl herself; this was a woman so poor she had pawned her shoes the day before her murder. But could the Ripper have brought the shawl with him and left it as an obscure clue about when he was planning to strike next? It was just a hunch, and far from proof of anything, but it set me off on my journey.
Before buying it, I spoke to Alan McCormack, the officer in charge of the Crime Museum, also known as the Black Museum. He told me the police had always believed they knew the identity of the Ripper. Chief Inspector Donald Swanson, the officer in charge of the investigation, had named him in his notes: Aaron Kosminski, a Polish Jew who had fled to London with his family, escaping the Russian pogroms, in the early 1880s.
Kosminski has always been one of the three most credible suspects. He is often described as having been a hairdresser in Whitechapel, the occupation written on his admission papers to the workhouse in 1890. What is certain is he was seriously mentally ill, probably a paranoid schizophrenic who suffered auditory hallucinations and described as a misogynist prone to 'self-abuse' – a euphemism for masturbation.
McCormack said police did not have enough evidence to convict Kosminski, despite identification by a witness, but kept him under 24-hour surveillance until he was committed to mental asylums for the rest of his life. I became convinced Kosminski was our man, and I was excited at the prospect of proving it. I felt sure that modern science would be able to produce real evidence from the stains on the shawl. After a few false starts, I found a scientist I hoped could help.
Dr Jari Louhelainen is a leading expert in genetic evidence from historical crime scenes, combining his day job as senior lecturer in molecular biology at Liverpool John Moores University with working on cold cases for Interpol and other projects. He agreed to conduct tests on the shawl in his spare time.
The tests began in 2011, when Jari used special photographic analysis to establish what the stains were.
Using an infrared camera, he was able to tell me the dark stains were not just blood, but consistent with arterial blood spatter caused by slashing – exactly the grim death Catherine Eddowes had met.
But the next revelation was the most heart-stopping. Under UV photography, a set of fluorescent stains showed up which Jari said had the characteristics of semen. I'd never expected to find evidence of the Ripper himself, so this was thrilling, although Jari cautioned me that more testing was required before any conclusions could be drawn.
Obsession: Russell Edwards points to Hambury Street where one of the murders took place
He also found evidence of split body parts during the frenzied attack. One of Eddowes' kidneys was removed by her murderer, and later in his research Jari managed to identify the presence of what he believed to be a kidney cell.
It was impossible to extract DNA from the stains on the shawl using the method employed in current cases, in which swabs are taken. The samples were just too old.
Instead, he used a method he called 'vacuuming', using a pipette filled with a special 'buffering' liquid that removed the genetic material in the cloth without damaging it.
As a non-scientist, I found myself in a new world as Jari warned that it would also be impossible to use genomic DNA, which is used in fresh cases and contains a human's entire genetic data, because over time it would have become fragmented.
But he explained it would be possible to use mitochondrial DNA instead. It is passed down exclusively through the female line, is much more abundant than genomic DNA, and survives far better.
This meant that in order to give us something to test against, I had to trace a direct descendant through the female line of Catherine Eddowes. Luckily, a woman named Karen Miller, the three-times great-granddaughter of Eddowes, had featured in a documentary about the Ripper's victims, and agreed to provide a sample of her DNA.
Jari managed to get six complete DNA profiles from the shawl, and when he tested them against Karen's they were a perfect match.
It was an amazing breakthrough. We now knew that the shawl was authentic, and was at the scene of the crime in September 1888, and had the victim's blood on it. On its own, this made it the single most important artefact in Ripper history: nothing else has ever been linked scientifically to the scene of any of the crimes.
Months of research on the shawl, including analysing the dyes used, had proved that it was made in Eastern Europe in the early 19th Century. Now it was time to attempt to prove that it contained the killer's DNA.
The suspects: The long line of men believed to be Jack the Ripper include, from top left to right, Prince Albert Victor, Edward VII's son, allegedly driven by syphilis-induced madness, Sir William Gull, Queen Victoria's doctor, painter Walter Sickert, a Jewish shoemaker, a polish barber who later poisoned three women – and Kosminski
Jari used the same extraction method on the semen traces on the shawl, warning that the likelihood of sperm lasting all that time was very slim. He enlisted the help of Dr David Miller, a world expert on the subject, and in 2012 they made another incredible breakthrough when they found surviving cells. They were from the epithelium, a type of tissue which coats organs. In this case, it was likely to have come from the urethra during ejaculation.
Kosminski was 23 when the murders took place, and living with his two brothers and a sister in Greenfield Street, just 200 yards from where the third victim, Elizabeth Stride, was killed. As a key suspect, his life story has long been known, but I also researched his family. Eventually, we tracked down a young woman whose identity I am protecting – a British descendant of Kosminski's sister, Matilda, who would share his mitochondrial DNA. She provided me with swabs from the inside of her mouth.
Amplifying and sequencing the DNA from the cells found on the shawl took months of painstaking, innovative work. By that point, my excitement had reached fever-pitch. And when the email finally arrived telling me Jari had found a perfect match, I was overwhelmed. Seven years after I bought the shawl, we had nailed Aaron Kosminski.
As a scientist, Jari is naturally cautious, unwilling to let his imagination run away without testing every minute element, but even he declared the finding 'one hell of a masterpiece'. I celebrated by visiting the East End, wandering the streets where Kosminski lived, worked and committed his despicable crimes, feeling a sense of euphoria but also disbelief that we had unmasked the Ripper.
Kosminski was not a member of the Royal Family, or an eminent surgeon or politician. Serial killers rarely are. Instead, he was a pathetic creature, a lunatic who achieved sexual satisfaction from slashing women to death in the most brutal manner. He died in Leavesden Asylum from gangrene at the age of 53, weighing just 7st.
No doubt a slew of books and films will now emerge to speculate on his personality and motivation. I have no wish to do so. I wanted to provide real answers using scientific evidence, and I'm overwhelmed that 126 years on, I have solved the mystery.
Shawl that nailed Jewish Polish lunatic Aaron Kosminski and the forensic expert that made the critical match
By Dr Jari Louhelainen
When Russell Edwards first approached me in 2011, I wasn't aware of the massive levels of interest in the Ripper case, as I'm a scientist originally from Finland.
But by early this year, when I realised we were on the verge of making a big discovery, working on the shawl had taken over my life, occupying me from early in the morning until late at night.
It has taken a great deal of hard work, using cutting-edge scientific techniques which would not have been possible five years ago.
To extract DNA samples from the stains on the shawl, I used a technique I developed myself, which I call 'vacuuming' – to pull the original genetic material from the depths of the cloth.
I filled a sterile pipette with a liquid 'buffer', a solution known to stabilise the cells and DNA, and injected it into the cloth to dissolve the material trapped in the weave of the fabric without damaging the cells, then sucked it out.
I needed to sequence the DNA found in the stains on the shawl, which means mapping the DNA by determining the exact order of the bases in a strand. I used polymerase chain reaction, a technique which allows millions of exact copies of the DNA to be made, enough for sequencing.
When I tested the resulting DNA profiles against the DNA taken from swabs from Catherine Eddowes's descendant, they were a match.
I used the same extraction method on the stains which had characteristics of seminal fluid.
Dr David Miller found epithelial cells – which line cavities and organs – much to our surprise, as we were not expecting to find anything usable after 126 years.
Then I used a new process called whole genome amplification to copy the DNA 500 million-fold and allow it to be profiled.
Once I had the profile, I could compare it to that of the female descendant of Kosminski's sister, who had given us a sample of her DNA swabbed from inside her mouth.
The first strand of DNA showed a 99.2 per cent match, as the analysis instrument could not determine the sequence of the missing 0.8 per cent fragment of DNA. On testing the second strand, we achieved a perfect 100 per cent match.
Because of the genome amplification technique, I was also able to ascertain the ethnic and geographical background of the DNA I extracted. It was of a type known as the haplogroup T1a1, common in people of Russian Jewish ethnicity. I was even able to establish that he had dark hair.
Now that it's over, I'm excited and proud of what we've achieved, and satisfied that we have established, as far as we possibly can, that Aaron Kosminski is the culprit.
Source: dailymail.co.uk
Murder Mysterious: What Happened at the Hinterkaife Farm?
This story, which took place on April 4, 1922, on the Hinterkaifike farm, located between Ingolstadt and Schrobenhausen in Bavaria, still excites the minds of lawyers and journalists. Then they found the bodies of the owner of the farm and his wife, their daughter and her two children, a maid who had recently come to them to work …
Everyone in the village knew about the Gruber. They were a wealthy family, but with a bad reputation. The father of the family, Andreas Gruber, was a cruel and rude man, so the workers on the farm did not stay long. Although everyone wanted money, few were willing to endure Andreas' harsh temper. Cecilia Gruber, his wife, used to be the owner of Hinterkaifeke – she inherited the farm from her husband. From him, she left two children, Martin and Cecilia. Soon the couple had a daughter, Victoria. She was not the only child, but the only one survived to adulthood – the rest of the children died in the absence of proper care.
Victoria grew up with Cecilia the younger as a sister. She was a quiet girl who sang in the church choir. Andreas did not deny himself the pleasure of making fun of both girls, and when Victoria turned 16, he forced her to enter into a relationship with him. Nobody knew about this, because the family lived as hermits, and the locals preferred not to pry into other people's affairs.
Cecilia the younger got married and left. At the age of 27, Victoria also found herself a husband, Karl Gabriel. According to rumors, he married solely for the sake of a share of the land, but upon learning of the incestuous relationship between his wife and father-in-law, he dropped everything and went to the front. A month later, Victoria gave birth to a daughter, Cecilia.
In the end, Victoria broke down and told about incest in confession. Gruber was sentenced to a year of hard labor, and she herself was imprisoned for a month. However, when Andreas returned, everything was resumed. Once their neighbor Lorenz Schlittenbauer wooed Victoria – his wife died then, he had sex with Victoria several times in the barn and must have decided that his farm still needs a mistress, besides, he is a respected non-poor man. But Andreas refused to marry his daughter, claiming that he "fondled her himself." When it turned out that Victoria was pregnant, she persuaded Lorenz to recognize the child as her own, but she never got married, and Gruber was named his guardian. So Lorenz was forced to pay child support until the child came of age, not even being sure that he was from him.
The baby was named Joseph. Unfortunately, he was unwell, grew poorly and was often ill. For the villagers, this served as a signal that Joseph was born as a result of an unnatural relationship between Victoria and her father.
Footprints and ghosts
Shortly before the murder, Victoria was seized with anxiety. She repeated that she felt that the farm was being watched. She saw the silhouette of a man, but could not find out who it was. Andreas also noticed oddities: footprints in the snow around the house, rustling in the attic (and when he got up, no one was there), flashing torches … Once he found a Munich newspaper that no one in the family subscribed to. He also lost his keys.
On March 31, a couple of days before the murder, the maid Maria arrived at the farm. The previous one asked for a calculation when she began to suspect that a ghost was in charge of the house.
Murder
For several days, nothing was heard about the Gruber, but life was in full swing on the farm: smoke poured from the chimney, sounds were heard, someone walked … But after several people with whom Andreas had appointments, they could not getting inside, their neighbor Lorenz became worried and called the police.
The bodies of all six were found in a house that was in perfect order. Little Joseph was killed in his cradle, Maria – in her bed, the rest were piled up in a heap by the barn and obviously not the first day dead. All residents of the farm were killed in one way – hitting the head with a hoe. At the same time, nothing of the valuable things and money, which was abundant on the farm, was not lost. Cynologists with dogs were able to take the trail of the criminal, but lost him at the edge of the forest.
The police interviewed about a hundred suspects, chief among whom was a neighbor of the Lorenz farm, whom Victoria had deceived and, perhaps, her ex-husband, who allegedly died at the front, could in fact be alive. In 2007, the students of the police academy, as a practice, re-investigated the case, found a new suspect, but out of respect for their relatives, they did not disclose their name.
A dead star in our galaxy has sent a new radio signal
Magnetar SGR 1935 + 2154, which emitted the first known rapid radio burst from inside the Milky Way in April, flared again, giving astronomers another chance to unravel the cosmic mystery.
The little dead star that sent the signal earlier this year did it again.
On October 8, 2020, the CHIME / FRB collaboration discovered SGR 1935 + 2154 emitting three millisecond radio bursts in three seconds. Following the CHIME / FRB detection, the FAST radio telescope detected something else – pulsed radio emission corresponding to the rotation period of the magnetar.
It is very interesting to see SGR 1935 + 2154 again, and I am optimistic that if we study these bursts more closely, it will help us better understand the potential relationship between magnetars and fast radio bursts, "says astronomer Deborah Goode of the University of Britain Colombia in Canada and a member of CHIME / FRB.
Until April of this year, fast radio bursts (FRBs) were ever recorded only from outside the galaxy, usually from sources millions of light years away. The first was discovered in 2007, and since then astronomers have been trying to figure out what causes them.
As the name suggests, FRBs are bursts of extremely powerful radio waves found in the sky, some of which release more energy than hundreds of millions of suns. They only last a millisecond.
Since most sources of fast radio bursts seem to flare up once and no repetition is detected, they are highly unpredictable. In addition, the ones we detect usually come so far that our telescopes cannot distinguish individual stars. Both of these characteristics make it difficult to track the FRB to either the exact source galaxy or a known cause.
But SGR 1935 + 2154 is only 30,000 light-years away. On April 28, 2020, it spat out a massive millisecond pulse that has since been dubbed FRB 200428 under the fast radio transmission naming convention.
Once the signal strength was adjusted for distance, FRB 200428 was not as powerful as the extragalactic fast radio bursts, but everything else was in line with the profile.
"If the same signal came from a nearby galaxy, such as one of the closest typical FRB galaxies, it would look like an FRB to us," said astronomer Srinivas Kulkarni of the California Institute of Technology. "We've never seen anything like it before."
We don't know much about the three new bursts yet. Since scientists are still working on the data, it is possible that some of the early findings could change, Goode said. But now we can say that they are both similar and not similar to FRB 200428.
They are a little less powerful again, but they are all still incredibly strong, and they all lasted only milliseconds.
"Although less bright than those detected earlier this year, they are still very bright flares that we would see if they were extragalactic," Goode added.
"One of the more interesting aspects of this discovery is that our three bursts appear to have occurred during the same rotation period. The magnetar is known to rotate every ~ 3.24 seconds, but our first and second bursts were separated by 0.954 seconds, and the second and third were separated by 1.949 seconds. This is a bit unusual, and I think we will look at it later. "
This could reveal something new and useful about the behavior of magnetars, because – let's face it – they're pretty weird.
Magnetars, of which only 24 have been confirmed to date, are neutron stars; it is the collapsed core of a dead star, not massive enough to turn into a black hole. Neutron stars are small and dense, about 20 kilometers in diameter, with a maximum mass of about two Suns. But magnetars add something else to this: a stunningly powerful magnetic field.
These stunning fields are about a quadrillion times more powerful than Earth's magnetic field and a thousand times more powerful than a normal neutron star. And we still do not fully understand how they came to this.
But we know that magnetars have periods of activity. As gravity tries to hold the star together – an internal force – the magnetic field pulling outward is so powerful that it distorts the star's shape. This results in a constant voltage that sometimes causes giant starquakes and giant magnetic flares. SGR 1935 + 2154 is undergoing such activity, which suggests a link between magnetar attacks and at least some FRBs.
Obviously, astronomers have found that the source of the first intragalactic FRBs is of great interest. When CHIME / FRB reported their discovery, other astronomers decided to look at the star, including a team led by Zhu Weiwei of the National Astronomical Observatory of China, which had access to FAST, the largest single-aperture radio telescope in the world.
And they discovered something interesting, which was also reported on the astronomer's Telegram – pulsed radio emission. These radio pulses were nowhere near as strong as the bursts, but they are extremely rare: if confirmed, SGR 1935 + 2154 will only be the sixth pulsed radio frequency magnetar. And the pulse period turned out to be equal to 3.24781 seconds – almost exactly the rotation period of the star.
This is curious, because until now astronomers have not been able to find a connection between magnetars and radio pulsars. Pulsars are another type of neutron star; they have a more normal magnetic field, but they pulsate with radio waves as they spin, and astronomers have long tried to figure out how the two types of stars are related.
Earlier this year, Australian astronomers identified a magnetar that behaved like a radio pulsar – a possible "missing link" between the two and evidence that at least some magnetars could evolve into pulsars. SGR 1935 + 2154 might be another piece of the puzzle.
"Based on these results and the increasing burst activity, we hypothesize that the magnetar may be in the process of transforming into an active radio pulsar," Weiwei's team wrote.
Starlite: a mysterious material whose recipe was taken to the grave
Enthusiasts continue to struggle with the riddle of the unique material, the creator of which died without revealing the secret recipe.
At the dawn of the 1990s, reports began to appear in the world media about the creation of a new plastic material that could withstand heating to incredible temperatures – up to those that develop during a fire or on the shell of a spacecraft when passing through the atmosphere. Such statements were very embarrassing for scientists also because the author of the find was a man without a diploma or any formal education at all – the British hairdresser Maurice Ward.
Starlite – this name was invented by the granddaughter of Maurice Ward – was repeatedly tested by NASA as a possible heat insulator, the military and large corporations looked closely at it. The author did not refuse to provide samples for research, but he kept the recipe in complete secret, not sharing it with anyone – until 2011, when Maurice died, taking this secret with him. Perhaps thanks to this twist, the plot did not disappear into oblivion along with Petrik filters and other "miracle inventions", and the history of the mysterious Starlite continues to this day.
According to Ward himself (by the way, his personal blog and YouTube channel survived on the Internet), he was prompted to search for fire-resistant material by a television report, from which he learned that many victims of fires die from poisoning by the caustic smoke of burning plastic. Previously, the hairdresser dabbled in the search for his own shampoo recipes, but around 1986 he completely devoted himself to a new venture. Three years later, the composition was found – and, of course, it turned out to be incredibly simple and included the most common store ingredients.
It was not easy for the "genius upstart" to break through, and over the next few years he pounded the thresholds of laboratories and companies without any benefit. Fate smiled only in 1993, when a message about Starlite was published in the authoritative International Defense Review. It referred to "amazing results" from some of the independent experts who tested Starlite. According to some reports, the material did not burn at temperatures up to 10,000 ° C and was not supplied even by a high-power laser.
Moreover, in the same 1993, the incredible thermal insulation properties of Starlite were demonstrated to the public. On the Air Force show Tomorrow's World, a chicken egg coated with a thin layer of this material was sprayed with the heat of a gas burner for several minutes, after which it was shown that it remained raw inside. It would seem that the deed is done: it remains to find out which of the industrial giants will be interested in the invention and from whom Ward will be able to get legitimate millions, if not billions of dollars for the miracle recipe. The prospects for its use in engineering and construction were discussed. In 1994, the material was tested at Boeing as an alternative to space shuttle thermal insulation ceramics.
It is worth saying that Maurice Ward has always shown a certain paranoia about the security of his invention. As far as is known, he refused any projects in which he could not maintain a controlling 51 percent. The inventor personally monitored all samples that were submitted for testing, making sure that no one had the opportunity to reconstruct the Starlite composition. Ward also did not file a patent so as not to reveal the secret formula and repeatedly announced attempts to steal. The story that took place in the late 1990s is characteristic. It is known that at this time the inventor found partners from Canada and organized a startup Starlite Safety Solutions, which presented the results of material tests to investors. However, according to those same partners, Maurice Ward turned out to be completely incapable of negotiating – "the more he was offered, the more he asked for"
On the one hand, Ward is understandable. If the author's statements are accurate, the find could be worth billions, which no corporation likes to share. On the other hand, Starlite could well change the modern world and save many lives, and perhaps doing so was not entirely ethical. Again, if all statements about the properties of this material are true. And this is its main mystery.
Indeed, despite all the doubts of many observers, there is enough authoritative evidence in favor of Starlite every now and then. Thus, Joe Kissell, who wrote about him in 2009, received a letter from Pamela Pohling-Brown, who authored the same article in the International Defense Review. She in every possible way confirmed the reliability of the results presented then and even named the expert who conducted the testing.
"I'm afraid the topic is somehow classified," summed up Pauline-Brown. By the way, Ward's former partners from Canada hinted at the same. It turns out that there is still something to hide?
Maurice Ward has repeatedly stated that, fearing theft, he never even wrote down the recipe on paper, and keeps it in his head – fortunately, it is quite simple. According to him, the secret has been entrusted to only a few closest family members – however, they have not shown much activity since the death of the inventor in 2011. In 2013, two of Ward's daughters announced the sale of a "certain version" of Starlite to the American company Thermashield, but the third said that she had kept the "best" formula. And since then nothing has been heard about Thermashield, and the company's website has not been revoked.
But there are plenty of hypotheses and speculations about the composition of Starlite. They find the main clues all in the same publication by Pamela Pauline-Brown, where the following was said.
"It consists of a set of organic polymers and copolymers with organic and inorganic additives, including borates, small amounts of ceramics and other barrier ingredients, for a total of 21. Perhaps uniquely, this thermally and explosion-proof material contains up to 90 percent organic matter."
Armed with this data, yet another "genius self-taught" reproduced the recipe. Canadian Troy Hurtubise, known for developing the bear-repelling suit – and for testing inventions on himself – said he found the same or a similar recipe and demonstrated it under the name Firepaste. However, in 2014 he died in a car accident – as if the material really surrounds the halo of special operations.