J. Krishnamurti on How to Find True Freedom
None of the agonies of suppression, nor the brutal discipline of conforming to a pattern, has led to truth. To come upon truth, the mind must be completely free, without a spot of distortion.
But first, let us ask ourselves if we really want to be free? When we talk of freedom are we talking about complete freedom or about freedom from some inconvenient or unpleasant or some undesirable thing? We would like to be free from painful and ugly memories and unhappy experiences but keep our pleasurable, satisfying ideologies, formulas and relationships. But to keep one without the other is impossible, for, as we have seen, pleasure is inseparable from pain.
So it is for each one of us to decide whether or not we want to be completely free. If we say we do, then we must understand the nature and structure of freedom.
Is it freedom when you are free from something – free from pain, free from some kind of anxiety? Or is freedom itself something entirely different?
Are You Really Free?
You can be free from jealousy, say, but isn't that freedom a reaction and therefore not freedom at all? You can be free from dogma very easily, by analysing it, by kicking it out, but the motive for that freedom from dogma has its own reaction, because the desire to be free from a dogma may be that it is no longer fashionable or convenient. Or you can be free from nationalism because you believe in internationalism, or because you feel it is no longer economically necessary to cling to this silly nationalistic dogma, with its flag and all that rubbish. You can easily put that away. Or you may react against some spiritual or political leader who has promised you freedom as a result of discipline or revolt. But has such rationalism, such logical conclusion, anything to do with freedom?
If you say you are free from something, it is a reaction which will then become another reaction, which will bring about another conformity, another form of domination. In this way, you can have a chain of reactions and accept each reaction as freedom. But it is not freedom; it is merely a continuity of a modified past which the mind clings to.
The youth of today, like all youth, are in revolt against society and that is a good thing in itself, but revolt is not freedom because when you revolt, it is a reaction and that reaction sets up its own pattern. And you get caught in that pattern. You think it is something new, it is not; it is the old in a different mould. Any social or political revolt will inevitably revert to the good old bourgeois mentality.
Freedom is a State of Mind
Freedom comes only when you see and act, never through revolt. The seeing is the acting and such action is as instantaneous as when you see danger. Then there is no cerebration, no discussion or hesitation; the danger itself compels the act, and therefore, to see is to act and to be free.
Freedom is a state of mind – not freedom from something but a sense of freedom, a freedom to doubt and question everything and therefore so intense, active and vigorous that it throws away every form of dependence, slavery, conformity and acceptance. Such freedom implies being completely alone. But can the mind brought up in a culture so dependent on environment and its own tendencies ever find that freedom which is complete solitude, and in which there is no leadership, no tradition and no authority?
This solitude is an inward state of mind which is not dependent on any stimulus or any knowledge and is not the result of any experience or conclusion. Most of us, inwardly, are never alone. There is a difference between isolation; cutting oneself off, and aloneness, solitude. We all know what it is to be isolated – building a wall around oneself in order never to be hurt, never to be vulnerable, or cultivating detachment which is another form of agony, or living in some dreamy ivory tower of ideology. Aloneness is something quite different.
Living with Yourself as You Are
You are never alone because you are full of all the memories, all the conditioning, all the mutterings of yesterday; your mind is never clear of all the rubbish it has accumulated. To be alone you must die to the past. When you are alone, totally alone, not belonging to any family, any nation, any culture, any particular continent, there is that sense of being an outsider. The man who is completely alone in this way is innocent and it is this innocency that frees the mind from sorrow.
We carry about with us the burden of what thousands of people have said and the memories of all our misfortunes. To abandon all that totally is to be alone, and the mind that is alone is not only innocent but young – not in time or age, but young, innocent, alive at whatever age – and only such a mind can see that which is truth and that which is not measurable by words.
In this solitude, you will begin to understand the necessity of living with yourself as you are, not as you think you should be or as you have been. See if you can look at yourself without any tremor, any false modesty, any fear, any justification or condemnation – just live with yourself as you actually are.
The Caring of Observation
It is only when you live with something intimately that you begin to understand it. But the moment you get used to it – get used to your own anxiety or envy or whatever it is – you are no longer living with it. If you live by a river, after a few days you do not hear the sound of the water any more, or if you have a picture in the room which you see every day you lose it after a week. It is the same with the mountains, the valleys, the trees – the same with your family, your husband, your wife. But to live with something like jealousy, envy or anxiety you must never get used to it, never accept it. You must care for it as you would care for a newly planted tree, protect it against the sun, against the storm. You must care for it, not condemn it or justify it. Therefore you begin to love it. When you care for it, you are beginning to love it. It is not that you love being envious or anxious, as so many people do, but rather that you care for watching.
So can you – can you and I – live with what we actually are, knowing ourselves to be dull, envious, fearful, believing we have tremendous affection when we have not, getting easily hurt, easily flattered and bored? Can we live with all that, neither accepting it nor denying it, but just observing it without becoming morbid, depressed or elated?
If You Say, 'I am Free', Then You are Not Free
Now let us ask ourselves a further question. Is this freedom, this solitude, this coming into contact with the whole structure of what we are in ourselves – is it to become upon through time? That is, is freedom to be achieved through a gradual process? Obviously not, because as soon as you introduce time you are enslaving yourself more and more. You cannot become free gradually. It is not a matter of time.
The next question is, can you become conscious of that freedom? If you say, 'I am free', then you are not free. It is like a man saying, 'I am happy'. The moment he says, 'I am happy' he is living in a memory of something that has gone. Freedom can only come about naturally, not through wishing, wanting, longing. Nor will you find it by creating an image of what you think it is. To come upon it, the mind has to learn to look at life, which is a vast movement, without the bondage of time, for freedom lies beyond the field of consciousness.
Four Funerals and a Wedding
Julian Rose, Contributor
Waking Times
Here, in the village of Stryszow in Southern Poland, you can hear the funeral ceremonies from the farmhouse on the hill where I reside during my time in this Country. The mournful cadences of the undertaker match the dull mechanical tolling of the church bell, as friends and relatives of the deceased, mostly in black, walk slowly and solemnly down the high street following the funeral cortege.
The sounds come floating up the hill and often cause me to suffer an involuntary shudder. Not because I fear the day of my own passing, I don't; but because I fear for this time of great fluctuation for humanity as a whole, and the fate of all I hold dear.
The Holy Mass provides the ceremonial backing for Catholic funerals. It is heavy with a sense of fate and penitence. "One is small in the all seeing eye of God" it seems to be saying "Lower your head and know that one day it will be for you that the bell tolls."
And here lies the essence of the great misfortune that overtook the human race in the last 2,000 years. The almost unspeakable fear of a life fully lived, and the attendant nagging doubt about one's own capacities to be anything more than a cog in a machine.
The first great funeral then, is on the death of the will 'to become'. To become enlightened to one's actual potentiality. The manifestation of the seed whose origins rest with the omnipotent source from whence all life came.
In the abandonment of this great prize – this gift we were all accorded from the beginning, comes the opening of the door to our oppressors. An invitation to move into the vacated space and to seize control. Control of the destinies of all who are unwilling to plough their own furrow in the great field of life and who subsequently abdicate their responsibilities to those more than willing to take and use them for their own ends.
There were survivors. Those who held to the course they experienced as truth. But they were badly treated, ostracised from a society which preferred the narrow 'safe' road of conformity and subjection to the will of the despotic oppressor.
Who were these oppressors?
They took the form of those who felt the need to subjugate others to the experience of suffering; to pass on the suffering they themselves were subjected to in their formative years. One can trace the origin of this disease to the first appearance of monotheistic religion and the grip that its dogma exerted on all who fell for its version of 'the truth'.
It was the Judeo-Christian doctrinaire insistence on the authority of an all-powerful god, to whom one must fully submit, that started the great rot some 2,000 years ago. This god was, as one can testify from reading the Old Testament, a warlike authority figure who had no time for those who 'sinned' against his decrees and laws. What this man-invented god commanded – was to be carried-out, or else trouble was bound to ensue.
This was the first great repression brought to bear on humanity which was still, at this time, largely at peace with nature, the cosmos and fellow seekers of truth.
The ultimate suffering and redemption associated with the crucifixion of Jesus was a direct continuation of this 'you must suffer to be free' doctrine; in which freedom comes only after death – and then only if you had gone on your knees throughout your life and admitted that you were 'a sinner' in search of forgiveness.
The sacrifice of Jesus was a symbol of the self-sacrifice of all who subscribed to the redeemer complex and salvationist creed*. So the fist funeral was a mourning of the passing of the spirit of independence, exploration and truth-seeking; those qualities which are the essential attributes of true humanity. It was the first and most recognisable loss that our Western civilisation incurred and has still not fully recovered from.
What more was there for humanity to lose after losing the will to seek for truth, one may ask? Yet there was. Those who survived with at least some degree of sensitivity and self-respect intact, were able to build on the older pagan traditions, dispensed with by the church, that connected man with nature and the Earth.
Within agricultural communities seasons were still celebrated with rituals. Rituals that reminded those who participated in them that it was the bounty of nature that sustained them – and that it was the elements of rain, sunshine, wind and storm that sculptured the patterns of the land and awoke the cosmic in country peoples' souls.
This story was imprinted in the lines on the faces of peasant farmers. Here there was still a palpable sense of belonging. A sense that gave 'place' a richness of meaning and well-defined character. Villagers fed themselves from the land whose soil they tilled. The land that immediately surrounded the village; the old strip-farming way. The emphasis was not on ownership, but on a sharing. The village remained, for a long time, a civilised place.
But one day a new edict came down from on high, that the medieval system of strip-farming was 'inefficient' and those who worked the land and provided the sustenance necessary for their families were not 'educated' enough to manage the land sustainably. Slowly but surely the village farmers were forced off their land and their long-standing connection with their communities was broken. These edicts first came into being in England and then slowly spread across Europe.
They were known as 'the enclosures', a name which describes the development of a field by field rotational system of agriculture that was supposed to benefit the land, but chiefly benefited the yeoman farmers who took possession of the original strip-farmed land so as to practice this new manner of food production. No longer just for the family, village and community, but for sale 'for profit' in town and city market places.
The impact of this forced exit of peasant farmers from the land and their replacement with profit seeking yeoman farmers, marks the second great funeral to afflict the Western World and later all post industrial nations and civilisations of the planet. What we today call 'globalisation' and the super/hypermarket domination of the food chain, has direct origins in this cruel eviction of peasant farmers from the source of their self-sufficiency. Mankind suffered its second great severing of  connection with nature and with the fruits of its labour.
The third great funeral was called 'The Industrial Revolution'. It followed hard on the heels of the enclosures. Once again it was the small island of England that was the first off the line.
One cannot overstate the impact of the shift of emphasis that The Industrial Revolution brought with it. From the grounded, season inspired life of the working countryside to the abstract nervous energy fuelled life of the hungry, restless city – the contrast was brutal and the sheer scale and decisiveness of this shift is what marks it out as a third great funeral. A funeral of the psychic, physical and spiritual well-being of much of that element of mankind that had somehow survived the first and second great funerals, at the hands of a an authoritarian dogma preaching priesthood and at the command of greedy land grabbers.
The fever of the machine age was like nothing else ever experienced. While the crafts of the field and forest had evolved steadily over centuries, the machine age arrived with a bang – and with it the almost wholesale forced abdication of the independence and self-sufficiency which were part and parcel of a life on the land – as tough as it was at times to uphold.
The peasantry, already hard hit by the enclosures and struggling on greatly reduced acreages, were offered 'compensation'  and charity by none other than the church; the very church whose monotheistic authoritarianism had contributed to the first great funeral centuries before. Now a great swathe of countryside artisans and craftsmen were wrenched away from their rural homes to become the fundamental manpower behind the manning of the fossil fuel furnaces that would grow industrial England.
It was a revolution built on smoke, fumes and human sweat, and came at a high price to health and peace of mind. Down the airless pits, in tunnels barely high enough to stand up in, colliers hacked away at the coal face; while in the great steel mills above, thousands of tons of the resulting dark carbon nuggets burned hot and fierce to produce dense steel bars that would underpin the new infrastructures, transport systems and mass-produced military armaments that ultimately marked Britain as the dominant power of the World.
Virtually all material utilities that we take for granted today, had their roots in the big, dirty and brutal industrial revolution of the 18th and 19th centuries. A funeral whose extended cremation of subtle beauty, sensitivity and sensuality of nature marked a seismic shift in the psychological stability of society as a whole. Nature became displaced as the foundation of human well-being, inspiration and earthed spirituality; replaced by a hard-edged drive for productivity, efficiency and hegemonic dominance, both in the market and in geopolitical empire building.
The authors, poets and landscape painters who emerged to counter the cruel incisions industrialisation perpetrated on the natural environment, offered a reminder of what had been lost that touched the psyche of all those still able to feel and respond to the deeper seams of a life under constant threat of extinction. The poet William Blake wrote of this time "Improvement makes straight roads; but crooked roads without improvement are the roads of genius." It was precisely that undulating road of genius that was flattened and straightened out by the industrial revolution's obsession with efficiency and material progress.
An obsession that continues to dominate mankind to this day, with a post industrial Western World still aggressively repeating the pattern by pushing its never satisfied hegemonic ambitions on countries whose own simple working people then become the focus of rabid exploitation, in the sweat shops producing 'cheap goods' for the bargain hunters of Western Super stores.
And so to the fourth funeral.
A number of thinkers, writers and artists of the late 19th century sensed the approach of World War One. They no doubt recognised that the rapid accumulation of increasingly disproportionate wealth into the hands of greedy despots, the newly established banks and the industrial arms trade – was bound to lead to some form of explosive outcome; and it did.
World War One saw an unprecedented carnage of human life, physical structures and the natural environment. All under the direction of a few mega wealthy (elite) families whose business enterprises benefited hugely from both causing the conflict in the first place and then from financially backing both sides for the duration of the war. This cold blooded act of genocide was ruthlessly exploited through full utilisation of the mass killing capacity of new military technologies developed out of the burgeoning coal fired steel mills of the industrial revolution.
But it was not just the physical loss of life and general destruction that defined the unique levels of destruction – the psychic, spiritual and humanitarian values of society as a whole – were subjected to a deeply traumatic sense of loss as time enduring values that had defined and knitted together the cultures of Europe for generations – were torn apart, causing scars that were beyond healing.
Then, only twenty one years after the Armistice that brought World War One to an abrupt end, Adolf Hitler, the German Fuhrer, raised the brutal spectre again by declaring war on Poland, thus sparking off World War Two. All the same horrors were repeated, with the same despotic cabal engineering the whole carnage once again.
By then the sophistication of the killing machine had spread into both air-born and strategic undersea warfare. The loss of life and infrastructure spiraled as a consequence. Between seventy five and eighty five million people perished.
The two World Wars marked a funeral so tragic and so dark that their imprint on the human psyche should have put an end to all large scale warfare on this planet for the foreseeable future. At least, concerning physical conflicts on this scale, they pretty much have. Albert Einstein is reputed to have said that if there is ever a Third World War, any war after that would be fought with sticks and stones.
Nevertheless, due to barely contained displays of superpower megalomania, principally emanating from the USA, the world hangs perilously on the brink of global conflict once again. And with manic ego driven ambitions to achieve 'full spectrum dominance' of Earth and Space being publicly lauded by US military strategists, we, the mortals who would perish along with most sentient life forms should such an ambition be aggressively acted upon, have suddenly realised that we, collectively, are the only force that can prevent it!
However, to do so, we 'the people' will have to recognise that the underlying war on humanity – key points of which I focus on in the essay – is being played-out on a covert level every day and every night of our lives. This war takes the form of attacks on the physical, psychic and spiritual membrane of humanity, and comes under the label 'Silent Weapons for Quiet Wars'. The manual carrying this title is a declaration of international elite intent concerning the possibility of controlling the whole world from the push of a button. In 1986, this previously secret document came to light. It is purported to be one part of a series of predictive presentations which first took place in 1979.
The present underlying war on humanity incorporates these 'silent weapons' that cluster around advanced forms of mind control and scalar type weaponry. It involves mass propaganda and indoctrination on a scale matching the vast elite corporate wealth that backs it – on the explicit orders of the deep state. The hidden hands of the global puppet-masters, who with their 'New World Order', intend on achieving 'full spectrum dominance' and control over all life on Earth – and ultimately Space as well.
At the core of the control freak's silent armoury is WiFi, in all its various forms, culminating in the planned roll-out of 5G microwave radiation – on Earth and from Space – to act as the engine of the 'internet of things'. A microwave grid supplying commands to all electronically aligned household and business appliances at the swipe of a SIM card or chip embedded in human flesh.
With 5G controlled robotic self driving cars, smart cities and soulless automatons being relentlessly promoted as the solution to all our needs – the dawning of 'robotic man' appears to be fast approaching. Probably only a robot could survive the blitz of EMF radiation required for 5G to fulfill the expectations of its proponents.
But here, at the 11th hour and 59th minute of our demise as warm blooded, warm hearted sentient human beings (the great majority) comes the most dramatic wake-up call of all wake-up calls. The call to defend the sanctity of Life itself, or to become deeply imprisoned slaves to the anti-life would be masters of control.
The rising-up of humanity to meet this greatest challenge that any of us is ever likely to face – is happening at this very moment. It takes the form of a simmering sense of outrage, but will soon emerge as an unstoppable force, a trans-planetary uprising informed by the call of the life force itself, in each one of us. It is to give expression to the refusal to accept slavery. To outright refuse submission to that which would anaesthetize the beating heart of the natural world and sterilise love itself.
This is a drama in which passive spectators play no part, only actors. Actors who step forward to seize the flag of truth and justice in both hands and keep going until a turning point is reached and the foundations of a new vision of the meaning and purpose of life is laid. Here we are, having the extraordinary privilege of being called upon to meet the most momentous challenge of our era, with courage, conviction and the certainty of success. A certainty which comes from our deepest levels of being.
Those already positively responding to the task at hand are coming together and being united. Recognition of commonality of cause is felt, often almost instantly. The maturation of this unifying process brings with it direction and leadership. This in turn blossoms into the joyful discovery of a deep seem of connectivity extending through all seemingly disparate branches of humanity.
Here, if I might be so bold to suggest it – is a wedding in the making. A great wedding of souls. A wedding to which all are invited and in which all will joyfully participate. Such will be the illuminated energy given forth by the festivities surrounding this wedding that all the sadness and grief of earlier funerals will be banished to the four corners of the universe, and the perpetrators of the historical repression of humanity will go with them.
*See John Lamb Lash's 'Not in HIS Image' for more on this subject.
About the Author
Julian Rose is an early pioneer of UK organic farming, a writer, actor and international activist.
Julian Rose is an international activist who, in 1987 and 1998, led a campaign that saved unpasteurised milk from being banned in the UK; and a 'Say No to GMO' campaign in Poland which led to a national ban of GM seeds and plants in that country in 2006. Julian is currently campaigning to 'Stop 5G' WiFi. He is the author of two acclaimed titles: Changing Course for Life and In Defence of Life and is a long time exponent of yoga/meditation. See Julian's web site for more information and to purchase his books www.julianrose.info
Angels in Battle: When God's Creatures Appears On Battlefields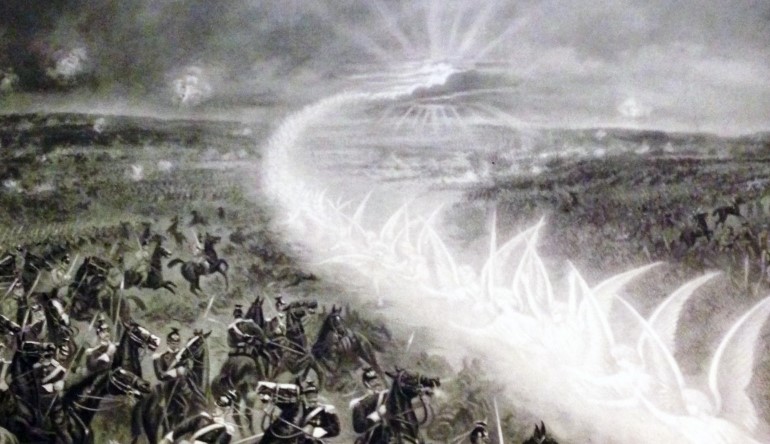 Warrior angels have appeared in art, literature, and film. All major religions have a concept of immortal beings who perform various tasks for the deity.
The majority of these tasks are peaceful: delivering messages, praising God, serving as guardians, and helping people pass from this existence to the next. Nonetheless, angels are also often called upon to make war with humans and even with one another.
Saint Michael the Archangel in Scripture, Legend, and the Early Christian Church
Michael the Archangel is the angel most associated with fighting. He was the angel named in the apocryphal Book of Enoch as the vanquisher of Lucifer and the other rebellious fallen angels. In art and literature, Michael is usually depicted wearing armor and bearing a resplendent sword. Catholics consider him the patron saint of the military and police.
In 701 B.C., Michael made one of his greatest battlefield appearances; destroying almost two hundred thousand Assyrian enemy combatants to save the city of Jerusalem.
In the fifteenth century, France's warrior-saint Joan of Arc identified Michael, as well as Sts. Catherine of Alexandria and Margaret of Antioch, as one of the voices that instructed her on how best to attack and conquer the British.
Islam calls him Mikhail; he allegedly helped Mohammed and the early Muslims trounce the Queraysh tribe at the Battle of Badr Wells (other sources claim the angelic aide was actually Gabriel, leading one thousand warrior angels sent by Allah).
The Book of Revelation states that Michael did battle with the dragon and cast him out; it is implied that he is the angel with a key and chain who will do battle with the devil during the end-times and bind him for one thousand years, ushering in a millennium of peace.
A representation of Michael was usually carved onto early church doorways to protect the structure. Today, non-traditional or New Age beliefs sometimes include angel worship or attempts to contact angels; because of Michael's identification with the warrior, he is still most often called upon for protection against harm.
Angels on the Front Lines: The Miracle at Mons and Other Battlefield Angel Appearances
There have been many reports throughout history of warrior angels appearing on battlefields to assist soldiers. The most famous of these occurred during World War I. In 1914, the English and Germans fought the Battle of Mons in Belgium.
Many of the English troops insisted that an entire regiment of white-clad, shining apparitions appeared between the two armies. Even though the British were badly overpowered and outnumbered, the Germans began to retreat once the angels arrived.
During the ensuing days, two other sightings of angelic cavalry and winged protectors were reported by British officers.
About a month later, a story titled "The Bowmen" was published in England; it described supernatural beings assisting the soldiers at Mons. Its author, Arthur Machen, claimed that his story inspired the angelic reports from Mons; however, many people believed just the opposite. Machen always insisted that he had never heard of the appearances prior to writing his story.
In 1918, near the town of Bethune, France, the German troops declared that a cavalry clothed all in white and mounted on white horses attacked them. The riders could not be killed with conventional weapons, including machine guns; and the Germans were again forced to retreat.
Angel battlefield appearances go way back. Attila the Hun asserted that he saw two luminous beings flanking Pope Leo when the Huns were about to enter Rome. These creatures brandished flaming swords and told Attila that they would kill him if he proceeded.
Prudently, he instructed his army to retreat. During the Crusades, captured Turkish sailors and soldiers occasionally swore that they'd observed armies of angels fighting on the side of the Christians. The Vikings believed in Valkyries, female warrior spirits who appeared in battle to guide the spirits of fallen soldiers to heaven/Valhalla.
Angels in Wartime: An Immortal Idea
Some religions take these notions literally, while others interpret them symbolically. In a sense, it does not matter whether an individual is a true believer or confirmed skeptic; warrior angels are a tremendously powerful concept, giving credence and form to humanity's natural desire to see good triumph over and cast out evil.
They provide hope in the midst of chaos, and light in a world that sometimes seems very dark.
The angel as warrior is an ancient belief that has gone through many changes – it will no doubt go through many more, yet remain as immortal as the beings it purports to represent. As long as mankind makes war, angels will continue to do so as well.
A Taoist Master Explains the Difference Between Religion and Individual Spiritual Cultivation
Dylan Charles, Editor
Waking Times
"The modern world needs true spiritual guidance and development." ~ Taoist Master Hua Ching Ni
A spiritual war is upon us and the individual is challenged to maintain integrity in a sea of greed, egotism, terror and fear. With no clear path toward spiritual evolution, so many of us floundering and losing ourselves to addiction, despair and self-destruction.
When in the past ordinary religions might have served to offer a pathway toward spiritual awakening based upon the experiences of their ancient sages, today, the best they seem to offer is communal support. Far too often, though, modern religions are mired in greed, scandal, pedophilia and outright terrorism. Religions are failing to provide the help one needs to spiritually thrive in this insane world.
In a reading from the book 8,000 Years of Wisdom, Taoist Master Hua-Ching Ni talks about the state of religions today:
"Spirit can hardly be found in noisy, crowded churches and temples. Even where the teachings of the past sages have been established they have been spoiled by the insensitive trend of the times.

The spirit of the world's religions died long ago and left most temples and churches merely empty shells.

These places continue as superficial social conventions and can only supply their devotees with shallow activities, psychological games of shadow playing, and hypnosis, all of which have absolutely nothing to do with spiritual reality.

This is the faith of today's world, and most of their achievements are not the true answer." ~ Taoist Master Hua Ching Ni
What then, is spiritual reality? And what does it look like in a world governed by fear, distracted by materialism, and kept in conflict by egotism? It's really quite straightforward, says Master Ni, who refers to it as the "plain, simple truth of your life,' which is best understood as the profoundly important concept of inner peace.
"The first spiritual goal of Taoism is the restoration and realization of one's own well-balanced being, and then one's spiritual evolution.

The highest goal of life is to combine oneself with the spiritual energy of the universe. There is one way to eliminate all wonder, bewilderment and confusion and that is to have inner peace.

The primary method or principle for personal cultivation is to keep peace within oneself and maintain normalcy in one's environment; thus you can dwell with the spiritual energy and the spiritual energy dwells within you." ~ Taoist Master Hua Ching Ni
Comparing the teachings of ordinary religions to true personal spiritual cultivation, Master Ni notes that undeveloped human beings follow and devote themselves to belief systems, deities and spiritual figureheads. In contrast, individuals seeking genuine spiritual evolution understand these systems for what they are: illusions and traps.
"People mistake religious emotionalism and hypnosis for spiritual reality.

Often in history religious emotion has been exalted as truth itself. This gave birth to all kinds of religious prejudice and persecution. Religious mobs have carried out the mischief caused by the hot-blooded in the forceful image of a spiritual sovereign. This has not the slightest connection with spiritual reality. It is the manifestation of the impure, heavy, bloody energy of undeveloped human beings before having completed their spiritual evolution.

Many people are fooled by their own ignorance or that of others. And in their ignorance they fool others too. People like this have no hope of reaching the spiritual realm. They will have no chance to touch the real spiritual life. So, before you commit yourself to any religion, you should develop the mental ability to discern what is religious emotion and what is the spiritual truth. One is the right way to follow, and the other is only a psychological pitfall and trap. This is very important for a seeker of truth on the spiritual path." ~ Taoist Master Hua Ching Ni
Generating this type of spiritual emotionalism has become a profitable art form. Take note of the costumes worn by Catholic Cardinals and deference to the Pope in his symbolic Mitre hat. Islamic fundamentalists and ISIS do the same when they emote fear and terror by parading captives in front of religious soldiers clad in all black robes with faces covered, armed with rifles and sabres. Using symbolic imagery as tools of dominance and control, as Master Ni points out, has absolutely nothing to do with true spiritual reality.
What would the world look like if individuals first placed their own spiritual development ahead of their desire to change the world in accordance with their beliefs about spirituality and feelings religious emotionalism? What if individuals were instead offered a plan of genuine spiritual cultivation, a path that led to actual inner peace?
"The spiritual process itself is a process of the evolution of the human spirit." ~ Taoist Master Hua Ching Ni
About the Author
Dylan Charles is the editor of Waking Times and co-host of Redesigning Reality, both dedicated to ideas of personal transformation, societal awakening, and planetary renewal. His personal journey is deeply inspired by shamanic plant medicines and the arts of Kung Fu, Qi Gong and Yoga. After seven years of living in Costa Rica, he now lives in the Blue Ridge Mountains, where he practices Brazilian Jiu Jitsu and enjoys spending time with family. He has written hundreds of articles, reaching and inspiring millions of people around the world.
This article (Taoist Master Explains the Difference Between Religion and Individual Spiritual Cultivation) was originally created and published by Waking Times and is published here under a Creative Commons license with attribution to Dylan Charles and WakingTimes.com. It may be re-posted freely with proper attribution, author bio, and this copyright statement.