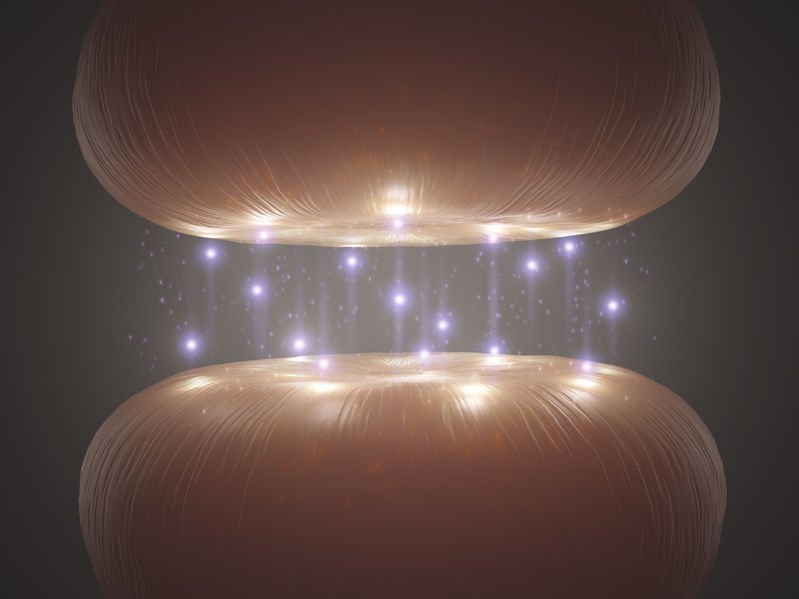 This article was written by Dr. Kelly Brogan, posted here with permission.
Millions believe depression is caused by 'serotonin deficiency,' but where is the science in support of this theory?
"Depression is a serious medical condition that may be due to a chemical imbalance, and Zoloft works to correct this imbalance."
Herein lies the serotonin myth.
As one of only two countries in the world that permits direct to consumer advertising, you have undoubtedly been subjected to promotion of the "cause of depression." A cause that is not your fault, but rather; a matter of too few little bubbles passing between the hubs in your brain! Don't add that to your list of worries, though, because there is a convenient solution awaiting you at your doctor's office…
What if I told you that, in 6 decades of research, the serotonin (or norepinephrine, or dopamine) theory of depression and anxiety has not achieved scientific credibility?
You'd want some supporting arguments for this shocking claim.
So, here you go:
The Science of Psychiatry is Myth
Rather than some embarrassingly reductionist, one-deficiency-one-illness-one-pill model of mental illness, contemporary exploration of human behavior has demonstrated that we may know less than we ever thought we did.  And that what we do know about root causes of mental illness seems to have more to do with the concept of evolutionary mismatch than with genes and chemical deficiencies.
In fact, a meta-analysis of over 14,000 patients and Dr. Insel, head of the NIMH, had this to say:
"Despite high expectations, neither genomics nor imaging has yet impacted the diagnosis or treatment of the 45 million Americans with serious or moderate mental illness each year."
To understand what imbalance is, we must know what balance looks like, and neuroscience, to date, has not characterized the optimal brain state, nor how to even assess for it.
A New England Journal of Medicine review on Major Depression, stated:
" … numerous studies of norepinephrine and serotonin metabolites in plasma, urine, and cerebrospinal fluid as well as postmortem studies of the brains of patients with depression, have yet to identify the purported deficiency reliably."
The data has poked holes in the theory and even the field of psychiatry itself is putting down its sword. One of my favorite essays by Lacasse and Leo has compiled sentiments from influential thinkers in the field – mind you, these are conventional clinicians and researchers in mainstream practice – who have broken rank, casting doubt on the entirety of what psychiatry has to offer around antidepressants:
Humble Origins of a Powerful Meme
In the 1950s, reserpine, initially introduced to the US market as an anti-seizure medication, was noted to deplete brain serotonin stores in subjects, with resultant lethargy and sedation. These observations colluded with the clinical note that an anti-tuberculosis medication, iproniazid, invoked mood changes after five months of treatment in 70% of a 17 patient cohort. Finally, Dr. Joseph Schildkraut threw fairy dust on these mumbles and grumbles in 1965 with his hypothetical manifesto entitled "The Catecholamine Hypothesis of Affective Disorders" stating:
"At best, drug-induced affective disturbances can only be considered models of the natural disorders, while it remains to be demonstrated that the behavioral changes produced by these drugs have any relation to naturally occurring biochemical abnormalities which might be associated with the illness."
Contextualized by the ripeness of a field struggling to establish biomedical legitimacy (beyond the therapeutic lobotomy!), psychiatry was ready for a rebranding, and the pharmaceutical industry was all too happy to partner in the effort.
Of course, the risk inherent in "working backwards" in this way (noting effects and presuming mechanisms) is that we tell ourselves that we have learned something about the body, when in fact, all we have learned is that patented synthesized chemicals have effects on our behavior. This is referred to as the drug-based model by Dr. Joanna Moncrieff. In this model, we acknowledge that antidepressants have effects, but that these effects in no way are curative or reparative.
The most applicable analogy is that of the woman with social phobia who finds that drinking two cocktails eases her symptoms. One could imagine how, in a 6 week randomized trial, this "treatment" could be found efficacious and recommended for daily use and even prevention of symptoms. How her withdrawal symptoms after 10 years of daily compliance could lead those around her to believe that she "needed" the alcohol to correct an imbalance. This analogy is all too close to the truth.
Running With Broken Legs
Psychiatrist Dr. Daniel Carlat has said:
"And where there is a scientific vacuum, drug companies are happy to insert a marketing message and call it science. As a result, psychiatry has become a proving ground for outrageous manipulations of science in the service of profit."
So, what happens when we let drug companies tell doctors what science is? We have an industry and a profession working together to maintain a house of cards theory in the face of contradictory evidence.
We have a global situation in which increases in prescribing are resulting in increases in severity of illness (including numbers and length of episodes) relative to those who have never been treated with medication.
To truly appreciate the breadth of evidence that states antidepressants are ineffective and unsafe, we have to get behind the walls that the pharmaceutical companies erect. We have to unearth unpublished data, data that they were hoping to keep in the dusty catacombs.
A now famous 2008 study in the New England Journal of Medicine by Turner et al sought to expose the extent of this data manipulation. They demonstrated that, from 1987 to 2004, 12 antidepressants were approved based on 74 studies. Thirty-eight were positive, and 37 of these were published.  Thirty-six were negative (showing no benefit), and 3 of these were published as such while 11 were published with a positive spin(always read the data not the author's conclusion!), and 22 were unpublished.
In 1998 tour de force, Dr. Irving Kirsch, an expert on the placebo effect, published a meta–analysis of 3,000 patients who were treated with antidepressants, psychotherapy, placebo, or no treatment and found that only 27% of the therapeutic response was attributable to the drug's action.
This was followed up by a 2008 review, which invoked the Freedom of Information Act to obtain access to unpublished studies, finding that, when these were included, antidepressants outperformed placebo in only 20 of 46 trials (less than half!), and that the overall difference between drugs and placebos was 1.7 points on the 52 point Hamilton Scale.  This small increment is clinically insignificant, and likely accounted for by medication side effects strategically employed (sedation or activation).
When active placebos were used, the Cochrane database found that differences between drugs and placebos disappeared, given credence to the assertion that inert placebos inflate perceived drug effects.
The finding of tremendous placebo effect in the treatment groups was also echoed in two different meta-analyses by Khan et al who found a 10% difference between placebo and antidepressant efficacy, and comparable suicide rates. The most recent trial examining the role of "expectancy" or belief in antidepressant effect, found that patients lost their perceived benefit if they believed that they might be getting a sugar pill even if they were continued on their formerly effective treatment dose of Prozac.
The largest, non-industry funded study, costing the public $35 million dollars, followed 4000 patients treated with Celexa (not blinded, so they knew what they were getting), and found that half of them improved at 8 weeks. Those that didn't were switched to Wellbutrin, Effexor, or Zoloft OR "augmented" with Buspar or Wellbutrin.
Guess what? It didn't matter what was done, because they remitted at the same unimpressive rate of 18-30% regardless with only 3% of patients in remission at 12 months.
How could it be that medications like Wellbutrin, which purportedly primarily disrupt dopamine signaling, and medications like Stablon which theoretically enhances the reuptake of serotonin, both work to resolve this underlying imbalance? Why would thyroid, benzodiazepines, beta blockers, and opiates also "work"? And what does depression have in common with panic disorder, phobias, OCD, eating disorders, and social anxiety that all of these diagnoses would warrant the same exact chemical fix?
Alternative options
As a holistic clinician, one of my bigger pet peeves is the use of amino acids and other nutraceuticals with  "serotonin-boosting" claims. These integrative practitioners have taken a page from the allopathic playbook and are seeking to copy-cat what they perceive antidepressants to be doing.
The foundational "data" for the modern serotonin theory of mood utilizes tryptophan depletion methods which involve feeding volunteers amino acid mixtures without tryptophan and are rife with complicated interpretations.
Simply put, there has never been a study that demonstrates that this intervention causes mood changes in any patients who have not been treated with antidepressants.
In an important paper entitled Mechanism of acute tryptophan depletion: Is it only serotonin?, van Donkelaar et al caution clinicians and researchers about the interpretation of tryptophan research. They clarify that there are many potential effects of this methodology, stating:
"In general, several findings support the fact that depression may not be caused solely by an abnormality of 5-HT function, but more likely by a dysfunction of other systems or brain regions modulated by 5-HT or interacting with its dietary precursor. Similarly, the ATD method does not seem to challenge the 5-HT system per se, but rather triggers 5HT-mediated adverse events."
So if we cannot confirm the role of serotonin in mood and we have good reason to believe that antidepressant effect is largely based on belief, then why are we trying to "boost serotonin"?
Causing imbalances
All you have to do is spend a few minutes on http://survivingantidepressants.org/or http://beyondmeds.com/ to appreciate that we have created a monster. Millions of men, women, and children the world over are suffering, without clinical guidance (because this is NOT a part of medical training) to discontinue psychiatric meds. I have been humbled, as a clinician who seeks to help these patients, by what these medications are capable of. Psychotropic withdrawal can make alcohol and heroin detox look like a breeze.
An important analysis by the former director of the NIMH makes claims that antidepressants "create perturbations in neurotransmitter functions" causing the body to compensate through a series of adaptations which occur after "chronic administration" leading to brains that function, after a few weeks, in a way that is "qualitatively as well as quantitatively different from the normal state."
Changes in beta-adrenergic receptor density, serotonin autoreceptor sensitivity, and serotonin turnover all struggle to compensate for the assault of the medication.
Andrews, et al., calls this "oppositional tolerance," and demonstrate through a careful meta-analysis of 46 studies demonstrating that patient's risk of relapse is directly proportionate to how "perturbing" the medication is, and is always higher than placebo (44.6% vs 24.7%). They challenge the notion that findings of decreased relapse on continued medication represent anything other than drug-induced response to discontinuation of a substance to which the body has developed tolerance. They go a step further to add:
"For instance, in naturalistic studies, unmedicated patients have much shorter episodes, and better long-term prospects, than medicated patients. Several of these studies have found that the average duration of an untreated episode of major depression is 12–13 weeks."
Harvard researchers also concluded that at least fifty percent of drug-withdrawn patients relapsed within 14 months. In fact:
"Long-term antidepressant use may be depressogenic . . . it is possible that antidepressant agents modify the hardwiring of neuronal synapses (which) not only render antidepressants ineffective but also induce a resident, refractory depressive state."
So, when your doctor says, "You see, look how sick you are, you shouldn't have stopped that medication," you should know that the data suggests that your symptoms are withdrawal, not relapse.
Longitudinal studies demonstrate poor functional outcomes for those treated with 60% of patients still meeting diagnostic criteria at one year (despite transient improvement within the first 3 months). When baseline severity is controlled for, two prospective studies support a worse outcome in those prescribed medication:
One in which the never-medicated group experienced a 62% improvement by six months, whereas the drug-treated patients experienced only a 33% reduction in symptoms, and another WHO study of depressed patients in 15 cities which found that, at the end of one year, those who weren't exposed to psychotropic medications enjoyed much better "general health"; that their depressive symptoms were much milder"; and that they were less likely to still be "mentally ill." 
I'm not done yet. In a retrospective 10-year study in the Netherlands, 76% of those with unmedicated depression recovered without relapse relative to 50% of those treated.
Unlike the mess of contradictory studies around short-term effects, there are no comparable studies that show a better outcome in those prescribed antidepressants long term.
First Do No Harm
So, we have a half-baked theory in a vacuum of science that that pharmaceutical industry raced to fill. We have the illusion of short-term efficacy and assumptions about long-term safety. But are these medications actually killing people?
The answer is yes.
Unequivocally, antidepressants cause suicidal and homicidal behavior. The Russian Roulette of patients vulnerable to these "side effects" is only beginning to be elucidated and may have something to do with genetic variants around metabolism of these chemicals.  Dr. David Healy has worked tirelessly to expose the data that implicates antidepressants in suicidality and violence, maintaining a database for reporting, writing, and lecturing about cases of medication-induced death that could make your soul wince.
What about our most vulnerable?
I have countless patients in my practice who report new onset of suicidal ideation within weeks of starting an antidepressant. In a population where there are only 2 randomized trials, I have grave concerns about postpartum women who are treated with antidepressants before more benign and effective interventions such as dietary modification and thyroid treatment. Hold your heart as you read through these reportsof women who took their own and their childrens' lives while treated with medications.
Then there is the use of these medications in children as young as 2 years old. How did we ever get the idea that this was a safe and effective treatment for this demographic? Look no further than data like Study 329, which cost Glaxo Smith Klein 3 billion dollars for their efforts to promote antidepressants to children. These efforts required ghost-written and manipulated data that suppressed a signal of suicidality, falsely represented Paxil as outperforming placebo, and contributes to an irrepressible mountain of harmdone to our children by the field of psychiatry.
RIP Monoamine Theory
As Moncrieff and Cohen so succinctly state:
"Our analysis indicates that there are no specific antidepressant drugs, that most of the short-term effects of antidepressants are shared by many other drugs, and that long-term drug treatment with antidepressants or any other drugs has not been shown to lead to long-term elevation of mood. We suggest that the term "antidepressant" should be abandoned."
So, where do we turn?
The field of psychoneuroimmunology dominates the research as an iconic example of how medicine must surpass its own simplistic boundaries if we are going to begin to chip away at the some 50% of Americans who will struggle with mood symptoms, 11% of whom will be medicated for it.
There are times in our evolution as a cultural species when we need to unlearn what we think we know. We have to move out of the comfort of certainty and into the freeing light of uncertainty. It is from this space of acknowledged unknowing that we can truly grow. From my vantage point, this growth will encompass a sense of wonder – both a curiosity about what symptoms of mental illness may be telling us about our physiology and spirit, as well as a sense of humbled awe at all that we do not yet have the tools to appreciate. For this reason, honoring our co-evolution with the natural world, and sending the body a signal of safety through movement, diet, meditation, and environmental detoxification represents our most primal and most powerful tool for healing.
---
Learn more by taking Dr. Kelly Brogan's E-Course Vital Mind Reset.
GreenMedInfo LLC. . This work is reproduced and distributed with the permission of GreenMedInfo LLC.  Where it first originally appeared. Want to learn more from GreenMedInfo? Sign up for the newsletter here http://www.greenmedinfo.com/greenmed/newsletter."
---
Dr. Brogan is boarded in Psychiatry/Psychosomatic Medicine/Reproductive Psychiatry and Integrative Holistic Medicine, and practices Functional Medicine, a root-cause approach to illness as a manifestation of multiple-interrelated systems. After studying Cognitive Neuroscience at M.I.T., and receiving her M.D. from Cornell University, she completed her residency and fellowship at Bellevue/NYU. She is one of the nation's only physicians with perinatal psychiatric training who takes a holistic evidence-based approach in the care of patients with a focus on environmental medicine and nutrition. She is also a mom of two, and an active supporter of women's birth experience. She is the Medical Director for Fearless Parent, and an advisory board member for GreenMedInfo.com. Visit her website.
Man is able to induce controlled hallucinations without psychotropic substances
The human brain is so cunningly designed that accidental damage or malfunctions in the neural network can generate large-scale effects that do not harm a person, but, on the contrary, deliver a lot of new sensations.
We are talking about hallucinations, influences on the sensory system, which stem from the inside of the brain itself. Modern technologies make it possible to purposefully launch such reactions without harm to humans.
The technique of guided hallucinations is based on the Ganzfeld effect, which states that when the brain receives a powerful stimulating signal in only one area, it automatically begins to "think out" signals in other areas.
For example, if you peer into the darkness and listen to white noise, the brain draws an imaginary picture, although the eyes do not receive a single photon of light. And if you run noise on the screen in absolute silence, the brain will complement them with sound hallucinations.
One interesting experiment with guided hallucinations was conducted by TV host and inventor Derek Müller, who locked himself in an anechoic and completely darkened chamber for 45 minutes to conduct a sensory deprivation experiment.
His brain, which at once lost 90% of the signals from the outside world, remained fully functional, and Derek did not go crazy. Moreover, in the absence of external stimuli, he began to feel the subtlest vibrations of his heart and the flow of blood through the veins.
It was not a hallucination, it was just that the brain switched to processing the signals that remained at its disposal, amplifying them and presenting them in the form of sensations understandable to the mind.
Angels showed the End of the World to a child from Indonesia?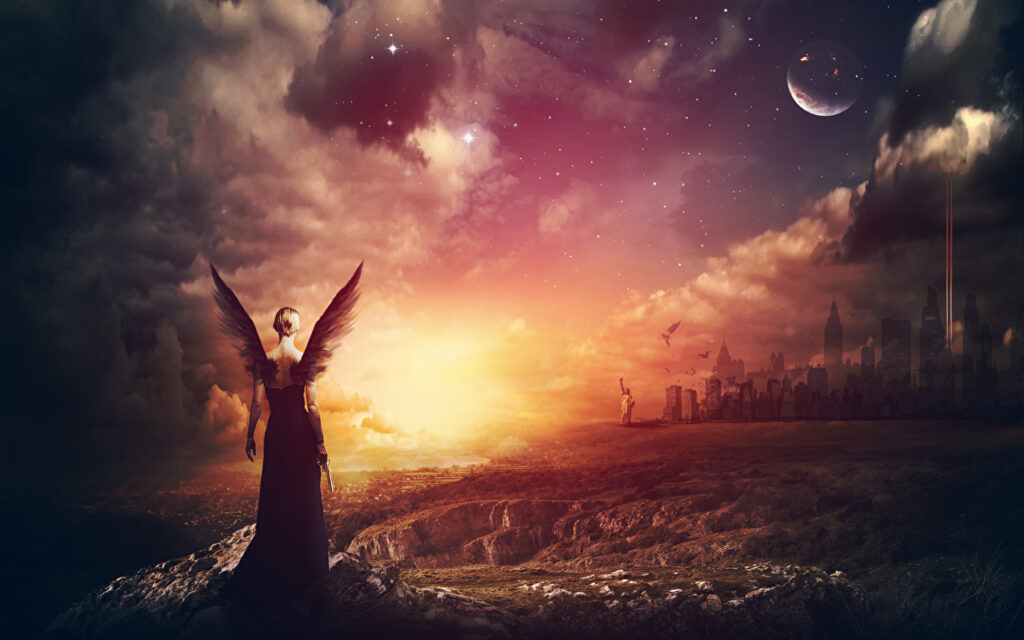 In early October, on many eschatological and conspiracy sites (The End Times Forecaster , 444prophecynews.com), a video was posted by a girl named Jacqueline, who lives in South Africa. The video tells that on September 16, in some altered state of consciousness, similar to a lucid dream, Jacqueline was given a warning: on October 10, 2020, there will be some kind of nightmarish geological catastrophe – either a volcanic eruption, or an earthquake.
Jacqueline does not specify where the catastrophe will occur, but immediately after the volcanic eruption, she saw President Trump in Washington and the destruction of the Washington Monument with fiery stones falling from the sky. The full text of Jacqueline's video was posted on the forum and can be viewed at the link, but her revelation itself is not very informative. It is only clear that on October 10 something may bang, and very strongly. Another thing is much more interesting.
Since Jacqueline was shown truly creepy things, she, like anyone in her place, doubted that all this was true. However, she noticed that in her dream, before the horror broadcast began, she was shown a calendar on which she read the KIMIKO inscription.
"Kimiko" is a popular Japanese female name that literally means "wonderful unusual child", so Jacqueline decided: if she got it right, then she needed to look for a girl from somewhere in Japan who would kind of hint at her deciphering what was shown in her dream.
Kimiko was never found, but another girl named Catherine was found. She lives in Indonesia, is in 4th grade and is 9 years old. Jacqueline had her dream on September 16, and on September 18 some angels took this Catherine to heaven in a dream and showed her what would be on Earth in the very near future.
According to Catherine, everything will begin on October 10, 2020, when some kind of catastrophe occurs – a catastrophe, most likely of a geological nature. Buildings will collapse and coastal cities will suffer from terrible tsunamis. At the same time, a terrible rain will pour, which in some regions will flood buildings up to the fourth floor. Thunder will thunder in the sky, which is 10 or even 20 times stronger than ordinary thunder, and after the thunder, hail will fall the size of a car windshield. But besides the hail, all the planes located there fall from the sky.
However, the End of the World will not happen as life goes on and Trump wins the US election. After that, Israel will begin to restore the Temple, but they will not have time, since a war will start around. At this moment, the Earth will face unprecedented catastrophes.
A huge new planet will appear in the sky and the atmosphere will take on a reddish tint. It will get hotter. H achnut erupting volcanoes, and terrifying winds will become commonplace. And further, in the region of the Bermuda Triangle, a hole is formed in the lithosphere, and armada of some strange flying machines will appear from there. On TV they will say that these are good aliens.
In parallel , a total vaccination will take place on Earth, after which people who have received the vaccine will be endowed with some unthinkable ability to communicate with their gadgets – phones will show them everything at the click of a finger and connect to subscribers with the power of thought. But happiness will not last long, because then the skin of the vaccinated will begin to turn green and many will be covered with ulcers. Further, these people mutate into a kind of zombie who will engage in cannibalism and those who have not taken the vaccine will become their preferred food. And for those who will not be eaten by mutants, aliens will chase in their flying cars, kidnap, throw bombs at them and burn them with rays.
Finally, to top it all off, mutations will affect flora and fauna. So, insects will become gigantic, and algae will begin to crawl ashore and whoever gets into their nets will be devoured. Mutations will affect birds, jellyfish, and the rest of the fauna. Dinosaurs and real fire-breathing dragons will appear, which will fly everywhere and pour fire on everything.
In general, the girl tells something that is impossible to believe – no reality can stand that. However, the probability that reality is real, according to estimates of the theory of probability, is no more than 50%. That is, we live in the Matrix with a probability of 1/2, although nothing can be proved / disproved somehow. But if we take into account various strange quantum effects and other miracles, then the probability of the Matrix is ​​already seventy percent and 30% remain for a flat / round Earth, for the rest of "natural science". Therefore, maybe we are now on the eve of the reboot of the Matrix, during which we will begin to load characters from other entertaining games.
It is possible, of course, that all these stories were invented by her mother, but similar stories are told by other children, and even adults, who were thrown either somewhere into the astral plane, or into the next world, or generally into the deepest warp. Different, unrelated people cannot tell the same tale. Therefore, most likely this is not a fairy tale and there is something in all this. But what – here we do not know, so we just have to wait and see.
Clinical death helped the inveterate egoist to change his attitude towards life. He is grateful for this experience
William F. did not live the most righteous life. His selfish, authoritarian behavior caused a lot of suffering to the people around him, especially his wife. And it is not known how his marriage would have ended if one day William had not had an accident.
On that fateful day, November 6, 2019, a man was riding a motorcycle and crashed into a truck as it changed lanes. William tried unsuccessfully to get out from under the heavy truck, as his helmet got stuck under the front axle of the car.
A policeman was the first to come to help, then an ambulance arrived. The motorcyclist was evacuated by helicopter to the hospital. The man in the helicopter told William not to sleep, but he collapsed into unconsciousness.
What William saw in oblivion made a strong impression on him and changed his future life.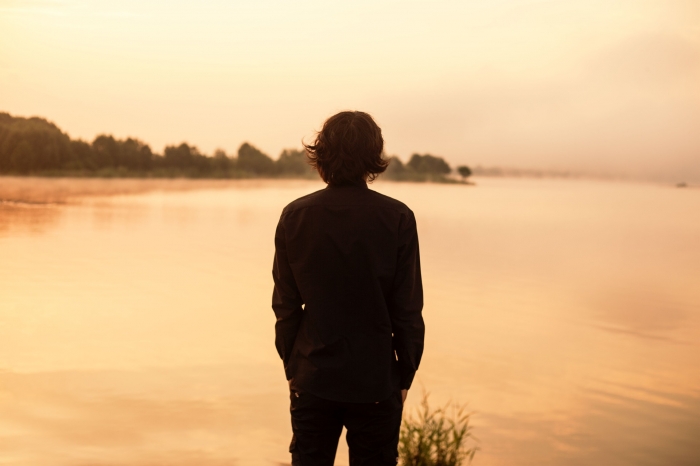 William's near-death experiences
The next thing I remember happened on a large field. There was a fence about 100 meters away from me. There was a black hole in the fence on the other side of the gate.
I was drawn to the gate. The closer I got, the more love and warmth I felt, the more selfishness and bad feelings went away.
When the gate was about five steps away, and I was about to open it, someone's hand stopped me, grabbing my forearm. Looking at this man, I noticed a few more.
– You need to stop. I watched you for a long time, son, you made a lot of mistakes. Do you know where you are? The man asked.
"I'm not sure," I said, looking around.
"You are dead," he said.
I panicked.
"You're scared," he remarked.
– No.
"Then [during your life] you were always afraid of it for no reason," he said softly. I nodded in agreement, and our dialogue continued.
– Do you feel that everything is under your control?
"I don't know… no.
– You have never controlled anything in your life. It's an illusion …
– Yes, you're right, – I nodded again.
– You are given a choice that many do not have. God gives you a choice: come back and correct your mistakes, or you can go through the gate. If you enter this gate, all the regrets of life will torment your soul until you are given another chance. It will feel like eternity.

I still have regrets about my past life, "he added after a pause. – If you come back and do not start working on yourself to become better, if you do not find happiness in the righteous way, you will always remember and crave the feeling that you are experiencing in this place now, but you will not get here again.
When you return, recover, heart and mind will be restored. You are given something great … But you understand that God already knows your choice.
Then he looked at me and asked:
– What are you going to do?
"I'll be back," I replied.
At that moment, the feelings that gripped me were gone, and I let go of the gate.
"See you again very soon," he said at last.
Then I woke up and saw my mother. I told her that I was back for good and that I would not go anywhere. She had a tired face.
"You've been in a lot of pain," she said.
I said that everything would be all right with me, and told that I saw Him. She clarified who exactly. I replied that I did not know for sure, but they gave me a second chance. Mom laughed and said that probably my grandfather kicked me in the ass to bring me back here.
William's life has changed
William underwent several operations, but the doctors said that physically he would not be the same. Among other things, the man had to learn to walk again.
About a month after the accident, thoughts of the pain inflicted on his loved ones and loved ones flooded into William, so he focused on correcting the mistakes of the past and changing his future.
Five months later, William was walking without limping. Now she runs for several kilometers, and the only evidence of an accident is scars.
The biggest proof of the reality of what he saw during clinical death is a complete change in himself, says William.
"I saw mistakes, especially in my relationship with my wife, and I understand things that I didn't understand before. It is strange to think that someone was watching my life from a distance and knew about my actions. If I had not changed, I would have yearned for death. "

"I used to have sociopathic tendencies and no empathy. I have never felt guilt or remorse. Now I am selfless and empathetic, I feel the emotions of others, and it is overwhelming. I know how people feel just by looking at them. This is a kind of intuition.

Remorse and guilt help me re-evaluate the past. I also notice that when I do something instinctively, in the old way, I realize it and I can stop. "

"People believe when I share my experience because they see a big change in me."
Source: NDERF