It's Almost Halloween! Here's What Black Cats Actually Symbolize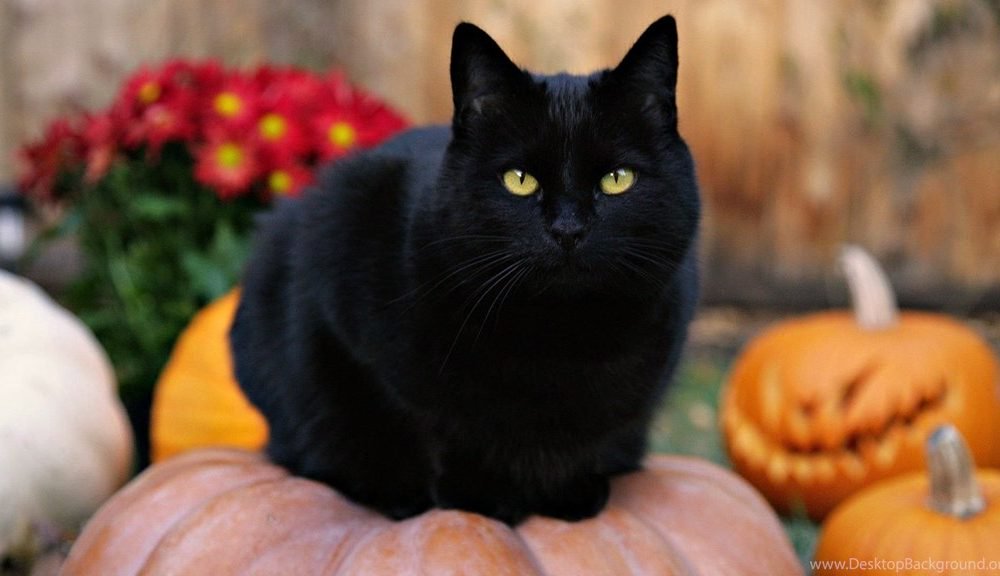 The Facts:Black cats, for most people have been associated with bad luck. The truth is, black cats can symbolize many things, and have throughout history.
Reflect On:Have you been seeing black cats? Do they have any particular symbolism for you? It is often said, what you truly find meaning in, is where the significance lies.

Cats have had a special bond with humans and have been domesticated since ancient Egyptian times. In fact, they were even regarded as gods in these times and treated with the utmost care and respect. It seems that for those of us who really know cats, we understand that there is something special about these animals, so much so that we too are willing to feed them, scoop up their poop, and let them destroy our furniture… seems like perhaps not much has changed since ancient Egypt after all.

Throughout history, many people have been superstitious about black cats in particular, and will avoid them whenever they see them. If you are thinking this is just a silly superstition and people don't actually believe that black cats are bad luck, then you should know that they are the least likely to be adopted from an animal shelter. There are stories that they are sometimes tormented, captured and even killed on halloween night.

So, where does this superstition come from? Should we be wary of black cats? If so maybe I'm screwed because I have been the proud owner of my handsome black kitty I call Salem, (I know, how original, right?) for the past 5 years. This also brings up the point of how black cats and witches seem to go hand in hand. So, why is this and what do we need to know about these furry black creatures?

First, Some History

Throughout history black cats have generally been associated with occultism. According to Hebrew and Babylonian folklore, cats are compared to serpents, coiled on the hearth. In ancient Egypt, the act of killing a cat was punishable by death, and when a cat would die it would be mummified followed by the family entering into a period of mourning. Roman cultures considered the cat to be sacred and brought this animal into Europe. The vast majority of countries in Europe consider a black cat crossing one's path to be bad luck and the church has long since associated black cats with witchcraft.

These animals were also believed to be shapeshifters and that witches were able to transform into them with their spells and do evil things without being noticed. Many people believed that the devil himself would take the form of a black cat and sadly on holy days like Easter, in the Middle Ages, black cats were often hunted down and burned.

Luckily, in some cultures the perception of the black cat began to change and it went from being seen as bad luck to good luck in countries like Scotland who still regard a strange black cat on your porch as a sign of prosperity to come. In England, fishermen's wives would keep black cats in their homes while their husbands were away in the belief that these animals would prevent danger from occurring to their husbands while they were off at sea.

Some More Updated Theories

There is no doubt that superstitions regarding black cats are some of the most widely known and popular. One has to wonder what witches really saw in black cats and why they had a relationship with them in the first place, because by now many people realize that witches were not evil, but just more connected to the power of the universe that lies within us all. The powers that be did not want this information getting out, hence the massive crusade against witches and pretty much any intuitive woman during the middle ages. So why did the witches really keep black cats?

According to a website called Witches Lore, a black cat is a good companion to have around because it will double the power of any spell, black cats are witches themselves and are more connected to the mysterious powers of the universe. You can learn everything about magic just from talking to your cat.

Black aside, the cat represents the following attributes, according to spiritanimal.com

Patience, waiting for the right moment to react
Independance, yet enjoying social connections
Spirit of adventure, courage
Deep, relaxed connection with self
Healing from the inside out
Curiosity, exploration of the unknown or the unconscious

"Another way to see the meaning of the cat as a spirit animal or totem is to pay attention to its ability to see in the dark and be at ease when most other animals and humans are not. If the cat shows up in your life as a spirit guide or you have this animal as totem, you may be inclined to start exploring areas in your life or aspects or yourself that you do not know well yet.

When we observe cats, we see that they are characterized by the flexibility and agility. No matter the circumstances, it will always manage to fall back on its feet. By affinity with the cat totem, you may be encouraged to develop your flexibility at many different levels, whether it is in your physical body, mind, emotions, or spirit.

The cat totem is a source of inspiration to renew your perspective and have the courage to act or integrate it into your life. If the cat spirit animal shows up in your life, it may be time to explore new ways to look at things."

Here's another interesting point made by the Archives of American Art,

"It's not all bad for the black cat though. Black cats aboard ships at sea are a longstanding tradition associated with good luck. From pirate ships to naval vessels, cats have been welcomed on board because they keep the rodents away from the ship's food supply and provide companionship for an isolated crew. Unlike in the United States, where they typically have negative connotations, other nations—like the United Kingdom and Japan—believe that black cats can bring prosperity, bless a marriage, ensure good harvests, and even help bring success to a theater production." 

Do Cats Show Up In Your Dreams?

Of course some people perceive the presence of cats in their dreams as bad omens, others believe that the cat represents your feminine essence and sensuality. These dreams may be a reminder to let your inner mischievous and mysterious nature shine through. If a black cat shows up, this is a message to pay attention to what your intuition is telling you. The Ancient Egyptians believed that cats could travel between dimensions, so it would not be that strange to see a black cat in your dream with a message for you.

It seems as if there has been an heir of mystery and wonder around black cats since their relationships with humans began. I believe they are just as special as any other cat and my boy, Salem, just happens to be the friendliest cat I've ever met, he crosses my path on a regular basis and as far as I know, I'm doing just fine! Perhaps these superstitions are what you make them.
Naga Fireballs: Swamp Gas or Divine Breath?
When science and spirituality battle it out, sometimes there's no clear winner.  In the case of most Fortean or paranormal subjects, the scientific establishment simply labels their opponents with the blanket term 'pseudo-science', and the counter argument is usually that critics are closed minded.  It's not always the case, but often these two pillars of popular culture mix like oil and water, or perhaps…gas and water.
Sometimes the debate goes beyond polite discourse too, and in such cases believers in whatever phenomena can get outright nasty.  Such was the case in 2002, following the airing of a Thailand TV show titled Code Crackers, wherein a team was sent by the Thai TV network iTV to investigate the famed Naga Fireballs.
A little background first.  The Naga Fireballs are much as their name suggests.  They are the focal point of a phenomenon that occurs in late October every year, on the Mekong River in Southeast Asia.  They are little fireballs that silently rise up out of the river, burning red in colour.  They shoot up from the river's surface quickly, to about a hundred meters, where they silently burn out and disappear.  They can occur in the thousands, though some years have recorded as few as 30.
The fireballs are widely known in Asia and are revered in Thailand as a part of the observance of the Buddhist (Thai/Laos) Lenten season.  Specifically Wan Ok Phansa, which is the final day of the celebration.  In modern day Thailand, the celebration involves huge gatherings of people on the bank of the river, all to watch the fireballs rise and disappear in the heavens.  The celebration commemorates the return of Buddha in Naga form, and it is widely believed by Buddhists and others that the Naga Fireballs are actually the breath of a giant sea serpent, a Naga or Phaya Naga, that lives in the riverbed and awakes every year at this time to honour the conclusion of vassa (The three month long season of Rain Retreat or Buddhist Lent).
The Naga, as history buffs and perhaps gamers will find familiar, is the name of a mythical creature, said to be a giant sea serpent or snake (or sometimes a dragon).  They have some political significance, as Laotian culture considers them to be protectors of Vientaine (the capital of Laos) and by extension, Laos State, but they are revered by most in the Makong river area of Thailand as powerful magical beasts.  Most in the skeptical camp believe that a species of oarfish is responsible for this myth.
This spiritual significance is what, ultimately, led to the unrest among revelers in 2002.  The show, Code Crackers, offered a not so traditional view of the Naga Fireballs.  Their expose suggested that the fireballs are not the breath of the great Naga, but are in fact tracer rounds being fired into the sky by Laos guards on the opposite shore of the nearly half-mile-wide river.  This offended the spiritual beliefs of some several hundreds of thousands of believers, and protests and lawsuits ensued.  The TV show was followed by a feature length movie titled Mekhong Full Moon Party, which portrayed the phenomenon and the celebration in a less than flattering light as well.
The notion that the fireballs are not what the devout believe they are isn't, as you may imagine, without its merits, however.
Scientists, according to many who've blogged on this topic, readily attribute the phenomenon to that old stand-by explanation for all things weird and unexplained – Swamp Gas.  Though, in this case, they may be right.
To anyone unfamiliar with UFO phenomenon and its culture, the swamp gas explanation says that in marshy areas, organic material decomposes underground producing deposits of methane.  Said methane eventually finds its way to the surface, and upon coming into contact with oxygen, it spontaneously ignites providing a brief little light show for anyone who happens to be nearby.  Fairly simple chemistry actually.
According to Brian Dunning of Skeptoid, one Dr. Manos Kanoksilp, a pediatrician, theorises that the Naga Fireball phenomenon requires a precise alignment of the sun, moon and Earth, and that the Makong River provides a perfect storm of conditions, regarding methane and oxygen levels combined with ambient temperature, to bring about the fireballs every year at the same time.[1]  The Thai Science Ministry apparently concurs, citing an experiment headed by the ministry's Deputy Secretary, Saksit Tridech.  Tridech and his team used equipment to measure conditions during the celebration and apparently determined that the fireballs were the result of built up phosphine gas.[2] Phosphine is manufactured for industrial purposes through a defined chemical process, and it's not clear how it is generated in nature.  Though most believe, similar to methane, it is the product of bacterial reduction of phosphate in decomposing organic material.
Brian Dunning disagrees with the swamp gas theory, however.  The swamp gas process described above, based on methane gas, requires highly specific conditions.  The right concentrations of methane and oxygen and certain environmental conditions are necessary for spontaneous combustion.  Dunning believes it's unlikely that those conditions can be found consistently on the same date at the same place, year after year.  It may come as no surprise that he favours the Laotian guards firing into the sky theory, and suggests that they may be paid to do so by local officials.
Phosphine however, is a touch more volatile than methane, and could account for the Naga Fireball phenomenon, but it too would require special circumstances to be consistent over time.
So we're left with three apparent possibilities: a giant magical serpent breathing tiny bubbles of fire, swamp gas, or a sort of unintentional hoax (or perhaps intentional).
One of the problems with the above theorising, is that there isn't a lot known about the fireball phenomenon's history.  Locals claim that it's been going on for centuries, but there is no record of it.  There are whisperings of the Mekong Lights (as they're sometimes called) being mentioned in sacred writings at the Wat Luang Buddhist temple in Phon Phasai, Wat Pho Luang Phra Sai, and of written accounts of the lights from British forces in the 1960's but there's nothing solid to cite.  The festival itself is eons old, but it's not clear if the fireballs have always been associated with it.  As such it's not certain if the Naga Fireballs really do happen every year at the same time. Today, and as a result of a huge boom in Naga Fireball related tourism in the area, the festival is overrun by fireworks, which completely negates anyone actually seeing the fireballs in person, unless one happens to erupt right in front of them.
Nonetheless, there are many videos of the fireballs on YouTube, like the one below – so ultimately, you can make up your own mind.
[1] Brian Dunning. The Naga Fireballs: What is the source of the glowing balls that rise from the Mekong river each October? December 2009 Skeptoid.com http://skeptoid.com/episodes/4183
[2] Napanisa Kaewmorakot. Science Ministry Solves Naga Fireballs Mystery.The Nation (Nong Khai) http://www.nationmultimedia.com/home/Science-Ministry-solves-Naga-fireballs-mystery-87105.html
SOURCE:
Paranormal Activity Captured In Familys Kitchen in East Yorkshire, England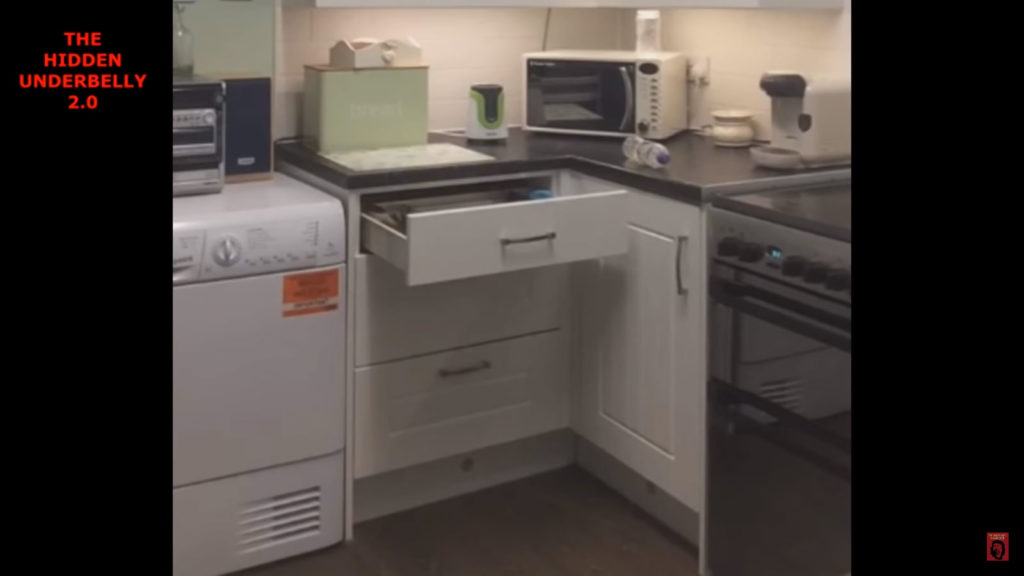 This footage was caught by Paul Pennock on October 21, 2018. a few week before this footage was taken Paul noticed that things were being moved and hearing strange noises coming from the kitchen, he decided to place a camera and what he filmed left him feeling unsafe.
Paul Pennock states " This happened in my kitchen last night, we're moving out!!! "
Source: The Hidden Underbelly 2.0
Bizarre case of Angelique, the electric poltergeist girl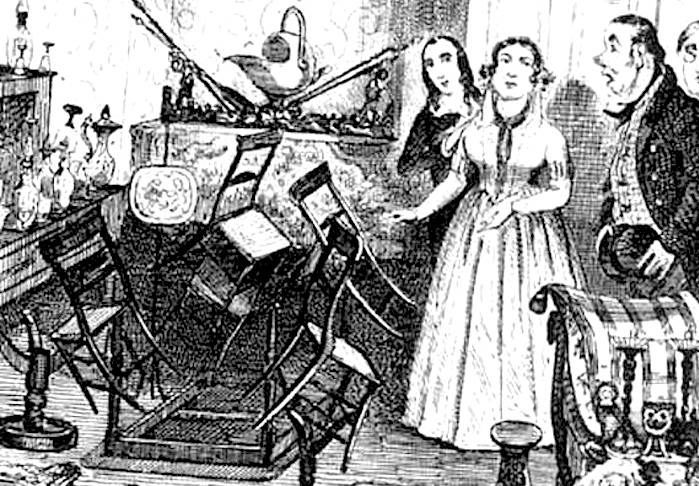 The history of the paranormal is littered with mysterious individuals who at times seemingly came out of nowhere to baffle and beguile, before fading off into the mists of time. These people step out from beyond the fringes of what we know to demonstrate abilities or phenomena beyond our comprehension, tease us with answers to the unknown realms that lurk on the periphery, and then are forgotten to leave their mysteries swirling in the wake of their departures. Such cases are often murky, sometimes frustratingly lost to time, and always baffling. One such case of a particularly mysterious historical case of such a puzzling person is that of a poor peasant girl in France, surrounded by strange, ghostly phenomena, who would go on from her humble life to become a great unsolved mystery.
The tale revolves around an Angelique Cottin, who in 1846 was a young, 14-year-old peasant girl living in the village of Bouvigny, near La Perrière, France, when her life and that of those around her would be forever changed as she launched herself into the realm of legendary unexplained mysteries. In January of that year, Angelique was at work weaving silk into gloves on a large wooden weaving frame when the whole thing began to shiver and shake with increasing intensity, before actually sliding across the floor, despite is heavy weight and the fact that that no one was touching it except Angelique just moments before. It was noticed that when Angelique approached the frame it would seem to actually retreat from her, almost as if it were a living thing recoiling from her presence, which was all enough to unsettle the others who were with her at the time. The frightened witnesses to the inexplicable event told adults, but at the time no one believed them.
In the coming days more similar phenomena began to follow Angelique around, such as chairs moving out of her way and even at one point a table that seemed to levitate in the air in her presence. There were also papers that would flutter and blow away near her, as if by a gust of wind, and pens or other small objects would also dance about or retreat from her touch. Angelique's parents, as well as local residents, witnessed these incidents and rumors began to swirl that the girl was possessed by the Devil. Her parent's would subsequently bring her to a local priest for an exorcism, but her problem was deemed to be more of a physical phenomenon rather than the work of the Devil for reasons that are unclear, and she was sent home in a doctor's care.
The doctor in question went in rather skeptical of the outlandish stories he had heard, but he would soon witness these odd phenomena for himself, and they would indeed steadily grow in intensity. Objects would be flung from her lightest touch with great force, when she sat in a chair it would rattle and buck to the point that even a grown man couldn't hold it down, a heavy table was seen to lift and hover in the air in front of startled witnesses, and other furniture would also shake, quake, and move about when the girl was near it. On one occasion a heavy container flew through the air with a man sitting upon it. Angelique's bed would also often levitate, shake, or move about while she was in it, and the activity in general was noticed to be more pronounced and stronger at night.
For the rest of this tale, go here.
About the Author:

Brent Swancer is an author and crypto expert living in Japan. Biology, nature, and cryptozoology still remain Brent Swancer's first intellectual loves. He's written articles for MU and Daily Grail and has been a guest on Coast to Coast AM and Binnal of America.