Israeli Archaeologists Find Oldest Human Remains Out of Africa, From Nearly 200,000 Years Ago – Earth Mystery News
Israeli archaeologists have found the remains of a nearly 200,000-year-old human jawbone in a cave on Mount Carmel, a discovery they predict will change what we know about the evolution and spread of our species.

The jawbone, dated to between 177,000 and 194,000 years ago, suggests Homo sapiens was already leaving Africa through the Middle East and populating the rest of the globe at a time when, according to previous research, modern humans were thought to be barely taking their first evolutionary steps in their ancestral home in East Africa.
"It's really something different," says archaeologist Prof. Mina Evron from Israel's University of Haifa, which conducted the dig jointly with Tel Aviv University.
Evron says the upper left jawbone, complete with eight well-preserved teeth, was first discovered in 2002 in Misliya Cave – one of several prehistoric sites that dot the cliffs of the Carmel mountain range near the northern city of Haifa.
The international team of more than 30 experts – including top paleontologists from Spain, China and other countries – took so many years to study the find partly to make sure the dating was right, since it went against everything they knew about human evolution, she explains.
Until recently, most scholars would have agreed that modern Homo sapiens first appeared some 200,000 years ago in East Africa, based on remains found at Omo, Ethiopia, during the 1960s and '70s.
According to genetic research, these ancestral humans emerged from Africa around 70,000 to 60,000 years ago, occasionally interbreeding with Neanderthals and other hominids as they dispersed throughout the world.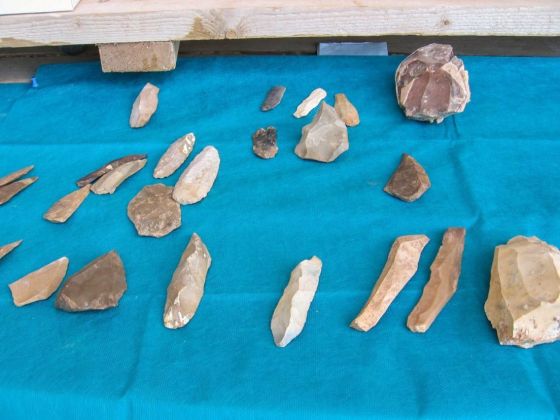 Researchers are still convinced all people alive today are the descendants of those final "out of Africa" migrants. But what seems clear now is that Homo sapiens evolved much earlier than previously thought, leaving Africa in multiple waves and frequently having sex with other hominid populations along the way.
"The moment you say there is modern Homo sapiens in Israel between 170,000 to 200,000 years ago, suddenly all the pieces of the puzzle fall into place," says Prof. Israel Hershkovitz, a physical anthropologist at Tel Aviv University and lead researcher on the Science paper.
The find at Misliya Cave makes sense in light of several discoveries that have been made over the last couple of years and that have already suggested that the traditional "out of Africa" paradigm needed to be reviewed, Hershkovitz says.
Those discoveries include last year's announcement that remains found at Jebel Irhoud, Morocco, had been identified as early Homo sapiens and dated to 300,000 years ago – some 100,000 years before our supposedly earliest ancestors from Ethiopia.
Researchers had also previously uncovered 47 human teeth in a cave in Daoxian, China, that were around 100,000 years old, meaning that Homo sapiens reached the Far East tens of thousands of years before that supposedly unique exodus from Africa.
Over the last year, geneticists have also been showing how our prehistory is much more complex than we believed. One study suggested that some human populations still carry traces in their DNA of those early migrations. And research conducted on Neanderthal DNA found that at some point between 220,000 and 460,000 years ago, an archaic Homo sapiens population interbred with at least part of the Neanderthal lineage.
Since at that time Neanderthals and Homo sapiens were supposed to have been confined to their respective stomping grounds in Europe and Africa, there was clearly a piece missing from the history of our evolution.
Enter the Misliya jawbone. Scientists used three different methods – Uranium-thorium, electron-spin resonance and thermoluminescence – to date the concretions found on the bone, the teeth and the archaeological layers in which the jawbone was found. All methods gave similar ranges, Hershkovitz says.
'Oldest bed ever found'
Tools and artifacts, sealed in with the bone when the roof of the cave collapsed some 160,000 years ago, also confirm that we are dealing with modern humans, says Evron.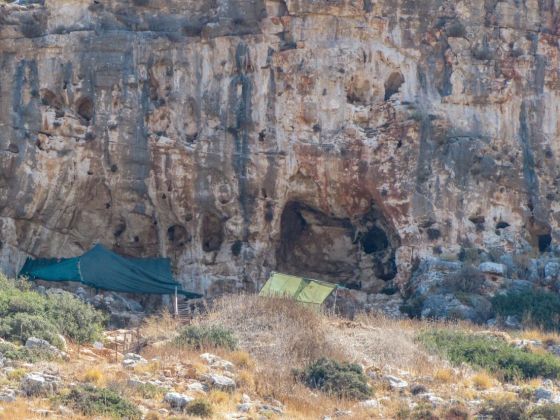 "The flint tools are much more complex and developed than what was made in previous periods," she notes. "And we also uncovered microscopic fragments of grass bedding – which may be the oldest bed ever found."
Although archaeologists sometimes nickname the find "Miss Liya," after the name of the cave where the jawbone was discovered, we know very little about the individual to whom it belonged, except that she, or he, was a young adult, Hershkovitz says. However, by any parameter the researchers could check – the morphology of the bone, the floor of the nose and the teeth – it is clear that these are not the remains of a Neanderthal or any other type of hominid except Homo sapiens. In fact, Hershkovitz says, Miss Liya's jawbone is much more similar to that of modern man than older or nearly contemporaneous African remains like those found at Jebel Irhoud and Omo.
"You could say that it's not just the oldest Homo sapiens outside of Africa, it's the oldest Homo sapiens there is, period," Hershkovitz adds. "The fossils found in Africa still had many archaic traits, but here we are talking about fully modern people, not Jebel Irhoud, not Omo."
Whether the evolution from archaic to modern sapiens happened while the ancestors of Miss Liya were still in Africa or once they had already settled in the Middle East is hard to say right now, because we don't yet have enough human remains from both areas to be sure, Hershkovitz notes.
Another key question is how the newly arrived humans from Africa interacted with preexisting hominids that inhabited the Middle East.
"We need to remember that when humans arrived here 200,000 years ago, it was not a vacuum – there were already people around," Hershkovitz says.
The answer to what happened next may come from remains found nearly a century ago in the Qafzeh and Skhul caves, also in northern Israel and dated to around 100,000 years ago. These too could have served as an early indicator for researchers that humans had been leaving Africa much earlier than thought, but for a long time the finds were dismissed as a small foray by a group of archaic sapiens who quickly went extinct. Now, though, it looks more likely that the remains at Qafzeh and Skhul were the distant descendants of those early inhabitants of Misliya.
What is particularly interesting is that though Miss Liya's jawbone is nearly 100,000 years older, it is much closer to contemporary human morphology than the skulls found at Qafzeh and Skhul, which display several archaic traits even though they belong to the Homo sapiens family, Hershkovitz notes.
This can only mean that, over time, the people of Misliya mated and integrated with the Neanderthals or other hominids inhabiting the area, Hershkovitz adds.
After Qafzeh and Skhul, we lose track of this lineage of early out-of-Africa humans living in the Middle East. It is possible they went extinct due to environmental or climatic pressures. But also, some of them may have returned to Africa, mixing in with the populations that would make the next and last big push out of the continent, some 70,000 years ago, Hershkovitz explains.
"We always talk about an exit from Africa, never about a return," he concludes. "In a way, the expression 'Out of Africa' is incorrect, because of course it was a two-way street. There is no reason to think there wasn't constant movement in both directions."
Was Quetzalcoatl An Extraterrestrial? Here's How Mesoamerican "Mythology" Described Him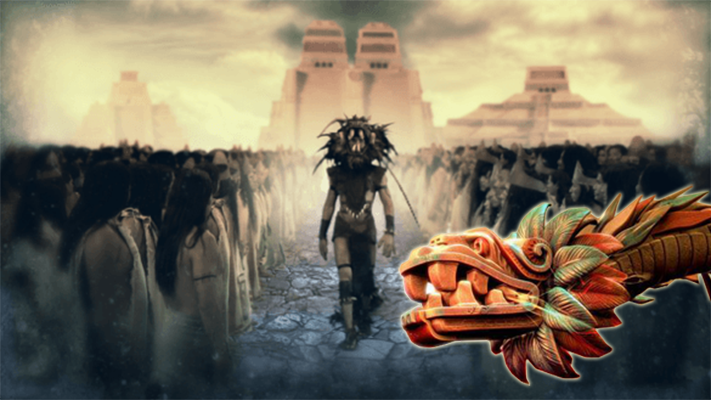 With the recent release of the Pentagon's UFO footage, which comprised of two videos filmed by U.S. Navy pilots of objects performing maneuvers that defy our current understanding of aerodynamics, the topic of UFOs has once again grabbed headlines around the world.
The video was a step forward towards disclosing the fact that there are unknown objects in our atmosphere that are commonly spotted and tracked on radar by defence authorities. They are highly technologically advanced, more so than any air-craft which is available in any global inventory at the moment.
Further to this, many people have had strange sightings that don't really 'make sense,' in the realm of known aircrafts. The frequency of these sightings are not uncommon these days, especially for avid star gazers.
Haven't seen one yourself? Well, how often are you looking up into the night sky? For many people, the answer is little to never.
Who Man's These Craft's?
The next question to be asked is, are these objects, or at least some of them, extraterrestrial?
According to one of the pilots who filmed the UFO released by the Pentagon, yes, they are, at least that's their belief. The Pentagon's "aerial defence" program director, Luis Elizondo also shared his belief that they are, along with hundreds of other high ranking personnel from several branches of military, intelligence, academia, aerospace and academia. He said that there is plenty of evidence to make that connection… The most recent example might be Robert Bigelow, founder of the Bigelow Aerospace corporation who, not long ago, stated that he knows we are being visited, and have been visited by ET's.
"Yes there have been crashed craft, and bodies recovered. . . . We are not alone in the universe, they have been coming here for a long time. . . . I happen to be privileged enough to be in on the fact that we have been visited on this planet, and the UFO phenomenon is real."
– Doctor Edgar Mitchell, sixth man to walk on the moon (source)(source)(source)
Quetzalcoatl
Ancient history is fascinating to say the least, and we've discovered so much about it. But, at the same time, we still know very little about Earth's history and even the history of humanity. One of the most fascinating points to make about ancient history is that much of which was once considered mythological, is actually turning out to be true.
Perhaps information that didn't fit within our framework of accepted knowledge was deemed mythological? How can we take seriously the writings of ancient Greek philosophers when describing social life and other aspects of humanity, yet when it comes to other areas of the world, like the Oracle at Delphi, they are placed in a the mythological realm?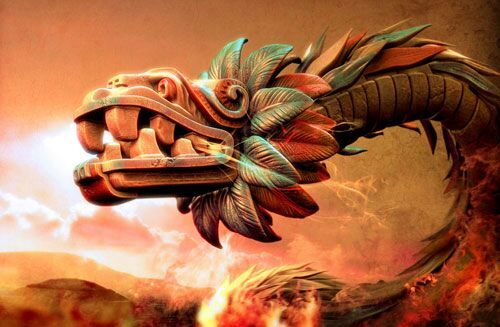 Perhaps some was mythological, but perhaps some of what we call mythological was actually real.
Another great example is the Lost Land of Atlantis, a highly technologically advanced civilization that would shake what we thought we knew of human history, it's not so much a tale anymore, and it's one of many examples that show what we've been taught may not be completely correct.
For anybody who has done their research in this area, it's quite clear given the evidence we now have, that Atlantis was far from a mythological place. Given our research on Atlantis, and many scholars out there, Atlantis is no joke, and perhaps before that, Lemuria as well.
This is why when it comes to stories of figures like Quetzalcoatl, it's always interesting to contemplate that they were real.
The video footage mentioned above, which was released by the Pentagon, was done so in conjunction with To The Stars Academy headed by Tom Delonge, along with Luis Elizondo (mentioned earlier), and several other figures who've held high level positions within the Department of Defence. The Pentagon is working with the academy in the disclosure of UFO's.
That in itself is a completely different discussion with many implications. It's hard to trust the government these days, so can we really trust them with UFO disclosure and what that means? Will leave this for another time.
Delonge recently made some interesting comments about his experiences so far, and the contacts he's been able to make, and the discussions that have been had.
Tom states in a Podcast with Joe Rogan:
"I went and met a former director of the CIA and NSA…Right when I sat down and told him about the book you know what he says to me? He goes, "I didn't read much science fiction when I was a kid but I read a lot about Greek mythology"…The sixth biggest defense contractor in the world is a company called Science Applications International Corporation (SAIC)…and in the front of the building (SAIC's headquarters) you have an obelisk coming out of a fake leg and two Atlantians on thrones, and they're both holding pyramids and one says the past and one says the future, and they're 8 foot tall statues."
Interesting, isn't it?
So, who was Quetzalcoatl? Considered to be a mythical tale, Spanish chronicler Juan de Torquemada states that Quetzalcoatl was 'a fair and ruddy complexioned man with a long beard. Another describes him as follows:
"A mysterious person…a white man with strong formation of body, broad forehead, large eyes, and a flowing beard. He was dressed in a long, white robe reaching to his feet. He condemned sacrifices, except of fruits and flowers, and was known as the god of peace…When addressed on the subject of war he is reported to have stopped up his ears with his fingers."  (source)
Graham Hancock, one of the world's foremost researchers into such things, describes another description from Central American Mayan tradition in his book, Fingerprints of the Gods:
"He came from across the sea in a boat that moved by itself without paddles. He was a tall, bearded white man who taught people to use fire for cooking. He also built houses and showed couples that they could live together as husband and wife; and since people often quarrelled in those days, he taught them to live in peace." 
This figure is spoken of the Mesoamerican culture.
It's interesting because there are multiple accounts of various figures, not just Quetzalcoatl, all of which seemed to have provided humanity with a little 'push', here and there, and assistance with regards to discovery. Nothing was really done for humanity, it seemed that the common theme through all of these contacts was for us to better ourselves, and be responsible for our own progression, with a little bit of assistance.
Not all of the 'gods' were kind, loving and peaceful. There were others who required sacrifices, and seemed to almost be a little opposite of ones like Quetzalcoatl.
What's also interesting is that the descriptions of Quetzalcoatl resemble modern day descriptions of some, supposed extraterrestrial beings. Those who have examined the lore, like myself, would know this. Could these have been who we consider today, benevolent extraterrestrial beings? Perhaps.
Ancient history, along with many ancient cultures who pre-date modern-day religion, all have very interesting stories which can easily be interpreted has highly advanced beings from another place.
The idea that these are just mere interpretations seem to be dwindling every year. Being an avid researcher in the field for more than a decade, I can tell you that extraterrestrial intelligence is just the tip of the iceberg. It truly does open up Pandora's box, and there is much more to this universal story, so much so that we probably couldn't even comprehend it.
The evidence today points to the idea that we've been visited for a long time, so to contemplate the idea that these were extraterrestrial visits is not out of the question.
"There are objects in our atmosphere which are technically miles in advance of anything we can deploy, that we have no means of stopping them coming here … [and] that there is a serious possibility that we are being visited and have been visited for many years by people from outer space, from other civilizations….Who they are, where they come from, and what they want. This should be the subject of rigorous scientific investigation and not the subject of 'rubishing' by tabloid newspapers."
 – Lord Admiral Hill-Norton, former Chief of Defence Staff, 5 Star Admiral of the Royal Navy, Chairman of the NATO Military Committee (source)
If they have been here as well as visiting us for a long time, that's good news. It takes out the idea of an 'extraterrestrial invasion', because, if that were the case, it would have already happened by now.
To find all of our archived articles on the UFO/Extraterrestrial phenomenon, you can visit the exopolitics section of our website.
The meaning of Quetzalcoatl is "feathered serpent," this is the translation that comes from ancient South America, from the Maya and the Aztecs. In Hancock's book, he goes on to describe how there were other entities who resembled Quetzalcoatl  quite closely:
"There were other deities, among the Maya in particular, whose identities seemed to merge closely with those of Quetzalcoatl. One was Votan, a great civilizer, who was also described as pale-skinned, bearded and wearing a long robe. Sholars could offer no translation for his name but his principal symbol, like that of Quetzalcoatl, was a serpent. Another closely related figure was Itzamana, the Mayan god of healing, who was robed and bearded individual, his symbol, too, was the rattlesnake."
Graham, in his book, goes on to state:
"All of the legends stated unambiguously that Quetzalcoatl/Kukulkan/Gucumatz/Votan/Itzamana had arrived in Central America from some-where very far away (across the "Eastern Sea")  and that amid great sadness he had eventually sailed off again in the direction whence he had come."
This is an interested quote, and relates closely to a sentiment shared by a First Nations Canadian storyteller, Richard Wagamese:
"My people tell of Star People who came to us many generations ago. The Star people brought spiritual teachings and stories and maps of the cosmos and they offered these freely. They were kind, loving and set a great example. When they left us, my people say there was a loneliness like no other." (source)
Interesting to think about. These are versions of history that old more plausibility to them than the ones we currently consider concrete. As we continue to move forward exponentially, perhaps our destiny is in the stars and we ourselves one day will be the extraterrestrials, or perhaps we already are.
7 Things You Probably Didn't Know About The Lost City Of Atlantis
Atlantis, the intriguing mystery that leaves many of us curious to learn more, and some of us skeptical and dismissive. What is it about this lost city that leaves so many of us questioning much of what we have been taught to believe? Is there some truth to the story of Atlantis that we inherently know, deep down inside that is true? Are we connected in some way to this mythical place from, perhaps our past lives?
These questions are fun to ponder, but we are unlikely to get any definite answers, at least not yet.
First, Some History
How much do you know about Atlantis? Where does this story even come from? From what we do know, the first known documentation of the story of Atlantis came from the Greek philosopher, Plato in two of his writings, Timaeus and Critias, both these books date back to about 360 BC. Within these books, Plato wrote that the Greek sage, Solon was given the story of Atlantis in Egypt by a priest and upon his arrival back to Greece, he shared the story with his relative, Dropides who passed it down to his son Critias, who then passed it down to his grandson – also names Critias, who then finally shared it with the well-known Greek philosopher, Socrates.  
So, given the above information, you can see that this was a story that was told, and passed down through many generations, therefore it should not be taken as fact. Despite of this, for some reason many of us feel a strong connection to the story of Atlantis and believe it to be true.
In the report, author M. Pierre Termeir, a member of the Academy of Sciences and Director of Service of the Geologic Chart of France, gives a lecture regarding the Atlantean civilization.  He makes a compelling case for further study of this lost city:
After a long period of disdainful indifference, observe how in the last few years science is returning to the study of Atlantis. How many naturalists, geologists, zoologists, or botanists are asking one another today whether Plato has not transmitted to us, with slight amplification, a page from the actual history of mankind. No affirmation is yet permissible; but it seems more and more evident that a vast region, continental  or made up of great islands, has collapsed west of the Pillars of Hercules, otherwise called the Straight of Gibraltar, and that its collapse occurred in the not far distant past. In any event, the question of Atlantis is placed anew before men of science; and since I do not believe that it can ever be solved without the aid of oceanography, I have thought it natural to discuss it here, in this temple of maritime science, and to call to such a problem, long scorned but now being revived, the attention of oceanographers, as well as the attention of those who, though immersed in the tumult of cities, lend an ear to the distant murmur of the sea.
You can read this full report here, starting on page 219.
Regardless of how you feel about the lost city of Atlantis, here are 7 things you probably didn't know…

1. We Know The Supposed Location
In Plato's writings, he tells us exactly where the lost city lies, his text reads, "came forth out of the Atlantic Ocean… there was an island situated in front of the straits which are by you [in reference to the ancient Greeks], called the Pillars of Heracles." Today, these are known as the Straits of Gibraltar, the area between Spain and Africa.
In 2011, archaeologist from the University of Hartford, Richard Freund and his team found cities that were built in the image of Atlantis known as "memorial cities." They were found in the swamps of Doana National Park, which is just North of Cadiz Spain. Interestingly Cadiz sits right outside of the straights, which has Freund convinced that the real Atlantis was buried in the mud flats of the Atlantic. This matches the part of Plato's story that says, "the sea in those parts is impassable and impentrable, because there is a shoal of mud in the way; and this was caused by the subsidence of the island."
2. The City Of Atlantis Was Named After A Demigod
Despite the fact that Atlantis is apparently in the Atlantic ocean, that's not where it got it's name. According to the texts, Poseidon – the Greek god of the sea – had five pairs of male twins with an Atlantean woman, named Cleito. Poseidon gave each of his 10 sons a different portion of the island to rule. His first-born Atlas had the entire island and the surrounding ocean named after him.
3. We Are Missing Half The Story

While we have a complete version of Timaeus, we do not have the completed copy of Critias. In this story we have up until Zeus, head of all Greek gods. "Collected all the gods into their most holy habitation, which, being placed in the center of the world, beholds all created things. And when he had called them together, he spake as follows" and that's where it ends, talk about leaving you on the edge of your seat! Who knows, maybe this next portion of the book was deliberately left out…  it is not known whether Plato did this on purpose or if we just never were able to find the completed version. There is also a belief that Plato either wrote or had planned on writing a third book about Atlantis called Hermocrates.

4. If Atlantis Were Real, It Would Be At Least 11,500 Years Old
As the text goes, the story of Atlantis was handed to Solon in Egypt after he wanted to draw one of the priests to speak about their oldest of tales. In order to do this, Solon told the priests of the oldest Greek story what he could recall and spoke to them about the great flood and the first man. One priest responded, "O Solon, Solon… there is not an old man among you… in mind you are all young; there is no old opinion handed down among you by ancient tradition."
The priest continued to say that the home city of Solon, Athens was actually much older than he thought it was.
5. Plato Believed The Story To Be True
Even though, aside from hearsay, this story doesn't really have any solid legs to stand on in terms of physical evidence, Critias claims that this story is in fact, true, "Then listen… to a tale which, though is strange, is certainly true, having been attested by Solon." To which Socrates responds, "Very good, and what is this ancient famous action of the Athenians, which Critias declared, on the authority of Solon, to be not a mere legend, but an actual fact?"
6. Atlantis Was An Empire
In the story told by Plato, he tells us that Atlantis was an empire, "Now in this island of Atlantis, there was a great and wonderful empire which had rule over the whole island and several others, and over parts of the continent, and, furthermore, the men of Atlantis had subjected the parts of Libya within the columns of Heracles as far as Egypt, and of Europe as far as
Tyrrhenia is another name for Eturia, which is now simply known as Central Italy.
7. Atlantis Represents Just One Of Many Times Mankind Has Been & Will Be Destroyed
The Egyptian priest told Solon that none of his stories were actually "truly ancient" compared to his own. He claimed that the reason that Solon lacked true ancient knowledge is because mankind has been destroyed time and time again.
"There have been, and will be again, many destructions of mankind arising out of many causes; the greatest have been brought about the agencies of fire and water, and other lesser ones by innumerable other causes. When, on the other hand, the gods purge the Earth with a deluge of water, the survivors in your country are herdsmen and  shepherds who dwell on the mountains."
There are many philosophers and spiritual teachers that believe that humankind has been wiped out before and will be wiped out again. Some believe this for a simple reason of science and or natural disasters, others believe this is sort of like a cleansing process for us to start again if we have headed on a path of destruction. I mean think about it, the way we are heading now, in regards to how we are treating our environment, there is a chance that we could wipe ourselves out yet again, unless we learn from our mistakes and change our ways.
What do you think about Atlantis? Do you recall a past life there? Do you feel a strong connection to this mythical place? Let us know in the Collective Evolution Group, and join the discussion!
Much Love
H/T: ListVerse for coming up with the list.
Ancient Pyramids of Bosnia | A Form of Cosmic Internet
Pyramids are regarded as sacred burial places were great rulers were laid and prepared for their final sleep. There's no applicability involved when speaking about these magnificent monuments which are scattered throughout the entire world, except for the numerous symbols pointing to accuracy towards various cosmic regions and events.
While some historians and experts were confident with the above-mentioned idea, others decided to follow a challenging road that would eventually unveil the true meaning of the pyramids, if there was indeed one.
We're going to focus our attention on Dr. Semir Osmanagic, a Bosnian researcher who had studied these complex heritages left by our forefathers for more than 25 years. If his name doesn't ring a bell to you, you might know him as the discoverer of the Bosnian pyramids, an ancient East European site dating back thousands of years.
Since the spring of 2005 when these grandiose structures had been found, Dr. Osmanagic has made several other mind-boggling discoveries that seem to contradict the established paradigm on various levels.
Excavations had begun back in 2006, and after more than 10 years of digging, the site has become the most archaeologically active in the world. This non-profit project gathers hundreds of volunteers.
Pyramids of Bosnianteers and numerous experts from various fields each year because the exploration of these ancient vestiges offers history-shattering insights. Let's highlight a few of them:
The pyramids from the small town of Visoko, Bosnia, are the first such monuments unearthed in Europe. This stands as no surprise, but rather as an addition to a chapter of history so far unknown to us, in a part of the world known to have been ruled by a mysterious [Vinča] civilization with a cuneiform writing system predating that of the Sumerians.
These pyramids are "the biggest, the largest on the planet," according to Dr. Osmanagic. The "Pyramid of the Sun," which is the largest of the three, stretches for about 360 meters on its eastern side, and 220 meters on the northern side where it meets the hills.
It's well known that pyramids across the world were not just randomly put in place, but a series of key factors were taken into account before they had been erected. The Bosnian complex of pyramids makes no exception, as their orientation towards the cardinal points is extremely precise, with all four corners pointing in all four cardinal directions.
Below the dense layer of soil and vegetation, researchers have come across solid blocks of concrete which constitute the body of the pyramids, including remarkable stonework. Recent laser scans have revealed that these structures were stepped-pyramids in remote times before they had been covered by vegetation.
A Form of Cosmic Internet Detected at the Bosnian Pyramids Complex
While scanning the perimeter of the monuments for anomalies, researchers have detected some unusual waves described by Nikola Tesla himself. They are called scalar waves, or standing waves, and are believed to travel at a velocity billions of time (though this aspect is arguably) faster than the speed of light.
These waves are not affected by cosmic radiation or any other cosmic mass. Because of this, the idea of a "cosmic internet" has been coined, and it refers to an intergalactic network which makes it possible to communicate between extremely distant places across the galaxy in just an instant, similar to how the internet works on our planet, but on a grander level.
"For many other researchers, among which the most prominent is Nikola Tesla, scalar waves, or standing waves, created in torsion field interaction ar travelling at a faster speed than that of light," said Dr. Semir Osmanagic. "It's estimated to be 10 billion times faster speed than the lights. Thereby, the torsion fields can move through any cosmic body (planet, sun) without wasting energy."
"This means they are able to travel at great velocity, transfer information and energy, and that there's no loss of the quantity of information. Ideally is to have at both ends two producers (generators) of the energy which are mutually communicating through Tesla's Torsion Field (waves). The information transfer is almost instant between two distant parts of the Cosmos, and the information doesn't lose on its quality during the transfer."
Breakthrough discoveries such as the ones at the Bosnian complex of pyramids bring into the open achievements of the ancients that counter the agreed-upon idea of primitive earth dwellers that had roamed the earth prior to the last ice age. In fact, those institutions dictating our history are scared of the explanations and revisions they would have to make if they were to glue together the pieces of history accepted today to the actual reality from remote times.
Fortunately, we're free to explore and understand (for now) the complex and wealthy heritage left by our forefathers. If this will bring change on a global scale we are yet to discover, but one thing is certain: the years to come will provide a humongous leap in understanding our role on this earth and the intricate human nature.
More references are waiting at the bottom of this article, as well as relevant video material. If you enjoyed the material, help us by spreading the word.
More details in the following video:
Sources: