Israeli Archaeologists Find Oldest Human Remains Out of Africa, From Nearly 200,000 Years Ago – Earth Mystery News
Israeli archaeologists have found the remains of a nearly 200,000-year-old human jawbone in a cave on Mount Carmel, a discovery they predict will change what we know about the evolution and spread of our species.

The jawbone, dated to between 177,000 and 194,000 years ago, suggests Homo sapiens was already leaving Africa through the Middle East and populating the rest of the globe at a time when, according to previous research, modern humans were thought to be barely taking their first evolutionary steps in their ancestral home in East Africa.
"It's really something different," says archaeologist Prof. Mina Evron from Israel's University of Haifa, which conducted the dig jointly with Tel Aviv University.
Evron says the upper left jawbone, complete with eight well-preserved teeth, was first discovered in 2002 in Misliya Cave – one of several prehistoric sites that dot the cliffs of the Carmel mountain range near the northern city of Haifa.
The international team of more than 30 experts – including top paleontologists from Spain, China and other countries – took so many years to study the find partly to make sure the dating was right, since it went against everything they knew about human evolution, she explains.
Until recently, most scholars would have agreed that modern Homo sapiens first appeared some 200,000 years ago in East Africa, based on remains found at Omo, Ethiopia, during the 1960s and '70s.
According to genetic research, these ancestral humans emerged from Africa around 70,000 to 60,000 years ago, occasionally interbreeding with Neanderthals and other hominids as they dispersed throughout the world.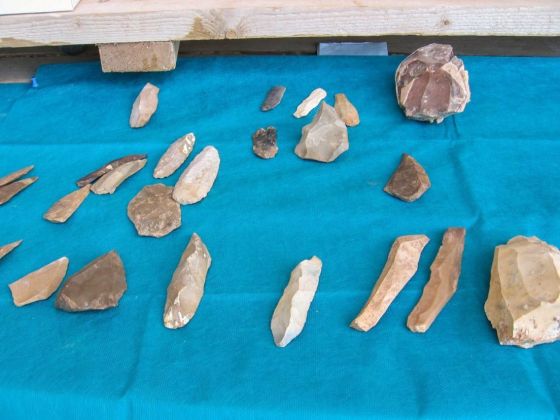 Researchers are still convinced all people alive today are the descendants of those final "out of Africa" migrants. But what seems clear now is that Homo sapiens evolved much earlier than previously thought, leaving Africa in multiple waves and frequently having sex with other hominid populations along the way.
"The moment you say there is modern Homo sapiens in Israel between 170,000 to 200,000 years ago, suddenly all the pieces of the puzzle fall into place," says Prof. Israel Hershkovitz, a physical anthropologist at Tel Aviv University and lead researcher on the Science paper.
The find at Misliya Cave makes sense in light of several discoveries that have been made over the last couple of years and that have already suggested that the traditional "out of Africa" paradigm needed to be reviewed, Hershkovitz says.
Those discoveries include last year's announcement that remains found at Jebel Irhoud, Morocco, had been identified as early Homo sapiens and dated to 300,000 years ago – some 100,000 years before our supposedly earliest ancestors from Ethiopia.
Researchers had also previously uncovered 47 human teeth in a cave in Daoxian, China, that were around 100,000 years old, meaning that Homo sapiens reached the Far East tens of thousands of years before that supposedly unique exodus from Africa.
Over the last year, geneticists have also been showing how our prehistory is much more complex than we believed. One study suggested that some human populations still carry traces in their DNA of those early migrations. And research conducted on Neanderthal DNA found that at some point between 220,000 and 460,000 years ago, an archaic Homo sapiens population interbred with at least part of the Neanderthal lineage.
Since at that time Neanderthals and Homo sapiens were supposed to have been confined to their respective stomping grounds in Europe and Africa, there was clearly a piece missing from the history of our evolution.
Enter the Misliya jawbone. Scientists used three different methods – Uranium-thorium, electron-spin resonance and thermoluminescence – to date the concretions found on the bone, the teeth and the archaeological layers in which the jawbone was found. All methods gave similar ranges, Hershkovitz says.
'Oldest bed ever found'
Tools and artifacts, sealed in with the bone when the roof of the cave collapsed some 160,000 years ago, also confirm that we are dealing with modern humans, says Evron.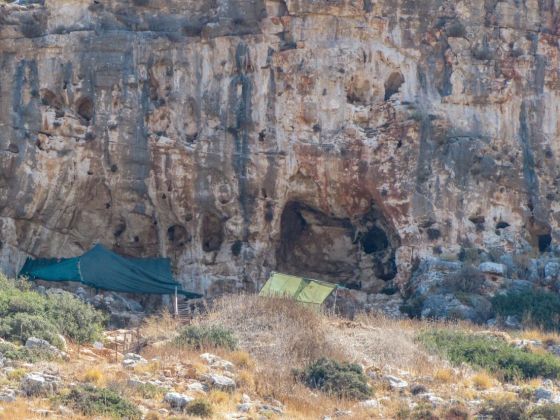 "The flint tools are much more complex and developed than what was made in previous periods," she notes. "And we also uncovered microscopic fragments of grass bedding – which may be the oldest bed ever found."
Although archaeologists sometimes nickname the find "Miss Liya," after the name of the cave where the jawbone was discovered, we know very little about the individual to whom it belonged, except that she, or he, was a young adult, Hershkovitz says. However, by any parameter the researchers could check – the morphology of the bone, the floor of the nose and the teeth – it is clear that these are not the remains of a Neanderthal or any other type of hominid except Homo sapiens. In fact, Hershkovitz says, Miss Liya's jawbone is much more similar to that of modern man than older or nearly contemporaneous African remains like those found at Jebel Irhoud and Omo.
"You could say that it's not just the oldest Homo sapiens outside of Africa, it's the oldest Homo sapiens there is, period," Hershkovitz adds. "The fossils found in Africa still had many archaic traits, but here we are talking about fully modern people, not Jebel Irhoud, not Omo."
Whether the evolution from archaic to modern sapiens happened while the ancestors of Miss Liya were still in Africa or once they had already settled in the Middle East is hard to say right now, because we don't yet have enough human remains from both areas to be sure, Hershkovitz notes.
Another key question is how the newly arrived humans from Africa interacted with preexisting hominids that inhabited the Middle East.
"We need to remember that when humans arrived here 200,000 years ago, it was not a vacuum – there were already people around," Hershkovitz says.
The answer to what happened next may come from remains found nearly a century ago in the Qafzeh and Skhul caves, also in northern Israel and dated to around 100,000 years ago. These too could have served as an early indicator for researchers that humans had been leaving Africa much earlier than thought, but for a long time the finds were dismissed as a small foray by a group of archaic sapiens who quickly went extinct. Now, though, it looks more likely that the remains at Qafzeh and Skhul were the distant descendants of those early inhabitants of Misliya.
What is particularly interesting is that though Miss Liya's jawbone is nearly 100,000 years older, it is much closer to contemporary human morphology than the skulls found at Qafzeh and Skhul, which display several archaic traits even though they belong to the Homo sapiens family, Hershkovitz notes.
This can only mean that, over time, the people of Misliya mated and integrated with the Neanderthals or other hominids inhabiting the area, Hershkovitz adds.
After Qafzeh and Skhul, we lose track of this lineage of early out-of-Africa humans living in the Middle East. It is possible they went extinct due to environmental or climatic pressures. But also, some of them may have returned to Africa, mixing in with the populations that would make the next and last big push out of the continent, some 70,000 years ago, Hershkovitz explains.
"We always talk about an exit from Africa, never about a return," he concludes. "In a way, the expression 'Out of Africa' is incorrect, because of course it was a two-way street. There is no reason to think there wasn't constant movement in both directions."
2,500-Year-Old Chariot Found – Complete with Rider And Horses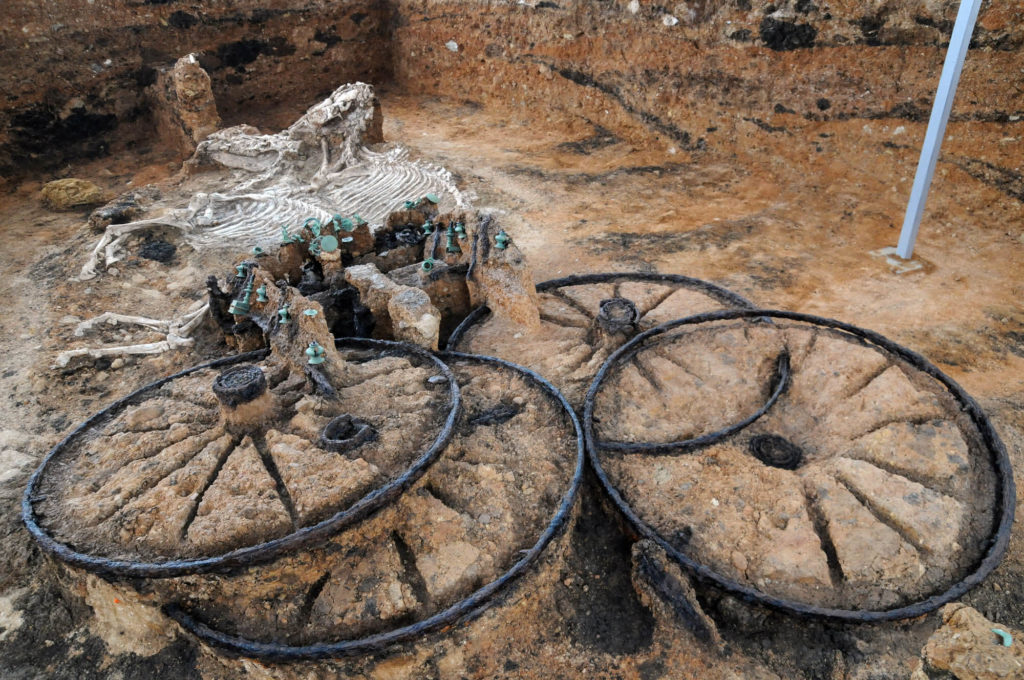 Chariot dating back to the Iron Age has been discovered in Yorkshire, making it the second time in two years there has been such a discovery.
The discovery was made in a small town with the name of Pocklington in Yorkshire on a construction site where homes were being built. Now work on the homes has been halted while a full excavation takes place starting from October. What is interesting about the find is that not only has a chariot being discovered but also the horse's skeletons that pulled the chariot and the human remains of the driver.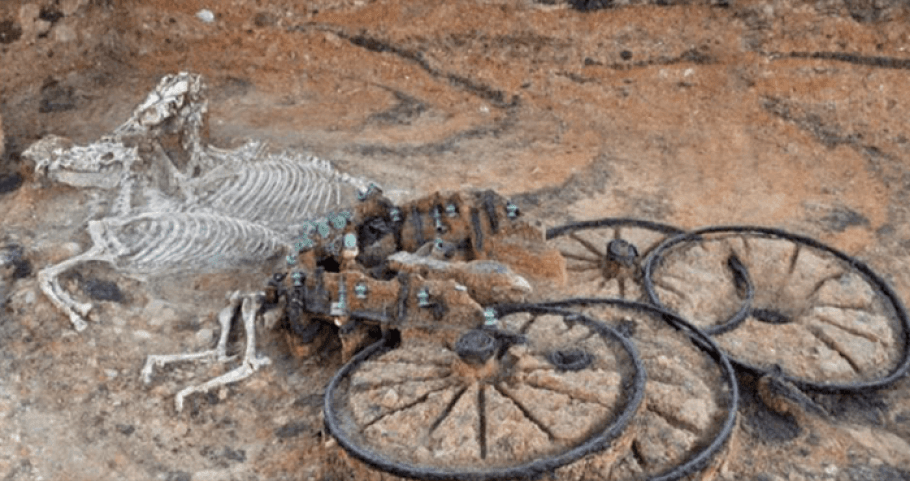 The managing director of Persimmon Homes in Yorkshire confirmed that an archaeological discovery of significant importance had been made. That discovery is a horse-drawn chariot from the Iron Age. He went on to say that excavation is ongoing by archaeologists who will date the find along with detailing it.
During the Iron Age, it was common practice to bury chariots. What the archaeologists were not expecting to find was the remains of the rider of the chariot and the horses that pulled it. The find dated back to 500 BC and at the time it was the only find of the kind in 200 years. To date, there have only been 26 chariots excavated in the UK.
Archaeologists said that it was unusual for horses to be buried along with the chariot and human remains.
Paula Ware the managing director of MAP Archaeological Practice Ltd said:
"The chariot was located in the final square barrow to be excavated and on the periphery of the cemetery. The discoveries are set to widen our understanding of the Arras (Middle Iron Age) culture and the dating of artifacts to secure contexts is exceptional."
In the Iron Age, the chariot was seen to be something of a status symbol owned by those with money. Including horses in the burial of human remains of such a person is unknown. It is something that has the researchers puzzled.
The Dig Revealed Numerous Artifacts
Archaeologists found pots, shields, swords, spears, and brooches among the many findings. These all gave researchers a good look into the lives of the people who lived more than 2,500 years ago. Yorkshire has been a good spot to find the remains of the Arras culture, which have been very well preserved. Around 150 skeletons were found in the region during 2016, with researchers believing the skeletons were those of the Arras culture. The skeletons along with their possessions were found in the Yorkshire Wolds, a small market town.
The Iron Age
This is a period of time in Britain lasting 800 BC to 43 AD when the Romans arrived.
Videos:
Thank you for watching!
Michael Tellinger Deepest Anunnaki Mysteries in Human History [FULL VIDEO]
Michael Tellinger says Southern Africa holds some of the deepest Anunnaki mysteries in all of human history. What we are told is that at around 60,000 years ago the early humans migrated from Africa and populated the rest of the world.
It estimated that there are well over 1,000,000 (one million) ancient stone ruins scattered throughout the mountains of southern Africa. Various tools and Anunnaki artefacts that have been recovered from these ruins show a long and extended period of settlement that spans well over 200,000 years.
Scientist and researcher Michael Tellinger discusses the Anunnaki Ruins, evidence in support of Zecharia Sitchin's revolutionary work showing that these Extraterrestrial beings created us using pieces of their own DNA, in order to mine gold on Earth for them. The more work he does on these beings called the Anunnaki, the more mysterious and also the more devious they become…they are not necessarily what we think they are. It's turning out that where they came from– Nibiru, could actually represent a star system rather than a planet, with its sun being a brown dwarf. Further, the gold they were extracting from Earth could have been used for a device that concealed their activities from other consciousnesses even more advanced than themselves.
Source: Disclosed TruthTV
Scientists Are Finally Certain What Caused The Collapse Of Maya Civilization
Even though the ancient Maya civilization was very advanced in every scientific field, it still fell apart about 1,000 years ago. Scientists have considered many reasons for this historic collapse, but none of them wasn't certain. Maybe, however, until today.
Applying modern methods, scientists managed to confirm their theory of collapse. They further presented specific numbers of how much dry the climate came to be at the time.
Lake Chichancanab on the Yucatán Peninsula was located near the center of the popular Maya civilization in order to serve as a climate indicator.
In the middle 90s, scientists detected variations in the balance of heavy to light oxygen isotopes in shells dropped on the lake's floor. This was a sign that the last years of the Maya civilization were very dry.
At the time, scientists didn't have the proper devices to measure how dry the period was before and after it. In other words, whether it was so dry it managed to destroy a whole civilization.
However, according to a recent paper in Science, Central America's environmental conditions did change with drastic steps.
Cambridge University student Nicholas Evans measured oxygen and hydrogen isotopes in water molecules from gypsum sediments of the lake floor.
He and his crew realized there was a drop of between 41 and 54 percent in yearly rainfall within the lake range in a period of over 400 years.
Moreover, humidity declined between 2 and 7 percent. Although this number doesn't sound dramatic, it still had a serious impact on drying.
The evaporation, on the other hand, had a severe effect on the agricultural products. Rainfalls were also probably down by 70 percent.
No society would have had the food supplies to survive such an event, including the Maya civilization.
The whole Maya society didn't die with the end of the Late Classic Period. However, a large number of people did die along with the technology which greatly degraded.