Is this the city of the future?
A century ago, we imagined futuristic cities full of hulking, steel buildings, their towers surrounded by a lace of elevated roads. But today, the future of architecture is biology. Synthetic biology architects and designers imagine cities that are made from bioengineered materials, fed by energy from sunlight. These cities sometimes look more like forests than metropolises. Here are a few visions of the living cities of tomorrow.
Above, you can see vision of a biological city, from Bakenius on Deviant Art.
This is concept art of future Chicago, designed by MWDC
Famed architect Frank Lloyd Wright toyed with the idea of a "living city" which would be a perfect balance of urban modernism and natural beauty. Here is one of his sketches of such a city from the 1950s.
ARUP's "building of the future" will be half-biological, half-traditional building materials.
A futuristic eco city from Olga Idealist on Deviant Art.
In this image called "The Advent of Yellowstone," the artist imagines a city in Yellowstone Park, "when humans develop eco-friendly technology to develop cities without harming the environment." The Swordsman77 on Deviant Art
In this concept design of an "Urban Tree" skyscraper, the architecture firm Geotectura imagines solar array-overed rooms "sprouting" from stems, surrounded by greenhouses.
MVRDV designed this self-sufficient city for 77,000 people, to be built in South Korea. Every building would be packed with greenhouses, and designed to look like rolling hills.
The Guardian made fun of Gary Neville's "eco bunker" home, comparing it to a Tellytubby house. But cities of the future may look like this, with houses that blend into the natural landscape.
This city by J. Humphries on Deviant Art is made out of reclaimed space ship parts that have been turned into tree houses on an alien world. Just because we go to other plants doesn't mean we should stop using recycled materials.
By supporting India in a border conflict, Moscow pissed Beijing off which in turn declared Vladivostok its city
China, which is already trying to change the status quo through de facto control in East Ladakh, has now begun a territorial dispute with Russia.
According to the Chinese resource WION , after Russian officials published a video dedicated to the celebration of the 160th anniversary of the founding of Vladivostok on Weibo, Chinese officials quickly corrected their partners, reminding them that Vladivostok was the territory of China in the 19th century.
This is a tweet from the Russian Embassy in China, where Chinese officials write:
"The history of Vladivostok began in 1860, when Russia built a military port there. Previously, this city was called Haishenvai. It has always been Chinese territory before Russia annexed it through the unjust Beijing Treaty.
It should be noted that in addition to India, China is now also involved in a territorial dispute with Japan and is invading its sea territory.
Moscow pissed Beijing off
According to Asia Times Financial, it seems that China is very upset that its "ally" Putin is selling fighter jets to India, the contract for the supply of which was signed with the Minister of Defense of India, who attended the Victory Day parade last week.
President Xi Jinping did not go well in 2020, and here, in addition, he received a sharp reminder of real politics when Russia expressed support for India in connection with its border conflict with China. And although Russia, India and China are members of the Shanghai Cooperation Organization, relations between Moscow and Delhi have deeper roots than the recent warming of relations with President Putin Xi Jinping.
Therefore, despite the growing interdependence between Russia and China, when it comes to energy, weapons and other transactions, including negotiations to create a digital currency system, Moscow has confirmed that it supports India's position in the Sino-Indian border dispute. To slightly sweeten the pill, Moscow expressed support for China's new national security law in Hong Kong, but it had little effect on Beijing.
This decision of Russia has great commercial motives, as well as, possibly, historical geostrategic ties. India buys about 60% of its weapons from Russia. Moscow and Delhi have had strong diplomatic relations since the Cold War. Both countries signed the Indo-Soviet Treaty of Peace, Friendship and Cooperation for a Strategic Partnership in 1971. This was a departure from India's previous position, which during the Cold War followed a non-aligned policy.
A week after the deadly clash on the Indian-Chinese border, Indian Defense Minister Rajnat Singh visited Moscow to take part in the 75th Victory Day parade on Red Square, which marked the victory of the Soviet Union over Nazi Germany in World War II. Singh said that India is going to buy as much military equipment as possible from Russia.
According to Indian media reports, the Minister of Defense bought 33 fighters in one package: 21 MiG-29 and 12 Su-30 MKI, and also ordered the modernization of another 59 aircraft. The total amount of orders amounted to almost 2.4 billion dollars. India also approved a deal to supply the Russian S-400 missile system, which cost $ 5.4 billion. Although the contract was signed back in 2018, India was in no hurry to fulfill it, fearing US sanctions.
In addition, according to Chinese media reports, India also bought 600 of the latest air-to-air missiles and cruise missiles in an unknown quantity. At the same time, Russia announced that it could provide India with even more weapons in a short time.
This move by Moscow infuriated Beijing, which is not surprising: on the eve, China asked Russia not to respond to India's requests for weapons systems, but Moscow ignored this request.
Professor Harsh Pant from Royal Imperial College London said in an interview with Live Mint that "With this step, Russia wanted to show its independence from China, because, after the annexation of Crimea in 2014, only China recognized the legality of this step, declaring itself an older brother in exchange ".
As a result, many Chinese news agencies began to flog over Russia. So the Jiabao Business newspaper noted that Putin has lifted Russia from its knees for 20 years, but so far Russia's GDP is equivalent to only one Guangdong province. "What happened to Russia?" – asks Jiabao Business.
The IMF report "Prospects for the Development of the World Economy" recently predicted that Russian GDP will fall by 6.6% this year, so by the end of 2020, Guangdong will even surpass Russia in terms of GDP.
Why does Russia want to sell weapons? According to the latest data, Russian oil reserves are in eighth place in the world, amounting to 80,000 million barrels. Rich oil resources brought Russia a steady stream of profits, but the recent fall in oil prices, for which Moscow was partially responsible, hit the country hard. Russia, which lives earning money lying on the couch, has completely turned into a typical commodity country.
The country's second problem is unthinkable corruption, and even Putin admits that the efficiency of industrial production in Russia is lower than that of Western countries. Therefore Jiabao Business further recommends, before meddling in other people's border disputes, Moscow is necessary to modernize its industrial structure, punish bribe takers and improve international relations.
Giant mountains discovered inside the Earth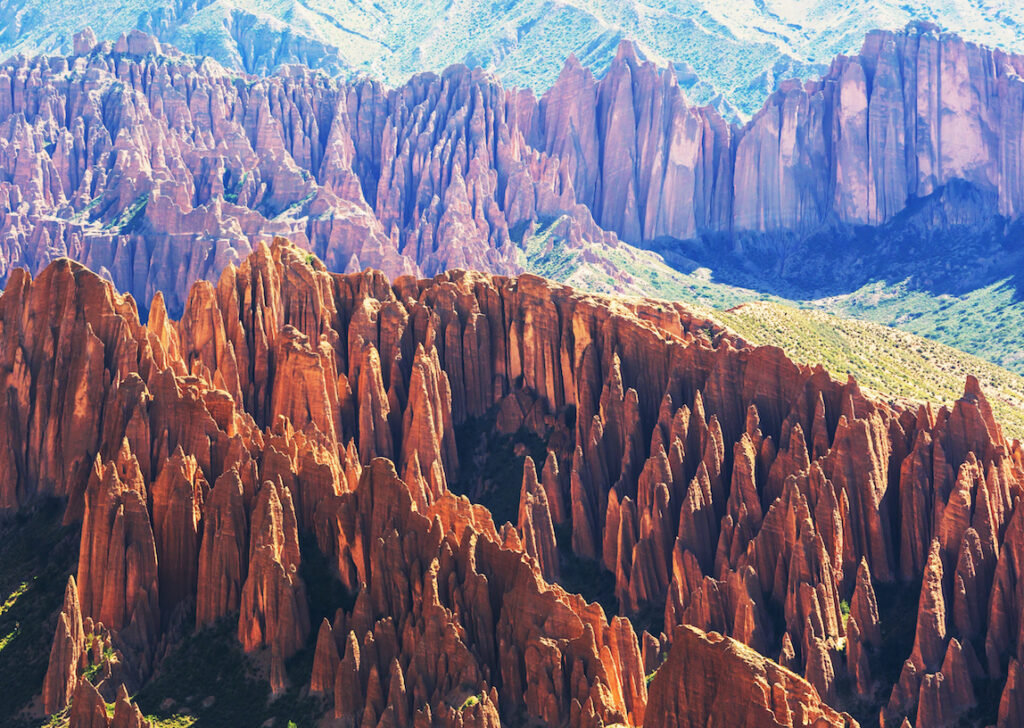 Studying the boundary between the Earth's core and mantle, geophysicists have found that it is not as smooth as previously thought. Surfaces separating the inner layers also have a complex relief. It turns out that our planet is not at all like a set of spheres nested into each other, as is customary to portray it.
Reading the waves. Earth's crust
The deep bowels of geophysics are judged by seismic waves generated by earthquakes. There are longitudinal P-waves – when elastic mechanical vibrations occur along the propagation direction and transverse S-waves – the vibrations in them are perpendicular.At the boundary of layers with different densities, the wave velocity changes dramatically. In the transition from a solid crust to a more plastic upper mantle, it increases. This border is called the surface of Mokhorovichich. The lower mantle is harder than the upper. The outer core, in which transverse seismic waves do not propagate, is liquid, and the inner core is again solid, but slightly plastic.
While the network of seismographs was rare, the sections between the inner shells with a certain degree of conventionality were depicted as spheres. As the data accumulated, it became clear that each of these boundaries is a complex surface with its relief and internal "mountains" even higher than on the Earth's surface, and the "troughs" are deeper. From the top of Everest to the bottom of the Mariana Trench about 20 kilometers, and, for example, the differences of the border of Mokhorovichich, dividing the crust and upper mantle, reach 40 kilometers. And all this at a depth of five to 70 kilometers.
This was proved by scientists from China and the United States . They analyzed the results of observations of hundreds of seismic stations obtained from the same events: the earthquakes in Bolivia of 1994 and the Sea of ​​Okhotsk in 2008 and 2012, as well as archival records of seismographs of the National Center for Information on Earthquakes of the US Geological Survey.
The authors of the study found that for the boundary between the upper and lower mantle, located at a depth of about 660-670 kilometers, the data of the various stations almost completely coincide. That is, she has a stable relief, which she even managed to map. Signal processing of the Bolivian earthquake made it possible to literally create a "topographic map" of the surface of the lower mantle for an entire region in Southeast Asia .
The most dynamic area. Mantle and core
When talking about the dynamics of the Earth, they usually mean large-scale surface processes associated with the movement of lithospheric plates. In the zones of mid-ocean ridges and rifts, the lithosphere moves apart, and in subduction zones on the outskirts of the continents, oceanic plates sink under the continental.
But no less dynamic processes and surface movements occur inside the Earth – only their reflection. First of all, we are talking about mantle convection, which arises due to the temperature difference in the bowels and on the surface of the planet.
Upward flows of convection cells stretch the lithosphere, downward flows drag it into the mantle. Moreover, in the upper parts of the cells, the substance flows in a horizontal plane and these flows cause lithospheric plates to move.The most dynamic region of the Earth is located on the border of the core and mantle, at a depth of about 2900 kilometers.
It is believed that its heterogeneity affects many geological processes, in particular, the oscillation of the axis of rotation of the Earth and the characteristics of the geomagnetic field. In addition, convection itself is a consequence of what happens in the D "layer at the boundary with the core.On its surface, scientists discovered arrays of unusually dense, hot rocks – zones of abnormally low seismic wave velocities (ULVZ – Ultra-low velocity zones). They stretch for hundreds of kilometers, and their "height" – tens of kilometers.Above them are hot spots with volcanoes: Hawaiian, Marquesas, Galapagos Islands and the Samoa archipelago in the Pacific Ocean, Canary Islands and Azores , Iceland in the Atlantic, Kerguelen archipelago in the Indian, Afar volcanism zone in the Great African Rift.
Using the new machine learning algorithm, American scientists at Johns Hopkins University and the University of Maryland at College Park together with their Israeli colleagues from Tel Aviv University performed a parallel analysis of seven thousand seismograms covering hundreds of earthquakes from 1990 to 2018, and for the first time compiled a detailed section map the core and mantle of the Pacific region, on which all ULVZ zones were applied.It turned out that ULVZ are only separate protrusions within the larger, low-shear-velocity provinces (LLSVP) provinces, which are also called superplumes. Their branches penetrate up into the mantle for thousands of kilometers. Now scientists distinguish two such provinces – African and Pacific.
The circulation of matter in the mantle
Australian scientists from the University of Curtin suggested that the periods when all the land of the Earth united into single supercontinents – Pangea, Rodinia, Colombia and others, coincided with activity in the deep LLSVP provinces. They built a dynamic model linking the evolution of superplumes to the assembly and decay of supercontinent. According to this model, LLSVP arrays are formed from lithospheric plates, which, as it turned out, sinking, does not dissolve in the mantle, as previously thought, but descend to the very boundary of the core. Here they melt, and giant drops of preheated matter – mantle plumes – coming off from LLSVP, float to the surface, giving rise to a new geodynamic cycle. The lithosphere rises above the plumes, forming a dome, and then cracks and diverges.
Inside the core
Researchers from the US and China have analyzed how seismic waves passing through the boundary between the outer and inner core change. For this, we used signals from doublets – repeated earthquakes with the same epicenter.
It turned out that these changes have a certain periodicity, which can be explained by two mechanisms: either the inner core rotates by about 0.05-0.1 degrees per year, or high "mountains" and deep "canyons" appear on its surface. So, a dynamically changing relief can also be at the deepest boundary between the earth's shells.
The Earth's magnetic field has been quiet lately. Until now!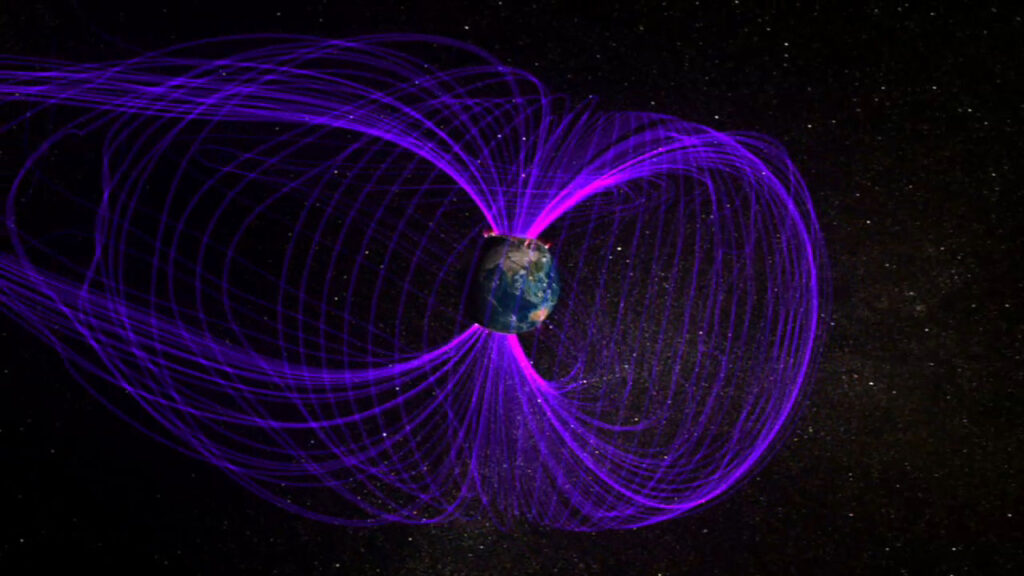 The Earth's magnetic field has been quiet lately. Very quiet. The sun is in a deep minimum of activity, which may be the deepest solar minimum in a century.
Geomagnetic storms simply do not exist. But on June 23, something unusual was recorded. The Earth's magnetic field swung back and forth by about 1/3 of a degree.
"That's why I was so surprised on June 23 when my instruments detected a magnetic anomaly," said Stuart Green, who works with a research-class magnetometer in his home in Preston, UK.
"For more than 30 minutes, the local magnetic field oscillated like a sine wave."
Green quickly checked the solar wind data from the NOAA DSCOVR satellite.
"There was nothing – no surge in solar wind speed or other factors that could explain this disturbance," he says.
He was not the only one to notice this. In the Lofoten Islands of Norway, Rob Stams found a similar anomaly on his magnetometer.
"It was amazing," says Stams. "Our magnetic field swung back and forth by about 1/3 of a degree." I also discovered ground currents with the same 10 minute period."
Space physicists call this phenomenon "pulsation." Imagine that you are blowing on a piece of paper, making it flutter from your breath. Solar wind can have a similar effect on magnetic fields. During the extreme silence of the solar minimum, such waves can be "heard" like a pin falling in a quiet room.
The Earth's magnetic field was so quiet on June 23 that this ripple was heard all over the world. The INTERMAGNET global network of magnetic observatories recorded wave activity simultaneously from Hawaii to China and the Arctic Circle and even in Antarctica.
PC waves are classified into 5 types depending on their period. The 10-minute wave June 23 falls into the Pc5 category. Slow Pc5 waves were associated with the loss of particles from Van Allen's radiation belts. Energy electrons beat these waves down into the Earth's atmosphere, where they scatter.