Is this the city of the future?
A century ago, we imagined futuristic cities full of hulking, steel buildings, their towers surrounded by a lace of elevated roads. But today, the future of architecture is biology. Synthetic biology architects and designers imagine cities that are made from bioengineered materials, fed by energy from sunlight. These cities sometimes look more like forests than metropolises. Here are a few visions of the living cities of tomorrow.
Above, you can see vision of a biological city, from Bakenius on Deviant Art.
This is concept art of future Chicago, designed by MWDC
Famed architect Frank Lloyd Wright toyed with the idea of a "living city" which would be a perfect balance of urban modernism and natural beauty. Here is one of his sketches of such a city from the 1950s.
ARUP's "building of the future" will be half-biological, half-traditional building materials.
A futuristic eco city from Olga Idealist on Deviant Art.
In this image called "The Advent of Yellowstone," the artist imagines a city in Yellowstone Park, "when humans develop eco-friendly technology to develop cities without harming the environment." The Swordsman77 on Deviant Art
In this concept design of an "Urban Tree" skyscraper, the architecture firm Geotectura imagines solar array-overed rooms "sprouting" from stems, surrounded by greenhouses.
MVRDV designed this self-sufficient city for 77,000 people, to be built in South Korea. Every building would be packed with greenhouses, and designed to look like rolling hills.
The Guardian made fun of Gary Neville's "eco bunker" home, comparing it to a Tellytubby house. But cities of the future may look like this, with houses that blend into the natural landscape.
This city by J. Humphries on Deviant Art is made out of reclaimed space ship parts that have been turned into tree houses on an alien world. Just because we go to other plants doesn't mean we should stop using recycled materials.
It turns out that dinosaurs start to disappear before the asteroid strike
The most popular theory is that dinosaurs living on planet Earth have died massively since the collision of a huge asteroid with the planet, forming the Chicxulub Crater in Mexico.
For many years it was believed that this particular asteroid was responsible for the last mass extinction of animals in history.
But, it has recently turned out that everything started earlier.
Northwestern University Scientists  in the United States investigated the fossilized shells of ancient molluscs and snails discovered earlier in Antarctica. More specifically, they carried out an isotopic analysis of the calcium contained in them.
They found a very high carbon dioxide content, which showed a strong greenhouse effect. Furthermore, dating shows that this happened before the fall of the asteroid, 65-66 million years ago.
Most likely, the greenhouse effect is related to the eruption of many volcanoes in the so-called Deccan Traps, an area of ​​the Deccan Plateau in western and central India, which is one of the largest volcanic formations on Earth.
Due to the fact that these volcanoes release a lot of smoke and dust into the atmosphere, blocking access to the sun, animals have already suffered and died on Earth when this asteroid fell on the planet and dramatically accelerated all processes.
The huge volume of carbon dioxide strongly oxidized ocean water, which affected the chemical composition of the shells of snails and molluscs.
When the asteroid fell, water oxidation jumped to record levels. Therefore, not only terrestrial dinosaurs but also marine lizards, along with large molluscs, have disappeared as a result of the disaster.
According to scientists, analysis of the ancient greenhouse effect also allows us to predict what might happen on the planet these days, when carbon dioxide levels (CO2) also increased, but already due to anthropogenic impact (human activity).
Hundreds of Birds Die Mysteriously in Rural Area of Wales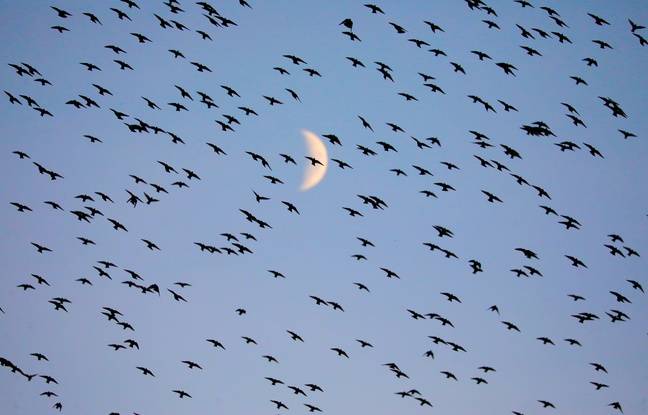 Things mysteriously falling from the sky is one of the classic Fortean phenomena. Birds dying from no apparent cause is another. That winning (or losing) combo occurred this week in a rural town in Wales no one has yet been able to explain the hundreds of dead starlings – many with their internal organs outside their bodies – found on an unclassified road near near Llyn Llywenan in Bodedern on Anglesey, an island off the north-west coast of Wales. With mysterious circumstances and no official explanation, the strange and conspiratorial theories abound.
"There's easily more than 300 of them. I counted 150 last night but I gave up as there's just hundreds of them littered everywhere. It's as if they just dropped down dead from the sky."
Dafydd Edwards reported on social media that his partner, Hannah Stevens, found the birds while driving home. She claimed that on the afternoon of December 10 she had seen a "massive flock" flying overhead before landing to eat something on the road. Less than an hour later, she said they were dead where they had been eating. It's not clear how she arrived at that short timeframe from flying to dead in the road.
"It's very strange, I can't put my finger on it. There are still some alive in the hedges today but it's all unexplained at the moment."
As seen in Edwards' video and photos (see them here and here), the vast majority of dead birds were in the road, where he counted 150 before quitting. North Wales Police's Rural Crime Team counted at least 225 and some witnesses estimated the total to be over 300. They collected the carcasses (identified as starlings) and sent some to a lab for examination and toxicology tests, which means they assume the birds were somehow poisoned. Locals were not so sure.
"It's unlikely that the birds would have been in contact with an aircraft – RAF or civilian. Bird strikes can have quite an effect on aircraft, and can cause severe damage. Even minor bird strikes are reported as a matter of course at RAF Valley, and no such reports have been fed back by our personnel."
The Ministry of Defence answered speculations that the birds had been hit by low-flying planes with that denial. On the act-of-God side, there was talk that the birds might have been caught up in strong winds or stunned by a sudden lightning strike or loud sound, but Hannah Stevens did not report any unusual conditions. The current cause-of-all-bad-things – 5G – was blamed but no other birds or wildlife seem to be affected. A sign of the apocalypse? We're still here and so are the residents of Llyn Llywenan.
"We're hearing one story that it happened in exactly the same place many, many years ago so we're just trying to confirm that as well."
Rob Taylor, Team Manager for North Wales Police's Rural Crime Team, added to the mystery by pointing out that locals claim another similar dead bird incident happened in the same area about 12 years ago, but no details were given and Internet searches turned up nothing.
As of this writing, the North Wales Police indicated they believed they know the cause of this mysterious bird kill but were awaiting the toxicology report. That hints of a suspicion of poisoning of some sort, which would seem to be one of the most likely causes. However, that memory of a previous event makes one wonder if something more sinister – something pre-5G – may be happening underground in Llyn Llywenan. Is anyone checking for unusual human conditions, cancers, deformities or mental illnesses amongst the residents?
Will there be a consensus? Will officials admit it if the cause is not poisoning?
What would Charles Forte think?
Source: Mysterious Universe
Asteroid Will Make Close Fly by of Earth on Friday the 13th
NASA has been monitoring an asteroid which maintains an orbit around various bodies in the solar system and consistently passes through Earth's orbit with the sun. 13 near-Earth objects in total are expected to fly past Earth in December of this year.
Earth is set to have a close encounter with an enormous asteroid which is set to fly nearby Earth on Friday at a speed of almost 18,000 miles an hour (more than 28,000 km/h), according to NASA.
The upcoming pass-by is estimated to happen on 8:25 am on 13 December, the unlucky Friday the 13th. The asteroid's orbit diagram indicates that the near-Earth approach will follow the rock's intersection with Earth's orbit.
According to the space agency's Center for Near-Earth Object Studies (CNEOS), the asteroid has an Earth-crossing orbit with the sun and will not approach from a diagonal or perpendicular direction and instead will flyby perpendicular to earth.
It is expected to pass by earth at a shockingly close 0.03033 astronomical units, around 1.9 million miles (more than 3mn km) away.
NASA has dubbed the asteroid 2019 XO1 and estimate that it is around 243-feet wide, about the width of a Boeing 747 plane.
According to CNEOS, 2019 XO1 is classified as an Aten asteroid, meaning that its orbit circulates around a number of celestial bodies in the solar system including the Sun, Venus, Mercury, and Earth.
The asteroid has a tendency to intersect its orbit with Earth's, typically when it is furthest away from the sun.
3 December marked the first time 2019 XO1 was identified in its frequent encroachment on Earth. It also comes close to Mercury and Venus but, unlike its proximity with Earth, it does not cross the paths of the two other planets.
The body first came near Earth on 17 November 2013, missing the planet by 0.09488 astronomical units, around 8.8 million miles.
Following its passing on Friday the 13th, the asteroid will not come back from Earth's outcrop of the solar system until December 22, 2022, where it will creep as close as 0.09534 astronomical units, up to 8.9 million miles (more than 14Mn km) away.
Sputniknews
Image credit: © CCO