Is THIS real reason Obama's confronting North Korea?
Aaron Klein WND
It is difficult for most seasoned observers to explain why Obama is suddenly responding to North Korean aggression when the White House did little in 2008 when North Korea refused to allow United Nations inspectors into its nuclear plants.
The Obama administration also took little action when North Korea in 2009 carried out at least two nuclear tests, one of which is believed to have been the cause of a magnitude 4.7 seismic event.
The White House did not allow the U.S. military any significant response when in 2010 North Korea torpedoed a South Korean navy ship, killing 46 sailors. North Korea then shelled a South Korean island with little U.S. reaction.
Now, purportedly in response to aggressive action by North Korea's new leader, the White House is sending to Singapore a new class of warship designed to fight in coastal waters.
The Pentagon also announced that it will deploy a missile defense system to the U.S. Pacific territory of Guam to strengthen regional protection against a possible attack. This after the Obama administration largely canceled a similar defense system intended for Europe.
U.S. warplanes, including fighter jets, U-2 spy planes and an A-10 attack jet, were seen flying in South Korea yesterday as part of a massive joint military exercise.
The U.S. says it stands "poised to respond" at the border of North and South Korea, where American troops are on high alert amid possible further Pentagon build-up in the region.
U.S. military 'rebalance'
Why is the U.S. now responding to North Korea?
Time magazine says the "U.S. pivot toward Asia – and the potential for confrontation with China – became a little more real this week with the arrival of a new class of warship designed to fight in coastal waters."
That pivot has been declared by the Obama administration itself – a professed strategy of putting a greater focus on the Asia region.
Earlier this week, Defense Secretary Chuck Hagel "made clear the U.S. and the Department of Defense remain committed to the rebalance towards the Asia-Pacific region," Pentagon spokesman George Little said after a meeting between Hagel and Singapore Prime Minister Lee Hsien Loong.
Hagel told Loong that "in the future there will be even more opportunities for closer collaboration between the US and Singapore," Little said.
'New economic world order'
The U.S. military shift comes as the so-called BRICS countries – Brazil, Russia, India, China and South Africa – seek to create a monetary system to rival and even surpass the West.
While it received little U.S. media attention, last week at its fifth annual summit the BRICS group unveiled what it said was a new development bank aimed at breaking the monopoly held by Western-backed institutions.
The bank would use $50 billion of seed capital shared equally between Brazil, Russia, India, China and South Africa but would clearly be dominated by China.
Russian President Vladimir Putin gave support for the bank while India's trade minister said BRICS will "have a defining influence on the global order of this century."
"It's done," said Pravin Gordhan, South African Finance Minister, last Tuesday, adding that "we made very good progress" on the formation of a World Bank-analogue development agency
Iran's Press TV described the deal this way: "The BRICS bank will present an alternative solution to the Western-dominated global banking system comprised of the Bretton Woods institutions – the World Bank (WB) and International Monetary Fund (IMF).
"The new bank will provide a collective foreign exchange reserve and a fund for financing developmental projects in order to address the needs of emerging and poor economies."
Press TV reported, "BRICS members say the current global balance of power is unworkable, with institutions such as the WB, the IMF and the United Nations Security Council irrelevant in addressing matters concerning global economics."
Under the deal, the two largest economies of the emerging power groups, China and Brazil, agreed to remove nearly half of their trade exchanges out of the U.S. dollar zone – a significant blow to the U.S. dollar.
Some in the U.S. are skeptical the BRICS moves will actually work.
Joseph S. Nye, a professor at Harvard University, wrote in The Australian newspaper: "Tellingly, the meeting in Durban failed to produce any details of the structure of the proposed new development bank, suggesting that little progress had been made in the year since the BRICS' last meeting in New Delhi, where the plan was announced."
Continued Nye: "In fact, despite a commitment to launch "formal negotiations" to establish the bank, disagreements about the size and shares of the bank's capital have not been resolved."
The New American took the other side, arguing the BRICS bank is a step closer toward a world government.
"Aside from a planetary fiat currency and central bank, the erection of a true world government was at the heart of BRICS regimes' machinations outlined in their final agreement."
The publication pointed out the BRICS declaration at the end of last week's summit included, "We reiterate our strong commitment to the United Nations (UN) as the foremost multilateral forum entrusted with bringing about hope, peace, order and sustainable development to the world."
See a report on the BRICS summit:
The BRICS statement added, "[W]e reaffirmed our commitment to the promotion of international law, multilateralism and the central role of the United Nations."
BRICS clearly sees a reshaped economic world in which government-run companies play a significant role.
"We acknowledge the important role that State Owned Companies (SOCs) play in the economy and encourage our SOCs to explore ways of cooperation, exchange of information and best practices," the declaration states.
"As the global economy is being reshaped, we are committed to exploring new models and approaches towards more equitable development and inclusive global growth."
General Steven Kwast (USAF): "Technology exists to Teleport Human Beings from Earth to any place"
Steven Lloyd Kwast is a retired United States Air Force lieutenant general who held a conference last month that seems to signal further that space will be the next major battlefield.
Steven Kwast's conference, which was held at the prestigious Hillsdale College, included comments that strongly suggest the possibility that the US military and its industry partners may have already developed next-generation technologies that have the potential to change drastically the aerospace field and human civilization, forever, as also reported by The Drive magazine in an extensive article on advanced space technology.
Between 11.55 – 12.10 minutes of the video you can see below, Kwast somehow bizarre claims that the United States currently has revolutionary technologies that could render current aerospace capabilities obsolete: " Technology is on engineering benches today. But most Americans and most members of Congress have not had time to really look into what is happening here. But I have had the benefit of 33 years of study and friendship with these scientists. This cutting-edge technology can be built today with a technological system that is not very evolutionary, suitable for transporting (or rather teleporting – DNA) any human being from anywhere on planet Earth, to any other place in less than an hour. "So, General Kwast, in his speech at Hillsdale College, clearly stated that STARGATE technology really exists.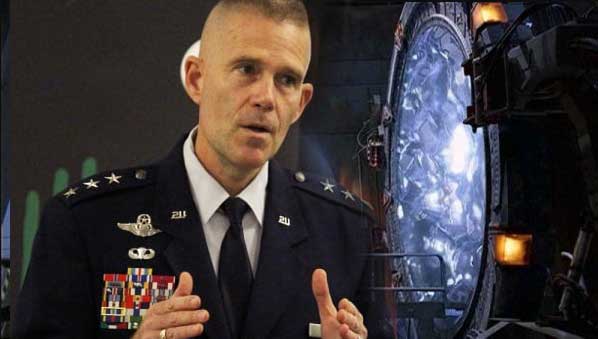 Dr. Dan Burisch, a former employee of the secret military forces of the United States, who also worked directly under the orders of the "Majestic 12" talks about these technologies. One of his most important statements relates to  "Stargate" or dimensional portals. They are devices made also on Earth, but with technology of extraterrestrial origin. According to Dr. Burisch, information on how to build the Stargates is in the Sumerian tables that were used to communicating with other extra-planetary civilizations.
Through this Stargate technology, any human being can access a wormhole and teleport from the Earth to anywhere else, even in space, on the Moon or on Mars. Dan describes a Stargate that is in Area 51 telling that next to this huge apparatus, there was a platform that allowed the object to be thrown inside the wormhole to travel to other stars, transporting people or materials from one place to another, instantly.
The dinosaurs probably looked very different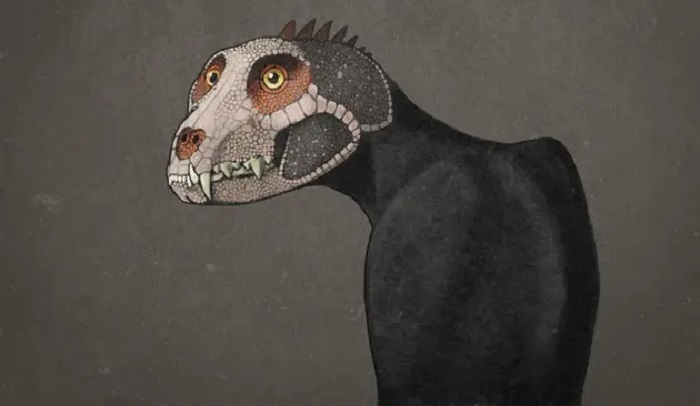 For many years, many artists and films have "recreated" dinosaurs based on their discovered skeletons.
Very little is known about dinosaurs. In particular, there is no practical information on what kind of skin they actually had, whether fully or partially covered with feathers, flakes or fur, what color they were.
In addition, based on fragmented skeletal bone findings, it is very difficult to understand how these animals actually moved and what was the percentage of their body fat.
Therefore, over the past decades, there have been cases where the tail parts are confused with the horns of the head. And a dinosaur, moving mainly on two hind legs, was described as walking on four limbs, etc.
The pictures below are examples of reconstructions of the appearance of the Megalosaurus, from an earlier to a later stage.
Because of all this, Turkish paleo-artist Cevdet Mehmet Kosemen decides to fantasize about "what will the look of modern animals look like if they are recreated mainly by their skeletons, as the dinosaur images are recreated".
The drawings turn out to be quite daunting, and according to one commenter – "nightmarish".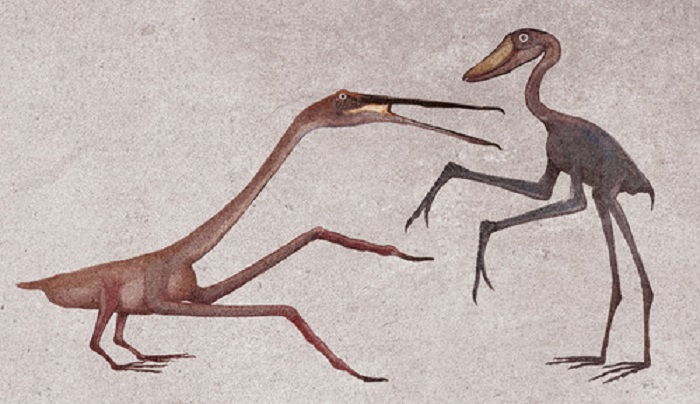 According to Kosemen, contemporary reconstructions of dinosaur appearance, especially in Hollywood films, are created by skeletons being simply "lined" with skin, without taking into account subcutaneous muscles, fat and other soft tissues.
For the first time, Kosemen's idea of ​​doing something similar came to light when he saw an X-ray of a crocodile on which his skeleton was clearly visible. In fact, this crocodile was quite large, but if it had been designed exactly according to the skeleton, it would have been a completely different reptile.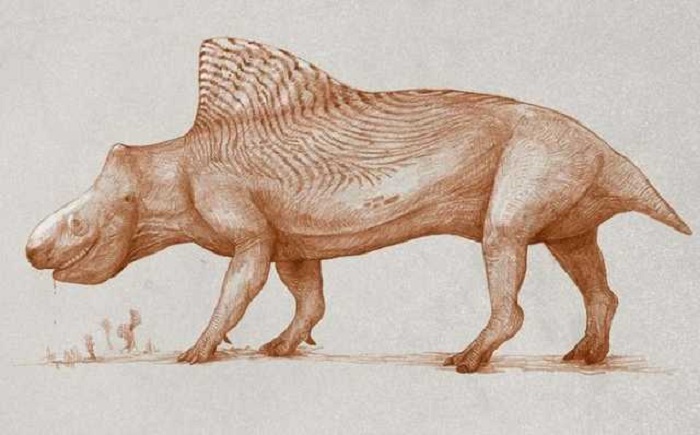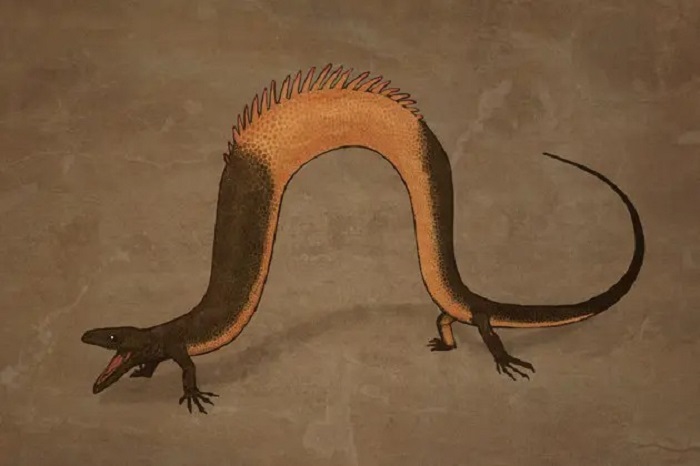 Kosemen believes that bare teeth in the jaws of dinosaurs are the most common mistake of artists. In many predatory reptiles, the teeth are mostly covered and rarely seen.
Some cases illustrate how far a joke can go. If it was a joke, of course.
On the night of July 8, 1953, three American students, Edward Waters, Thomas Wilson, and Arnold Payne, were traveling by car on Highway 78 west of Atlanta. Suddenly, Waters saw someone on the road and was forced to stop abruptly.
The three boys had an incredible sight. Two short humanoid creatures stood in the way, and beside them lay a third being. At first glance, it was dead and wounded, as if hit by a car.
When the two living monkey-like humanoids saw the humans, they rushed to the red alien ship, which immediately flew out and disappeared into the night sky.
Shortly thereafter, the boys met Officer Sherley Brown. They told him what they saw, and when the officer went to the designated location, he found the dead body of a strange creature and a black burned circle of asphalt, apparently left behind by an alien ship.
This story immediately makes a lot of noise in the media and remains current for a few days. The three students were the center of attention of the journalists and gave many interviews.
The body of the strange little creature was transferred to a hospital. There, one of the doctors said that "it is definitely not from Earth". Then the US Air Force became interested in the case.
Then, the body of the being was taken and given to Dr. Hermann Jones of Emory University and Professor Marion Hines. Soon, they announce the following:
"We cannot explain the lack of fur, but for all other reasons, we consider this creature to be a monkey and its characteristics are closest to that of rhesus monkeys."
When these words appear in the media, the three students immediately acknowledge the fraud, and that this body is indeed a rhesus monkey.
It turns out that while playing cards, Waters bets $ 10 that he will make his photo appear in the newspapers in the coming days. Then he and two of his friends came up with a plan for how to do it.
They bought rhesus monkeys from a local pet store. To keep the seller silent, they paid him a generous amount. Then they killed the innocent animal, shaved his body with a razor, cut off his tail, and "artistically" laid him on the road to a certain place. Nearby, using a striking machine, they made the "alien ship trace".
The court fines Waters $ 40, but then there are many calls from offended citizens who demand more, higher fines.
The reaction of the locals was so violent that Waters soon had to leave Atlanta and move to another city.
Many conspiracy theories have emerged for this story. In fact, in those days many people claimed to have seen strange lights and UFOs in the area. It was said that the three students were forced to "admit" that it was their "joke".
Conspiracy theorists point to the rapid disappearance of the Waters, the main eyewitness. They think he may not have been hiding from angry citizens, but he was abducted by the FBI because he was a major eyewitness.
[ad_2