Is this photo proof Ourimbah panther exists?
RICHARD NOONE Daily Telegraph
COULD this be the first photographic evidence of the notorious 'Ourimbah panther' not seen stalking the Central Coast in almost a decade?
Captured by a motion detection camera in the dead of night, the image shows a large feline shape walking along a "game trail'' in dense bush behind Palmdale in the Ourimbah State Forest.
Source: Supplied
Self-styled bush tucker expert and animal tracker Jake Cassar spent several days living in a cave in the remote area following game trails — paths worn in the bush by wallabies and other native animals — and scratch marks on trees to capture the image on one of several camera traps.
Having culled feral cats in the past Mr Cassar honestly believes it was one Australia's elusive "big cats'' and he plans to catch it in a specially built trap.
Source: Supplied
Source: News Corp Australia
"If it's a feral cat, it's the biggest one I have ever seen,'' he said.
"I used to cull feral animals for conservation, it's got to be four or five inches bigger than any feral cat I've seen … it's more like a bobcat than a panther.
"I reckon I will get it in a trap whatever it is.''
Mr Cassar was commissioned to find evidence of the cat, not seen on the Central Coast since 2006, by a local production company for a series of YouTube episodes branded Terror Australis.
The first episode went online last week showing Mr Cassar embarking on his search and inspecting scratches in gum trees "unlikely to be koalas'' and "much larger than possums''.
In the next episode tomorrow (Wednesday), it shows his reaction when he gets back to his cave to download the images the camera traps had taken overnight.
"I was surprised when I saw it, like whoa!'' he said.
"I was really excited to have found something, I was given a challenge and I came home with something, it was no ordinary cat and I think it was more likely the Ourimbah panther.''
After discovering the image he took a photograph of his Staffordshire-boxer cross "Benson'' at the same spot for a size comparison.
The last time there had been multiple sightings of the famed black panther was in 2006.
Maggie Dowton was visiting her father's gravesite at Palmdale on Anzac Day when she reported seeing a large black catlike figure about a kilometre away in a clearing at the foot of dense forest before it slunk away.
Source: Supplied
Source: News Limited
Source: News Limited
Source: News Limited
Two months later a man reported seeing a large black panther near Narara train station.
It followed numerous sightings of big cats years earlier at Kulnura.
Feral cats have been known to grow up to four times larger than domestic cats and weigh in at up to 19kg.
But this is still well shy of a melanistic or black leopard, which can weigh as much as 90kg.
Other theories behind panther sightings on the coast and more in the Blue Mountains include they could have been the offspring of panthers, which escaped private menageries and travelling circuses last century.
However Mr Cassar said he was prepared "to cop a bit of flack'' for believing the image he captured was of a "big native cat'' after hearing some of the early Aboriginal stories about the area.
"The Wollemi pines are 150m tall and don't smell you and run away when you're coming, and they thought those were extinct for thousands of years'' he said.
"These are incredibly elusive creatures.
"As an environmentalist I want to find if these things are out there and what sort of damage these things are capable of.''
Massive Black 'Dire Wolf' Chases Dog – Who created this HUGE Creature?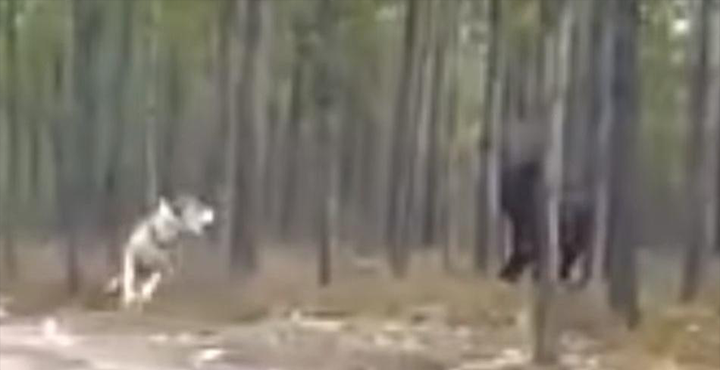 Unidentified giant animal attacks dog walker in the woods.
Not much is known about the origin of the grainy footage. It is believed that it was filmed somewhere in the United States of America in about 2015. However, the specific location of the incident and the person who captured the footage is still a mystery.
In the footage, a dog can be heard barking anxiously as the dark colored creature begins shifting in the trees. All of sudden, the black creature springs upwards and charges straight towards the dog which presumably disturbed it. Initially, the two animals keep their distance from each other but eventually, the spooked creatures attacked each other.
What happened when the enormous beast and the dog actually squared up to each other the camera does not manage to capture the incident. However, given the worried shouts of the dog's owner and the distressed yelping from the dog suggests that the encounter was violent and that the canine didn't stand much of a chance against the enormous mystery animal.
The footage has sparked a number of theories about what it could have been. Recently, there have been several sightings of enormous wolves giving rise to speculation that this could be a rare species of a wolf which was believed to be extinct. Others have said that it may well have been that the animal was just a particularly large wolf. More fancifully, some have suggested that the animal could have been a pony although even wild horses are not known for acting in such an aggressive manner and tend to flee from dogs rather than confront them.
Other people have suggested that this creature could have even been supernatural. Some have suggested that it could be a man and dog hybrid creature although this is considered to be rather unlikely.
Video:
Is this the Loch Ness Monster? Tourist films 'creature' swimming towards Urquhart Bay
Bridie Pearson-jones
Daily Mail
The footage has been described as a feature length film in terms of Nessie sightings
A tourist claims he has spotted the famed Loch Ness monster and even has ten minutes of footage the creature 'cavorting' in the water.
Eoin O'Faodhagain said he was left stunned by the sighting of the 20ft 'monster' in the Scottish Highlands and has even had his footage accepted by the Official Loch Ness Monster Sightings Register.
The 53-year-old from Donegal, Ireland quickly grabbed his phone when he saw the elusive creature.
The hospital clerical worker took a ten minute video from the Loch Ness webcam.
He said he had watched the 'Nessie' webcam for many years.
'I just click in now and then for 20 minutes – it's better than watching Coronation Street,' said Mr O'Faodhagain.
'I seen a couple of things over the years but they have been explained as a boat or something else.'
But it was on April 30, that Mr O'Faodhagain had 'a terrific shock.'
'I couldn't believe my eyes. I just started recording it on my phone. I just followed it. It was very unusual, it was certainly something big – it dived down and up again and dived and disappeared. It was not a boat and not a log. I would say it was Ne
'I believe in Nessie but not as a plesiosaur – but as something that has evolved in Loch Ness over thousands of years.'
The creature moves from right to left and as it swam towards Urquhart Bay – a reported favourite haunt of Nessie – and is seen diving and surfacing with water splashes.
The sighting – the second record accepted this year by the Official Loch Ness Monster Sightings Register – comes only days before DNA sampling is to be used to discover previously unrecorded organisms in Loch Ness.
However Prof Neil Gemmell, a New Zealand scientist leading the project, said he did not believe in Nessie, but was confident of finding genetic codes for other creatures.
He said a 'biological explanation' might be found to explain some of the stories about the Loch Ness Monster.
The team will collect tiny fragments of skin and scales for two weeks in June.
Mr O'Faodhagain has been to Loch Ness four times as part of Highland holidays and in July 1987 also had a momentary unexplained sighting.
'But nothing like this – it was just incredible,' he said.
Gary Campbell, Keeper of the Official Register of Sightings at Loch Ness, said: 'As far as Nessie footage goes this is a feature film. Normally you only get videos of one of two seconds. It is remarkable in its length and again shows the increased sightings of Nessie from the internet.
'Clearly it is something that dives in and out of the surface with water splashes and reflections. It is unexplained. The object would be no larger than 20ft. There is something there on the video that is clearly moving.'
Last week, an eight-year-old and her grandmother claimed to have caught the monster on camera while on a boat tit the lake.
Nessie's 11 accepted sightings in 2017 were the highest this century.
A woman who had a monster surprise on her honeymoon in the Highlands also won £1500 for the experience.
The annual Best Nessie Sighting of the year was won by Rebecca Stewart of Lancashire with a picture she took on her honeymoon last October.
Mrs Stewart from Chadderton, Oldham, photographed and saw the large fin shape for five minutes.
Her husband Paul also saw the creature which was taken while they were with their two year old son Thomas along with the family dog.
Mrs Stewart's sighting was accepted by the Official Loch Ness Monster Sightings Register and then entered into the competition which has a prize of £1500 given by bookmakers William Hill.
New Brunswick, one of the smallest Canadian provinces at 72,908 square kilometers, is nestled on Canada's eastern shores between Nova Scotia and Quebec, sitting atop the American state Maine like a pompadour. First Nations peoples have lived in the area since at least 7000 BCE. New Brunswick was also part of Vinland, a section of North America explored by the Vikings around 1000 CE. The province is covered by 15 million acres of forestland, more than 60 rivers, and boasts the Bay of Fundy where tourists flock to watch whales. New Brunswick's Saint John was the first incorporated city in Canada. Famous people from New Brunswick include two Fathers of Confederation, Peter Mitchell and Samuel Leonard Tilley, founders of Canada's oldest candy company Gilbert and James Ganong, actors Walter Pidgeon and Donald Sutherland, father of Canadian poetry Sir Charles G. D. Roberts, and Brenda Robertson, the first woman elected to the Canadian legislative assembly. It's also home to unexpected creatures.
Mountain Lion
Mountain lions exist. We know this; we see them in zoos, on nature programs, and sometimes – at least in Western North America – up close and personal. European farmers who immigrated to North America killed the Eastern Mountain Lion (also called the Eastern Cougar or Eastern Panther) to protect their livestock, much like the Australians did to the Thylacine. By the late 1800s, the Eastern Mountain Lion was considered endangered. A specimine was last seen in New Brunswick in 1932 and in Maine in 1938. By 1940, this subspecies was gone, although it wasn't declared extinct until 2015.
But is it extinct?
Naturalist Bruce Wright was bigger than life. A life-long outdoorsman, Wright became a forester through the University of New Brunswick, working as a forest biologist after graduation. During World War II he came up with the idea for "frogmen" who would use scuba gear to infiltrate enemy territory. During the war, he used his disposition in Myanmar (then Burma) to study marine life. After the war, he studied black ducks in the Canadian Maritimes (eastern provinces), but one of his personal interests was extinct species he believed could still be alive. One he was particularly interested in was the Eastern Mountain Lion.
During Wright's quest for the endangered (and assumed extinct) animal led him to collet hundreds of sightings and indeed discovered what is widely considered as the last Eastern Mountain Lion. When that cat died, the entire species was considered dead as well.
Since then, there have still been reports of mountain lions in New Brunswick, although they are credited to a species of mountain lion from the western portions of North America that have wandered far afield.But are they?
Lake Utopia Lake Monster
Lake Utopia, in Charlotte County near the Maine border, is a seven-kilometer-long, three-kilometer-wide body of water that reaches an average depth of around 11 metres. A popular destination for recreation, Utopia Lake is also known for the Lake Utopia Lake Monster, Old Ned.
Stories of the creature began before the arrival of European settlers when the local Maliseet First Nations tribes claimed a large underwater creature that looked somewhat like a whale would chase people canoeing on the lake. European settlers began reporting encounters with the monster in the 1800s, and they continue to this day, usually every three to five years. Although the whale explanation is a stretch, it could be possible. Lake Utopia is connected to the Bay of Fundy via the Magaguadavic River, although it wouldn't exactly be smooth swimming for a whale.
One of the most famous sightings was in 1867 when sawmill workers saw a nine-metre long, three-metre wide creature splashing in the lake. Similar sightings occurred a year later in 1868, again in 1872, and 1891. Modern sightings include a 1996 report from a couple, Roger and Lois Wilcox, who saw a 15-metre-long creature swimming in the lake. It swam up and down like a mammal, not side to side like a fish or reptile.
The Tote-Road Shagamaw
From the early days of the European settlement of New Brunswick, workers in lumber camps began to report a creature with the front paws of a bear and the back legs of a moose – the Shagamaw. To confuse anyone who followed it, the Shagamaw would switch off walking on its hind legs to its forelegs. One set of tracks would extend on tote roads (trails used to carry supplies to a lumber camp) only about 440 paces because that's as high as the Shagamaw could count. Then it would switch to the other legs and go 440 more paces before switching back.
According to the book, "Fearsome Creatures of the Lumberwoods," by William T. Cox (1910), the Tote-Road Shagamaw was a horrifying creature to see, but it was shy and harmless. The Shagamaw also had a peculiar diet; it ate discarded boots, mittens, and anything else lumbermen dropped along these desolate roads.
Bigfoot
Canada wouldn't be Canada without Bigfoot reports. There have been more than seven Bigfoot sightings in New Brunswick during the past 35 years.
According to the Bigfoot Field Research Organization, more than twenty Canadian and U.S. soldiers, based in the 5th Canadian Division Support Base Gagetown, were training near Laverna Wood in 1990 when unidentified noises from the trees stopped them in their tracks. The soldiers heard an enormous creature thunder through the brush and could feel its impact when its feet hit the ground. When it vocalized, it sounded like a baby's cry amplified "500 times louder."
Although the creature remained hidden by the forest, whatever made that noise was nothing the soldiers were familiar with. One soldier said, "it wasn't a bear."
Another sighting occurred in 2008 when two couples from Anfield and Saint John, New Brunswick, saw a"pitch-black, approximately eight-and-a-half-foot sasquatch" at Skiff Lake, according to an article in the WoodstockBugle-Observer. "I know a bear can stand on its hind legs and move around," one of the men told the newspaper, "but a bear can't walk on two legs the way this human-like form (did)."
Next up: Newfoundland and Labrador.
http://mysteriousuniverse.org/2018/05/exploring-canadian-monsters-new-brunswick/