Is Bernie Sanders Really A Socialist? Does It Even Matter?
In November, 1985, MPP for Rainy River, Jack Pierce stood in the Ontario legislature before second reading of a bill he had introduced. His words are recorded in the Hansard (the official report of proceedings of Parliament):
My bill deals with the occurrences and documentation of severe side-effects which can result from the vaccination of infants and children. Some members may not be aware that the routine vaccination called DPT, diphtheria, pertussis and tetanus, given to almost every one of our children, can lead to convulsions, brain damage and even death.
Today, if an MPP dared to shine light on vaccine injury, he would be eviscerated by the media. Today, anyone who broaches the issue of vaccine safety has to contend with the likes of Carly Weeks. In her Feb. 2019 attack on the Total Health Show, Ms. Weeks singled out "anti-vaccine activists" who by telling others about vaccination risks spread "false information." In her to-the-point article, she implies that only medical professionals are qualified to speak about vaccination. In other words: you will be vaccinated and have no right to voice an opinion about it.
If injured families had not spoken up in the 1980s, we would not have Pierce's bill that became the Health Protection and Promotion Act (1990). This law requires vaccinators to inform vaccine recipients of possible adverse outcomes and of the obligation to report these events.
Pierce explained why he brought the bill:

As a member of the riding in which eight children are thought to have sufferedpermanent mental retardation and physical handicap as a result of this inoculation, Ifeel compelled to see that something is done about this nightmare.
I spoke with Jack Pierce, now in his 80s. He still lives in his old riding.  As an MPP in 1983, Pierce met with every member of parliament, one by one. He shared with each the need for a mandatory reporting of adverse reactions "so we can develop a complete and accurate picture of the benefits and risks of DPT."
In 1985, MPPs could speak about vaccine injury without fear of reprisal from the media. Pierce continued:
While the diphtheria and tetanus components are mandatory and nonproblematic, the pertussis component, better known as whooping cough vaccine, has been responsible for severe reactions, including high fever, seizures, inflammation of the brain, permanent brain damage and sometimes death. Immunization against whooping cough is not mandatory. Parents have the right to refuse shots, and many are exercising this right.

… no one ever told him of the possibility of an adverse reaction to DPT
Pierce described the "heartbreaking stories of children who, despite the fact that they showed obvious adverse reactions to the pertussis vaccine, were given subsequent DPT shots."
Patrick Rothwell of Burlington, Ontario, is six years old, blind, mentally retarded and speechless. His father said that no one ever told him of the possibility of an adverse reaction to DPT.
The Rothwell case is the lesson we failed to learn in Ontario.
In 1979, Patrick Rothwell received three doses of the whole cell DPT vaccine that caused him to regress. Patrick's parents sued two doctors, the vaccine maker Connaught and the Crown alleging they had not been warned that the pertussis vaccine can cause brain damage.
Although 50 witnesses testified over 74 days at the 1988 trial their defeat was inevitable. The plaintiffs would never have been able to meet the burden of proof.
The presiding judge stated:
. . . the normal process of litigation is an utterly inappropriate procedure for dealing with claims of this nature. [Rothwell v. Raes (Ont. H.C.J.), 1988 CanLII 4636 (ON SC)]
In a review of the Rothwell case, the Manitoba Law Reform Commission agreed with the judge:
In practical terms, the tort process holds out very little promise for an efficient and fair remedy for those children who suffer vaccine-related injury and illness.
Pierce seemed to know that government needed to step in:
No one questions the need of a vaccine like DPT, but given the risks of paralysis, brain damage and death, the questions that might be addressed concern the levels of effort to find a safer drug and to make parents and doctors aware of the dangers and side-effects directly attributable to the vaccine. Where have the efforts been to make mandatory the reporting of adverse side-effects to the local medical officer of health?
Indeed.
At this point, after a trial and parliamentary debate with the passage of a law in 1990 to help reduce vaccine injuries, what interests kept the whole cell pertussis DPT vaccine in the schedule? Why were there still no warnings to parents of the risks?
… resulted in over 11,000 AEFI reports that described adverse reactions that included inconsolable screaming, head banging, seizures, anaphylaxis, paralysis and death. There was no follow-up on these children to determine long term injuries.
A familiar story.
In 1994, my son received three doses of the same Connaught DPT vaccine that Patrick Rothwell had received. Ours was mixed with two other vaccines. Use of this combination shot for 3 years resulted in over 11,000 AEFI reports that described adverse reactions that included inconsolable screaming, head banging, seizures, anaphylaxis, paralysis and death. There was no follow-up on these children to determine long term injuries.
Our story echoes those told by the Rainy River parents to Jack Pierce who then told the government. Like those parents, I had no real knowledge of vaccination when I took my son for his well baby visit and the nurse injected him. We were not warned of the documented risks before or after the procedure. Two laws intended to protect us were not observed: informed consent and Pierce's health protection and promotion act.
An hour after vaccination, my two month old son began scream. He had never screamed before. I was terrified. And it continued for several hours. Through the night, I watched and listened. The next day, I called the GP who assured me that this was normal. I was persuaded by a medical professional to suppress my fears.
The second shot, two months later resulted in the same terrible reaction. And now, he had symptoms: rashes and he struggled to breathe through his nose.
His reaction to the third dose was violent.  He screamed and writhed in pain…
Nurses call this the neuro-scream, when the nervous system and brain are set on fire by the vaccine. And it changed him. The rhinitis and eczema that had developed I now know were red flags, precursors to life threatening allergies. He had his first anaphylactic reaction to peanut at 13 months. I have written extensively about the documented relationship between vaccination and allergy.
Meanwhile, the Ontario government continued to struggle with the issue of vaccine injury. In 1991, a bill was introduced by MPP Frankford, a physician, to compensate children and their families for vaccine-related injuries.
In the Hansard, MPP McLean agreed. The plan was "feasible" and "social conscience demands its enactment."
The bill to compensate was quashed in 1991. Attempts to revive it have floundered in large measure on the altar of high cost. It is easier to download the costs to children and families. It is easier not to investigate, to deny injuries exist and ultimately block public access to AEFI reports if anyone tries to dig. (See note below.)
Fast forward to 2019.
The Canadian Medical Association has voted in favour of ending non-medical exemptions and making vaccination mandatory for Ontario children while at the same time voting against compensation for vaccine injuries.[9] As if on cue, the province amended its Immunization of School Pupils Act to withhold exemptions until a parent attends an education session designed to instill compliance. And anyone who tells parents of the documented risks, of the lack of consumer protections or speaks up on behalf of their own vaccine-injured children will be demonized as an "anti-vaxxer" who spreads "false information."  In such a climate, it is not hyperbole to suggest that a law mandating the injection of children… will be followed by the same for adults.
And this dystopian reality — that Jack Pierce would have denounced — is something Ms. Weeks is paid to promote.
Note: We have an enormous deficit in information caused by a surveillance system that is passive, an under-reporting of adverse events and the fact that there is no follow-up on Adverse Events Following Immunization reports to determine long term injuries.  According to PHAC there were 115,837 AEFIs between 1987 and 2011 with 85% of them being children. If, as is generally recognized, this represents just 10% (some say it is 1%) of all adverse events, then we have upwards of one million events over 24 years about which we have no data.  In attempting to retrieve what information might be available to the public, I made an ATIP request in October 2016 for all AEFI reports (redacted) for the MMR II DIN#00466085 made by Merck Frosst Canada. This has still not been fulfilled. After lengthy email exchanges with various staffers at PHAC, I have had to conclude that either the records do not exist, they cannot access them or they are unwilling to send the redacted reports to me.
Was an Angel filmed over a house extinguished by firefighters?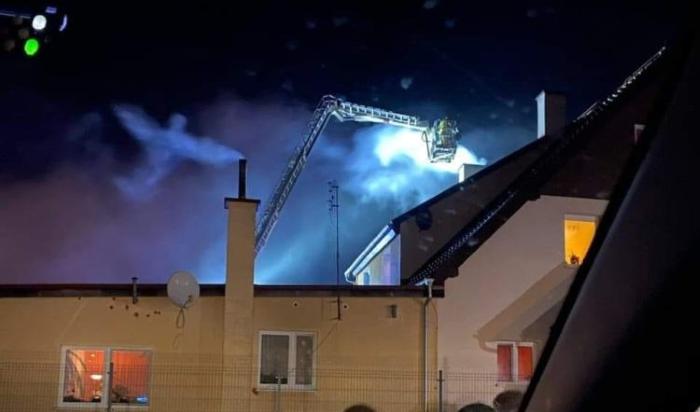 Having appeared on the network, this photo caused a lot of comments – from the fact that it really was a Guardian Angel who guarded the firefighters during work, to those who assured that all this was just an illusion, no more complicated than a cloud in the shape of a lamb.
At the end of December 2020, while extinguishing a fire in the Polish village of Maldyty, an Angel hovered over the firemen, or at least something like an Angel. This photo appeared on the Facebook page of the Maldyta fire station and generated many comments.
"This is something that was formed during the last extinguishing of the fire from the ignition of soot in the chimney in Maldyty. Write in the comments your thoughts about it," was written under the picture on their FB page.
Poles are known to be very religious and there are plenty of people willing to comment on the picture.
Many indeed believed that the Angel oversaw the work of the firemen and, perhaps, even helped them to extinguish the fire. But there were also enough of those who believed that it was all just a random silhouette between clouds in the sky and pareidolia (illusion). The photo was taken by an unspecified person sitting in the cab of a car parked next to the burning house.
"Christians have always believed in the existence of guardian spirits. Some call them Guardian Angels. The Bible confirms their existence," Pastor Leszek Kozheniecki told reporters, commenting on this photo.
By the way, Kozhenetskiy is a well-known Polish pastor who believes in the existence of supernatural beings.
Three years ago, he told the press that he had driven out the evil spirit that settled in his house in Turza Wielka. One of the firefighters who worked on the extinguishing of the house that night said:
"If we have this kind of protection watching over us, I am pretty calm about safety during work."
The skeleton of a mysterious "prehistoric beast" found in Antarctica?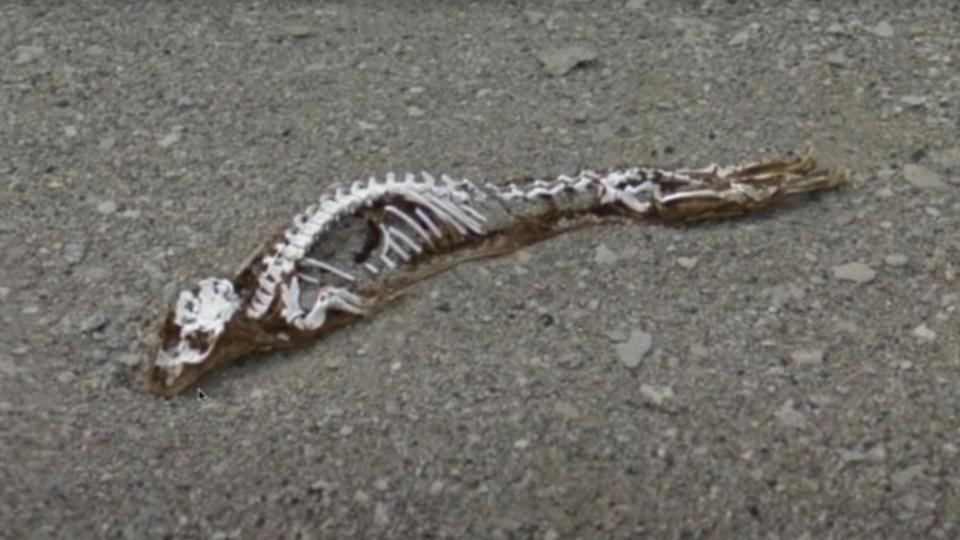 Blogger MrMBB333 shared an image of a "mysterious creature." It was discovered 80 kilometers off the coast of Antarctica in a remote region of Antarctica, according to the Sun.
According to the blogger, the pictures are screenshots from the Google Earth service, which were sent to him by his subscriber and conspiracy theorist under the nickname BONKERS.
They estimate the length of the remains at 3.6-6 meters.I don't know if it was frozen for thousands of years or appeared recently,- the blogger said.
MrMBB333 believes the skeleton belonged to a dinosaur. He came to this conclusion by examining the front and hind limbs of the creature. His subscribers are sure that these are the remains of a seal.
A google search for seal skeleton images shows a pretty good match,- one of them wrote.
Other subscribers call the skeleton "suspicious". They explain that "seals have no hind legs." Another wrote that the remains belonged to an alligator or some other reptile.
In the comments, conspiracy theorists also expressed their opinion that "Antarctica is full of unexplained phenomena that may be related to ancient aliens."
It is also believed that most of the "discoveries" made by users of Google Earth can be explained by the unusual shape of ice or other natural phenomena.
MrMBB333 uploaded his investigation video to YouTube on January 5. Since then, the video has been watched more than 200,000 times.
150 thousand years old Metal pipes in Tibet, contradict the official history
It is said that there is a mountain in Tibet that contains a network of special formations that extend to the nearest lake. Many researchers believe that this is an artificial pipeline system. But, strangely enough, its origin dates back to the era of the Neanderthals.
This mountain rises about 40 km from the city of Dalingha in the Tibetan Autonomous Region. It is called Baigongshan (White Mountain). In the world, it is better known for the wonderful formations that are in its heart and wide surroundings – they are called the Baigong pipes.
This miracle has been the subject of controversial discussions for many years. Some believe they are a natural formation, but there are many who are sure that someone built them in the distant past to drain the lake. They base their arguments on research results, but there is a catch; the mysterious aqueduct should have appeared 150 thousand years ago. Traces of settlements around the mountain are not even older than 30 thousand years. So who could build metal pipes inside an uninhabited mountain?
There are three caves at the foot of Mount Baigongshan, two of them have already collapsed and are inaccessible, but the largest of them has since been the target of many tourists who come to the area.
The cave looks like it was artificially created by someone. Visibility is enhanced by a massive pipe about forty centimeters in diameter that sticks out of the stone.
Another apparently hollow pipe of the same diameter ran into the cave from the top of the mountain. Another one came from the bottom of the cave somewhere below.
At the entrance to the cave, you can see several other pipes with a diameter of 10 to 40 cm. All this gives the impression of the remains of some ancient system or mechanism. About 80 meters from the cave, Lake Toson sparkles with a large number of scattered pipes on the beach.
They stretch from east to west and have a diameter of 2 to 4.5 cm, these archaeological finds are described by the Chinese scientist Liu-Shaolin:
The unmistakable rust color indicates that they are made of metal. And their craftsmanship showcases advanced attachment techniques. Who could have built such a complex pipe system? Only one who knew well what he was doing and why.
The version that such an engineering miracle was created by the Chinese disappears immediately. The inhabitants of the Middle Kingdom could not build something like that 150 thousand years ago. As the authors of many amazing inventions, bureaucracy became one of them. Therefore, it is simply impossible to imagine that such a large-scale and, without exaggeration, a great construction project was reflected in any ancient Chinese source. Any emperor, during whose reign this happened, would make sure that his great deed was not forgotten by descendants.
Baigong tubes are another unsolved mystery in human history. This find once again refutes the facts of the official history. Where is the true and where is the misconception? Maybe there will be people among the readers who will logically explain the origin of the ancient aqueduct.