Intruders and incubi: The waking nightmare of sleep paralysis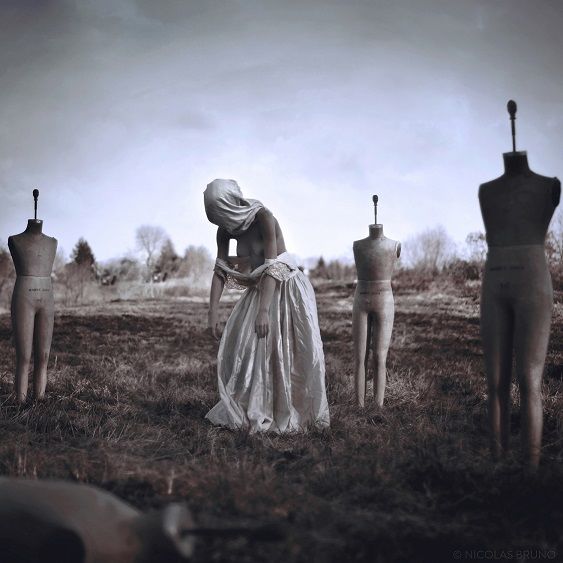 Brian Barrett Motherboard
© Nicolas Bruno
Once, when I was 17, I woke up in the dark and couldn't move.
I could hear, at least. That's why I was awake to begin with: someone was banging on the front door in the middle of the night, insistent, sharp, angry.
I could see, too. My eyes were open to the ceiling above me. My head, though, was locked into position by some invisible vise. I tried to yell, to warn my parents about the angry intruder outside, and the irrevocable harm I was convinced he would do. I couldn't yell. The knocks got louder.
No matter how insistently I begged my body to jump out of bed and find a place to hide, it remained a slab. Something terrible was about to happen to me, to my family. The door was going to give way. The outsider was going to come in. I was going to face whatever—whoever?—came after completely immobilized and alone.
It was the most afraid I've ever been in my life. What I realized, looking back later, was that it still would have been even if it weren't for those knocks on the door, and my certainty that something awful would follow. My deepest fear came from the realization that my body, in that moment, had become completely dissociated from anything I recognized as myself. It was a car sinking to the bottom of a lake, my mind its captive passenger, waiting to drown.
I don't remember how long it lasted, but eventually it wore off. I quickly found out that the person on the porch was my older brother, home at an unexpected hour on an unexpected visit from college. It took me a few more years to figure out that the other part, the immobility, the sense of self reduced to flickering consciousness, even the deepness of the fear I felt, had a name. It was sleep paralysis.
At least, that's what we call it now. Dr. S.A. Kinnier Wilson coined the term in a 1928 edition of the medical journal Brain. His description then should feel familiar to anyone who has experienced sleep paralysis today: a man dreamed of a murderer, then carried that dream over to a conscious state. The patient in question "lay thus, flat on the floor, motionless but suffering acute mental stress."
That's not to say that sleep paralysis is a relatively new human experience. A Dutch physician named Isbrand van Diemerbroeck published several case histories that accurately describe sleep paralysis in 1664, one of which, titled "Of the Night-Mare," may as well have been penned by Mary Shelley.
"In the night time, when she was composing her self to sleep, sometimes she believed the devil lay upon her and held her down, sometimes that she was choaked by a great dog or thief lying upon her breast, so that she could hardly speak or breath, and when she endeavored to throw off the burthen, she was not able to stir her member,"van Diemerbroeck wrote, suggesting moderate exercise and plenty of juice as a possible remedy to the invisible nighttime demon attacks. [17th century sics implied throughout.]
Even that landmark medical documentation isn't remotely the first reported instance. Go back further still, and you'll find references to sleep paralysis in medieval Persia and Ancient Greece and even more ancient (400 BCE) China. There's probably a cave drawing somewhere that depicts a red-eyed saber-toothed tiger sitting atop a paralyzed Neanderthal's chest. Sleep paralysis is as ageless and as universal as fear itself.
It's not quite as simple as simply being afraid, though. It's a complex confluence of physiological and psychological occurrences that force you to experience your deepest nightmares with eyes wide open.
Take a normal night of sleep, assuming you still have those once in awhile. Your body cycles through five sleep stages, the last of which is REM, which you probably remember from your high school biology class as being your brain's lights-out, shut-it-down, dream-time state.
Which is great! Dreaming is wonderful, especially if you ever wondered what it might feel like to fly down Rodeo Drive with a soft serve twist cone in one hand and a chainsaw in the other. Dreaming, though, can also be dangerous, because your big dumb body doesn't necessarily know that your brain is just playing pretend. Given the opportunity, your body will act out those dreams, which can lead to a whole other terrifying condition called REM sleep behavior disorder (RBD).
You've heard of sleepwalking, which can technically be a type of RBD, depending on whether it occurs during the REM stage of sleep. Many RBD episodes are much more involved than just puttering down the hall, however. Think of it like this: juggling with tennis balls and juggling with flaming swords are both technically types of juggling, but you'd never confuse the two.
Comedian and storyteller Mike Birbiglia turned his experiences with RBD into a very entertaining show, book, and film called Sleepwalk with Me. Well, entertaining but also terrifying; at one point in his mid-20s, Birbiglia threw himself out of a closed, second-story La Quinta motel window. At the time, in his dream, he was trying to escape an incoming guided missile.
The reason more people don't experience RBD is that the brain also has a safety valve. "During dreaming… bursts of neural activity called PGO waves spread through the cortex, producing the imagery we experience during dreams," explained James Allan Cheyne, sleep paralysis expert and professor emeritus at the University of Waterloo. "Simultaneously, activation spreads down the spinal column causing spinal interneurons to suppress signals that normally would produce muscle movement."
Your body, in other words, paralyzes itself during REM sleep to keep you from throwing yourself down a stairwell when you dream about laying out for touchdown pass to win the state championship.
Sleep paralysis, then, is what happens when you wake up before that effect has had a chance to wear off. Your body has frozen to keep you from acting out your dreams. But also, haha, good joke, you're still dreaming.
"You have aspects of REM sleep that are going on when you have waking, conscious awareness," said Brian Sharpless, assistant professor of psychology at Washington State University and author of a recent book about sleep paralysis. "First, you're paralyzed, and second, you are having dreams, but unlike normal dreaming these two things are happening while you're awake and able to look around the room."
Not just any dreams, though. Sharpless estimates that while a little less than a third of our normal dreams could be considered nightmares, 80 to 90 percent of dreams experienced during sleep paralysis qualify. "You can kind of imagine why," he said. "If you're lying on your back and can't move, that's scary enough. And if you're having hallucinations that are scary as well, that's a bad mix."
My own sleep paralysis, then, was fairly textbook. The banging on the door vaulted me into consciousness but not out of REM, leaving me frozen in a liminal hell of the mind, waiting for a bad man with an axe to bust down my door. Actually, I got off easy.
As it turns out, sleep paralysis nightmares can be divided into three tidy categories, two of which—the Intruder and the Incubus—would make for decent Paranormal Activity sequels. The third is "vestibular and motor," a less-fun name for a more-fun condition.
Cheyne cautions that these categories are broad, and the experiences the describe can vary greatly. On the other hand, he also is one of three authors of a landmark 1999 scientific paper, published in Consciousness and Cognition, that helped define them.
Vestibular and motor incidents—Cheyne calls it "Unusual Bodily Experiences" in his 1999 paper—are relatively harmless, potentially even enjoyable. "It's fancy term for feeling like your body is being moved without its volition," Sharpless explains. "You could feel like you're floating, or levitating, or your arm is being lifted." Not so bad, right? Your standard Sigourney-Weaver-in-Ghostbusters scenario.
The other two, Cheyne says, have no such upside potential.
"For Intruder experiences, the main sensation is the sensed presence—a feeling of something in the room," he recently explained over email. "That something may then also be seen, heard, or physically felt. It may move around the room, approach the bed, and sometimes climb onto the bed."
Scary! But remember, at this point you also can't move. As far as you know, you may never be able to move again, even if you somehow survive being horribly violated by the shadow monster in your periphery. Screaming would at least be cathartic, but you can't scream, and you can't breathe all that well, so all that's left is to wait.
I was fortunate in that my Intruder scenario involved an actual (friendly!) person. That gave quicker closure, presumably, than some hallucinatory demon-dog lurker might have. I was fortunate, also, that I didn't draw an Incubus instead:
"The Incubus experiences often continue this sequence by climbing on top of the 'sleeper,' Cheyne continues, "perhaps smothering, and even assaulting them physically and sexually." This is how your brain works. This is van Diemerbroeck's devil.
© Nicolas Bruno
Beginning in February of 1995, reports began to circulate throughout Zanzibar of a spirit that assaulted men and women in the dark of night. Its name was Popobawa, which means "winged bat," because that was the form it was said to take most often, though it was just as often invisible.
As social anthropologist Martin Walsh detailed in 2009, Popobawa attacks spread quickly throughout the country, jumping from person to person, house to house, and village to village, eventually constituting a full-blown paranormal pandemic.
The bat demon was said to sodomize its victims. The response was violent. At one point, residents of Zanzibar City murdered a suspected Popobawa who unsurprisingly turned out to be a human, one who had visited the capital in search of mental health treatment. The terrors, both spiritual and corporeal, continued. Then, three months after they began, the Popobawa incidents stopped.
An entire nation plagued by a sex-starved bat demon would laughable as a SyFy channel script. As reality, it seems impossible. That it led to mobs and murder, more so.
It happened, though. And again, to a lesser degree, in 2007 ("Sex attacks blamed on bat demon" read the restrained BBC headline that time). How?
"A typical [Popobawa] assault involved somebody waking up in the night to find themselves being attacked by an amorphous or shape-shifting intruder, which was most frequently described as 'pressing' or 'crushing' their chest and ribs, and of suffocating them until they had difficulty in breathing and passed out," Walsh wrote. "In general all of the victims experienced extreme terror, and were often frozen speechless when they were assaulted."
An intruder. An incubus. The inability to move. The loss of respiratory control. The Popobawa, Walsh concludes, was no demon. It was textbook sleep paralysis, at a massive scale.
Zanzibar's example is extreme, but far from isolated. Every culture has its bogeyman. Every century has ghost sightings. Everyone has heard things go bump in the night.
"We believe that sleep paralysis is a good, naturalistic explanation for a lot of paranormal beliefs," said Sharpless. "Alien abductions that occur at night; visits by ghosts and demons; more recently, shadow people. If you look at people's first-hand descriptions of these events, they map really well on to sleep paralysis."
"Different cultures have come up with unique names for sleep paralysis that are descriptive of various common experiences in how it manifests," explains Kevin Morton, who five years ago founded a site dedicated to better understanding sleep disorders as part of an undergraduate project at Stanford University. "In Japan it's been known as 'Kanashibari' (retaliating spirit), in Thailand 'Phi um' (enveloping ghost), or the 'Hauka'I po' (night marchers) in Hawaii."
In the same way that we might ascribe a happy coincidence to a guardian angel or God, we paint sleep paralysis with the brushstrokes of our deepest terrors.
Sleep paralysis being blamed on ghosts, spirits, and demons transcends cultures, but you can count on Japan to give it the perfect anime treatment.
Estimates vary as to how many people will experience sleep paralysis at least once in their lifetime. Sharpless pegs it at 8 percent of the general population, with students (28 percent) and psychiatric patients (32 percent) even higher. Sharpless thinks that spike may be attributable to those groups having disrupted sleep patterns to begin with, making sleep paralysis more likely. Cheyne notes that incidence rates are higher still "in societies with an active tradition of haunting night spirits."
Despite the prevalence of sleep paralysis, especially among certain groups, there's been no large intervention trials to determine an effective treatment for it. In a 2014 paper, Dr. Sharpless and co-author Jessica Lynn Grom outlined a few preemptive methods (e.g., changing sleep positions and patterns), as well as techniques to help mitigate the impact mid-episode. Among the most effective of those? Simply trying to calm yourself down in the moment, if you can manage it. Focus on trying to move your extremities. Don't worry about the demon on your chest.
That's more easily accomplished if you're aware that you're experiencing sleep paralysis, or even of what sleep paralysis is. It's a condition that's been largely (apologies) in the dark, in part because it's not an easy thing to talk about. I didn't tell anyone about my experience for years, and even then it was only after I had found out what it was. Until then, I was too worried that it signaled something deeply wrong with my body or mind or both.
"Sleep paralysis has quite a large awareness bias associated with it," says Morton, whose site has received hundreds of submissions from people who have lived it, and a magnitude more visitors looking for answers. "It is such a crazy experience–waking up with your body paralyzed, often hallucinating frightening dream imagery, occasionally of a sexual nature–that those who experience it often don't talk about it with others, usually out of fear that they will be seen as crazy or possessed, or just otherwise stigmatized if they bring it up."
Morton is optimistic about the internet's power as a great normalizer; all it takes is a quick search of symptoms to find out that you're neither possessed nor insane. Sleep paralysis also seems to be having a larger cultural moment beyond the web, if a phenomenon as old as consciousness itself can be said to have moments.
That's a brief clip from The Nightmare, a documentary from Rodney Ascher, which brings brings to life people's real descriptions of sleep paralysis events. Ascher, who previously directed the critically lauded Room 237, pursued the topic after experiencing it himself. Devil in the Room, a short film released in 2014, takes a similar approach, while photographer Nicolas Bruno has a series of photographs depicting the horrors he has experienced in his years of sleep paralysis.
Most dreams stop when they want to, not when you tell them. A modicum of awareness, though, helps with what comes after. Even if you can't beat sleep paralysis, you can cope with its reverberations.
There's comfort in knowing that the demon on your chest actually resides in your mind. Or at least, that yours isn't the only mind with demons.
Psi-Trailing: Animals' Incredible Journeys
Sometime in August 1923. Bobbie, a large dog, two years old, mostly collie, but said to be part English sheep dog, began his incredible journey.
His family, the Braziers, were restaurant owners who were vacationing in a small Indiana town, far from their Silverton, Oregon home. They became separated. The family had to return home, leaving Bobbie in Indiana.
So, Bobbie traveled, alone, westward to reunite with his family. At first, he was trying to find his bearings, wandering in circles, as people do when they are lost, traveling miles, but only about a couple of hundred of them in the right direction. In late fall, he began to find the journey toward home.
He trekked through Illinois and Iowa. Sometimes, he caught his own dinner. Other times, people fed him and gave him shelter for a night or longer.
Hoboes shared their food with him. During Thanksgiving, a family took him in for several weeks. Then, it was time for him to move on.
He lost a lot of weight during his journey. He swam across rivers, including the Missouri, filled with ice. He crossed the Rocky Mountains.
Finally, in February, he reached home and entered the family restaurant. He went to the second floor living quarters where Frank Brazier was sleeping, jumped on the bed and licked Frank's face. This ended the 3,000 mile six month long journey.
The president of the Oregon Humane Society authenticated this amazing feat. The route was reconstructed and people who saw or took care of Bobbie were interviewed.
Bobbie did not follow Frank's east/west route and appeared to have traveled thousands of miles over land he had never been in, land he had not seen, smelled or, in any way was familiar, yet, he found his way home.
Joseph Banks Rhine, one of the fathers of modern parapsychology, and his daughter, Sara Feather, have studied many similar cases. Rhine called this phenomena psi-trailing. Psi is the abbreviation for psychic phenomena.
In 1952, he investigated a case of psi-trailing that happened in 1952. This was one of the longest journeys of a cat.
Stacy Woods was an Anderson, California school principal. Sugar was the family cat.
The family moved to a farm in Gage, Oklahoma and left the cat with neighbors because the cat was terrified of riding in cars.
About fourteen months later, Stacy and his wife were milking cows in the barn when a cat jumped through an open window and landed on Mrs. Woods' shoulder. The cat looked and acted so much like Sugar that they joked their cat had found them. Then, they realized that the cat really was Sugar. The cat had an unusual bone deformity at his left hip joint.
Later, the Woods found out that Sugar disappeared three weeks after they moved.
Rhine learned that Sugar was a strong cat and an excellent hunter and had caught half-grown jack rabbits. The parapsychologist concluded that the cat was physically able to travel the rugged land between California and Oregon, a distance of 1500 miles.
The question was how did Sugar find his family in a place he had never been to?
Another unusual case that Rhine and Feather studied was one of a pigeon. This was not the case of the usual homing pigeon.
Hugh Brady Perkins was a boy when he discovered the pigeon in the yard of his home in Summersville, West Virginia. The year was 1940. He tamed the pigeon and placed a band on its leg with the number 167 on it.
That winter, Hugh was taken to a hospital, at night, for surgery. The distance was about 120 miles from home.
One night when it snowed, Hugh heard fluttering at the hospital window and told the nurse. She opened the window to humor the boy and the pigeon came in. There was the band with the number 167 on the bird's leg.
How can animals travel such distances and, to places they have never been?
When cases are evaluated for psi-trailing, there are four major criteria that are used.
1) The reliability of the witnesses. 2) Positive identification of the animal, such as a deformity, scar or name tag. 3) How credible and consistent the details are. 4) Adequate corroborative evidence, such as other witnesses.
After years of study, Rhine and Feather found at least 54 cases of cats, dogs and birds that appeared to meet these criteria.
The evidence is there. Again, the question is how animals can do this.
I believe it is by telepathy. This is communication without the use of the traditional five senses, across space and time. This has been demonstrated in humans many times, both in experimental situations and in the field. A simple example is that a person is thinking about calling a friend. The phone rings and it is the friend.
I also believe that "connectedness" or special bonds existing between humans and humans, animals and animals and humans and animals facilitate this. Again, there has been evidence to support this.
Dr. Karlis Osis, a distinguished parapsychologist, did one of the earliest experiments in psychic communication with animals in the early 1950s at the Parapsychology Laboratory at Duke University.
Osis was experimenting with kittens in a T-shaped maze, trying to influence them to go right or left, according to a random sequence.
The cats made more turns, according to Osis' will, than could be attributed to chance. He concluded that telepathy was probably the best explanation.
Even more intriguing was the fact that the cats that he had a special bond with were the ones that most often went in the direction he chose. The cat that "scored" the best was one that he allowed to jump on his shoulder and ride around the laboratory.
Transpersonal psychology studies human consciousness. There is also research being done in both animal consciousness and psychic animal-human communication. I believe that this, not space, is the last frontier.
Will Bradbury Will, ed. Into the Unknown. ISBN: 0-89577-098-9
Paranormal Pornstars – Its better than it sounds
Don't worry I haven't had the idea of making the site into a spooky type of Porn Hub.
A little while ago while looking for something new to watch I innocently searched for 'paranormal' on Amazon Prime and the top result which appeared was a show called Paranormal Pornstars! It had 5 star reviews, it intrigued me, so I thought I better give it watch.
It turned out to be quite a good TV show.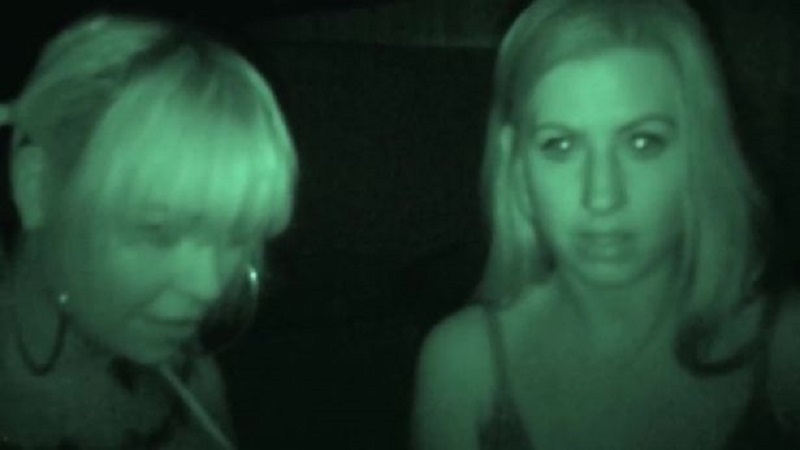 The ghost hunting team are made up of four members. They are brothers Lee and Mitch Green, Tindra Frost and Haley B.
They say that they started ghost hunting after they all experienced strange paranormal events in the studio and wanted to get to know who, if anyone, was haunting their studio.
There are five episodes in total, the first episode they are investigating their own studio then go to different locations in later episodes.
What I like about this show is that you can see nothing is fake, the reactions are real, the evidence, evp's, orbs etc all seem to be real and the team get genuinely scared unlike with popular well known paranormal shows where they sometimes need to re-enact if they miss something or to make it slightly more scarier for the viewer. It's even funny at times too.
The first couple of episodes are slightly amateurish in a way, as you can tell with the sound editing being way off. Sometimes the background music is too loud and you cant make out what they are saying, but this gets better the further into the series you get.
I would recommend anyone to give it a watch if your looking for a new ghost hunting show with genuine reactions and evidence. Maybe don't watch it with your children as they are adult entertainment stars and they do get a little adult'ish in parts, nothing obscene, just a little risque.
Paranormal Pornstars is available to watch on Amazon Prime. If you are in the UK  but don't have Amazon Prime you can get a free trial from the below ad
Exorcism of Douglas Deen: The True Story Behind "The Exorcist" Movie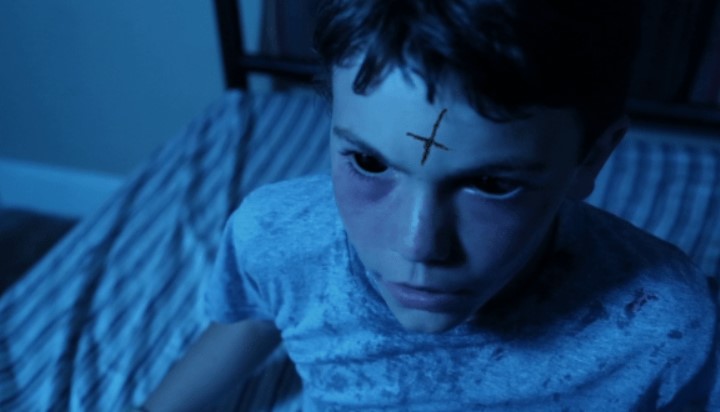 In January 1949, the Deens were disturbed by scratching sounds coming from their walls and ceiling in their home in a Maryland suburb of Washington DC.
They believed they had rodents and called in an exterminator who found no evidence of the critters. Although he tried to get rid of the animals, the noises only became louder. Then, there were noises like someone walking in the hall with squeaky shoes. At times, furniture and dishes moved for no apparent reason.
Then, Douglas Deen was attacked. His bed shook and the bedclothes were pulled off. When he tried to hold onto them, he was pulled to the floor.
Finally, the Deens were convinced that they had an evil spirit and asked their Lutheran minister, Rev Luther Schultz for help, according to Guiley and most of the articles I have read. According to, solely to Wilson, the Lutheran minister's name was M. Winston. I use the name that the majority of sources use.
Schultz tried to help. He said prayers for Douglass and asked the thing that possessed the boy to leave him alone in the name of the Father, Son and Holy Ghost.
The terrifying events continued and the boy could not sleep. In February, the Rev. Schultz invited the boy to spend the night at his house.
Mrs. Schultz spent the night in the guest room and Douglass and Schultz were going to sleep in the twin beds in the master bedroom.
Schultz heard Douglass' bed creating, then felt it. It was vibrating. The boy was awake, but lay very still.
Schultz suggested Douglass sleep in a heavy arm chair and kept watch. The chair moved backwards several inches. The minister told Douglass to put his legs on the chair, giving it his full weight. The chair continued to move until it ran into the wall.
The chair began to turn, in surreal slow motion until it dumped Douglass on the floor. He was not hurt. Schultz noticed that the boy appeared to be in a trance and had not tried to get out of the slow moving chair.
The next day, Schultz persuaded to have Douglass treated at a mental health clinic. The boy acted wildly and the words, "Go to St. Louis," appeared on his chest. The color was red, like blood.
Douglass' favorite aunt lived in that city, so he was sent to the St. Louis Hospital. The family thought it would be good for him. Then, he exhibited symptoms characteristic of possession. He drooled steadily and coughed up phlegm. Scratches appeared on his arms.
It was decided to exorcise the boy. For 35 days, three Jesuit priests and an Episcopal priest and a Lutheran minister performed at least twenty exorcisms.
Douglass' body would jerk violently. He had supernatural strength and spat in the exorcists' eyes. The attacks abated and, after he returned home, they disappeared.
Father Walter Halloran, a Jesuit Priest and the last living exorcist who performed the rite on Douglass, died on March 9th of this year. According to what he said during an interview, Father William S. Bowden asked him to help with the exorcism. It was performed at Alexian Brothers Hospital.
The boy would get violent and the elder priest needed someone strong to help him. One day, Douglass, in a violent fit, broker Father Halloran's nose.
According to Wilson, the boy replied to the rite of exorcism in Latin. This could have happened. I have not read this in other accounts. It is Wilson's reasoning as to why the boy could speak in Latin that I have a problem with.
According to this author, Douglass could have unconsciously picked up the language at "mass" at church. He wrote that the parents appealed to their Lutheran minister for help. Lutherans do not have mass and they do not and did not, in 1949, conduct services in Latin. According to all accounts I have read, the boy was Lutheran.
Schultz contacted J. B. Rhine was the director of the Parapsychology Laboratory at Duke University. Rhine and his wife, Louisa, also a parapsychologist drove to Washington to talk to Schultz about the case. By this time, the phenomena had ceased, so the Rhines could not make personal evaluations.
The Deens, the Rev. Schultz and the exorcists were convinced Douglass was possessed. Rhine differed. He believed that the boy was expressing his unconscious ability to affect matter, PK, psychokinesis, the ability of the mind to affect matter which is the phenomena that occurs in poltergeist cases.
It is possible that Douglass could have been a human agent poltergeist. The second and third stages of possession, infestation and obsession are poltergeist activity.
The trances, coughing up of phlegm and drooling are characteristic of possession. And, if Wilson is correct about the boy speaking in Latin, speaking in unknown languages is also characteristic of possession.