Internal CDC Documents Reveal They Manipulated Data To Conceal A Link Between Autism & Vaccines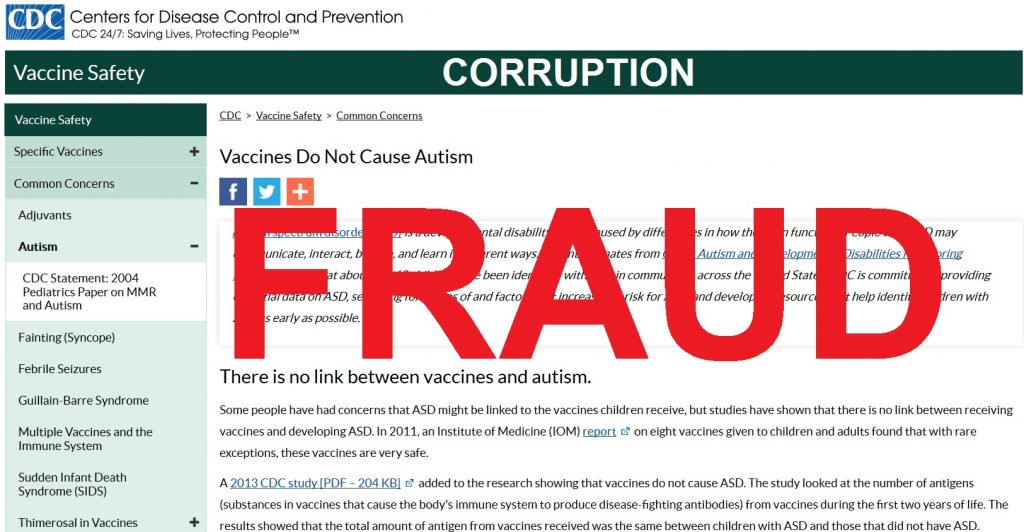 "A Foolish Faith In Authority Is The Worst Enemy Of The Truth"– Albert Einstein
By Vera Sharav
Note from the World Mercury Project Team:  Following is Part Six in Vera Sharav's seven-part exposé of the complex and widespread corruption that exists in the vaccination program, the deceptive practices by officials of "authoritative" international public health institutions and further evidence of the callous disregard for the plight of thousands of children and young adults who suffer irreversible harm. Sharav's research is a must-read by those in our community.
You can read the previous parts here. 
This recourse to authority is an attitude reminiscent of the American eugenics movement, when public health officials and academics at elite universities, embraced the pseudo-scientific tenets of eugenics, which were the basis for abhorrent discriminatory policies, including forced sterilization policies that were launched in the USA.[60]
The internal CDC documents reveal that in addition to major methodological flaws and inconsistencies, CDC scientists and Danish scientists collaborated in outright fraud. Thorsen and his co-authors manipulated the results by excluding the largest outpatient clinic in Copenhagen – comprising 20% of autism cases in Denmark – from the pre-1992 cohort – thereby artificially inflating the autism incidence in Denmark after 1992 when thimerosal had been eliminated from children's vaccines.
Furthermore, the authors of the Pediatrics (2003) article falsified their findings by omitting the 2001 data from their published report. The published report claims an astoundingly high (implausible) increase in the autism prevalence rate in Denmark after the phase-out and removal of thimerosal between 1990 and 1999.
This case reveals much about the corrupted vaccine literature. Indeed, the research community has not only failed to examine Thorsen / CDC research fraud, journal editors are knowingly facilitating fraudulent research articles to influence vaccination policies that put thousands of children at risk, depriving them of living normal lives.
The publicly accessible, internal CDC correspondence[1] allows anyone to trace the underhanded route that led to the publication of the Madsen/Thorsen/ et al report in the journal Pediatrics – after it was rejected by the Lancet and by JAMA. A written communication between Dr. Thorsen and high ranking CDC official, Coleen Boyle (2003) reveals that when the paper was first submitted to Pediatrics with the 2001 data included; it was criticized by one peer-reviewer:
"The drop of incidence shown for the most recent years is perhaps the most dramatic feature of the figure, and is seen in the oldest age group as well as the youngest." The reviewer questions the authors' failure to discuss "the possibility that this decrease might have come about through elimination of [T]himerosal."
The internal CDC documents further show that CDC brought pressure to bear on journal editors to publish the Danish studies. Dr. Cordero, Assistant Surgeon General, National Center on Birth Defects & Developmental Disabilities used his influence to persuade Dr. Lucey to publish the Madsen / Thorsen study, "Thimerosal and the Occurrence of Autism"
"I am writing in support of an expedited review and consideration of the enclosed manuscript… Specific aspects of vaccinations have been subject to inquiry includ[ing] the MMR vaccine and thimerosal…For thimerosal there are limited data…The Danish study is a powerful epidemiologic study …a key strength of the study is the ability to examine rates of autism prior to and after the discontinuation of vaccines containing thimerosal in Denmark in 1992. Contrary to what would be expected if thimerosal was linked to autism, the authors did not observe a decline in the rate of autism with the removal of thimerosal…

Its findings provide one strong piece of evidence that thimerosal is not causally linked to autism." [Exhibit V: Cordero letter to Lucey]
How is it that even as thousands of journal papers are retracted from the scientific record – Retraction Watch counted more than 14,000 retractions– some are retracted for spurious reasons, others provide no  explanation – yet, deliberately manipulated, fraudulent reports that were crafted to conceal vaccine safety hazards, have never been removed from the scientific literature. In fact, they continue to influence public health policy inasmuch as they were published in "authoritative"  "high impact" journals.
In the case of Pediatrics, a fraudulent study was published despite the fact that its editors knew that the 2001 data was omitted from the final version.
 US public health officials not only failed to disavow the fugitive's research, federal officials have continued to collaborate and to co-author papers with him.
Dr. Thorsen continues to collaborate with the Eunice Kennedy Shriver National Institute of Child Health and Human Development Neonatal Research Network.
Federal dollars continued to flow to studies in which he was or is involved.
Thorsen is the named author of at least 19 reports following his fugitive status – "after his "disappearance". The journals include: Pediatric Neurology (2016), PLoS One (2015), Pediatric Research (2014), Journal of Autism Development (2013), PLoS One (2013) (NCBI search)
Both the HHS and DOJ continue to use his research as grounds to reject vaccine injury claims in the National Vaccine Injury Compensation.
No retraction of the articles he was associated with during and subsequent to his 2004 to 2010 alleged criminal activities has occurred.
The entire US public health machine acts as if the indictment never occurred.
Public health officials and the news media are using fear and exaggeration about the risks of infectious disease in the U.S., as well as the risks posed by un-vaccinated children, which is pitting neighbor against neighbor and parent against parent. They use the classic divide and conquer strategy.
Dr. Paul Offit, director of the Vaccine Education Center at Children's Hospital of Philadelphia (CHOP), responded to Thorsen's indictment stating:
"even if the allegation against Thorsen is true, it does not mean his science is bad… Let's assume it is true that he embezzled money, the notion that it casts the science into question is false.For these big epidemiological studies, it is hard to believe that one person could effectively change the data." (Philadelphia Inquirer, March 2010)
Dr. Offit is considered to be a leading authority, an ardent and outspoken vaccine defender/ promoter. This statement encapsulates the low regard that vaccinologists have for the integrity of vaccine science. Of course, like most vaccine promoters, Dr. Offit's blatant conflicts of interest have enabled him to "vote himself rich". [61]He is quoted in Newsweek (2008) stating that the millions he made from the rotavirus vaccine patent: "was like winning the lottery."
I believe that even if the allegations of embezzlement are not true, the evidence is indisputable that the studies produced by Poul Thorsen, and published in premier medical journals, are fatally flawed. By altering the inclusion criteria, excluding data that contradicted the authors' claimed conclusion relegated the study to the ash heap of fraudulent junk science.
Furthermore, the following two studies "were conducted and results published without legally–required ethics clearances."
"CDC officials knew that the psychiatric registry records were reviewed without required permissions and they covered it up. In what are completely unethical acts by all involved, the team members went into damage control mode and decided that they likely could obtain permission for ongoing and future studies.

They concluded that it would probably be impossible to get permission for research that was already finalized (and published). It is absurd that experienced federal grants management officials even discussed the idea of seeking a human subject safety review retroactively. These are serious ethical violations. [sic] they shed light on the pervasive culture of corruption at the CDC."[62]
In January 2013, a Congressional hearing on autism[63] convened by the Government Oversight Committee.
Dr. Coleen Boyle (had by then been promoted to) Director of the National Center on Birth Defects and Developmental Disabilities, and Dr. Alan Guttmacher, Director of the Eunice Kennedy Shriver Institute of the National Institute of Child Health & Human Development (NICHD) defended their agencies but provided no substantive information.
Boyle and Guttmacher evaded pertinent questions. When asked about why the number of children with autism has surged, they testified that autism has no known cause or cure; their focus was statistical tracking and detection tools.
When asked if CDC had sought constituent input?
Are there studies looking at the very aggressive way that we're over-vaccinating our children"?
Are you looking at the impacts of combinations of vaccines"?
Boyle responded, "We know that vaccines save lives."
No response was given to the following questions:
What steps were taken to ensure the integrity of the studies in which Thorsen was involved?
Why did the FDA and HHS take thimerosal out of all children's vaccines except just the one or two or three, if there was no problem?
Both Republicans and Democrats were exasperated by the evasive responses.
Dr. Boyle finally acknowledged: "We have not studied vaccinated versus unvaccinated [children]".
Dr. Guttmacher tried to impress the committee with non-specific claims of accomplishments: the NIH $169 million budget allocation for autism in 2011; he claimed "effective interventions…recent advances in networks" but could not give an example of an effective autism treatment resulting from the last 10 yrs in which the NIH had spent $500 million dollars on autism research, Dr. Guttmacher responded that progress had been "elusive" due to lack of funding. He did not wish to respond to the question, why thimerosal was still used in multi-vial vaccinations?
"I'm just sitting here, and I'm listening to all this. There's something wrong with this picture. There's something wrong… When you've got this combination of shots, and you go from 1 in 10,000 to 1 in 88, it seems to me somebody would say, wait a minute, let's put the brakes on this, and at least let's try to figure out whether the multiple-shot situation is causing this —

If I'm giving a baby nine shots in a day whether that—I mean, how much impact that's having… you said there's a body of evidence with regard to vaccines…

Mr. Chairman, I don't know where we go from here… if we're going to err, let's err on the side of keeping children safe even if we have to [sic] do a pause and give one shot a day."
Mark Blaxill, the author of The Age of Autism (2010), which documents that autism did not exist before the introduction of vaccines in the 1930s. Blaxill presented testimony on behalf of Safe Minds:
"Autism is a public health crisis of historic proportions. Autism is a public health crisis of historic proportions. Worse than poliomyelitis. It's devastating a generation of children and their families. We need to face up to the reality Autism is a national emergency. Autism rates didn't just rise, they multiplied.The old surveys didn't just miss 99% of children with autism.

It's horrible but true; reported rates of autism have risen simply because there are more cases of autism. In the midst of this crisis, the federal agencies responsible for the health of our nation's children have failed in their duty. CDC's negligence has led the way. Many believe CDC has actively covered up the evidence surrounding autism's environmental causes.

 NIH has received the lion's share of Congressional funding, money they have wasted on status quo research and gene studies. It's absurd to focus on genetic research in this crisis, there's no such thing as a genetic epidemic. In the financial world, the result of the pressure to manipulate numbers to provide the answers bosses want has a name – securities fraud…what CDC has given us is the medical equivalent of securities fraud. All to avoid the inconvenient reality of the autism epidemic.

In 2006, Congress gave the NIH a mission to "combat autism." You authorized $850 million for that mission… NIH spent most of that money on the great autism gene hunt while blackballing environmental researchers and defying parent concerns. It's been a colossal waste of money and time. Not a single case of autism has been prevented. Not a single child received improved treatments. We need to conduct independent research into the great unmentionables, mercury, and vaccines, connections that we've documented in the earliest cases.

 We need accountable new leadership. Please root out the failures, the waste, the fraud, the negligence and the abuse of these agencies that aren't doing their jobs."  Blaxill's latest book, co-authored by Dan Olmsted is DENIAL: How Refusing to Face the Facts about Our Autism Epidemic Hurts Children, Families, and Our Future (2017)  
Cong. Bill Posey made an announcement, and submitted new information for the Congressional Record: "I have information that the fugitive doctor had been involved in [sic] 21 of the 24 studies with CDC".
Another Major Episode of CDC Fraud & Scientific Malfeasance Came to Light
In 2014, Dr. William Thompson, the senior CDC epidemiologist who co-authored the 2004 study published in Pediatrics blew the whistle and revealed that fraud had been committed by CDC authors (himself included) to conceal the higher risk of autism for African American baby boys who were vaccinated prior to 36 months and prior to 24 months of age. Beginning in 2013, in taped conversations with Dr. Brian Hooker, Dr. Thompson revealed how CDC destroyed evidence of the risk for autism. He provided primary documented evidence – a copy of data that had been deleted from the published article in Pediatrics (2004) the journal of the American Academy of Pediatrics.[64]
"We hypothesized that if we found statistically significant effects at either the 18-month or 36-month threshold, we would conclude that vaccinating children early with the MMR vaccine could lead to autism-like characteristics or features."
When CDC scientists did find a statistically significant causal relationship between MMR and autism in African American boys, according to Dr. Thompson's eyewitness account, CDC removed 260 black baby boys from the dataset and destroyed the data. The analysis in the published report in Pediatrics misrepresents the risk of having eliminated data from the dataset. That constitutes fraud.
Dr. Thompson stated that he wrote a letter alerting Dr. Julie Gerberding to the findings and suggested that the Institute of Medicine safety review committee should be informed of the risk, prior to its consequential February 2004 meeting. Dr. Thompson was reprimanded for contacting Dr. Gerberding and was put on administrative leave. He was threatened with being fired.  In his taped conversation with Dr. Hooker – which was central in the film Vaxxed – he expressed shock by his own action:[65]
"Oh my God. I cannot believe we did what we did. But we did." "It's the lowest point of my career, when I went along with that paper. I went along with this, and we didn't report significant findings."

"I am completely ashamed of what I did. I have great shame now. I was complicit, and I went along with that paper. I have great shame now, when I meet families with kids with autism, because I have been part of the problem."
Dr. Hooker re-analyzed the complete CDC dataset in 2014, including the data that had been omitted from the published study in Pediatrics (2004). It showed statistically significant adverse effects at both 24 months and 36 months (RR 3.36, 95% CI 1.50-7.51, p = 0.0019).  The higher relative risk of autism for African American infant boys, vaccinated with MMR prior to 36 months, was (330%) compared to other babies. His re-analysis was published online by Translational Neurodegeneration on August 8, 2014:[65]
"The present study provides new epidemiologic evidence showing that African American males receiving the MMR vaccine prior to 24 months of age or 36 months of age are more likely to receive an autism diagnosis.

The results show a strong relationship between child age at the administration of the first MMR and autism incidence exclusively for African American boys which could indicate a role of the vaccine in the etiology of autism within this population group. The particular analysis was not completed in the original Destefano et al (CDC) study… the CDC study limited the total African American cohort to include only those individuals who possessed a valid State of Georgia birth certificate which decreased the statistical power of their analysis."
However, Dr. Hooker's article came under attack; pressure from the shadowy cyber enforcement squads,[66] that act as a police force to suppress every independent vaccine study that challenges the mantra: "there is no link to autism… vaccines are safe and effective".
On August 27, the journal removed Hooker's article with the statement: "This article has been removed from the public domain because of serious concerns about the validity of its conclusions. The journal and publisher believe that its continued availability may not be in the public interest". There was no specific fault or mistake cited.[68]
On the same day that Dr. Hooker's article was removed from the journal's website, Dr. Thompson acknowledged the following in a statement issued by his lawyer (August 27, 2014):
"I regret that my co-authors and I omitted statistically significant information in our 2004 article published in the journal Pediatrics. The omitted data suggested that African American males who received the MMR vaccine before age 36 months were at increased risk for autism. Decisions were made regarding which findings to report after the data were collected, and I believe that the final study protocol was not followed."

"My concern has been the decision to omit relevant findings in a particular study for a particular subgroup for a particular vaccine. There have always been recognized risks for vaccination and I believe itis the responsibility of the CDC to properly convey the risks associated with receipt of those vaccines.

I have had many discussions with Dr. Brian Hooker over the last 10 months regarding studies the CDC has carried out regarding vaccines and neurodevelopmental outcomes, including autism spectrum disorders. I share his belief that CDC decision-making and analyses should be transparent."
Dr. Thompson then forwarded the documents to a U.S. Congressman William Posey who has repeatedly requested a congressional investigation.[69]
"Mr. Speaker, I believe it is our duty to insure that the documents that Dr. Thompson are not ignored. Therefore I will provide them to members of Congress and the House Committees upon request. Considering the nature of the whistleblower's documents as well as the involvement of the CDC, a hearing and a thorough investigation is warranted."So I ask, Mr. Speaker, I beg, I implore my colleagues on the appropriations committees to please, please take such action."
On August 26, 2014, Sharyl Attkisson, an investigative journalist who earned numerous awards as CBS science correspondent (1993-2014), conducted taped telephone interviews with Dr. Frank DeStefano,[70] Director of CDC Immunization Safety, who co-authored the Pediatrics (2004) study.
He confirmed the verity of the confessions of CDC whistleblower, Dr. William Thompson about the omission from the published Pediatrics report, of children in the dataset, for whom there were no birth certificates here.
In a telephone interview, DeStefano defended the study and reiterated the commonly accepted position that there's no "causal" link between vaccines and autism. But he acknowledged the prospect that vaccines might rarely trigger autism.
"Wouldn't say it's a myth, I'd say[sic] all the evidence, thus far, points to that there's not a causal association between vaccines and autism…It's a theoretical possibility…It's hard to predict who those children might be, but certainly, individual cases can be studied to look at those possibilities."
Attkisson writes, "They're not even trying. A CDC spokesman told me that:
"the agency is not currently investigating the relation between vaccines and autism spectrum disorders (ASD). Further, CDC does not have any planned research addressing vaccines and autism. CDC believes that this topic has been thoroughly studied and no causal links have been found. Current CDC ASD related research focuses on determining how many people have ASD and understanding [other, not vaccine-related] risk factors and causes for ASD".[71]
When Dr. Thompson attempted to leave, CDC gave him a $24,000 bonus – a retention fee. Apparently, CDC continues to employ Dr. Thompson, because they feel more secure with him as an agency employee, enabling them to scrutinize his activities.  Clearly, they feared his being outside the agency, which would risk that he might disclose additional CDC secrets.
CDC Continues to Conceal the Authentic 1999 Verstraeten VSD Study Findings.
When a request was filed with CDC to provide Dr. Verstraeten's original dataset for independent analysis, CDC officials claimed the data were "lost."  Even after approval was granted, Dr. Mark Geier was blocked from gaining access to CDC's Vaccine Safety Dataset which is the data CDC relied upon its study published Pediatrics.  CDC continues to disseminate false reassurances in its "Science Summary Fact Sheet" claiming: "The evidence is clear: thimerosal is not a toxin in vaccines… there is no relationship between thimerosal-containing vaccines and autism in children." As its "evidence," CDC cites the Danish studies.
In January 2017, the President and Executive Vice President of the American Academy of Pediatrics issued a press release in opposition to a federal vaccine commission on immunizations.
Fernando Stein, MD, FAAP and Karen Remkey, MD, MBA, MPH, FAAP stated: since we already know that: "vaccines are safe. Vaccines are effective. Vaccines save lives." AAP declared that there is no need for further examination pf vaccine safety:
Vaccines prevent forms of cancer.
Claims that vaccines are linked to autism have been disproven by a robust body of medical literature.
Claims that vaccines are unsafe when administered according to the [CDC's] recommended schedule have likewise been disproven by a robust body of medical literature".
However, when asked to provide citations to any peer-reviewed study that supports AAP's claim that "vaccines prevent forms of cancer" or to cite the "robust body of medical literature" that supports its claims, the AAP declined, with a "no comment" response. (Immunization News, 2017)
WMP NOTE:  This concludes Part Six. The final segment of this series will be entitled:  Multiple Industry-Saturated Collaborating Partners Set the Agenda for Vaccination Policies.
Previously published articles: Sharav's Introduction to the full article,  L'affaire Wakefield: Shades of Dreyfus & BMJ's Descent into Tabloid Science, outlines her well-researched and documented belief that, "Public health officials and the medical profession have abrogated their professional, public, and human responsibility, by failing to honestly examine the iatrogenic harm caused by expansive, indiscriminate, and increasingly aggressive vaccination policies." Part One focuses on how the Centers for Disease Control and Prevention (CDC) and the vaccine industry control vaccine safety assessments, control the science of vaccines and control the scientific and mass channels of information about vaccines. In Part Two Ms. Sharav interprets the complex web of internal CDC documents, revealing how key CDC studies and CDC-commissioned studies were shaped by use of illegitimate methods. Part Three takes a closer look at the Brighton Collaboration and the extraordinary influence these stakeholders have in the business of vaccines and their power to control the science and research and manipulate reports to further their own interests. Focusing on the HPV vaccine, in Part FourMs. Sharav explores how a global network of government/academic and industry stakeholders can suppress information about genuine scientific findings and, when needed, engage in corrupt practices to thwart the airing of information about vaccine safety issues. CDC's childhood vaccination policy rests on the denial of safety hazards posed by vaccines and CDC officials are intent on shielding the policy and vaccination schedule at any cost. Part Fiveexamines documentation and internal correspondence that reveals how CDC used its influence and subsequently rejected scientific studies that contradicted the sacrosanct vaccine safety mantra.
More about the author: Vera Sharav is a Holocaust survivor and a fierce critic of the medical establishment. This article was originally published at www.ahrp.org. Stat news recently published an article about her and her work. 
Why We Need To Stop Bashing R. Kelly If We Want To Stop Teen Sexual Abuse & Pedophilia
The Facts:A former long time US government insider, Steve Pieczenik, recently tweeted about elite level pedophilia, hashtagging it on twitter and emphasizing that it's "NOT! Surprising."
Reflect On:With so many people like Steve speaking out, why do many of us still believe this is a conspiracy when there is evidence that women and children are actually suffering?
Steve Pieczenik is a former United States Department of State official and a Harvard trained psychiatrist with a doctorate in international relations from the Massachusetts Institute of Technology (MIT). He held many roles within the US political system, including as the Deputy Assistant Secretary of State under Henry Kissinger, Gerald Ford, Jimmy Carter, Ronald Regan and George H.W. Bush.
Now, if you've done research into US politics, being associated with names like Kissinger and Bush automatically raise a red flag. What's even more concerning is that he was a member of the Council on Foreign Relations, a group many consider to be 'wicked' while hiding behind good deeds. However, he was removed from the membership as early as October 2012, which was around the same time he started to "blow the whistle."
Not everyone from 'within' is part of this strange clique that many people are becoming aware of today. The clique that Donald Trump doesn't seem to be part of, which is a huge step, and is something we haven't seen for a long time. That's not to say we support his presidency whatsoever, we're just stating that he doesn't seem to be part of the Deep State. Nevertheless, many from within are starting to have a shift in consciousness, and feel a deep need to let the public know what's really going on.
Despite his credentials, Pieczenik's statements have gone completely ignored by mainstream media. In 1982, Pieczenik was mentioned in a New York Times article as "a psychiatrist who has treated C.I.A. employees." In 2001, he operated as chief executive officer of Strategic Intelligence Associates, a consulting firm.
He's been an insider for years and is one of many from within who have a much clearer idea of what is going on behind the scenes, despite the narrative that's controlled and televised by the establishment's media mouthpieces.
Pieczenik is a legend for speaking his truth, and he deserves to at least be listened to.
It's interesting to review how 'elite level pedophilia' hit the mainstream over the past couple years, bringing up Pizzagate at first, which was quickly labelled a 'conspiracy theory,' and then again when the 'Q anon' phenomenon began to surface, which mainstream media brushed off as a 'conspiracy' yet again.
You don't have to look far to see that this kind of thing isn't a conspiracy theory. The victims are starting to come forward, and people like Pieczenik are speaking up about it. Not long ago, an MSNBC news report even implicated Hillary Clinton in covering up a pedophile ring within the state department.
A lot of this is simply labelled as 'fake news' by the establishment because it implicates many of its members. It's also easy to label it as such because some of it is so unbelievable that it's hard for the mind to accept.
The truth is that we have more than enough information to at least warrant a proper investigation.
The more we continue to refer to this type of thing as a conspiracy theory, the more we allow those who are involved to continue hurting and abusing innocent women and children who have no way out.
We are talking about ritual abuse, and it seems to start at the Vatican, bleeding down into the government and other power structures. It's a big club, and we're obviously not in it. Let's not forget Jeffrey Epstein, a convicted pedophile of the Royal Family, similar to the relationship Jimmy Savile had with the Royals as well.
Even foreign politicians have suggested that western politics is associated with pedophilia and Satanism, Vladimir Putin being one of the latest examples.
This is why I wasn't shocked when I came across the tweet below, discussing the news that came out at the end of last year stating that celebrity Sacha Baron Cohen found a potential pedophile ring while taping the show "Who is America."  Cohan was quoted as saying, "We immediately turned over the footage to the FBI because we thought, perhaps there's a pedophile ring in Las Vegas that's operating for these very wealthy men."
You may be asking: Why hasn't the FBI done anything? (Ted Gunderson, former FBI special agent and head of their L.A office did a lot of work in this area).  If you want the answer to that question, retired police detective Jon Wedger, with over 25 years of service in the investigation of child abuse, explains who is involved in this ring and how it operates continually without ever being taken down. It's because, for the most part, when you take this information to your superior, they are already aware of these activities and fail to act on any information. The ones we go to solve this problem may actually be condoning it.
Pieczenik has also implicated the Clintons, stating that"We know that both of them have been a major part and participant of what's called The Lolita Express, which is a plane owned by Mr. Jeff Epstein, a wealthy multi-millionaire who flies down to the Bahamas and allows Bill Clinton and Hillary to engage in sex with minors, that is called Pedophilia."
It's important to note that Trump's name was found once on the flight ledger to Lolita Island but not repeatedly as with many other people, like Bill Clinton who appeared 26 times for example. It is often believed that Trump appears to be working so hard to stop sex trafficking because of what he saw when visiting Lolita Island.
Again, given his background, and all of the evidence that's already been put out to the public, why should anybody deem this a conspiracy theory? Why have there been no investigations? Why were Australian media outlets forced into silence when Cardinal George Pell was recently convicted on five counts of child sexual abuse? He is now the most senior official ever to be found guilty, serving as an advisor to Pope Benedict as well as Pope Francis. He's one of the Vatican's most powerful officials.
Children are being subjected to torture, murder, and a life full of trauma. We must understand that pedophilia within the realm of politics goes far beyond just that, it goes into ritual abuse and Satanism as well. And it's not just politics, it's Hollywood too. You can find it in many institutions that have amassed massive amounts of power.
Weird connections have always been observed from within, take the Obama administration for example. He appointed Kevin Jennings as Assistant Deputy Secretary of the Office of Safe and Drug-Free Schools at the US Department of Education. He's a member of NAMBLA (North American Man/Boy Love Association) and supports Harry Hay, who is also in support of NAMBLA. This was more than a decade ago, but these strange connections exist all over the political system.
Another example of institutional pedophilia support can be found within the UK government and the Catholic Church, which have come under public scrutiny for claiming that victims of child sexual abuse can "consent" to their rapes. They did this in order to avoid compensating victims. The Criminal Injuries Compensation Authority (CICA) establishes which victims get compensated, and they do so by determining whether or not the victim gave consent, even if that victim is a child. You can read more about that here.
A lot has happened since Former U.S. representative Cynthia McKinney blew the whistle about pedophilia within the government in 2005. She grilled Donald Rumsfeld on DynCorp's child trafficking business of selling women and children. (source)
Not long after that, retired Army General James Grazioplene, who worked in the Pentagon and as the Vice President of DynCorp, faced six rape charges against minors.
There are so many connections, whistleblowers and investigations that have uncovered examples of institutional pedophilia — we just aren't aware of them because the mainstream media often fails to report on them.
The Takeaway
What does this tell us about who we are electing as our leaders? Are they that two-faced? Many of these people are powerful members of the elite, and some of them have been made for us to idolize and almost worship. They hide behind philanthropy and good deeds, masking some very disturbing things taking place behind the scenes.
We've been turning a blind eye to this topic for too long and it's time to pay attention. A big issue here is the fact that many of the people involved have also experienced the same type of trauma as a child. It's considered normal to them, and it's normal to many of the children who are involved today. If we as a society are going to bring this out into the open, a discussion has to happen from a place of compassion, not judgement. This is still something the human race needs to work on, because if we continue to punish and ostracize people for their wrongdoings, we will never address the root causes of the issues we wish to rid the planet of.
Veteran MD Drops a Bombshell about 5G and the Effect it Will Have on Your Health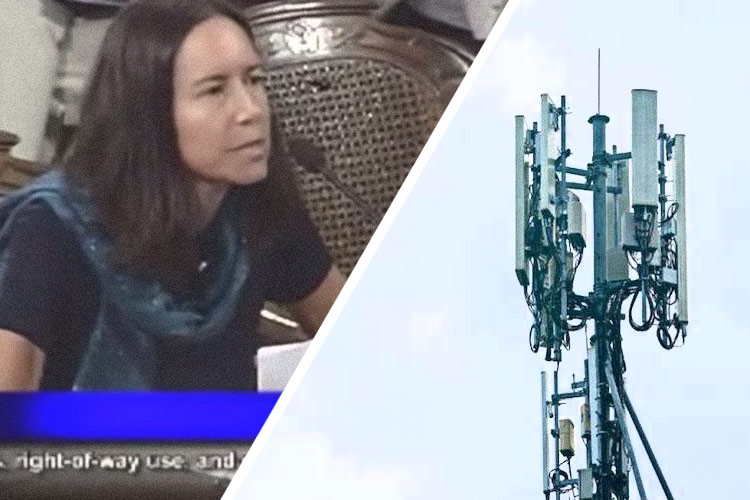 If you're at all paying attention to the major changes taking place in the world today, you already know that human beings are on the very brink of becoming slaves to technology that we have created. In other words, technology that directly affects our health, well-being, and mental and physical sovereignty is being deployed on a mass scale without anything resembling consent by the vast majority of people.
This, of course, is just fine to those who stand to profit financially or gain more power and control from the implementation of technology that can track, spy, pry, invade, censor, redact, identify, and even manipulate people into engaging in behavior that would have otherwise never have made sense to them.
At the very forefront of this effort to enslave the planet with technology is the rollout of the international 5G network, the so-called fifth generation of wireless technology. The great promise is faster internet and a massive upgrade to the internet of things, a silent network of devices that talk to each other and predict human behaviors. When this is fully implemented, we'll be able to replace drivers with robot vehicles and send text messages 100 times faster than we can do today.
But the cost of all this is our health, and the health of our planet, it's natural ecosystems and the delicate web of life that makes this planet so lovely. 5G is not friendly to human health. It will require the deployment of some 20,000 satellites above the earth, beaming every square inch of terraforma with high frequency radio waves that will literally fry the cells of all living things below them. Developers of 5G know this, but are unconcerned, not even with the fact that 5G uses a frequency range in line with a Pentagon funded crowd control system.
That's right, they are plugging in a global radio-frequency crowd control network to blanket the earth with electromagnetic radiation. Experts say that this network will require the deployment of hundreds of thousands, if not millions of small 5G boxes, pretty much everywhere.
Dr. Sharon Goldberg, an internal medicine physician & professor, is one of many professionals and concerned humans who are speaking a very important truth to power right now. That is, she is giving a very serious warning to those who may be in positions of power where they can affect the trajectory of the 5G rollout.
Dr. Goldberg's comments in her testimony to the U.S Senate serves as yet another warning.
"Wireless radiation has biological effects. Period. This is no longer a subject for debate when you look at PubMed and the peer-review literature. These effects are seen in all life forms; plants, animals, insects, microbes. In humans, we have clear evidence of cancer now: there is no question We have evidence of DNA damage, cardiomyopathy, which is the precursor of congestive heart failure, neuropsychiatric effects…5G is an untested application of a technology that we know is harmful; we know it from the science. In academics, this is called human subjects research." ~Dr. Sharon Goldberg
Recently we reported on UN Staffer Claire Edwards who made a similar attempt to warn the United Nations, calling 5G a 'war on humanity." The 5G revolt is here, and this may be the most important struggle of our generation.
About the Author
Terence Newton is a staff writer for WakingTimes.com, interested primarily with issues related to science, the human mind, and human consciousness.
This article (Veteran MD Drops a Bombshell about 5G and the Effect it Will Have on Your Health) was originally created and published by Waking Times and is published here under a Creative Commons license with attribution to Terence Newton and WakingTimes.com. It may be re-posted freely with proper attribution, author bio, and this copyright statement. 
How X-Ray Mammography Is Accelerating The Epidemic of Cancer
Article written by Sayer Ji, Founder of Greenmedinfo LLC, posted here with permission.

While a growing body of research now suggests that x-ray mammography is causing more harm than good in the millions of women who subject themselves to breast screenings, annually, without knowledge of their true health risks, the primary focus has been on the harms associated with over-diagnosis and over-treatment, and not the radiobiological dangers of the procedure itself.

In 2006, a paper published in the British Journal of Radiobiology, titled "Enhanced biological effectiveness of low energy X-rays and implications for the UK breast screening programme," revealed the type of radiation used in x-ray-based breast screenings is much more carcinogenic than previously believed:

Recent radiobiological studies have provided compelling evidence that the low energy X-rays as used in mammography are approximately four times – butpossibly as much as six times – more effective in causing mutational damage than higher energy X-rays. Since current radiation risk estimates are based on the effects of high energy gamma radiation, this implies that the risks of radiation-induced breast cancers for mammography X-rays are underestimated by the same factor.[1]

In other words, the radiation risk model used to determine whether the benefit of breast screenings in asymptomatic women outweighs their harm, underestimates the risk of mammography-induced breast and related cancers by between 4-600%.

The authors continued

Risk estimates for radiation-induced cancer – principally derived from the atomic bomb survivor study (ABSS) – are based on the effects of high energy gamma-rays and thus the implication is that the risks of radiation-induced breast cancer arising from mammography may be higher than that assumed based on standard risks estimates.

This is not the only study to demonstrate mammography X-rays are more carcinogenic than atomic bomb spectrum radiation. There is also an extensive amount of data on the downside of x-ray mammography.

Sadly, even if one uses the outdated radiation risk model (which underestimates the harm done),* the weight of the scientific evidence (as determined by the work of The Cochrane Collaboration) actually shows that breast screenings are in all likelihood not doing any net good in those who undergo them.

In a 2009 Cochrane Database Systematic Review,** also known as the Gøtzsche and Nielsen's Cochrane Review, titled "Screening for breast cancer with mammography," the authors revealed the tenuous statistical justifications for mass breast screenings:

Screening led to 30% overdiagnosis and overtreatment, or an absolute risk increase of 0.5%. This means that for every 2000 women invited for screening throughout 10 years, one will have her life prolonged and 10 healthy women, who would not have been diagnosed if there had not been screening, will be treated unnecessarily. Furthermore, more than 200 women will experience important psychological distress for many months because of false positive findings. It is thus not clear whether screening does more good than harm.[2]

In this review, the basis for estimating unnecessary treatment was the 35% increased risk of surgery among women who underwent screenings. Many of the surgeries, in fact, were the result of women being diagnosed with ductal carcinoma in situ (DCIS), a "cancer" that would not exists as a clinically relevant entity were it not for the fact that it is detectable through x-ray mammography. DCIS, in the vast majority of cases, has no palpable lesion or symptoms, and some experts believe it should be completely reclassified as a non-cancerous condition.

A more recent study published in the British Medical Journal in 2011 titled, "Possible net harms of breast cancer screening: updated modeling of Forrest report," not only confirmed the Gøtzsche and Nielsen's Cochrane Review findings, but found the situation likely worse:

This analysis supports the claim that the introduction of breast cancer screening might have caused net harm for up to 10 years after the start of screening.[3]

So, let's assume that these reviews are correct, and at the very least, the screenings are not doing any good, and at worst, causing more harm than good. The salient question, however, is how much more harm than good? If we consider that, according to data from Journal of the National Cancer Institute (2011), a mammogram uses 4 mSv of radiation vs. the .02 mSv of your average chest x-ray (which is 200 times more radiation), and then, we factor in the 4-600% higher genotoxicity/carcinogenicity associated with the specific "low-energy" wavelengths used in mammography, it is highly possible that beyond the epidemic of over-diagnosis and over-treatment, mammograms are planting seeds of radiation-induced cancer within the breasts of millions of women.***

With the advent of non-ionizing radiation based diagnostic technologies, such as thermography, it has become vitally important that patients educate themselves about the alternatives to x-ray mammography that already exist.  Until then, we must use our good sense – and research like this – to inform our decisions, and as far as the unintended adverse effects of radiation go, erring on the side of caution whenever possible.

Additional Reading

Is X-ray Mammography Findings Cancer or Benign Lesions?

The Dark Side of Breast Cancer Awareness Month

Does Chemo & Radiation Actually Make Cancer More Malignant?

---

*This discrepancy in radiation risk models/estimates follows from two fundamental problems: 1) the older risk model was based on higher-energy radiation emissions, such as are given off from atomic bomb blasts 2) it was a crude model, developed before the discovery of DNA and a full understanding of radiotoxicity/genotoxicity.

** Keep in mind that the Cochrane Database Review is at the top of the "food chain" of truth, in the highly touted "evidence-based model" of conventional medicine. Cochrane Database Reviews are produced by The Cochrane Collaboration, which is internationally recognized as the benchmark for high quality, evidence-based information concerning the effectiveness (or lack thereof) of common health care interventions. The organization, comprised of over 28,000 dedicated people from over 100 countries, prides itself on being an "independent" source of information, and historically has not been afraid to point out the corrupting influence of industry, which increasingly co-opts  the biomedical research and publishing fields.

***The low-energy wavelengths cause double strand breaks within the DNA of susceptible cells, which the cell can not repair. Through time these mutations result in "neoplastic transformation"; radiation has the ability to induce a cancerous phenotype within formerly healthy cells that has cancer stem cell-like (CSC) properties.

[1] Enhanced biological effectiveness of low energy X-rays and implications for the UK breast screening programme. Br J Radiol. 2006 Mar ;79(939):195-200. PMID: 16498030

[2] Screening for breast cancer with mammography. Cochrane Database Syst Rev. 2009(4):CD001877. Epub 2009 Oct 7. PMID: 19821284

[3] Possible net harms of breast cancer screening: updated modelling of Forrest report. BMJ. 2011 ;343:d7627. Epub 2011 Dec 8. PMID: 22155336

Sayer Ji is founder of Greenmedinfo.com, a reviewer at the International Journal of Human Nutrition and Functional Medicine, Co-founder and CEO of Systome Biomed, Vice Chairman of the Board of the National Health Federation, Steering Committee Member of the Global Non-GMO Foundation.

If you want to learn more from Greenmedinfo, sign up for their newsletter here.