Interdimensional Entities Are Visiting Us Confirms The FBI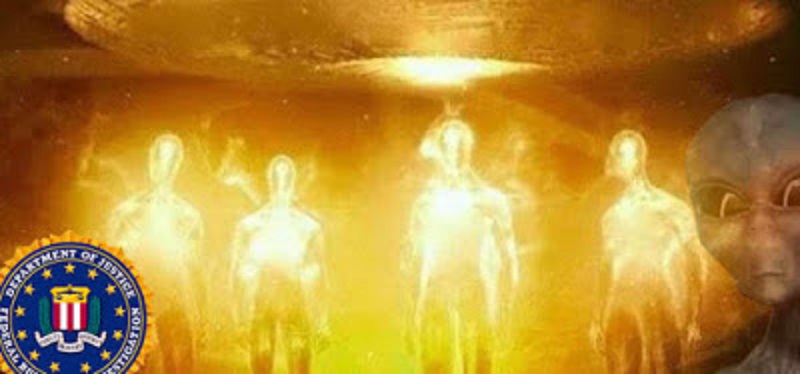 According to released documents from the FBI archives these so-called interdimensional entities have been visiting us for a long time and have taken precautiions not to be seen in our visual spectrum and the only way they were detected in the first place is through infrared cameras! This is quite amazing stuff and a really big declaration by one of the world's most respected law enforcement agencies? Could this be a load of old shoe laces or is there anything to this? Well, yes there is and it's official as you can check for yourself right here:
Here's a snap shot of the FBI website with the documents.

The most curious thing about this whole thing is that the FBI even released these documents at all? So what that they're declassified that doesn't really matter especially if they deem it of national security then it doesn't see the light of day! But according to the freedom of information act they must release them if there's no threat or anything of a national security breach is unlikely to happen? That's my understanding of it? So as it say's further down, they are peaceful?
So after reading these papers, it states in them:
Part of the Disks carry crews, other's are under remote control.
Their mission is peaceful. The visitors contemplate settling on this plane.
These visitors are human-like but much larger in size.
They are not "unknown word" Earth people, but come from their own world.
They do not come from any "planet" as we use the word, but from an othoric planet which interpenertrates with our own and is not perceptible to us.
The bodies of the visitors, and the craft also, automatically "materialise" on entering the vibrancy of our dones matter. (Cp. "Apports")
The disc possesses a type of radiant energy, or a ray which will easily disintergrate any attacking ship. They reenter the etheric at will, and so simply disapear from our vision without trace.
The region from which they come is not the "astral plane" but corresponds to the Lokas or Talas. Students of the aesoteric matter will understand these terms.
They probably cannot be reached by radio, but probably can be by radar if a signal system can be devised for that apparatus.
We give information and warning and can do no more. Let the newcomers be treated with every kindness, unless…
All that is blowing my mind because to know an FBI agent wrote this (it's been declassified and released through the FBI own website OFFICIALLY).
The rest of that part of the page was not readable. But wow, what a read and half that was? It's in the images above. Just enlarge them or go to the actual source itself, the FBI website whith the link I've provided and see for yourself? This is really, really cool stuff and I still have to look at the wesite address and yes, it is definitely the real deal. This is weird stuff guys, the actual FBI having released this information? It's what we are looking for as far as evidencial proof is concerned, to put forward as a genuine Alien encounters.
This report reached the public in 2011 and was written by a high-ranking FBI agent whose name is unknown, as it remained completely anonymous for reasons of "national security." This Colonel had assembled great amount of material on UFOs and extraterrestrials after having studied them for many years.
The declassified reports and documents make it clear that we were visited on several occasions by beings that could be considered as interdimensional extraterrestrials. According to the report some beings entered from an "ethereal plane" that coexists or coexists within our universe. Apparently these entities are able to materialize in our world and are seen as large, translucent beings.
These strange visitors sometimes can't be seen with the naked eye, but an infrared camera is needed to capture them, apparently it's clear that they have no intention of interacting with humans and also developed advanced techniques not to be detected avoiding our spectrum of visible light.

Scientists think aliens could be living in other universes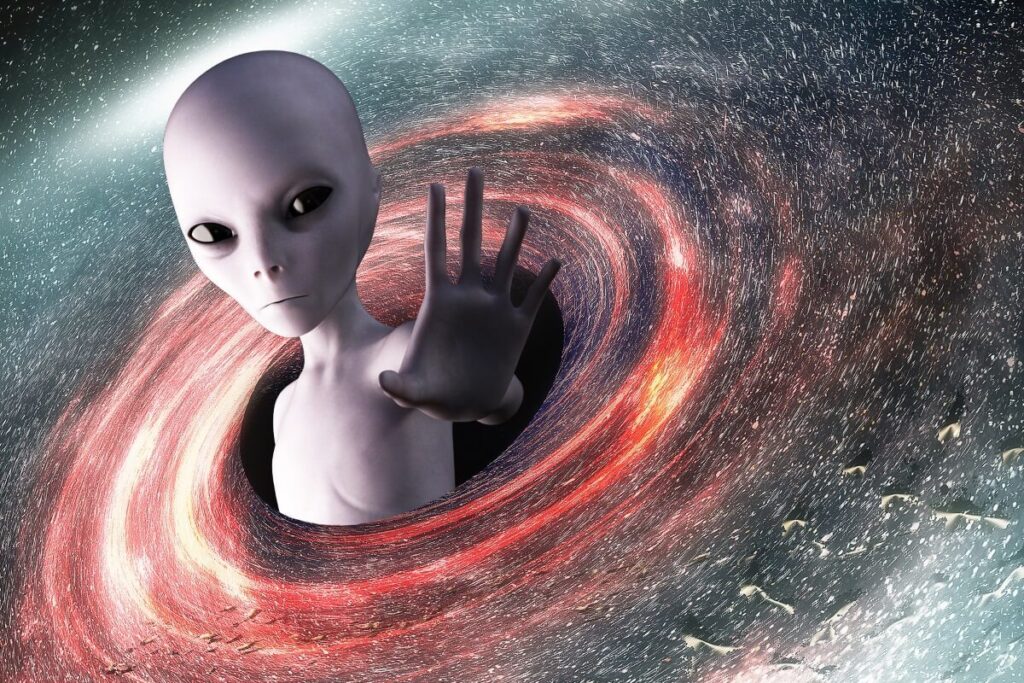 Alien life could exist in other universes, according to a group of scientists studying a mysterious force known as dark energy.
Previous theories suggested our universe has the perfect amount of dark energy, which acts against gravity and is making the cosmos expand at an accelerated rate.
It was understood that any more would create such rapid expansion that stars and planets wouldn't have time to form.
The multiverse theory, first put forward in the '80s, said there was a "luckily small" amount of the force in our universe.
But researchers at Durham University in England claim these celestial bodies would still have formed even if a universe had 100 times the dark energy that ours does.
They used giant computer simulations to suggest that, if other universes exist, they may be just as likely to harbor life.
"The formation of stars in a universe is a battle between the attraction of gravity and the repulsion of dark energy," said professor Richard Bower of Durham University's Institute for Computational Cosmology.
"We have found in our simulations that universes with much more dark energy than ours can happily form stars. So why such a paltry amount of dark energy in our universe?
"I think we should be looking for a new law of physics to explain this strange property of our universe and the Multiverse theory does little to rescue physicists' discomfort."
Their findings are published in two related papers in the journal Monthly Notices of the Royal Astronomical Society.
And their simulations were created using the EAGLE (Evolution and Assembly of Galaxies and their Environments) project – one of the most realistic programs mapping the observed universe.
The dark energy conundrum has plagued scientists for years, said Jaime Salcido, a postgraduate student of Durham University.
He added: "Our simulations show that even if there was much more dark energy or even very little in the universe then it would only have a minimal effect on star and planet formation."
The widely accepted eternal inflation theory claims our universe came into existence with a brief burst that saw the universe expand at a rapid pace.
Some suggested this meant that, in some regions, the universe is still expanding and will continue to grow infinitely.
In doing so, it creates multiverses: an endless supply of universes much like our own, populated with Earth-like planets, societies and even individuals that resemble us.
Source nypost.com
Also published on Medium.
Amazing Filtrations: What if Nibiru is a great Anunnaki spacecraft?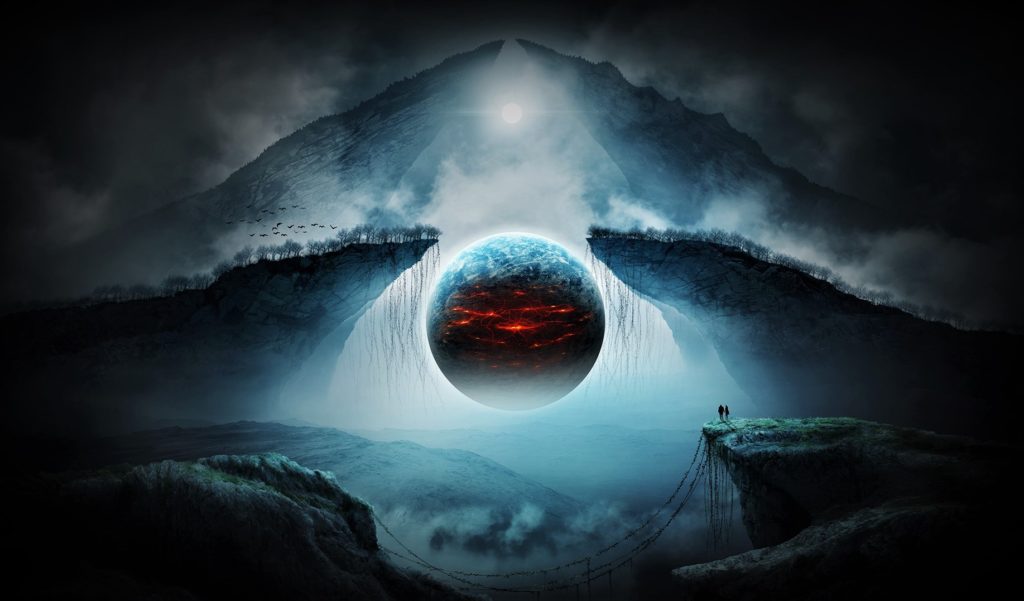 According to recent leaks, Nibiru is not the "destroyer" that supposedly approaches Earth. Nibiru, is a great interstellar ship of exorbitant dimensions that yes, it is coming towards the Earth, but it does not seek to destroy us. Nibiru, is a great interstellar entity related to us. And indeed it is related to the Anunnaki people, who have already been with us and will be once again.(nibiru)
Nibiru is not a planet or a star or a brown dwarf. It is a spaceship. A planetary-sized spacecraft. It was artificially constructed and put into orbit as a "planet" around our binary (currently in the Kuiper Belt) to be used as God "ax" or instrument of punishment or judgment through two energy systems solar. It is larger than Earth and is equipped with 'timeless' technology that dates back millions of years, so its use is endless.
Not only can it attack or punish planets, it can also change its orbits and inclinations … or transform them. It has an incredible variety of energies, lasers and functions developed and incorporated throughout its history and travel, plus it has universal communication systems and special espionage units, with camouflage capabilities (just like the Star Trek ships) . It is supposed to have an orbit of 3,600 years, but this may not be a fixed length.
On board Nibiru are the Annunaki, as well as a variety of aliens or humanoids from our entire universe, including the reptilian, insectoid, gray, Pleiadian, Sirian, Arcturian, and so on infinitely (yes, once again, as in Star Trek) .. Where do you think they got the idea from Star Trek? It is a real collection that represents all forms of life and technologies through our solar system and beyond.
Nibiru already passed "close" to Earth and got rid of the dinosaurs, destroyed Maldek, caused the "universal floods", and left the genetically improved human beings at various points in their history. Nibiru also contains a universal library with the knowledge of the history of all life in our sector of this universe. Nibiru is something like the Death Star in 'Star Wars', but it's not necessarily bad. It simply works for what is designed, or to execute, and that is to patrol or monitor our part of the cosmos.
Many religions that speak of their God or of the Lord actually referred to Nibiru, which is the house or the source of all those belief systems. It also acts as the United Nations, for the discussion and resolution of interplanetary conflicts. He has great power and is feared and respected wherever he goes.
So, Nibiru is not our destroyer, scientifically it is not conceived the fact of the existence of wandering planets, since they would always be exposed to the gravitational forces of the different celestial bodies, and also they are not objects that can be manipulated at will. Nibiru is a massive interstellar ship that does; If you are at our address .. How do you stay? Watch the following video with more information about Nibiru from the hand of Planet Snakedos and his secret informant .. and do not forget to leave us your comment below!
Is There Any Plausible Reason Why Aliens Would Evolve To Look Like Us?
In science fiction movies and TV shows, intelligent aliens are usually the same basic shape as humans: two arms, two legs and a head. But why would creatures that evolved on a completely different planet look so similar to us? We asked some experts, and they told us the most likely explanations for humanoid aliens.
Top image: Artwork by Wayne Douglas Barlowe
The truth is, aliens tend to look like us in science fiction for a couple of basic reasons: budget, and relatability.
"Most aliens in SF are humanoid because humans produce SF," says Michael H. New, an Astrobiology Discipline Specialist at NASA. "While we are interested in the 'other,' our conception of otherness is often limited."
And a lot of experts firmly believe that aliens would not look at all like humans. For example, Stephen Jay Gould claims that life that evolved elsewhere would look totally different from us — and in fact, if you "reran the tape" from the beginning of life on Earth, you wouldn't end up with humans on this planet either. The emergence of humanoids on Earth is a totally random event that was a fluke, even with the exact conditions that we arose from.
But let's say that we do meet aliens, and they turn out to be bipeds with a roughly human-like shape… how do we explain that?
Panspermia
This is the most common explanation for creatures that look sort of like us turning up all over the universe. Either humanoid aliens spread their DNA across the galaxy to give rise to creatures in their image, or the DNA just spread through the galaxy on its own, on asteroids and stuff.
Star Trek: The Next Generation reaches for this explanation in the episode "The Chase," pictured above. And it's the centerpiece of the recent movie Prometheus, as well.
"I'm of the strong opinion that if humanoid aliens exist, they must have some genetic heritage in common with human beings," says Mark A. Bullock with the Southwest Research Institute. He'd find that easier to believe than the notion that humanoids could evolve independently elsewhere. Plus "it's been shown that panspermia is quite a viable mechanism, so the interchange of genetic material between worlds is not out of the question."
If the galaxy really did turn out to be full of humanoid aliens, "some kind of panspermia wouldn't be a bad explanation," New tells io9. "We're bilaterally symmetric and bipedal because our ancestors were." It's entirely possible that if certain events had played out differently, the dominant species on Earth would have had a very different shape.
The Burgess Shale, which is roughly 500 million years old, "displays a wide range of body plans, only some of which are still seen on the modern Earth," adds New. So he believes you'd need some outside intervention to account for humanoid aliens.
Bullock sounds a similar note, saying that the Cambrian explosion, 600 million years ago, "saw a great deal of evolutionary experimentation with body plans," some of which could be a glimpse of life forms that we might see on other planets.
At the same time, panspermia is only really likely at the microbial level, cautions Joan L. Slonczewski, a biology professor at Kenyon College and science fiction author whose books include A Door Into Ocean and The Highest Frontier. Beyond microbes, panspermia doesn't really make much sense as an explanation for humans' own development.
Convergent Evolution
Or maybe humanoids just evolved on other planets, separately from us, because they just arrived at the same destination via other paths?
There are certain things about humans that helped us rise over other primates, says James Kasting, a distinguished professor of Geoscience at Penn State University. Our opposable thumbs helped us grasp tree branches, and also hold tools. And walking upright was useful, as well. Finally, being warm-blooded helped us to power our big brains.
"I would think that there's a good chance that intelligent alien life evolved in more or less the same way and would thus bear some resemblance to humans," says Kasting. "Not necessarily a close resemblance, though."
The upright-walking, bipedal, two-armed posture "seems to have evolved independently in various unlikely contexts, from meerkats to velociraptors," notes Slonczewski. "Maybe it just makes sense to have two feet to move, two hands to manipulate something, and a sensory 'head' with as wide a view as possible. Then again, that's what we have, so it makes sense to us."
We've seen enough examples of convergent evolution on Earth to believe that it could happen on other planets as well, notes Steven J. Dick, the 2013-2014 Baruch S. Blumberg NASA/Library of Congress Chair in Astrobiology at the Library of Congress. "For example, the eye has been reinvented many times independently, as have wings in insects, birds and bats. Fish and marine mammals such as dolphins have evolved streamlined shapes for their water environment."
Dick recommends the 1981 book Life in Darwin's Universe: Evolution and the Cosmos by Gene Bylinsky, which argues that "a limited number of engineering solutions" are possible when it comes to successful life forms.
The Man Who Collects Mid-Century Modern Cameras
5/09/18 9:30pm
But Dick adds that you can't discount environmental factors which would ensure that life on other planets would look at least somewhat different, including gravity. Dick tells io9:
Because they would have been shaped by their own unique planetary environments, organisms would be different from us in the particulars, just as there is great diversity of life on Earth, including the different requirements of land and water organisms. More generally, gravity imposes size limitations on life; from the cell to the whale is a large range indeed, but the food system of the whale (and the dinosaur on land) must strain to feed such a large structure, even as the heart struggles to sustain its blood flow. Life on a low-gravity planet might be free to soar upward both in the plant and animal kingdom, while life on a high-gravity planet would be correspondingly stifled.
Bilateral Symmetry
Let's say that the notion of aliens separately evolving bodies that have more or less a human silhouette is kind of unlikely — it's still possible that bilateral symmetry could be a constant among intelligent life forms, say some experts. This refers to the fact that your left and right sides are more or less the same, with an eye, an ear, an arm and a leg on either side.
"Bilateral symmetry appeared independently several different times in the evolution of larger organisms on Earth," says Bullock. "So bilateral symmetry may be a common feature of intelligent life, regardless of whether its specific body plan."
And once you get bilateral symmetry, you are going to start drifting in the direction of a vaguely humanoid body plan, argues Bjørn Østman with Michigan State University. The symmetry means you'll have an even number of limbs — which is most likely going to be four, rather than six or more, which don't convey enough of an advantage to justify the extra limbs.
"Even on earth there are lots of animals that have more than two pairs of limbs," concedes Østman. "But I think that the reason why we have lots and lots of animals that hva four limbs is that that's highly advantageous. It just happens to be mechanically a very good solution to traversing a rugged landscape."
And once you have a lot of quadripeds on land, one of those quadripeds is going to start using its front limbs to manipulate tools. "If you can free two limbs to manipulate tools, then it becomes very advantageous to develop high intelligence," notes Østman.
So assuming an intelligent alien is symmetrical and has some of its limbs devoted to tool use, then it might end up being roughly bipedal, says Østman. And the sensory organs, like eyes, will have to be forward-looking and not too far away from the tool-using limbs. Which means you end up with something like a head, because the nervous system will be close to the sensory organs for maximum efficiency.
Thus those two factors — symmetry and tool use — may lend themselves to something at least vaguely similar to a human shape, in Østman's view.
"If we were to eventually find other intelligent life in the universe, they would be humanoid, I think," Østman concludes. "I find that a high probability." But at the same time, he admits he's in the minority, and most other scientists agree with Gould that humanoid life is unlikely to evolve elsewhere.
Source io9.gizmodo.com
Also published on Medium.