Inside the Pope's Reptilian Audience Hall in Vatican City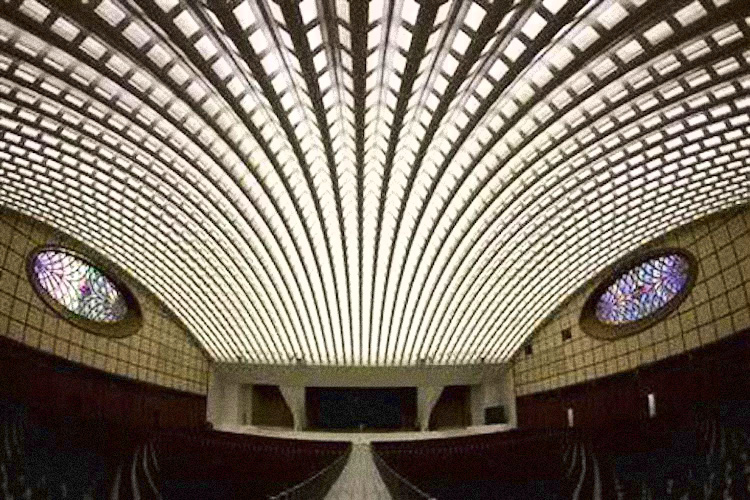 Among the many strange and suspicious statues, fountains, facades and structures that occupy Vatican City, the Pope's Audience Hall stands out for its uncanny resemblance to a snake. Completed in 1971, the peculiar structure sits only partly within the actual boundary of the City/State, and the whole building, inside and out is unmistakably reptilian.
It's officially named the Paul VI Audience Hall, after Pope Paul the Sixth, who reigned from 1963 to 1978. Apparently he was a decent Pope, although he has been implicated in covering up or ignoring the sexual abuse of young boys by members of the Catholic clergy. He was alerted to these scandals in a letter by Rev. Gerald M.C. Fitzgerald in August 1963, and was advised to take serous action against pedophiles, although he never did anything.
In this overhead photo, the building stands out for its unusual shape, which is innocuous enough until juxtaposed with a viper's head.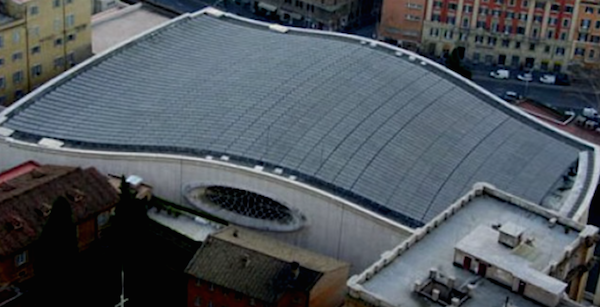 Notice the similarities in the shape, the roofing and scaly skin, and the placement of eyes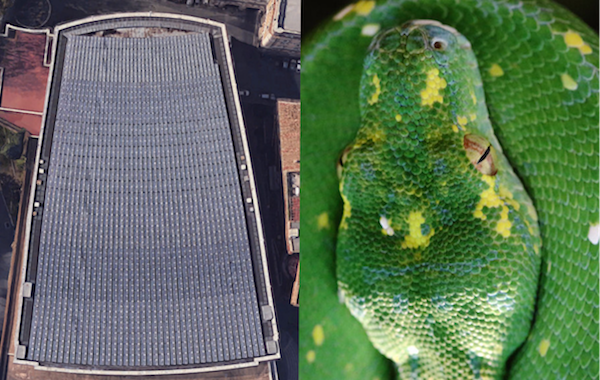 Designed by award-winning Italian architect Pier Luigi Nervi, the building is designed to seat 6300 people for conference with the Pope himself, who presents from a stage in front of a giant Satanic looking sculpture. Named The Resurrection, La Resurrezione, the sculpture was designed by or Pericle Fazzini. and was inspired by the idea of Christ rising from the blast of a nuclear explosion. 
"Suddenly there came to me the idea of Christ preaching peace for 2,000 years, and the place where He prayed for the last time: the olive grove of Gethsemane," said Mr. Fazzini in a book about the work. "I had the idea of depicting Christ as if He were rising again from the explosion of this large olive grove, peaceful site of His last prayers. Christ rises from this crater torn open by a nuclear bomb; an atrocious explosion, a vortex of violence and energy." [Source]
Oddly, from an angle, the head of Christ looks suspiciously like the head of a snake with its fangs open, prepared to bite.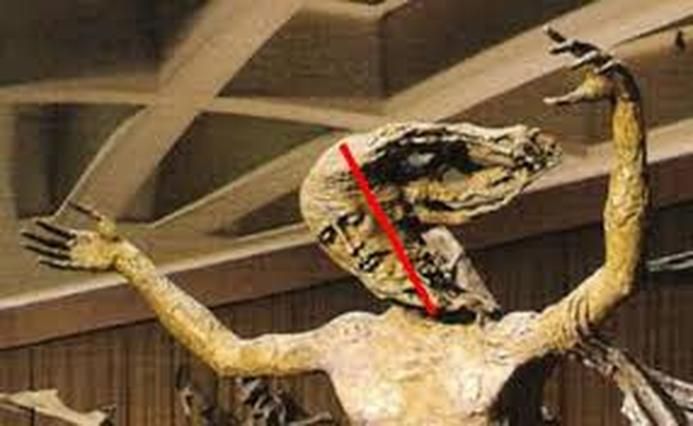 The interior of the Audience Hall also closely resembles a serpent, strikingly with two fangs positioned over the stage. Both from the stage, and from the audience's entry way, the room unmistakably resembles a snake, even though some write this off as delusional thinking, warning people away from considering it's deeper meaning.
Human pattern recognition is wonky. We tend to see faces in clouds and rock formations. Same here. Pareidolia it is called. The photographer specifically selected lens and position as to invoke snake imagery.

There is no snake in the real hall. There is only one in the distorted picture, because it was a neat feature to put into the picture." [Source]
Here is the view from the entry way. Is this just a trick on the eyes?

And from the Pope's position on stage… with more teeth.
The massive stained-glass windows on the sides of the hall are also quite reptilian in their design, featuring vertical slits in oval-shaped eyes.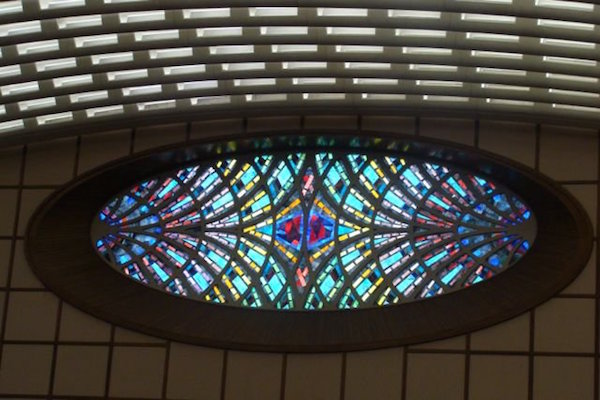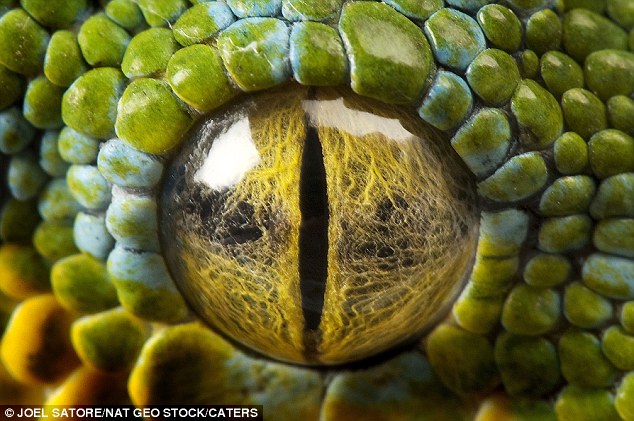 Symbolism and Esoteric Meaning
The Vatican, while located in Rome, is it's own sovereign nation state, and a look around the grounds reveals unimaginable wealth and a plethora of strangely symbolic pieces. The famous Fontana della Pigna is a massive pine cone which is believed by many to represent the pineal gland, a tiny gland within the human brain believed to be the source of spiritual experience.
Of course, the Vatican itself is easily recognizable from above as a giant keyhole, symbolizing the gates of heaven. Design like this does not happen per chance, and the world's capital of great architecture, Rome, it is ludicrous to think that a famous architect could design a building that just accidentally looks like a giant snake's head, even though the Vatican denies the resemblance.
For years, independent investigators have worked to point out the dark symbolism of the Catholic Church, noting that symbolism in architecture has long been used ton convey hidden meaning.
"6 YHWH sent fiery serpents among the people, and they bit the people; and many people of Israel died. 7 The people came to Moses, and said, "We have sinned, because we have spoken against YHWH, and against you. Pray to YHWH, that he take away the serpents from us." Moses prayed for the people.

8 YHWH said to Moses, "Make a fiery serpent, and set it on a standard: and it shall happen, that everyone who is bitten, when he sees it, shall live." 9 Moses made a serpent of brass, and set it on the standard: and it happened, that if a serpent had bitten any man, when he looked to the serpent of brass, he lived." ~The Bible, Numbers 21:4b-9
In the Bible, the snake symbolizes both wisdom, as in the Adam and Eve tale, but more commonly it represents the presence of evil.
"Perhaps most common is the portrayal of the serpent as an enemy in general, or as Satan in particular." [Source]
If you add to this the story of the Illuminati bloodlines and the theory that the global elite are part of a reptilian hybrid race on non-humans who rule over us with powerful institutions like the church, then the Pope's Audience Hall invokes even more curiosity. Either way, the Audience hall definitely has an evil vibe to it, and this is no accident.
The following presentation by David Icke goes much deeper into this viewpoint.
About the Author
Buck Rogers is the earth-bound incarnation of that familiar part of our timeless cosmic selves, the rebel within. He is a surfer of ideals and meditates often on the promise of happiness in a world battered by the angry seas of human thoughtlessness. He is a staff writer for WakingTimes.com.
This article (Inside the Pope's Reptilian Audience Hall in Vatican City) was originally created and published by Waking Times and is published here under a Creative Commons license with attribution to Buck Rogers and WakingTimes.com. It may be re-posted freely with proper attribution, author bio, and this copyright statement.
Secret Us Plan To Use Fear Of Alien Invasion In Sinister Psychological Warfare
Details of the shocking plan are buried in once top secret Central Intelligence Service (CIA) UFO files now published on the agency's website.
The potential weapon was discussed in a memo from Marshall Chadwell, assistant director of Scientific Intelligence, to General Walter Bedell Smith, CIA Director of Central Intelligence, which was sent in October 1952, when the CIA was deeply involved in investigating the UFO and flying saucer phenomena following an explosion in sightings.
The memo was sent at the height of the Cold War and considered if the number of UFO sightings could be predicted or controlled or, more sinisterly, even "used from a psychological warfare point of view, either offensively or defensively".
It said studies showed public concern, not just in the US but wider, with the phenomena, was so strong that many people may be pre-conditioned to accept the incredible as being true.
The memo added that news of potential alien activity had the potential to spark mass hysteria and panic.
Since 1947, the Air technical Intelligence Centre, had received 1,500 official sighting reports, plus more from the public and press.
In July 1952 there were 250 reports, and of all sightings 20 per cent remained unexplainable.
With so may sightings happening there was a danger of false alarms for real military invasions from the Soviet Union, or worse still, real attacks being misinterpreted as "phantom" UFOs, the memo said.
The report added: "Immediate steps should be taken to improve identification of both visual and electronic phantom so that, in the event of an attack, instant and positive identification of enemy planes or missiles can be made.
"A study should be instituted to determine what, if any, utilisation could be made of these phenomena by United States psychological warfare planners."
The paranoia of the Cold War was evident in the memo, which spoke of fears of a Soviet plot to use fear of UFOs against the US public.
The memo added it would need to establish "what, if any, defences should be planned in anticipation of Soviet plans to utilise them".
Mr Chadwell continued: "Other intelligence problems which require determination are: possible Soviet intentions and capabilities to utilise these phenomena to the detriment of United States security interests."
The memo also asked for a probe into how much the Soviet Union knew about UFOs, and the reason behind why there was never any mention of aliens or flying saucers in Russian media.
Mr Chadwell signed off his memo adding: "I consider this problem to be of such importance that it should be brought to the attention of the National Security Council, in order that a community-wide coordinated effort towards its solution may be initiated."
It is not clear from the releases what further work was done in these areas, but there are not thought to be any cases on record of either the US or Soviet Union using UFO fears in any form of attack, defence or psychological warfare.
However, the disclosure will likely fuel ongoing conspiracy theories which claim the US military and intelligence services maintain a strong interest in the phenomena.
One such theory is that the US was planning to initiate a "false flag" incident using hologram technology to stage a fake alien invasion as a way of introducing Marshall Law or other controls on the public.
There are also conspiracies surrounding the government's High Frequency Active Auroral Research Program.
It was a US military scientific project which has spawned even more conspiracies than the Large Hadron Collider.
It was established by the US Air Force to study the Earth's ionosphere – a highly charged and active part of the upper atmosphere.
But many conspiracists always claimed it was a cover for secretive tests to control the weather or even to research "captured UFO technology" or create a false flag hologram.
The air force ended the project in 2014, but some claim it continues.
UFO buffs maintain a strong interest in the mysterious top-secret Area 51 military base in the Nevada desert, where it is claimed all evidence of alien visitation of Earth is kept and engineers use recovered alien technology to boost their own.
The CIA has previously said it no longer has an interest in the UDFO phenomena, as no real national security threat was ever identified. 
Source www.express.co.uk
Maybe it's not such a crazy idea to believe the Illuminati controls the world
Questioning the hidden power of elites – whether big pharma or secret societies – is really quite sane
If the Illuminati is real, it's got to be the least secret secret society in the universe. It's so bad at keeping itself hidden that its existence is proclaimed all over the internet by people whose investigative toolkit consists entirely of Google and a lively imagination.
The most recent would-be whistleblower, however, is far from your usual ex-sports commentator. Paul Hellyer, a former Canadian minister of defence, has blamed the Illuminati for suppressing technology brought to Earth by aliens that could end our reliance on fossil fuels.
Why the possessors of such fantastic kit should prefer to cash in on the extraction of still abundant oil rather than on their incredible, exclusive alternative is mysterious. But since the whole point about secret all-powerful elites is that they are mysterious, maybe that's to be expected. Perhaps the Illuminati is like that other great mystery, quantum theory: if you think you understand it, you don't.
Mockery is easy, but it's also reassuring. It's good to know that we're much more sensible and rational than these clearly deluded conspiracy theorists. The problem is that they differ from the rest of us only in degree, not kind.
The reasons why people believe in secret, controlling elites are rooted in basic human nature. We are constantly on the lookout for both patterns and agency. Pattern-seeking is essential for our survival, and the penalties for seeing patterns where none exist are lighter than those for missing patterns that really are there. If our ancestors had failed to notice that crops left to dry tended to die, they too would have expired through starvation. But if they thought they had noticed that sacrificing a goat increased the likelihood of rain, then at worst they wasted the odd bit of meat.
The assumption of agency is also extremely helpful. We cannot begin to understand the actions of others unless we attribute motives to their actions. But adopting what the US philosopher Daniel Dennett calls the "intentional stance" can be helpful even when we know that there is no conscious intention at all. Thinking of plants as "wanting" sunlight or "trying" to flower, for example, is an easy way of understanding their behaviour.
When these basic human cognitive mechanisms create problems we label them as pathologies. Pareidolia, for instance, is seeing patterns in random data, such as the face of Jesus in a cream cracker or the date of the apocalypse in Donald Trump's social security number. However, from a strictly rational point of view, these mechanisms are always defective. The difference between a "normal" person and one with pareidolia is simply whether the over-sensitivity to pattern causes problems functioning. Similarly, hyperactive agency detection is the human condition, not a medical one.
Furthermore, the causes of our overuse of these basic cognitive mechanisms are often completely understandable desires rather than pathological defects. The world is confusing and complex. Almost all of us try to tidy it up, which is why there are disciplines such as social science, economics and international relations. All require the time, intelligence or education that most of us lack. Little wonder that we often resort to quicker, dirtier ways of making the world comprehensible.
Rather than just dismissing Hellyer and his ilk, we would do better to see how much of our thinking displays the same weaknesses. In many circles, it is a sign of intelligence, not eccentricity, to attribute ultimate power to "a secret cabal that's actually running the world", as Hellyer put it. As long, that is, as the cabal is the global financial elite, the military-industrial complex, big pharma or agribusiness.
I'm not saying that these ideas are on the same level of nuttiness as the Illuminati. Indeed, it's the differences that blind us to the similarities. Because these lesser conspiracy theories are grounded in evident truths, people easily fail to notice when they slide from seeing real, limited power to imagined, total power. The difference between vested interests that exercise influence all over the place and those that exercise control literally everywhere is in some ways small, in other ways critical.
The wrong moral to draw from this would be that anyone who sees hidden power being influenced is crazy. Rather, we should see the Hellyers of this world as the price we pay for being willing to question the manifest order and to expose the secretive interest groups who seek to manipulate the world for their own benefit. When we dig for the truth, we flirt with madness. But in a world where hidden power is all too real, it's the only sane thing to do.
—
Julian Baggini is a British philosopher
What Is Up With Those Pentagon Ufo Videos?
ON DECEMBER 17, 2017, a newspaper printed a story titled"Real U.F.O.'s? Pentagon Unit Tried to Know." No, the headline wasn't surrounded by text about post-baby bods and B-listers' secret sorrows. Because it was on the front page of The New York Times.
The article describes a federally funded program that investigated reports of unidentified aerial phenomena (UAPs, the take-me-seriously acronym that includes UFOs). And within the story, the Times embedded videos of two such UAPs.
Although the article was careful not to say that unidentified meant extraterrestrial, the Department of Defense acknowledged the program, and it was easy enough for readers to draw the conclusion that these videos could show alien aircraft. The Times supplemented one of the clips with a first-hand account of a Navy pilot who was sent to investigate "mysterious aircraft" that appeared—poof!—at 80,000 feet, dropped down to 20,000, and then seemed to hover before either leaving radar range or launching straight up. Weird, right?
The discovery, and federal acknowledgement, of a UFO of non-earthly origin would be revelatory—and the Times' scoop seemed to suggest that such a worldview-shifting scenario is at least not not-true. That the videos came courtesy of the Defense Department made it easier for readers to put faith in their validity.
"The video footage, in this case, is what captures people's imagination and is part of what made this case more compelling," says historian Greg Eghigian, a recent NASA and American Historical Association Fellow in Aerospace History.
But there are a few missing links in this narrative chain, links that need to be forged before anyone has enough information to accurately interpret these videos, let alone conclude they even remotely suggest anything extraterrestrial.
But wait, this story broke the news that the DOD had a secret UFO program and had released secret video! That's huge!
Here's what happened. About a decade ago, the Department of Defense inaugurated a UFO program, budgeted at $22 million according to the Times. It went by AATIP, for Advanced Aviation Threat Identification Program, though the Times story refers to it as the Advanced Aerospace Threat Identification Program. Its purpose was to investigate flying foreign weapon threats—ones that exist now or could be developed in the next 40 years. The product of legislation cosponsored by senators Harry Reid of Nevada and Daniel Inouye of Hawaii, the program, according to Pentagon spokesperson Audricia Harris, was primarily executed through a contract with Bigelow Aerospace—a company owned by Reid's constituent and donor Robert Bigelow. (The wealthy businessman, who is best known for his inflatable space habitats, still owns a company called Bigelow Aerospace Advanced Space Studies, which has also researched UFO reports.)
The Pentagon program was run by Luis Elizondo, who told WIRED he took the lead position in 2010. (WIRED was unable to verify that Elizondo worked on AATIP, but Harris does confirm that he worked for the Defense Department.) The AATIP team, Elizondo says, took strange-sighting reports from pilots, as well as associated data like camera footage and radar returns, and tried to match them with known international aircraft signatures. "What we found many times was the fact that the aircraft did not belong to anybody," Elizondo says. Sometimes, he says, the craft displayed behavior the AATIP team couldn't explain.
Elizondo has become a kind of celebrity—in the wider world, arguably, but definitely in the UFO community. This week, those UFO researchers and enthusiasts and skeptics gathered in Fort McDowell, Arizona, for their annual International UFO Congress. And Elizondo, who had brought them closer to the capital-D Disclosure they've long sought, was supposed to be there. Instead, this evening at 6 pm Eastern, the Congress will show a prerecorded interview in which Elizondo will answer submitted questions from the community— "many of the questions that have gone unanswered," according to a press release.
People have been clamoring for those answers—and Elizondo characterizes himself as being all about the answers. He says he wanted, for instance, to speak more publicly about the crafts' non-nationality. "That fact is not something any government or institution should classify in order to keep secret from the people," Elizondo told the Times, and the website linked to his new venture makes reference to the declassification processes the films had to undergo. The Times portrays the program as "shadowy" and possessing "excessive secrecy."
But those are all funny things to say, because it doesn't seem like the Pentagon ever held the program's data or documents that close, and it doesn't seem like the videos in that story ever were classified.
"If they were officially declassified, they would have to have been officially classified," says Nate Jones, director of the Freedom of Information Act Project at the National Security Archive. And a classified video would likely have a marking at least at the beginning and end, even after it was okayed for public consumption. Someone—at the Times, at To The Stars—could have cut those introductory and closing seconds from the video, but why would they do that, when both groups were emphasizing the direct-from-DOD legitimacy of the videos? "It looks very strongly like these weren't released through any proper DOD declassification channels that I've ever seen," says Jones. "I've seen a lot of DOD declassification in response to FOIA, in response to mandatory declassification review, in response to proactive disclosure. And it doesn't look like this."
Here is, perhaps, why: While the details of the program weren't widely known, Harris says that the program files the Pentagon has pored over so far—Pentagon staffers have been reviewing AATIP documentation since around the time the Times story broke—were unclassified.
Of course, there are endless quibbles to be had over classification. Elizondo, for his part, clarified to WIRED that he didn't believe the videos themselves were ever classified: They were just stored on a classified system. Either way, though, it seems that they made their way into the world without the typical release process, which the Department of Defense requires of "all documents that are submitted for official public release."
Information is classified, according to the National Archives, if its improper release would present a national security problem. So why would a secret program looking at aerial anomalies—"aerodynamic vehicles engaged in extreme maneuvers, with unique phenomenology," says Harris—remain unclassified? Sounds like those UAPs weren't so threatening after all.
Well, fine. But the videos were still part of the program, even if they weren't classified. It even says right there: "Courtesy of US Department of Defense."
It's true, that's what the December Times story says about the videos. But there are two important things to know about that credit.
First of all, Harris maintains the Pentagon isn't the source of the videos. "The official who is authorized to release this video on behalf of DOD did not approve the release of this video," she says. She's adamant: "I stand firm that we did not release those videos."
Which means that although the videos may have originated within the DOD, which Harris acknowledges they may have, there's no public proof or Pentagon acknowledgement of their association with AATIP. Of course, perhaps the Pentagon wants it that way. In the 1950s, according to a book by investigative journalist Annie Jacobsen, the CIA's Psychological Strategy Board concluded that the public's potential reaction to UFOs (belief, followed by hysteria) constituted a national security threat. The '50s were a long time ago, but we still enjoy Jell-O salad every so often, so maybe we would still be susceptible to social chaos if we were to learn about flying objects of questionable origin.
And in any case, one of the Times' video credits has since changed. WIRED contacted the Times reporters in late December, asking them to comment on how the paper obtained the videos, and on the Defense Department's denial that it had released them. Reporter Ralph Blumenthal replied on behalf of the three coauthors in early January, "We don't discuss the processes by which we obtain information." But he added, "We have official documents showing the origin of the videos and the process of review provided within the DOD before they were released."
In mid-January, though, the Times changed the caption of the lead video in its story. Both videos still have captions stating they were "released by the Defense Department's Advanced Aerospace Threat Identification Program." But the page now simply says the first video is "by," not "courtesy of," the Department of Defense.
Journalists gonna journalism, though. Of course they're protecting their sources. But I just so happen to know that there's another place that has original video straight from the DOD, and they're up-front about everything.
Ah, you must be talking about To the Stars Academy of Arts and Science.
In case other readers are not already caught up, To the Stars is a company cofounded by former Blink-182 member and longtime paranormal enthusiast Tom DeLonge. The company wants to collect data on unexplained phenomena, maybe even building out tech based on what they observe. Oh, and sell books, movies, music, and merchandise related to To the Stars' efforts.
It also, coincidentally, now employs Luis Elizondo. Elizondo says he wanted to speak about what he says the AATIP team had seen, but he didn't think that was possible from within the Pentagon. So he resigned in October 2017, he says, signing on with To The Stars soon thereafter (although WIRED's FOIA request for Elizondo's resignation letter, which was quoted in the Times, turned up no records, according to the Office of the Secretary of Defense/Joint Staff).
Also coincidentally, To the Stars launched a video-centric site on the same day the Times story came out—carrying the same two fighter-jet clips that appeared with the article. The so-called Community of Interest currently hosts one pilot report and one video interview along with the gun-camera videos—"the first official UAP footage," the page says, "ever released by the USG." (That's the US government, for all you sheeple.)
While the academy's site may make bolder claims than the Times did, that doesn't make those claims more true. The Community of Interest page says the videos come from the Defense Department, have gone through the official declassification review process, and have been approved for public release. Further, it boasts that the academy can prove it with chain-of-custody paperwork. Its two UAP videos, together, have garnered nearly 3 million views on To The Stars' YouTube channel, where the footage begins with on-screen text characterizing the videos as official and released.
Those chain-of-custody files aren't public, but To The Stars did show WIRED some paperwork suggesting that the videos had gone through the Defense Office of Prepublication and Security Review (DOPSR), which is one part of the DOD's document release procedure. DOPSR, says this guide, conducts "security and policy reviews on all documents that are submitted for official public release." "It means that one of the steps for the review of a product has been completed," says the Pentagon's Harris.
But that documentation doesn't actually clear material for release. "An approval from DOPSR does not equate to public release approval," says Harris. To release AATIP videos by the book, someone would have had to coordinate with the Secretary of Defense for Public Affairs. So the videos on the To the Stars don't carry any more weight than the same videos published by the Times.
OK, fine. But those videos are still spooky. If we can't trust the feds or the paperwork, we can trust our own eyes, right?
True, the videos show some weird stuff. But without a clear chain of custody, we can't even know whether they were part of AATIP at all, or trust that they haven't been tampered with.
And a copy of one of the much-touted videos has been online since at least 2007. UFO researcher Isaac Koi (a pseudonym under which he writes about the topic) established that the second video in the Times story, of an event in 2004, appeared online in 2007. Someone posted it on the conspiracy website Above Top Secret, and Koi delved into its origins. The first appearance he could find was on a website for a company called Vision Unlimited—a film production company. An archived 2007 version of vision-unlimited.de confirms that the footage was hosted there back then.
That archival film matches the Times video.1
After all the unclassifications and release-denials, this information shouldn't surprise you. We've pretty clearly established that whatever these videos show, they don't seem important enough for the Pentagon to get in a tizzy over. And while the fact that one of them has shown up online before doesn't prove that they didn't originate with the military, it does call that chain of custody into question. Without official confirmation or available documentation (and more documentation than WIRED saw), you can't be sure what you're viewing is unadulterated footage, and you can't be sure who recorded it first.
To The Stars Academy acknowledges that the 2004 video has existed elsewhere; its explanation is that those incarnations were leaked versions and that theirs is original. But there's no public proof for that statement.
It's true, a Navy pilot named David Fravor did give an account to the Times of his 2004 experience with a UFO, and an unnamed source provided a report in September 2017 of the same events to To The Stars Academy. But squint just a little to see that there's no definitive link between these accounts and that video. The witnesses give a description of an alleged strange event, and the video shows an encounter with a strange object. But without a time and location stamp of some sort, viewers can't know whether the witnesses are actually describing what's in the video. And, beyond that, there's no definitive link between this video and AATIP.
In the end, also, there's no way for the public to know whether, five seconds after the other film ends, the pilots don't discover the "fleet" of crazy flyers wasn't from Finland. Or the Air Force.
Fine, hater. What would it take to make you believe?
In lieu of federal nondenial, or more public paperwork, there should exist hard data—like air traffic control reports, or the radar returns Elizondo mentioned—that could help establish the videos' actualness and officialness, as well as the UAPs' strangeness. If someone—in an aircraft, on the ground, on a ship—sent radio waves up, and they bounced off a flying object, the timing of their return and the way those waves had changed could reveal the object's speed, its distance, and sometimes its shape.
Will To The Stars Academy be releasing those?
Yes, Elizondo says. But how and when and where, he doesn't know.
1 UPDATE 9:45 AM ET, 2/17/2018: This article previously included an interpretation of the text on the Nimitz video display.
Source www.wired.com