Inside the Bizarre House on the Rock
American Gods season 2 brings the Old Gods to Wisconsin's phantasmagorical roadside attraction known as the House on the Rock.
House on the Rock is the Meeting place of the Old Gods in Neil Gaiman's American Gods
"So what is this place?" Shadow asks Wednesday in Neil Gaiman's novel American Gods as they approach the entrance of a building. The unremarkable facade described in the book conceals what is in real life one of the most surreal and often nightmarish places ever conceived. And it's tucked away deep in the wild weird yonder of Wisconsin.
"This is a roadside attraction," Wednesday tells Shadow. "One of the finest. Which means it is a place of power."
"It's perfectly simple," Wednesday continues. "In other countries, over the years, people recognized the places of power. Sometimes it would be a natural formation, sometimes it would just be a place that was, somehow, special. They knew something important was happening there, that there was some focusing point, some channel, some window to the Immanent. And so they would build temples or cathedrals, or erect stone circles, or…well, you get the idea."
Wisconsin is home to many places considered sacred and powerful by the indigenous people, like the mystic Devil's Lake near Baraboo, or Green Lake, where every member of the Winnebago tribe was said to make a pilgrimage at least once in their lifetime to pay tribute to "the spirit who dwells beneath the water" in the depths of the state's deepest natural inland lake. But for Gaiman's Old Gods, including Mr. Wednesday, Easter, Bilquis, Jinn, Mad Sweeney, Czernobog, and others, the place they choose to meet is the bizarre and whimsical attraction known as the House on the Rock.
The House on the Rock is an ode to eccentricity and obsession, a twisting labyrinth of rooms filled with elaborate displays ranging from intricate reproductions of the Crown Jewels to a 200-foot-tall battle between a whale and a giant octopus. It was built upon a large sandstone formation overlooking the lush green valley below by Alex Jordan Jr., a man described by journalist Marv Balousek as "a shadowy figure as reclusive as the late multi-millionaire Howard Hughes."
"When 'Ripley's Believe It Or Not,' a prime-time network show, did a segment on the House, Jordan ignored multiple interview requests," Doug Moe writes. "The show's host ended the segment standing in front of the World's Largest Carousel, a favorite House exhibit, and saying, 'Thank you, Alex Jordan, wherever you are.'"
Balousek and Moe both wrote books about Jordan. Balousek's book, House of Alex, was published in 1990, shortly after Jordan's death. It was as an expose on the "true story of architecture and art, greed, deception and blackmail." Soon after its publication, Moe was hired by the attraction's new owner to produce an authorized biography that would be a bit gentler on Jordan's legacy.
Moe interviewed many people close to Jordan, including some who worked for him for decades. He says they all described Jordan as "a complicated mix of hubris and shyness, cruelty and kindness."
"There was a fire burning there," Tom Kupsh told Moe in 2014. Kupsh worked at the House on and off since Jordan hired him as a sculptor in 1977, and also wrote a book about him called Never Enough. "You could be singed or you could be warmed. There wasn't a lot of middle ground."
Mythic and elusive, Alex Jordan himself could have been one of the American Gods.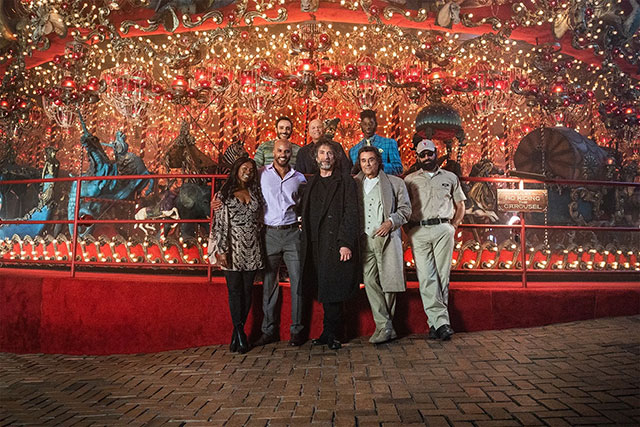 Neil Gaiman and the Old Gods at House on the Rock
Even the lore surrounding the creation of the House is legendary.
The story seems to originate from a statement once made by Madison, WI artist Sid Boyum. According to Boyum, he accompanied the Jordans (Jr and Sr) for a meeting with a man they admired greatly – the one and only Frank Lloyd Wright. They supposedly met with Wright at his Spring Green, WI estate called Taliesin (where a brutal mass murder happened in 1914) to show off some blueprints for a building Jordan Sr. had designed in Madison. After looking at the plans, Wright is said to have told Jordan, "I wouldn't hire you to design a cheese crate or a chicken coop."
Angered, Jordan decided to spite Wright by building his architectural masterpiece just down the road from Taliesin.
The problem with this story, according to the  website, is that Boyum and Jordan Jr. were both less than 9 years old at the time the incident was said to happen (between 1914 and 1923), Wright was in Japan working on the Imperial Hotel from 1916 to 1922, and the building Boyum claims Jordan Sr. showed Wright was actually designed by another architect altogether and built in 1923.
Boyum, it seems, invented the story because he thought Jordan should be "more like PT Barnum."

Photo: Photo Phiend
Though the story is untrue, the House does have an overtly defiant atmosphere. Every detail of the House, its very existence, seems to be thumbing its nose at the improbable and illogical.
"Though most people outside of the Midwest have never heard of it, the House on the Rock is said to draw more visitors every year than any other spot in Wisconsin," author Jane Smiley wrote in 1993. "Also in the Wyoming Valley, but on top of a huge monolith, the House on the Rock reveals the spirit of its builder, Alex Jordan Jr., to be as single-minded and eccentric as Wright's, but in substance almost absurdly opposed."
Jordan discovered Deer Shelter Rock in the early 1940s and began having picnics upon its 75-foot-tall peak. Eventually he decided to bring a tent and started camping there. But then, one night, his tent blew away and he decided he needed something more permanent. Fortunately, he had some experience working for his father in construction.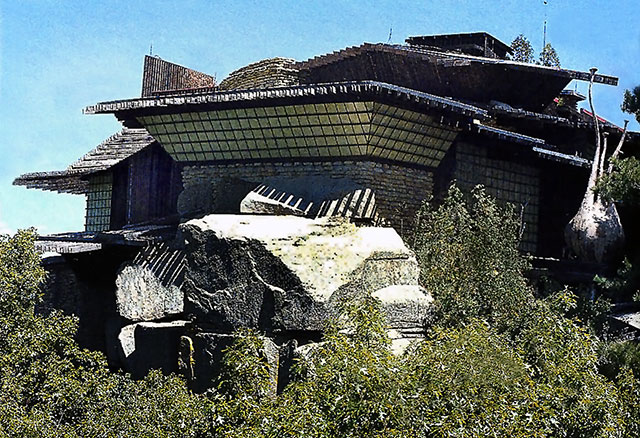 House on the Rock in Spring Green, Wisconsin
Jordan began carrying materials up the rock to build the House before he even owned the land. He first built what he described as a shack, which he tore down and rebuilt. He called the next incarnation The Winter Room, which he used as a private studio retreat. He added 12 more rooms in the following years, never with any kind of plan. He followed the natural contours of the rock, exploring new ideas and methods. If something wasn't working, he would tear it down and try something else.
"In the beginning it was all just a pile of rock up there – rocks and trees," Jordan said in a rare interview. "We left everything as it was, worked around it, worked with it – that's part of the beauty of the place."
Jordan's work didn't go unnoticed.
"As curiosity grew surrounding his project, Alex became somewhat irritated," the website says. "Alex decided he was going to charge people 50 cents to visit, thinking that would drive them away; however, people gladly paid the fee. In 1960, Alex decided to open the House on the Rock to the public. This increased the interest and the crowds grew. All of the money taken in over the years was put directly back into the House on the Rock. Alex had no other source of income."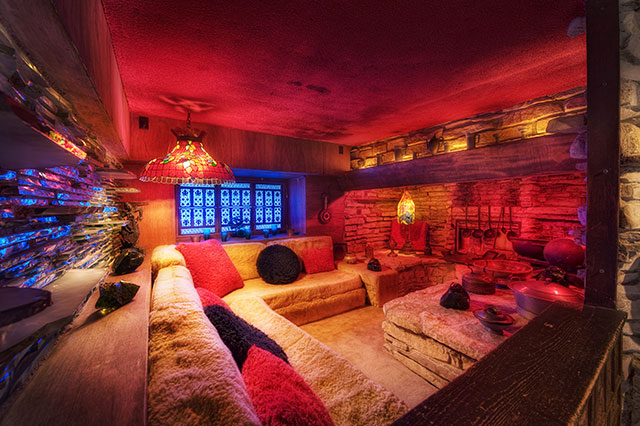 Photo: Justin Kern
Jordan's dream for the House evolved to include more than the dim, labyrinthine, Japanese-style structure he first built atop the rock. His eclectic interest drove him to collect art and strange objects from around the world. But when that wasn't enough, he hired artists to help to create the obsessive collections he desired. That's when things got really strange.
Today, the House is a twisting complex of bizarre spaces and unique collections. There are entire rooms filled with orchestras of out-of-tune self-playing instruments, and a horse-drawn hearse with a music machine inside where coffins would have resided. There is the Streets of Yesterday, an immersive recreation of an old time main street complete with houses, shops, a sheriff's office with an outlaw's head in a jar, and, of course, a massive calliope parked in the street. There is the Infinity Room that juts out 218 feet from the house unsupported, and you can feel it sway at the tip. There are arms and armor, macabre coin-operated dioramas from the 1800s, a massive ship engine in the Organ Room, a steam-powered hearse, miniature circus dioramas, dollhouses, and other curiosities that are either genuine antiques or reproduced by Jordan's team in excess.
And there is the carousel – the largest indoor carousel in the world. It boasts 269 animals (none of which are horses), 182 chandeliers, 20,000 lights, and is the portal in American Gods to another dimension where the Old Gods meet.
View this post on Instagram
Gaiman, a part time resident of Menomonie, WI since 1992, wrote American Gods at a lakeside cabin about 20 minutes from his home."I couldn't have written it without living in Wisconsin," he told the Star Tribune. "There's that tiny off-kilter nature in the Midwest that's in the details."
Gaiman kicked off his American Gods 10th anniversary tour with a Gathering of the Gods event that took place at the House on the Rock over Halloween weekend of 2010. Cult contributor J. Nathan Couch was in attendance. Costume contest winners had the truly once-in-a-lifetime opportunity to ride the carousel with Gaiman.
"The House on the Rock is a real place about an hour west of Madison Wi, that I write about in American Gods," he wrote on his website when he announced the event, "and I had to tone down my description of it and leave things out in the book in order to make it believable."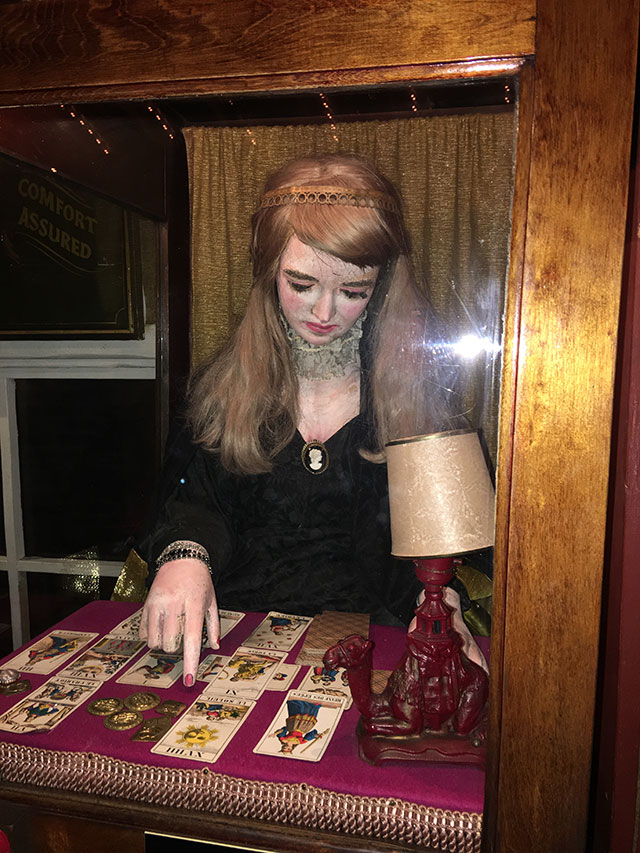 Wednesday tells Shadow they must "consult the Norns," getting a fortune from the coin-operated fortune teller in the Streets of Yesterday.
American Gods filmed the House on the Rock scenes for season 2 on location in May of 2018.
"The House On The Rock is unlike anything else on the planet. If you are filming at The House On The Rock, you're actually filming at The House On The Rock," Gaiman told Vanity Fair. "In order to do some of the sequences in the book that we plan to do on the screen justice, we knew we were going to be taking several episodes to do it, and shooting whatever we get to shoot at the actual House On The Rock was going to make everybody's life easier."
"When you read Neil's description of it in the book, you think it can't possibly be weirder seeing it in person," Orlando Jones, who plays the trickster God Mr. Nancy, said. "But it far surpasses his description. That's insane, because I didn't think that was possible."
Ricky Whittle, who plays Shadow Moon, said, "As spectacular as it's going to look on the screen, I still don't think we've done it justice. It's incredible."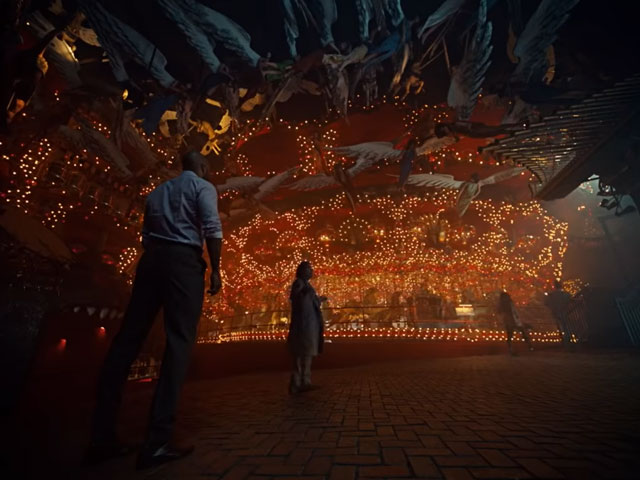 Wednesday, Shadow, and the rest of the Old Gods come to the House on the Rock in American Gods season 2
Jordan never lived in the House, though he and his lifelong love interest Jennie Olson were known to throw "legendary parties" there. He and Jennie lived in small adjoining apartments in a Madison building owned by his parents.
Jordan died in 1989, a year after he sold the House to a friend. Upon his request, his ashes were spread over the creation he spent his life dreaming and building.
The House on the Rock is indeed a place of power. And madness. And wonder. And it's hard not to fall in love with it.
American Gods Season 2 Teaser
Man Transforms Himself into an 'Elf'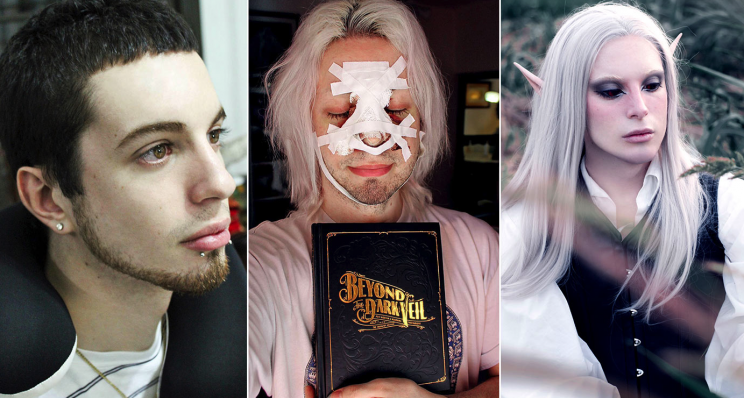 Luis Padrón is Argentine, he is 25 years old and has been doing different surgeries and surgeries for five years to look like an elf . Although he considers that "he still needs a lot" to get what he wants to be, he says he is happy and trusts that "dreams can be fulfilled".
"I was always different, and since I was a kid I liked to change my hair color or wear colored glasses," he told an exclusive interview with RT. In that sense, he recalled that "it was around 14 years old" that he decided he "wanted something more drastic" and realized that through plastic surgery "he could achieve it".
The elves "are not only beautiful beings on the outside, but also on the inside," he explained, arguing why he chose to look like them. These are "pure white beings of light and love, who fight for the peace and well-being of humanity."
While at first "the idea of ​​plastic surgery seemed very crazy", appeared a girl who "became popular because of the surgeries that had been made to look like Barbie," said Padrón. Then he realized that "he was not alone". So it was that for his 20th birthday the first surgical intervention was performed.
A total transformation
Asked about how many surgeries have been performed, Luis Padrón said that "it is difficult to count them", as some of them took several sessions. For example, eye color change surgery counts "as one", but considering the individual sessions "there were five". Something similar happens with "lasers to lighten the skin", something that should be done regularly "because they last more or less the same as a tan."
However, he calculates that he must have spent "approximately $ 30,000" to modify or retouch "the nose, the eyes, get a liposuction of jowls, a whitening of skin, freckles, teeth, and remove moles and wrinkles".
In terms of what he intends to do forward, he pointed out "jaw surgery, to give it a diamond shape". Also 'facial lifts and "another rhinoplasty with Dr. Farshid Mahboubirad in Iran." He also intends to undergo a new eye color change, "this time with an intraocular implant in India, to be the first person with violet eyes in the world". With Dr. John Kahen, in Beverly Hills, will be "injections for hair to grow very fast." Finally, there will be a reduction of the Adam's apple and he said he hopes "to be able to agree soon" with the esthetician Samppa Von Cyborg to modify his ears and put them in the shape of "tip".
Your love for Russia
The young Argentine said that Russia is one of his "favorite countries." It is that "after all, the fever of human dolls began there", with Valeria Lukyanova, "the human Barbie". But he also listed Anastasiya Shpagina, the anime girl, Anzhelika Kenova, Dominika Oleynik, Tatyana Tuzova, Olga Archangelskaya. "The list is endless," he said.
Padrón commented that in the biggest country in the world there are "many boys and girls that I admire, known and not so well known, and also many singers that fascinate me and that inspired me to learn Russian". From his perspective on Russia, "there is a certain magic in their language, culture, and people."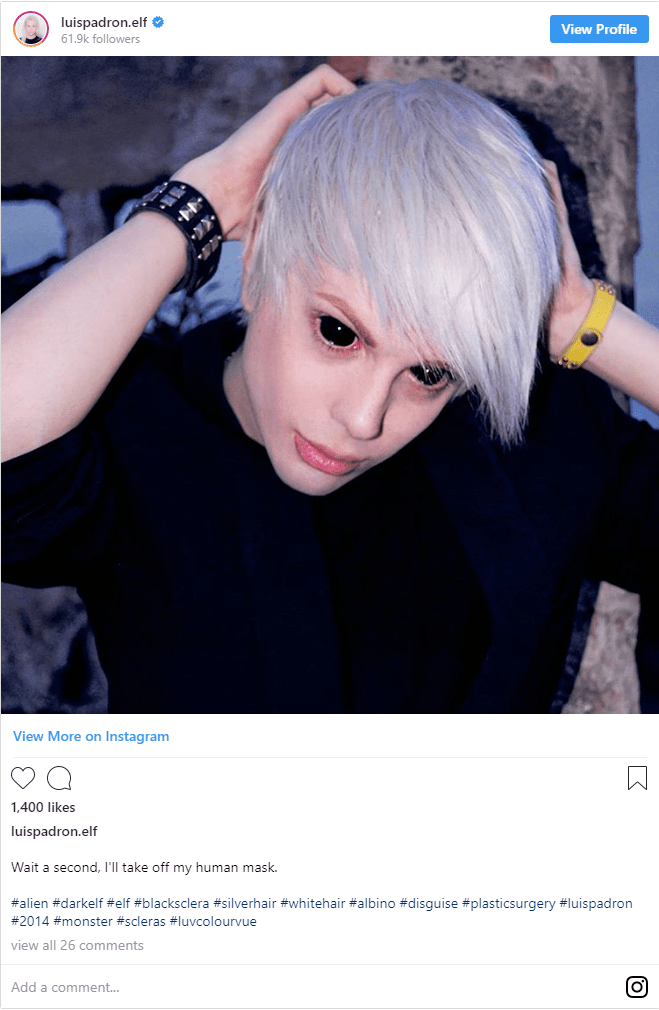 "I hope to get to know Moscow some day, Russia is a beautiful place," he said.
Work and the future
Although one might think that his particular image could cause some problems in the workplace, Luis Padrón has no problems in that regard. "I've been offered several jobs lately, but I'm happy with the one I have," he said. "It helps me to live comfortably and pay for my operations while I finish my university studies," he added.
The young man has a shop selling "cosplay" and LARP products. These are costumes and accessories to represent different characters and real or fictitious beings. "Basically, I sell the same things I like to use: contact lenses, makeup, wigs, extensions and dyes, among others." In addition, he said that they usually pay him "to attend 'cosplay' events as a special guest or jury."
Finally, he pointed out that at this moment he feels "halfway" to what he aspires to be "both aesthetically and spiritually". For Padrón, "the future is uncertain", but he struggles "every day" to make it "a happy future and to be able to leave something positive to people too".
"My ultimate goal is to become a being of illusions and magic," he said. "Dreams can be fulfilled if you try hard enough, I'm sure of that, that's why I work hard and study every day," Padrón concluded.
The Ctones: The tribe that lives in the depths of the Earth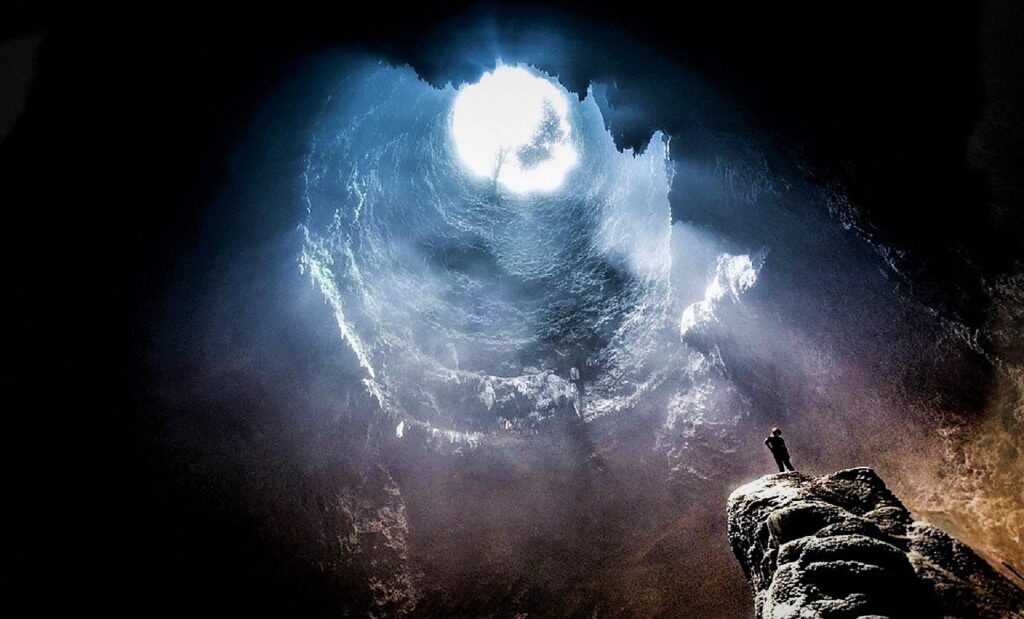 On February 28, 2003, a mine collapsed near the Chinese city of Jixi, Heilongjiang Province. 14 miners did not return with their families. But this story became famous 5 years later when there was an unexpected turn of events .
The rescue teams recovered the bodies of only 12 of the 14 missing miners. Two of the workers, Lao Pen, and Wan Hu, were not found anywhere in the mine. Mysteriously, after five years, in 2008, Wan Hu returned home, but his wife had remarried and his children had left.
Wan Hu bought a new house and devoted his time to gardening. But shortly after, the authorities learned of the strange case, and it turned out that his family had received compensations that they should not have received, because Wan Hu was alive.
When Wan Hu was asked, if he and his family had taken advantage of the situation, Wan Hu said no, and he paid all the expenses to the government.
Then they asked him where he had been all this time, and he said that during the time of his absence, he lived with the powerful clandestine civilization of the Ctones. And that he was not able to send a message from there notifying that he had survived.
His unusual statement baffled the authorities and they thought he was crazy. Wan Hu was tested, but the doctors concluded that he was physically and mentally healthy. They attributed their questionable history to their imagination.
But the doctors could not explain why the former worker at the mine showed no sign of anthracosis, which is the deposition of carbon dust inside the lungs by inhaling air with soot.
According to his medical records, before the accident, Wan Hu already showed signs of anthracosis and would retire soon. But after his alleged stay in an underground city, the mine worker had no trace of any lung pathology at all.
Moreover, he had all 32 teeth, despite the fact that, according to his medical records, he should have had only 25. Although he was 39 years old, his health seemed to be that of a young man from 26 to 28 years old.
On top of that, Wan Hu had 40000 yuan in his bank account. An authorized search determined that he had 10,000 yuan more in cash and uncut diamonds worth 300,000 yuan. The authorities suspected that the man was not really Wan Hu, but a secret agent of a foreign country.
Later, it turned out that he got the money after selling uncut diamonds to a jeweler in Shanghai. Wan Hu told the authorities that he received the Ctones' diamonds.
In summary, here is your story. After the collapse of the mine, Wan Hu and Lao Pen, they were separated not only from the surface but also from the other miners. They waited for three days with enough water, but practically without food and there were no signs of rescue operations.
They decided to explore ancient tunnels, which lead to the deepest part of the mine, hoping to find their way to the surface.
Unfortunately, that was not the case and they went further into the labyrinth of the tunnels. And there, they were attacked by strange human beings, the Ctones. Although they were low, the Ctones managed to capture the two miners. But they fed them well and drove them even deeper into their kingdom.
The Ctones had created a system of lenses that illuminated the tunnels, to the point that you could even read a book there. At the end of the tunnels, there were large caves in which thousands of Ctones lived. Wan Hu was sure they were human, although they were very low.
The two miners lived among the Ctones for five years. Their language was very different from Chinese, but it was easy to learn, and soon they were able to communicate with them. When they started talking to the underground civilization, they realized that they were not captives.
The Ctones believed that life on the surface was a terrible burden, and that is why they thought that Wan Hu and Lao Pen were trying to escape to a better world. And in truth, there was no hunger or disease among the underground civilization.
Its only source of food was the fungus that abounded in these caves. According to Wan Hu, the fungus had a specific flavor, something fresh, but more importantly, it was incredibly healthy. That's why his teeth changed, that was common in the Ctones, whose teeth changed every 20-25 years during its lifetime, which was rarely less than 200 years.
The Ctones even had a developed writing system. And also the paper, which was made of different types of molds. The underground civilization was familiar with metallurgy, but rarely used iron, instead, it used bronze, silver and gold. They did not live in luxury and were content with the most necessary things.
As the two miners were not considered captives, they lived as equals among the Ctones, who even had families. This was not a bad way of life, but Wan Hu wanted to see the Sun again.
The Ctones tried to dissuade him, but he was determined in his decision. He was led to a cave where there was a hole that led to the surface.
This is only a small part of the whole story of Wan Hu. After that, he was declared insane, he was even sent to a military base instead of the local psychiatric asylum. So far, he has not heard from him. What do you think? Leave your comment below.
Vienna Cemetery Introduces Funeral LEGO Sets
Kids will have a blast assembling a LEGO crematorium, hearse, grave and more now available from the Vienna Funeral Museum.
Lego crematorium oven set available from the Vienna Funeral Museum
Build your own funeral piece by piece with these LEGO kits from Bestattungsmuseum, the Vienna Funeral Museum in Vienna's Central Cemetery. The museum's gift shop and online store recently unveiled custom Lego sets designed to help kids answer the big questions like "What happens to grandpa in a crematorium?"
"Taboos create fears and uncertainties," the Vienna Psychotherapy Association said. "The child feels that something is wrong, and then he is left alone with that."
So to teach kids about death, the museum partnered with a company to produce some gloriously morbid Legos.
"For the small and large undertaker of tomorrow," the description from the Historical Hearse set reads.
Other sets currently available include a WWI-era funeral tram, Lego graveyard with tombstone and excavator, a fourgon used to transport the deceased, a crematorium oven with a casket and urn, a horse-drawn "corpse carriage," a bereaved family with the skeleton of the deceased, and minifigures in mourning.
Lego bereaved family minifigures with the deceased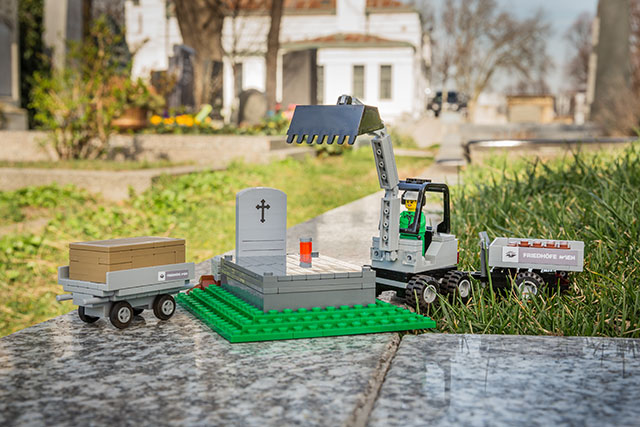 Lego cemetery with casket, gravestone, and excavator for digging your own graves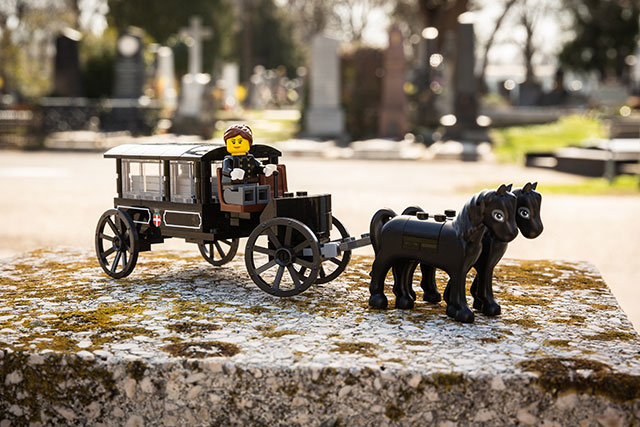 Lego horse-drawn corpse carriage with coffin
WWI-era Vienna funeral tram with 2 coffins and Lego undertaker
Lego hearse
These morbid LEGO sets are available now right here.
Thanks to Dead Sled Brand for putting this on my radar.