Incredibly Sick, Federally-Funded Experiments Are Happening Behind Closed Doors In Secret Laboratories All Over America
(Michael Snyder) Some of the things that are being done in the name of "scientific research" are almost too horrifying to talk about.  But it is vitally important that we shine a light on these practices, because most Americans don't realize what is really going on.
Normally when we talk about crime, the primary focus is on the drug abuse and violence in the urban areas of our major cities.  But the truth is that often the worst crimes are committed by "doctors", "scientists" and "researchers" wearing white lab coats.  The experiments that I am about to share with you are incredibly disgusting, and I apologize for this in advance, but the only way that they will stop is if they are fully exposed.  And since these experiments are funded by our tax dollars, the nation as a whole will ultimately be held accountable for the great evil that is taking place.
Earlier this year, the Trump administration ended "all internal National Institutes of Health (NIH) experimentation using aborted human fetal tissue", and when that happened many came to the conclusion that the problem had been solved…
This summer, the Trump Administration made the commendable decision to terminate all internal National Institutes of Health (NIH) experimentation using aborted human fetal tissue. It also canceled a controversial $2 million contract between the NIH and the University of California, San Francisco (UCSF) which required two healthy human fetuses per month from elective abortions to be used for disturbing and unnecessary taxpayer-funded medical experimentation on animals.
Unfortunately, the experiments that were canceled represented only a very small fraction of the federally-funded human fetal tissue experimentation that is going on around the nation.  The White Coat Waste Project and Pro-Life San Francisco teamed up to investigate, and they just shared what they discovered in a joint op-ed in the Washington Examiner…
Our organizations — White Coat Waste Project and Pro-Life San Francisco — recently analyzed NIH spending data and related scientific publications. Unfortunately, we've discovered that the canceled projects are just the tip of the iceberg. While the administration's June decision ended NIH's internal human fetal tissue experiments and the UCSF contract it funded, it did not halt another 200 projects outside of NIH using human fetal tissue that received a combined $115 million in taxpayer funds from NIH in 2018.
115 million dollars is an enormous amount of money, and a tremendous amount of good could be done with a sum that large.
But instead, that money is being used to conduct extremely sick experiments in secret laboratories all over the United States…
Here's how it works: First, babies are terminated at abortion clinics in university-affiliated hospitals. The remains of these unwanted children are harvested for research. College professors, eternally hungry for lucrative federal grants, solicit NIH funds earmarked for nightmarish human fetal tissue research on animals. Its big business, which is why it's no surprise that UCSF has openly stated their hostility to any restrictions on fetal tissue research.

For instance, at UCSF, the abortion training capital of the US, experimenters recently used a $2 million government slush fund to transplant intestines removed from 18-24 week-old aborted fetuses onto the backs of 6 to 8-week-old mice. In other bizarre Frankenstein study funded by taxpayers, UCSF implanted intact reproductive tracts from 9.5 to 22-week-old human fetuses, including from a pair of aborted twins, into mice dosed with synthetic estrogen.
Before we proceed, let me ask you a question.
What do you think a nation that does such things deserves?
And nobody in the federal government can claim ignorance, because these practices have been debated on Capitol Hill repeatedly.  In fact, during a congressional hearing last December the director of the NIH openly defended these practices…
But addressing Congress in December, NIH director Francis Collins defended the practice.

He said: "There is strong evidence that scientific benefits come from fetal tissue research, [which] can be done with an ethical framework."
They all know what is going on, and yet this funding keeps getting approved on the federal level year after year no matter which political party is in power.
Overseas, the experiments are even more bizarre.
For example, over in China a team of scientists recently made headlines all over the world after they created "a hybrid human-monkey embryo"…
Scientists have successfully formed a hybrid human-monkey embryo – with the experiment taking place in China to avoid "legal issues".

Researchers led by scientist Juan Carlos Izpisúa spliced together the genes to grow a monkey with human cells.
We are talking about "Planet of the Apes" type stuff, and it is happening right out in the open.
And as time goes on, criminals in lab coats will be combining human genetic material with all sorts of different creatures.
In fact, the Japanese government has now officially approved the creation of "rat-human hybrids"…
Human-animal hybrids are to be developed in embryo form in Japan after the government approved controversial stem-cell research.

Human cells will be grown in rat and mouse embryos, then brought to term in a surrogate animal, as part of experiments set to be carried out at the University of Tokyo.

Supporters say the work – led by renowned geneticist Hiromitsu Nakauchi – could be a vital first step towards eventually growing organs that can then be transplanted into people in need.
Of course it is theoretically possible to combine the genetic material of dozens of different creatures into one "super creature", and given enough time it is inevitable that scientists would cook up all sorts of bizarre hybrids in their labs.
As I have repeatedly warned my readers, just about every sort of evil that you can possibly imagine is exploding all over the world, and what I have talked about in this article is definitely a great evil.
If we really want to deal with the evil that is plaguing America, I would suggest that the streets of our inner cities are not the first place to start.  Sadly, the truth is that many of our politicians, scientists and "researchers" are a much bigger problem, and it is probably extremely unlikely that they will ever be held fully accountable for the atrocities that they have been committing.
About The Author
 Michael Snyder is a nationally-syndicated writer, media personality and political activist. He is the author of four books including Get Prepared Now, The Beginning Of The End and Living A Life That Really Matters. His articles are originally published on The Economic Collapse Blog, End Of The American Dream and The Most Important News. From there, his articles are republished on dozens of other prominent websites. If you would like to republish his articles, please feel free to do so. The more people that see this information the better, and we need to wake more people up while there is still time.
Source:
http://endoftheamericandream.com/archives/incredibly-sick-federally-funded-experiments-are-happening-behind-closed-doors-in-secret-laboratories-all-over-america
Rover Curiosity photographs of "ancient structures" on Mars partly hidden by NASA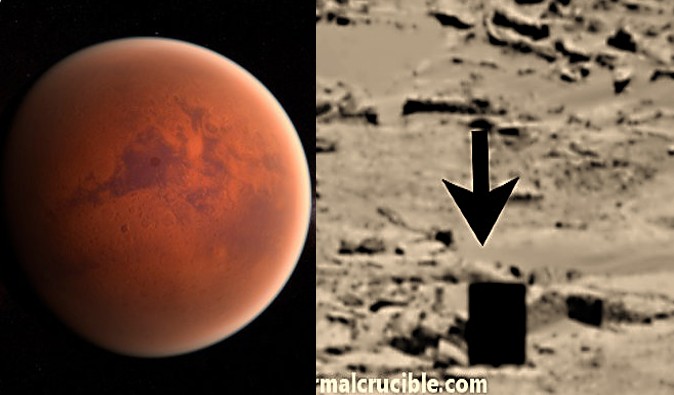 The images we show you represent one of the greatest discoveries so far made by the researcher and hunter of spatial anomalies Paranormal Crucible. According to the researcher, what was found on Mars, through photographs taken by the Rover Curiosity, are convincing proof that Mars had an intelligent life in its distant past.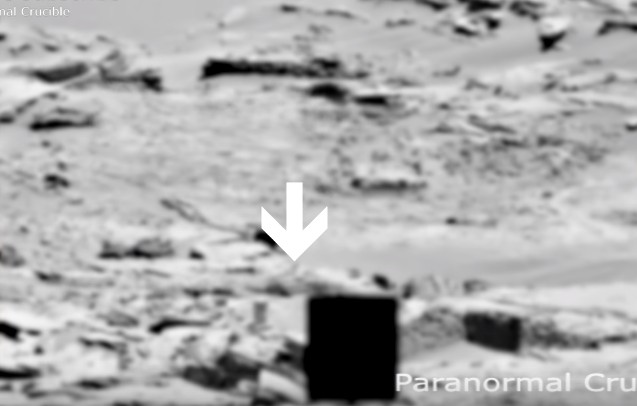 Here is what is stated by Paranormal Crucible in the analysis of the ancient ruins of Mars;
The raw image that was released by NASA appears to have been tampered with, we can see signs of blurring in places as well as two black squares, which NASA claim are dead pixels, but are they hiding something far more compelling, we may never find out, so lets concentrate on what we can see.

This particular image took quite allot of work, the processing alone took several hours and the enhancement work took a little longer, but the results were worth it.
The obvious geometric shapes in the enhanced image clearly indicate intelligent design, we can see a partially buried wall structure with a small pillar which leads down a small embankment, possibly a buried stairway, to a set of stairs, these stairs lead us onto an obvious courtyard which is covered in martian soil or sand.
"At the side of the courtyard is a large square plinth with a tall stone pillar which appears to have been broken off at the mid section, this is indicative of an ancient abode, as seen in the ancient Roman and Greek period.

I have highlighted nine points of interest in the enhanced image below, and they are very compelling in my opinion.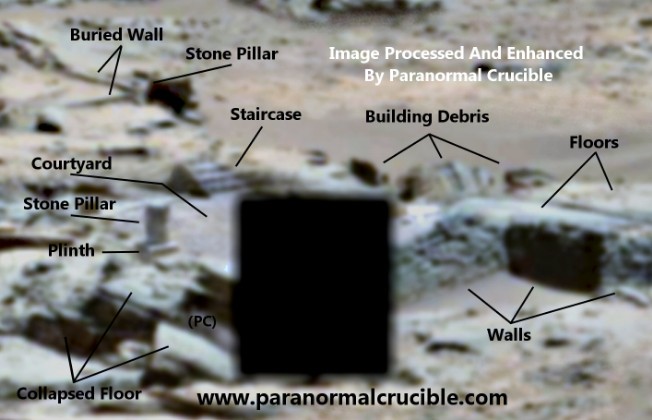 These possible ruins validate for me that an ancient martian civilization once existed on mars and were very similar to the ancient Romans, not only in customs but in architecture also.

From my standpoint they look like the remains of a domus or villa, a fairly large home usually single storey that had a large courtyard, stone pillars, a garden and numerous rooms, some even had a pool depending how wealthy the owners were.

Until an independent manned mission is sent to mars we may never know the full truth about past life on this mysterious planet, and i think its pretty clear that NASA is more interested in analyzing rock samples than exploring the clear artifacts that have been inadvertently discovered by the rovers.

But hopefully one day that attitude will change, and the real truth about mars and its history, will finally be revealed.
(images acquired by the Rover Curiosity- Mars rover)
NASA prohibits experiences of extraterrestrial life detection
Yes, there is life on Mars, and NASA has known this for four decades. Their own Viking experiment confirmed the presence of life on Mars, but instead of sharing this groundbreaking discovery with the world, NASA chose to bury the truth and hide its science for decades.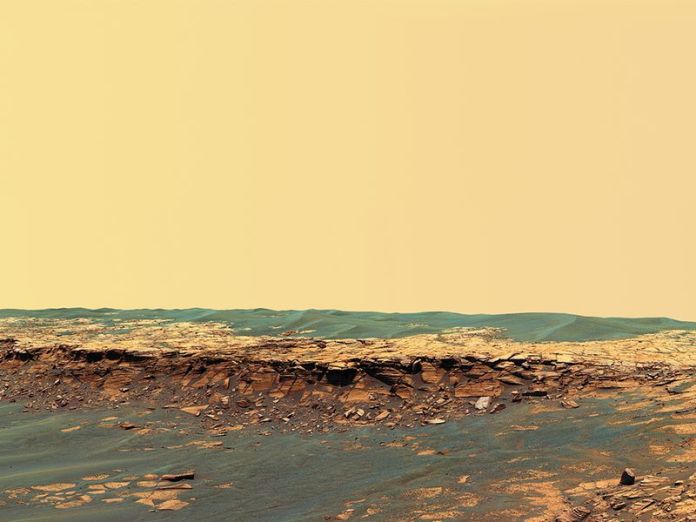 Now, the former NASA engineer who designed the experiment that confirmed the presence of life on Mars is speaking out. His name is Gilbert V. Levin, and in a new op-ed published in Scientific American, he lays out his belief that life was already confirmed on Mars in the 1970s.
"I was fortunate to have participated in that historic adventure as experimenter of the Labeled Release (LR) life detection experiment on NASA's spectacular Viking mission to Mars in 1976," writes Levin. "On July 30, 1976, the LR returned its initial results from Mars. Amazingly, they were positive. As the experiment progressed, a total of four positive results, supported by five varied controls, streamed down from the twin Viking spacecraft landed some 4,000 miles apart. The data curves signaled the detection of microbial respiration on the Red Planet. The curves from Mars were similar to those produced by LR tests of soils on Earth."
As word of the discovery spread, many other scientists around the world began to rejoice. Levin even received a personal phone call from Carl Sagan, congratulating him on the discovery.
But within hours, NASA buried the results and swept it all under the rug, claiming the mass spec instrument hadn't detected life at all.
NASA banned any experiment that could confirm life on Mars
From that day, NASA has banned life detection experiments on missions to Mars in order to continue scientific fraud.
Levin writes:
Inexplicably, over the 43 years since Viking, none of NASA's subsequent Mars landers has carried a life detection instrument to follow up on these exciting results
In truth, NASA is a fraudulent "science" organization that has, for four decades, pushed the false narrative that there is no life on Mars. The cover-up has been well coordinated and aggressively enforced. And since it's impossible for private citizens to visit Mars and see for themselves, it's difficult for anyone to prove that NASA has been lying all these years.
But now new evidence is surfacing that NASA has been blatantly lying all along… not just about microbial life on Mars but even about the existence of a Martian atmosphere that could support life.
NASA to send scout helicopter to Mars, proving there's an atmosphere
Earlier this year, the corporate media began reporting that NASA was sending a scout helicopter to Mars as part of the 2020 lander mission. This helicopter, touted by NASA administrator Bridenstine, is a dual rotor, solar-powered helicopter designed to map terrain for the lander rover. See this UPI story as an example of what's being reported by the scientifically illiterate media:
NASA engineers have installed the miniature helicopter on the space agency's Mars 2020 rover. The Mars Helicopter, nicknamed Scout, will be the first aircraft to fly on another planet. "For the first time, we are going to fly a helicopter on another world with the Mars Helicopter," Bridenstine said in March.
The problem with this story? According to NASA and the entire news media, Mars has virtually no atmosphere. Obviously, rotor-powered aircraft don't function without an atmosphere, since they can't produce lift in a vacuum.
According to NASA, the atmosphere on Mars is only 600 Pascals at ground level. Earth's atmosphere at sea level is 101,000 Pascals, and even with that "thickness" of air, it's still difficult to get a mechanical craft of the ground using spinning rotors.
Yet according to NASA, we're supposed to believe that a dual-rotor helicopter will fly in virtually no atmosphere, powered by on-board solar panels and batteries, somehow defying gravity that's 38% of Earth's gravity with an atmosphere that's only 0.6% as thick.
Any aeronautical engineer will tell you that's impossible. If rotors worked in a vacuum, then the space shuttle would have a giant propeller mounted on its nose, doing away with all the rocket thrusters.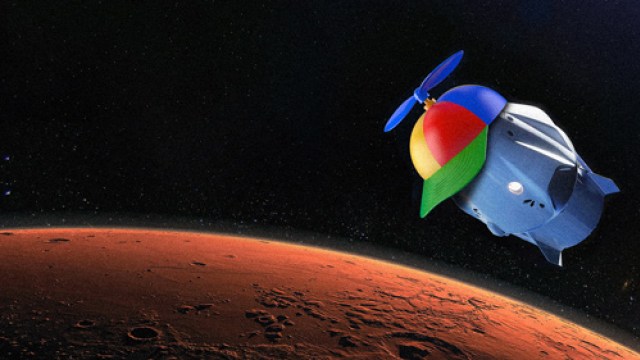 The only way a helicopter will fly on Mars is if there's an atmosphere to create lift when the rotors spin. This isn't rocket science. In fact, it doesn't involve rockets at all. Propellers don't work in a vacuum.
NASA is faking helicopter "research" with ridiculous videos
To try to convince us all that they have developed a helicopter that can fly in (nearly) a vacuum, NASA has released some of the most hilarious, laughable video footage we've ever seen.
As you can see from the following video snippet, NASA has developed a self-crashing helicopter that can only bounce and crash. The fact that NASA wants us to believe this is going to be loaded up with imaging and telemetry equipment — plus solar panels and batteries — is absurd. It's like a bad Saturday Night Live skit. Notice, too that this "helicopter" isn't even carrying batteries and appears to be receiving its power through a tether that's attached to the center of the floor.
Now, NASA seems to be in the business of faking its announcements, too. If we are to believe NASA, there's no life on Mars and helicopters fly in vacuums.
COMET 67P, the "Transmission of Extraterrestrial Sounds" comes from an unknown base visible on the Comet
As reported long ago by the famous British tabloid METRO, UFO conspiracy theorists are on the alert after hearing the bizarre "alien" sounds emanating from the organic Comet 67P organic  – made famous by the Rosetta mission. Some UFO researchers are convinced that it is not the Comet that emits these unknown sounds, but it is an Extraterrestrial Transmission sent by an alien base that is clearly visible on the celestial body, and the images taken by the Rosetta Probe confirm it.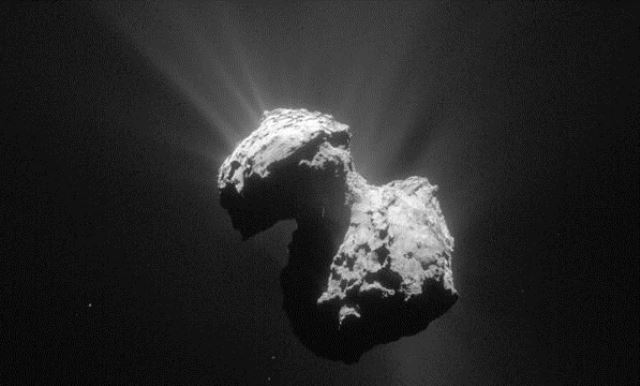 The 67P comet is one of the most famous and mysterious objects in the Kuiper belt, after the Rosetta mission collected samples from its icy surface in 2014. Rosetta's incredible discoveries showed that organic molecules and oxygen existed in the dust emitted by the Comet 67P. Now the comet is again at the center of the mystery, after an unknown audio source has been recorded by NASA thanks to Rosetta. For UFO researchers, this is proof that an unknown transmission was sent from an extraterrestrial structure visible in the images taken by the NASA space probe. This structure is quite large and has two antennas that are visible in the photographs below.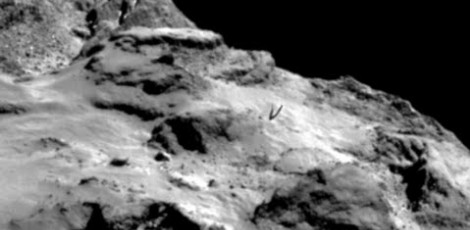 The otherworldly sound, composed of oscillating analogue noises, has been brought to light by UFO researcher Scott C Waring. "I listened to and recorded the sounds picked up by the 67P comet and slowed them down so I could listen to them better," Waring wrote. "I really feel it contains an alien message."
UFO hunters long ago identified a mysterious object on the surface of the comet 67P / Churyumov-Gerasimenko, which would be evidence of the existence of alien underground structures, or better, alien outposts. The UFO researchers are convinced that these structures or protuberances that protrude from the surface of the comet, could be similar to antennas that transmit on frequencies that are not perceived on Earth, that is, on frequency bands still not accessible to us. These sound frequencies are those recorded by the Rosetta probe, composed of oscillating analogue noises.
According to the Ufologists, this sound transmission recorded on the Comet 67P is the further proof (after the discovery of the alien base with three antennas) that the comet could have the function of an ALIEN RADIAL, which is used to define one or more routes of any spaceships coming from other star systems. Other ufologists speculate that this base could be an extraterrestrial mining structure.