In Hawaii, as on Mars, Lava Tubes Hide Secrets Beneath the Surface
Kate Greene
Most of our time on this simulated Mars mission is spent inside a geodesic dome. We conduct research, make and document meals for our food study, do chores, and fill out psychological and behavioral surveys. It's no surprise, then, that adventure is hard to come by.
But on Wednesday of this week, three of us gave it our best shot. We donned our green spacesuit simulators and took a hike. For two and a half hours, we clambered over the shifty and crumbling lava rocks just east of our habitat. We walked to the edges of pits and peered over steep drop-offs. And we investigated a nearby lava tube cave, hollowed out years ago by an immense column of molten lava.
Lava tube skylights
A walkabout such as this is called an EVA, or extra-vehicular activity. Wednesday's EVA had a particular objective: to explore the caves and cavities near our habitat. Technically called lava tubes and skylights, these structures interest our crew geologist, Oleg Abramov. Back on Earth, Oleg is a research space scientist with the USGS astrogeology branch in Flagstaff, AZ. Here on simulated Mars, he plans and leads geological EVAs.
On this EVA, our longest and most ambitious to date, Oleg's intent was to collect samples. He wanted to get better acquainted with the geology of the region, including the composition of lavas and white coatings we've seen on many rocks in the area. In addition, he wanted to ground-truth satellite images for a number of skylights he spotted on Google Earth/Simulated Mars. His hope was that some of these holes in the ground would provide access to lava tube caves below.
Caves on Mars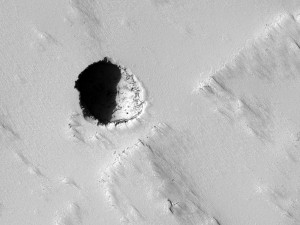 NASA's Mars Reconnaissance Orbiter took this photo of a cave skylight on Pavonis Mons, a large volcano on Mars. The pit is about 180 meters wide. Credit: NASA/JPL/University of Arizona
Thanks to satellite imagery, we now know that both Mars and the moon also have lava tubes and skylights. These caves and holes likely formed the same way they do on Earth.
As a channel of molten lava flows, its top layer, exposed to air, cools and forms a crust. Below, the hotter lava continues to course until it empties out, leaving behind a tube-like cave. Skylights form when parts of the lava tube ceiling collapse. Sometimes these ceilings crumble and completely block access to the cave. Other times, they fall away clean, leaving pits with dangerous, potentially unstable overhangs. But once in a while, the rocks fall in such a way to give unfettered access to a lava-carved tunnel.
Caves and skylights on Mars and the moon have recently attracted the attention of researchers keen on finding the best places to built extra-terrestrial habitats (as well as those looking for extra-terrestrial — likely microbial — life). Temperatures underground are less variable than on the surface. Moreover, caves protect against radiation; a below-ground habitat wouldn't need heavy, expensive radiation shielding.
Pit success
But on our EVA this week, we weren't looking for a new place to live. We just wanted to explore and collect some geological samples. The first pit we approached was an enormous gouge in the ground. Inside, a cave mouth gaped roughly 20 meters high. Unfortunately, the edges of the skylight were simply too dangerous to descend in our bulky spacesuit simulators and without rappelling gear.
The next skylight was smaller, about five meters across, but its perimeter seemed unstable. We couldn't see a lava tube entrance and could only get close enough to get the sense that the drop would be a doozy. We affectionately called this one the Pit of Death.
Science officer Yajaira Sierra-Sastre at the entrance of the lava tube. Credit: Kate Greene
After a few more inaccessible skylights, we came upon a fairly shallow one that sported a lava tube opening with surprisingly easy access. Oleg, Yajaira Sierra-Sastre (our science officer), and I made our way with caution. Last September, archaeologists discovered what appeared to be an ancient Hawaiian burial site in a lava tube in an area adjacent to our habitat. Human remains were found, along with a hearth and kukui nut shells. Sensitive to the possibility of disturbing such a site, we stayed near the entrance and looked for indicators of prior human activity. There were none, so Oleg collected samples of white coating on the rocks while Yajaira and I took pictures and video to document the structure.
On the way back to our habitat, we came upon a few more skylights and another death pit. We didn't dawdle or get too close. Our return journey was slow and mostly consisted of walking on solidified pāhoehoe lava flows. These are the kind that can take on a variety of looks: like heavy fabric that's bunched and frozen in place, like thick petrified ropes or like piles of shattered dinner plates.
We also made a difficult crossing of an aʻā lava flow, the type that's sharp, jagged and brittle. And the final challenge between us and our dome was a steep up-and-over on a cinder cone ridge made of small, gravel-like stones. Two steps forward, one step back. After what seemed an eternity on uneven, ankle-breaking terrain, we finally made it home. We arrived safe, sound, and grateful for the chance to explore.
Source: discovermagazine
Climate change kicked off a new Great Migration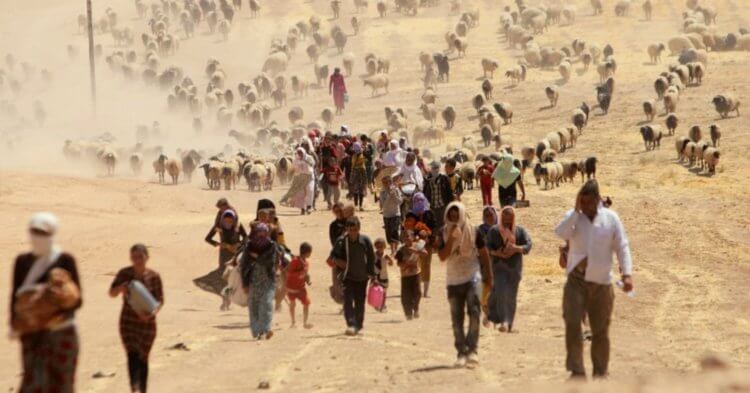 If you think that the effects of climate change will not come soon, you will be disappointed. Numerous scientific studies show that global warming will lead to devastating consequences, including the movement of people around the planet on an unprecedented, destabilizing scale. Thus, droughts, floods, bankruptcy and famine are already forcing people to leave their homes.
The situation is such that environmental hazards affect populations across the planet and – under certain conditions – can stimulate migration. The most important factors are temperature changes, variability in precipitation, and rapid-onset natural disasters such as tropical storms, according to a study by researchers at the Postdam Institute for Climate Impact Research (PIK).
The findings allow researchers to identify geographic regions that may be particularly susceptible to future migration movements. Has the Great Nations Migration really begun?
Migration of peoples
The history of mankind is approximately 2.4 million years old. However, according to a 2015 study, a bone fragment found in Ethiopia in 2013 suggests that humanity is several hundred thousand years older. As the authors of the work, published in the journal Science, write, the genus of primates of the hominid family existed on Earth 2.8 million years ago.
It is important to understand that over the entire period of its existence, human populations have regularly migrated. So, the first to leave Africa and populate Eurasia was Homo erectus (Homo erectus), whose migrations began about 2 million years ago. It was followed by the expansion of Homo sapiens and its close relatives: Neanderthals and Denisovans. A modern man came to the Middle East about 80 thousand years ago.
Today, migration is called any territorial movement of the population associated with the crossing of both external and internal borders in order to change their permanent residence or temporary stay in the territory for study or work, regardless of the factors that contribute to resettlement.

Ecological migration is most pronounced in middle-income countries, as well as in countries with developed agriculture. "Environmental factors can stimulate migration, but the magnitude of the impact depends on the specific economic and socio-political conditions in the countries," writes the lead author of the new study, Roman Hoffmann.
In both low- and high-income countries, the environmental impact on migration is weaker. Presumably because either people are too poor to leave, or in rich countries people have enough financial resources to cope with the consequences. It is in the regions with average incomes and dependence on agriculture that strong waves of population migration are observed.
A large-scale meta-analysis, the results of which are published in the journal Nature Climate Change, revealed a number of interesting patterns. It turned out that the impact on migration depends on the types of environmental hazards and that different hazards can mutually reinforce each other. While temperature changes in the region have the greatest impact on migration, fast-onset natural disasters, changing precipitation variability and anomalies can also play a role.
Brave new world
As the authors of the meta-analysis emphasize, ecological migration always depends on a number of economic and socio-political factors. The story of climate refugees heading for Europe or the US can be oversimplified. For example, researchers have found strong evidence that environmental change in vulnerable countries mainly leads to internal migration or migration to other low- and middle-income countries, rather than cross-border migration to high-income countries. Affected populations often migrate to locations in their own region and eventually return to their homes within a relatively short period of time.
The results of the study also point to regions that are highly vulnerable to climate change, in which ecological migration may be especially widespread. The authors of the work note that the population of Latin America and the Caribbean, several countries in sub-Saharan Africa, especially in the Sahel region and East Africa, and Western, South and Southeast Asia are particularly at risk.
Given the expected increase in global average temperature, researchers believe that the topic of environmental migration will begin to attract more attention in the future. The best way to protect those affected is to stabilize the global climate, namely to rapidly reduce greenhouse gas emissions from burning fossil fuels. While migration can be an effective adaptation strategy for households, it can be involuntary and accompanied by human suffering. However, the most important conclusion of this meta-analysis, in my opinion, is the fact that forced climatic migrations of large population groups can be avoided.
In the Netherlands, people began to be buried in mushroom coffins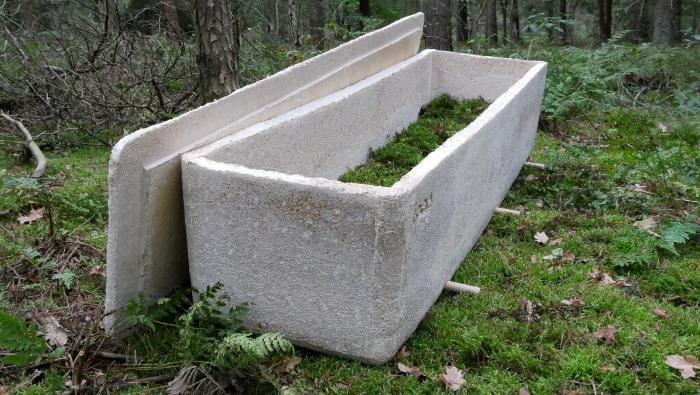 This accelerates the decomposition of the body several times.
In the Netherlands, you can continue to help the ecosystem after death by choosing a living mushroom coffin that accelerates the decay of your body. The coffin transforms corpses into compost, which enriches the soil thanks to mycelium.
The idea was coined by Bob Hendrix of the Delft University of Technology. According to him, such a "living cocoon" was the first in the world. 
"This is the world's first 'living' coffin, and last Saturday a deceased person in the Netherlands was composted for the first time and brought back into the cycle of life"

Bob Hendrix
The coffin was the resting place of an 82-year-old woman whose body would decompose within two to three years. The decomposition process in a traditional coffin with lacquered wood and metal handles usually takes over ten years.
The mushroom coffin itself decomposes within 30-45 days. According to Hendrix, mycelium is the most suitable material for environmentally friendly burial.
The technology for the production of the coffin includes the collection of moss, the extraction of mycelium from the mushrooms and the addition of wood chips.
The resulting solution hardens in seven days, and then becomes activated again when moisture gets on it. According to Hendrix, this material is a complete organism. 
The bottom of the coffin is covered with moss, which has been added with various soil creatures. This further accelerates the decomposition of the body.
Hendrix's startup was named Loop. The scientist has already signed a contract with one of the funeral homes and expects that his work will be a great success. 
A tourist fell into a fire trap: published a creepy video from California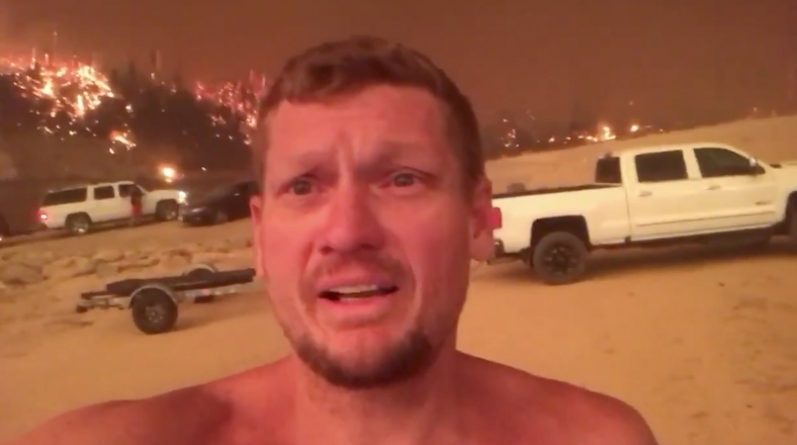 The video, which was filmed in the Sierra National Forest, located in California, shows how one of the holidaymakers was in the heart of a fire trap.
This vacationer turned out to be just one person out of 207 who were also captured in the fire and were saved in the very last moments. The rescue service came to their aid, which took people to a safe place. 
In the video, which was made by a man on the estate of Jeremy Remington, you can clearly see how cars burn, and the flame is getting closer to tourists and its speed is noticeably increasing.
People were in a real trap. Fire surrounded them on all sides, and the roads that could be driven were destroyed. According to the information provided by the Emergency Situations Department, work to rescue tourists began on Saturday evening and continued until Sunday morning. 
More than 20 people had to be transported to hospitals. Two of the victims were in critical condition and required immediate medical attention. At the same time, two people who were vacationing in the National Forest refused the proposed evacuation.
The scale of the wildfire that started on Friday is not too large. But at the same time, the fire managed to destroy more than 71 square miles of forest. By the middle of Saturday, due to the increase in the rate of spread of fire, a 7 times larger area was destroyed. 
On Sunday morning, it was possible to stop the fire by no more than 5%, so the work continued actively and further.