Impossible Foods Is Trying to Make Fake Fish Now
Fishy Smell
Impossible Foods, the meatless meat company behind the plant-based Impossible Burger you've probably seen at trendy gastropubs, is moving into the fake fish market.
The company is reworking its recipe for plant-based beef to recreate a fishy flavor and texture, according to The New York Times. The move makes Impossible Foods the latest to enter the race to develop convincing and tasty artificial fish, either through concoctions of plant proteins or lab-grown cells.
Dirty Water
Replacing fish with fake meat could benefit the environment, as fisheries pollute and deplete wild populations of some species, per the NYT. But that may not drive customers to buy filets from Impossible Foods or any of the other companies working on fake fish — much of the boon for the fake beef market came from people who were worried about the health impacts of eating too much red meat.
"A lot of people will simply say if you eat meat, you're increasing your risk of cancer," Tom Rees, a food industry expert at the market research firm Euromonitor International, told the NYT. "There isn't an equivalent of that for fish."
READ MORE: The Fish Is Boneless. (Fishless, Too.) [The New York Times]
Lighting Hits Car Twice in Novosibirsk, Siberia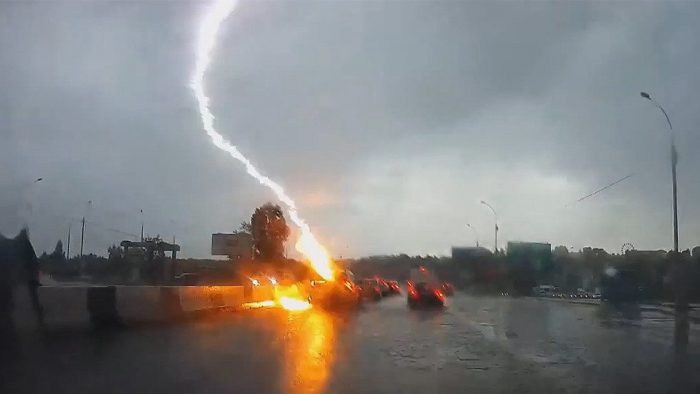 A car crawling through traffic in Russia was blasted by lightning –twice– in an incredible double-strike that was filmed by the dashcam of a nearby vehicle. The flashes were so powerful they temporarily blinded another driver.
Galina Ershova was driving along the Berdskoye Highway in Novosibirsk, Siberia, when her dashcam recorded the unlikeliest of drivetime distractions – a double lightning strike mere feet away from her own car.
"I was blinded for a split second, I grabbed the steering wheel with a death grip," Ershova said. "It happened so quickly."
The Toyota SUV in front of her had been zapped and left with a dead battery but, thankfully, all occupants survived without a scratch. While grateful to be alive, the driver, Anna Nakaznykh, was a bit peeved that no one had come to her aid after the bizarre bolt from the blue.
"There were a lot of eyewitnesses… But no-one stopped," she said afterwards. "They all just went on."
The vast majority of modern motor vehicles have an in-built lightning rod to conduct a charge safely to earth, so the risk to the driver and passengers would be minimal, even with a direct hit.
Sputniknews
What, AGAIN?! 'Looping' fireball seen in the sky over Northampton, UK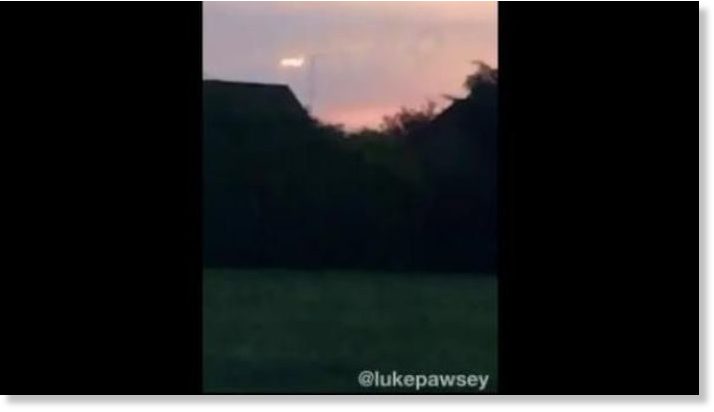 Eye-witnesses believe a bizarre object that looks like a ball of fire seen over Northampton and the surrounding area 'was a UFO'.
The strange ball of light seemed to swirl around in the sky for no apparent reason for a few seconds before disappearing.
Luke Pawsey saw it while in Northampton on June 22, while his friend Lauren Tester managed to film it from her home in Brixworth, which you can watch in the video above.
The 20-year-old, who works in the social care team at Northamptonshire County Council, was amazed by what he saw and believes it was 'alien'.
"I genuinely believe there's extraterrestrial life out there but we're just not aware of it or we're too naive to think there isn't anything out there," he said.
"I think it's an unidentified flying object (UFO) but when people imagine that they think of a spaceship which I don't think it was.
"But how do we know what's out there, especially if it doesn't exist to us? It could be aliens but I don't want to say for certain as I don't know."
And it is not the first time the phenomenon has been seen above the town.
An uncannily similar fireball-like object was seen in the sky above Northampton in 2014, with suggestions it could have been 'ball lightning'.
Luke does not think it was lightning or anything man-made as it resembled fire, but admitted that when UFO sightings are posited online, no one believes them.
He is also surprised that more people did not see it and are not talking about it as it would have been so visible to so many people.
"It's baffling and it really is a mystery that's why I'm so interested in it," he said.
"No one knows what it is and by the time you get someone to look at it, it's gone.
"That's why it's so good Lauren managed to capture it on video in such a small amount of time."
(View video here)
In any event, this is the third time we've come across such a report about a 'looping fireball' at the same general location: in or near the town of Northampton in the English Midlands.
Then in 2015 this happened (in Brackley, about 15kms from Northampton):
There must be something about the location that facilitates this phenomenon. Truly astounding…
Corpses Thrash Around For a Year After Death
People spinning in their graves is actually quite common, according to gruesome new scientific research.
As bodies decompose, they tend to slowly-but-surely writhe around for a year or longer, according to Agence France-Presse. This disturbing factoid comes courtesy of scientists at the Australian Facility for Taphonomic Experimental Research — a "body farm" where human corpses are made available for scientific research — and it could have far-reaching implications for forensic investigators.
To determine how corpses wriggle around over time, Australian scientists photographed a man's corpse — donated to the body farm for study — every half hour for 17 months, according to research published last month in a new journal called Forensic Science International: Synergy.
Troublingly, the body's arms started down along its sides — but ended up outstretched.
"We think the movements relate to the process of decomposition, as the body mummifies and the ligaments dry out," Central Queensland University scientist Alyson Wilson told AFP.
Wilson told AFP that she hopes her discovery can help improve forensic investigators interact with bodies at crime scenes. Time-lapse photography is already a commonly-used practice to monitor decomposition and calculate the time of death, but understanding how bodies move over time could make those calculations more accurate.
"Once I observed a movement in a previous study, I started researching and couldn't find anywhere in the world that looks at quantifying the movement," Wilson told AFP, "so I thought 'OK, I'm going to do this.'"