The Facts:Historic meetings between Trump & Kim Jong Un move towards peace talks between the two nations. What's really going on here is about disrupting the old elite regime.
Reflect On:Who really holds the power in our world? Are we getting a true picture of what is going on with events like this from the mainstream media? Is the hate for Trump a result of his level of disruption of elite plans?
The first thing we should all consider, and something that should be downright obvious by now, is the fact that our perceptions of events and people are purely programmed into us by the machine that is mainstream media.
When it comes to Donald Trump, historian Richard Dolan put it quite well, saying that: "It is important to understand why Trump was demonized. Sure, his character can make it easy. There is no shortage of narcissistic, sexist, or otherwise intense statements in his repertoire. But I have never, and will never believe, this is why he was demonized. Ultimately, Trump is a disruptor, and his disruption falls squarely against the two key pillars of the American ruling elite's ideology: neoliberalism and neoconservatism."
I often wondered how it was possible for so many people to support Obama & Hillary when the same geopolitical agenda continues unchanged for decades, I compare it to a global holocaust, in the Middle East and within many other parts of the world. A powerful group of people, using politics as their tools & politicians as their puppets, is and has been imposing their will on other countries by creating events and then proposing a solution, all to justify back home reasons for "infiltration." Patriotism is heavily used, especially to hold up the perspective that our militaries are actually used to defend a country and bring democracy to other nations. In some cases yes, in most cases, no, unfortunately, they've been used by old men for unthinkable purposes.
There are so many examples to choose, from 9/11 to the recent supposed chemical gas attacks in Syria by Assad.
The conscious and intelligent manipulation of the organized habits and opinions of the masses is an important element in democratic society. Those who manipulate this unseen mechanism of society constitute an invisible government which is the true ruling power of our country. We are governed, our minds are moulded, our tastes formed, our ideas suggested, largely by men we have never heard of." – Edward Bernays ("the father of public relations"), Propaganda, 1928 (note that Bernays' book, Propaganda, begins with the above quote).
Yes, when another politician speaks upon these facts, like Vladimir Putin outlining the 'magical and mythical' threats the global elite use to impose their will on other countries, it's labelled as propaganda by mainstream media.
So, it makes absolutely no sense to really think anything of Trump, except as an outsider, one who was not "controlled" by the corporations, and the big banks like the Clinton's, and Obama's, and many presidents before them. Trump represents a difference in that sense, a change, but also has numerous suspicious ties and associations that are similar to the likes of Deep State puppets as well.
Again, genocides have occurred under presidents past, yet they are viewed as heroes and celebrities…News reports of Hillary Clinton covering up a massive pedophile ring in the state departments, and strange WikiLeaks documents, have also simply been brushed off as 'propaganda.'
Things are certainly strange within the realm of politics, to say the least.
Trump is a great example, and one of many who has said and acted different in their campaign, but then all of a sudden change when their presidency takes place. It seems they become aware of things they were not once aware of, and greater powers begin to influence their decisions. Perhaps they are 'checkmated' by the national security community?
The Real 'Powers'
The bottom line is, when it comes to politics, there are powers greater than the presidency calling the shots, and we can never really know what's going on. All we get are the puppets, some of which may attempt in some ways, to oppose various groups within the Deep State or those who rank among the worlds 'elite.' They are simply used for us to point our fingers at, or idolize and worship as Gods while people behind the curtain pull the strings.
This is why the whole idea of voting is completely useless, it simply continues a cycle and system that clearly doesn't work.
You never change things by fighting the existing reality.
To change something, build a new model that makes the existing model obsolete. – Buckminister Fuller
Another thing to really consider is the fact that, as retired Professor (Emeritus) of Sociology at Binghamton University and adjunct professor at Saint Mary's University, Halifax, Nova Scotia, Canada, James Petras recently wrote,
The world is riven with class conflicts in Latin America, political conflicts between the Anglo-Americans and Russians, and economic conflicts between Washington against Europe and Asia. The conflicts have called into question the capacity of ruling elites to promote growth, to secure international stability and to foster global as co-operation.
All this comes, simply because of the fact that there is a secret government in control of politics, and what we are presented with, we never really know the details and what is really going on. Presidents throughout history have called awareness to this entity, and there are several great examples where they've voiced their concern of, in some cases, what they had become apart of.
Behind the ostensible government sits enthroned an invisible government owing no allegiance and acknowledging no responsibility to the people. To destroy this invisible government, to befoul the unholy alliance between corrupt business and corrupt politics is the first task of the statesmanship of today. – Roosevelt
North Korea & Nuclear Weapons
Another important fact to consider is that the entire world is making nuclear weapons. Just look at the nuclear deals happening between Israel and Saudi Arabia, how come nobody is talking about that? What about America and their inventory of nuclear weapons? The fact that nuclear weapons even exist is troublesome, and what's even worse are findings like the one Dr. Helen Caldecott, a researcher and anti-nuclear advocate describes:
In 2015, ninety-two American missile officers were suspended because they had been cheating, taking drugs, or sleeping in the missile silos. These men are employed to guard and to operate 150 nuclear missiles at F.E. Warren Air Force Base in Wyoming which constitutes one-third of the 400 Minuteman 3 missiles that stand "on hair trigger alert" 24 hours a day in silos which are scattered across the northern Great Plains…

During the investigation, fourteen airmen had allegedly been using cocaine. Other drugs involved were ecstasy, cocaine, LSD and  marijuana.  All in all roughly one hundred officers were involved in the cheating scandal in 2015 and 2016.
After that, she goes on to describe more shocking "episodes of gross malfeasance," stating that it's amazing to her that  "we are still here having not been incinerated in a global nuclear holocaust. Suffice it to say, we are in the hands of fallible men armed to the teeth with missiles and hydrogen bombs."
This is why I don't even want to get into North Korea & Trump because our geopolitical world is completely out of control. I don't know what's going on, but I do know that the powers that be and the countries that they control have been imposing their will on the world for a very, very long time, and have used us, the human race, and our own consciousness, our own perceptions, to justify this behaviour.
The statesmen will invent cheap lies, putting the blame upon the nation that is attacked, and every man will be glad of those conscience-soothing falsities, and will diligently study them, and refuse to examine any refutations of them; and thus he will by and by convince himself the war is just, and will thank God for the better sleep he enjoys after this process of grotesque self-deception –  Mark Twain (source)
There is always some sort of problem in another country, and North Korea is a great example, that gives the Deep State an upper hand with regards to intervening, but thankfully the world is beginning to see through this. Even US Generals, like Ex-Supreme Allied Commander General Wesley Cark, have outlined the fact that this plan, to basically take over the world, has been in the works for years.
Again, let's use Syria as an example.
The CIA began its active meddling in Syria in 1949—barely a year after the agency's creation. Syrian patriots had declared war on the Nazis, expelled their Vichy French colonial rulers and crafted a fragile secularist democracy based on the American model. But in March of 1949, Syria's democratically elected president, Shukri-al-Kuwaiti, hesitated to approve the Trans Arabian Pipeline, an American project intended to connect the oil fields of Saudi Arabia to the ports of Lebanon via Syria. In his book, Legacy of Ashes, CIA historian Tim Weiner recounts that in retaliation, the CIA engineered a coup, replacing al-Kuwaiti with the CIA's handpicked dictator, a convicted swindler named Husni al-Za'im. Al-Za'im barely had time to dissolve parliament and approve the American pipeline before his countrymen deposed him, 14 weeks into his regime. – Robert F. Kennedy
One thing that is encouraging, however, is the denuclearization of any region by any country. The fact remains, the US has always wanted to emphasize the nuclear programs other other countries who do not currently have a central bank, and countries whose resources that the US and their allies could use. Is this agreement between Trump and the North Korean president something that only a president who opposes the Deep State could do? Because it's hard to imagine any other president doing so.
This is the first time a president has been able to sit down with the leader of North Korea, and have come to some sort of peaceful resolution. That being said, most of these things are done with political, greedy and elitist goals in mind. Not peace…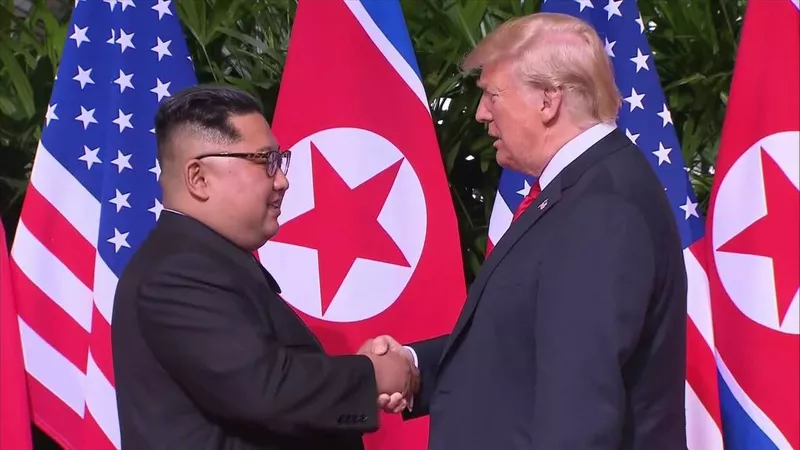 The North Korean president referred to the meeting as a "historic turning point."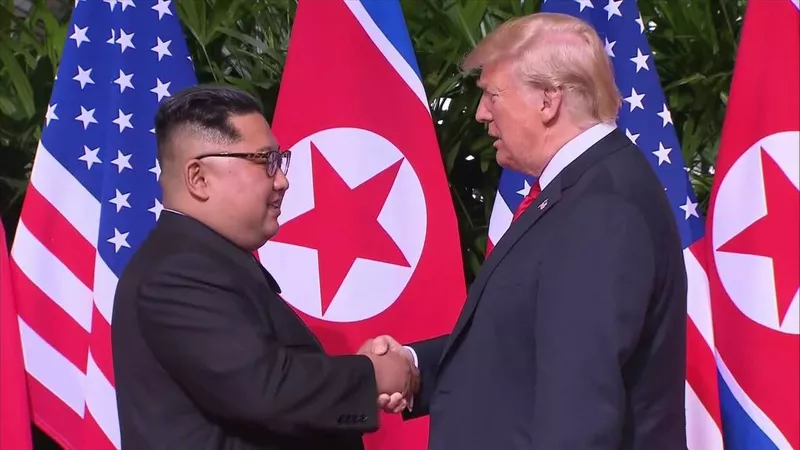 In western mainstream media, Trump is praised by some outlets, like fox news, and others, like CNN, you will get a completely different perspective. It's best to just not really through any negativity, fear, and judgment into what you are watching, and understand that you don't really have any piece of the story unless you turn off your T.V. and spend a considerable time doing some independent research.
Trump Is Challenging Us To Reflect & See
If you haven't read our stance on Trump, check it out. The amount of anger, emotions, and frustration we collectively have had about Trump being president is incredible. While I believe this shows how much we collectively need to shift our perspectives on things in general, I also believe that in many ways our emotional outcries are where things start. We have to observe our emotions and what they telling us about our beliefs and perspectives in order to see how we can move beyond them. We are massively limiting our world and reality by holding on so rigidly to what we believe. To be clear, we cannot change things from a state of anger or aggression, we must first move past this. This is a lesson humanity is learning big time right now.
"The real menace of our Republic is the invisible government, which like a giant octopus sprawls its slimy legs over our cities, states and nation . . . The little coterie of powerful international bankers virtually run the United States government for their own selfish purposes. They practically control both parties . . . [and] control the majority of the newspapers and magazines in this country."   John F. Hylan was Mayor of New York City from 1918-1925 (source)(source)