Ignorance Of The Human Bloodlines
The Facts:According to Hidden-Hand, the human bloodlines do not understand the big-picture and the full truth about their goals and activities on the Earth.
Reflect On:If we knew that the human bloodlines have been deceived for certain reasons by the Lucifer group soul, how would that help us understand the manifestation and ultimately the actual power of evil in our world?
(Note: If you have not read the first four installments of this article, I would highly recommend that you first read  Who Lucifer Actually Is & Why They Are Here (Part 1), (Part 2: Bloodline Families), (Part 3: The Harvest) and (Part 4: Selling Your Soul), because they provide an essential context for the discussion here.)
You will recall from the previous installment some rather telling statements on the part of Hidden-Hand that we will examine more deeply here. In distinguishing very clearly between the extraterrestrial and the human bloodlines, he was explicit that the mandate of the human bloodlines is not founded in the highest truths, but rather are intentionally limited in scope and understanding:
The world of my own Family is very different from that of the lower Earth based bloodlines. Whilst our (my own) training growing up was very strict and disciplined, we were never abused in any way. We grew up with the bigger picture, and didn't need any other motivation.

The Earth lines are not aware of the entire picture. They themselves are not of our Lucifer Group Soul, and as far as they are aware, they are out to 'rule the world', to Control and Enslave, and create as much suffering and negativity as is humanly possible. That's what they 'get out of the deal'. World domination.

You'd have to say with that in mind, they're doing a great job. But one of the things they don't know or understand, is that our (Venusian Power Lines) agenda, is ultimately for the Highest Good of all concerned, in providing you with the Catalyst. If they were aware of this Truth, there is a slight risk that they would not have done their jobs properly, and they would miss out on joining us in our 95% Negative Harvest.

They are aware of the Harvest, and the need for them to attain the 95%, to get out of 3rd density, and that is all the motivation they need to help us achieve our ultimate aims. How they go about it, is not really of too great a concern to us, as long as they are getting the job done. Sometimes we have to step in, where something they may do or plan goes against our desires, but such instances are few and far between.
Human Bloodlines Don't See The Big Picture
Hidden-Hand makes it clear that the human bloodlines, even at the very highest levels, do not see the big picture. Where the individuated members of the Lucifer group soul retain the awareness that they are here on Earth to provide a catalyst for ascension (and they themselves are contractually bound to creating a 'Negative' portion of ascension as part of their contract, likely to give them the motivation to go through the intense training and effort they make to create evil), members of the human bloodlines (also generational) incarnate without the full knowledge of their soul purpose. And this is as it should be, for if members of the human bloodline had that full awareness, they would likely not be able to play the game that has been created. The human bloodlines, in essence, are not part of a 6th Density group soul that has come here to provide a catalyst, but are rather part of the 3rd Density group soul of Yahweh, working to ascend to higher realms.
It is sufficient, as Hidden-Hand says, that they believe that 'they are out to rule the world' and achieve 'world domination' through the novus ordo seclorum (New World Order). The testimony of Svali, the Illuminati whistleblower we met in the previous installment, bears this out:
Until the age of 38, I was a programmer with this group, and as such I was aware of much of the underlying agenda behind the programming. I had to be. I was teaching other trainers to do their jobs better, more efficiently, and as a former member of the group, totally "sold out" on the ideology that motivated me. I became excellent at what I did. The reason? I believed that the group would rule the world within my children's lifetime. In fact, I was told that my children would be leaders in the New Order, which would be brought in by the middle of this century.

I was taught this from infancy on. My parents believed it, the leaders around us taught and believed it. And the things that I saw certainly showed great organization and concentrated effort towards this goal. What things did I see that indicated this? There were several:

I saw a large amount of money being used to fund the projects of this group, funds that poured in from around the northern hemisphere and the world. Couriers were sent to the corners of the globe, and many of the top financial institutions had a vested interest in bringing this "new world order" to pass. This was discussed in leadership meetings; shown in videos to members of the group, such as the grainy films I saw in the 1960s showing a large round table with 13 members sitting around it, and the words "these are your leaders" spoken as the members rose and pledged allegiance to the coming new order. I will not mention the figures shown in this film in order to avoid the claim of "libel" but they were well known, influential, and many were behind the banking system of the modern world.
World Domination Was Never The Real Plan
Clearly, a belief has been fostered within the human bloodlines that their group will achieve world domination. However, for the Lucifer group soul, there was an inherent understanding that world domination was never going to come to pass. This was a major part of the deception on the part of the Lucifer group soul in order to get the human bloodlines to play the game, so that their own underlying contractual goals for ascension were realized. One of the main tasks of the Lucifer group soul on the planet was to create a structure that would stoke this deception through the vast and comprehensive mind-control programming methodologies that Svali tells us are implemented from infancy for members of the human bloodlines.
This programming, as Svali explains it, is extremely severe. In fact, this was even acknowledged by Hidden-Hand as we discussed in the previous installment. In reading Svali's testimony, which I would highly recommend to those interested in the way the Illuminati functions, I am coming to understand the vast magnitude of the network, with its checks and balances, that makes the case of someone like Svali so extraordinary. It now seems reasonable to me that we have not heard so extensively from very many human bloodline whistleblowers, despite the fact that there are allegedly millions of people who belong to these bloodlines living on the Earth today. As I understand it, Svali's life continues to be in danger, and as she admits herself, she can't be entirely sure she has fully rid herself of the programming:
I am still trying to undo the influence of a lifetime of being taught lies, lies which I once believed whole-heartedly. Lies which make it difficult even now to sort truth from fiction, teaching from fact.
Having discovered that the supporting ideology that fuels the Illuminati is founded in lies and intense mind programming, we are in a better position to understand how the presence of such a self-serving and fundamentally 'evil' body of knowledge has been able to capture the allegiance of so many people. In the next installment we can now dig deeper into the principles that underlie such systems of thought.
The Latest Deep State Smear Victim is a 14-Year-Old Girl | The Soph Shut Down – 1791
The Deep State manipulate the population mainly through the control of information. Propaganda and the media are, therefore, critically important for their agenda to indoctrinate the masses into a false reality that ultimately makes people behave the way they want. The preceding article highlights one such aspect of the reality management agenda, related to smear campaigns. When someone shares information that puts the false reality of the Deep State at risk, that person must be discredited at all costs. They often use half-truths, outright falsehoods, or statements made out of context to confuse the people. But if one simply looks at the facts themselves, the truth of the smear campaign becomes obvious. Understanding that the Deep State is trying to control what you believe is critically important so as to begin the process of developing personal discernment and mental autonomy. With the ability to discern properly in hand, one effectively becomes immune to disinformation and fake news, empowering them to act as an agent of truth, to defend the innocent and protect the rights of the people—a true sovereign.
Bayer's Stock Has Lost 44% of Its Value Since They Bought Monsanto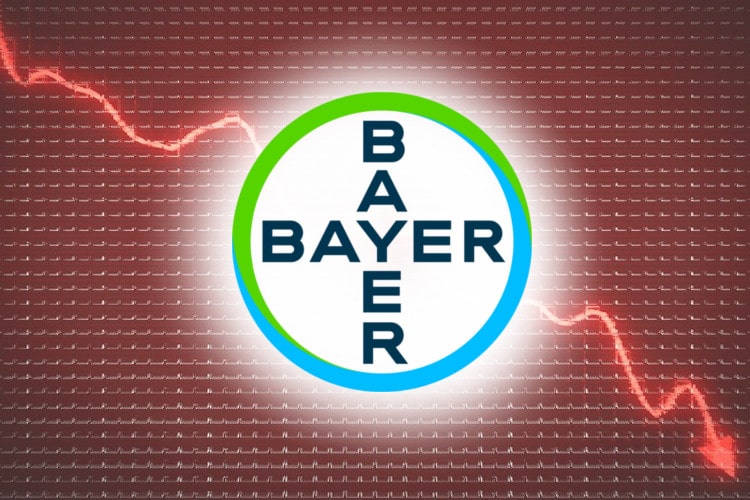 John Vibes, Truth Theory
Waking Times
Bayer's stock price fell to a seven year low this week, after the company lost a $2 billion lawsuit over claims that the weedkiller Roundup causes cancer. Roundup weedkiller is a product that was developed by the controversial biotech corporation Monsanto, but the company was purchased by Bayer for $66 Billion in 2016. Along with the acquisition of the extremely profitable company, Bayer has also inherited a long list of lawsuits and reputation problems.
Bayer's stock has been in a freefall all year, as more bad news about Roundup reaches the public. The company's stock is down by more than 44% since the acquisition of Monsanto.
Roundup contains a chemical called glyphosate, which has been shown in many studies to cause cancer. Despite these findings, the EPA has concluded that the chemical is safe, citing other contradictory studies. However, as an Intercept investigation revealed, the vast majority of those contradictory studies were commissioned by Monsanto. The data that the EPA was using to determine the safety of glyphosate was actually provided by Monsanto, which represents an obvious conflict of interest.
As the expenses from the Roundup lawsuits began to mount, Bayer shareholders began to question the wisdom of the Monsanto acquisition.
Earlier this year, Bayer shareholder Christian Strenger, filed a motion of no confidence in Bayer's board complaining of negligence on the part of Bayer CEO Werner Baumann in the Monsanto acquisition.
Strenger pointed to the "almost complete failure to deliver the key objectives presented by Baumann in May 2016 for the Monsanto acquisition."
"Mr. Baumann from Bayer always refers to 800 opinions that glyphosate is a safe product. But the big issue is how was it applied, and was it sold properly with sufficient warning signs. [Bayer] should have insisted. These were not military secrets. Bayer should have told Monsanto, 'Either you get the DOJ to permit disclosure, or we're not going to proceed with the transaction,'" Strenger said, according to Fortune.
Strenger accused the decision-makers at Bayer of being "lenient with a proper analysis of the legal situation."
Among other complaints, the no confidence motion pointed to the elimination of 12,000 jobs at the end of November 2018, which is believed to be a result of the Monsanto acquisition. This is especially frustrating to shareholders considering that Bayer CEO Werner Baumann promised that the Monsanto deal would create more jobs at the company.
A spokesperson for Bayer has dismissed these concerns stating that the company's board of directors "performed this risk assessment based on an information and update process which was in all respects adequate for an acquisition of such a scale."
The spokesperson went on to say that, "Of course, in the context of the acquisition, the board of management also reviewed the risks connected with Monsanto's glyphosate business. This risk assessment clearly showed that, when used as directed, the products of Monsanto containing glyphosate are safe. Based on the views held by regulatory authorities worldwide and scientists, the board of management assessed the legal risks in connection with the use of glyphosate as low."
Last week, the French newspaper Le Monde, reported that Bayer hired the public relations firm Fleishman-Hillard to help them launch a counter-offensive against media critics. The firm reportedly compiled a list of over 200 journalists, politicians, and scientists, with detailed descriptions of their opinions on Monsanto.  The lists also included the phone numbers, addresses and, personal interests of these individuals. This type of activity is illegal under the European data protection law, so Bayer has since distanced themselves from the firm, and made an apology where they attempted to place responsibility on the firm.
About the Author
Paul Joseph Watson: "Facebook calls me 'dangerous' … imagine my shock. No, really…"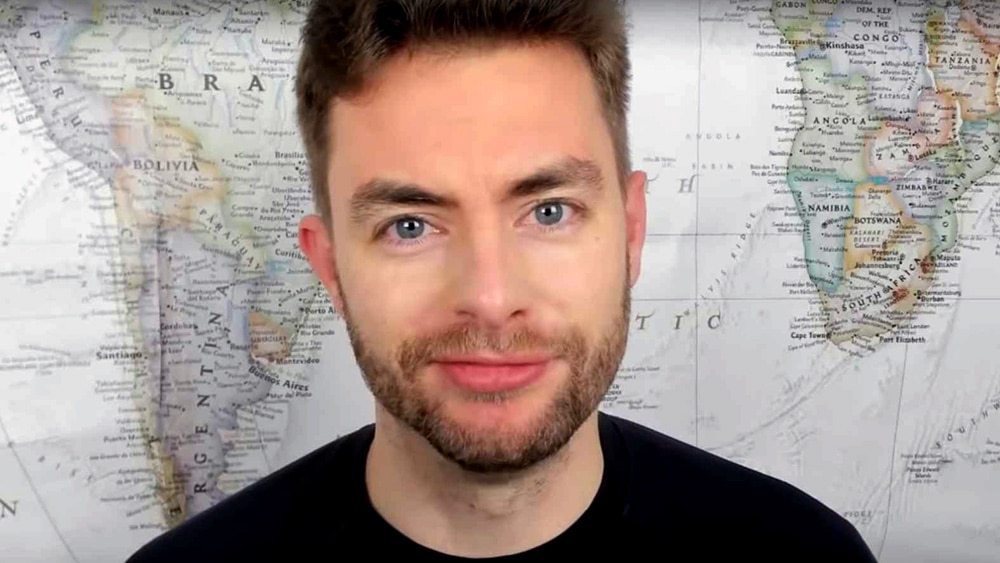 (Mike Adams) Paul Joseph Watson has been labeled a dangerous terrorist by the international deep state. Seriously, the attacks on speech have reached a level of such insanity that intelligent, independent commentary is now labeled a crime by the fraudulent establishment.
Read PJW's own words, via InfoWars.com:
Last week I was permanently banned by Facebook for being a "dangerous person". I found out about it not through Facebook, which failed to even send me a single email, but through media reports.
They've put me in the same category as Louis Farrakhan, a man who compared Jews to termites and once described Adolf Hitler as a "very great man".
The Instagram (owned by Facebook) ban was even "funnier" given my page consisted mainly of selfies and videos of myself and my girlfriend feeding ducks. Super dangerous.
But as humorous as it is, I take exception to being defamed as a "dangerous person".
To whom am I a danger, precisely? Mark Zuckerberg? A billionaire who wants to create a cult out of 2.4 billion people? A creepy oligarch who wants to dictate the thoughts that can be expressed by a third of the earth's entire population? Who's the bigger danger?
In tandem with this ban, Facebook instituted a new policy which states if you post material about people Mark Zuckerberg doesn't like, it will be removed and you may be banned. Talk about a dangerous fucking egotist.
Holocaust denial? Still fine and rife across the platform. But defend Alex Jones or share an InfoWars link and you're in big, big trouble.
And according to the new left, it is now "progressive" to allow a handful of corporate monopolists to control who has free speech and what opinions they can communicate. What was the point of the trials of humanity over the past 300 years if we were just going to end up with some little nerds in California dictating the terms of human civilization to us from behind their MacBook screens?
There's also the absurdity of knowing that if someone who makes sardonic videos and snarky social media posts is that much of a threat to your establishment then your establishment must be really quite pathetic. I mean I'm hardly Robespierre. I make YouTube videos laughing at modern art and scoffing at brutalist architecture. If I'm that much of a "danger" to society, that's more an illustration of how coddled and cowed western society has become.
CNN also labeled me an "extremist", which I also take exception with. I refuse to be defamed as an "extremist", too.
I have never advocated violence and I have never advocated "hate" against any individual or group. The establishment is putting me in the same category as human traffickers, serial killers, and terrorists. For what? Poking fun at pudgeball Michael Moore?
Media personalities glibly repeated this characterization without citing any evidence for their proclamations. I won't allow that to stand. Maajid Nawaz was awarded over $3 million dollars after being falsely labeled an "extremist" by the Southern Poverty Law Center (SPLC).
Like Nawaz, I have received death threats from Islamists. You know, actual extremists. I won't allow a target to be painted on my back, which is exactly what Facebook and CNN are trying to do, and it isn't like they don't know it.
Facebook will shortly be put on legal notice about the harm that their actions have caused and will be mandated to turn over all information and internal discussions as to why I was designated as a "dangerous" person and why I was banned. Lawyers tell me their behavior is "fairly extraordinary".
Meanwhile, what is anyone actually doing to stop the rapacious social media censorship of conservatives?
While the President's tweets about me last week were nice, tweets aren't nearly enough.
It's not implausible to suggest that given the increasingly online nature of political campaigns, if platform neutrality is not secured, we could never see a Republican (or more accurately a true "America first" Republican) in the White House ever again.
Will Chamberlain's excellent article asserting that platform access is a civil right is a good place to start as a template for what must be done.
Others argue Big Tech's immunity under Section 230 of the Communications Decency Act needs to be revoked. If Facebook wants to act like a publisher and not a platform, let it be treated as a publisher. This would mean Facebook being legally liable for everything posted on their website.
It's my right as a website owner to deny anyone else access to post on that website. But that means I am personally responsible for the content on my website. Facebook wants to have its cake and eat it. Facebook wants to deny access while simultaneously eschewing responsibility. Why should we allow that?
Also, isn't it an extraordinary coincidence that leftists, notorious for their distrust of big corporations centralizing power and behaving with impunity, suddenly became massive fans of big corporations centralizing power and behaving with impunity when those corporations bought up the new public square and started censoring conservatives?
It's almost like they aren't actually liberal, have no actual principles, and are just feverish authoritarians who want to harness the power of corporate behemoths to silence their ideological opposition.
Isn't it fascinating how leftists demand Christians bake the gay wedding cake under threat of financial decimation while reacting to Facebook refusing to provide a service with the tired old cliche, "It's a private company, it can do what it likes."
I'll use that line next time a fracking company wants to plough through your living room.
The idea that leftists and self-proclaimed "journalists" – those who behave like activists in lobbying to deplatform conservatives – do so out of genuine concern for "hate," "bullying" or "harassment" is also beyond ludicrous.
These are some of the most hateful, vindictive people you could ever encounter. They abuse their power to deplatform conservatives in order to satiate their spiteful vendettas. And in some cases, to prove their credentials to their new paymasters.
They derive sick pleasure from ruining people's lives.
The Daily Beast exposed Pamela Geller's children. They weren't even political.
Geller has fatwas against her from Islamic terrorists and the American media exposed her children.
If, God forbid, one of these deplatformed people commits suicide, many on the left will be popping champagne corks. They'll be laughing it up. These are not nice people.
When news broke of my Facebook ban, my Twitter direct mentions were flooded with vicious taunts and violent threats. But I'm the "hateful" one.
Save me the sanctimonious crap about "hate," "bullying" and "harassment". We know why conservatives are being banned and it's purely political. It's a pre-2020 purge. This is election meddling.
Anyone who watched the 2016 footage of Google executives mourning the election of Donald Trump and vowing to never let it happen again knows that for a fact.
As Dr. Robert Epstein has documented, the power of Google and Facebook algorithms to shift millions of votes in elections is vast and unprecedented. Now we learn that Facebook will ensure "authoritative" (establishment) sources appear far more frequently in news feeds.
It's not sufficient to ban entire news outlets and prominent people – that's not rigging the game enough – now they want to stack the deck even further against whoever's left.
Despite all this, there's also a kind of lobotomized peacefulness surrounding the idea of escaping social media entirely. Because of the way it was designed to keep people addicted, social media is personally responsible for the largest mental health crisis of our generation. The prospect of fleeing that insane asylum (despite the obvious crippling impact on my ego, career, and financial security) doesn't even sound all that bad.
Paul Joseph Watson is the founder of Summit.News and has a SubscribeStar account where people can contribute to his work and legal fund.
This op-ed was originally posted at Human Events.
Source:
https://www.naturalnews.com/2019-05-09-pjw-facebook-calls-me-dangerous-imagine-my-shock-no-really.html