I was a spy for the CIA… and helped end Cold War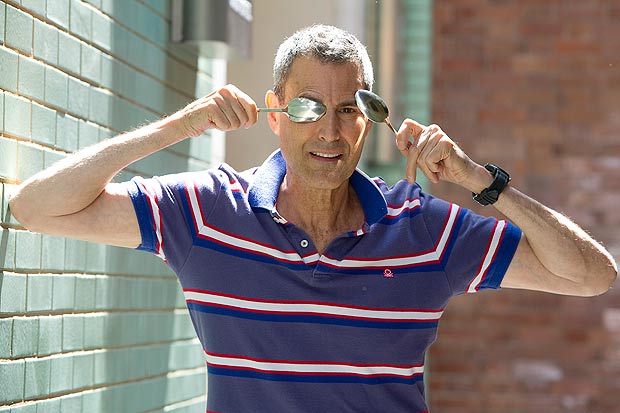 URI GELLER has lifted the lid on his secret past as a SPY — and told how his  spoon-bending antics were just a cover.
The TV magician has revealed details of his years as an operative for the both  the CIA and Israel's feared Mossad agency during the Cold War.
The extent of Uri's secret past is revealed in new BBC2 documentary The Secret  Life Of Uri Geller, which airs on Sunday night.
It tells how the Israel-born star WIPED secret information from KGB spy  discs by using his abilities and psychically changed the mind of a Soviet  nuclear weapons negotiator.
But in an exclusive interview with TV Biz, Uri says he is now uneasy about  what the revelations will mean for him.
He says: "In the last 40 years I dropped hints that I did this and that but it  has never come out clearly before.
"For 40 years I have been immensely controversial but the main controversy was  whether I was real or not. Is it magic or supernatural powers I have?
"But for me the controversy was an inbuilt safety device, a camouflage  covering the dark, cloak-and-dagger secret missions I engaged in.
"But now this documentary is out, there is an uneasiness in me about it."
Q would not approve … Uri Geller's custom car
Documentary maker Vikram Jayanti tracked down former CIA officer Kit Green and  Apollo 14 astronaut Edgar Mitchell, who both said they had first-hand  knowledge of Uri's activities.
Uri, who lives in Berkshire, first became interested in spying when he was  growing up in Tel Aviv and Cyprus — and was obsessed with James Bond.
He says his first contact with a spy came when the Israeli government used his  family's guest house.
He says: "I was only 13 and I stopped a man living there and looked into his  eyes and said, 'You're not an archaeologist, you are a spy'.
"He was shocked but said he wanted to use my talents. That started the passion  for me, the emotional journey to become a super spy for Israel."
Uri says his desire to defend his country grew when he was a soldier during  the Six-Day War in 1967 and was forced to killed a Jordanian soldier.
He recalls: "If I didn't press the trigger of the Uzi he would have killed me  first. It was a matter of survival."
After leaving the army he became a star in his home country with his  spoon-bending tricks and later went to the US and Britain.
He says: "All the fame and everything went to my head. I used to go to Studio  54 where I got together with John Lennon and Elton John.
"When I met Elvis, I envied his fame. I wanted to be like him."
While Uri was conquering the showbiz world, he claims he was secretly being  wooed by spooks. He says he underwent a series of tests to prove his remote  viewing skills — in which he uses the power of his mind to see things that  are hidden — at the Stanford Research Institute in California in the  Seventies.
He says: "Can you believe I was asked to bombard the Russians to sign the  nuclear arms reduction treaty? I bombarded them with my thoughts. Nobody  would have believed it. I wiped the discs of the KGB. These are things out  of fantasy spy films.
Interview … Uri Geller with Sun man Leigh Holmwood
"The Russians probably know what I have done but at the end of the day I have  the cover of being an entertainer and a showman."
But now his cover has been blown, Uri admits he is worried about  recriminations.
He says: "I do look over my shoulder. You have to be alert."
He confesses the revelations have caused shock for his wife Hanna and children  Daniel, 31, and Natalie, 30.
He says: "My wife must have suspected but nobody really knew about this from  my family.
"My family hasn't reacted in a negative way to all of this. They have a lot of  questions but I can't speak about a lot of this as I signed confidentiality  agreements."
The documentary suggests that he might still be an active spy, working for the  Americans after they "reactivated" him to help in the War on Terror after  the Twin Towers attacks.
He admits: "Any good intelligence agency in any country will use anything to  bring them information. They don't care how you bring it to them. They want  to see results."
But he says he would never do anything to cause anyone harm and rejected a  request by the CIA to stop a pig's heart with his mind, fearing they would  ask him to kill a human next.
He says: "Most of the latest things I am doing are positive. I am involved  with positive missions. They are for governments. You wouldn't believe it if  I was able to mention names."
Uri has been dismissed as a fraud by some in the past while he himself admits  he is a good storyteller. In his bid to keep an air of mystery about his  life — and perhaps his more hidden activities — he has left the way open for  others to dismiss the spying claims.
He says: "I intentionally kept the Uri Geller image quirky and quite strange.  That was a cover of course but now the cover has blown I don't know what  will happen.
"This always borders on the line between is it real or not? Is it fiction? I  am an entertainer, a showman.
"I have always been a good storyteller, I can imagine and fantasise about  things.
"But what these guys in the documentary are saying verified all of those hints  and rumours that were said. The showbiz side is my passion but I have always  been excited by the James Bond side of life."
Jayanti has said he believes the documentary's spying claims.
He said: "A lot of people think Uri Geller is a fraud, a lot of people think  he is a trickster but at the same time he has a history of doing things that  nobody can explain."
Footage in the BBC documentary also seems to bear this out, showing Uri using  his remote viewing skills.
And when we meet he tries it out on me. He asks me to make a drawing of an  everyday object and then to cover it up and stare at him as I visualise it.
He then correctly sketches the outline of the light bulb I drew.
He also bends a spoon from the hotel restaurant we are in, which is still  amazing to see, even after all of these years.
Uri is also known for his friendship with Michael Jackson, with the singer  acting as best man when he renewed his vows to Hanna.
Uri says he was shocked by the revelations of Michael's state just before he  died and says he does not believe his friend would have been well enough to  complete all the shows planned for his comeback tour at the O2 in London.
He says: "There was a streak of frailty in him. Michael was a genius but an  incredibly naive individual."
And he claims one of the final requests from Michael was related to his love  of espionage.
He says: "I designed Michael's last album, Invincible. My drawings are in the  booklet. When I was designing it Michael asked me to secretly put the names  of his children, Paris and Prince, in it. You have to use a magnifying glass  to find them."
Unknown Sky Phenomenon Witnessed AGAIN!
MrMBB333 shared another strange unexplained sky phenomenon that is similar to the one we shared a few days ago called 'Strange Large Orange Object Ascending Up from the Horizon Near Ecuador'. This one was spotted in Thailand.
MrMBB333 gives all the details in his video and also shows a comparison of the two events, take a look at the video below.
Amazing sky phenomenon spotted again..

MrMBB333
YouTube
Flying Saucer German Technology From Before WW2
A German newspaper recently published an interview with George Klein, famous German engineer and aircraft expert, describing the experimental construction of 'flying saucers' carried out by him from 1941 to 1945."
Exotic technology has been around for a long time, and so have the agencies within the Department of Defense that use it. Just imagine what type of technology the NSA — an intelligence agency whose existence was denied until the mid-1960s — was using in the 1950s. Then there's the National Reconnaissance Office, which was founded in 1960 but remained completely secret for 30 years. Secret technologies have been wrapped up in the Black Budget and Special Access Programs (SAPs) for years, and many of these SAPS remain unacknowledged by anybody within the government. They're exempt from standard reporting requirements to Congress.

"It is ironic that the U.S. would begin a devastating war, allegedly in search of weapons of mass destruction, when the most worrisome developments in this field are occurring in your own backyard. It is ironic that the U.S. should be fighting monstrously expensive wars in Iraq and Afghanistan, allegedly to bring democracy to those countries, when it itself can no longer claim to be called a democracy, when trillions, and I mean thousands of billions of dollars have been spent on projects about which both the Congress and the Commander in Chief have been kept deliberately in the dark."
– Former Canadian Defense Minister Paul Hellyer

During World War Two, multiple strange sightings occurred, of disc-shaped objects travelling at incomprehensible speeds. When the Associated Press and New York Times covered the topic in 1945, they speculated the objects might be a new form of German weaponry.
There is no shortage of strange documents in the CIA's Freedom of Information Act (FOIA) electronic reading room. Many reveal the agency's efforts to keep tabs on the technological developments of other countries, especially during and after World War II.
One document brings up a famous German engineer named Georg Klein, who, as the document states, expressed that "though many people believe the 'flying saucers' to be a postwar development, they were actually in the planning stage in German aircraft factories as early as 1941."
The document then goes on to mention an experiment described by Klein:
"The "flying saucer" reached an altitude of 12,400 meters within 3 minutes and a speed of 2,200 kilometers per hour. Klein emphasized that in accordance with German plans, the speed of these "saucers" would reach 4,000 kilometers per hour. One difficulty, according to Klein, was the problem of obtaining the materials to be used for the construction of the "saucers," but even this had been solved by German engineers toward the end of 1945, and construction on the objects was scheduled to begin, Klein added.
There's a Strange Reason Why Clocks Across Europe Are Running 6 Minutes Slow
Time is a strange thing. As Einstein said, it is a relative concept. He wasn't predicting a bizarre paradox to beset Future Europe in the year 2018, but he may as well have been.
For months, people in several European countries have encountered a strange wrinkle in time: clocks are telling them different things. While many timepieces are as infallible as ever, other clocks have been falling behind, second by second, ever since mid-January.
As of last week, this weird phenomenon accounted for a delay of close to 6 minutes. Not exactly a postponement to threaten the very fabric of the Universe… but a heck of a way to miss your morning bus.
As strange as this timely dilemma is, it's not a distortion of the space-time continuum that's to blame. It's us – or more specifically, it's politics. In this case, European politics.
But before we get into that, it's important to understand there are a number of ways clock keep time. In the olden days – and not-so-olden days – it was mechanical.
Digital clocks are different, and keep time in a few different ways.
Modern internet-connected devices like your smartphone or computer sync up with other clocks over the web, whereas standalone devices like digital watches or many battery-powered alarm clocks use a crystal oscillator.
But there's a whole range of other devices that get their sense of time from mains power, including ovens, alarms, heaters, and microwaves.
These sorts of clocks keep time by counting the number of oscillations in the alternating current they receive, which also powers them; in other words, the number of times the flow of electricity changes directions every second.
In the US, this is 60 times, or 60 Hz. In Europe, it's 50 Hz – or at least, it's supposed to be. And this is where politics comes into it.
The European Network of Transmission System Operators for Electricity (ENTSO-E), which runs the grid powering 25 separate European countries, disclosed recently that "frequency deviations" in power supply have been experienced across the network since mid-January.
This deviation isn't much, but it is noticeable (clearly).
Instead of delivering 50 Hz – which is what mains-powered European clocks expect to get if they're to keep accurate time – the European grid has averaged 49.996 Hz, which is enough of a disruption, over a couple of months, to make all these clocks lose almost 6 minutes.
Have you noticed your clock running late? ! The Continental European Power System is experiencing a continuous system #frequency deviation from the mean value of 50 Hz since mid-January 2018. Why is this happening? Read ENTSO-E press release: https://t.co/6oroH2haNW pic.twitter.com/LnQygS6kvg

— ENTSO-E (@ENTSO_E) March 7, 2018
In this case, the shortfall was due to a disagreement between Serbia and Kosovo, over who was ultimately responsible for the upkeep of a Kosovan power plant (on paper, it appears to have been Serbia, but it's a complicated situation).
The good news is, according to ENTSO-E, the deviations affecting the average frequency in the synchronous area of Continental Europe have now ceased, although the network is still figuring out how to restore the missing energy (some 113 GWh in total) lost since January.
It's not clear how that will be done exactly, but the long and short of it is, as soon as Europeans reset their affected clocks, the oscillations should be purring along nice and regular now.