'I am the devil': Former classmate reveals school gunman had 'online devil worshiping page'
'I am the devil': Former classmate reveals school gunman had 'online devil worshiping page' as childhood barber recounts how he never spoke and just stared at floors
Medical examiner enlists help of geneticist to see if there is a biological reason behind massacre
Newtown resident raises possibility that Adam Lanza, 20, was angry and may have snapped over mother's possible plans to commit him
Nancy Lanza, 52, was shot to death in her own bed by her son before the Sandy Hook killings
Lanza killed 20 children and six adults in the school before killing himself as police closed in
The Sandy Hook gunman worshiped the devil and had an online page dedicated to Satan, a former classmate revealed, as his childhood barber recalls Adam Lanza never spoke and would stare at the floor every time he had his hair cut.Lanza's worshiping page had the word 'Devil' written in red, Gothic-style letters against a black background, Trevor L. Todd told The National Enquirer, something which he said was 'weird' and 'gave him the chills'.
The FBI are trying to piece together his smashed up hard drive to see if his online footprint will reveal any motive for the killing, but they strongly believe he made use of devil-worshiping and suicide sites and boasted of his murder plans on message forums.
Adam Lanza's childhood barber Bob Skuba revealed today that Nancy Lanza stopped bringing her son in for haircuts a few years ago so he thought he had moved away from the area.
Time was running out: Nancy Lanza was searching for other places to have her son Adam educated and traveled all over the world to find something suitable
He told CNN that Adam would never speak or even look at him any time he came in for a cut, which was every six weeks for years.
'It's just weird that I actually touched him. I'd tried to joke with him,' Skuba said. 'He wouldn't even look at me. He would just be looking down at the tiles the whole time.
'I wish I would have killed him then. Or he should have killed himself a long time ago. He would have saved us all the trouble.
'I should have slit and stabbed him by accident. It would have been a lot better for those people.'
Cutting Adam Lanza's hair 'was a very long half an hour. It was a very uncomfortable situation', stylist Diane Harty said.
She said that she never heard his voice even once and that Nancy, a divorcee, also hardly spoke – only to tell Adam what to do as he would not listen to anyone else.
Weird: A former classmate of Adam Lanza while they were at Newtown High School said he had online page worshiping the devil
It also emerged today that the chief medical examiner in the massacre is enlisting the help of a geneticist to see if they can find a biological motive behind why the 'troubled genius' shot dead 20 children and six adults at Sandy Hook Elementary School on Friday.
Dr H. Wayne Carver says he wants to know if there is any identifiable disease associated with the behavior of the shooter, especially as Asperger's syndrome – which Adam is thought to have suffered from – is not associated with violent behavior.
'I'm exploring with the department of genetics what might be possible, if anything is possible,' Dr Carver said. 'Is there any identifiable disease associated with this behavior?'
He is also awaiting toxicology results. Lanza's mental state is vital as to why he may have committed one of the worst mass shootings in American history.
Another working theory is that he was angry that his mother was planning to commit him to a psychiatric facility because he was becoming too difficult for her to handle alone.
Given his decision to kill his mother Nancy while she lay sleeping in her bed at their Connecticut home and then drive to his former elementary school to purposefully kill innocent children, there had to be a strong connection in his mind between his anger and the school.
Nancy, 52, was thought to volunteer at Sandy Hook Elementary School, and so the theory extends to the fact that Adam felt he loved those children more than she loved him, since she was planning to send him away.
It is thought that Nancy wanted to downsize and find a place for Adam to go to college as she was tired of home schooling the troubled 20-year-old
Struggling: Various family friends have said that she warned that you could never turn your back on Adam while he was in your care, explaining why it may have been taking a toll on her prompting for her to look for options
A friend told the New York Post that Nancy was overwhelmed.
'It was really hard for her as a single mother. It's hard enough raising an autistic child, just me and my wife. I couldn't imagine doing it alone,' said Rich Collins, 54, a Lanza family friend who has an autistic son, Jeffrey, 17.
'I think it's important to get the part of the story out — that an unmarried woman was trying to raise an autistic child on her own. I think she needed more support.'
Fox News quotes a neighborhood figure, whose father works as the pastor of an area church, as saying that the 20-year-old shooter found out that his mother was in the legal process of having him committed and was upset.
That news, coupled with his jealousy of the time she allegedly spent with a group of kindergarteners at Sandy Hook, is thought to have served as the basis of the killing.
A number of factors are still unconfirmed in the theory, and it appears that they may remain as such for some time.
Records of conservatorship filings, which Nancy Lanza would have needed to make in order to commit her son since he is over 18-years-old, are sealed by the courts so if any such filings were made they will not be released publicly.
'Adam Lanza believed she cared more for the children than she did for him, and the reason he probably thought this (was the fact that) she was petitioning for conservatorship and wanted to have him committed,' Joshua Flashman told Fox News.
Targeted: All but one of the students in this first grade class were killed by gunman Adam Lanza, prompting the theory that he chose them because his mother worked with that group as a volunteer
Unanswered questions: It is still unclear what Nancy Lanza's connection was to Sandy Hook Elementary School, though it is confirmed that Adam attended it as a child
One of the biggest questions remaining ever since the shooting was reported on Friday was Nancy's connection to the school which was clearly singled out as a target by Adam.
The majority of his shooting was limited to the reception, where he forced his way into the building and killed those standing in his way, and then to a single first grade classroom.
Those children are thought to be the ones that Nancy grew close with during the last academic year, when they were in kindergarten.
Initial reports immediately after the shooting claimed that Nancy was a full time or even substitute teacher at the elementary school, though as the chaos of the day slowed, school officials said that she was not on any records of having worked there in any formal capacity.
That option leaves the possibility open that she volunteered her time with the young children, though school board member Cody McCubbin could not confirm that role when asked by MailOnline.
That was echoed by Lillian Bittman, a former school board member who told the Wall Street Journal: 'No one has heard of her. Teachers don't know her.'
Though the court records will never back up the claim that Nancy was trying to have her son committed, her actions do lend credence to the idea because she had spent much time over the course of this year traveling to different schools to find a suitable place to send Adam.
Former babysitters of Adam's said that she warned that she could never turn her back on the young boy, meaning that when she went to visit prospective schools, Adam was either with her or very aware of the fact that she had gone shopping for his next home.
In a Facebook conversation between Nancy and her former sister-in-law Marsha, Nancy revealed that she had wanted to downsize from her $1.4million home in Newtown.
'I am still in the same place but getting to the point where I may want a smaller house. I travel a lot, spend time with friends, work with a couple of charities,' she wrote in one of the messages.
'HE NEVER SPOKE OR MADE EYE CONTACT': ADAM LANZA'S HAIRSTYLIST SPEAKS OUT ABOUT THE 'UNCOMFORTABLE' APPOINTMENTS
As a teenager, Adam Lanza would come in for a haircut about every six weeks without speaking or looking at anyone and always accompanied by his mother, said stylists at a Newtown salon.
He stopped coming in a few years ago, and the employees at the salon thought he had moved away, said stylist Bob Skuba.
Adam in the chair: Hairstylist Diane Harty said Adam was difficult to deal with
The comments from him and his colleagues were among the first describing how the Lanzas interacted with each other. Investigators have found no letters or diaries that could explain the attack, one of the deadliest mass shootings in U.S. history.
Cutting Adam Lanza's hair 'was a very long half an hour. It was a very uncomfortable situation,' stylist Diane Harty said. She said that she never heard his voice and that Nancy Lanza also hardly spoke.
Another stylist, Jessica Phillips, echoed their descriptions of the Lanzas and added that Nancy Lanza would give her son directions about what to do and where to go.
Adam would move only 'when his mother told him to,' Skuba said.
'I would say, "Adam, come on." He wouldn't move,' Skuba said.
'And his mother would have to say, "Adam, come on, he's ready." It was like I was invisible.'
He said Adam also wouldn't move from his chair after his hair was cut until his mother told him to. If a stylist would ask Adam a question, Skuba said, his mother would answer.
'He would just be looking down at the tiles … the whole time,' Skuba said. Former classmates have previously described Adam Lanza as intelligent but remote, and former high school adviser described him as anxious and shy. Several people who knew his mother have described her as a devoted parent.
Divorce paperwork released this week showed that Nancy Lanza had the authority to make all decisions regarding Adam's upbringing. The divorce was finalized in September 2009, when Adam Lanza was 17.                                                                                                             The Associated Press
More than 5,000 strange holes have been found at the bottom of the Pacific Ocean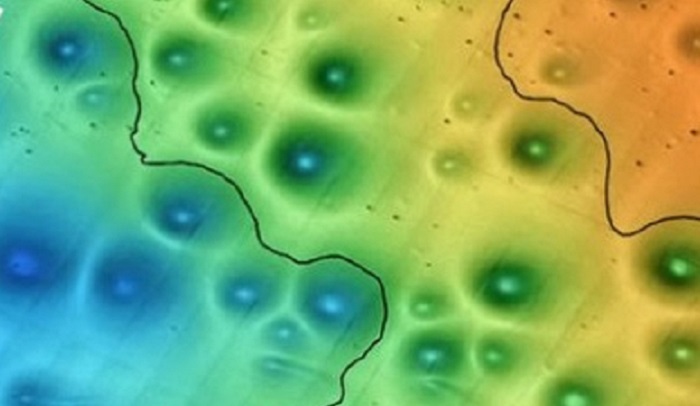 On a relatively small part of the Pacific Ocean, off the western coast of the United States, there are several thousand indentations of various sizes, the origin of which is not completely clear.
This was reported by scientists at the Monterey Bay Aquarium Research Institute (MBARI).
The larger pits have an average width of 175 meters and a depth of about five meters. Their shape is almost perfectly round.
Over the last few years, experts at MBARI and other organizations have found more than 5,200 such holes, such as smallpox, on an area of ​​approximately 1 300 square kilometers. So far, this is the largest concentration of such sites in North America.
More recently, scientists have been exploring the bottom of California in more detail. The fact is that they want to build a power plant there, but first they need to study the local conditions in detail.
Thousands of small pits or micro-depressions have been discovered using sonars mounted on autonomous submarines. Their width is about 11 meters and the depth is about a meter. Moreover, their shape is not round but oval.
Previously, similar seabed depressions have been found elsewhere in the world, and their origin is mainly due to methane emissions.
However, MBARI researchers find no evidence of this gas in the bottom sediments or in the water in this region.
Sonar data showing sludge bed layers, indicate that these points have been inactive for the last 50,000 years.
Scientists discover that the Y chromosome is disappearing from the blood of men
A study has found that Y chromosomes of men are disappearing as they get older and could put them at greater risk of cancer.
Humans have 23 pairs of chromosomes. The Y chromosome is considered the male chromosome and women don't have it: they have the XX chromosomes while men have XY.
But researchers have discovered that many men also lack Y chromosomes in some of their white blood cells.
The investigation
To reach this conclusion, scientists led by the University of Cambridge conducted a study on samples of 205,011 men, obtained from the Biobank gene bank in the United Kingdom, which contains the DNA of 500,000 volunteers.
They identified 156 autosomal genetic variants related to the loss of the Y chromosome, which were preferably close to genes involved in the regulation of the cell cycle, susceptibility to cancer or somatic drivers of tumor growth.
They found that more than four in 10 men (43.6%) had lost a notable proportion of their Y chromosomes at the age of 70.
The researchers found that one in five men in a sample of more than 200,000 had begun to lose Y chromosomes of DNA in some of their blood cells.
20% of men of all ages had lost some of the Y chromosomes in their blood and this proportion had doubled when men were 70 years old.
Subsequent analysis showed that people with high genetic predisposition to lose the Y chromosome were at greater risk of suffering from some type of cancer. The autosomal genetic variants found also influenced other aspects such as reproductive aging or type 2 diabetes.
Possible causes
The study authors believe that the loss of Y occurs through predisposition to processes that promote errors in cell division, or processes that help create an environment where aneuploid cells (cells with an abnormal number of chromosomes) are more likely to proliferate.
The team that made the discovery said that this strange change may be a sign that men's DNA was unstable and that the body was allowing random genetic mutations to accumulate.
The research has been published in the magazine Nature.
The Dani cannibal tribe and their smoky dead ancestors
In the Baliem Valley, West Papua Province in Indonesia, lives a weirdly primitive tribe called the Dani People.
A few decades ago, Dani actively practiced ritual cannibalism. It is now reported that this tradition has been discontinued.
In their recent macabre history, there is no less a frightening tradition of smoked dried carcasses of their dead relatives over a fire. And also cutting off the phalanges of women's fingers.
The phalanges were cut with a stone axe. This procedure is performed for those women who have lost a male relative: husband, son, brother or nephew, to emphasise the pain of loss and to appease the dead's spirit.
The surgery was primitive and rough, but the wounds on the hands of the women healed well and fairly quickly.
Recently, Italian photographer Gianluca Chiodini visited the village of Dani People and made unique color photographs.
Chiodini wandered in the jungle for days trying to find the tribe and finally he was lucky.
The photographer shares:
"The natives greeted me warmly and did not even try to eat me."
Gianluca was shocked to see the 250-year-old corpses of the dead, Dani's "eternal" ancestors, completely black from smoking for a long time.
The guide told the Italian that seven smoked mummies are stored in the village, but only two of them are allowed to be shown to strangers. The rest are taboos, and if the photographer tries to find them himself and photographs them, the natives could kill him.
To prevent mummies from decomposing, they are removed daily and carefully smeared with ointment of herbs and lard. Then they are hung over the fire so that the smoke can penetrate well into the body. All this has been happening daily for 250 years.
Dani people stopped eating their relatives only after 1990, at least officially. Now the meat they eat is mostly pork.
The natives hunt wild pigs with bows and arrows. After being captured and killed, the pigs are wrapped in palm leaves and allowed to be smoked by fire, like the mummies of their ancestors.
When the meat is hot, it is considered ready. Men are the first to eat, and women and children eat what is left behind.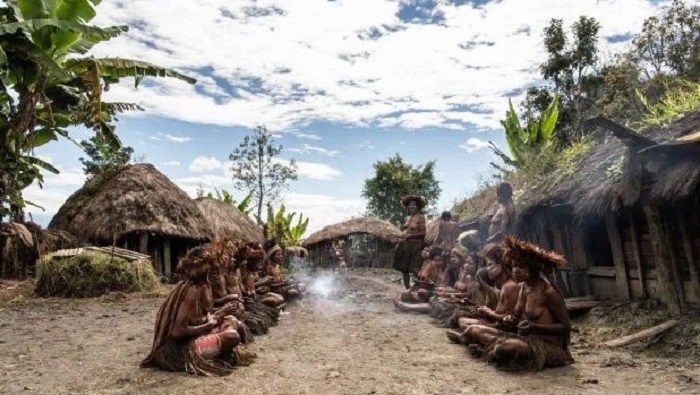 Many women in the tribe have their fingers cut off, meaning they have lost many male relatives.
Whether these deaths were in battle with neighboring tribes or through illness, history is silent …
Now, finger-cutting is also considered a forbidden procedure and in young women the fingers are already intact but you can still see the amputated hands of the older women.