"Hunting Monsters" – A Lecture Reviewed
On the late afternoon of October 4, I drove from my Arlington, Texas home to nearby Bedford, to see good mate Lyle Blackburn give a new lecture at the local library. The title of the lecture: Hunting Monsters: On the Trail of Famous Cryptids. Lyle is the author of a number of excellent books, including Lizard Man, The Beast of Boggy Creek and Beyond Boggy Creek. Around 100 people turned up for a great presentation that lasted for approximately two hours and with time left for questions. Rather than focus on just one strange creature, Lyle – who also fronts the band Ghoultown – treated the audience to his personal research into a wealth of strange creatures, including Bigfoot, the aforementioned Lizard Man, the Chupacabra, and the Dogman.
As Lyle told the audience, it was when he was a kid that he got interested in the world of monsters. It was specifically the 1972 movie, The Legend of Boggy Creek – a low budget, but highly atmospheric saga of a Bigfoot roaming around Fouke, Arkansas – that caught Lyle's attention and prompted him to seek out the truth for himself. I didn't see the movie myself until I was well into my teens, but I can easily see how it would have had a deep impact on a young kid. Lyle made it clear to the audience that there are no experts in the field of Cryptozoology, primarily because we don't have proof of the strange things that are said to lurk in  the woods, forests, mountains and lakes of our world. So far, we are collectors of data. Indeed, Lyle specifically referred to Cryptozoology as a "pseudo science," which is correct. Certainly, for the most part, Cryptozoology is not seen as a recognized science. Of course, should Lyle solve the riddle of Bigfoot (as one example) then that will likely change things very quickly!
Lyle spent time addressing the nature of Bigfoot. Is it an unknown ape? Maybe not. Lyle spoke of hunters who had a Bigfoot in their sights, but who held back from shooting the creatures for one, specific reason: they weren't entirely sure that what they were seeing were animals. Maybe they were something else: perhaps even a relic, human species. On the matter of why we don't have a corpse of a Bigfoot, Lyle suggested that their numbers may be very low at the best of times, something which might account for their elusiveness. He also made the good point that we rarely see dead bears in the woods. The reason? Nature has a way of taking care of things. Other animals will soon devour the remains of something dead in their midst. And that might very well apply to a deceased Bigfoot too.
Lyle then moved onto the Yeti. I found it very interesting that when Lyle asked the audience how many of them thought the man-beast of the Himalayas had white hair (or fur), quite a few raised their hands. As Lyle accurately noted, this is actually due to the influence of Hollywood and blockbuster movies – and nothing else. The Yeti is, in fact, described as being brown or black in color. I thought this angle – of Hollywood influencing views, assumptions and memories on Cryptids – was particularly intriguing. After a brief section on Nessie, Lyle tackled the matter of the Chupacabra. He gave an excellent overview on how the saga of the Chupacabra has become hugely complicated. As Lyle correctly noted, what passes for the Chupacabra in the United States today – a hairless coyote with a few very strange mutations and physical oddities – has zero to do with the original Chupacabra that surfaced in Puerto Rico in the mid-1990s.
Moving onto the weirder side of Cryptozoology, Lyle took on the Lizard Man – a strange, Creature of the Black Lagoon-type beast that surfaced in Bishopville, South Carolina in 1988. Lyle gave a great rundown of the Lizard Man saga, and how his personal investigation of the affair led to the surfacing of a wealth of fascinating material. A word to armchair-based skeptics: if you want to find the answers to the likes of Bigfoot, lake-monsters, etc., you really need to do what Lyle does. Namely, he goes out looking for them. Also on the matter of the stranger side of Cryptozoology, Lyle turned his attentions to the Dogman, a werewolf-like beast that has been the subject of a number of books by Linda Godfrey. While Lyle doesn't go with the supernatural angle of the Dogman issue, he did speculate that at least some cases might be mistaken identity – of Bigfoot. In other words, one monster being wrongly interpreted as another.
As the lecture came to its end, Lyle demonstrated how Cryptozoology – which began strictly as the study of unknown animals – has changed over the years and decades. A perfect example is that of the Thylacine. As Lyle told the audience, there's actually nothing mysterious or unknown about the strange-looking marsupial, which is believed to have become extinct back in the 1930s. What makes the story of the Thylacine so intriguing, said Lyle, is the fact that people claim to have seen such animals in modern times, and particularly so in Tasmania. It may still be around, although largely in stealth. Forty or fifty years ago, Cryptozoologists might not have looked at the matter of the Thylacine, but today things very different. Times – and Cryptozoology – have definitely changed. Extinct animals are now a part of Cryptozoology. Or, rather, ones that are supposed to be extinct!
In closing, I'll say that Lyle gave an excellent overview of Cryptozoology that was perfect for both long-term monster-hunters and for those new to the field and who may be wondering what it's all about.
SOURCE:
More Alleged Water Monsters Spotted in Canadian Lakes and Rivers
There are over 30,000 lakes and countless rivers in Canada, so the odds are in favor of there being a few unexplained water monsters swimming in bodies of water other than Okanagan Lake and its Ogopogo. In fact, just this week a parks and recreation director spotted some as-yet-unidentified thing making a large wake in Kamloops Lake. Now comes word of multiple recent sightings with videos and pictures in Shuswap Lake in British Columbia and one in the Bow River of Alberta's Banff National Park. Is something waking the monsters of Canada?
"I was kind of hoping to see it again and to my surprise I think that I did. Whatever it was, it was big. It looked like there were some kind of black humps. I had seen it twirling around a bit and then it went under."
On May 14, Dawn Dumont saw something with "black humps" twice in Shuswap Lake – once in the coastal town of Scotch Creek and again in Salmon Arm. She was quick enough to capture the second encounter on her cell phone and posted int on Facebook, where many people called it the Shuswaggi lake monster. Shuswap Lake measures 55 miles (89 km) long, 3 miles (5 km) wide and up to 528 ft (161 m) deep – plenty big enough for a lake monster. (See the video here.)
Native legends about such a creature go back centuries, but the first modern alleged encounter was reported in 1904 by a Shuswap First Nations tribe member who claimed he killed and skinned a water creature the size of a bear, but with 12-inch-long flat feet like a mole. Other sightings have been reported, including one in 1984 of an alleged 25-foot sea serpent with 7 humps. However, 2019 may be the year of the Shuswaggi. In April, two Shuswap fishermen recorded something with black humps swimming around their boat. (See the video here.) They have no idea what it might have been, but they plan to go back and fish for it. (To paraphrase a famous line from "Jaws" – they're gonna need a bigger boat.)
"After an hour hiking, we took a break on a hill with a great view of Bow River where my sister and I saw what appeared to be a prehistoric animal swimming. I pointed my sister to what I was seeing, and she too stood shocked. I immediately took photos, and after evaluating them, my sister and I responded with the same conclusion – the Loch Ness Monster."
Sigh. It can't be the Loch Ness monster because the Bow River isn't the Loch Ness, but that's what Matthew D'Amico reported seeing last week in Banff National Park – a creature with a "long neck protruding out of the water." That "neck" makes the thing look like the alleged monster in the infamous 1933 Surgeon's photo of the Loch Ness Monster which turned out to be a hoax sighting. This one has more the makings of a log, especially without a video, a wake, any landmarks or objects to help size it, etc. (See the picture here.)
As far as the Shuswap Lake sightings are concerned, wanna-believers are hoping it's an unknown creature or a 34-million-year-old Basilosaurus or some other extinct marine mammal or giant lizard or serpent. Skeptics, as they do with Ogopogo and other lake monsters, think it's a lake sturgeon, although even the largest measure well under 25 feet.
Is this the Year of the Shuswaggi? It's only May and Ogopogo still has the lead in name recognition. If you see something strange in any lake in Canada, just remember to lean against a wall to steady yourself, zoom in, get other witnesses … and PLEASE don't call it the Loch Ness monster.
Source: Mysterious Universe
Man set to solve Iliamna Lake Monster mystery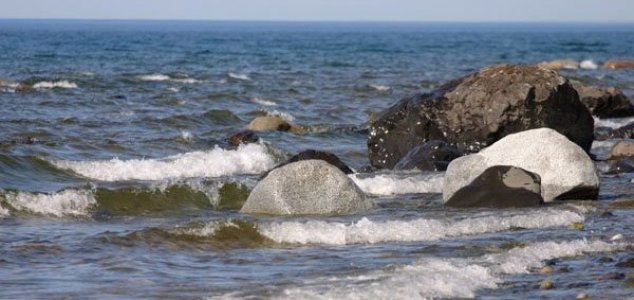 Image Credit: CC BY-SA 3.0 AlaskaTrekker
What lies within the depths of Lake Iliamna ?
A former marine ecologist is aiming to use underwater cameras to spot an elusive lake beast in Alaska.
Nestled at the north end of the Alaska Peninsula, Lake Iliamna is 77 miles long and as much as 22 miles wide, making it one of the largest lakes in the United States.
Like many large lakes, Iliamna is also home to its very own monster legend – a mysterious aquatic denizen of the deep that has been at the center of local folklore in the region for years.
Many fisherman swear by the creature's existence and even claim to have encountered it first-hand.
So great is the mystery that in 1980 the Anchorage Daily News offered a $100,000 reward for tangible evidence or scientific verification of a previously undiscovered species in the lake.
Now in a renewed bid to find out what lurks in Iliamna's depths, former marine ecologist Bruce Wright will be visiting the region this summer armed with a special underwater camera.
He will also take samples of the water so that it can be DNA tested.
His personal theory is that the sightings can be attributed to the presence of large sleeper sharks in the lake – a species that can grow to enormous sizes and live for hundreds of years.
"If we see a new species, that would be pretty fascinating," he said. "And if I find a sleeper shark, that's worth the effort too."
"There will be plenty of questions about why they're there and how do they make a living."

Source: ADN.com
Pale Humanoid Creature Recorded In The Australian Outback
While out at night, a man claimed he was driving around and came upon something from out of the ordinary. He managed to record a short clip of something crawling around on all fours. This humanoid looking creature, moved fast and was pale colored by appearance. This anonymous man, said he from a small town located in Rocky Gully, Western Australia. The location where the video was taken was within a forested area.
Certainly seeing something such as this, would startle anyone. Many are speculating what it might be. One thing is for sure, it moves fast and is smaller sized. It doesn't appear to be a dog or cat, it is something else.
Perhaps this was merely a kangaroo. They have been known to cross the road at night. There are many wild animals that are nocturnal, maybe this is something rather rare that this man happened to capture on video. It does resemble some humanoid features considering its limbs. What it might be, is nothing more than speculation and mystery at this point.
The man said, he used his smartphone to record this mystery creature. The lights from his vehicle were enough to shine upon this thing. It seemed to come out of nowhere, he explained. When it suddenly appeared, it was swift and moved around on all fours in front of the car. Moments later, it wandered off into the darkness.
This man also said he was very confused by what he had seen. He sat motionless inside his vehicle and pondered over what he witnessed (for a few minutes) before leaving the area. It seems that he didn't chase after where this humanoid looking creature went.
His guess was, this was some kind of unknown monster or alien of some kind. Undoubtedly, he was unable to find any kind of explanation yet and neither has anyone else yet. Speculations are, many biologists and cryptozoologists are having a hard time figuring out what this might be as well.