Hundreds Of Earthquakes Rattle The U.S. As The Level Of Seismic Activity In North America Continues To Rise
(Michael Snyder) Why is the mainstream media being so quiet about all of the seismic activity that has been happening all across the United States?
During the last 7 days, there has been an earthquake swarm directly along the New Madrid Fault zone, Kansas and Oklahoma have been hit by a very unusual number of significant quakes, and there have been several sizable seismic events in the vicinity of the Yellowstone supervolcano.  But of course the west coast is getting hammered more than anyone else.  According to Cal Tech, there have been more than 1000 earthquakes in California and Nevada over the last week, but of course most of them have been very small.  Overall, the latest USGS numbers tell us that there have been more than 2,000 earthquakes nationally during the last 7 days, and apparently we aren't supposed to be alarmed by that.  But could it be possible that all of this seismic activity is leading up to something really big?
Over the weekend, we witnessed some very unusual quakes in the middle of the country.  On Sunday, a magnitude 3.2 earthquake rattled Kansas…
The Kansas quake hit at 9:08 p.m. Central time near South Hutchinson, northwest of Wichita, according to the USGS. About 175 people reported feeling the tremor, some as far away as Osborne and Concordia, Kansas.
Thankfully that quake hit in an area with a very low population density, and so it didn't affect that many people.
But then on Sunday, a series of relatively large earthquakes hammered Oklahoma…
A 3.0-magnitude earthquake hit near Fairview in northern Oklahoma, at 1 a.m. Sunday, followed by a 2.6-magnitude quake at 1:37 a.m. near Quinton in eastern Oklahoma, the USGS reports. A 2.7-magnitude tremor rattled Waukomis in northern Oklahoma at 4:25 p.m. Saturday
Overall, there have been 143 earthquakes in Oklahoma in the last 30 days, and the increasing level of seismic activity in that part of the nation definitely has a lot of people on edge.
But of much greater concern is what has been happening along the west coast.  The two major quakes that hit California in July were followed by more than 100,000 aftershocks, and scientists are warning that this "may have increased stress on parts of a major dormant fault line"…
A series of earthquakes which shook Southern California earlier this year may have increased stress on parts of a major dormant fault line which has not produced any significant activity since records began, according to a study.

Scientists from the University of Iowa examined the so-called Ridgecrest earthquakes, which began with a 6.4 magnitude foreshock in the Mojave Desert on July 4, followed the next day by a 7.1 magnitude quake—the largest in Southern California for two decades. In addition, more than 100,000 smaller aftershocks were recorded.
The "dormant fault line" which they are talking about is the Garlock Fault.
And the Garlock Fault runs directly into the San Andreas Fault.
One day there will be a massive quake that fundamentally alters the geography of southern California, and let us hope that day is delayed for as long as possible.
Meanwhile, we have also witnessed some unusual rumbling off the coast farther north.
In fact, five large earthquakes were detected off of the Oregon coast last month.  The following comes from a news story that was posted on October 21st…
A magnitude-4.6 earthquake Monday morning became the fifth to strike off the Oregon coast since the beginning of the month.

The quake rumbled around 6:47 a.m. about 120 miles west of Bandon and at a depth of roughly 6 miles, according to the U.S. Geological Survey.

On Thursday, a magnitude-4.7 temblor struck about 95 miles from Port Orford — just hours after students in Coos and Curry counties participated in an annual earthquake drill.
The reason why these quakes are so alarming is because they happened in the vicinity of the Cascadia Subduction Zone.
As Steve Quayle recently told Greg Hunter, someday the Cascadia Subduction Zone will suddenly come to life, and it will be the greatest natural disaster that we have seen so far in all of American history…
What's the worst case scenario if the Cascadia Subduction Zone lets loose and volcanos, earthquakes and tsunamis are unleashed? Quayle says "The amount of damage, and I am going to choose my words carefully, is going to be precedent setting. It's going to be the combination of volcanos going off that are inland from the subduction zone where the plates meet, coupled with tsunamis. . . . When this happens, you will lose eight million to twenty million people. When it happens, you will lose all productivity in the electronic field, obviously Silicon Valley, and all food production in all of California, Oregon and Washington. When it happens, you will have a State of Emergency unlike any other. How about the refugees? There will be 3.5 million refugees to take care of. When this happens, what happens to the underground aquifers, and where does everybody go for fresh water? There will be years of drought, years of famine and years of water, water where did it all go? It is a very dire situation painted by computer models. This is not a sensational thing. It is a reality based, scientific study with the application of what happens."

Quayle warns that the public would likely have roughly "15 minutes to get to safety," and "the tsunami waves would be 500 to 1,500 feet tall."
You can see the trailer for the new film that is being produced about the Cascadia Subduction Zone right here.  I am so glad that this movie is being made, because I have been trying to warn people about what is going to happen for a long time.  For example, the following comes from one of my previous articles entitled "You Have Been Warned: Experts Tell Us That A Cascadia Subduction Zone Earthquake And Tsunami Will Destroy Everything West Of Interstate 5"…
One day it will happen. With little or no warning, the Cascadia Subduction Zone will produce a catastrophic earthquake and accompanying tsunami that will essentially destroy everything west of Interstate 5 in the Pacific Northwest. It will be the worst natural disaster up to that point in American history, and as you will see below, the experts are saying that we are completely and utterly unprepared for it. Of course the San Andreas Fault gets more publicity, but the truth is that the Cascadia Subduction Zone is capable of producing a quake "almost 30 times more energetic" than anything the San Andreas Fault can produce.
Scientists assure us that it is just a matter of time before such a disaster takes place.
So essentially those living right along the coast are taking a huge gamble.
Day after day, they hope that there is still at least a little bit more time before the Cascadia Subduction Zone absolutely devastates the Northwest.
Of course up until now that gamble has paid off, but one day their luck will suddenly run out.
About The Author
I am a voice crying out for change in a society that generally seems content to stay asleep.  My name is Michael Snyder and I am the publisher of The Economic Collapse Blog, End Of The American Dream and The Most Important News, and the articles that I publish on those sites are republished on dozens of other prominent websites all over the globe.  I have written four books that are available on Amazon.com including The Beginning Of The End, Get Prepared Now, and Living A Life That Really Matters.  (#CommissionsEarned)  By purchasing those books you help to support my work.  I always freely and happily allow others to republish my articles on their own websites, but due to government regulations I can only allow this to happen if this "About the Author" section is included with each article.  In order to comply with those government regulations, I need to tell you that the controversial opinions in this article are mine alone and do not necessarily reflect the views of the websites where my work is republished.  This article may contain opinions on political matters, but it is not intended to promote the candidacy of any particular political candidate.  The material contained in this article is for general information purposes only, and readers should consult licensed professionals before making any legal, business, financial or health decisions.  Those responding to this article by making comments are solely responsible for their viewpoints, and those viewpoints do not necessarily represent the viewpoints of Michael Snyder or the operators of the websites where my work is republished.  I encourage you to follow me on social media on Facebook and Twitter, and any way that you can share these articles with others is a great help.
Asteroid Apophis: Scientists calculate the exact date and place of impact
You know it's not good news when NASA says there is a possibility that a space rock will impact planet Earth, and more when it's huge. The asteroid that can rush to Earth and that is larger than the Eiffel Tower is called Asteroid Apophis, in honor of the Egyptian god of chaos.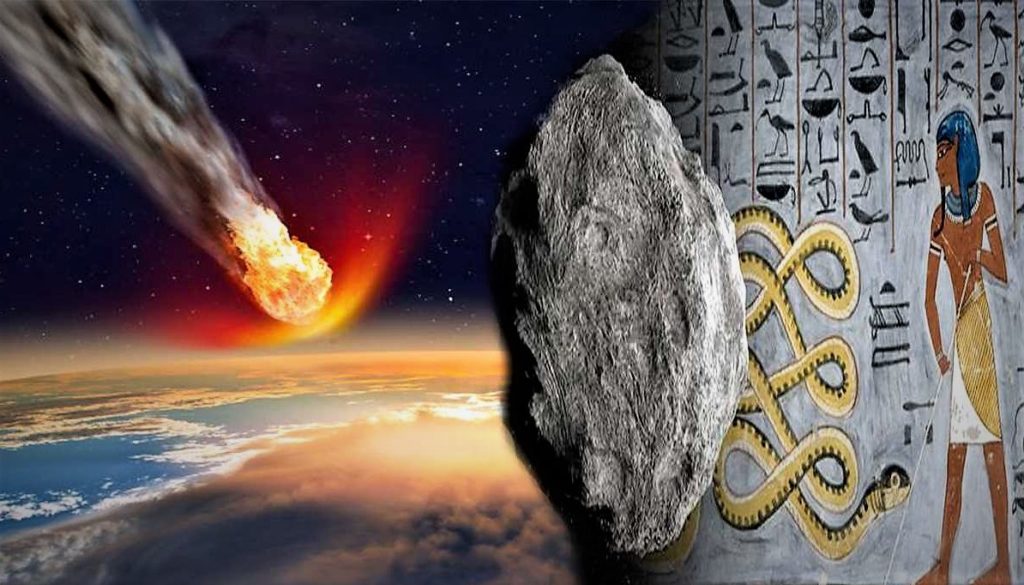 Its trajectory shows that it travels about 31,000 km over the surface of the Earth, and there is a possibility that it will pass near its surface.
To put it in perspective, it is possible that the asteroid will pass near the communication and meteorological satellites in orbit, traveling at more than 40,000 km / h when it passes Earth.
And in the event that the Asteroid Apophis of 27 billion kg hits the Earth, it could create a crater 1.6 km wide and 518 meters deep.
The impact would be equal to 880 million tons of TNT. All very disturbing, right? However, the only person who is not worried is the founder of SpaceX, Elon Musk, who has already announced that if a massive asteroid hits the Earth, we cannot do anything about it. But now a group of scientists has calculated the impact date.
The true danger of Asteroid Apophis
NASA, the National Aeronautics and Space Administration, has long been warning that Apophis is a potentially dangerous asteroid found in our solar system.
Although the US space agency has predicted the odds of a four-in-a-million collision during its near passage in 2036, some conspiracy theorists believe that the real dangers of this murderous space body have not been foreseen.
As reported by the British newspaper Daily Express, scientist Michael Horn reveals that NASA has been completely wrong in studying the trajectory of the asteroid Apophis, and argues that a possible collision with space rock hazards may occur within the next ten years.
Horn says the asteroid can impact our planet in an area between the North Sea, the Atlantic Ocean, and the Black Sea, located between Eastern Europe and Western Asia
"Apophis will hit Earth on April 13, 2029, or April 2036 if it does not deviate, " Horn told the Daily Express. " asteroid Apophis, with certainty, will impact the Earth between the North Sea and the Black Sea on April 13, 2029, less within 10 years or on April 13, 2036. I have a lot of information that we have corroborated to date with more than 250 specific examples of what I would like to call prophetically accurate scientific information from the source. "
Horn also claimed that former NASA aerospace engineer  Matthew Wieczkiwwicz and mathematician Harry Lear are key members of his research team.
Scientific controversy
In 2013, NASA calculated that asteroid Apophis would not impact Earth. They ruled out the possibility of an impact in 2036. They considered that the probabilities of the impact of the great space rock are less than one in a million, so the only interest is purely scientific.
But they also made it clear that on April 13, 2029, the passage of the asteroid Apophis will enter history due to how close the object of our planet will be.
It can be observed with optical telescopes and radar. With radar observations, they can check their surface a few meters in size.
Will NASA protect us using a planetary defense weapon?
NASA constantly tells us that we should not worry about the danger of asteroids, as it has been developing a planetary defense weapon for years to protect the Earth from the threats of space. The main objective of this weapon is to divert the asteroids from their original collision course trajectory so that these space bodies quickly pass Earth without triggering a true apocalypse.
However, some experts believe that this planetary defense weapon will not work when it comes to fighting large asteroids such as Apophis. According to these experts, bombing the asteroid is the only way to protect the Earth if giant space bodies approach. But, attacking the asteroids will cause radioactive rain that will cause another type of devastation.
Do you think that Asteroid Apophis will end up impacting our planet?
Asteroid Apophis, unlike Nibiru, is a real threat to the Earth.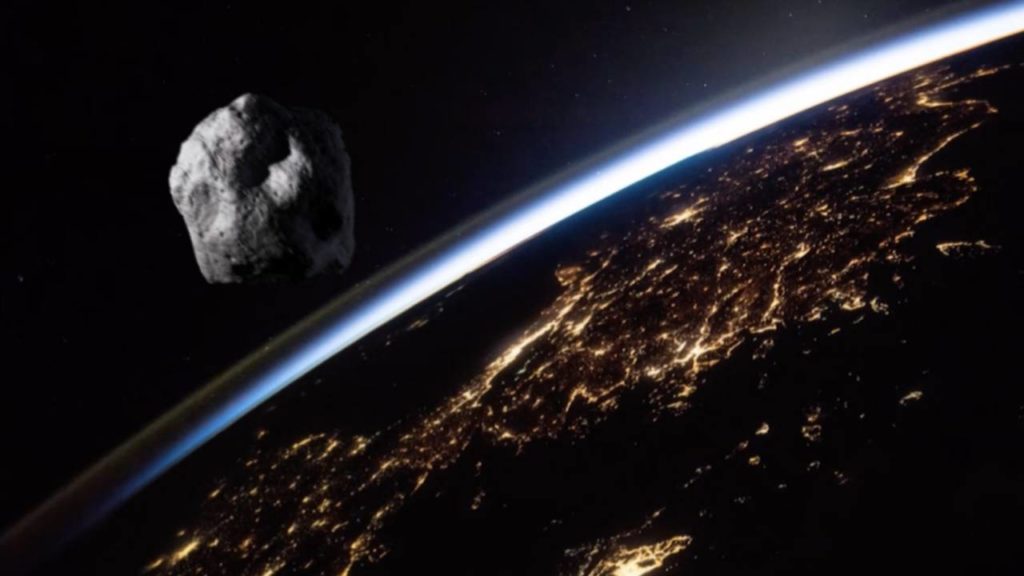 You can forget about it, carried away by numerous reports of the threatening planet Nibiru. But there is an asteroid Apophis which moves to the Earth and represents a danger with its mass. The asteroid is also known as the doomsday cosmic stone, bearing the name of the Egyptian god of chaos and darkness.
In 2013, NASA astrophysicists refuted the possibility of an asteroid colliding with the Earth, and he really passed by. However, in 2029, Apophis will reach a visible magnitude of 3.1 – an asteroid the size of a good stadium will be visible to the naked eye.
In 2004, the international scientific community informed about the discovery of a large celestial body. Astronomers have discovered an asteroid hidden behind the Sun, whose flight path is directed toward the Earth. He was called Apophis 99942 (asteroid 2004 MN4) whose closest approach to our planet will be on April 13, 2029.
After this approach, he will continue to fly, but the orbit of the asteroid will be changed by gravitational attraction. According to professional astronomers, the asteroid Apophis will return in seven years, and despite being close to our planet, he does not threaten a collision.
But according to some forecasts, the asteroid Apophis will hit the Earth on Easter Sunday, April 13, 2036. It will be a 750 megaton impact hit of estimated kinetic energy! An asteroid will kill more than 10 million people in seconds. Without a doubt, this will be a terrible apocalypse on Earth. Moreover, the asteroid has already "tried on" to our planet:
The devastating earthquake and tsunami in the Indian Ocean occurred the day after the asteroid approached in 013. News of the impact of Apophis went unnoticed as the media reported the deadly effects of the tsunami.
At the same time, space agencies reject the dangerous influence of Apophis. Meanwhile, on April 13, 029, at an altitude of about 30,000 km above the Earth's surface, an asteroid with a diameter of about 325 meters will pass. It will become as bright as the stars of the constellation Ursa Minor.
This will be the defining moment when the asteroid touches the Earth. According to Russian scientists, an object can pass through a gravitational castle, which will change its trajectory so as to cause a collision in a future passage in 2036.
What happens if the asteroid Apophis falls to Earth?
Asteroid Apophis will enter our atmosphere with a capacity of 750 megatons of kinetic energy. For example, the Tunguska event in 1908 ranged from 3 to 10 megatons, and the largest ever exploded hydrogen bomb – only 57 megatons.
If the asteroid Apophis falls to Earth, the result will be real apocalypse on earth. An object about 400 meters long will cause more than significant damage. Simulations carried out to date suggest that more than 10 million people will die as a result of the impact.
If this happened on land, an asteroid impact would destroy an area of ​​about 80 kilometers and leave a crater about 5 kilometers wide and another 5 kilometers deep.
If the fall occurs in the ocean, it will cause a huge tsunami, which will rush tens of hundreds of kilometers into the coastal territories.
Today, even options are mentioned for the "withdrawal" of a large asteroid from its trajectory. For example, launching rockets with explosives in order to gently push away the cosmic rock, and thus change the trajectory of the asteroid.
Although since astrophoid Apophis was discovered in 2004, experts predicted the probability of impact on the Earth in 2029 at 2.7%. Subsequent changes in the calculations excluded this probability, though a gravity lock can change its trajectory.
This is the largest asteroid that will probably hit Earth, the NASA Impact System warns
NASA's impact monitoring system has detected the largest and most dangerous asteroid that could hit Earth. If this asteroid collides with Earth, it could cause an event of extinction partial on the planet.
The dangerous asteroid has been identified by NASA as 29075 (1950 DA). This asteroid is currently being tracked by Sentry, which is the automated asteroid impact monitoring system of the POT. With an estimated diameter of approximately 1,320 meters, 29075 (1950 DA) is currently the largest asteroid on the list of Sentry that has the possibility of hitting the Earth.
According to NASA, 29075 (1950 DA) is classified as an Apollo asteroid, which means it has a wide orbit that surrounds the Sun and Earth. Occasionally, the asteroid's orbit intersects with Earth's when the planet cycles around the giant star.
Due to its natural orbit that crosses the Earth and its gigantic size, 29075 (1950 DA) has been labeled as a potentially dangerous asteroid.
NASA explained in a release:
Potentially dangerous asteroids are currently defined based on parameters that measure the potential of the asteroid to make threatening approaches to Earth. Specifically, all asteroids with a minimum orbit intersection distance of 0.05 astronomical units or less and an absolute magnitude of 22.0 or less are considered (potentially dangerous asteroids). "
Unlike the other asteroids that are on the list of Sentry, only a potential impact on Earth was detected for 29075 (1950 DA). Depending on the monitoring system, this impact event could take place on March 16, 2880.
Sentry He noted that if the asteroid ends up hitting Earth on this date, it could do so with a speed of more than 64,374 kilometers per hour. The speed of the asteroid, combined with its massive size, indicates that an impact event in 29075 (1950 DA) would cause high levels of destruction on Earth.
Although this asteroid is smaller than the one that caused the extinction of dinosaurs millions of years ago, 29075 (1950 DA) is still large enough to completely eliminate entire cities and even states. The energy that will be released from its impact could be powerful enough to cause extreme environmental effects.
As we have already said, the question is not: will an asteroid collide with the Earth? The question is when will it do so?
Source: IBTimes