Human Tissue Found in Meats – but eating it is "no threat"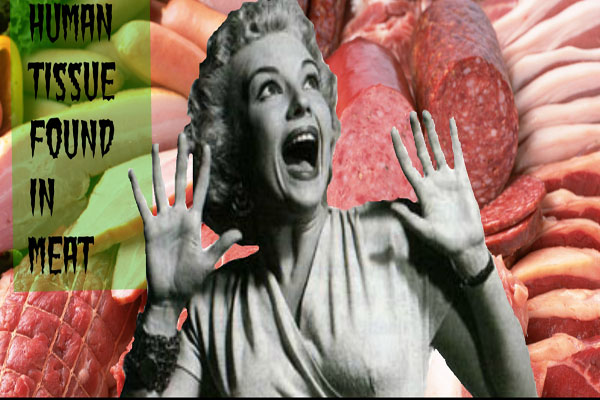 Amanda Warren AP
The horse meat fiasco in Europe has prodded scientists to look a bit deeper into what else we might be consuming. A team of South African scientists have just found traces of human tissue in meat meant for public consumption from 9 provinces.
The issue was revealed to parliament, almost as a side note, during meat inspection briefings on Tuesday.
A University of Stellenbosch scientist and his team conducted a microbial analysis that revealed traces of human elements, but said that slaughterhouse workers sometimes cut themselves . . . or other things . . . which could lead to the findings.
If I walked into a factory and the sample I randomly selected to test was a meat sample of which the person de-boning the meat had just picked his nose and then touched the meat, I would get a totally different microbial reading," he said.
Delicious. Beyond the findings themselves, it brings up the global hot-button topic of the moment: food labeling. How much should we know about what we are consuming?
In addition to the troubling statements above, scientist Louw Hoffman noted that only 15% of the meat being sold in South Africa is correctly labeled, revealing other potentially harmful attributes of which consumers are currently unaware:
"In the labelling regulations it clearly states that allergens have to be mentioned and noted," said Hoffman.
Allergens like . . . other people's genetic signature?
Yet, Hoffman and his team of scientists concluded that the incorrect labeling poses "no threat" to the consumers who eat it, despite some more gems uncovered:
Meat Musical Chairs
Briefing parliament's portfolio committee on agriculture, forestry and fisheries, University of Western Cape forensic scientist Dr Eugenia D'Amato said nearly 43% of samples she had tested which were labelled as game, were, in fact, beef.
D'Amato said horse meat had also been used as a substitute for springbok in biltong, and pork was found in ostrich sausages.
There was also a smaller proportion of kangaroo in samples.
Despite the overall findings that consumers have absolutely no idea what they are eating – including human remnants – in 85% of the products, SA's Department of Agriculture, Forestry and Fisheries deputy director-general downplayed it by asserting that we are not becoming unwitting cannibals:
It is possible that (if tested) we could find traces of human DNA in meat. However, even if we do find human DNA, it does not mean we are eating human flesh.
Great. Unfortunately, we are evidently eliminating healthy microorganisms in the processing of foods, but since there is an acceptable standard of nasty foreign entities, thanks to our regulatory agencies – we have introduced a variety of contaminants into now weakened guts and immune systems.
We'd like to think that these food scandals are safe from us – overseas, it's their problem. But, big problems are usually systemic and many of the developed nations are on the same platform. As with most food scandals, they go on for years unnoticed before the beans are spilled.
It doesn't sound like anyone's literally being run through the meat grinder just yet, but it's a startling fact that we don't know much about what our food comes into contact with. And we have scientists and regulatory agencies continually asserting how safe our food supply is.
Are you unsettled at the prospect of ingesting someone else's particles and blood? Do you wonder what else will be found when the next scientific investigation is conducted in your country?
Perhaps we should be asking ourselves before each meal, "Hey, who's in there? How'd they get in there? Anyone missing?"
Sources:
http://www.timeslive.co.za/thetimes/2013/03/27/human-tissue-in-my-beef-stew
http://www.express.co.uk/news/uk/387383/Could-HUMAN-DNA-be-in-our-food-Quite-likely-claim-experts
More than 5,000 strange holes have been found at the bottom of the Pacific Ocean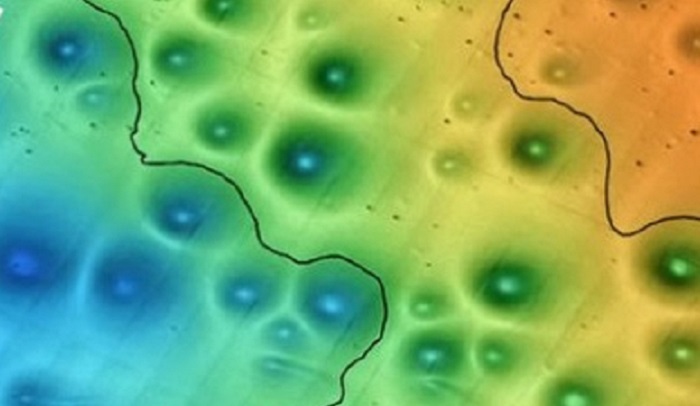 On a relatively small part of the Pacific Ocean, off the western coast of the United States, there are several thousand indentations of various sizes, the origin of which is not completely clear.
This was reported by scientists at the Monterey Bay Aquarium Research Institute (MBARI).
The larger pits have an average width of 175 meters and a depth of about five meters. Their shape is almost perfectly round.
Over the last few years, experts at MBARI and other organizations have found more than 5,200 such holes, such as smallpox, on an area of ​​approximately 1 300 square kilometers. So far, this is the largest concentration of such sites in North America.
More recently, scientists have been exploring the bottom of California in more detail. The fact is that they want to build a power plant there, but first they need to study the local conditions in detail.
Thousands of small pits or micro-depressions have been discovered using sonars mounted on autonomous submarines. Their width is about 11 meters and the depth is about a meter. Moreover, their shape is not round but oval.
Previously, similar seabed depressions have been found elsewhere in the world, and their origin is mainly due to methane emissions.
However, MBARI researchers find no evidence of this gas in the bottom sediments or in the water in this region.
Sonar data showing sludge bed layers, indicate that these points have been inactive for the last 50,000 years.
Scientists discover that the Y chromosome is disappearing from the blood of men
A study has found that Y chromosomes of men are disappearing as they get older and could put them at greater risk of cancer.
Humans have 23 pairs of chromosomes. The Y chromosome is considered the male chromosome and women don't have it: they have the XX chromosomes while men have XY.
But researchers have discovered that many men also lack Y chromosomes in some of their white blood cells.
The investigation
To reach this conclusion, scientists led by the University of Cambridge conducted a study on samples of 205,011 men, obtained from the Biobank gene bank in the United Kingdom, which contains the DNA of 500,000 volunteers.
They identified 156 autosomal genetic variants related to the loss of the Y chromosome, which were preferably close to genes involved in the regulation of the cell cycle, susceptibility to cancer or somatic drivers of tumor growth.
They found that more than four in 10 men (43.6%) had lost a notable proportion of their Y chromosomes at the age of 70.
The researchers found that one in five men in a sample of more than 200,000 had begun to lose Y chromosomes of DNA in some of their blood cells.
20% of men of all ages had lost some of the Y chromosomes in their blood and this proportion had doubled when men were 70 years old.
Subsequent analysis showed that people with high genetic predisposition to lose the Y chromosome were at greater risk of suffering from some type of cancer. The autosomal genetic variants found also influenced other aspects such as reproductive aging or type 2 diabetes.
Possible causes
The study authors believe that the loss of Y occurs through predisposition to processes that promote errors in cell division, or processes that help create an environment where aneuploid cells (cells with an abnormal number of chromosomes) are more likely to proliferate.
The team that made the discovery said that this strange change may be a sign that men's DNA was unstable and that the body was allowing random genetic mutations to accumulate.
The research has been published in the magazine Nature.
The Dani cannibal tribe and their smoky dead ancestors
In the Baliem Valley, West Papua Province in Indonesia, lives a weirdly primitive tribe called the Dani People.
A few decades ago, Dani actively practiced ritual cannibalism. It is now reported that this tradition has been discontinued.
In their recent macabre history, there is no less a frightening tradition of smoked dried carcasses of their dead relatives over a fire. And also cutting off the phalanges of women's fingers.
The phalanges were cut with a stone axe. This procedure is performed for those women who have lost a male relative: husband, son, brother or nephew, to emphasise the pain of loss and to appease the dead's spirit.
The surgery was primitive and rough, but the wounds on the hands of the women healed well and fairly quickly.
Recently, Italian photographer Gianluca Chiodini visited the village of Dani People and made unique color photographs.
Chiodini wandered in the jungle for days trying to find the tribe and finally he was lucky.
The photographer shares:
"The natives greeted me warmly and did not even try to eat me."
Gianluca was shocked to see the 250-year-old corpses of the dead, Dani's "eternal" ancestors, completely black from smoking for a long time.
The guide told the Italian that seven smoked mummies are stored in the village, but only two of them are allowed to be shown to strangers. The rest are taboos, and if the photographer tries to find them himself and photographs them, the natives could kill him.
To prevent mummies from decomposing, they are removed daily and carefully smeared with ointment of herbs and lard. Then they are hung over the fire so that the smoke can penetrate well into the body. All this has been happening daily for 250 years.
Dani people stopped eating their relatives only after 1990, at least officially. Now the meat they eat is mostly pork.
The natives hunt wild pigs with bows and arrows. After being captured and killed, the pigs are wrapped in palm leaves and allowed to be smoked by fire, like the mummies of their ancestors.
When the meat is hot, it is considered ready. Men are the first to eat, and women and children eat what is left behind.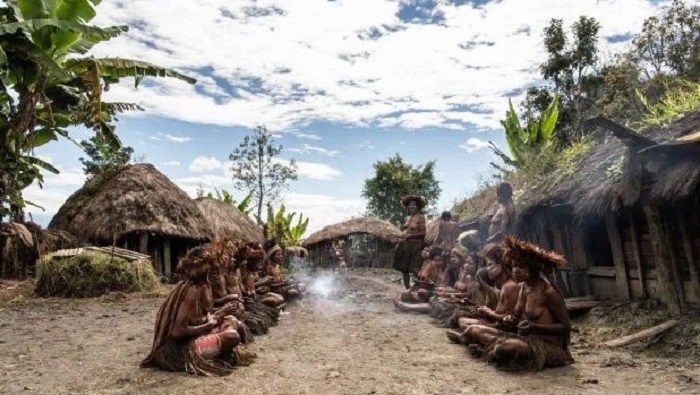 Many women in the tribe have their fingers cut off, meaning they have lost many male relatives.
Whether these deaths were in battle with neighboring tribes or through illness, history is silent …
Now, finger-cutting is also considered a forbidden procedure and in young women the fingers are already intact but you can still see the amputated hands of the older women.