Human Mutation Is Slowing Down
Mutation Station
The rate of mutation in the human genome has slowed significantly over the past million years or so, according to new research — firming up the timeline of primate evolution.
"The times of speciation we can now calculate on the basis of the new rate fit in much better with the speciation times we would expect from the dated fossils of human ancestors that we know of," Aarhus University researcher Mikkel Heide Schierup said in a press release.
"The reduction in the human mutation rate demonstrated in the study could also mean that we have to change the estimate for the split between Neanderthals and humans to be closer to the present," he added.
Stable Genome
To gather data for the new paper, published in the journal Nature Ecology and Evolution on Monday, Schierup andcolleagues at Aarhus and the Copenhagen Zoo examined the sequenced genomes of human families and families of chimpanzees, gorillas, and orangutans.
They found about a third fewer mutations between generations of humans than between generations of primates. In the paper, they describe this as an "appreciable slowdown" that could alter the current understanding of human genetic history.
Conservation Situation
The researchers also believe their paper could provide new insights into how great apes will deal with a changing environment.
"All species of great apes are endangered in the wild," Copenhagen Zoo researcher Christina Hvilsom said in the press release. "With more accurate dating of how populations have changed in relation to climate over time, we can get a picture of how species could cope with future climate change."
READ MORE: Human Mutation Rate Has Slowed Recently [Phys.org]
Is lab-grown meat environmentally friendly ?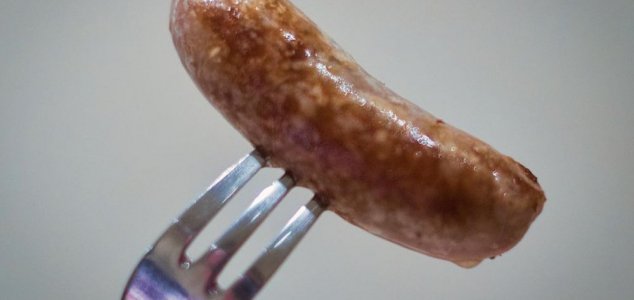 Image Credit: CC BY-SA 3.0 Alexbrn
Could we all end up eating lab-grown meat ? 
A new study has indicated that growing meat in a laboratory may actually make global warming worse.
The world's first lab-grown burger, which was developed by a team in the Netherlands and cost a whopping $325,000 to produce, was seen as a major milestone in the development of a new and sustainable food source that could help feed our planet's ever-growing population.
But while the potential benefits are many, some scientists have called in to question the idea that growing meat in a lab rather than rearing cattle will ultimately benefit the environment.
Large numbers of cows contribute to global warming thanks to the amount of methane they produce, however it takes energy to produce lab-grown meat too and this can, depending on how it is generated, release a lot of carbon dioxide in to the atmosphere.
"Per ton emitted, methane has a much larger warming impact than carbon dioxide," said study co-author Prof Raymond Pierrehumbert. "However, it only remains in the atmosphere for about twelve years, whereas carbon dioxide persists and accumulates for millennia."
"This means methane's impact on long-term warming is not cumulative and is impacted greatly if emissions increase or decrease over time."
The researchers determined that over a long period of time, growing meat in a lab may in fact contribute more to global warming than rearing large numbers of cows.
According to lead author Dr John Lynch, it all comes down to how the energy is produced.
"The climate impacts of cultured meat production will depend on what level of sustainable energy generation can be achieved, as well as the efficiency of future culture processes," he said.
"If the lab-grown meat is quite energy intensive to produce then they could end up being worse for the climate than cows are."
Source: BBC News
5.8 Magnitude Quake Shakes Istanbul for 50 Days… Goes UNNOTICED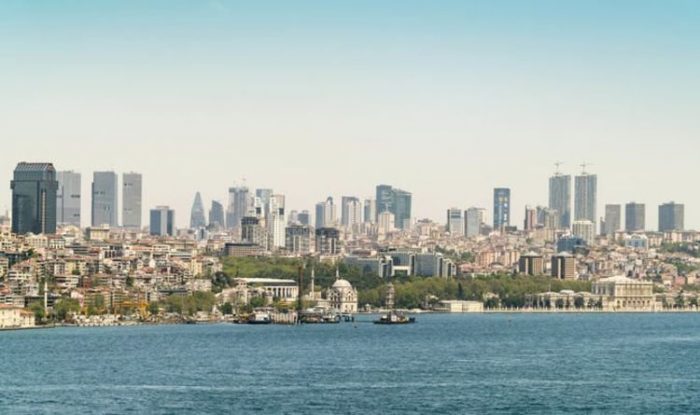 TURKEY was struck by a 50-day long 5.8 magnitude earthquake which remarkably nobody felt, research reveals.
via Express UK:
The rare event occurred in Istanbul during the summer of 2016 and lasted an incredible 50 days, according to a new study in Earth and Planetary Science Letters. The "phantom quake" has left geologists stunned and it is believed to have been caused when a fault line running under the Sea of Marmara slipped, leading to a slow earthquake. In most instances deadly earthquakes are caused when two tectonic plates that are sliding in opposite directions along the fault stick and then slip suddenly.
Meanwhile slow earthquakes happen in more stable regions around the fault and can release similar amounts of energy over a prolonged period.
The study, conducted by Patricia Martínez-Garzón and her team, used boreholes in the Sea of Marmara filled with strain metres that picked up this surface disturbance.
She told National Geographic: "You could call them phantom quakes."
Lucile Bruhat, an earthquake physics researcher at the Ecole Normale Supérieure in Paris, said these reactions are "very common" and are "most of the time harmless".
Attempting to explain the science behind the phenomenon, she added: "A good analogy for that is when someone walks on a wooden floor on the floor above.
"We can't see them, but we can track the motion using the sounds of the wood cracking."
Ms Bruhat also said the longest slow slip event ever recorded was in Alaska, and it produced a magnitude of 7.8 that took at least nine years to come to an end.
These incidents are more common in North America with the province of Cascadia known to register slow slip earthquakes with a magnitude of 6.0 which can last two or three weeks and repeat every 15 months.
Meanwhile in the New Zealand capital city, Wellington, a magnitude of 7.0 has been recorded but as they usually take 12-18 months to take place they once again go unnoticed.
A link between these small scale eruptions and larger disruptions is yet to be established.
Ms Bruhat added: "We have no idea how to distinguish an ultra-rare slow slip event that would trigger a large earthquake from a harmless one."
LUKE HAWKER
Express UK
"Green New Deal" Calls for a Zero-Emission America by 2030
It's Finally Here
The Green New Deal, the ambitious climate-change prevention overhaul of the U.S. economy introduced by Representative Alexandria Ocasio-Cortez and Senator Ed Markey, made its way to the internet on Thursday.
The Green New Deal (GND), which is not a bill in itself but rather a resolution for the government to craft new laws promoting clean energy, was published online along with an FAQ sheet that highlights some of the proposal's broad strokes. Particularly striking: an ambitious call for America achieve net-zero greenhouse gas emissions by 2030.
Moonshot
The GND calls for a nationwide effort to embrace renewable energy, stop burning fossil fuels, retrofit buildings to be eco-friendly, and invest in reforestation to provide the world with carbon sinks. It also includes plans to provide education and job training to those in the areas and lines of work most impacted by climate change.
In short, the Green New Deal involves overhauling the U.S. economy in a drastic push to end the country's massive contribution to global climate change.
Nuts and Bolts
Some of the Green New Deal's goals may be more ambitious than practical, like the part about planting enough trees to suck up the carbon from extant emissions or the proposal to develop a high-speed railway to replace the bulk of U.S. air travel.
As a result, some have called into question how feasible these goals may be. The GND, as it currently stands, lacks the specific, actionable proposals necessary to accomplish its goals in such a short amount of time.
But it is the most ambitious push for progressive, environment-saving policy to hit the mainstream — and enjoys a great deal of public support in a nation with leadership that's reluctant to address damage caused by our changing climate. The nuts and bolts can come later.
READ MORE: Green New Deal resolution lays out ambitious plan to fight climate change [The Verge]