Human Mutation Is Slowing Down
Mutation Station
The rate of mutation in the human genome has slowed significantly over the past million years or so, according to new research — firming up the timeline of primate evolution.
"The times of speciation we can now calculate on the basis of the new rate fit in much better with the speciation times we would expect from the dated fossils of human ancestors that we know of," Aarhus University researcher Mikkel Heide Schierup said in a press release.
"The reduction in the human mutation rate demonstrated in the study could also mean that we have to change the estimate for the split between Neanderthals and humans to be closer to the present," he added.
Stable Genome
To gather data for the new paper, published in the journal Nature Ecology and Evolution on Monday, Schierup andcolleagues at Aarhus and the Copenhagen Zoo examined the sequenced genomes of human families and families of chimpanzees, gorillas, and orangutans.
They found about a third fewer mutations between generations of humans than between generations of primates. In the paper, they describe this as an "appreciable slowdown" that could alter the current understanding of human genetic history.
Conservation Situation
The researchers also believe their paper could provide new insights into how great apes will deal with a changing environment.
"All species of great apes are endangered in the wild," Copenhagen Zoo researcher Christina Hvilsom said in the press release. "With more accurate dating of how populations have changed in relation to climate over time, we can get a picture of how species could cope with future climate change."
READ MORE: Human Mutation Rate Has Slowed Recently [Phys.org]
40,000-Year-Old Tree Shows What Happened During Earth's Last Magnetic Pole Reversal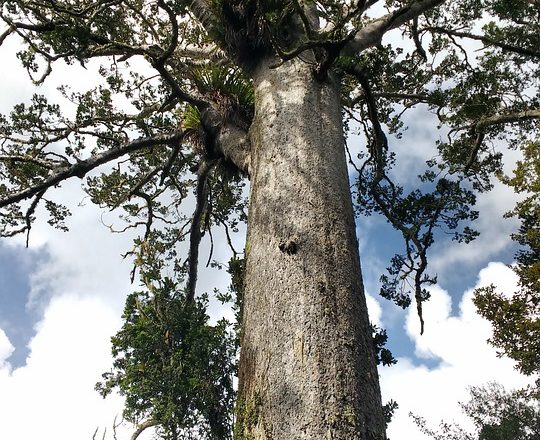 Most people think tree rings are primarily used to tell the age of a tree and secondarily to make furniture look better. Believe it or not, there's so much more that can be found in tree rings that an entire scientific field – dendroclimatology – is devoted to the study of climate and atmospheric conditions during different periods in history that can be revealed by analyzing tree rings. Excited dendroclimatologists are shaking like redwoods in a California quake at what they might find in the rings of a well-preserved kauri tree from about 41,000 years ago found buried in a swamp in New Zealand. One thing they won't find is end tables and bookcases. However, what they will find is a bark-encased picture of Earth's last magnetic polar shift – an event that is quickly occurring again. Did the rings reverse too?
"Over a period of 200 to 300 years, the virtual geomagnetic pole moved in clockwise fashion from its original northern position, traveling well into the Southern Hemisphere before swinging north again. If this were to occur at present, it would probably have significant implications for modern technology because very much stronger cosmic radiation impinging on the Earth's surface would almost certainly impact upon satellites and communication. We do not need to be alarmist over this but it is important to know just how quickly these changes can occur."
It's too late to not be alarmist, since the news about the magnetic North Pole moving to Siberia and on to the Southern Hemisphere has already been on Twitter, conspiracy sites and the mainstream media. However, Alan Hogg, director of Waikato University's Waikato Radiocarbon Dating Laboratory, say studying the rings throughout this monstrous 16-meter-long (52.5 feet), 2.5 meters wide (8.2 feet), 60-ton log will reveal exactly how radiocarbon changed during its life span. That life span, which was estimated to be between 1500 and 200 years, began about 42,5000 years ago near what is now Kaikohe, a town in the Far North District of New Zealand. The kauri (Agathis australis) was found in late March in a massive swamp during excavations for a new geothermal power station near Ngāwhā Springs. The tree was preserved in clay 9 meters (29.5 feet) underground and the ends had to be cut off to move it. during site works for the new power station.
"It feels like it's being returned to its rightful owners."
Project site manager Mike Ohs gave the tree to local Maori leaders, who, after finding out it may be the only tree ever discovered from the Laschamp Event, the most recent reversal of the Earth's north and south magnetic poles, allowed researchers like Alan Hogg and Professor Chris Turney from the University of New South Wales, an expert in paleoclimatology and climate change over the past 40,000 years, to study it. their initial reports in early July confirmed the tree's age.
"We will be comparing results from dating this tree with dating from other sites to build a clearer picture of past climate changes."
The tree was part of a vast kauri forest which covered the upper North Island and was exposed to the climate change caused by the Laschamp Event. While traumatic, it obviously survived, as did the kauri forests until the 1820 arrival of Europeans with axes, saws and a burning desire to cut down trees. It's estimated that only 4 per cent of that original forest now remains.
What will this tree reveal about the last magnetic pole reversal … and the next one? What will it tell us … and possibly warn us … about climate change?
Forget the phony time travelers. This kauri is a true time machine.
Source: Mysterious Universe
One Of The Largest Dog Meat Markets In South Korea Has Shut Down
After many years of controversy, Gupo Livestock Market in South Korea has finally agreed to stop selling dog meat. Gupo Market has been one of the largest dog meat markets in the country, which has made it a regular target for animal rights activists. The market was home to 19 different dog meat distributors, all of whom agreed to close their shops by July 11.
The dog meat sellers will be compensated by the government to the tune of 3.1 million won each month, which converts into about $2,700. Each of the sellers will receive the payments until December 2020. These payments are a part of a government plan to peacefully persuade the dog meat sellers to open up other businesses.
In a joint statement among four of the largest animal rights groups in the country, activists called the closure of the market a "big step forward."
"We wholeheartedly welcome and support the district office's effort to end the trade of dog meat in Korea. It is a big step forward, but Korea still has many such markets, including Chilseong Market in Daegu … We will continue to work with everyone to end the practice of eating dog meat," the statement read, according to Korea Times.
It is estimated that anywhere between 1 and 2 million dogs are raised on farms across South Korea for the sole purpose of providing meat. Across Asia as a whole, roughly 30 million dogs are killed and eaten each year, many of them stray dogs or stolen pets.
The farmers and dog meat sellers in this industry are also said to be extremely cruel with the animals. Witnesses say that farmers torture dogs to death in front of the other dogs.
Animal rights activist Nara Kim celebrated the closure of the Gupo Market in a recent statement. Kim said:
"The closure plan is the result of months of hard work between the local authorities and the market vendors, and both sides are to be commended for working towards this goal that will not only bring to an end to Gupo's dog meat era, but will also see the area regenerated with new amenities and businesses for the benefit of the local, modern economy," Kim said. 
Kim also pointed to the changing opinions in the country about dog meat.
"HSI has been working with dog meat farmers in South Korea for nearly four years helping them close their flagging businesses as more people in the county turn away from dog meat, so the closure of Gupo's grimly iconic dog market, which follows the demolition last year of the country's largest dog slaughterhouse complex, is a sign of more compassionate times," Kim said.
A survey by Gallup Korea conducted in June 2018 showed that 70 percent of South Koreans say they will not eat dog meat in the future. Experts say that people in the country are beginning to see these animals more as pets than as food.
On November 21st, 2018, South Korea closed the country's main dog slaughterhouse, known as Taepyeong-dong. Now, the former slaughterhouse will be turned into a community park.
The consumption of dog meat in Asia can be traced all the way back to the times of the Mongol invasions.
Still, despite all these closures, there are roughly 17,000 dog markets remaining in South Korea.
While the practice was incredibly rare in the United States, killing dogs and cats for food was actually still legal until 2018. In December of last year, US President Donald Trump signed the Dog and Cat Meat Prohibition Act, which makes it a federal offense to slaughter, trade, import or export dogs and cats for human consumption. However, Native American tribes are still exempted for religious rituals.
Bear Cub Feels Grass For First Time After Being Rescued From Filthy Basement [Video]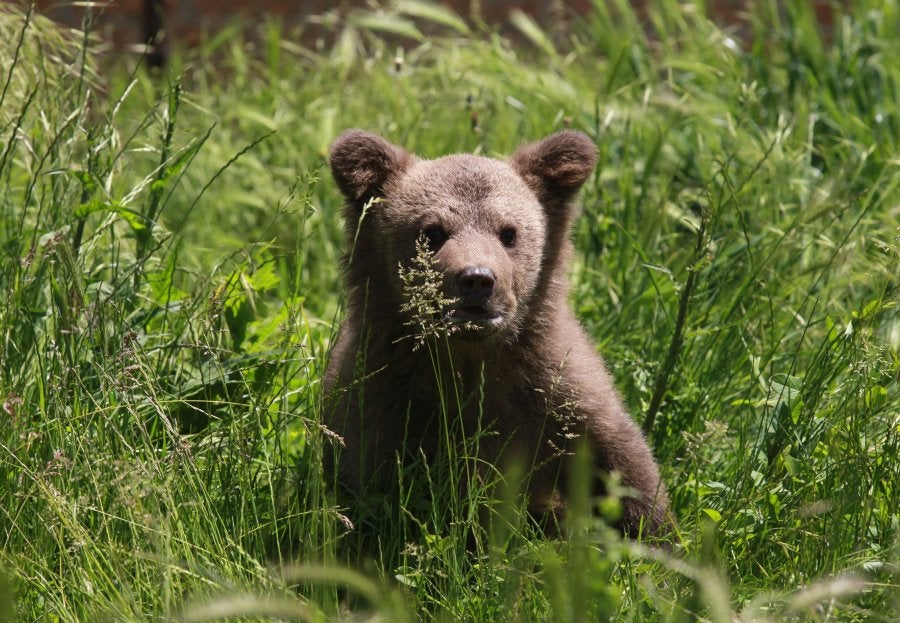 By Mandy Froelich / Truth Theory
An adorable bear cub has a new lease on life, thanks to the animal welfare group Four Paws International and Kosovo authorities. After living in a dark, filthy basement for most of its life, the bear cub now lives at the Bear Sanctuary Prishtina. Recently, he experienced grass for the first time ever. 
As GoodNewsNetwork reports, the cub had been liberated from a dark basement enclosure in Kosovo. Someone had been keeping him as a pet, which is against the law. After the cub was rescued, he was transported to his new home at the bear sanctuary.  The specialized sanctuary is home to other bears who have also been saved from neglectful situations.
Before he was allowed to experience the joys of nature, the bear cub underwent a thorough medical examination. Once he was deemed "healthy," he was transported outside. The video below shows him running through the grass, feeling the sun on his face, and exploring his new home.
Safe haven for the bear cub in Kosovo!

A safe haven last! 🐻The recent tragic story about the bear cub in Kosovo, who was found to be living in terrible conditions in a dark garage, was not only touching for us, but it also moved many of your hearts.🧡Two weeks ago, we got the news we had all been hoping for, and we were finally able to bring him to our Bear Sanctuary Prishtina. Here you can see the emotional moment when the little bear explores his new beautiful enclosure for the first time! 🌳➡️ Please help us to look after this little wild animal in the future!

Gepostet von FOUR PAWS International am Dienstag, 25. Juni 2019
https://www.facebook.com/fourpaws.org/videos/464367954330208/
"We thank Ministry of Environment and Agency for Environment Protection for the trust in our professionalism to continue with the right treatment for the cub," said Afrim Mahmuti, manager of the Bear Sanctuary Prishtina.
For the next six months, Four Paws International will care for the cub until he matures into adolescence. At that point, it will be determined whether or not the bear can be released into the wild. For now, he seems happy simply living at the sanctuary.