Huge Breakthrough: Vast Liquid Water Lake Was Discovered On Mars
It is always exciting when we receive new information about Mars. This time, scientists have made a large step forward by discovering a huge reservoir of liquid water on the Red Planet.
As Independent reports, the 20-kilometers-wide lake of liquid water was discovered beneath the Red Planet's southern pole.
So, can we assume Mars is not as dead as we all thought to?
Scientists were able to announce this amazing revelation with the help of the Mars Advanced Radar for Subsurface and Ionosphere Sounding (MARSIS) device on the Mars Express spacecraft.
Roberto Orosei, the leader of the research, along with his team, was gathering data between the period of May 2012 and December 2015.
He detected a rather intense alteration in the radar pulses about 1.5 km underneath Mars' surface.
It seems like the knowledge they obtained is very alike to the liquid water lakes discovered underneath the Antarctic and Greenland on Earth.
The liquid water wouldn't be such an exciting news if the scientists didn't suggest something even more impressive. According to them, the conditions in the water could easily sustain microbial life.
Mars has a colder temperature than the Antarctic and Greenland. The fact that the scientists managed to find liquid water instead of frozen, in fact, says it all!
Alan Duffy, an astronomer from Swinburne University and scientist of Australia's Science Channel, said: "This is a stunning result that suggests water on Mars is not a temporary trickle like previous discoveries but a persistent body of water that provides the conditions for life for extended periods of time."
However, scientists said that similar lakes of liquid water could exist in other parts of the planet too.
Moreover, they said that the lake is probably a 'briny sludge'. Therefore, it is probably the salt that helps the water not to freeze.
Space Force will not be the military branch that repels an alien invasion, officials say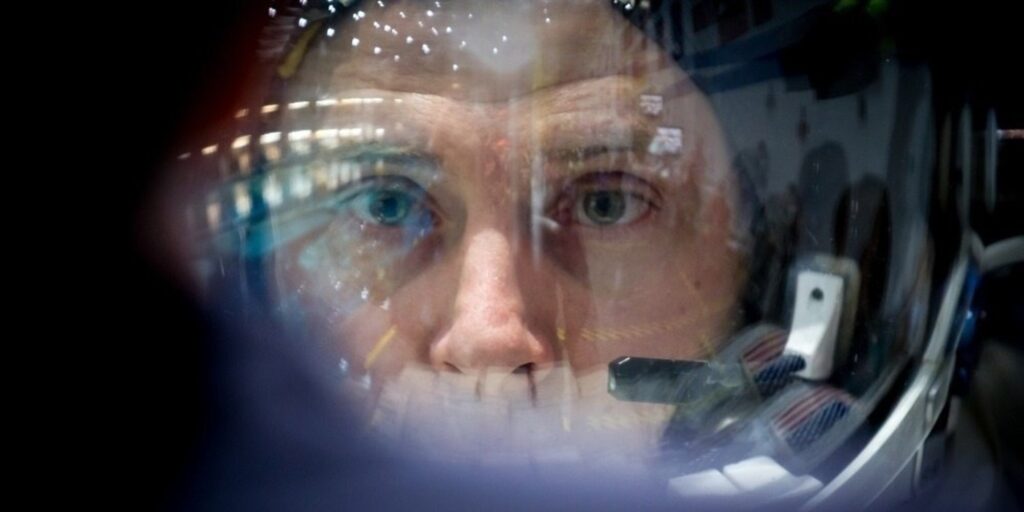 Listen up conspiracy theorists, schizophrenics, and other beloved readers: Some of you out there might have been wondering if Space Force will fight aliens.
Yet only a fool would pose such a question to senior defense officials. Thankfully, your friend and humble Pentagon correspondent is that fool.
During a roundtable on Friday, this reporter asked if Space Force is concerned about threats posed by extraterrestrial intelligence.
The official answer: No.
A December 2018 Defense Intelligence Agency report warns that, "potential adversaries are developing and proliferating a variety of weapons that could disrupt or deny civil and military space services."
But the report does not mention xenomorphs, Bugs, or Cylons. (This reporter looked.)
Now it is up to Congress to decide whether to approve standing up Space Force as the sixth military service. The last time lawmakers approved the creation of a new military branch was when the Air Force became its own service in 1947.
"We want people to be recruited into the Space Force similar to the way the Marine Corps recruits Marines," one senior defense official said. "They don't recruit them into the Navy. They actually go after the specific people with a vision that is necessary to build that culture."
It has yet to be decided if Space Force will have its own boot camp, officials said. However, ideal Space Force personnel would be able to apply science, technology, engineering, and math skills to warfighting. (Apparently, in space no one eats crayons.)
As currently envisioned, Space Force would fall under the Department of the Air Force. The service would ultimately have about 15,000 service members and civilians, most of whom would likely be transferred from the other services, defense officials said on Friday. The Pentagon estimates that Space Force will cost $2 billion over five years.
"The Space Force will develop forces for: space situational awareness; satellite operations and global, integrated, command and control of military space forces; global and theater military space operations to enable joint campaigns (to include missile warning); space support to land, air, naval, and cyber forces; spacelift and space range operations; space-based nuclear detonation detection; and prompt and sustained offensive and defensive space operations to achieve space superiority," according to a strategic overview of the proposed service.
Acting Defense Secretary Patrick Shanahan has already said that Space Force would not include rifle squads to seek out and destroy new life forms.
One unresolved question is whether Space Force will have its own uniform, like the other military branches.
"They can," said a senior defense official, who was unable to say what the Space Force uniform might look like. "That's an important detail to be worked out in the future."
Your friend and humble narrator will be following the Space Force uniform issue as it develops.
Buzz Aldrin calls for mass migration to Mars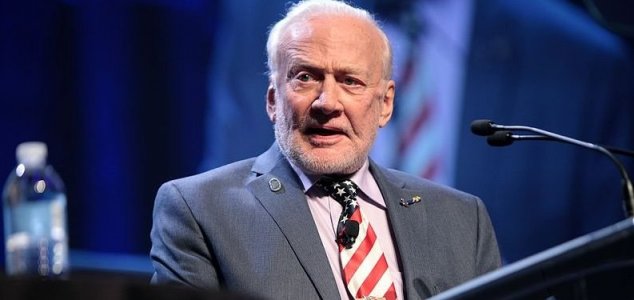 Image Credit: CC BY-SA 2.0 Gage Skidmore
Aldrin has some ambitious ideas for the future of mankind.
The veteran Apollo astronaut has called on the US government to hasten its efforts to colonize Mars.
Writing in the Washington Post, Aldrin, who famously walked on the Moon with fellow astronaut Neil Armstrong as part of the groundbreaking Apollo 11 mission in 1969, called on both Congress and President Trump to not only send humans to Mars, but to also build up a permanent presence there.
"Human nature – and potentially the ultimate survival of our species – demands humanity's continued outward reach into the universe," he wrote.
The emphasis, he argues, should not be on "a few hijinks or joy rides" but to work together with other countries to achieve a permanent settlement on Mars.
This can then facilitate what Aldrin refers to as the "great migration of humankind to Mars."
"In a world of division and distraction, this mission is unifying – for all Americans and for all humankind," he wrote.
With NASA currently targeting 2033 as the earliest possible date for a manned mission to Mars, perhaps Aldrin's vision of a united interplanetary human race is not as far-fetched as it seems.
Source: Washington Post
Astronomers Spot Distant Black Hole Spinning So Fast That It Warps Space-Time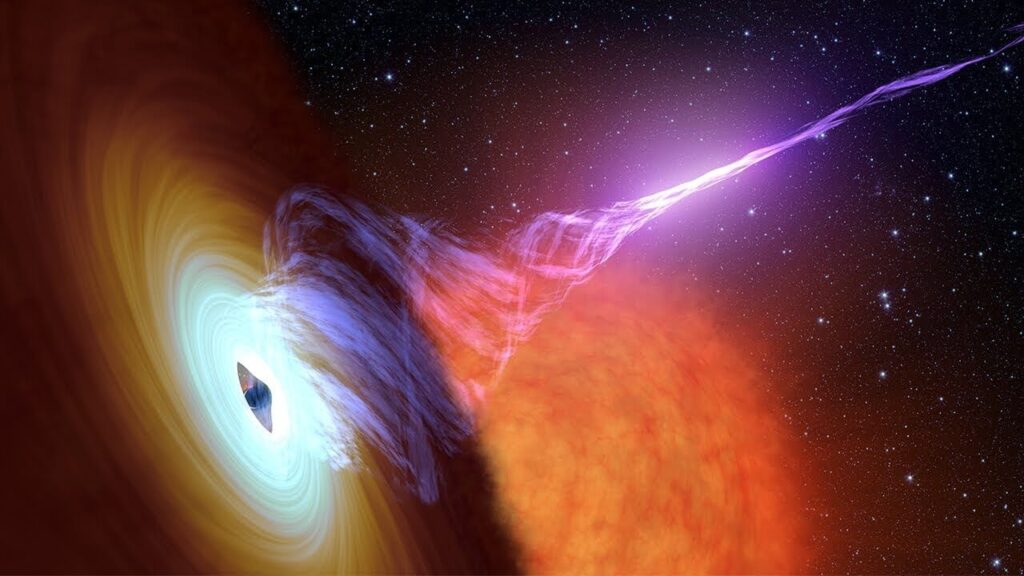 Last observed in 2015, the black hole is spewing out 'wobbly' plasma jets that move so fast they change orientation within minutes.
Some 8,000 light-years from Earth in the Cygnus constellation ("The Swan"), a small black hole weighing just nine times the mass of Earth's sun is gobbling up a sun-like star. The black hole and its stellar victim are locked together in what astronomers call a binary system and orbit each other once every 6.5 days – with spectacular effects, the National Radio Astronomy Observatory (NRAO) is reporting.
While the black hole may be relatively tiny as far as these celestial objects go – for instance, the supermassive black hole at the heart of the Milky Way galaxy, known as Sagittarius A*, is 4 million times more massive than the sun, per a previous report from The Inquisitr – it does pack a pretty mean punch. Dubbed V404 Cygni, the black hole is continuously siphoning material from its stellar companion, slowly consuming the unfortunate star.
As it often happens in this type of binary system in which a star has the misfortune of sharing its lodgings with a black hole, V404 Cygni is slowly eating away at its neighbor, gradually draining the star of gas and dust. Since the stellar gas and debris is too vast to be devoured all at once, the material swirls around the black hole in a so-called accretion disk – on which V404 Cygni continuously feasts, shooting out X-rays and plumes of hot gas, or plasma, in the process.
This is the common fate that befalls most stars wandering too close to a black hole after getting sucked in by its strong gravity. And, while it's not unusual for a black hole to spew out an intense amount of radiation and relativistic jets as it munches on a star, as previously covered by The Inquisitr, the emissions coming from V404 Cygni are truly special.
This particular black hole made headlines in 2015, when astronomers observed a massive outburst coming from V404 Cygni. Picked up by NASA's Swift satellite, the outburst lasted for two weeks and was the first signal of activity detected from the slumbering object in nearly three decades, as reported by NASA at the time.
The event prompted a group of scientists to investigate the black hole and study its emissions. Led by James Miller-Jones, a researcher with the International Centre for Radio Astronomy Research (ICRAR), the team has just published a study in the journal Nature detailing the peculiar nature of the plasma jets being released by V404 Cygni.
According to their findings, the jets of hot gas spewing out of the black hole are unlike anything science has ever encountered before. While astronomers have had the chance to study relativistic jets emitted by black holes in the past – beams of ionized particles traveling close to the speed of light – the streams of particles ejected by V404 Cygni are "wildly wobbling," notes Space.
In fact, the plasma jets coming from the black hole are moving so fast that they rapidly change orientation in a matter of minutes, tugging at the space around them in the process. Based on their observations, the scientists believe that "this unusually rapid motion could be happening because the black hole's strong gravity is warping space around it," states the media outlet.
"We were gobsmacked by what we saw in this system — it was completely unexpected," said study co-author Greg Sivakoff, an astronomer at the University of Alberta in Canada.
"Finding this astronomical first has deepened our understanding of how black holes and galaxy formation can work. It tells us a little more about that big question: 'How did we get here?'"
The results are consistent with Albert Einstein's general theory of relativity, which predicts that massive objects can warp space-time.
"When such a massive object is spinning, its gravitational influence pulls space and time around with it, an effect called frame-dragging," detailed the NRAO, which runs the VLBA radio telescope network for the National Science Foundation.
As the black hole feeds on its neighboring star, the innermost portion of its accretion disk – which measures 6.2 million miles across in its entirety – is "puffed up" by the intense radiation generated while the ravenous object gorges on its stellar companion. This, coupled with the fact that the black hole's spin axis is misaligned with the plane of the star, "causes the frame-dragging effect to warp the inner part of the disk, then pull the warped portion around with it," explained NRAO officials.
"Since the jets originate from either the inner disk or the black hole, this changes the jet orientation, producing the wobbling observed with the VLBA."