How The US Government Really Discovered The Rings Around Jupiter – It Wasn't Video Footage…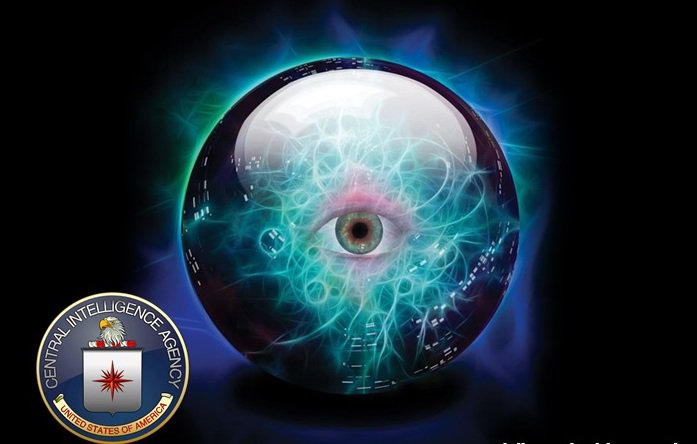 Never in human history have we seen such a disclosure of sensitive information that was previously kept classified. Never in human history have we seen new revelations and information emerge that severely challenge the belief systems many of us hold, or have held. We're living in a special time here on Earth, there is currently a big shift in the way we collectively perceive our world. This is something that's occurred throughout all stages of human history. For example, when science began questioning the Church, when the Earth became round from flat, and when Einstein published his paper on special relativity. We are lucky enough to be living through a shift right now; the realization that there is much more to our world than what we call physical material reality, and that this 'spiritual' and 'invisible' world has a direct correlation with the physical one. A great example of that is how hundreds of scientists are gathering to emphasize that matter is not the only reality.
Another great example, is the fact that the Department of Defence declassified their involvement in a more than two-decades long study of parapsychological phenomenon anomalies like ESP, telepathy, clairvoyance, and remote viewing.
It also amazes me how this stuff can be deemed as "pseudoscience" when results from published research show statistically significant results, and in some cases, more so than the "hard sciences". One study that dates as far back as 1999, showed the parapsychological phenomena was more credible than the science used to approve certain medications and over-the counter relief drugs. It's also perplexing to ponder the idea that this stuff is simply not real, when it's been studied and used by the highest levels of global governments for decades.
The idea that consciousness, or factors associated with our human consciousness, affect our physical material world is all but confirmed. This program was called the STARGATE Project, and given what we already know about the black budget and the world of secrecy, it's safe to assume that not all which was discovered has been disclosed, and that these programs still run today.
On a side note, here's an interesting lecture from the Co-Founder of the STARGATE program, Russel Targ, which not only had intelligence agencies involved, but also researchers from Stanford Research Institute (SRI). In 1976, a presentation was given at the Institute of Electrical & Electronics Engineers (IEEE) on a paper published by the Institute on behalf of Hal Puthoff, the other Co-Founder (now part of the To The Stars initiative that received and released the recent UFO Pentagon footage) and Russell Targ. After that, the program went black.
One part of the STARGATE project was remote viewing, which is the ability of individuals to describe remote geographical locations up to several hundred thousand kilometres away, and more, from their actual physical location.
Here's a telling quote from some of the declassified literature:
"To summarize, over the years, the back-and-forth criticism of protocols, refinement of methods, and successful replication of this type of remote viewing in independent laboratories has yielded considerable scientific evidence for the reality of the [remote viewing] phenomenon. Adding to the strength of these results was the discovery that a growing number of individuals could be found to demonstrate high-quality remote viewing, often to their own surprise. . . . The development of this capability at SRI has evolved to the point where visiting CIA personnel with no previous exposure to such concepts have performed well under controlled laboratory conditions." (source)
The program had many successful accomplishments, which included cases of premonition as well. Another example, out of many, would be the fact that they used the program to locate a lost spy plane in Africa.
According to Paul H. Smith, PhD., and one of the participants in the Stargate project (now a retired US army major), gives us more detail from his book that is sourced below:
"In March 1979, a young Air Force enlisted a woman named Rosemary Smith was handed a map of the entire continent of Africa. She was told only that some-time in the past few days a Soviet Tu-22 bomber outfitted as a spy plane had crashed somewhere in the continent.  The United States desperately wanted to recover the top secret Russian codes and equipment the Tu-22 carried. Using their remote viewing skills, she pinpointed the wreckage, even though it had been completely swallowed by the jungle canopy into which the jet had plunged nose first. (source, pg. 31)
To be honest it's quite amazing, the program was even able to identify a Russian sub that defied global engineering feats, located in a secret Russian military installation.
Here's an interesting related CE article that shows more examples of actual people with specific skills under examination by the Department of Defence:
CIA Document Confirms Reality of Humans With Special Abilities Able To Do Impossible Things
The Rings Around Jupiter
One participant of the program, remote viewer Ingo Swann, was tasked with the job of taking a look at what could be going on off the planet.
Dr. Puthoff explains:
"To determine whether it was necessary to have a 'beacon' individual at the target site, Swann suggested carrying out an experiment to remote view the planet Jupiter before the upcoming NASA Pioneer 10 flyby. In that case, much to his chagrin (and ours) he found a ring around Jupiter, and wondered if perhaps he had remote viewed Saturn by mistake. Our colleagues in astronomy were quite unimpressed as well, until the flyby revealed that an unanticipated ring did in fact exist."
In addition to Swann, there are a lot more remote viewers in this program, as Paul Smith mentioned above, like Joe McMoneagle, who has remote viewed off planet as well, and found some fascinating stuff related to mars.
The issue we have with a phenomenon like this is that it seems to be in the hands of the Department of Defence. Why are we only interested in using something that could be considered the next scientific revolution, for defence purposes?
"The day science begins to study non-physical phenomena, it will make more progress in one decade than in all the previous centuries of its existence." – Nikola Tesla 
Rover Curiosity photographs of "ancient structures" on Mars partly hidden by NASA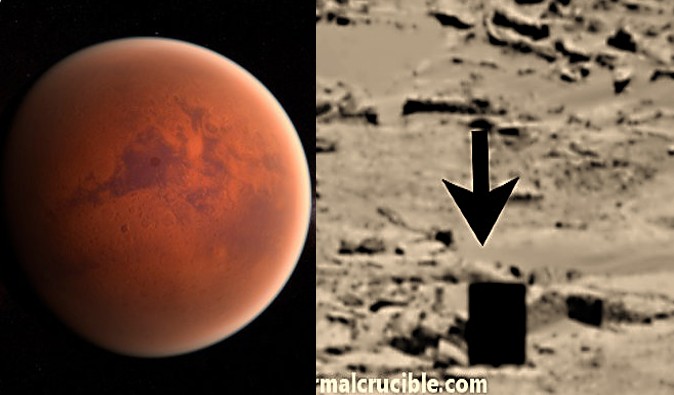 The images we show you represent one of the greatest discoveries so far made by the researcher and hunter of spatial anomalies Paranormal Crucible. According to the researcher, what was found on Mars, through photographs taken by the Rover Curiosity, are convincing proof that Mars had an intelligent life in its distant past.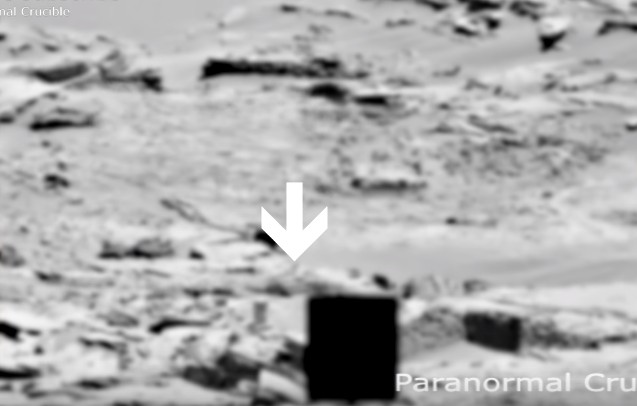 Here is what is stated by Paranormal Crucible in the analysis of the ancient ruins of Mars;
The raw image that was released by NASA appears to have been tampered with, we can see signs of blurring in places as well as two black squares, which NASA claim are dead pixels, but are they hiding something far more compelling, we may never find out, so lets concentrate on what we can see.

This particular image took quite allot of work, the processing alone took several hours and the enhancement work took a little longer, but the results were worth it.
The obvious geometric shapes in the enhanced image clearly indicate intelligent design, we can see a partially buried wall structure with a small pillar which leads down a small embankment, possibly a buried stairway, to a set of stairs, these stairs lead us onto an obvious courtyard which is covered in martian soil or sand.
"At the side of the courtyard is a large square plinth with a tall stone pillar which appears to have been broken off at the mid section, this is indicative of an ancient abode, as seen in the ancient Roman and Greek period.

I have highlighted nine points of interest in the enhanced image below, and they are very compelling in my opinion.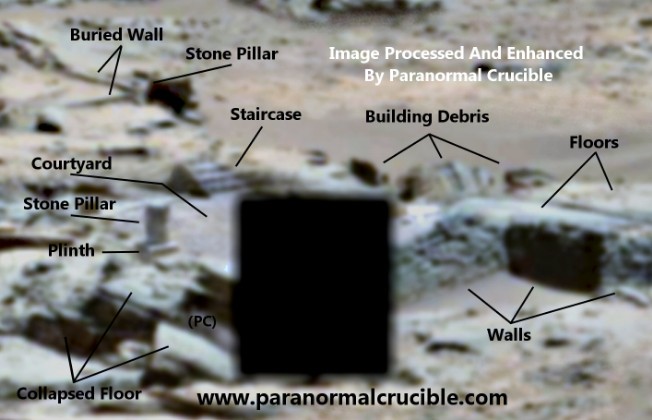 These possible ruins validate for me that an ancient martian civilization once existed on mars and were very similar to the ancient Romans, not only in customs but in architecture also.

From my standpoint they look like the remains of a domus or villa, a fairly large home usually single storey that had a large courtyard, stone pillars, a garden and numerous rooms, some even had a pool depending how wealthy the owners were.

Until an independent manned mission is sent to mars we may never know the full truth about past life on this mysterious planet, and i think its pretty clear that NASA is more interested in analyzing rock samples than exploring the clear artifacts that have been inadvertently discovered by the rovers.

But hopefully one day that attitude will change, and the real truth about mars and its history, will finally be revealed.
(images acquired by the Rover Curiosity- Mars rover)
NASA prohibits experiences of extraterrestrial life detection
Yes, there is life on Mars, and NASA has known this for four decades. Their own Viking experiment confirmed the presence of life on Mars, but instead of sharing this groundbreaking discovery with the world, NASA chose to bury the truth and hide its science for decades.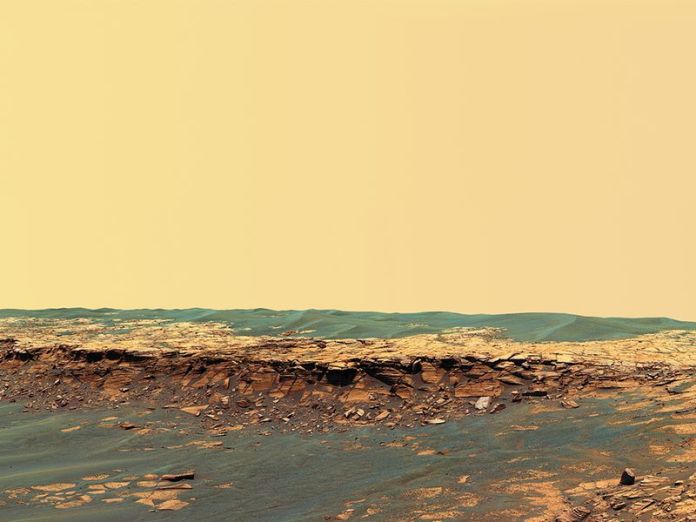 Now, the former NASA engineer who designed the experiment that confirmed the presence of life on Mars is speaking out. His name is Gilbert V. Levin, and in a new op-ed published in Scientific American, he lays out his belief that life was already confirmed on Mars in the 1970s.
"I was fortunate to have participated in that historic adventure as experimenter of the Labeled Release (LR) life detection experiment on NASA's spectacular Viking mission to Mars in 1976," writes Levin. "On July 30, 1976, the LR returned its initial results from Mars. Amazingly, they were positive. As the experiment progressed, a total of four positive results, supported by five varied controls, streamed down from the twin Viking spacecraft landed some 4,000 miles apart. The data curves signaled the detection of microbial respiration on the Red Planet. The curves from Mars were similar to those produced by LR tests of soils on Earth."
As word of the discovery spread, many other scientists around the world began to rejoice. Levin even received a personal phone call from Carl Sagan, congratulating him on the discovery.
But within hours, NASA buried the results and swept it all under the rug, claiming the mass spec instrument hadn't detected life at all.
NASA banned any experiment that could confirm life on Mars
From that day, NASA has banned life detection experiments on missions to Mars in order to continue scientific fraud.
Levin writes:
Inexplicably, over the 43 years since Viking, none of NASA's subsequent Mars landers has carried a life detection instrument to follow up on these exciting results
In truth, NASA is a fraudulent "science" organization that has, for four decades, pushed the false narrative that there is no life on Mars. The cover-up has been well coordinated and aggressively enforced. And since it's impossible for private citizens to visit Mars and see for themselves, it's difficult for anyone to prove that NASA has been lying all these years.
But now new evidence is surfacing that NASA has been blatantly lying all along… not just about microbial life on Mars but even about the existence of a Martian atmosphere that could support life.
NASA to send scout helicopter to Mars, proving there's an atmosphere
Earlier this year, the corporate media began reporting that NASA was sending a scout helicopter to Mars as part of the 2020 lander mission. This helicopter, touted by NASA administrator Bridenstine, is a dual rotor, solar-powered helicopter designed to map terrain for the lander rover. See this UPI story as an example of what's being reported by the scientifically illiterate media:
NASA engineers have installed the miniature helicopter on the space agency's Mars 2020 rover. The Mars Helicopter, nicknamed Scout, will be the first aircraft to fly on another planet. "For the first time, we are going to fly a helicopter on another world with the Mars Helicopter," Bridenstine said in March.
The problem with this story? According to NASA and the entire news media, Mars has virtually no atmosphere. Obviously, rotor-powered aircraft don't function without an atmosphere, since they can't produce lift in a vacuum.
According to NASA, the atmosphere on Mars is only 600 Pascals at ground level. Earth's atmosphere at sea level is 101,000 Pascals, and even with that "thickness" of air, it's still difficult to get a mechanical craft of the ground using spinning rotors.
Yet according to NASA, we're supposed to believe that a dual-rotor helicopter will fly in virtually no atmosphere, powered by on-board solar panels and batteries, somehow defying gravity that's 38% of Earth's gravity with an atmosphere that's only 0.6% as thick.
Any aeronautical engineer will tell you that's impossible. If rotors worked in a vacuum, then the space shuttle would have a giant propeller mounted on its nose, doing away with all the rocket thrusters.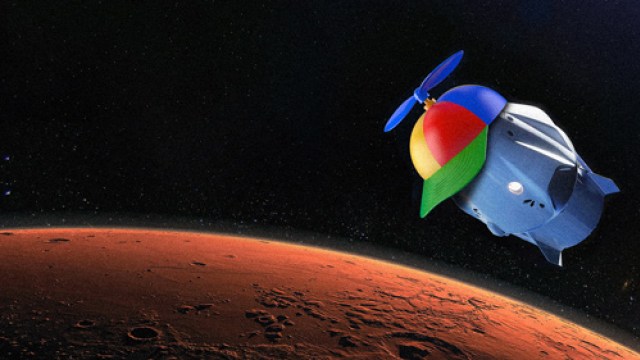 The only way a helicopter will fly on Mars is if there's an atmosphere to create lift when the rotors spin. This isn't rocket science. In fact, it doesn't involve rockets at all. Propellers don't work in a vacuum.
NASA is faking helicopter "research" with ridiculous videos
To try to convince us all that they have developed a helicopter that can fly in (nearly) a vacuum, NASA has released some of the most hilarious, laughable video footage we've ever seen.
As you can see from the following video snippet, NASA has developed a self-crashing helicopter that can only bounce and crash. The fact that NASA wants us to believe this is going to be loaded up with imaging and telemetry equipment — plus solar panels and batteries — is absurd. It's like a bad Saturday Night Live skit. Notice, too that this "helicopter" isn't even carrying batteries and appears to be receiving its power through a tether that's attached to the center of the floor.
Now, NASA seems to be in the business of faking its announcements, too. If we are to believe NASA, there's no life on Mars and helicopters fly in vacuums.
COMET 67P, the "Transmission of Extraterrestrial Sounds" comes from an unknown base visible on the Comet
As reported long ago by the famous British tabloid METRO, UFO conspiracy theorists are on the alert after hearing the bizarre "alien" sounds emanating from the organic Comet 67P organic  – made famous by the Rosetta mission. Some UFO researchers are convinced that it is not the Comet that emits these unknown sounds, but it is an Extraterrestrial Transmission sent by an alien base that is clearly visible on the celestial body, and the images taken by the Rosetta Probe confirm it.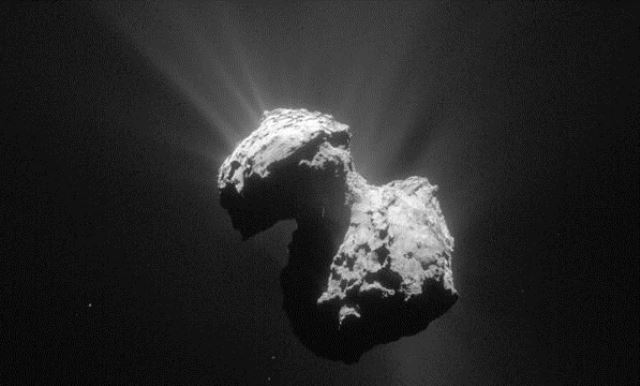 The 67P comet is one of the most famous and mysterious objects in the Kuiper belt, after the Rosetta mission collected samples from its icy surface in 2014. Rosetta's incredible discoveries showed that organic molecules and oxygen existed in the dust emitted by the Comet 67P. Now the comet is again at the center of the mystery, after an unknown audio source has been recorded by NASA thanks to Rosetta. For UFO researchers, this is proof that an unknown transmission was sent from an extraterrestrial structure visible in the images taken by the NASA space probe. This structure is quite large and has two antennas that are visible in the photographs below.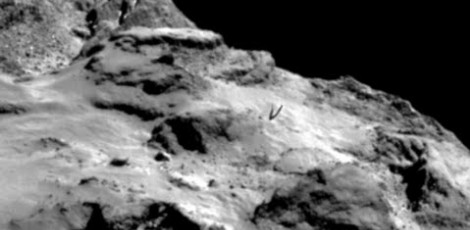 The otherworldly sound, composed of oscillating analogue noises, has been brought to light by UFO researcher Scott C Waring. "I listened to and recorded the sounds picked up by the 67P comet and slowed them down so I could listen to them better," Waring wrote. "I really feel it contains an alien message."
UFO hunters long ago identified a mysterious object on the surface of the comet 67P / Churyumov-Gerasimenko, which would be evidence of the existence of alien underground structures, or better, alien outposts. The UFO researchers are convinced that these structures or protuberances that protrude from the surface of the comet, could be similar to antennas that transmit on frequencies that are not perceived on Earth, that is, on frequency bands still not accessible to us. These sound frequencies are those recorded by the Rosetta probe, composed of oscillating analogue noises.
According to the Ufologists, this sound transmission recorded on the Comet 67P is the further proof (after the discovery of the alien base with three antennas) that the comet could have the function of an ALIEN RADIAL, which is used to define one or more routes of any spaceships coming from other star systems. Other ufologists speculate that this base could be an extraterrestrial mining structure.