How Porn Is Re-Wiring Your Brain: How Short Term Pleasure Might Cause Long Term Damage
From: highexistence.com
What happens when you drop a male rat into a cage with a receptive female rat? First, you see a frenzy of copulation. Then, progressively, the male tires of that particular female. Even if she wants more, he has had enough. However, replace the original female with a fresh one, and the male immediately revives and gallantly struggles to fertilise her. You can repeat this process with fresh females until he is completely wiped out.
This is called the Coolidge effect—the automatic response to novel mates. It's what might have started you down the road to getting hooked on Internet porn.
In the last couple of years studies have been showing an increase in sexual problems among young males. While the numbers vary, a 2007 study of the American Journal of Medicine showed that this affects more than 18 million men in the United States over the age of 20. One of the factors has been attributed to the widespread exposure to internet porn.
The specific numbers are unknown since it has been difficult to do proper research.
Researches could not find any college aged males who were not using internet porn. This created a blindspot. Imagine if all guys started smoking at age 10 and there were no groups that didn't, we would think that lung cancer is normal for all guys.
This article will deconstruct porn addiction in males. Since conclusive scientific data is unavailable I will extrapolate what we know from other addictions and compare this with first person data obtained from different 'I stopped watching porn groups'. I will then explain why watching porn can be bad for you and why it is primarily a male problem by showing how attraction works in both sexes.
Why we get addicted
Very simply put, addiction is the repetition of specific behavior that causes us to feel good. We feel good because we release certain hormones like dopamine. The more dopamine we release, the better we feel and chances of us wanting to repeat the same behavior. Dopamine feeds off novelty, meaning that novel and pleasurable experiences will cause our brains to release more dopamine than consecutive similar ones, to the point where we reach the Coolidge effect.
(Please note that other and new research suggests that (drug) addiction is caused by a lack in our social environment rather than the addictive nature of the drug, this might explain why some individuals get addicted while others don't).
Internet porn is especially enticing to the reward circuitry because novelty is always just a click away.
A variety of symptoms manifest themselves among males who regularly watch pornographic material. Do any of these symptoms apply to you?
You have problems getting or keeping an erection.

You experience delayed ejaculation.

You masturbate more with porn than without.

You don't get as excited masturbating without porn than with.

You find yourself developing fetishes and sexual thoughts regarding matters you would not have encountered without internet porn.

You have a decreased libido, you are depressed, fatigue, experience low energy levels and have no satisfaction in life.

Real women do not arouse you as much as the ones you see on the internet.

You experience irrational anxieties when you think about sex.

You find porn more exciting than having sex with another human being
So what happens?
The World Wide Web is like an infinite stream of boobs, a place where we can see more 'super hot' woman in a time span of 10 minutes than our ancestors could in multiple lifetimes. The Coolidge Effect is no longer the exception but the rule.
When you first start watching porn it easily sufficed to watch one non-moving nipple-slip to be able to reach an orgasm. But due to the novelty effect, after years of consistent consumption, this won't cut it anymore. The same pornographic material won't excite you and you feel compelled to explore novel endeavors.
Behavioral addictions (food addiction, pathological gambling, video gaming and Internet addiction) involve the same fundamental mechanisms leading to a collection of shared alterations in brain anatomy and chemistry.
All addictions share the same constellation of brain changes
Desensitization — > the more porn you watch, the more you need to reach the same amounts of dopamine release.
Sensitization — > the more porn you watch, the more associations with porn you are going to make when facing stimuli which can induce these thoughts. The incognito browsing function in Google Chrome's browser is invented to surf the web anonymously without leaving visible trace on your computer. If you are used to watching porn on a computer and are afraid of leaving traces, this is a perfect solution for that. While the initial idea is to surf anonymously, you will start making associations with watching porn. Due to the rewired nerve connections in the brain the reward circuitry gets stimulated with cues related to the addiction.
Hypofrontality — > Reduced impulse control and weakened ability to foresee consequences. The more porn you watch, the more difficult it will be to refrain from watching it and the less you will care about the consequences.
Dysfunctional stress circuits — > Chances of a relapse increase. Dopamine works through the brains main stress area in a way that it increases the activity of the brain involved in addiction relapse. That is why often time's addicts relapse during stressful periods in life.
These are just a few of the many brain changes the brain undergoes under the influence of an addiction. Research in this field is yet limited, as it is a quite new phenomenon. However, there is research which suggests that compulsive pornography users show the same brain activity as alcohol and drugs addicts
What about women?
The reason why most of this does not apply to women in the same way as to men is because of the difference in female and male perception of sexuality. Men and women have different sexual cues. Simply put, men are primarily visually and externally focused and women are primarily psychologically and internally focused. Among men psychological and physical arousal is intertwined together and porn is seen as an individual thing. They watch a porn-video, masturbate, get an orgasm and are done. Among women psychological and physical arousal is not necessarily linked. For women porn is more of a social thing. They prefer to read erotic novels or discuss the subject on forums, and the meaning of sex often transcends having sex and getting an orgasm. Therefore women are less prone to getting addicted to internet porn.
So what? Why should I stop watching porn?
"Don Jon: A New Jersey guy dedicated to his family, friends, and church, develops unrealistic expectations from watching porn and works to find happiness and intimacy with his potential true love." -Even Hollywood has caught up on the news
showed that more than 18 million men in the United States over age 20 are affected with an Erectile Dysfunction Disorder. "Erectile dysfunction (ED) or impotence is sexual dysfunction characterised by the inability to develop or maintain an erection of the penis during sexual performance." The numbers may even be greater, since not many people like to share this information, yet strong correlations between watching porn and having an erectile dysfunction disorder have been found.
When the brain gets re-wired, it takes a higher arousal threshold in order to get an erection, up to a point where such a state of arousal becomes impossible. Unfortunately there is not enough research yet to draw the line of how much porn one can watch to prevent this.
Delayed ejaculation is a problem often followed by erectile dysfunctions. Masturbating without porn becomes difficult or unsatisfying, earlier genres of porn are not as exciting anymore and losing erection while attempting penetration are just a few widespread symptoms. Shame and a decrease of ones self-worth are often the psychological results.
In 2003 a study on the relationship between ejaculation and serum testosterone levels in men showed an increase of 145,7% on the 7th day of abstinence. Testosterone is known to fuel a healthy libido (more sex), build muscle mass (more adventurous sex) and help maintain energy levels (longer sex).
[…]
Read the rest: highexistence.com
NTP nuclear rocket engine will take humans to Mars in just three months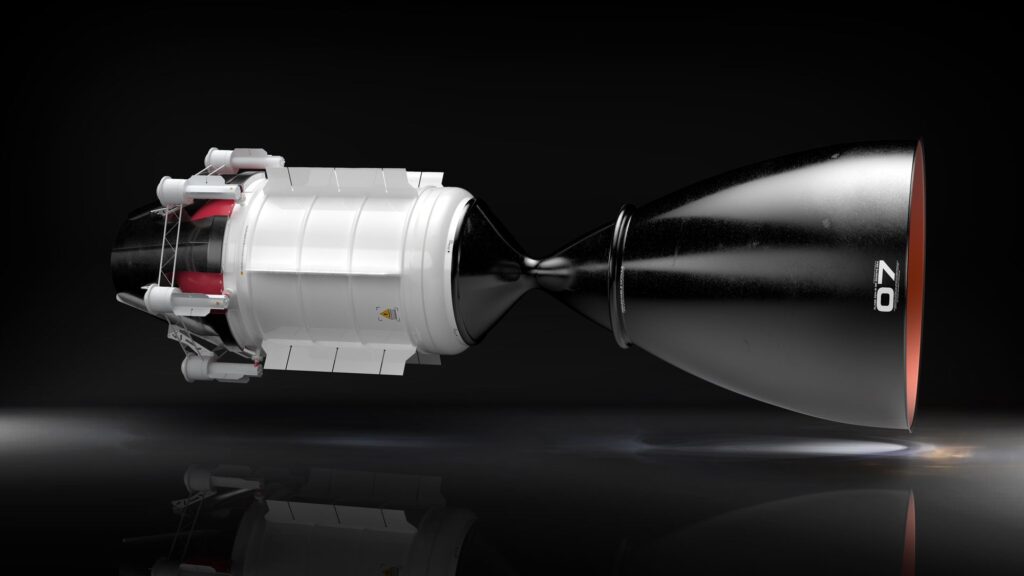 Although the romance of the peaceful atom has subsided since the mid-1960s, the idea of ​​using nuclear reactors for "civilian" purposes is still regularly returned. The new nuclear rocket engine (NRM) will deliver a man to Mars much faster than is possible now.
The danger of cosmic radiation is much more serious than the risk of infection from an accident with such an engine. The most dangerous of all the constraining vectors for projects of sending people to other bodies in the solar system is cosmic radiation. Radiation from our star and galactic rays can seriously damage the health of the mission crew. Therefore, when planning flights to Mars, engineers and scientists try to reduce travel time as much as possible.
One promising way to get to the Red Planet in just three months could be a new NTP engine. Its concept was developed and submitted to NASA by Ultra Safe Nuclear Technologies ( USNC-Tech ) from Seattle, USA. The name of the unit is simply deciphered – Nuclear Thermal Propulsion ( NTP ), that is, "thermal nuclear power plant". The novelty differs from its previously created or invented counterparts in the most secure design.
A key component of USNC's development is mid – grade uranium fuel "pellets". They contain 5% to 20% of the highly reactive isotope U- 235 coated with zirconium carbide ceramics. This degree of enrichment lies roughly halfway between the "civilian" nuclear power plants and the military. The proprietary ceramic coating technology makes the tablets incredibly resistant to mechanical damage and extreme temperatures.
The company promises that their fuel elements are significantly superior in these parameters to those currently used at nuclear power plants. As a result, the engine will have a higher specific impulse with a lower degree of uranium enrichment than in earlier versions of NRE. In addition to the flight to Mars, among the goals of the ambitious project are other missions within the solar system. The perspectives of the concept will soon be considered by specialists from NASA and the US Department of Defense ( DoD ). Perhaps departments will even allow its commercial use by private companies.
Theoretically, NRE based on modern technologies can have a specific impulse (SR) seven times higher than that of chemical jet engines. And this is one of the key performance parameters. At the same time, unlike electric and plasma ones, the ID of a nuclear rocket engine is combined with high thrust. One of the limiting factors in the use of NRE, in addition to safety issues, are extremely high temperatures in the reactor core.
The higher the temperature of the gases flowing out of the engine, the more energy they have. And accordingly, they create traction. However, mankind has not yet come up with relatively inexpensive and safe materials that can withstand more than three thousand degrees Celsius without destruction. The solution created by USNC will operate at the limit of modern materials science (3000 ° C) and have a specific impulse twice that of the best liquid-propellant engines.
The official press release does not specify which working body will be used in NTP . Usually, in all NRE projects, the reactor core heats hydrogen, less often ammonia. But, since we are talking about a long-term mission, the creators could have chosen some other gas. Keeping liquid hydrogen on board for three months is no easy task. But you still need to invent something for the way back.
Scientist Peter Scott-Morgan is set to become "the world's first complete cyborg"
Two years ago scientist Peter Scott-Morgan was diagnosed with motor neuron disease, also known as Lou Gehrig's disease, and today he is still fighting for a new life, not just for survival.
This October, Dr. Scott-Morgan is on track to become the world's first full-fledged cyborg, potentially giving him more years of life.
The world's first complete cyborg
It was in 2017 that Dr. Peter Scott-Morgan (a brilliant robotics writer, scientific writer, and talented speaker) was diagnosed with degenerative motor neuron disease that ultimately paralyzed his entire body except his eyes.
The diagnosis is understandably grim, especially considering that he has only two years to live, but he has not given up the fight.
Teaming up with world-class organizations with expertise in artificial intelligence, Dr. Scott-Morgan is transforming himself into what he calls "the world's first fully fledged cyborg."
"And when I say 'Cyborg', I mean not just that some kind of payment will be implanted in me, I mean that I will become the most advanced human cybernetic organism ever created on Earth for 13.8 billion years. My body and brain will be irreversibly changed, "says Dr. Scott-Morgan.
What does it mean to be human
According to Dr. Scott-Morgan, he will become part robot and part living organism. Moreover, the change will not be one-time, but with subsequent updates.
"I have more updates in the process than Microsoft ," says Dr. Scott-Morgan.
AI-powered creative expression
The cyborg artist is a great example of the power of human-AI collaboration. AI uses the data that make up Peter's digital portrait ( articles, videos, images, and social media ) and is trained to recognize key ideas, experiences, and images.
Peter will introduce a theme, AI will suggest composition, and Peter will apply images to suggest style and mood. Peter will direct the AI ​​to render a new digital image that none of them could create alone.
A unique blend of AI and human, reflects Peter's creative and emotional self – a critical aspect of what it means to be human.
Peter 2.0
This October, Dr. Scott-Morgan will undergo what he calls the latest procedure that will transform him into "Complete Cyborg".
October 9 he tweeted a photo of himself, writing the following:
"This is my last post as Peter 1.0. Tomorrow I will trade my vote for potentially decades of life as we complete the last medical procedure for my transition to Full Cyborg, in the month that I was told statistically I would be dead. I am not dying, I am transforming. ! Oh, how I LOVE science !!! ".
Japan has developed an inflatable scooter that weighs practically nothing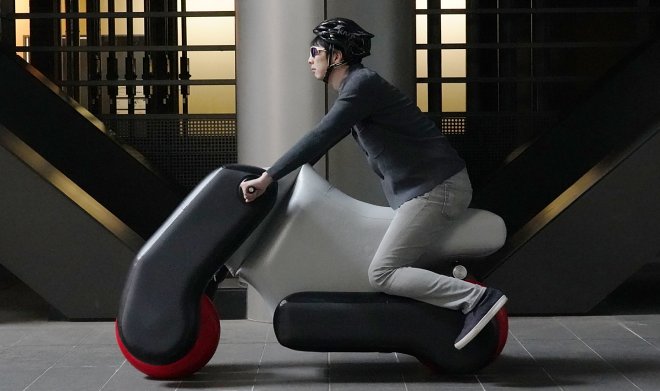 The University of Tokyo engineers have developed the Poimo inflatable electric scooter, which is created individually for each owner. It is enough to send your photo to the manufacturers – and a personal optimized model will be assembled for you.
The scooter is designed with a special program for the body size of a particular user and his specific fit. Moreover, each owner is free to make any changes to this model. If he makes any changes to the drawing, the program will automatically redesign the electric bike to maintain its strength, stability and controllability. When the model is finished and approved, it is handed over to the manufacturer.
The scooter consists of seven separate inflatable sections that are constructed from durable fabric and sewn with straight stitch. It remains to add electronic components – in particular, a brushless motor and a lithium-ion battery.
The finished electric scooter weighs about 9 kg and can travel at speeds up to 6 km / h (that is, slightly faster than a pedestrian). It can work for an hour on one charge.
This is how the current version of Poimo looks like in action: