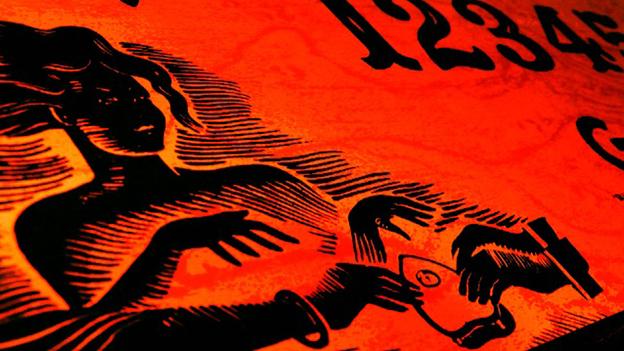 Apparently determined to ruin the late night fun of stoned teenagers everywhere, BBC Future says ouija boards have nothing to do with departed souls:
The mystery isn't a connection to the spirit world, but why we can make movements and yet not realise that we're making them.

Ouija board cups and dowsing wands – just two examples of mystical items that seem to move of their own accord, when they are really being moved by the people holding them. The only mystery is not one of a connection to the spirit world, but of why we can make movements and yet not realise that we're making them.

The phenomenon is called the ideomotor effect and you can witness it yourself if you hang a small weight like a button or a ring from a string (ideally more than a foot long). Hold the end of the string with your arm out in front of you, so the weight hangs down freely. Try to hold your arm completely still. The weight will start to swing clockwise or anticlockwise in small circles. Do not start this motion yourself. Instead, just ask yourself a question – any question – and say that the weight will swing clockwise to answer "Yes" and anticlockwise for "No". Hold this thought in mind, and soon, even though you are trying not to make any motion, the weight will start to swing in answer to your question.

Magic? Only the ordinary everyday magic of consciousness. There's no supernatural force at work, just tiny movements you are making without realising. The string allows these movements to be exaggerated, the inertia of the weight allows them to be conserved and built on until they form a regular swinging motion. The effect is known as Chevreul's Pendulum, after the 19th Century French scientist who investigated it.

What is happening with Chevreul's Pendulum is that you are witnessing a movement (of the weight) without "owning" that movement as being caused by you. The same basic phenomenon underlies dowsing – where small movements of the hands cause the dowsing wand to swing wildly – or the Ouija board, where multiple people hold a cup and it seems to move of its own accord to answer questions by spelling out letters.

This effect also underlies the sad case of "facilitated communication", a fad whereby carers believed they could help severely disabled children communicate by guiding their fingers around a keyboard. Research showed that the carers – completely innocently – were typing the messages themselves, rather than interpreting movements from their charges…
[continues at BBC Future]
Occult rituals in the backwoods of Wisconsin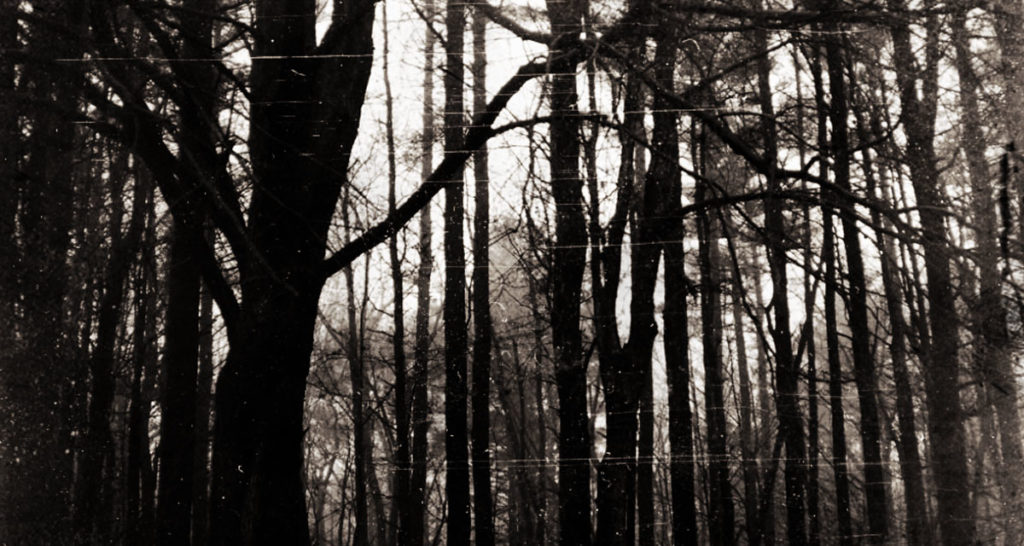 Were the violent rituals of Satanic cults in the Wisconsin woods responsible for creatures like the goatman and the Beast of Bray Road?
In 2010 the city of West Bend, Wisconsin (about 45 minutes north of Milwaukee) attempted to set a new Guinness world record for the largest Thriller dance. Mexico City set the record in 2009 (and still holds it) with over 13,500 people doing Michael Jackson's infamous zombie dance in unison. That's nearly half of West Bend's entire population, so breaking that record was unlikely. A mere 1,935 participants showed up at West Bend's Regner Park (where I like to do my morbid beach reading on the rare occasion I venture out into the sun) to dance and shamble their rotting hearts out. While they were many thousands away from breaking the world record, they did successfully set a new U.S. record which no one cares about and has seemingly been forgotten.
That sums up life in West Bend pretty well: Meh.
But, as I have written previously, the town that unwittingly hosts Cult of Weird headquarters (I'd probably be burned at the stake if word got out) is not without it's weird side.
Until earlier this year, when Morgan Geyser and Anissa Weier were sentenced to decades in mental institutions for the attempted murder of their friend in 2014 to gain the favor of Slenderman, the girls were residents of the Washington County Juvenile Detention center mere minutes from Cult HQ.
We're also uniquely positioned between two significant goatman legends. And the nearby Kettle Moraine State Forest is not without it's own share of peculiarities, including a 270-foot high glacial formation that allegedly houses a UFO base, and, of course, Satanic rituals in the woods.
That's how Wisconsinites do: Beer, football, and Beelzebub.
I first heard about possible occult activity in the Kettle Moraine years ago, but never came across any information to corroborate the claims. After listening to an interview with filmmaker Seth Breedlove on the latest episode of the Astonishing Legends podcast, though, it seems the Kettle Moraine cult draws some interesting parallels with the circumstances surrounding the birth of one of Wisconsin's most notorious legends.
The Beast of Bray Road
The Beast of Bray Road is undoubtedly one of Wisconsin's strangest legends. Beginning in the late 1980s, residents of Elkhorn, Wisconsin were experiencing a series of harrowing encounters with a large, hairy, bipedal canine creature. Author Linda Godfrey, then a journalist for a small local newspaper, began investigating the sightings. Before long the Wisconsin werewolf was making international headlines.
But the Beast of Bray Road is just another cryptid case like any other dogman sighting, Bigfoot, or Mothman, right?
Maybe not.
Seth Breedlove and his production company Small Town Monsters came to Wisconsin earlier this year to film their upcoming documentary The Bray Road Beast. On the last day of filming, as Seth recounts in the Astonishing Legends podcast, a single interview changed his entire perspective on the legend, and now it's changing mine as well…and possibly shedding some new light on my Kettle Moraine cult research.
The man in front of the camera was John Fredrickson, a former Walworth County Animal Control officer. During the time of the Bray Road sightings, he had been investigating numerous cases of animal mutilation that were seemingly connected to occult rituals in the woods around Elkhorn. And while some of it may have been teenagers, John believes local law enforcement, teachers, and other prominent citizens may have been involved, and people were coming from around the world to participate.
Initially, I didn't think much about these claims. I assumed it was run-of-the-mill 90s Satanic Panic. During Seth's discussion on the podcast, however, a few more points were touched on that made me realize there may actually be something to it:
1. Walworth County was one of the top 3 counties for Satanic activity
2. Animals were mutilated for the rituals
3. An FBI agent speaking to John admitted they were aware of the activity
Here's why those three details are significant:
A Cult in the Kettle Moraine
My mother remembers seeing a report on the news in the late 1970s or early 1980s about a ritual site found in the Kettle Moraine. She doesn't remember many of the details anymore, but she remembers the report showing a large oak tree where occult symbols had been carved onto the inside of the trunk where three large branches converged.
I heard a second-hand story about a woman who was riding her horse on a trail through the Kettle Moraine in the mid-90s when she came upon animal remains that appeared to have been cleanly severed and mutilated, similar to what John encountered in Elkhorn. Then, on another occasion, while riding through the woods with her daughter, the same woman had a different kind of encounter: A naked man emerged from the brush onto the trail, then quickly disappeared.
Concerned, especially since this happened in front of her young daughter, the woman contacted the authorities to file a report. The officer she spoke with told her they were aware a group was conducting rituals in the area, but they had not yet been able to find them.

"Goatman Road" in Kewaskum, WI
The other interesting aspect worth examining is the potential connection between the occult activity and the appearance of a seemingly otherworldly creature. In the clip above, John says that based on what he's experienced, he wouldn't rule out the possibility that the Beast of Bray Road was something invoked by the rituals happening in the area.
I mentioned above that there are two locals goatman legends. One of them is predominantly historic lore, but the other, as detailed in the book Goatman: Flesh or Folklore? by my friend J. Nathan Couch, seems to be very much flesh and blood…and foul-mouthed.
This goatman just happens to reside in the Kettle Moraine area where the occult activity was taking place.
Was the group conducting gruesome ceremonies in the Elkhorn woods connected to those mutilating animals and cavorting naked for Satan in the Kettle Moraine? Is it more than just coincidence that both locations where occult activity was known to occur are both also known for terrifying creatures?
There must be more witnesses to these activities if authorities were aware and tracking them, so surely there are more reports to find. I'm looking forward to the release of The Bray Road Beast on October 5th to hear more of John's experiences.
Divine Guardian: A Warrior's Magic Shirt
The word talisman refers in its widest sense to an object made to protect the owner, to avert the power of evil, and promote well-being. Talismanic objects in various cultures belong to realm of magic and made in many different forms and sizes some were even worn as clothing like the shirt.
Islamic tradition
The history of talismanic shirts goes back a very, very long way. The prophet Joseph (Yusuf in Arabic) is believed to have owned one that protected him from hardship and evil. It is even credited with performing miracles – as when it restored the vision of Joseph's father Jacob (Ya'qub in Arabic), following an instruction recorded in the Qur'an, Surah Yusuf (XII, verse 93):
اذْهَبُواْ بِقَمِيصِي هَـذَا فَأَلْقُوهُ عَلَى وَجْهِ أَبِي يَأْتِ بَصِيرًا وَأْتُونِي بِأَهْلِكُمْ أَجْمَعِينَ
"Take this, my shirt, and cast it over the face of my father; he will become seeing. And bring me your family, all together."
Though talismanic shirts were used as protection from disease, famine, difficult child birth, sudden death, and the unpredictability of travel, it is believed that the majority of these shirts were meant for use in battle. Particular verses from the Qur'an that refer to victory were commonly inscribed on shirts worn under armour – the word of God was intended to protect the owner while they fought.
Four distinctive types of Islamic talismanic shirts have been identified: Ottoman, Safavid, Mughal (Indian) and West African –none of which can be dated to earlier than the 15th century. Each group has its own unique stylistic approach to the shape of the garments and the talismanic formulas used, as well as the design of the illumination.
Ottoman culture
The tradition of talismanic shirts – known as the Ottoman magic shirts- dates from Turkey's shamanist past. Back then, the shirts, engraved with geographical designs, were believed to protect the person who wore them against diseases and enemies.
With Islam, the geographical designs became verses from Quran and the "talismanic shirts" entered the Ottoman Palace, to be mostly worn by crown princes, to protect them from the wrath of their brothers and contenders to the throne or to assure they had plenty of offspring to ensure their line of blood continued.
By comparison to how accurate curators can sometimes be about the making of these incredible shirts, their function is far more debatable. Unfortunately, there are very few sources that discuss or even mention the use of these objects. One source, written in the 1530's in Istanbul, describes a shirt made by a holy man in Mecca through which neither bullets nor swords could penetrate. That shirt was commissioned for the Ottoman Sultan Suleiman the Magnificent (1520—1527) by his wife Hürrem Sultan, and still survives to this day. It is housed in the Topkapı Palace Museum in Istanbul.
The Talismanic Shirt was worn by the Ottoman Sultan, Suleiman the Magnificent (1520—1527) under his armor at the Mohacs Battle and during other military confrontations. It was prepared by the head (or court) astrologer (Münecimbashi) according to his time of birth and contains the Al-Fath (Victory) Sura and other Suras of the Koran. (Image Source)
Another Topkapı shirt was commissioned for Cem Sultan (d.1495), son of Sultan Mehmed II, and includes not only the exact date and time at which the construction of the shirt was begun, (30 March 1477, Tuesday, 12:36pm, the Sun in 19 degrees Aries), but also the exact date and time it was finished (29 March 1480, Sunday 3:57am, the Sun in 19 degrees Aries). Topkapı's dated example gives an unusually accurate idea of how time consuming the production of such garments could be – three years to complete a single shirt.
Slavic culture
In ancient Slavic culture it was common to have a talismanic shirt – tight fitting garment, worn as a sort of armour. It was supposed to hold back diseases and the evil eye and protect from enemies on the battlefield.
Traditional Slavic warrior shirts featured magic symbols and some amulets could be stitched or embroidered directly to onto the collar, sleeves and the bottom part.
Left: Sketch of Slavic male ritual shirt. Right: Sketch of Slavic male warrior shirt (Image Source)
Usually the decoration was made in red pattern represented a "fire-line". Main spiritual protecting element of warrior shirt was so called "shield" rectangular piece, outlined with a different colour, in the top front of the shirt. Containing some special symbols it believed to possess strong protective powers.
Viking Age
During the Viking Age there were so called berserkers (or "berserks") super skilled  Norse warriors who are primarily reported in Icelandic sagas to have fought in a trance-like fury, a characteristic which later gave rise to the English word "berserk." They are said to be possessed by the spirit's of the animals they worshipped, at the times, Berserkers join up with the regular Vikings to fight alongside them for unknown reason, they are said to jump into the battle without any fear or hesitation and were ready to slaughter anyone who stands in their way.
An engraving of an image shown on a Vendel era bronze plate discovered in Öland, Sweden. Depicted are a berserker about to decapitate his enemy on the right and Oden on the left. Oden's famous characters markers are not present.
Interesting fact that these warriors would often go into battle without mail coats, wearing instead a kind of shirt or coat (serkr) made from the pelt of a bear (ber-). The bear was one of the animals representing Odin, and by wearing such a pelt the warriors sought to gain the strength of a bear and the favour of Odin.
This expression berserk most likely arose from their reputed habit of wearing a kind of shirt or coat (serkr) made from the pelt of a bear (ber-) during battle. The bear was one of the animals representing Odin (Odin is a widely revered god in Norse mythology), and by wearing such a pelt the warriors sought to gain the strength of a bear and the favor of Odin.
The bear-warrior symbolism survived to this day in the form of the bearskin caps worn by the guards of the Danish and British monarchs, the Royal Life Guards and the Queen's Guard.
The Little Known History of the Tarot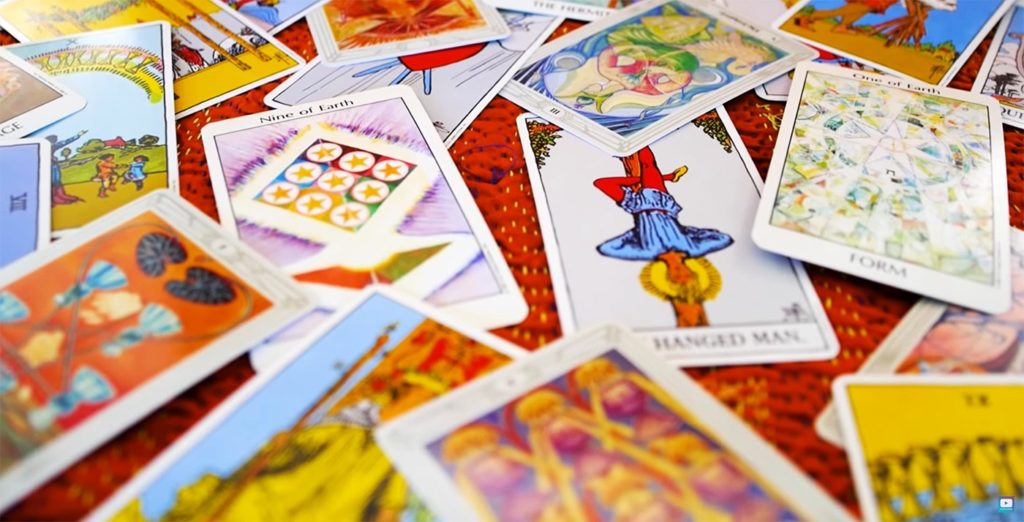 In recent years there's been a huge upswing of interest in the Tarot, the card-divination technique that is often claimed to have truly ancient roots, dating back to ancient Egypt (or, for some, even 'Atlantean' times). And with the surge of interest in the Tarot there's also been a massive expansion in the number of decks available – in recent years here on the Grail we've mentioned a Twin Peaks-themed deck as well the wonderful 'Ghetto Tarot'.
For those newcomers interested in the Tarot who are confused about its origins, and as to which of the many available decks is 'genuine', or at least which is the best to start with, Gaia have produced a fantastic short introductory video (embedded below).
The video consults with our good friend Mitch Horowitz, who has written on many occult traditions (including a piece on the Ouija in our Darklore anthology) and also has been involved in a separate video introduction to the Ouija board, so it's a good common sense view of an esoteric tradition that has certainly generated plenty of speculative theories over the years.
Throughout its history, tarot has has been associated with various ancient mystery schools and esoteric ideologies. However, evidence points to a deck of cards that wasn't used exclusively for fortune telling until centuries after its creation. Occult historian and author Mitch Horowitz sheds some light on how this powerful tool transitioned from an early version of bridge to a mystical divination tool.

SOURCE: