How do the media violate our right to mental independence?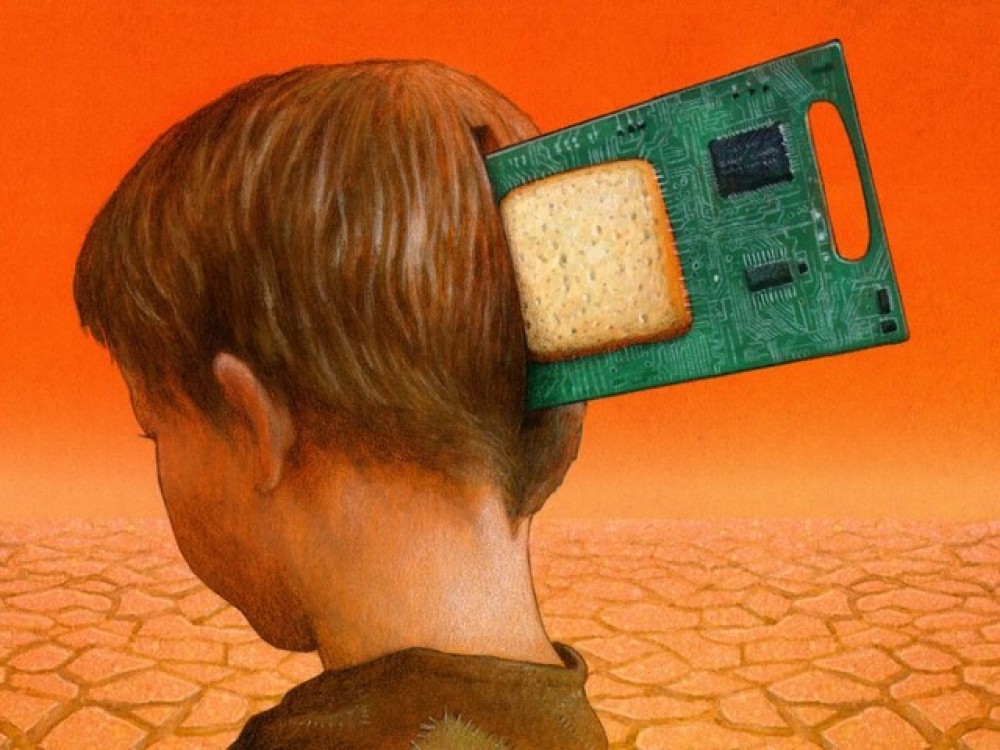 One of the most important human needs in the 21st century is the right to mental independence, because every day our brain undergoes more and more intensive and frequent manipulations in the interests alien to our individuality.
Deafening advertisements and intrusive propaganda represent the most undisguised and shameless aggression against the human mind, which used to be the sacred refuge of the person's self, and now has turned into a showroom, chaotically filled with political debates, carbonated and alcoholic products, cigarettes, cars, clothes of famous companies , cosmetics, gorgeous beaches, gorgeous women, investment tips, pornography – that is, entertainment and consumerism.
Television not only breaks into our brains, but also disturbs domestic peace, aggressively raining pictures of sex, violence, sadism, perversions, vulgarity and vulgar tearfulness on us, and only rare films and cultural programs are free from this.
On the other hand, our mental abilities are negatively affected by a high level of acoustic and environmental pollution, which fragmentes and weakens our brain, opening it for external influences.
Our mind is cleverly manipulated to get certain goods to buy, or to opt for certain political leaders, popular singers, television programs, social magazines, or ways to invest money.
The creation of artificial needs is an attempt on the right of free choice, carried out with the help of advertising, which quietly penetrates our brain at an unconscious level and forces us to do something that we never really wanted. This is done only for profit.
The gross manipulation of people's behavior through the media, forcing them to accept what they in their right mind would probably refuse, is a serious violation of ethics.
In democratic countries, citizens are not obliged to meekly agree with what is imposed on them by authoritarian and unethical methods, dutifully tolerate a lack of publicity in judicial decisions, and passively bear the burden of excessive and unknown taxes.
Nevertheless, the whole world is subject to direct or indirect mental manipulations, the purpose of which is to subordinate citizens to someone's dark interests.
People are convinced by acting on their subconscious:
– Take loans at predatory interest and feel happy to have the "privilege" from year to month to increase the capital of creditors.
– Hate the rich and despise the poor.
– Imitate the absurd patterns of behavior that promote television and film.
– To commit crimes, like movie heroes, reaching sado-masochism.
– Immerse yourself in rampant consumerism.
– Blindly imitate famous artists, musicians, characters of soap operas, vulgar and vulgar.
– Worship false values.
– Follow the implanted bad taste and rude farce.
– Follow herd behavior and become an obedient consumer.
– It is thoughtless to accept any norms under pressure of authority, no matter how contradictory or unfair they may be.
– Passively accept everything that is approved in the media.
You can endlessly give examples of manipulating the minds of people, since we are constantly confronted with this.
The principle of democracy – a government for the people – turns out to be perverted and trampled on, because people's minds do not belong to them, but to the media and their owners.
The freedom of mental choice is violated at the root. Here is a statement by Karl Popper about the danger that television carries:
"A consequence of the principle of mass culture is that the public is offered programs of an ever worse quality that she likes, as they are seasoned with" pepper, spices and flavor enhancers, "such as violence, sex, sensuality … More and more spicy seasonings are added to food, to hide its deteriorating quality. The addition of salt and pepper allows you to swallow the inedible … Many criminals openly admit that it was television that inspired them to commit a crime. The power of television has become so great that it threatens democracy. No democracy can survive without putting an end to the abuse of power by television. Today this abuse is obvious. "
What does the outstanding philosopher mean when he speaks of the abuse of power by television?
It is a legal (nonetheless immoral) invasion of people's minds that directs them to violence, vulgarity, consumerism, acceptance of negative values ​​and real grotesque.
Abuses of the media are a form of ideological terrorism against humanity. They should be subject to strict control by the ethics council, which proposes the creation of Popper.
Television pounces on a person like a night robber on a victim, with incredible force invading the minds of children and adults and turning the freedom of choice of ideas into a romantic relic of the past.
Controlling people's minds has become a great business today. Anyone with enough money can launch an advertising campaign and influence consumer behavior, which, in accordance with the prevailing economic system, is considered highly desirable, as it allows you to increase sales and make a profit.
However, the dilemma remains: how moral are such actions, since we are inclined to consume not only goods, but also values ​​and ideas. People are constantly "brainwashed" in order to direct their behavior into a channel that is beneficial to certain groups.
Even in ancient times, ambitious individuals found that managing someone else's will can become an inexhaustible source of power. Unfortunately, there is no other way to defend against this kind of capture, except for strict control over your own mind.
The contradiction is that people obey the false and changeable opinion of "Her Majesty the crowd", which is formed not by a bright mind, but comes, as a rule, from a group of ambitious people who use the crowd as an unconscious tool. Due to their authority, popularity or oratory, they have an undivided influence on the crowd, who are not aware of the true motives of such leaders.
Based on materials: Dario Salas Sommer. 21st Century Morale
How Russia and the United States nearly started a nuclear war in 1995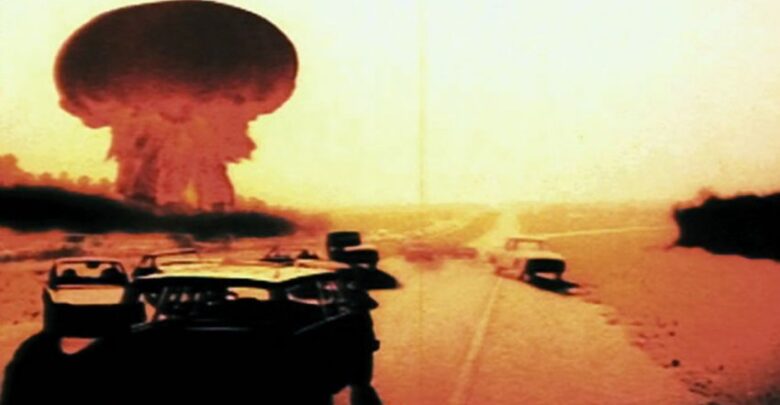 The Norwegian meteorological rocket incident remains the only time in history that the Russian president has activated his nuclear briefcase.
On January 25, 1995, Doomsday could have come in the world: the Russian Federation was preparing to launch a nuclear strike on the United States. How did it come about that the states that left the confrontation of the Cold War in the past and had just normalized relations with each other found themselves on the verge of mutual destruction?
The beginning of the war?
The cause of the crisis was an ordinary Norwegian meteorological rocket. Its launch from the small island of Anneia at 7 am local time (10 am Moscow time) towards Spitsbergen caused a stir in Russia.
Black Brant XII. Legion Media / ZUMA Press
Equipped with scientific equipment to study the aurora borealis, the Black Brant XII was similar in size to the nuclear-powered American Trident D-5 ballistic missile, intended for launch from submarines. In addition, it flew along a trajectory along which, as the Russian Defense Ministry believed, American missiles would fly in the event of a nuclear war.
In December 1994, Norway informed 28 states, including Russia, about the planned launch, but did not give a specific date, limiting itself to specifying the period: from January 15 to February 10 of the next year. Due to bureaucratic delays, this information did not reach the Russian Missile Warning System, which sounded the alarm.
Decisive minutes
An emergency meeting with the country's top political and military leadership was convened in the Kremlin. Defense Minister Pavel Grachev, Chief of the General Staff Mikhail Kolesnikov and President of the Russian Federation (as Supreme Commander-in-Chief) Boris Yeltsin had three strategic missile forces control terminals activated – the so-called nuclear suitcases.
Vladimir Sayapin / TASS
The military believed the lone missile could have been fired to create an electromagnetic pulse that knocked out Russian radars and communications systems. Following it, a massive blow could be expected.
For several tense minutes, as leaders watched it flight, it was decided whether Russia would launch a nuclear strike against the United States.
"Little is known today about what Yeltsin said at the time, given that it could have been some of the most dangerous moments in the entire history of the nuclear era," The Washington Post journalist, David Hoffman wrote three years after the incident : "They make it clear that the Cold War nuclear readiness system continues to operate, and how catastrophic its consequences could be, despite the fact that the feud between the great powers is already over."
The situation was discharged only when it became clear that the rocket had gone towards Spitsbergen (not far from which it fell into the ocean). The nuclear cases have been deactivated.
Russian President Boris Yeltsin (center) and Russian Defense Minister Pavel Grachev (right). Igor Mikhalev / Sputnik
The incident with bringing Russia's Strategic Nuclear Forces to combat readiness, soon became the property of the world community. When, four years later, the Norwegians were about to repeat their launch of Black Brant XII and reported this to the Russian Foreign Ministry, the US additionally warned all key Russian military departments about it through their channels. As a result, this time there were no unpleasant surprises.
Source: rbth.com
Germany conducted exercises in case of nuclear war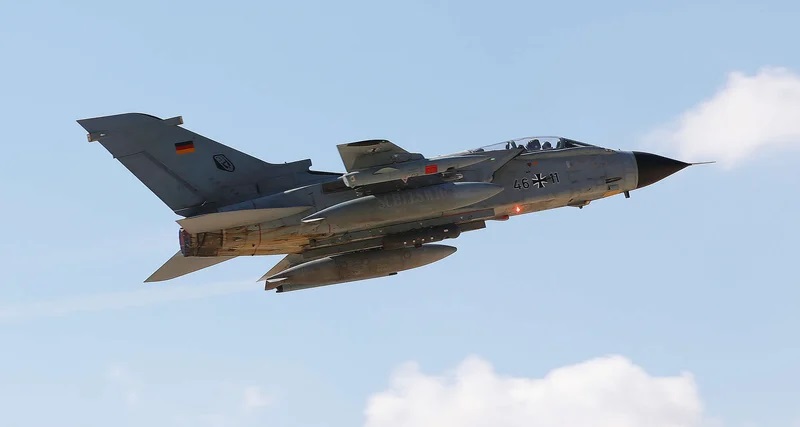 The Bundeswehr with partners in the North Atlantic Alliance ( NATO) trained in operations in a nuclear war.
The German army, together with Italian, Belgian and Dutch colleagues, conducted exercises in the event of a conflict with the use of nuclear weapons.
The location of the exercise "Steadfest Noon" was chosen airbase "Nörfenich", where the tactical squadron of the Luftwaffe 31 "Boelcke" is located. Together with the Luftwaffe of the Bundeswehr, the air forces of other NATO countries, in particular, Italy, the Netherlands and Belgium, took part in the exercises.
According to a report by Bild, the exercise scenario involved training procedures for safely removing nuclear weapons from storage, delivering ammunition and installing them on aircraft. The training flights took place without nuclear weapons, and in parallel with the aviation exercises at the Büchel airbase, where the tactical squadron of the Luftwaffe 51 Immelman is located, the Resilient Guard air defense systems were trained to protect the airfield from air attacks.
The training sites for the Luftwaffe of the Bundeswehr were not chosen by chance, since the Nörfenich airbase is a reserve storage site for the B61, a hydrogen bomb that forms the basis of nuclear weapons of the US strategic nuclear forces. 
Some of this ammunition is stationed at NATO bases in Europe. The exact number of hydrogen bombs that are stored at European sites and which ones are not reported. In Europe, the B61 is carried by Panavia Tornado fighter-bombers (pictured) and General Dynamics F-16 Fighting Falcon fighters.
Recall that the B61 thermonuclear bomb is the main weapon of the US strategic nuclear forces, although it entered service in 1968. Since 2012, a new guided version of the B61-12 has been under development, which will replace all B61 and B83 bombs that have been in service since 1983. It can be used both on strategic bombers and tactical aircraft. About two billion dollars were spent on the development of the 12th modification of the aerial bomb.
The Pentagon wants to use 5G for military purposes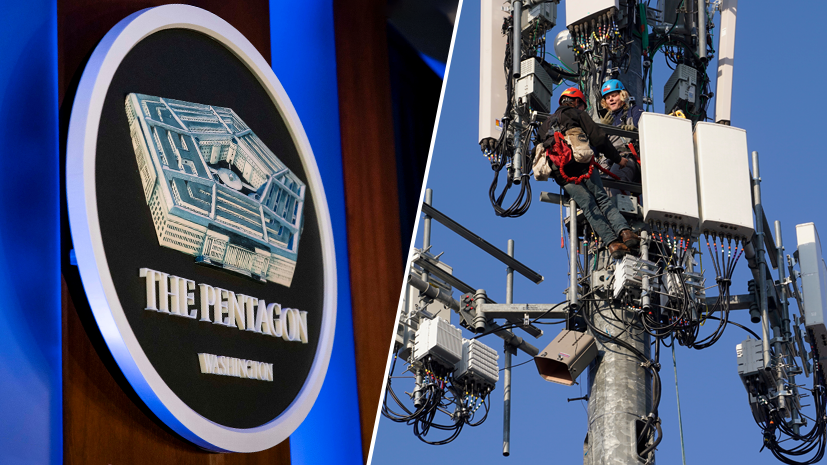 The US military has partnered with more than a dozen companies for "large-scale experiments" with 5G technology, including efforts to increase the "lethality" of certain systems, as part of a $ 600 million project.
Duplicating 5G technology as the "Founding Tool for Modernizing All US Defense," the Pentagon announced a massive research initiative on Thursday that will donate hundreds of millions of dollars to 15 private contractors to conduct tests at five US military sites.
"The Department of Defense today announced a $ 600 million award for 5G experiments and testing at five US military training grounds, representing the world's largest full-scale 5G trials for dual-use applications," the Pentagon said in a statement that it will bring together experts from multiple industries and disciplines.
Projects will include piloting 5G-enabled augmented / virtual reality for mission planning and training, testing 5G-enabled smart warehouses, and evaluating 5G technologies to improve distributed management and control.
Selected for the project include telecommunications companies AT&T, Nokia and Ericsson, exploration and information technology contractor Booz-Allen Hamilton, research arm of General Electric, GE Research and a subsidiary of aerospace giant General Dynamics.
One initiative, led by AT&T at Nellis Air Force Base in Nevada, will apply 5G to its "Distributed Command and Control" system to "Assist in lethality in the air, space and cyberspace", improving communications for mobile command posts in combat scenarios. At the Lewis-McCord joint base in Washington State, AT&T will also work with Booz-Allen and two other firms to develop 5G-enabled virtual reality technology for training, mission planning, and even Operational Use.