How are ETs traveling through space and time today?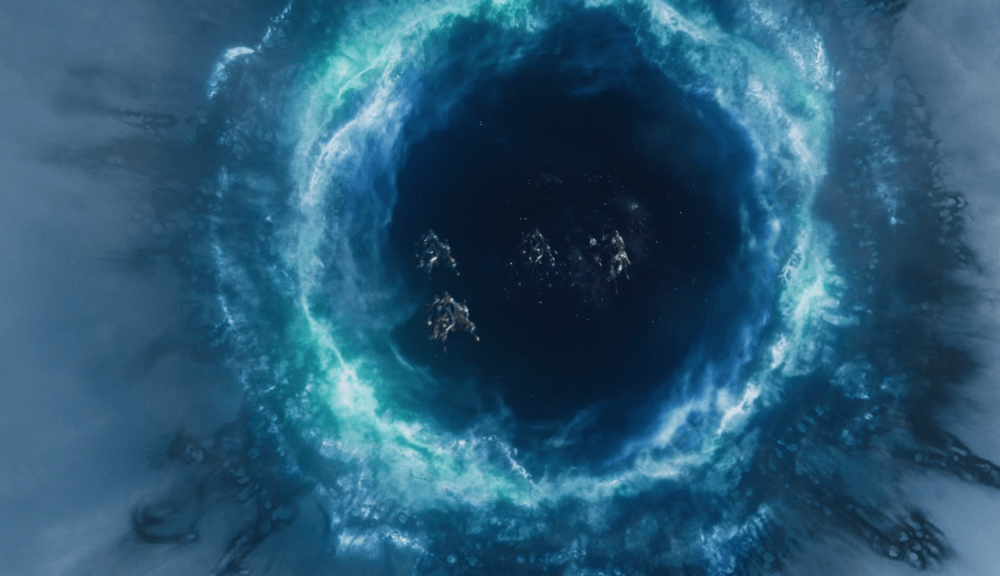 Traveling through space has always been a difficult task, as the distances between planets and even more between solar systems and galaxies are incomprehensible.
Science fiction makes things look easy using space warp engines and wormholes in space. There has been much speculation about the idea that there is a way to travel the vast distance of space with relative ease. Now it seems that no conventional science can support these ideas. Many men and women of science bet that this is possible.
Something that any viewer has seen on films several times is the crew of a spaceship needing to reach another planet or region of space deep within the universe. They enter some coordinates and voila , cross some tunnel-like structure, and reach a destination millions of light years from the point of departure.
But what was fantasy can now come true, as recent discoveries have found that galaxies can move between great distances and against predictions of basic cosmological models. The reason for this may make us rethink everything we think science knows about the universe.
The universe is full of many mysteries; It is an impressive kaleidoscope of patterns that science studies. These nebulae and star clusters continually reveal secrets about how they move in unexplained patterns.
Galaxies tend to form clusters that are limited by gravity, and continue to clump together until they become much larger superclusters. Earth is part of a cluster (galaxy) we call the Milky Way, which in turn is part of the Virgo supercluster that contains over 1,000 galaxies. These masses continually change into different shapes, merging with each other, and some are even pulled between competing galaxies. The movement indicates that there is possibly some massive invisible force at work.
Generally, galaxies have an effect on each other, exerting gravitational force that moves them in a way that is predictable. What scientists have found is that there are exceptions to this and they are theorizing that this may be related to the influence of "large scale" structures..
These "large-scale structures" are composed of hydrogen gas and dark matter and form a pattern of strings, sheets, filaments, and knots that connect galaxies. Imagine a giant cosmic web that connects all parts of the universe.
This web has enormous implications for the way we think the universe works, the movement of galaxies and the development of planets and suns, and basically every astronomical body has massive consequences on the habitability of a world and the possibility of life's evolution.
So what makes these clusters move the way they do, and why are newfound structures a problem for current gravity-based theories?
First, it is contrary to current thinking that galaxies follow a fixed uniform pattern, which means that many of the patterns that have been shown and explanations of why a galaxy follows such a pattern will need to be reexamined.
The impact of these large structures will need to be added to the mix and they could actually change the accepted cosmic model. Science needs to collect much more data about structures in order to calculate this effect. A man who works on this is a scientist named Hutsemékers.
When asked about discovering this connection network, he said:
One of the great things about science is that you can create a model with thousands of dice, but if something doesn't 'stick', it starts to break. This crack has to be sealed or it will tear down the entire house.
This new discovery will really stir up the established ideas. Theories about the universe, as the most important of events, "the big bang " will need to be reworked.
Why is this so interesting?
Because it can help us understand, link ideas and theories about the existence of extraterrestrial life somewhere deep in space.
If we discover the web that connects the universe, an advanced alien race may also have learned about it. Could this be how ETs are traveling the universe today?
One thing that many skeptics point to as a way of refuting extraterrestrial visitation on the planet is that the vastness of space prevents any species from traveling between worlds. What if an advanced alien race had found a way to utilize this cosmic web?
Making a full circle to the beginning of this story, would they have some kind of drive, motor or technology that could allow access to the structure and then travel between galaxies?
A tunnel like a shortcut or a 'wormhole' could very well accommodate this need.
Misinformation on how Americans depend on the Russian RD-180 engine
Having seen television programs, where various "experts" appear, the average person automatically becomes an "expert" and calmly falls asleep with thoughts about how a decaying America cannot fly into space without the legendary Russian RD-180 engine.
Is there really a dependency? Why don't the Americans banally copy the RD-180 if they are so smart?
The answer, as always, is on the surface …
Storytellers, talking about the advantages of the RD-180 and the lack of analogues in the world, deliberately keep silent about the American rocket engine RS-25, which was developed for the implementation of the Space Shuttle program. RS-25 was the main engine of the space shuttle.
The Americans do not need to copy the RD-180, if only for the reason that its parameters practically coincide with those of the RS-25.
For one combustion chamber at ground level, the RS-25 develops 182 tons of thrust, and the RD-180 – 187 tons. In a vacuum, the RS-25 already yields 223 tons against 203 tons from the Russian engine. The specific impulse of RS-25 is greater (452 ​​seconds in vacuum and 366 seconds at Earth level) than the vaunted RD-180 (338 seconds in vacuum and 311 seconds at Earth level).
In addition, the RS-25, unlike the RD-180, is a reusable rocket engine: it can be turned on and off at full throttle, which, in general, was done during the launch of the Space Shuttle. RD-180 is designed for one launch.
It turns out that the Americans created an analogue of the RD-180 before the appearance of the RD-180?
Exactly! RS-25 began to be used back in 1981, and the RD-180 was born in 1999. Oh, the Americans "copied" the indispensable RD-180 18 years before its creation …
In fairness, it is worth noting that the Russian RD-180 (2 combustion chambers) is a "halved" version of the Soviet RD-170 (4 combustion chambers), which was born in 1984.
Why are Americans buying the RD-180 ?!
If scientists, engineers and maintenance personnel in the United States worked for the same salaries as their counterparts in Russia, then there would be no talk of any purchases of the RD-180.
The fact is that preparing the RS-25 for flight is an expensive event, the cost of which includes salaries of specialists.
Thus, the cost of one RS-25 is 50-60 million dollars, and the price of the RD-180 does not exceed 15 million dollars. Americans are capitalists, businessmen, and they make purchases that are very favourable to them.
RD-180 is a cheap and high-quality analogue to RS-25, which the Americans bought in huge quantities for a fraction. According to the first contract, Russia transferred the United States 101 RD-180 engine, receiving about a billion dollars for this.
The Americans saved a lot of money and repeatedly launched military satellites using these engines.
Remedies for obesity can stop the spread of cancer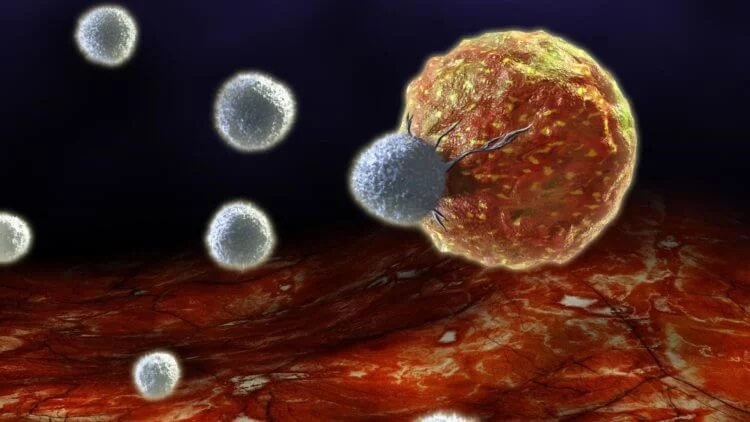 Cancer is the second leading cause of death in the world after cardiovascular disease. Sometimes doctors manage to remove the primary tumors and people have the hope of a full recovery. However, if the tumor has so-called metastases and it begins to spread, the chances of a complete cure are greatly reduced. However, scientists from Belgium have been trying to find more than one year looking for a way to stop the complications of cancer, and in a recent study found that the disease spreads using human fat as an energy source. So what is it that can be done to stop the development of cancer using anti-obesity drugs?
The results of the scientific work carried out by Belgian scientists were published in the journal Nature communications. A team of scientists led by Olivier Feron continued his previous study and found that cancer cells accumulate fat in tiny vesicles, which were called lipid drops. Fats are used as an energy source, so it is logical that the cells saturated with them spread much faster than others.
How does fat contribute to cancer?
According to scientists, TGF-beta2 protein, also known as transforming growth factor beta, is responsible for the accumulation of fats in cells and the aggressive behavior of cells. It is a kind of switch that, on the one hand, allows cancer cells to accumulate energy, and on the other hand, forces them to use the received power for distribution.
Thanks to the new discovery, scientists were able to develop a new plan to slow the development of cancer. In theory, to stop the occurrence of metastases, researchers need to develop a tool to block the production of TGF-beta2 protein. It would also be nice if the future medicine slowed down the formation of fats and their transportation throughout the body. Just before that, they need to make sure that the TGF-beta2 protein is not involved in other processes important for human life. Also, people taking the medicine, which is essentially a remedy for obesity, will have to adhere to a certain diet.
It is possible that in the world there are already drugs suitable for these purposes. It is important for scientists only to study their composition and experimentally check whether they are really able to slow down the development of cancer. Typically, such tests are first performed on laboratory mice. For example, in 2018, scientists introduced a tiny human brain into the body of a rat and looked, what came of it.
In general, cancer can be defeated by turning cancer cells into fat cells. According to the scientific journal Cancer cell In 2019, Swiss scientists led by Professor Gerhard Cristofori were also able to prevent cancer complications in this way. By the way, they conducted an experiment on mice with aggressive breast cancer. This cancer is often found in women, so the discovery can be considered very important for the scientific community.
By 2024 GM And Michelin Will Bring Airless Tires To Passenger Cars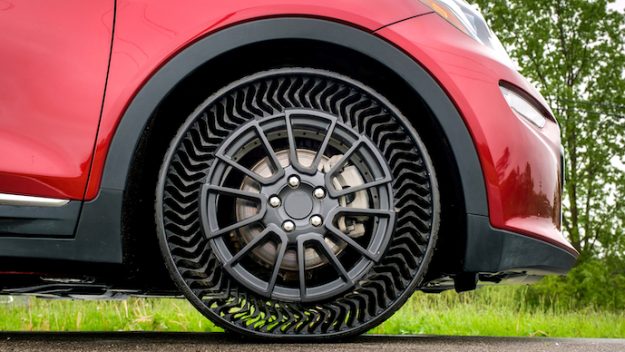 Michelin and GM had unveiled a novel wheel technology- Uptis (Unique Puncture-proof Tire System) in the year 2019. The airless tires are in the preliminary stage currently, but there is a chance of them being rolled out by 2024.
The vice-president of General Motors said that the company is excited to see what all Uptis can do. He also said that the collaboration with Michelin is thrilling.
The rubber tires currently used are prone to dangers like blowouts but the airless tires will eliminate such problems. They will also be low-maintenance as people won't need to check them for punctures and pressure.
Another big advantage of this high-technology is that the number of tires that are wasted will decrease. Also, the amount of raw material used to make rubber tires will go down along with the energy required to build those tires. It will be beneficial as far as sustainability is concerned, believe the creators.
Uptis tires will also be more durable because they won't undergo damage easily. Unlike the rubber tires that get damaged by the excess or lack of air, these airless tires will have no such issues.
The CEO of Michelin, Menegaux said that Uptis supports the company's dream of making mobility sustainable. According to him, working with GM, the company can conquer the future now.
Michelin's VISION Concept Tire is a 4 pillar strategy to conduct R&D and bring sustainability in mobility. Uptis is the first step first in this direction.
The intention with which GM is working is to introduce the airless tires in passenger vehicles by 2024. However, the details about Uptis aren't been out yet. Neither of the companies is willing to share the details about this wheel technology.
It's not clear what material is used to make these tires. It's also unknown how they'll function. Any noticeable difference has also not been mentioned.
Michelin said in its FAQs that Uptis has a common concept as that of their Tweel technology. The latter is a tire-wheel assembly where 'spokes' are to bear the weight and there is an outer rim.
General Motors was expecting to start testing the airless tires on the Chevrolet Bolt EVs by the end of 2019, but there are no further developments in this area.
Images: Steve Fecht/General Motors