Horror movies love a haunted doll. So do collectors.
Thirty years ago, the world was introduced to a 29-inch-tall doll in overalls named Chucky. With eyes bluer than a White Walker's, hair more fiery than Ed Sheeran's, and a smattering of freckles à la Emma Stone, he looked like the perfect childhood buddy.
Unfortunately, Chucky, the tiny antagonist of the 1988 movie Child's Play, was possessed by a serial killer with a knack for slaughtering people with butcher knives, yo-yo strings, and anything else he could find around the house. Today, almost everyone knows that if a wild-eyed doll asks, "Wanna play?" the only acceptable response is to run as fast and far as you can.
Then there are people like Kevin Cain, a paranormal investigator in Alabama who owns hundreds of haunted dolls and other items. "I lost count a long time ago," he says. While Cain may be an especially prolific collector, he's far from the only one. In fact, there is a thriving marketplace for haunted dolls on the internet.
According to Cain, things really took off after the Annabelle doll appeared in The Conjuring (2013), followed by a solo film, Annabelle: Creation (2017). Annabelle, a vintage porcelain doll with smeared lipstick, a cracked pupil, and claw marks on her face, is possessed by a demonic spirit that enjoys ruthlessly murdering people. That she's based on a real-life haunted Raggedy Ann doll adds to the intrigue.
With the next installment of the Conjuring series, Annabelle Comes Home, and a reboot of Child's Play both hitting theaters in late June, there's sure to be a new wave of people curious about haunted dolls — and perhaps even eager to get their hands on one.
Gone are the days when you'd have to trek to a shady part of town, down a darkened alley, and into a questionable-looking antiques shop to get your haunted doll fix (although if you're ever in New Orleans, Bloody Mary's Haunted Museum and Spirit Shop is worth a visit). Etsy and eBay list thousands of dolls purportedly inhabited by everything from evil witches to judgmental spirits that might call you fat to young children and fairy spirits.
Most haunted dolls sell for around $50 plus shipping, but the most highly prized ones are priced well into the four figures. There's a formula, too, for how they're sold: Each listing contains a detailed overview of the spirit's life story, details of said spirit's death, and a description of their personality. Dolls are labeled "active" or "highly active" if paranormal phenomena are said to occur frequently in their vicinity.
Some are advertised as being able to move objects, make noises, or communicate via telepathy or Ouija board, while others are meant to act as creative muses, play matchmaker by revealing potential lovers in dreams, or emit positive energy.
Kat Blowers, whose Etsy shop FugitiveKatCreations specializes in haunted dolls, says best-sellers tend to be inhabited by female spirits that have some sort of "empowerment" angle. "We have a lot of goddess-type spirits or women who have survived terrible situations and thrived." She also sees high demand for witches around Halloween and leprechauns near St. Patrick's Day.
Best-sellers tend to be inhabited by female spirits that have some sort of "empowerment"
While there are con artists looking to take advantage of uneducated buyers, many haunted item purveyors hold themselves to what they see as high ethical and scientific standards. "It costs us a fortune in tools," says Blowers. Whenever she acquires a new doll, Blowers and her husband put it through an intense investigation that lasts one to three months.
First, the doll is separated from any other paranormal objects in the house. Then it's examined with a K-II EMF meter, a device used by paranormal investigators to detect electromagnetic energy, for a period of three to five days. Blowers then places the doll in a sound box ("basically a foam box"), with a voice-activated recorder to see if she can hear any words or phrases. "We've heard music before, which is really weird," she tells me.
Finally, they conduct lucid dreaming sessions, which involve sleeping next to the doll alongside a piece of amethyst (which is supposed to be a potent lucid dreaming crystal) to see if they have any weird dreams. Blowers typically ends up with a 15-page report by the end of each investigation.
Unlike in horror films, real-life haunted dolls aren't necessarily bloodthirsty beings with a penchant for sharp objects. "Not everything is evil," says Cain. "Yes, there are demons, and Annabelle is example number one of that, but also good spirits. If a ghost can haunt a house or building or ship, why can't it just hang around an item it once owned or reminds them of something in their past?" He theorizes that spirits like to hang around dolls and other toys because of their familiarity and strong emotional connection.
However, this doesn't mean buyers shouldn't beware. Cain routinely refuses people who email begging to purchase one of his haunted dolls. "I tell them it's not for everybody. You don't know what you're asking for," he says. "These dolls aren't for entertainment or fun. These are actual haunted items with spirits attached who want to be respected. Then you have those who, if you're not careful, are demonic and ready to tear into your soul."
He describes an episode where a young woman bought a doll online that was supposed to be haunted by a kind, positive spirit, but she ended up with something dark and malevolent. After a string of strange occurrences culminating in feeling tiny hands around her neck one night, she contacted Cain and shipped the doll off to him. Luckily, he knew how to bind the demonic spirit, ultimately sealing the doll in a box coated in holy water and storing it on the highest shelf in his home, where it remains.
Demons aside, selling haunted dolls online comes with some technical challenges. For one thing, eBay isn't too keen on the whole concept and has a policy that specifically forbids the selling of souls. According to a statement from the company back in 2000, "eBay does not allow the auctioning of human souls for the following reasons: If the soul does not exist, eBay could not allow the auctioning of the soul because there would be nothing to sell. However, if the soul does exist then, in accordance with eBay's policy on human parts and remains, we would not allow the auctioning of human souls." In 2012, eBay further banned metaphysical items including spells, hexes, potions, and magical services.
Some sellers found creative workarounds, including winking claims that their dolls are "for entertainment purposes only" or "sold as is." They also often state there's no guarantee of paranormal activity and indemnify themselves from the consequences of anything that does or doesn't happen. Others, deterred by eBay's crackdown, simply packed up and moved to Etsy.
The haunted doll market certainly isn't disappearing anytime soon. Cain expects there'll be a huge surge in demand this summer thanks to Annabelle and Chucky's big-screen appearances — something he's not particularly thrilled about. For anyone considering a haunted doll purchase, he has one message: "Be careful what you buy. It may be phony — or, worse yet, it may be something demonic."
Read More On This At "Paranormal, Ghosts, Hauntings" – Google News
The ghost of a deceased guy walked on the water: an eyewitness filmed him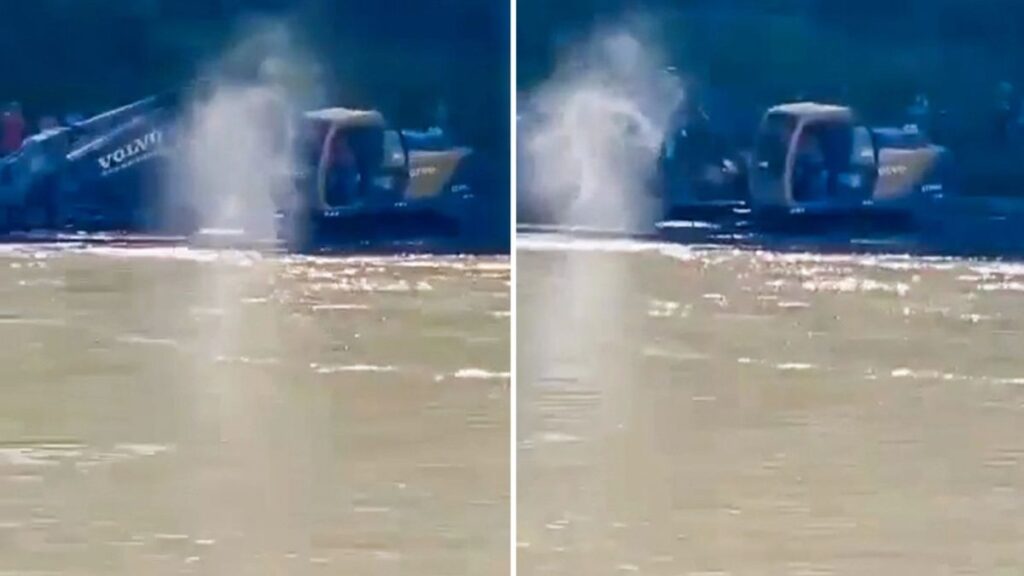 The incident took place in the province of Davao del Norte (Philippines), where a resident, seeing a drowning dog, rushed to save him. The dog was pulled out to a safe place, but the man himself was pulled into the depths. Everything that happened was recorded on camera by a woman named Chanel.
When Dondon (that was the guy's name) went to the bottom, one eyewitness immediately called for rescuers. While the brigade was doing their job, it became clear that the man was already dead. They searched for his body for several hours. What is surprising in the story is that suddenly a silhouette of a man came to the camera, he appeared right above the water. Chanel, who records the video, believed it was the spirit of Dondon.
During the video recording, the eyewitness did not expect to see anything like this, because she does not really believe in ghosts. The entity had obvious human features, so it definitely had a spirit. For several hours they searched for the body of the drowned man and pulled it out with an excavator.
It's pretty creepy to look at the tape. According to an eyewitness, goosebumps ran over her, especially after seeing the spirit. It should be noted that not all users believe in the authenticity of the video. Some people think that the footage may well have special effects. Chanel refutes any such claims: the video is original. She understands the doubts of people, because the shots are really 'out of this world'.
Special skills and abilities are required to distinguish the edited video from the original. Of course, hardly anyone will devote time to study the presented video. We can only hope that the woman did not actually use editing software.
The footage confirms the existence of the human soul and gives hope that life after death does not end.
Reality show to be filmed in medieval "haunted castle" in Wales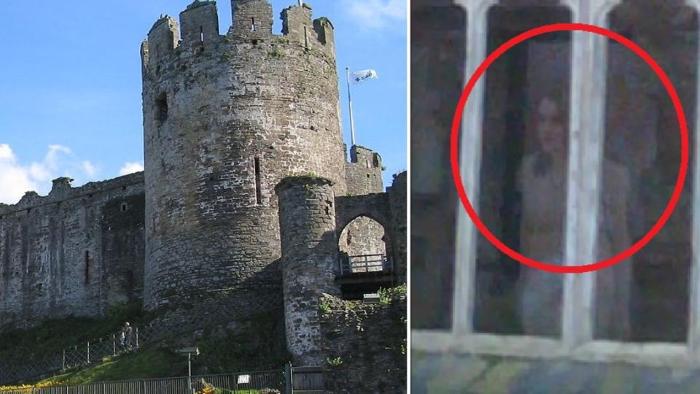 British celebrities will take part in a reality show at the medieval castle of Grich in the city-county of Conwy (Wales), which, according to legend, is full of ghosts. It is reported by The Sun.
According to data from open sources, the castle was built in 1283-1289 by order of Edward I of England. For four years one and a half thousand people erected the fortress and walls. The castle is surrounded by a stone wall with round towers and loopholes.
According to local residents, the ghost of the previous owner, Countess Dandonald, who died in 1924, wanders around the castle. According to legend, the woman's spirit is angry because her husband took the valuables out of here. 
About ten years ago, a mysterious silhouette appeared in the photo, which was noticed on the first floor of the castle in the former banquet hall. In addition, it is rumored that objects are moving mysteriously in the castle. Also, fans of everything mystical believe that there you can meet the ghosts of gamekeepers and a maid who died after falling from a horse.
The creators of the reality survival show I'm a Celebrity … Get Me Out of Here! Became interested in the legends of the ancient castle, in which celebrities perform creepy tasks. 
The producers are delighted with Greich Castle. It is planned to spend almost 1 million pounds and six weeks to prepare the location for filming.
Loftus Hall is the most famous haunted house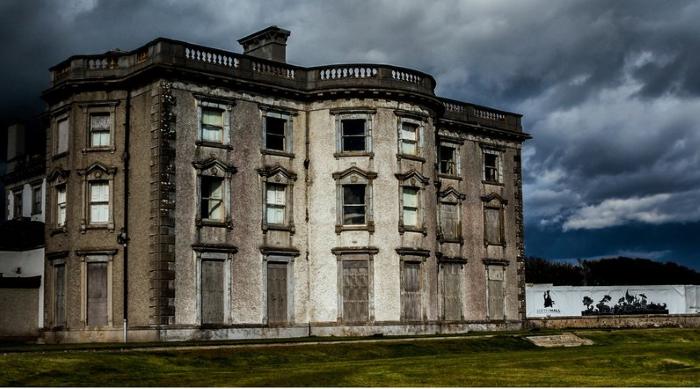 Almost any house built 150 years ago is tempting to think of ghosts. Of course, if it was not restored beyond recognition. But a special pleasure is to visit, or at least look at photographs of a house in which ghosts are definitely found. Well, exactly: in the opinion of its owners and those who live nearby.
Loftus Hall is one of those. Even if, in the opinion of the locals, ghosts were not found in it, they would be worth inventing again – this is how the atmosphere of this gloomy house located on the windswept and washed by waves of the Hook Peninsula in the Irish County of Wexford has to do this.
But, before we tell you what is so paranormal in this Loftus Hall, we suggest that you familiarize yourself with real historical events related to the house. Moreover, they are worthy of attention without any devilry.
We can say that the history of the house began in 1135, when the Norman knight, Raymond Le Gros, landed on the peninsula. To assimilate faster, the knight renamed himself the more familiar to the Irish ear by the name Redmond.
The castle, built by the knight, stood for two centuries, until in 1350 the descendants of Redmond built a new house in its place. It is interesting that they were building right during the Black Death – a plague pandemic that arrived in Ireland by ship from Bristol a year earlier. The new house, Redmond Hall, was named.
Three centuries later, in 1650, the house became the site of one of the fiercest sieges of the Irish Uprising. The owner of the house, 68-year-old Alexander Redmond, with his two sons, a couple of local activists and a tailor who happened to be in the house at an unfortunate time, barricaded himself and bravely repulsed the attack of almost 90 British for several days.
In all fairness, most of these Englishmen have crawled into neighboring villages, indulging in robbery and violence, instead of laying siege to an impregnable home.
The attack was repulsed with the help of the Irish forces arrived in time, which attacked the British under the cover of a thick fog, which in time fell on the Hoek Peninsula.
According to local chronicles, Alexander repelled several more attacks. When the British nevertheless conquered Ireland in general, and Redmond Hall in particular, Cromwell even let Alexander die in peace in his own house – for his courage.
Well, after the death of Redmond, his relatives were evicted from the house and soon the house was sold to a family of Englishmen named Loftus, who live nearby.
Subsequently, the Redmond repeatedly tried to sue Loftus Hall back, but to no avail. But as compensation, they were given land in the neighborhood.
The Loftuses moved rapidly up the court stairs. If in the 18th century the head of the family was called Baron Loftus of Loftus Hall, then already in 1800 the title of Marquis of Eli was created especially for the Loftus.
Actually, the 4th Marquess of Ely gave the modern look to Loftus Hall. A major renovation was undertaken by the Marquis in the second half of the 19th century: he very much hoped that Queen Victoria would come to visit. After all, the Marquis's mother was her maid of honor!
The Queen never came. But the 4th Marquis of Ely became the owner of a luxurious house with such unprecedented conveniences as flush toilets at that time. And, alas, the owner of huge debts. Soon the house had to be sold and its wanderings began among different owners.
In 1917, the house was sold to the monastery order of the Sisters of Providence. In 1983, the house was converted into a hotel. Well, in the early 2000s, it was acquired by the Quickly family. In 2020, it became known that the house was again put up for sale. Moreover, Quickly emphasize that they will not choose a new owner, but "the house will choose him." And that's why…
The story of how the devil sailed to Loftus Hall and what happened after his visit dates back to the 19th century. It sounds like this.
On a cold rainy night, a dark-robed rider rode up to Loftus Hall on a dark horse. He said that his ship was caught in a storm and had to dock in a nearby bay. The Loftuses were away, the family of their distant relatives, the Tottenham, lived in the house. They sheltered the rider and offered him shelter and bread.
Tottenham's daughter, young Anna, immediately fell in love with a mysterious stranger. A couple of days later, in the evening, everyone sat down to play cards. During the game, Anna dropped the map and, bending down to pick it up, saw that the stranger had cloven hooves instead of legs.
The stranger realized that he had been discovered. He immediately soared up, surrounded by devilish flames – and, as expected, made a huge hole in the roof.
It would seem that the devil is expelled, you can live on. But Anna, after the disappearance of the stranger, became not herself. She went crazy by leaps and bounds. The family, frightened by this development of affairs, locked the girl in her favorite sewing room.
There Anna sat, almost motionless, clasping her knees with her hands and soon died.
According to another version of the legend, before her death, she managed to give birth to a child – that is, the devil did not lose time during two days in the house.
Anna was not buried in an ordinary coffin: they could not straighten her and buried her in a sitting position, in which she spent the last months of her life.
Since then, according to numerous testimonies of guests and owners of the house, ghosts of a girl have been walking around the house. And the house itself has become a place of attraction for lovers of everything paranormal and creepy – excursions, especially popular on Halloween, are regularly conducted in Loftus Hall.
If you consider yourself a mystic, but do not have the opportunity to visit Loftus Hall yet, we recommend watching the gothic horror film The Lodgers 2017. It is filmed entirely in the luxe and eerie interiors of Loftus Hall, and has received excellent critical reviews. Here's the trailer: