Horror movies love a haunted doll. So do collectors.
Thirty years ago, the world was introduced to a 29-inch-tall doll in overalls named Chucky. With eyes bluer than a White Walker's, hair more fiery than Ed Sheeran's, and a smattering of freckles à la Emma Stone, he looked like the perfect childhood buddy.
Unfortunately, Chucky, the tiny antagonist of the 1988 movie Child's Play, was possessed by a serial killer with a knack for slaughtering people with butcher knives, yo-yo strings, and anything else he could find around the house. Today, almost everyone knows that if a wild-eyed doll asks, "Wanna play?" the only acceptable response is to run as fast and far as you can.
Then there are people like Kevin Cain, a paranormal investigator in Alabama who owns hundreds of haunted dolls and other items. "I lost count a long time ago," he says. While Cain may be an especially prolific collector, he's far from the only one. In fact, there is a thriving marketplace for haunted dolls on the internet.
According to Cain, things really took off after the Annabelle doll appeared in The Conjuring (2013), followed by a solo film, Annabelle: Creation (2017). Annabelle, a vintage porcelain doll with smeared lipstick, a cracked pupil, and claw marks on her face, is possessed by a demonic spirit that enjoys ruthlessly murdering people. That she's based on a real-life haunted Raggedy Ann doll adds to the intrigue.
With the next installment of the Conjuring series, Annabelle Comes Home, and a reboot of Child's Play both hitting theaters in late June, there's sure to be a new wave of people curious about haunted dolls — and perhaps even eager to get their hands on one.
Gone are the days when you'd have to trek to a shady part of town, down a darkened alley, and into a questionable-looking antiques shop to get your haunted doll fix (although if you're ever in New Orleans, Bloody Mary's Haunted Museum and Spirit Shop is worth a visit). Etsy and eBay list thousands of dolls purportedly inhabited by everything from evil witches to judgmental spirits that might call you fat to young children and fairy spirits.
Most haunted dolls sell for around $50 plus shipping, but the most highly prized ones are priced well into the four figures. There's a formula, too, for how they're sold: Each listing contains a detailed overview of the spirit's life story, details of said spirit's death, and a description of their personality. Dolls are labeled "active" or "highly active" if paranormal phenomena are said to occur frequently in their vicinity.
Some are advertised as being able to move objects, make noises, or communicate via telepathy or Ouija board, while others are meant to act as creative muses, play matchmaker by revealing potential lovers in dreams, or emit positive energy.
Kat Blowers, whose Etsy shop FugitiveKatCreations specializes in haunted dolls, says best-sellers tend to be inhabited by female spirits that have some sort of "empowerment" angle. "We have a lot of goddess-type spirits or women who have survived terrible situations and thrived." She also sees high demand for witches around Halloween and leprechauns near St. Patrick's Day.
Best-sellers tend to be inhabited by female spirits that have some sort of "empowerment"
While there are con artists looking to take advantage of uneducated buyers, many haunted item purveyors hold themselves to what they see as high ethical and scientific standards. "It costs us a fortune in tools," says Blowers. Whenever she acquires a new doll, Blowers and her husband put it through an intense investigation that lasts one to three months.
First, the doll is separated from any other paranormal objects in the house. Then it's examined with a K-II EMF meter, a device used by paranormal investigators to detect electromagnetic energy, for a period of three to five days. Blowers then places the doll in a sound box ("basically a foam box"), with a voice-activated recorder to see if she can hear any words or phrases. "We've heard music before, which is really weird," she tells me.
Finally, they conduct lucid dreaming sessions, which involve sleeping next to the doll alongside a piece of amethyst (which is supposed to be a potent lucid dreaming crystal) to see if they have any weird dreams. Blowers typically ends up with a 15-page report by the end of each investigation.
Unlike in horror films, real-life haunted dolls aren't necessarily bloodthirsty beings with a penchant for sharp objects. "Not everything is evil," says Cain. "Yes, there are demons, and Annabelle is example number one of that, but also good spirits. If a ghost can haunt a house or building or ship, why can't it just hang around an item it once owned or reminds them of something in their past?" He theorizes that spirits like to hang around dolls and other toys because of their familiarity and strong emotional connection.
However, this doesn't mean buyers shouldn't beware. Cain routinely refuses people who email begging to purchase one of his haunted dolls. "I tell them it's not for everybody. You don't know what you're asking for," he says. "These dolls aren't for entertainment or fun. These are actual haunted items with spirits attached who want to be respected. Then you have those who, if you're not careful, are demonic and ready to tear into your soul."
He describes an episode where a young woman bought a doll online that was supposed to be haunted by a kind, positive spirit, but she ended up with something dark and malevolent. After a string of strange occurrences culminating in feeling tiny hands around her neck one night, she contacted Cain and shipped the doll off to him. Luckily, he knew how to bind the demonic spirit, ultimately sealing the doll in a box coated in holy water and storing it on the highest shelf in his home, where it remains.
Demons aside, selling haunted dolls online comes with some technical challenges. For one thing, eBay isn't too keen on the whole concept and has a policy that specifically forbids the selling of souls. According to a statement from the company back in 2000, "eBay does not allow the auctioning of human souls for the following reasons: If the soul does not exist, eBay could not allow the auctioning of the soul because there would be nothing to sell. However, if the soul does exist then, in accordance with eBay's policy on human parts and remains, we would not allow the auctioning of human souls." In 2012, eBay further banned metaphysical items including spells, hexes, potions, and magical services.
Some sellers found creative workarounds, including winking claims that their dolls are "for entertainment purposes only" or "sold as is." They also often state there's no guarantee of paranormal activity and indemnify themselves from the consequences of anything that does or doesn't happen. Others, deterred by eBay's crackdown, simply packed up and moved to Etsy.
The haunted doll market certainly isn't disappearing anytime soon. Cain expects there'll be a huge surge in demand this summer thanks to Annabelle and Chucky's big-screen appearances — something he's not particularly thrilled about. For anyone considering a haunted doll purchase, he has one message: "Be careful what you buy. It may be phony — or, worse yet, it may be something demonic."
Read More On This At "Paranormal, Ghosts, Hauntings" – Google News
Pictures of ghost children captured in an abandoned school in Grimsby UK
Two paranormal investigators ventured into an abandoned schoolhouse and came away with shots they believe show ghost children in action.
The two 'ghosthunters', Graham and Tara, ventured inside the rotting Education Offices and Art College, in Grimsby, UK and came away with two 'supernatural' shots.
The first, taken by Graham, is said to show "three or four children" hiding behind a wall while another child walks towards them.
"This photo, the photograph of the three or four children, was my first paranormal picture," Graham said.
"It was only taken on a Samsung tablet on night camera mode. It was taken in the old Art College on Eleanor Street."
He said "it all started off as a laugh" and he didn't notice anything out of the ordinary until looking back at his photographs the next morning.
He added: "We took pictures with the lights on and lights off. We were just messing around and I was taking a load of pictures. I woke up the next morning and had a look at what I had taken.
"I was really taken back by what I saw. I have been into the paranormal since being a child. I'm no longer scared of it. I thrive on it, to be honest.
"When zoomed in, you can see facial features of the first boy. He's sitting down, besides three or four others, crossed legged and with his right arm to his right knee.
"You can see more on the boy standing up. His facial features are much clearer. These were taken somewhere near the old swimming pool."
The second photograph, taken by Tara, is said to show a "figure" in "full spectrum" again near the swimming pool area.
Graham said: "My partner took this image, which is in full spectrum, in the same location. It was taken further away and is harder to make out."
Source: Mirror
Can you see the children?
The UK'S 'Spookiest Streets' revealed in the run up to Halloween
A new guide has revealed the UK roads to avoid this October if you want to steer clear of witches, ghosts and in some cases, suicidal dogs.
With 40 of the spookiest streets and roads based on local forum research, accounts from paranormal activity experts, local historians and tourist boards, the map compiled by contact lens retailer Feel Good Contacts provides a go-to guide for those wanting to ghost hunt on the road this Halloween.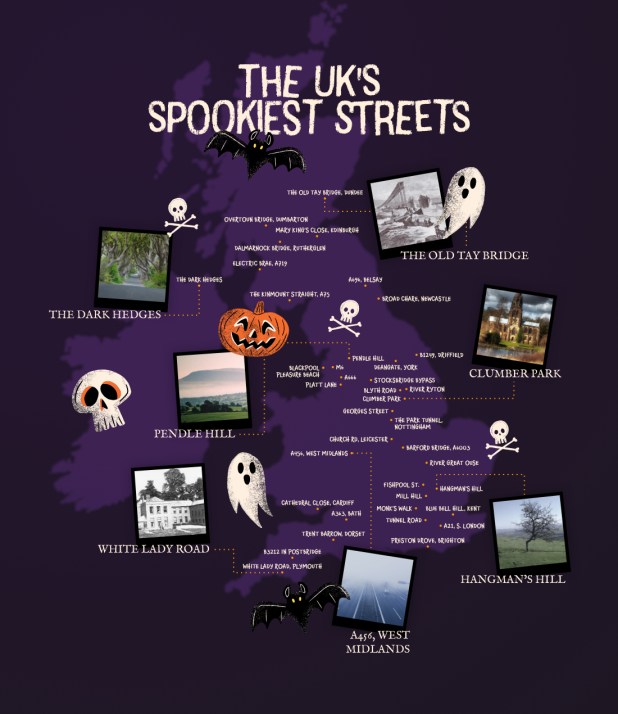 However, at a time of year where the nights draw in, and according to figures from Royal Society for the Prevention of Accidents (RoSPA) when the incidence of road traffic accidents increase, it's crucial that drivers are well prepared when it comes to driving in the dark.
Ghost story writer Janine Pipe said: "Halloween brings out the adventurer in us, it makes us want to watch horror movies and listen to tales around the campfire. It can also lead us to wanting to investigate supposedly haunted places.
"There are many roads in the UK that have links with supernatural sightings; this comes as no great surprise when you think of the number of deaths they have seen over the centuries. No matter what, tales of ghostly figures will inevitably send shivers down your spine, and whatever you believe, ghostly visions are reported ten-fold over the Halloween season.
"Is the veil between us and them really lifted during this time or are our senses merely heightened? Unless you know for sure, always make sure you drive safely and let people know where you are heading."
The sites in the guide cover the UK mainland and stretch across England, Wales and Scotland and include the following seven deadly streets:
Overtoun Bridge, Unnamed Road, Dumbarton
Location:  G82 3PQ
Known as the bridge for "doggy suicides", Overtoun bridge is reported by local tabloids as being the place for almost 600 dog deaths. Walkers report experiencing their dog becoming possessed when on the bridge, running to suddenly jump off it. If you want to visit the bridge on Halloween, just watch out for the old lady said to haunt the bridge and lure dogs into her clasp!
Blue Bell Hill (A229), Kent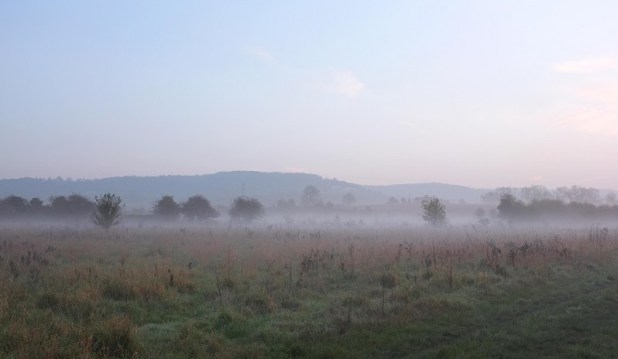 Location: ME5 9RH
This road is supposedly haunted by a young 22-year-old bride who was killed on the eve of her wedding, upon her journey home from the hen party. On the eve of 19th November 1965, Suzanne Browne and her friends died in a car accident on Blue Bell Hill in Kent. With over 50 reported sightings of the bride on this road, many report offering a young woman a lift, dropping her off, or seeing her suddenly vanish into thin air. So, if you do see Suzanne Browne on Halloween, be careful she doesn't disappear on you.
Cathedral Close, Cardiff
Location: CF5 2LA
In this spot once existed a village and road titled "Road of the dead". Dead bodies were carried along this road to the River Taf, to be buried at the now abandoned graveyard. Sights of young kids playing, laughing and singing in the area have been reported and the area is linked to mass deaths of children during the 1800s.
Hangman's Hill, Loughton
Location: G10 4AB
Hangman's Hill has gained its title for the unbelievable phenomenon of cars being able to roll up the hill. When up the hill, cars are faced with a bare field featuring nothing but a single tree. This tree is said to be where a man was hung, with rumours that the force is taking drivers to the hangman to meet their fate.
Deangate, York
Location: Y01 7AL
Bedern is an area haunted by its past; the old Industrial Ragged School is where orphans were sent to work. After the workhouse master cruelly starved the children to death, he stored their corpses in a closet to maintain their allowance money. It is said that the sound of ghostly children can be heard in this area, playing and singing in the street for all to hear…
Nan Clark's Lane, Mill Hill, London
Location: NW7 4HH
Rumour has it that Nan Clark worked in the local tavern with an incredibly jealous husband. One day, in an outrageous fit of rage, he dragged her down the lane to the lake, drowning her in front of several punters from the pub. Nan Clark is said to haunt the fields and lane, giving the area an eerie feel especially on Halloween night!
Preston Drove, Brighton
Location: BN1 6SD
For the past 150 years the "white lady" has been spotted along Preston Drove with reports of paranormal activity. She is believed to be a nun removed from the church, haunting the area for not being buried in the correct way. Locals were so terrified that they gave a proper burial for the remains of the white lady in St Peter's Churchyard, in an attempt to deter her appearances.
Offering some advice for drivers looking to check out these sites over the next few weeks, Andrew Jervis, CEO and co-founder at ClickMechanic, said:
"While I feel lucky enough to have never encountered any paranormal activity or ghosts myself while in the car, some of our mechanics have reported stories of customers becoming distracted by their surroundings on some of the UKs most remote and creepy roads.
"I would always recommend that drivers keep their doors locked if they are in a poorly lit area or feel creeped out. I would also advise drivers to make sure that they stay calm, and drive safely towards a location or route which makes them feel more at ease."
Will you be visiting these streets on Halloween?
Amelia Dyer – "Baby Farmer" Serial Killer
Amelia Dyer was a 'baby farmer' by trade, someone who, for a fee, would look after children, usually illegitimate, until a home could be found for them.
Unmarried mothers in Victorian England often struggled to gain an income, since the 1834 Poor Law Amendment Act had removed any financial obligation from the fathers of illegitimate children, whilst at the same time trying to bring up their children in a society where single parenthood and illegitimacy were very much stigmatised.
This led to the practice of baby farming in which people acted as adoption or fostering agents, in return for regular payments or a single, up-front fee from the babies' mothers.
Many businesses were set up to take in these young women and care for them until they gave birth. The mothers subsequently left their unwanted babies to be looked after by these people and often ended up in workhouses themselves. Unscrupulous carers often resorted to starving the farmed-out babies, to save money and even to hasten death.
Emelia Dyer was born in 1837 and raised in Bristol to respectable parents and trained as a nurse before deciding that 'adopting' illegitimate infants was a more lucrative career.
In 1879 she was sentenced to six months' hard labour after being found guilty on a charge of neglect. A doctor had become suspicious of the number of infants who had died while in Mrs Dyer's care and had reported the matter to the authorities. On her release she spent several periods in mental institutions before resuming her child-care activities.
In 1895 at the age of 58, she moved to Kensington Road, Reading and began advertising for babies to look after. It was not long before small bodies were being fished out of the Thames.
On the 30th of March of 1896, a bargeman recovered the corpse of 15-month old Helena Fry from the river Thames at Reading. Helena's body was wrapped in a brown paper parcel which had the name of a Mrs. Thomas and her address on it – Piggott's Road Lower Caversham. Mrs. Thomas was one of Mrs. Dyer's aliases.
It took the police some time to trace Mrs. Dyer as she had already moved on, changing her address quite frequently and also using various aliases. In the meantime, a Cheltenham barmaid, 23 year old Evelina Marmon, had answered a newspaper advert from a "Mrs Harding" seeking a child for adoption.
Under the premise of adopting them into loving homes, Amelia Dyer murdered over 300 babies.
She met "Mrs Harding" and paid her a £10 fee to take her four month old baby daughter Doris on the 31st of March 1896. She felt comfortable with the arrangement as "Mrs Harding" appeared to be a respectable and motherly person. The following day Mrs. Dyer "adopted" another child, Harry Simmons.
The police finally located Mrs. Dyer, who they kept under surveillance for several days before mounting a "sting" operation using a young woman to pose as a potential customer. She was arrested on April the 4th, 1896 when she opened the door to the person she thought would be this customer only to find two policemen standing there.
The two tiny bodies of Doris and Harry were found in the Thames on April the 10th, 1896, both wrapped in a carpet bag and both white tapes round their necks. In all, the corpses of seven babies, all of whom had been strangled, were recovered from the Thames and each one had the same white tape around their neck. She soon confessed saying, "You'll know all mine by the tape around their necks.".
She made two attempts to commit suicide in Reading police station. She came to trial before Mr. Justice Hawkins at the Old Bailey on the 21st and 22nd of May 1896 charged with Doris' murder in the first instance, so that if she was acquitted, she could be tried for another.
This was standard practice until recently in cases of multiple murder. Miss Marmon identified Mrs Dyer in court as "Mrs Harding". The defence tried to prove insanity but failed to convince the jury who took just 5 minutes to find her guilty.
Although there was strong evidence of her dubious sanity, her crimes were also appalling and the jury seemed to give far more weight to that aspect. Mr. Justice Hawkins sentenced her to death.
During her three weeks in the condemned cell, she filled five exercise books with her "last true and only confession." In a compassionate move the authorities removed her from Newgate for a few hours so that she would not have to hear the hanging of Milsom, Fowler and Seaman the day before her own execution.
The chaplain visited her on the evening of the 9th and asked her if she had anything to confess, she offered him her exercise books saying "isn't this enough?"
She was hanged the following morning on the 10th of June 1896 by James Billington,at precisely 9am, becoming at 59, the oldest woman to be executed since 1843. Asked on the scaffold if she had anything to say, she said "I have nothing to say".
Her ghost was said to haunt Newgate prison prior to it being demolished in 1902. No one will ever know the exact number of her victims but at the time of her arrest, she had been carrying on her trade for 15 to 20 years. It is believed she may have murdered as many as between 200 and 400 babies in all.
By Paul Middleton, source: Ghosts, the paranormal, myths and legends