The ice blue fire of the stone once shone like a star on the forehead of an Indian temple statue until the day when it was ruthlessly torn out by a French adventurer. He would pay a high price for his actions and would later die painful death. The stone would become known as the Hope Diamond but what it brought most of its owners was despair.
While the Hope Diamond is regarded as the most beautiful and precious diamond in the world – at the same time it is to be the most dangerous. Since its theft from India a deadly curse is to live on within it. European kings, the richest woman in America as well as other owners all suffered terrible bad luck: They went bankrupt, were murdered, committed suicide or died in an accident.
This is the beginning of the dark story of a famous as well as notorious gemstone, which we know as Hope Diamond.
The Hope Diamond is believed to have come from the Kallur mine in the Golconda Region, on the river Kistna, in southwest India. In 1642 it appeared for the first time in Europe in the possession of a French merchant named Jean-Baptist Tavernier, who is said to have stolen it from the headband of the statue of the goddess Sita consort of the god Rama.
In 1668 he sold the stone – now known as the Tavinier Blue – for a significant amount to King Louis XIV of France. The diamond was originally 115 carats but was recut in the western style resulting in a 69 karat masterpiece called the "French Blue" which became part of the French crown jewels.
Jean-Baptist Tavernier was not able to enjoy his profit and, in the process of try to save his son from debtor's jail, he himself lost much of his fortune. In the hope of making up for his loss, Tavernier traveled to India. It was here that the curse struck again and after he died of a raging fever his body was torn to bits by a pack of wild dogs.
The Sun King (Louis XIV) himself died horribly of gangrene caused by an infected wound and all of his legitimate children died in childhood, except for one. (Anne-Élisabeth, Marie-Anne and Louis-François all died before the age of two.)
Nicholas Fouquet, who worked for King Louis XIV, wore the gem to a special occasion and wound up spending 15 years in a prison at the fortress of Pignerol.
The diamond, on the other hand, was passed from one king to the next, and each of these kings suffered a tragic fate.
King Louis XV is said not to have much liked the gemstone and wore it rarely. Nevertheless the curse caught up with him and he contracted a virulent form of smallpox that turned every inch of his skin into a blackened scab of blood. His death was said to be excruciatingly painful.
King Louis XVI lost a large part of his empire and later fell out of favour with the people of France. Both he and Marie Antoinette wore the jewel and died on the Guillotine during the French revolution.
Princess de Lamballe was a courtier of Marie Antoinette and would often handle the Hope Diamond and the Order of the Golden Fleece. She was killed by a mob during the revolution in a most horrific fashion including being stripped, raped, beaten, tortured and eventually disemboweled.
The cursed diamond disappeared after the royal storehouse (the Garde-Meuble) was robbed in 1792.
There is a strong suggestion that it may have found its way to Queen Maria Louisa of Spain around 1800. The curse followed quickly and she lost popularity with the people of Spain becoming one of the most hated people in the land. In 1808 she and her husband were forced into exile shortly before Napoleon invaded Spain.
One version of the legend claims that Napoleon Bonaparte himself took the jewel from the Spanish around 1809 and from the moment he owned it all his military campaigns turned sour leading to the disastrous invasion of Russia in 1812 and his ultimate defeat in 1813 when Paris fell to his enemies. Napoleon would ultimately die as a prisoner on the island of St. Helena under mysterious circumstances after a horrible sickness – some say arsenic poisoning. It's been suggested that the stone was stolen from Napoleon's treasury around 1810 and sold for a pittance to a string of middlemen.
The Hope Diamond seems to have resurfaced in the possession of a Dutch jeweler known as Wilhelm Fals sometime around 1810. He drastically recut the diamond – possibly to disguise its origin. The larger piece would later become known as the Hope Diamond. This was soon stolen from him by his son Hendrik Fals who also murdered his fathered for good measure. The legend states that Hendrik sold the stone to a French diamond merchant called Francis Beaulieu for a fraction of its value and used the money to live a life of sin and debauchery. He was eventually driven mad by his own alcoholism, STD's and guilt. Hendrik Fals killed himself in 1830.
The size and style of the gem made it difficult to sell in France where it might still be linked to the robbery of the Garde-Meuble. Together with an unknown French diamond cutter, Francis Beaulieu split off a small section of the stone and used this to fund a trip to London. He struggled to find someone he trusted to buy the gem and became ever more impoverished, paranoid and physically wasted. Eventually, he settled on Daniel Eliason a well-respected Hatton Garden jeweler. He showed Eliason the stone and offered it for 5,000 pounds (around £200,000 today). Eliason wanted time to think it over but when he went back the next day he found Francis Beaulieu dead on his bed. The stone was clutched in Beaulieu's hand but the young man was dead of starvation. This was almost exactly 20 years after the robbery of the French Blue – just when the statute of limitations on the theft were expiring.
Some sources claim that Eliason sold the stone to King George III in 1814 where it became known as the 'London Blue'. If this is true it was bad luck for King George III. His compulsive and unexplained madness returned and he was dead by 1820. Some say the stone passed to King George IV who kept it for ten years until 1830. During this time he became an alcoholic, possibly addicted to a heroin type drug called laudanum, so obese his cloths no longer fitted, partially blind from cataracts, mentally unstable and plagued by gout.
The stone eventually passed into the ownership of the rich banker Henry Philip Hope for £18,000. Some believe it was sold off by George VI's mistress, Lady Conyngham. One version goes that George had left all his jewels to her in his will but for some reason she refused to take them. Perhaps she had heard of the curse and no longer wanted it anywhere near her. (She also needed money to pay off some of the King's debts) Some versions of the story claim that Eliason himself went mad later but there is no hard evidence for this. The stone was later revalued at £30,000. From this point on the stone would be known as the Hope Diamond. Not surprisingly, while Henry Hope owned the diamond he suffered a long series of misfortunes, including the death of his only son.
In 1887 his grandson, Lord Francis Hope, inherited the cursed diamond. He spent almost all of his fortune on his extravagant and reckless lifestyle and had to sell the diamond in 1901 to Adolf Weil of Hatton Garden to pay off gambling debts. He also lost his foot in a hunting accident and his wife cheated on him. He later died as a poor man.
While he owned the diamond he became infatuated with an American actress May Yohé who he later married. May didn't like the diamond and claimed it exuded an evil spell on people. She blamed the diamond for corrupting her and driving her to have the affair that ended in her divorce from Lord Francis. She is said to have died poverty stricken after the failure of an early film about the Hope Diamond Mystery (1921) and its now well-known curse. There have been some suggestions that Yohé might have tried to kill her second husband – Captain John Smuts.
It passed on to Jaques Colot, a broker who struggled to sell it on. The worry of his investment took the pleasure out of his life and even after he did sell it he declined into madness when he found out he would not receive full payment for the gem. He finally committed suicide.
In 1902 Jaques Colot sold the Hope Diamond to Ivan Kanitowsky, a Russian prince. In 1908 Kanitowsky then gave it (loaned it) to the celebrated actress Mademoiselle Lorens Ladue of the Folies Bergère in Paris. The first time she wore the stone on stage she was shot by a man in the audience some people claim was an ex-lover. Some versions of the story claim that it was Kanitowsky himself that pulled the trigger. Some weeks later the prince himself was stabbed to death as he walked along a Parisian street. The work some believe of Russian revolutionary agitators.
During late 1908, a well-known Greek jewel broker by the name of Simon Maoncharides acquired the stone. History, as always, is uncertain but it appears that he sold it to Habib Bey – a Persian diamond merchant. On the night that the deal was concluded, Maoncharides accidentally drove his carriage over a precipice, killing himself, his wife and child.
Habib Bey quickly sold the stone to Salomon Habib who was acting on behalf of Abdul Hamid II, the Sultan of Turkey. Within months Habib Bey drowned during the sinking of a French steamer in 1909.
Abdul (The Damned) paid $400,000 and gave it Salma Zubayaba (Zubaidah) his favourite concubine with orders that it be protected by Kulub Bey, his favourite eunuch and guardian of the Sultan's treasures. Mere months afterwards, while Kulub Bey was distracted Jehver Agha, a low official in the treasury, stabbed and killed Zubayda and tried to steal the jewel. He was caught by Kulub Bey and hanged after being tortured. Abu Sabir, the man who had polished the stone for Sultan was unfairly accused of working with Jehver Agha and was tortured and executed. Shortly after this incident Abdul Hamid II was overthrown during the Young Turks Rebellion of 27 April 1909. He was later captured and imprisoned at Beylerbeyi Palace in the Bosphorus. Legend has it that Kulub Bey was captured by a mob after the uprising and slowly strangled to death.
The Hope Diamond vanishes from history for a while until it appears in the hands of Pierre Cartier of the famous Cartier Jewelers family. On 28 January 1911 he sold it to Edward B. McLean on behalf of his wife Evalyn who became owner of the diamond and mocked the curse joking that things that brought other people bad luck brought her good luck. Perhaps Edward wasn't convinced though as the original contract with Cartier did include a clause stating: Should any fatality occur to the family of Edward B. McLean within six months, the said Hope Diamond is agreed to be exchanged for jewelry of equal value".
Well, Evalyn may have joked about the Hope Diamond but it didn't care. Shortly after she acquired it her mother-in-law died. Her eldest son, Vinson, often referred to as the Billion Dollar Baby, ran in front of a car and was killed. He was only nine. Edward McLean went off with another woman and even claimed to have married her although he hadn't. Evalyn continued to spend money recklessly as did Edward who eventually wound up in a mental asylum where he died from brain atrophy brought on by alcoholism. Aged only 25, Evalyn's only daughter died from a drug overdose. Debts eventually forced her to sell the Washington Post. Aged just 60, she died of pneumonia soon after her daughter and was buried in Rock Creek Cemetery, Washington D.C. Evalyn's grandson Lt. Ronald Walsh McLean was killed during the Vietnam War while leading a five man recon in Quảng Trị Province.
Harry Winston, a New York diamond merchant, bought the gem in 1949. He exhibited it around the world but in 1958 he was persuaded to donate it to the Smithsonian Museum, where it has resided to this day.
The curse wasn't quite finished yet. James Todd, the mailman who took the Hope Diamond to the Smithsonian later crushed his leg in a truck accident, injured his head in an automobile accident and then lost his home in a fire.
There is only one person who has been spared the "curse" of the diamond – the American jeweler Harry Winston. After buying the diamond, he donated it to the Smithsonian Institution who still possess the diamond to this day.
Is this all just coincidence or is the Hope Diamond actually cursed? Some researchers dispute many of the facts in the story such as the fact that Marie Antoinette may never have actually worn the jewel and that Tavinier may have lived a long and prosperous life. Still there is no denying that people associated with the stone – even if they weren't the owners – have had uncommonly bad luck.
Footnote: This is the legend of the Hope Diamond and its curse. Please note that many researchers and authors disagree with this version of events and claim that the entire story of misfortune was probably made up by Pierre Cartier and later May Yohe. Cartier wanted to sell the gem and need a fantastical back-story while Yohe was trying to promote the film about the diamond that she co-wrote. For a very detailed and less sensationalist version of what really happened please read the book – 'Hope Diamond: The Legendary History of a Cursed Gem' by Richard Kurin.
Creepy Ghost Places: Danvers State Hospital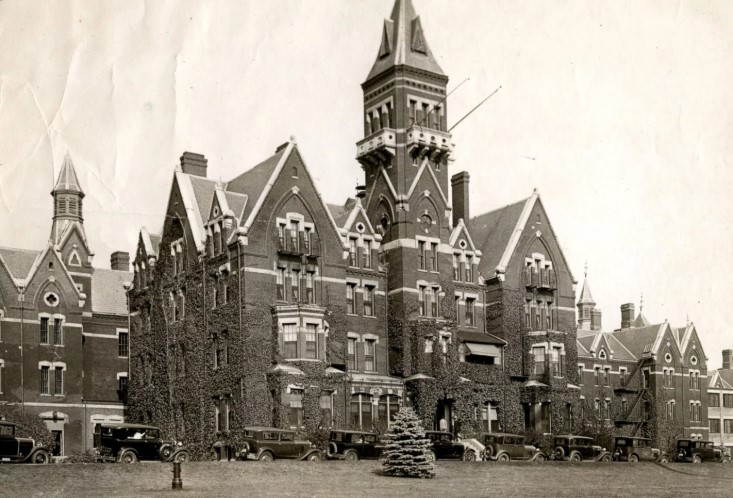 In December 2006 a 139 year old Gothic asylum was demolished to make way for a 497 unit apartment complex. The facility was not only one of the clearest examples of the Kirkbride Plan, but it had since even before its closure in 1989 been considered a location of exceptional paranormal phenomenon.
In the real world the demolition may be a tragedy, but it's not all bad as a taste of the facility can still be found in Batman's Arkham Asylum. Welcome to Danvers State Hospital…
Arkham Asylum, the setting for one of the bestselling Batman video games took creepiness to entirely new levels, pushed to the point where it was practically a caricature of a haunted asylum, but aside from Batman and the Joker, it's not that far from reality.
Without knowing it, the producers of Arkham Asylum had almost entirely based the facility on a very real location. Danvers State Hospital was the inspiration for the notorious horror writer and occultist, H. P. Lovecraft's Arkham Sanitarium in his 1933 story 'The Thing on the Doorstep', and the Arkham Asylum of Batman fame is an identical replica.
Before its demolition Danvers was a sprawling facility covering over seventy acres of land, complete with the Gothic courtyards, gardens, and even the labyrinth of underground tunnels connecting the several buildings.
Between its closure and demolition Danvers State Hospital became a favourite amongst ghost hunters and urban explorers, some leaving it in not quite the condition they found it. This only added to the similarities.
Phenomenon of the paranormal sort within Danvers State Hospital can range from well-lit rooms where there is no electricity to loud noises as though somebody just pushed over a brick wall on the floor above you.
Some witnesses have reported hearing eerie whispers pleading for help, begging to "keep her away". The "her" has also been reported on numerous occasions – a slender scowling woman dressed in Victoria era clothing. She has been known to appear randomly, standing ominously in dark hallways, but more terrifying is her habit of charging at those that witness her.
Despite that, the victims having blamed it on the Victorian woman who had charged at them, there had been so many illnesses amongst urban explorers and other enthusiasts illegally touring the facility that an unknown toxin was listed amongst the defences for the destruction of the facility during the 2006 legal proceedings.
The toxin itself was never identified, but Danvers State Hospital's long history as a medical facility in a period when science was less than appropriate coupled with the numerous current day ailments coming from the facility was enough to warrant the defence.
Over the years Danvers has been given numerous nicknames including: The Castle on the Hill, The Palace on the Hill, or The Haunted Castle – but one such nickname stands out as a hint to its early history, The Witches' Castle.
Danvers State Hospital is immediately outside of Salem Massachusetts where twenty-nine people were convicted of the capital felony of witchcraft. Contrary to popular belief "witches" were not burned in Salem, this was for the most part a European phenomenon.
In Salem they hanged them "on the hill". The same hill where Danvers State Hospital was built and where there are now 497 apartments.
The witch trials took place in 1693, almost three hundred years before the construction of Danvers State Hospital.
If the entity of the witch hung around for three hundred years, it's fairly unlikely she's leaving just because there are condos there now, so if you ever thought perhaps you wanted to live with the 320 year old poltergeist of a witch, these may be the apartments for you.
Unraveling the Mystery of a House "Cursed by Death"
The Witherell House has some surprising connections to Jeffrey Dahmer, the formation of the Wisconsin Territory, and a disturbing practice of divine healing from the Middle Ages.
Of all the things I've written about on Cult of Weird over the years, one of the most viewed posts is the story of an abandoned house I was caught trespassing in 20 years ago. The house captured my attention one fateful day in 1999, and continues to fascinate as I dig into its long history and hear about the experiences of others.
"Two story, Late Picturesque frame house with clapboard siding," a historical property record states about the house. "Gable roof with bargeboards. Oddly shaped windows."
The house isn't famous or historically significant outside of Fond du Lac County, Wisconsin where it resides, but for decades passersby have been intrigued by its unusual architecture and the disturbing legend that has swallowed this once stately home.
It's a legend that has drawn countless curious explorers to their demise. I mean, not that anyone has died in there recently, as far as I know, but many have been ticketed or arrested and charged with restitution for damaged property whether they broke something or not. Though no one has lived in the house for decades, the lawn is always mowed, the property is consistently maintained, and the house is heavily protected by fire alarms and (it is rumored) motion detectors.
According to local legend, a young mentally ill child killed her parents in this house.
While I have yet to uncover the origin of that story, I did find an old, yellowed letter hidden inside the house addressed to a Mr. James Witherell. The letter, handwritten in pencil, was an apology that Mr. Witherell's wife and daughter would soon be discharged from the Fond du Lac sanitorium because it was closing. The sanitorium could have been the Catholic tuberculosis hospital that once stood just down the road from the Witherell property, or some other facility. But chances are it wasn't referring to a mental institution.

From the Illustrated Historical Atlas of Fond du Lac County, Wisconsin, 1874
I first wrote about my personal experience with the Witherell House a few years ago hoping to learn more about it. Commenters soon helped shed light on the property's recent history.
It seems the Witherell family were in fact the house's final inhabitants, but there was no mental illness or murder.
"My grandfather, Archie Witherell bought the property during the depression – mid 1930's, restoring the woodwork and upgrading heating/electrical," one comment reads. "The surviving elderly brothers who owned it then had lived in the servant's quarters – a portion of the house that was taken off – dragged out of the yard to rest near the site of an earlier frame house nearer the creek. Archie died of natural causes in 1967. Grandma Adelaide lived there with housekeepers until the year before she died, 1981. The property was expensive to maintain, and without Archie and Addie, was in need of other dreamers. There is nothing sinister about the grace of this lovely old home – no mad relatives or hauntings. It wasn't the Witherell's for long in the scheme of things, but very much appreciated."
"I grew up in the last house on How 23 before county K," another commenter said. "I was born in 1951. When I was a young girl our telephones were on party lines. Mrs. Witherall was totally blind and many times would fail to hang up the phone when she was finished talking. So, one of us had to go across the field and ask she or Mr. Witherall to hang up the phone. Nothing scary or haunted about it. As a teen, I was in the empty house once. There were old magazines and books and lots of dust.
"These are some pretty outrageous claims about this house all the way around," the comment stated. "Mr. and Mrs. Witherall were very old, but not insane or possessed."
Bleak stretch of Hwy K in front of the Witherell House
Sometime after the Witherells' passing, the house was bought by Dr. Kenneth Stormo, a clinical and forensic pathologist who served for the United States Army and numerous hospitals throughout his career, as well as holding the positions of Assistant Medical Examiner for Milwaukee County and Fond du Lac County Coroner. Stormo even worked on the Jeffrey Dahmer case when the killer's ghoulish collection of body parts was uncovered in his Milwaukee apartment.
Shortly after his death in 2013, one of Dr. Stormo's daughters, Lesley-Anne, took to a Facebook group dedicated to haunted places in Fond du Lac to lay rumors about the old house to rest.
"I am the youngest of Dr. Stormo's eight children," she wrote. "I have five sisters and two brothers, and all eight of us grew up playing in and around 'the farm' (as we have always called it)."
She went on to describe the joy she and her siblings experienced growing up in and around the house:
The inside of the house used to be beautiful: the smooth, elegant wooden spindles that lined the staircase leading upstairs that also outlined the stairwell that divides the second floor in half; the gigantic, private rooms that screamed with character whether because of the intricately framed window panes or the "secret cubbies" (not very secret because there are very evident doors indicating their presence) where my sister and I would sneak into and read by flashlight. The dining area – at the front of the house, which actually used to be the main entrance and once entertained a full front porch wrapping from one corner of the house to the other – had great built-in china hutches in the corners and I would dust them religiously because I knew "special things" were going to be stored there; the gigantic living area off the kitchen was also beautiful and, for the longest time, had old curtains hanging from the rods and there was an old cradle that I would play with; upstairs, the built-in bookshelves that lined one half of the common area were stacked with old books, outdated copies of National Geographic, some medical anthologies, financial analytics, and some nature reference manuals. The kitchen always had a familiar musty smell and was fun to explore the contents of the cupboards and drawers because I always found something old and interesting. My next older sister and I would often move from room to room with buckets of Mr. Clean and wash the floors until they gleamed; we would talk about how we would arrange the rooms when we moved into the house together.
But that joy eventually faded as rumors that the house was haunted began to circulate.
As I grew up I noticed that a lot of times when we would get to the farm my dad was less-than thrilled," Lesley-Anne wrote. "Eventually I realized that those days, instead of pulling out the tractor first, we took a tour of the perimeter of the house and then he dug around for large panes of thick vinyl windows, plywood, a hammer and some nails. He would 'board' up (with expensive vinyl) the windows that had been shattered or the doors that had been torn from their hinges. At some point I realized that he was trying to keep people who didn't belong in our sacred space out. And at some point I realized that the uninvited people that still welcomed themselves into this space that clearly wasn't intended for them were actually disrupting the enjoyment that my dad, especially, experienced there. He installed an alarm system which resulted in him receiving a higher volume of middle-of-the-night calls and trips out to the farm to meet the cops and the trespassers, but he still had to board up the windows and doors that the trespassers had violated before getting caught. And, while he never shared this information, I can probably count how many dollars of restitution he received from the trespassers. My breaking point came when I went to the farm with my dad the day after a break-in and someone/some group had destroyed the beautiful spindles on the staircase and stairwell. The spindles were chopped, broken and torn from the fixture, and the beautiful handrails were broken into pieces and used as firewood in the bedroom that was immediately off the kitchen and dining area. There, in the middle of the bedroom floor, underneath the area where the carpet had been rolled back, was a HOLE the size of a fire pit. There was a burn hole the size of a fire pit in the middle of a room in this sacred space I knew as 'the farm' and the beautiful spindles I loved to study had been destroyed, and the alphabetical system by which I had arranged the books and magazines had been disrupted.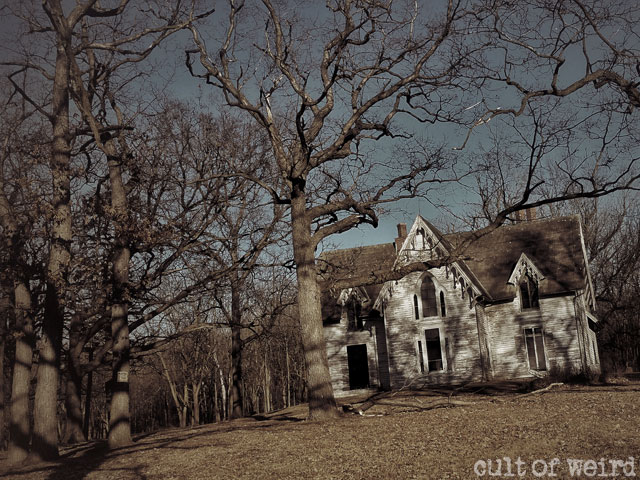 In recent decades, however, it seems visitors have had somewhat more unusual experiences with the Witherell House, helping earn its haunted reputation.
"Today I had my senior pictures taken by it," one commenter wrote in 2017, "and there was a shot of me in front of the house where you can see some figure in the left window."
Another wrote that when he was 14, he and a friend were walking on the road by the house. There was a candle burning in every window, they heard screaming, and saw a large shadow pass by the front window. When he returned home and told his mom about it, she warned him to stay away from that house and said it was "cursed with death."
The house is old, beautiful and eerie, and certainly has a way of capturing one's imagination. Some have speculated that an evil presence may exist within it's crumbling walls that the owner of the property is trying to protect people from. Or that the memories of the tragedy that happened there are too horrible to bear, so the house was closed up like a time capsule.
What really happened in the Witherell House?
Probably nothing, of course.
"If you have read the entirety of my notes, and you are still curious as to whether there is any paranormal activity on/in these premises or house," Lesley-Anne concluded when she shared her story, "take it from one who spent her childhood there that there is NOTHING haunted. There aren't ghosts or goblins or floating figures. The 'apparitions' some claim to see haunting the upstairs windows are contraptions that one of my family members gleefully created last summer while I was there; if I remember correctly they are made of an old rug, some hangers, a Halloween pumpkin decoration, some other random objects that trespassers have brought inside with them."
There may not be spirits, but the house is a gateway into the fascinating lives of its occupants. If there was a stigma attached to the house before it fell into disrepair into the 1980s, it could be due to the strange life of its original builder.
Maybe the house isn't cursed, but Colonel Elihu Phillips seems to have been.
The Seventh Son
On a plat map, the Witherell House is located in section 7 of Empire, a rural Fond Du Lac County township that has been home to numerous prominent Wisconsin residents, including territorial governors, senators, congressmen, physicians, and businessmen.
"The topography of the town was such as gave to men and boys a broad vision," W. A. Titus wrote in 1923, "an outlook over the extensive prairies to the westward that seemed world-wide to the restricted view of the early dwellers in the wilderness."
They built their farms on or below the Niagara Escarpment, a significant geological feature known locally as "The Ledge." The ancient rock ridge is called the "backbone" of North America, stretching 1,000 miles across the Great Lake region. The glacier that carved out much of Wisconsin's dramatic scenery during the last ice age was split in half by the escarpment. It was revered by early Native Americans, who used it for sacred ceremonies and burials. When the first settlers arrived, they discovered the Ledge was a great place to build lime kilns for producing the white lime powder used in mortar, plaster, and paint. Also, the layered stone was perfect for building churches, barn and farmhouse foundations, and other constructions.
Empire's first land owner was James Duane Doty, who was pivotal in the formation of Wisconsin as a separate territory and the selection of Madison as the state capital. In 1838, Doty purchased the land where the Witherell House stands today, and built the first frame house in the county. He served as a congressional delegate for Wisconsin Territory from 1838-1841. President John Tyler then appointed him as the territory's second governor, serving from 1841 to 1844. Nathaniel P. Tallmadge, Doty's neighbor a few miles down the road and a devout Spiritualist who donated his land for a cemetery after spirits taught his daughter to play the piano, proceeded him as the territory's third governor.
This was the perfect place for a wealthy, influential man like Elihu Phillips to make his home.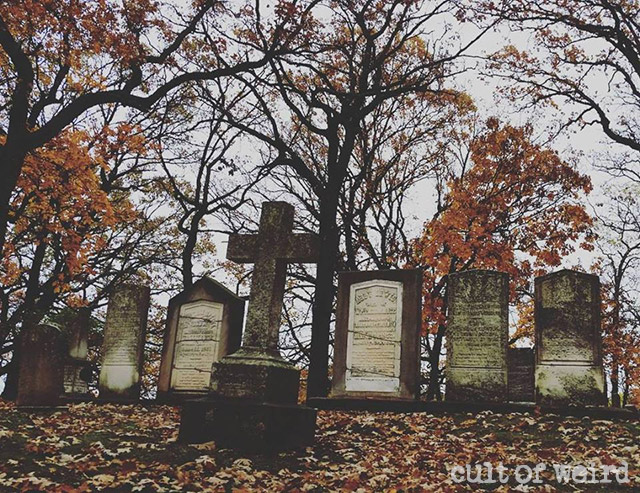 Final resting place of spiritualist Nathaniel Tallmadge and his family in Reinzi Cemetery
Elihu L. Phillips was born in Manlius, New York, in 1800. While he was successful in both business and public service, his private life was marked with sadness and loss.
"Elihu was the seventh son," an 1889 biography states, "and many were the children brought to him to be cured of king's-evil, etc., much to his disgust."
The "king's evil," or scrofula, is a form of tuberculosis that causes swollen lymph nodes and oozing lesions on the neck. Until around the 18th century, European monarchs believed they had the divine gift of healing, and a royal touch was the only way to cure this malady. The king or queen would stroke the neck of the sick, then present them with a gold coin that depicted the archangel Michael slaying a dragon.
Scrofula eventually clears up on its own, so the royal touch appeared to work.
The seventh male child born to a family, without any daughters in between, was also believed to have healing powers. Like the royal touch, people stricken with the king's evil and other illnesses would come from far and wide to be healed by a seventh son. In France, a seventh son was called a "Marcou." He would be branded with a fleur-de-lis, and healed the sick by breathing on the infected areas, or by the patient touching his fleur-de-lis. In Ireland, a ceremony was held when a seventh son was born wherein the mother would place a silver coin, salt, hair, or other object in the infant's hand. Whichever object she chose, that would be used by the child later in life to heal. He would rub it, and then the patient would hold it to the infected area.
These practices were still alive in early 19th century America, and it seems Elihu's childhood was scarred by an endless procession of the sick and dying.

A child with scrofula, also known as King's Evil
Elihu married Harriet Tousley in 1825, but he buried his bride just six months later when she was consumed by tuberculosis. He married again a few years later in 1828, this time to a Maryland woman named Eleanor Jones. They soon had two sons—both who died in infancy—followed by a daughter, Ellen, who was described as an invalid.
In the 1830s Elihu served as a colonel in the New York State Militia. He was later elected Sheriff of Onondaga County, and then to the New York State Assembly.
But tragedy struck again when Eleanor died in 1838.
Elihu seemed to cope by keeping his head in his work. He and his brother Lyman, along with several partners, took contracts to build 60 miles of railroad from Niagara Falls to the head of Lake Ontario for the Great Western Railway.
By 1852, however, the brothers were ready for a change. Lyman had contracted a fever that caused him to lose an arm (must have been one hell of a fever), and he could no longer live the active lifestyle he was used to. Elihu, solely responsible for the care of his invalid daughter Ellen, thought she could benefit from a change of scenery.
Elihu and Lyman sold their shares of the railroad contracts to their partners and moved to Wisconsin, where they bought property in the town of Empire. The 1889 book Portrait and Biographical Album of Fond Du Lac County, Wisconsin says Elihu bought James Doty's farm, and Lyman purchased nearby property from Colonel Henry Conklin. Elihu built a new house on the property—the same house that still stands there today with the odd windows—in 1853.
It seems Elihu left Doty's original home, the first frame house in the county, intact, as Lesley-Anne notes there was an "earlier frame house near the creek" when she was growing up.
Lyman built a nearly identical house the following year. The two houses were so near each other, and so similar in architecture, that it seems one is often mistaken for the other in historical records. But while Elihu's house still stands over 160 years later, Lyman's was completely destroyed by fire in 1876.
In its place, a Catholic Congregation called The Sisters of St. Agnes eventually built a sanitarium where they cared for tuberculosis patients. They believed the fresh air and natural spring water flowing from the Ledge had healing benefits. The hospital was converted into the St. Mary's Springs Academy boarding school for girls in 1909.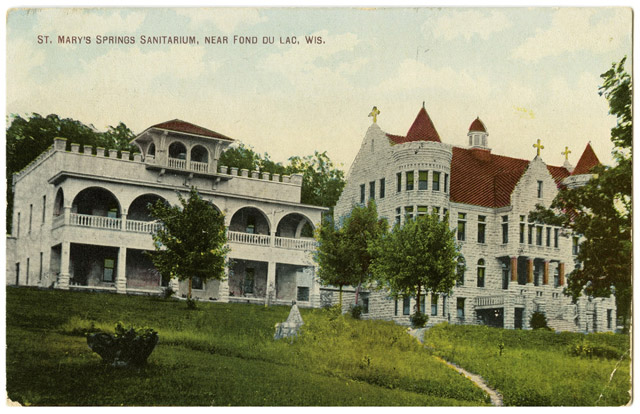 St. Mary's Springs sanitarium c.1901
Elihu thought the move to Wisconsin would be good for Ellen, but she died just two years later—the day after her 22nd birthday. Elihu continued to live in the house until 1865. Then a state senator, he sold the farm to congressman Owen A. Wells and moved into the city where he founded the Fond du Lac Savings Bank. When his tenure as bank president ended, Elihu once again left the city behind. He bought farmland in the nearby community of Lamartine where he lived out the rest of his years alone.
"Being very deaf he lived quite a secluded life," Elihu's biography reads, "but always retained the same old-school gentlemanly manners and erect bearing, which were so characteristic of him."
The Seventh Son, a man believed to have been born with the divine power of healing, seems to have lived a long life marked by death. While he lost all those he cared for throughout his life, he himself lived to be 84 years old.
Elihu L. Phillips died on January 10, 1884.
Maybe the monumental loss he endured left a residual stain on the beautiful home he built, the persistent stigma of a death curse. Or maybe, as local lore suggests, something more sinister happened in the following years to cement the reputation that haunts the house today. But it seems more likely that the blacked-out windows, the peeling paint, and the unsettling aura of an abandoned space have been stirring imaginations for decades.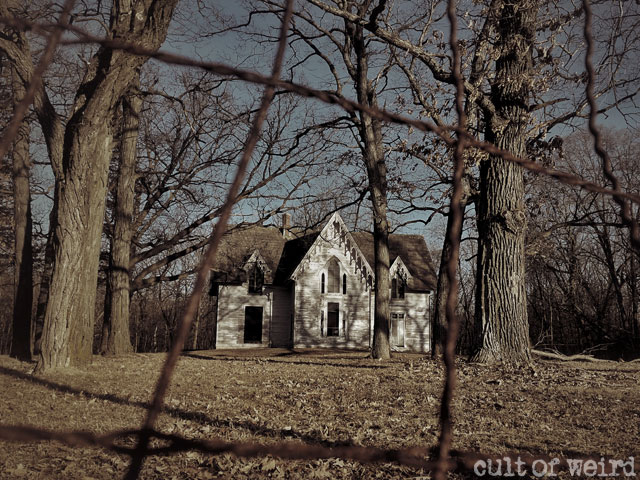 Have you had an experience with the Witherell House?
Most Haunted Buildings in North Wales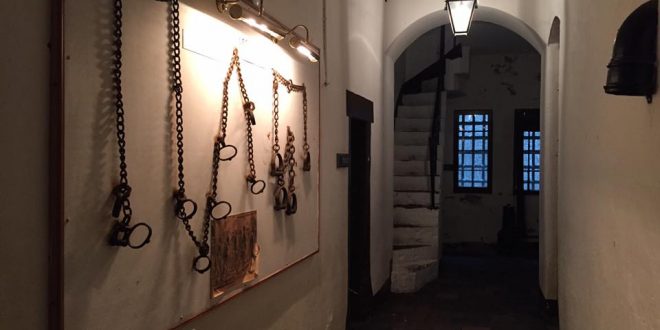 North Wales. A land of scenic beauty, rugged coastline and picturesque countryside. This is what people generally think of when they think of North Wales. However, there is another side to my welcoming homeland. Along its labyrinth of winding roads through the mountains and hills you can unearth its many gruesome histories, secrets and paranormal hotspots many overlook. North Wales breathes history and with that many fascinating tales of all the people who have come before us and seemingly don't want to leave or to be forgotten.
If you want to experience this all for yourself then come with me to our first location on the haunted house's map of haunted North Wales …
Pen-y-Lan Hall, North Wales
Location: Raubon, Nr Wrexham
Building Type: Country House
Date Built: 1690
Pen-y-Lan Hall sits ominously within 1000 acres of land in Raubon. Dating back to 1690, this Grade II listed Tudor-Gothic country house has more than its fair share of ghostly tales, and things that go bump in the night.
Poltergeist activity has been frequently reported, items disappear only to reappear in a completely different place some time later. Heavy footsteps have been heard stumbling down the dark corridors. Meanwhile voices chatter as if they do not care who is listening. In addition a dark and foreboding presence has been felt in the servant's quarters. Could this be the remnants of a disgruntled ex employee? The spirits of children frequent the hall, they are often heard playing in the many rooms.
Pen Y Lan carries the reputation locally of being notoriously haunted and the image of a child was captured peering out of a window at the hall. This was documented and reported at the time by the local tabloids. One local story also tells of a child who was reportedly saved from drowning in a lake on the ground by a mysterious dark figure who disappeared! His figure is seen at the same spot even now! Making this one of our most haunted places in North Wales.
Nant Clwyd y Dre, North Wales
Location: Ruthin
Building Type: Timber Framed Town House
Date Built: 1435
As we move 24 miles North West deeper into North Wales we find ourselves at Nant Clwyd y Dre Wales' oldest dated timber town house in Ruthin.
Built in 1435 the property has changed hands many times through its history. The house was used by two surgeons in Victorian times, then an ironmonger, girls school and also as a rectory. This may be why there are a plethora of ghosts and spirits who have chosen to stay in the building.
Loud bangs are still heard in the dead of night, poltergeist activity is rife, and the most famous of spectres is the classic Lady in White who wanders aimlessly around the maze of hallways the building has to offer. With so much spirit activity that takes place at this location, it truly has earned its name as one of the most haunted places in North Wales.
Ruthin Gaol, North Wales
Location: Ruthin
Building Type: County Jail
Date Built: 1654
You will not have to travel far to our next location. In fact , it is a five minute walk to the next street.
Another one of the Most Haunted Places in North Wales is Ruthin Goal, or Jail – holds a dark history of torture, brutality and squalid conditions for murderers and the most revered criminals of its time. Constructed small in 1654 the original jail only consequently held 4 prisoners. By 1865 the prison had been remodeled to conform with new standards and could hold 100 prisoners.
There was only one documented execution at the prison. William Hughes was hung in 1903 for murdering his wife.
As you can imagine in a place such as a jail there are many tormented souls still serving their time. One spirit is reported to be William Kerr who was an ex prison guard who went missing during his rounds one day without a trace. Is he trying to let people know what happened to him?
Spectres have been seen on CCTV walking in and out of cells and the echoes of a young girl called Beatrice has been seen. Cell doors bang and tortured screams are often heard.
My personal experiences here
On a personal visit to the jail I was using my Ovilus device, which allows spirits to manipulate an in-built dictionary through their energy to communicate. I stood next to the coffin that is placed in the middle of the floor by the cells and immediately the word that presented itself was "Coffin"! The device also stated the word "release" when I exited the building. It seems the ghosts and spirits at this location are highly intelligent!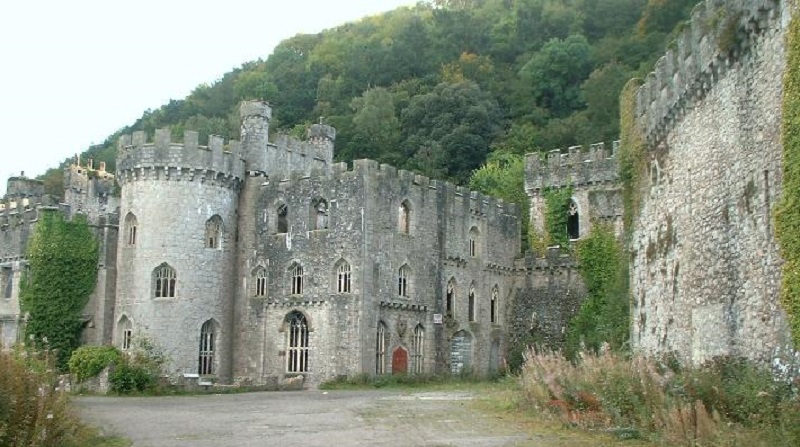 Gwrych Castle, North Wales
Location: Abergele
Building Type: Stately Home
Date Built: 1819
We now make our way west along the A55 you will be spoilt by the coast views to your right and the rolling hills to your left. As you near Abergele you will finally see our fourth location on our most haunted places in North Wales journey. Namely Gwrych Castle.
This paranormal hotspot is as enchanting as it is terrifying. First built between 1819 and 1825, it was originally a family bolt hole to the countesses and lords of the Dundonald family. During world war II the Government used the castle to house 200 Jewish refugees . After the war the castle left the family and subsequently then opened to the public.
Gwrych became a training venue for the English World Middleweight boxing champion Randolph Turpin in the early 1950's. He himself had a paranormal experience whilst staying at the castle. Turpin told that a lady in a red dress was seen crying when he was walking in the garden one evening. He asked her what was the matter, however, she simply vanished! The castle has held many events such as medieval re-enactments, the famous Dragon Rally in the 70's and movie scenes have since been filmed in the grounds.
In 1985 the castle sadly fell into neglect. The floors slowly fell through, the gardens overgrew, and the spirits were left alone. Nobody was there to hear the ghostly horse hooves treading the ground or see the dark shadows often seen.
My personal experiences here
I recall in my early ghost hunting days visiting the castle numerous times at dusk where I felt captivated as I walked the halls and out buildings. It was also on one of those occasions where Randolph Turpin's Lady in Red made her presence known to myself and three friends I was with at the time. She walked straight out of a wall into the courtyard we were standing in!
Although it is now 14 years since this happened, I can still remember exactly what she looked like. She had a long flowing old style red dress on with a white shawl over her arms that fell down her back. The spirit had blonde curly hair and glowed as if in daylight. We stared at her transfixed for what seemed like ten minutes when our fixation was broken by a gut-wrenching scream that filled the air. On this we made our very hasty exit at this point! We were totally unaware at the time about the "Lady in Red" connected with the castle and it was only after we researched the hauntings that we realised who we had seen.
A lady fell of a horse in the grounds and sadly died. However, her wishes to be buried at the castle were not honoured. This experience is what drives me further in seeking out more evidence of the paranormal. How fortunate was I to be there at the right time so see that lady replay her steps in death as she did in life. And this is why we, as persons interested in the paranormal do what we do, right?
Penrhyn Old Hall, North Wales
Location: Penrhyn Bay
Building Type: Tavern
Date Built: 1500's
Penrhyn Old Hall is tucked away in the small hamlet of Penrhyn Bay. Just at the bottom of the hill before you arrive in the Victorian seaside town of Llandudno.
It is mostly of the Tudor era owned mostly by the Pugh family. Previously, the hall was known as a hideout for Catholic priests. The fire place contains a priest hole where terrified priests used to hide from the King's men. So it is no wonder the ghost of a monk has been seen gliding through the Baronial Hall at Penrhyn Old Hall.
Within the hall's history it tells of a monk, William Davies, fleeing the King's men and hiding in a cave on the Great Orme. He took with him a printing press and printed Wales' first book. Davies was later caught, hung drawn and quartered in Beaumaris.
You will hear more about Beaumaris later on in our journey. Other ghostly figures include a boy who sprinkles salt on tables, a young girl from the Pugh family who is said to have been murdered at the hall for falling in love with a non-catholic boy and a soldier. An old lady is seen sitting by the fire place and guests feel like they are constantly being watched.
Today Penrhyn Old Hall is a restaurant and has function rooms for hire during the day. But at night it comes alive with paranormal activity not for the faint hearted.
Plas Mawr, North Wales
Location: Conwy
Building Type: Elizabethan Town House
Date Built: 16th Century
Conwy is a medieval coastal town filled with narrow streets, charming little shops and of course Conwy castle that towers over it all. However, in the middle of a bustling cobbled main street stands Plas Mawr an Elizabethan 16th century townhouse.
The property was built by Robert Wynn, a member of the local gentry. After 1683 Plas Mawr passed into the hands of the Mostyn family and was no longer used as a family home. It was rented out for various purposes including for use as a school, and finally as the headquarters of the Royal Cambrian Academy of Art.
Reported Ghosts of Plas Mawr
Plas Mawr is extremely haunted and there is good reason why. Robert Wynn's wives both died at the property. The first of illness and the second, Dorothy, fell down the stairs whilst carrying her new born baby. A doctor was called for to tend to the wife and baby. He was told in no uncertain terms by Robert that his wife and baby could not die and he locked the doctor in the bedroom. Unfortunately, both perished and the doctor was nowhere to be seen when the bedroom was unlocked. Many say the doctor tried to escape up the chimney and suffocated. Does the doctor haunt the bedroom?
A ghostly face is seen peering out of the bedroom door, also Robert Wynn himself is seen walking around the house, greeting people with ghostly "hello"! Elsewhere on the second floor two women spirits have been encountered, one of them seems distressed. Could this be both of Roberts two wives?
Also, poltergeists like to throw items at guests and the smell of tobacco can be smelt. Unseen hands touch unsuspecting guests without permission. The spirit of a black cat has also been seen crossing the floors.
We have come to the last location on our Haunted Houses tour of the most haunted locations in North Wales. It is located on the Isle of Anglesey, itself famed for its mythology, mystery and abundance of ghosts and phantoms.
Beaumais Gaol, North Wales
Location: Beaumaris, Anglesey
Building Type: Former Gaol & Police Station
Date Built: 1829
Beaumaris jail dates back to 1829. Looks can sometimes be deceiving as after its use as a prison it was used as a police station and children's clinic.
During its time as a jail prisoners were subjected to a strict horrific regime and were often whipped, chained and isolated in a dark cell for up to three days. You can visit this very cell yourself and turn off the lights to experience how that would have felt, even just for ten minutes. Two inmates that were subjected to this torture were Williams Griffiths and Richard Rowlands who were both hung and are buried at the prison grounds. Both of their spirits haunt the jail to this day and regularly communicate with guests via the Ouija boards.
A female spirit named Bridget wanders the jail looking for her child who also perished within the walls. A darker more mischievous energy also frequents the jail and is often seen. I, myself, have had my name whispered in my ear when alone in the jail. The condemned man's cell is much less welcoming at night with a heavy atmosphere that would make even the most seasoned ghost hunter very uneasy. Whistling and faint moaning can be heard at the dead of night within the jails freezing halls.
The jail governor also still patrols the jail and has been seen inside his office or outside on his viewing platform looking down the halls where he had a prime view of all the prisoners…and now the living.
So here ends our journey through some of North Wales' most haunted locations. As ghost hunters we seek the unexplained so where better to do this than one of these fascinating locations. You will not be disappointed.
Haunted Houses North Wales Team can assist you in your journey in experiencing the unexplained, communicate with spirits using the latest equipment and techniques in the best locations in North Wales and most importantly have fun whilst you do it! To book your place please visit OUR WEBSITE www.haunted-houses.co.uk
* This is a guest post written by  Gemma Williams from Haunted Houses Events.
Gemma is a member of the Haunted Houses North Wales team living in Old Colwyn, and her passion for the paranormal is inspirational to many. Gemma has a real love for sharing her ghostly encounters that she has experienced in the field of ghost hunting. And hearing about what others have learned on their journeys too. Her conscious knows that good energy is key to making your ghost hunting event with Haunted Houses the best it can be, so brings it with her in abundance. Gemma invites others that are interested in the paranormal to join her in North Wales on a ghost hunt. But don't forget your torch, as with Gemma you can guarantee its going to be in the dark!