Hidden Crater Under Greenland May Explain Sudden Climate Change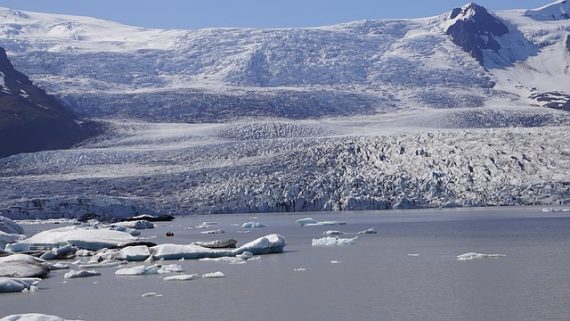 Those looking to bolster their argument that not all climate change is manmade may have received an early Christmas gift – researchers have found a massive hidden asteroid impact crate under Greenland whose age coincides with the beginning of a previously unexplained cooling period about 12.000 years ago. Does this change everything?
"The crater is exceptionally well-preserved, and that is surprising, because glacier ice is an incredibly efficient erosive agent that would have quickly removed traces of the impact. But that means the crater must be rather young from a geological perspective."
In a press release announcing the study "A large impact crater beneath Hiawatha Glacier in northwest Greenland" published in the current edition of Science Advances, co-author Professor Kurt H. Kjær from the Center for GeoGenetics at the Natural History Museum of Denmark describes how researchers first found signs pointing to the existence of the crater under Greenland's ice sheet in July 2015. It was not far from where a 20-ton iron meteorite had been discovered, but that wasn't enough to connect the dots.
A German research plane from the Alfred Wegener Institute flew over the Hiawatha Glacier and, using a new ice radar system, was able to better image the depression and added to the evidence, exciting NASA glaciologist Joseph MacGregor. (Pictures here.)
"A distinctly circular rim, central uplift, disturbed and undisturbed ice layering, and basal debris. It's all there."
Surface expeditions in 2016 and 2017 collected samples of sediment washed out from under the depression and found the missing link.
"Some of the quartz sand washed from the crater had planar deformation features indicative of a violent impact, and this is conclusive evidence that the depression beneath the Hiawatha Glacier is a meteorite crater."
The crater measures more than 31 km (19.25 miles) in diameter, which puts the size of the iron meteorite at 1 km (.6 miles) wide and puts the impact in the top 25 of Earth impact craters, making it a good candidate for causing ecological disasters. Ice layers show it's at least 12000 years old and rock erosion samples say it's no more than 3 million years old.
It's the more recent date that has scientists linking the event to the Younger Dryas period – a sudden unexplained cooling during a time of global warming after the last ice age. Occurring about 12,900 to 11,700 years ago, geological records in the Northern Hemisphere indicate a swift drop in temperatures of 2 to 6 degrees Celsius (3.6 to 10.8 degrees Fahrenheit), increases in glacier ice and cold waters in the Atlantic and general drier conditions. While the cooling was widespread, a few areas, southeastern North America for one, had a slight warming. The Younger Dryas coincided with a number of human cultures shifting from hunting and nomadic life to agriculture and settlements. In North America, the Clovis culture declined and a number of animal species went extinct.
All of these things could certainly have been caused by a meteor impact of catastrophic size. Is that the answer to the cause of the Younger Dryas that scientists have been searching for?
"The next step in the investigation will be to confidently date the impact. This will be a challenge, because it will probably require recovering material that melted during the impact from the bottom of the structure, but this is crucial if we are to understand how the Hiawatha impact affected life on Earth."
Sounds like Kjær is making his plans for next summer. Pack a parka, professor!
SOURCE: Mysterious Universe
Strokes, Heart Attacks Spike on Days With Poor Air Quality
Hold Your Breath
Researchers already knew that chronic exposure to air pollution could wreak havoc on a person's longterm health, causing serious ailments ranging from lung cancer to respiratory infection.
But now, new data out of the United Kingdom shows that air pollution can seemingly trigger heart attacks and stokes, too — bringing into focus the more immediate impacts of poor air quality.
Health Emergency
For this study, researchers from King's College London gathered data on daily air pollution levels in nine cities in the U.K. and divided the data into "high pollution days" and "low pollution days."
The researchers then looked at daily data on heart attacks and strokes in each city, and found that emergency services treated an average of 124 more people for heart attacks and 231 more people for strokes on high pollution days than on low.
Air Quote
King's College plans to release its full report on the study in November, but according to Simon Stevens, National Health Service England's chief executive, the preliminary data shows there's no time to waste in addressing air pollution in England and beyond.
"These new figures show air pollution is now causing thousands of strokes, cardiac arrests, and asthma attacks, so it's clear that the climate emergency is in fact also a health emergency," he told The Guardian. "Since these avoidable deaths are happening now, not in 2025 or 2050, together we need to act now."
READ MORE: Scores more heart attacks and strokes on high pollution days, figures show [The Guardian]
What Would Avicenna Want You To Eat?
Who is Avicenna?
Born in the 10th century, Ibn Sina, also known as Avicenna, was a physician, the most famous and influential of the philosopher-scientists of the Islamic world during its golden age. He was particularly noted for his contributions in the fields of Aristotelian philosophy and medicine and of the 450 works he is believed to have written, around 240 of which have survived, including 150 on philosophy and 40 on medicine.
Avicenna Portrait on Silver Vase – Museum at BuAli Sina (Avicenna) Mausoleum – Hamadan – Western Iran (Image Source)
The Canon of Medicine
His most famous work was probably "The Canon of Medicine," which is an encyclopedia of medicine in five books. Apart from establishing the foundation for modern medicine, this book also features recipes for those who are suffering from certain illnesses. In his Book 5, Avicenna lists 650 compound drugs, attributing them to various Arabic, Indian and Greek sources. He also added his own comments, giving remedies to those who need it with simple foods and plants they can find.
Here are some of the foods that Avicenna advises you to consume:
Sesame:
Sesame is a good source of calcium which makes your hair and nails grow stronger
This tiny seed is rich in oil and vitamin E. It is a good source of calcium which makes your hair and nails grow stronger. Avicenna also says that it is good for the brain and nerve cells as it contains lecithin.
Zucchini water:
Zucchini is good for regulating blood pressure
Detox lovers are familiar with zucchini. It is said to improve eye health and is the number one source of anti-aging products. But according to Avicenna, it is also good for regulating blood pressure. He advises you to squeeze out zucchini water and consume it a few times a week.
Cauliflower:
Cauliflower aids with liver health
Avicenna says that cauliflower is the best way to clean up your liver. When you consume this vegetable your liver produces a detoxifying enzyme. And thanks to the sulfur compounds it contains, cauliflower aids with liver health. This vegetable is naturally high in fiber and B-vitamins. It provides antioxidants and phytonutrients that can protect against cancer.
Almond:
Almond may help prevent respiratory diseases
If you are suffering from respiratory diseases, Avicenna's recipe for you is to eat more almonds. Almonds contain lots of healthy fats, fiber, protein, magnesium and vitamin E. Avicenna says that if you consume almonds and drink honey sherbet afterwards, you will feel much better.
Some Storms Are so Strong They Shake the Ocean Floor, Says Study
Seismic Mystery
It's easy to see the impact an off-coast storm has on the water's surface. But according to a new study, severe storms can actually shake the ocean floor as well, causing "stormquakes" — a previously unknown phenomena that solves a seismic mystery.
Scientists already knew prior to this study that the ocean produces seismic signals. But while some of those signals could be explained by the ocean's waves, there was a band of signals that occurred at a frequency between 0.02 and 0.05 hertz that were seemingly inexplicable.
Weather Connection
It was those signals that the U.S.-based researchers behind this new study, which was published in the journal Geophysical Research Letters on Monday, sought to explain — and after analyzing nearly 10 years' worth of seismic data, they noticed a strange pattern emerging.
"[The signals] were seasonal," researcher Wenyuan Fan told Science News. "Earthquakes do not have seasonality. But weather does."
That led the team to the discovery that the shaking of the ocean floor coincided with the raging of a storm above it.
Perfect Storm
However, a storm alone isn't enough to cause a stormquake — the seafloor below the storm has to be just the right shape, too.
"It's something about the shape — or the bathymetry — of the seafloor interacting with these big ocean waves that are produced during storms," researcher Wendy Bohon told Motherboard. "You're getting some kind of energy relief that's beating on the seafloor in a particular way, and those waves are moving out in all directions as coherent packages which we're then able to detect using seismometers."
READ MORE: Scientists Discover a New Phenomena Called 'Stormquakes' [Motherboard]