Here's Why Google's New 'Smartphone Addiction' Features Aren't Based on Science –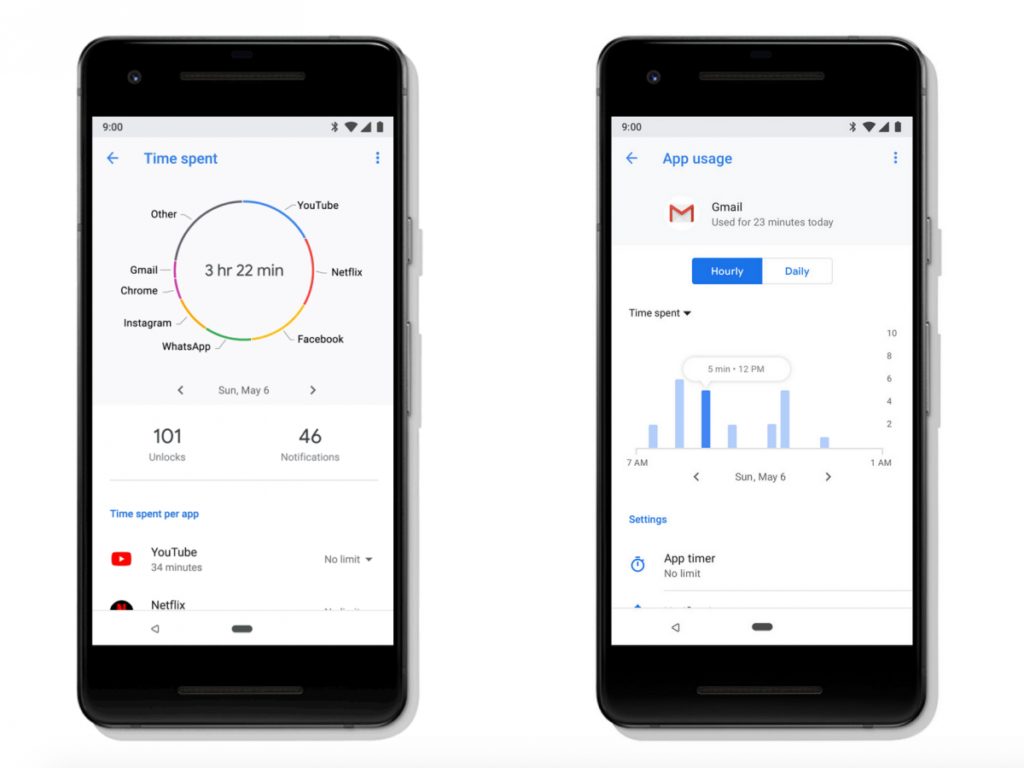 Google wants you to stop using the term FOMO.
Instead of complaining about your fear of missing out, the search engine giant would like you to celebrate – "JOMO," the joy of missing out. And it hopes a bunch of new features geared at preventing you from feeling addicted to your devices will help.
It's all part of an initiative that Google unveiled at this week's Google I/O developer conference called "Digital Wellbeing".
Intended to free Android users from the tether of their smartphones, the strategy includes features that allow users to do things like track the time they spend on social media, block distracting notifications, and make their screens less vibrant around bedtime.
But it's a big question whether the strategy will actually do any good. The features don't have much basis in science.
Dashboard tells you how often you check your phone
One of the primary new features in the Digital Wellbeing initiative is called Dashboard.
Dashboard shows you how frequently you check your phone or tablet, how much time you spend overall on your devices, and even how much time you spend within individual apps such as Facebook, YouTube, or Instagram.
Dashboard appears to be a reaction to the spate of recent stories that suggest that spending time on social media is universally bad for us.
Some of those reports have claimed that Facebook and Instagram in particular are making us depressed and even "eroding" our brains.
While such claims make for good headlines, there's little-to-no good research to back them up. Most of the studies that have been done so far suffer from significant shortcomings.
Some are looking at too few people to reach conclusions that are statistically significant, while others were conducted by the very companies they're studying or by researchers with clear agendas, which represent conflicts of interest that can cast doubts on results.
Some other studies suggest use of devices may be contributing to an existing problem but don't establish that they're causing a problem by themselves.
Andrew Przybylski, a senior research fellow at the Oxford Internet Institute, has attempted to replicate some of the studies that suggest a strong tie between social-media use and depression.
However, when he used larger sets of people in well-controlled environments, he failed to duplicate their results. Instead, he found either no link or one that was so small, he found it laughable.
"It is literally the lowest quality of evidence that you could give that people wouldn't laugh you out of the room," Przybylski told Business Insider in March.
Last year, Przybylski co-authored a study published in the journal Psychological Science in which he examined the effect of screen-time on a sample of more than 120,000 British teens who used their devices for social media, streaming, and playing games.
The data suggested a shocking conclusion: screen-time isn't harmful for the vast majority of teens. In fact, it's sometimes helpful – especially when teens are using it for two to four hours per day.
"Overall, the evidence indicated that moderate use of digital technology is not intrinsically harmful and may be advantageous," Przybylski wrote in the paper.
For Dashboard to actually be beneficial, Google or someone else would first need to demonstrate that there's some type of relationship between our overall wellbeing and how we're using our devices and apps.
Simply showing which apps we're using and for how long likely isn't going to do us a lot of good on its own.
Placing your phone face-down will quiet notifications
Another big Digital Wellbeing feature offers an easy way to block notifications.
When you place your phone face-down on a surface, it will automatically go into its "do not disturb" mode. The idea behind the new feature is that fewer alerts will mean less anxiety and more tranquility.
There is a growing amount of research that hints that getting constantly flooded with a barrage of beeps and flashes reduces our productivity and increases anxiety. No surprise there.
But there aren't any studies that indicate snoozing our devices' notifications will help us feel better.
When researchers have attempted to solve the anxiety problem by muting notifications, it didn't seem to work. In fact, some people actually felt worse.
In a study presented last month at the annual conference of the American Psychological Association, researchers including Duke University behavioural economist Dan Ariely found that people who had the notifications from their devices sent in clusters of several at a time said they felt less stressed and happier than people who received them in the usual way, where they arrive sporadically throughout the day.
But the people who got their alerts in clusters also felt less stressed and happier than people who didn't get any notifications at all.
"Participants who did not receive notifications experienced higher levels of anxiety and fears of missing out," the researchers wrote. "These findings highlight mental costs inherent in today's notification systems (or of abandoning them)."
Wind Down puts your phone in grayscale

Google designed its other big Digital Wellbeing feature to be used at bedtime.
Wind Down drains the colour from your Android device's screen, so that it displays everything as a shade of grey. The rational behind the feature is similar to that behind Apple's Night Shift feature, which changes an iPhone's colour scheme from one tinged with bright blue light to one imbued with orange light.
Night Shift is actually based on some scientific research. Blue light, which is also given off by the sun, is nearly the brightest light in the visible spectrum.
In humans, blue light depresses the production of melatonin, a key hormone our brains use to tell our bodies to start preparing for sleep. That's something you don't want to be doing at night, especially as you're heading to bed.
Unlike Night Shift, though, Wind Down doesn't have much research behind it. No one has really scientifically studied how removing colour from a display affects users' attention, productivity, sleep, or mood.
All we have are anecdotal reports from a couple of users who've willingly experimented on themselves with the feature and claimed it helped them.
So feel free to try to find joy in missing out, but don't rely on a host of new Google apps to do it.
This article was originally published by Business Insider.
I Visited a Local UFO Hotspot During the Annual Gathering of Tinfoil Hat Enthusiasts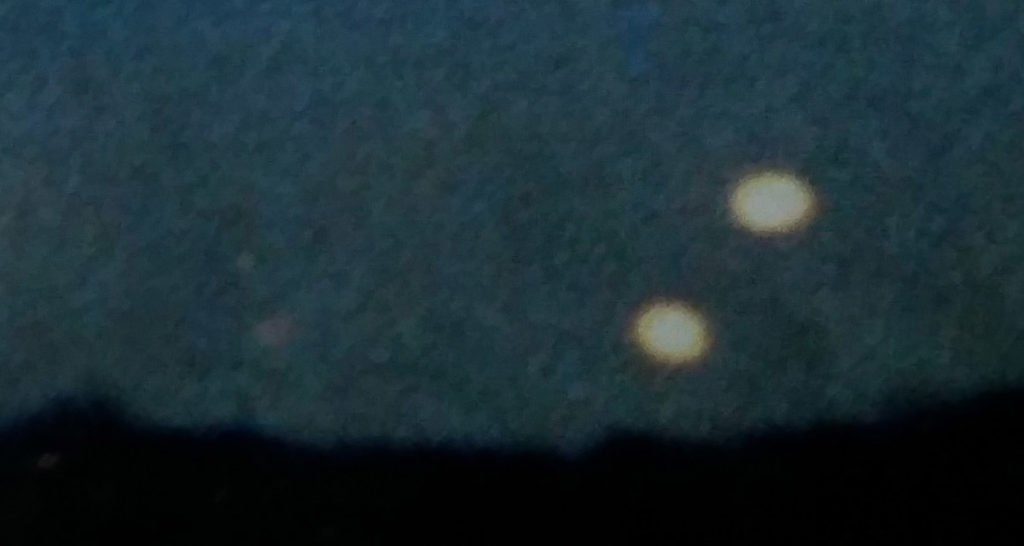 UFO enthusiasts have been gathering in this Wisconsin town for 30 years to share their experiences and catch a glimpse of something strange in the sky.


UFOs photographed in the town of Dundee, WI
There are three small communities that claim to be the UFO capital of Wisconsin, but the most compelling is the unincorporated town of Dundee about 20 minutes from Cult of Weird headquarters.
10,000 years ago, the last glaciers tore through the area, leaving behind a devastated landscape that is now the picturesque Kettle Moraine State Forest. When the glaciers receded, they left behind a 250-foot pile of sediment called Dundee Mountain. It's not an actual mountain, but it is the highest point in the area.
And locals will tell you there's something suspicious going on there.
Strange lights and unidentified objects witnessed in the sky over Dundee Mountain and nearby Long Lake have left residents puzzled for decades. So much so, in fact, that in 1988 tavern owner Bill Benson and some friends decided to host a gathering for those who had experienced something in the area.
Bill's bar, Benson's Hide-a-Way, is the self proclaimed UFO headquarters of the area. It sits on the north shore of Long Lake, providing a clear view of Dundee Mountain's peak to the south. The bar is a kitschy backwoods nightmare, and that's why it's amazing. The walls are covered in images of little green men. A model of a UFO hangs behind the counter. A small grey figure with large black eyes floats in a jar of cloudy liquid. It is said to be from Area 51.
30 years since the first gathering was held, the annual UFO Daze event seems more like an excuse to wear goofy aluminum foil hats and drink the spiked green alien punch, but that doesn't mean there isn't something going on. Behind the bar Bill keeps a binder of photos documenting unexplained activity in the area, from blurry lights in the sky over Dundee Mountain to the bizarre 1995 occurrence when a large patch of reeds in the lake near Benson's became flattened and interwoven so thickly that residents could walk on it without falling through into the water.
A crop circle in the lake.

Photos of UFO activity around Dundee Mountain and Long Lake
Last weekend Cult contributor J. Nathan Couch and I set out to uncover the secrets of Dundee's UFO activity at the 30th annual UFO Daze. We didn't succeed, exactly, but we did see a few aliens (inflatable ones tied to boats) and some pretty amazing tinfoil hats.
Read about it here: Searching for aliens at the 30th annual UFO Daze
'Slender Man' movie will respect attack victim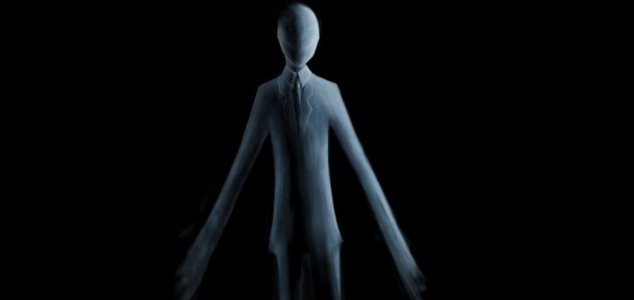 Image Credit: CC BY-SA 4.0 LuxAmber
Slender Man was invented on an Internet forum almost a decade ago.
The movie will not play in two counties out of respect for a girl who was almost killed by two teenagers.
The chilling incident, which occurred in 2014, saw Anissa Weier and Morgan Geyser, both 12, lure one of their classmates out to a woodland park in Wisconsin before attempting to take her life.
The senseless attack was reportedly 'dedicated' to Slender Man – a fictitious entity invented on an Internet forum who typically appears as a very tall, thin individual with a black suit and no face.
The character has been the subject of numerous creepypasta stories over the last few years.
Now with the release of a new movie based on the Slender Man phenomenon, it has been reported that the film will not screen in Milwaukee or Waukesha counties out of respect for the victim.
"Like many people across the United States, Marcus Theaters was deeply concerned and saddened when the Slender Man phenomenon touched Southeastern Wisconsin in such a profound way, changing the lives of many families forever," the movie theater chain said in a statement.
"After careful consideration, and out of respect for those who were impacted, we have decided not to play the upcoming Slender Man movie in Milwaukee and Waukesha counties."
"We will show the film at select other Marcus Theatres locations."
Source: IGN.com
Exoskeletons are About to Walk Ford's Factory Floors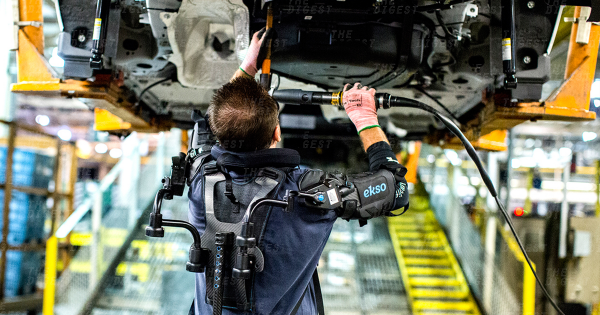 HALF MAN, HALF MACHINE. Full-blown automation may be the future of manufacturing, but we're not there yet. While some machines have taken over the more painstaking tasks on the factory floor, humans still play a vital role in the production line. But often, it isn't easy work. Tasks typically require being on one's feet, and some even involve making repetitive arm motions up to 4,600 times a day or one million times a year. Ouch.
At Ford though, this might all be changing. Exoskeleton use on Ford's factory floors could soon shift into overdrive, according to Engadget.
ENTER THE EXOSKELETONS. In November 2017, EksoVest Exoskeletons, built by Ekso Bionics, were given to workers in two Ford factories. Now ,up to 75 exoskeletons will be distributed to employees at 15 factories across the world. The exoskeletons don't have motors, or even batteries, but provide "passive assistance" in the form of arm support from five to 15 pounds. By giving more arm support the higher a person reaches, the device takes strain off of the arm muscles. If you're not convinced it would make a difference, hold your hand above your head for a few minutes.
WE HAVE THE TECHNOLOGY. This is only the beginning for exoskeletons at Ford. "Today, it's only the passive upper-arm support skeleton that helps with overhead work," Marty Smets, Ford's technical expert of human systems and virtual manufacturing, told Engadget.
Taking one step at a time could lead Ford to other avenues of exoskeleton use within its factories. By establishing systems for the use now, Ford is well positioned to adapt new devices as they become available. "We wanted to focus on one exoskeleton initially, then expand from there as the space grows," Smet said.
Time will tell, but perhaps man and machine can co-exist peacefully after all.
READ MORE: Ford thinks exoskeletons are ready for prime time in its factories [Engadget]
More about exoskeletons at Ford: Ford Pilots a New Exoskeleton to Lessen Worker Fatigue