Here's Why Google's New 'Smartphone Addiction' Features Aren't Based on Science –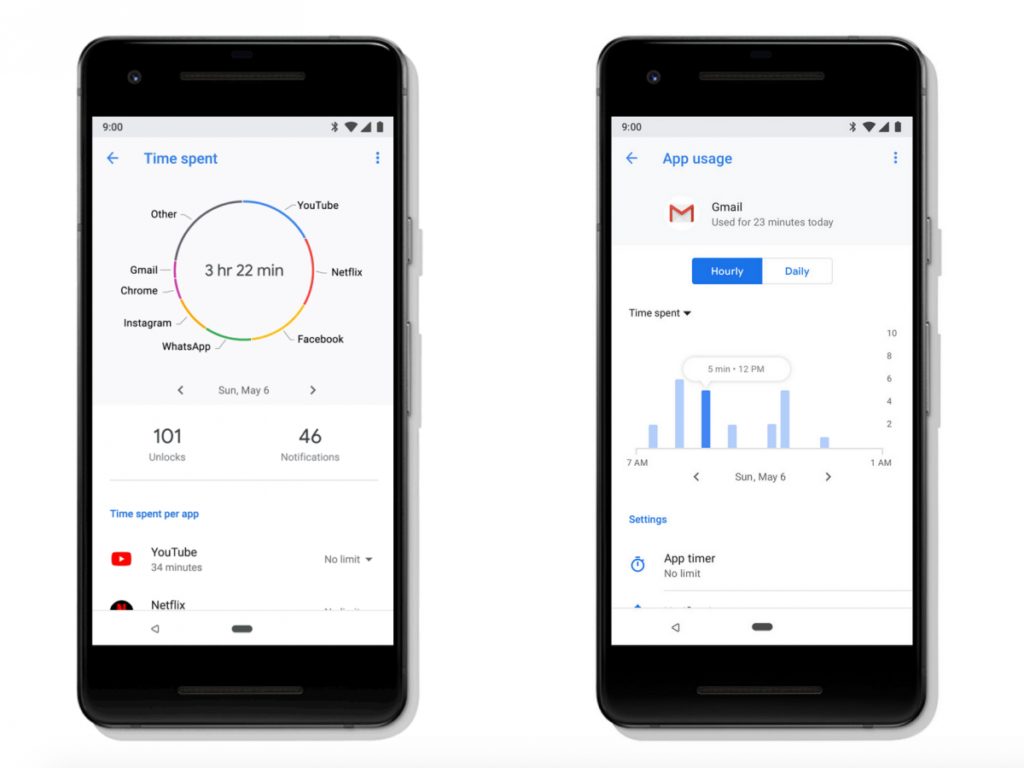 Google wants you to stop using the term FOMO.
Instead of complaining about your fear of missing out, the search engine giant would like you to celebrate – "JOMO," the joy of missing out. And it hopes a bunch of new features geared at preventing you from feeling addicted to your devices will help.
It's all part of an initiative that Google unveiled at this week's Google I/O developer conference called "Digital Wellbeing".
Intended to free Android users from the tether of their smartphones, the strategy includes features that allow users to do things like track the time they spend on social media, block distracting notifications, and make their screens less vibrant around bedtime.
But it's a big question whether the strategy will actually do any good. The features don't have much basis in science.
Dashboard tells you how often you check your phone
One of the primary new features in the Digital Wellbeing initiative is called Dashboard.
Dashboard shows you how frequently you check your phone or tablet, how much time you spend overall on your devices, and even how much time you spend within individual apps such as Facebook, YouTube, or Instagram.
Dashboard appears to be a reaction to the spate of recent stories that suggest that spending time on social media is universally bad for us.
Some of those reports have claimed that Facebook and Instagram in particular are making us depressed and even "eroding" our brains.
While such claims make for good headlines, there's little-to-no good research to back them up. Most of the studies that have been done so far suffer from significant shortcomings.
Some are looking at too few people to reach conclusions that are statistically significant, while others were conducted by the very companies they're studying or by researchers with clear agendas, which represent conflicts of interest that can cast doubts on results.
Some other studies suggest use of devices may be contributing to an existing problem but don't establish that they're causing a problem by themselves.
Andrew Przybylski, a senior research fellow at the Oxford Internet Institute, has attempted to replicate some of the studies that suggest a strong tie between social-media use and depression.
However, when he used larger sets of people in well-controlled environments, he failed to duplicate their results. Instead, he found either no link or one that was so small, he found it laughable.
"It is literally the lowest quality of evidence that you could give that people wouldn't laugh you out of the room," Przybylski told Business Insider in March.
Last year, Przybylski co-authored a study published in the journal Psychological Science in which he examined the effect of screen-time on a sample of more than 120,000 British teens who used their devices for social media, streaming, and playing games.
The data suggested a shocking conclusion: screen-time isn't harmful for the vast majority of teens. In fact, it's sometimes helpful – especially when teens are using it for two to four hours per day.
"Overall, the evidence indicated that moderate use of digital technology is not intrinsically harmful and may be advantageous," Przybylski wrote in the paper.
For Dashboard to actually be beneficial, Google or someone else would first need to demonstrate that there's some type of relationship between our overall wellbeing and how we're using our devices and apps.
Simply showing which apps we're using and for how long likely isn't going to do us a lot of good on its own.
Placing your phone face-down will quiet notifications
Another big Digital Wellbeing feature offers an easy way to block notifications.
When you place your phone face-down on a surface, it will automatically go into its "do not disturb" mode. The idea behind the new feature is that fewer alerts will mean less anxiety and more tranquility.
There is a growing amount of research that hints that getting constantly flooded with a barrage of beeps and flashes reduces our productivity and increases anxiety. No surprise there.
But there aren't any studies that indicate snoozing our devices' notifications will help us feel better.
When researchers have attempted to solve the anxiety problem by muting notifications, it didn't seem to work. In fact, some people actually felt worse.
In a study presented last month at the annual conference of the American Psychological Association, researchers including Duke University behavioural economist Dan Ariely found that people who had the notifications from their devices sent in clusters of several at a time said they felt less stressed and happier than people who received them in the usual way, where they arrive sporadically throughout the day.
But the people who got their alerts in clusters also felt less stressed and happier than people who didn't get any notifications at all.
"Participants who did not receive notifications experienced higher levels of anxiety and fears of missing out," the researchers wrote. "These findings highlight mental costs inherent in today's notification systems (or of abandoning them)."
Wind Down puts your phone in grayscale

Google designed its other big Digital Wellbeing feature to be used at bedtime.
Wind Down drains the colour from your Android device's screen, so that it displays everything as a shade of grey. The rational behind the feature is similar to that behind Apple's Night Shift feature, which changes an iPhone's colour scheme from one tinged with bright blue light to one imbued with orange light.
Night Shift is actually based on some scientific research. Blue light, which is also given off by the sun, is nearly the brightest light in the visible spectrum.
In humans, blue light depresses the production of melatonin, a key hormone our brains use to tell our bodies to start preparing for sleep. That's something you don't want to be doing at night, especially as you're heading to bed.
Unlike Night Shift, though, Wind Down doesn't have much research behind it. No one has really scientifically studied how removing colour from a display affects users' attention, productivity, sleep, or mood.
All we have are anecdotal reports from a couple of users who've willingly experimented on themselves with the feature and claimed it helped them.
So feel free to try to find joy in missing out, but don't rely on a host of new Google apps to do it.
This article was originally published by Business Insider.
The peak of deaths on Halloween: the history of 1918 repeats itself in the USA
In the United States, the history of a century ago is repeating itself: in 1918, the Halloween celebration was canceled due to the Spanish flu epidemic – the noise of parties disturbed the sick in the hospitals. Mass events were banned this year due to the COVID-19 pandemic, but many Americans still decorate their homes and are going to celebrate the holiday online. They did not break traditions in the White House either. At the same time, some US residents are wondering: is it worth celebrating Halloween in 2020, when all thoughts are about death due to the coronavirus?
Americans have already begun preparations for the Halloween celebration, despite the cancellation of mass events. The focus has shifted from hosting parties to decorating their own homes and virtual flash mobs in which Tiktokers offer to dress themselves up as dead Disney princesses . However, some social media users have questioned the need to celebrate Halloween this year, given the coronavirus pandemic. 
"This Halloween will be the scariest one," they tweet.
100 years ago in the United States there was a similar situation : all Halloween parties were canceled due to the Spanish flu epidemic, which killed 50 to 100 million people worldwide.
On the eve of Halloween, the number of cases of the Spanish flu increased – the second and most powerful wave of the epidemic occurred.
"Not only was there a peak in mortality on Halloween eve, but there were some pretty strong waves of disease," Carolyn Orbann, assistant professor of medical sciences at the University of Missouri-Columbia , told CNN . 
"The highest death rate was observed from October to December, possibly due to a more deadly strain of the virus and crowding in hospitals and military camps."
However, those Americans who were not affected by the disease were tired of being locked up in quarantine and demanded a holiday. There are reports of local newspapers that year, which say that they celebrated more than ever "harsh and stormy": and in Alabama, crowds of boys running from home to riots, forcing the police to drive on false calls and provoking accidents. A reporter for The Birmingham News wrote that after a month of quarantine, Birmingham residents were literally torn apart from the desire to celebrate Halloween.
"The Health Council's order banning parties acted like a red rag for a bull — the killer joy of ordinary Halloween festivities poured in," wrote local media in 1918. The Americans celebrated so vigorously that the San Francisco authorities had to ban people from making noise, because loud noises irritated patients in wards. 
"Conditions were dire in most places in the United States by October 31, 1918," Elizabeth Otka, professor of English at the University of Richmond, told CNN. –

Shops, schools, churches were closed, there was devastation and the realization that celebrating Halloween was a bad idea."
Denver has banned parties, during which they usually arranged "diving for apples, tying the tail to a donkey with a blindfold and other entertainment." Many states have canceled Halloween celebrations for economic reasons – so as not to waste extra food supplies. "I saw a report from Missouri where they usually throw dry corn into each other's house," Orbann said. "But in 1918 the price of corn was too high to be scattered, and the children used sawdust to do it."
Although public gatherings were banned in cities, some people threw house parties. "People did not break the rules, but adjusted to them," the historian noted. Despite the horrors of the Spanish woman in 1918, people wanted to celebrate and visit each other, as now, in a pandemic, Elizabeth Otka notes. "1918 was remembered for the stacks of coffins and dead bodies, the gravediggers were simply exhausted," she added. – Nevertheless, many continued to live as before, if none of their relatives was sick, forgetting how dangerous it can be.
It seems reasonable to spend Halloween this year differently, although I love the holiday, it's great. But to stay alive, I think, is still better. "
To prevent a 100-year-old history from repeating itself on an entire scale, the Los Angeles authorities banned any Halloween parties, gathering at haunted houses, and children from running to neighbors for candy, although, according to tradition, they and so should be in masks and costumes – carnival. But the Americans are not discouraged and carry out flash mobs on the Internet. So, the participants of one of them on TikTok are invited to fantasize about what would become of the Disney princesses if they did not live to see the happy ending.
Another resident in quarantine, Samantha Browning, came up with the idea of ​​painting Barbie toy doll houses for mysterious mansions from horror films. Her new hobby takes Samantha 5-10 hours. With Halloween approaching, items created in the summer have become more relevant, because now, in order to beg for sweets from neighbors, you don't have to go to their houses, but do it in front of Samantha's creations "contactlessly".
"This year the pandemic canceled the traditional Halloween, but I decided to adapt the pipe railings on one of my mansions so that candy would slide down for families who still want to celebrate the holiday in a safe way," explained Samantha on social media. "One of my dollhouses is on the inside veranda, and on Halloween night, I'll probably put two of the creepiest houses outside with battery-powered candles."
They did not cancel the holiday in the White House, even despite Trump's illness. This was announced on Tuesday by CNN, citing a source. It is noted that when celebrating Halloween, the recommendations of the federal Centers for Disease Control and Prevention will be taken into account. 
This means adherence to the mask regime and other preventive measures. Usually on this day, relatives of the US administration staff , families of American military personnel and students of the capital's schools are invited to the White House , and the head of state and the first lady treat children to sweets on the South Lawn of the White House.
Coronavirus in Italy: the mysteries of the pandemic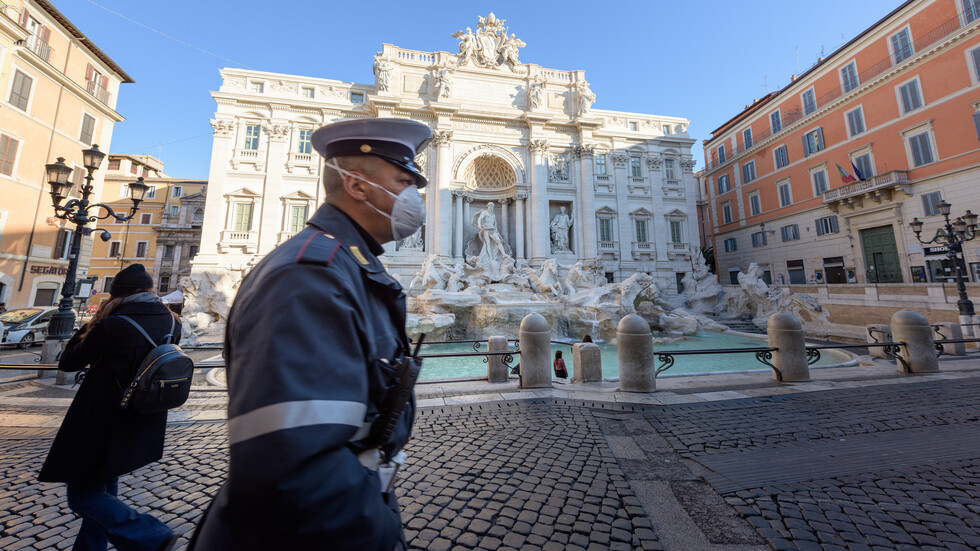 How, after a summer respite, the Apennines seem to plunge into a coronavirus nightmare again.
From a country that until recently was considered one of the most prosperous in terms of the epidemiological situation, Italy, like Spain and France, is again moving into the category of "dangerous". The growth of new infections, however, is not as rapid as that of neighbors, but quite noticeable. Even before October 10, it was possible to keep the daily increase within 2 thousand cases, but the threshold of 6 thousand has already been overcome. The number of new infected will increase, there is no doubt about it.
Six Dwarfs of Snow White
The Italian government has just adopted a new order, in which for the first time since the end of May, when the quarantine ended, restrictive measures are not lifted, but introduced. Among them: the end of team games for non-professional athletes, limiting the opening hours of drinking establishments in the evening, reducing the number of people invited to family ceremonies such as weddings, christenings and funerals to 30 people. While gyms, swimming pools and schools are open, the authorities assure that they will not switch to remote training again, as well as will not introduce a new nationwide total quarantine. The country simply cannot afford it, either from an economic or social point of view.
As in the entire period of the pandemic, certain decisions of the authorities are criticized and met with outright irony. So, many jokes were generated by the recommendation not to invite more than six guests. Images from "Snow White" immediately appeared on the Internet, where she kicks out the seventh dwarf. On the reproduction of the fresco "The Last Supper" two policemen were added to write out fines for the apostles, who are exactly twice the recommended number of participants in the feast.
Against this background, Prime Minister Giuseppe Conte assured that the country will not turn into a police state and no one intends to send law enforcement officers to control private apartments. At the same time, he also strongly recommends not to disdain masks even at home – almost 70% of new infections occur in the bosom of family and friendly companies. At the same time, many pay attention to the problem of crowded public transport in large cities. And no one is in a hurry to solve it.
Summer "calm"
The second wave has been frightening for a long time, and it would be naive to believe that it could have been avoided. Its offensive, nevertheless quite unexpected, only exacerbated the issue of the summer "lull". Why did the virus suddenly recede, give a break? The most obvious answer is quarantine. In Italy, it was introduced in early March and lasted until the second half of May. As the experience of the country, the first victim of a pandemic in Europe, has shown, there is no more effective means of countering the spread of coronavirus than self-isolation. In March, the Italians were seriously scared and for the most part obeyed the orders of the authorities. Despite the widespread stereotype about the indiscipline of the southern peoples, Italians – and the pandemic has demonstrated this once again – are quite manageable and led people.
The effect of almost three months of quarantine, namely a decrease in the number of infections, coincided with the onset of summer. Many people said that at high temperatures, the virus spreads more slowly and the viral load drops, although no one has scientifically proven this. But the fact is that during all three summer months the number of daily infections was kept at the level of 200-300. Hundreds of patients remained in hospitals, and intensive care units, previously suffocating from several thousand heavy covids, were practically empty. And this is another mystery of the new coronavirus.
In a word, people began to live as if in the old way: sea, mountains, air, good food and wine. Of course, many refused to travel abroad. But the first "swallows" made themselves felt quickly. The slightest movement led to the emergence of new foci. One of them was formed on the prestigious Emerald Coast on the island of Sardinia, and the infection affected the rich and famous who love to visit him, including the entire Berlusconi family and the former prime minister himself. Someone began to bring COVID-19 from resorts in Croatia and from Greece. In Spain, new infections have already crept. And those arriving from these countries began to take tests for the new coronavirus without fail. Now France, Great Britain, Belgium, as well as a number of other countries are already on this list. From somewhere, entry is simply prohibited, for example from Brazil.
Italy is overwhelmed by the second wave
The first noticeable surge in infections occurred in the second half of August. But everyone continued to pretend that nothing was happening. August bliss is sacred in Italy. In general, they are accustomed to masks, for many they have become a fashion accessory (as well as a subject of designer fantasy). In mid-September, as promised by the government, schools were opened, although it was also not without controversy, criticism and exposure of the system's unavailability.
To date, there is no division into regions where the coronavirus is more common (north) and where it is less common (south), as it was in the spring, when the southern regions were saved. And this is especially troubling for the authorities, including regional ones, because if hospitalizations begin to grow proportionally, the hospitals in the south will not be able to withstand the load. So far, the fundamental difference between the current situation and what Italy experienced in the spring is that the number of hospitalized people is several times less. While. This is explained, in particular, by a decrease in the average age of those infected (from 60 to 40), and therefore, the disease caused by the new coronavirus is more easily tolerated by many. Some of the experts say that doctors have learned to heal better, learned more about the unpleasant surprises of COVID-19. And to prevent them, hospitalization is often needed.
And one more important observation: it is impossible to compare the current infection rates with the spring ones. Just for the reason that then only 30 thousand tests were carried out, but now they, including express, drive-in, are done up to 130 thousand per day. People stand in lines for hours to get tested. Many infected people are detected during a banal screening, which no one could even think of in the spring, because they had to cope with emergency cases. So the assumption that in the spring the real scale of infection was many times greater is quite justified. Then the official statistics recorded only cases with a "symptomatic course". The virus, most likely, has not changed, and the solution is one – the vaccine.
The main fear now is uncertainty. People still only pretend that normal life has returned. But every day, with a sinking heart, you are afraid of a call from a kindergarten or school with a notification about the introduction of class quarantine due to the identification of an infected student or teacher. And it is even worse if they are told to urgently take their child, who has already been placed in an isolated room due to the low temperature. "Man proposes, but God disposes" – now sounds more relevant than ever.
Spring Lockdown Economic Price
In a purely economic sense, this is a decrease in GDP by 8-10%. For Italy, where economic growth in recent years has been virtually in lethargic sleep, this is devastating. Hundreds of thousands of jobs have been lost, although, oddly enough, against the background of existing problems, this damage seems to be less noticeable than, say, in the same more prosperous France or Spain. The tourism and cultural sectors, referred to as "Italian oil", have been the hardest hit. Although in local tourism, everything was not bad everywhere. The Italians flooded their own seashores and mountain resorts. In many places popular with wealthy Italians, things have gone even better this year than in normal years, because, having stayed at home, this category of the population spent the money in the service sector that usually went on holidays abroad.
However, in general, representatives of the tourism sector say that the poorer domestic tourist is not able to compensate for the absence of more generous guests from the USA, Russia, Brazil, India and other countries. The greatest losses are incurred by the "art cities". Venice in the summer had 60% fewer tourists, which means less income for a city that lives off tourism. A dramatic situation in some areas of Rome. Of course, the lockdown also affected the psychological health of the population. The magnitude of the damage in this sense is difficult to quantify, and most likely it will have an impact in the long term, especially in children, psychologists say. There were, of course, isolated cases of domestic violence, but in general there were no mass divorces.
"A new beginning"
There is also a relative positive in the situation around the pandemic. Italy should receive the lion's share of funds from the European Recovery Fund. By the way, the resentment towards Europe, which appeared at the beginning when the European partners did not seem to show sufficient solidarity, seemed to have passed. There is a feeling that everyone is in the same boat.
The authorities talk about a "new beginning", about incredible opportunities for renewal, building a new, more environmentally friendly economic system. It seems that in this endeavor they are even sincere. But then there is a shadow of the threat of the mafia, which is already encroaching on a tidbit, penetrating with its tentacles of the "octopus" into legal business everywhere. Innovative projects are stifled by a bureaucracy, which, despite all the bellicose promises, has so far failed to cope with. But one gets the impression that in a certain sense the people seem to have become a little happier. It's as if the pandemic taught us to rejoice at the little that it had deprived for several months. Italians are reviving, and the quarantine period has shown that the nation is much more united and committed to its values, including state power, than it seemed.
Dark Period Symbols
Over the past months, there have been many stories engraved in memory. Many of them are reflected in the recently opened photo exhibition of the Foreign Press Association "Lockdown in Italy – through the eyes of foreign journalists". This is how to remember everything. Many of those shots flew around the world and became symbols of the "dark period", as the past spring is sometimes called in Italy. Of course, we cannot forget the caravan of military trucks that transported the coffins with the victims of the coronavirus infection from Bergamo. Most of them were old people, and they died alone – they did not let their loved ones. Thoughts about this break my heart to this day.
But I especially remembered a small note in one of the newspapers – a letter of recognition from a student. It was published in the summer, when many restrictions were lifted and even discos were opened. The girl wrote that she followed all the precautions, did not meet with anyone, but was seduced by her best friend's birthday, which was celebrated in a nightclub. As a result, she became infected, there were no symptoms, so she learned about the coronavirus when her father was admitted to the hospital with complications. In an open letter, the girl reproached herself. We do not exclude that that publication had a certain ideological task and the letter was written by the editorial board. But it raises a moral problem that has plagued the entire pandemic – responsibility and guilt if you become, even through no fault of your own, a carrier of infection. A Nightmare at the thought of who needs to be warned!
A haunted toilet was installed in an amusement park in Japan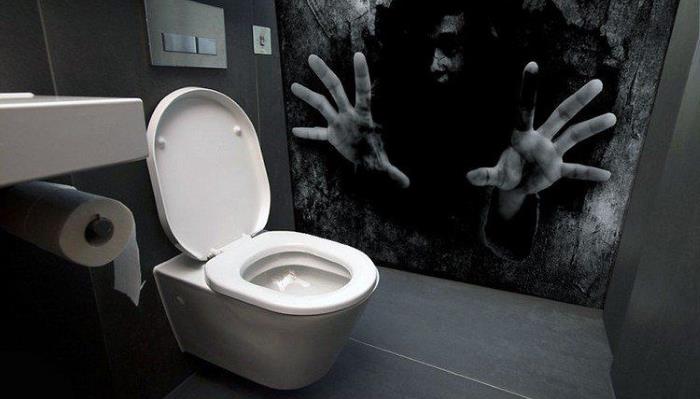 A spooky haunted toilet has been installed in Japan's Lagunasia amusement park. As planned, the spirit of a young girl named Hanako-san lives in the restroom.
The horror concept is based on an urban legend. In the run-up to Halloween, this will be a great festive addition. In addition, it is located according to all the new "coronavirus rules".
"The idea behind a haunted house is to walk into a separate toilet room and enjoy the haunted house while maintaining social distance," explained Ivana Kent, producer of haunted house design company Kowagarasetai .
The attraction invites you to enter the toilet cubicle. But you can't enjoy being alone. The spirit of the late Hanako-san will open the door or peep from above, making scary sounds.
"When I entered the dark toilet, I was already scared. Then, when I heard Hanako-san's story, there was a sound. It scared me even more, and when the spirit appeared from above, I was scared the most, "said Hiroko Fujioka, a visitor of the attraction .
According to the founder of the attraction, a person experiences the most terrible emotions when something terrible looks at him from above. This is the most common occurrence in Japanese ghost stories.