Here's Why Google's New 'Smartphone Addiction' Features Aren't Based on Science –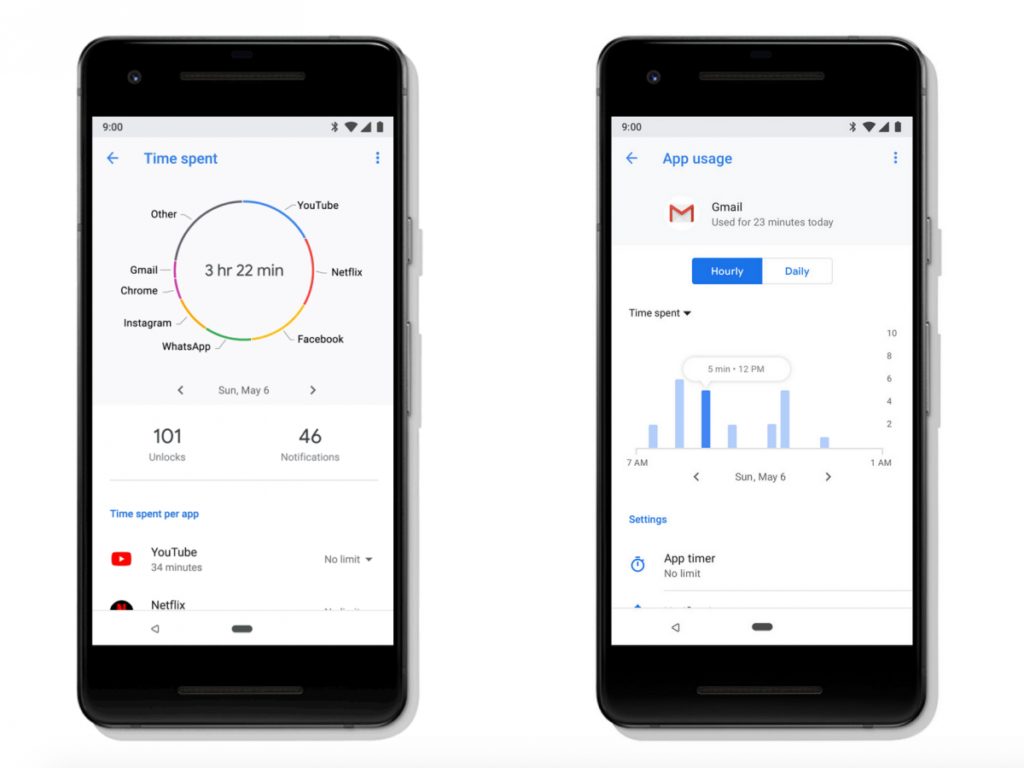 Google wants you to stop using the term FOMO.
Instead of complaining about your fear of missing out, the search engine giant would like you to celebrate – "JOMO," the joy of missing out. And it hopes a bunch of new features geared at preventing you from feeling addicted to your devices will help.
It's all part of an initiative that Google unveiled at this week's Google I/O developer conference called "Digital Wellbeing".
Intended to free Android users from the tether of their smartphones, the strategy includes features that allow users to do things like track the time they spend on social media, block distracting notifications, and make their screens less vibrant around bedtime.
But it's a big question whether the strategy will actually do any good. The features don't have much basis in science.
Dashboard tells you how often you check your phone
One of the primary new features in the Digital Wellbeing initiative is called Dashboard.
Dashboard shows you how frequently you check your phone or tablet, how much time you spend overall on your devices, and even how much time you spend within individual apps such as Facebook, YouTube, or Instagram.
Dashboard appears to be a reaction to the spate of recent stories that suggest that spending time on social media is universally bad for us.
Some of those reports have claimed that Facebook and Instagram in particular are making us depressed and even "eroding" our brains.
While such claims make for good headlines, there's little-to-no good research to back them up. Most of the studies that have been done so far suffer from significant shortcomings.
Some are looking at too few people to reach conclusions that are statistically significant, while others were conducted by the very companies they're studying or by researchers with clear agendas, which represent conflicts of interest that can cast doubts on results.
Some other studies suggest use of devices may be contributing to an existing problem but don't establish that they're causing a problem by themselves.
Andrew Przybylski, a senior research fellow at the Oxford Internet Institute, has attempted to replicate some of the studies that suggest a strong tie between social-media use and depression.
However, when he used larger sets of people in well-controlled environments, he failed to duplicate their results. Instead, he found either no link or one that was so small, he found it laughable.
"It is literally the lowest quality of evidence that you could give that people wouldn't laugh you out of the room," Przybylski told Business Insider in March.
Last year, Przybylski co-authored a study published in the journal Psychological Science in which he examined the effect of screen-time on a sample of more than 120,000 British teens who used their devices for social media, streaming, and playing games.
The data suggested a shocking conclusion: screen-time isn't harmful for the vast majority of teens. In fact, it's sometimes helpful – especially when teens are using it for two to four hours per day.
"Overall, the evidence indicated that moderate use of digital technology is not intrinsically harmful and may be advantageous," Przybylski wrote in the paper.
For Dashboard to actually be beneficial, Google or someone else would first need to demonstrate that there's some type of relationship between our overall wellbeing and how we're using our devices and apps.
Simply showing which apps we're using and for how long likely isn't going to do us a lot of good on its own.
Placing your phone face-down will quiet notifications
Another big Digital Wellbeing feature offers an easy way to block notifications.
When you place your phone face-down on a surface, it will automatically go into its "do not disturb" mode. The idea behind the new feature is that fewer alerts will mean less anxiety and more tranquility.
There is a growing amount of research that hints that getting constantly flooded with a barrage of beeps and flashes reduces our productivity and increases anxiety. No surprise there.
But there aren't any studies that indicate snoozing our devices' notifications will help us feel better.
When researchers have attempted to solve the anxiety problem by muting notifications, it didn't seem to work. In fact, some people actually felt worse.
In a study presented last month at the annual conference of the American Psychological Association, researchers including Duke University behavioural economist Dan Ariely found that people who had the notifications from their devices sent in clusters of several at a time said they felt less stressed and happier than people who received them in the usual way, where they arrive sporadically throughout the day.
But the people who got their alerts in clusters also felt less stressed and happier than people who didn't get any notifications at all.
"Participants who did not receive notifications experienced higher levels of anxiety and fears of missing out," the researchers wrote. "These findings highlight mental costs inherent in today's notification systems (or of abandoning them)."
Wind Down puts your phone in grayscale

Google designed its other big Digital Wellbeing feature to be used at bedtime.
Wind Down drains the colour from your Android device's screen, so that it displays everything as a shade of grey. The rational behind the feature is similar to that behind Apple's Night Shift feature, which changes an iPhone's colour scheme from one tinged with bright blue light to one imbued with orange light.
Night Shift is actually based on some scientific research. Blue light, which is also given off by the sun, is nearly the brightest light in the visible spectrum.
In humans, blue light depresses the production of melatonin, a key hormone our brains use to tell our bodies to start preparing for sleep. That's something you don't want to be doing at night, especially as you're heading to bed.
Unlike Night Shift, though, Wind Down doesn't have much research behind it. No one has really scientifically studied how removing colour from a display affects users' attention, productivity, sleep, or mood.
All we have are anecdotal reports from a couple of users who've willingly experimented on themselves with the feature and claimed it helped them.
So feel free to try to find joy in missing out, but don't rely on a host of new Google apps to do it.
This article was originally published by Business Insider.
Tesla autopilot sensor recorded "ghost" in an empty cemetery
A Tesla electric car with an activated autopilot function recorded an invisible person who allegedly moved around the cemetery. Social network users jokingly noted in the comments that, most likely, this is some new function from Elon Musk, which allows you to see ghosts.
In the United States, a Tesla electric car with an activated autopilot function recorded an invisible person who allegedly moved through a cemetery.
The corresponding video was posted by Twitter user Ovidiu Maciuc.
The recording shows how a silhouette of a man appears on the monitor of an electric car, moving around the cemetery. After that, the driver raises the camera and starts filming the graveyard through the windshield, but there are no people there.
After some time, the "ghost" went in the opposite direction from Tesla and disappeared from the on-board computer screen.
Social network users jokingly noted in the comments that, most likely, this is some new function from Elon Musk, which allows you to see ghosts.
For many though, if you take into account the comments, the video seemed rather creepy. Some even tried to guess what the navigation system actually showed.
Some users thought the system could recognize ghosts. Others refuted this version and said that the reason for all this is an insufficiently accurate sensor, which was used for the equipment of the Tesla car.
Earlier it became known that Tesla electric cars in the near future may receive a new function with which they can talk with pedestrians. For this, American cars will be equipped with special external speakers.
In addition, Tesla cars in the future will receive the option to change the horn and sound of movement at low speeds to warn pedestrians. According to Elon Musk, among the sounds of movement there will be the sound of the clatter of a horse's hooves, and as a whistle – the bleating of a goat.
Mysterious energy source melts Tel Aviv sidewalks, leading to the evacuation of several buildings in Israel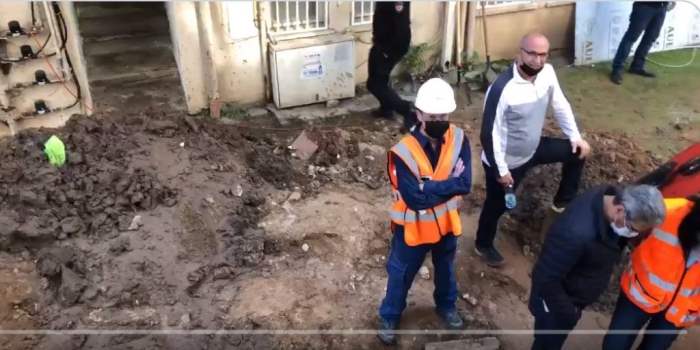 About two weeks ago, Tel Aviv residents noticed that the concrete surface outside their homes was heating up and steam was coming out of the ground. Tests showed that steam that reached 60 ° C (140 ° F) was water based.
The witness explains: "I was afraid that there was a power line in the area and asked a worker to dig out the ground with a shovel. Steam suddenly came out. I imagined it was probably a geyser. It seemed to me that this was a geological incident – also because there were no problems with electricity in the building. "
Although the experts did not find any hazardous substances or any risk to the stability of buildings at the site, residents as well as kindergartens in the area were evacuated.
Officials described the heat source as "trapped energy" of unknown origin.
Work continues, steam is still rising and the ground is still hot. It is currently unclear what is causing the warming. Note the hole dug in the area. The area is still blocked.
Mysterious origins
City officials said they will "continue to monitor the temperature of the earth, which is expected to cool down for a long time, and will continue to investigate the causes of the unusual event."
Israel Electric Corporation has not found a connection between heat and power in the area.
The Israel Geological Survey confirmed the rise in temperature after testing ground and water temperature levels, but said it has not yet found an explanation.
Despite their best efforts, municipal officials, the fire department, Israel Electric Corporation and the Ministry of the Environment have yet to find a source of heat.
Meanwhile, the Tel Aviv municipality has informed dozens of evacuees that they can return to their homes. However, residents are not going to return until they receive a detailed account of the source of the mysterious event.
"They evacuated us because they were concerned about our safety, and now they are urging us to return without any convincing explanation. How can you be sure that there is no more danger? "
The night sky in southern Taiwan shows a weird red moon alarming netizens: 2021 disaster year omen?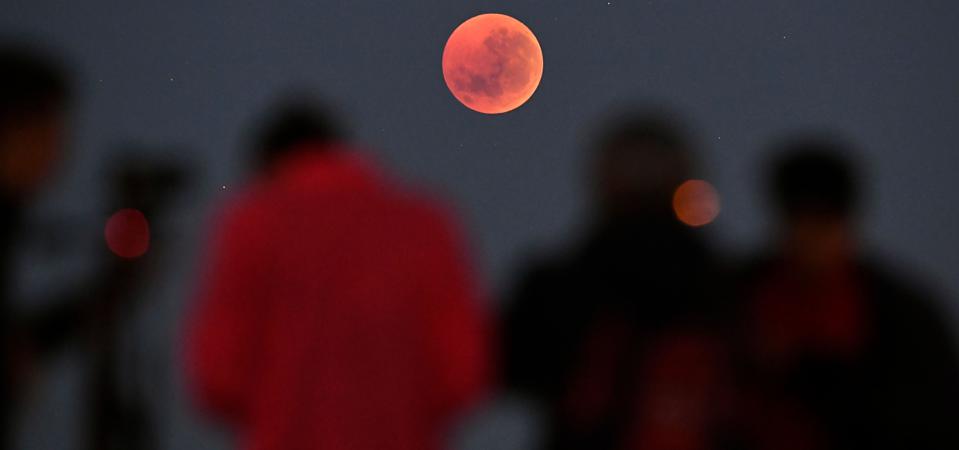 Some people in Chiayi, Taiwan took pictures of a large dark red moon hanging in the night sky on the first night of 2021 and uploaded them to Facebook. There are also people in Tainan who have photographed the rare "red moon". The weird scene has aroused heated discussions among netizens. Some people worry that an earthquake may occur, while others suspect that this is a precursor to the year of disaster in 2021?
Yesterday, on January 1 at about 8:00 in the evening, Chiayi residents shared a photo of "2021's first red moon" on Facebook. As you can see in the photo, the weather was quite good at that time. There was a clear big round moon in the night sky, but it was a dark red moon, which was very different from the usual moon.
Later, people in Kaohsiung and Tainan also posted photos of the red moon they had taken.
The weird and rare "big red moon" immediately attracted the attention of netizens. Some people think that such a sight is caused by air pollution, and some people think that the red moon is "extremely beautiful", but many people worry about whether it is a harbinger before the disaster ?
"Hope is not a harbinger of disaster~", "A harbinger of disaster in 2021???", "It looked uneasy", "After seeing the red moon, I hope everyone will be safe".
Some netizens worry that this is a pre- earthquake omen.
"Remember the red moon before the 921 earthquake (omen)", "earthquake precursors", "I feel that there will be an earthquake again recently", and "It seems that 2021 will be another year of bloody disaster."
The British clairvoyant Craig Hamilton-Parker published his prediction for 2021 on YouTube in December last year, stating that, as far as the world is concerned, 2021 will be a year full of social unrest, armed conflict and political changes. There will be difficult times right now until 2025.
He also predicted that the biggest worry is climate and earthquakes. A tsunami will occur near Japan. Large earthquakes will occur in the Himalayas, Iran and the Americas. There will also be problems such as floods, dams bursting, and huge icebergs obstructing shipping. Until 2025, the severity of environmental problems will gradually increase.