Here's Why Google's New 'Smartphone Addiction' Features Aren't Based on Science –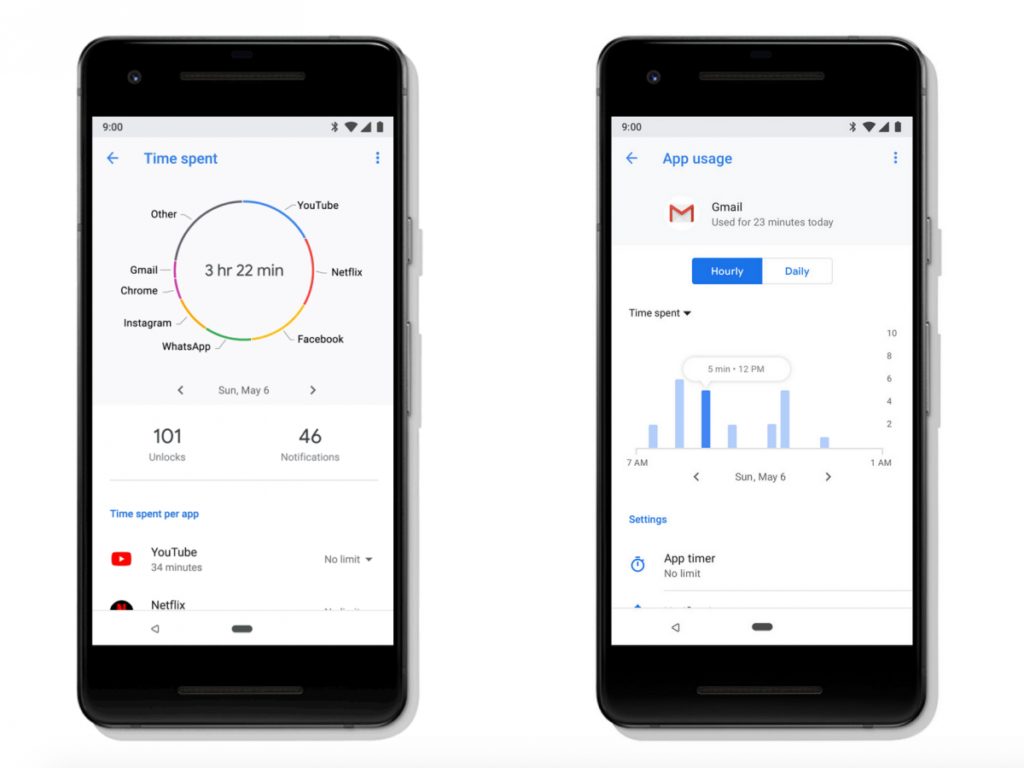 Google wants you to stop using the term FOMO.
Instead of complaining about your fear of missing out, the search engine giant would like you to celebrate – "JOMO," the joy of missing out. And it hopes a bunch of new features geared at preventing you from feeling addicted to your devices will help.
It's all part of an initiative that Google unveiled at this week's Google I/O developer conference called "Digital Wellbeing".
Intended to free Android users from the tether of their smartphones, the strategy includes features that allow users to do things like track the time they spend on social media, block distracting notifications, and make their screens less vibrant around bedtime.
But it's a big question whether the strategy will actually do any good. The features don't have much basis in science.
Dashboard tells you how often you check your phone
One of the primary new features in the Digital Wellbeing initiative is called Dashboard.
Dashboard shows you how frequently you check your phone or tablet, how much time you spend overall on your devices, and even how much time you spend within individual apps such as Facebook, YouTube, or Instagram.
Dashboard appears to be a reaction to the spate of recent stories that suggest that spending time on social media is universally bad for us.
Some of those reports have claimed that Facebook and Instagram in particular are making us depressed and even "eroding" our brains.
While such claims make for good headlines, there's little-to-no good research to back them up. Most of the studies that have been done so far suffer from significant shortcomings.
Some are looking at too few people to reach conclusions that are statistically significant, while others were conducted by the very companies they're studying or by researchers with clear agendas, which represent conflicts of interest that can cast doubts on results.
Some other studies suggest use of devices may be contributing to an existing problem but don't establish that they're causing a problem by themselves.
Andrew Przybylski, a senior research fellow at the Oxford Internet Institute, has attempted to replicate some of the studies that suggest a strong tie between social-media use and depression.
However, when he used larger sets of people in well-controlled environments, he failed to duplicate their results. Instead, he found either no link or one that was so small, he found it laughable.
"It is literally the lowest quality of evidence that you could give that people wouldn't laugh you out of the room," Przybylski told Business Insider in March.
Last year, Przybylski co-authored a study published in the journal Psychological Science in which he examined the effect of screen-time on a sample of more than 120,000 British teens who used their devices for social media, streaming, and playing games.
The data suggested a shocking conclusion: screen-time isn't harmful for the vast majority of teens. In fact, it's sometimes helpful – especially when teens are using it for two to four hours per day.
"Overall, the evidence indicated that moderate use of digital technology is not intrinsically harmful and may be advantageous," Przybylski wrote in the paper.
For Dashboard to actually be beneficial, Google or someone else would first need to demonstrate that there's some type of relationship between our overall wellbeing and how we're using our devices and apps.
Simply showing which apps we're using and for how long likely isn't going to do us a lot of good on its own.
Placing your phone face-down will quiet notifications
Another big Digital Wellbeing feature offers an easy way to block notifications.
When you place your phone face-down on a surface, it will automatically go into its "do not disturb" mode. The idea behind the new feature is that fewer alerts will mean less anxiety and more tranquility.
There is a growing amount of research that hints that getting constantly flooded with a barrage of beeps and flashes reduces our productivity and increases anxiety. No surprise there.
But there aren't any studies that indicate snoozing our devices' notifications will help us feel better.
When researchers have attempted to solve the anxiety problem by muting notifications, it didn't seem to work. In fact, some people actually felt worse.
In a study presented last month at the annual conference of the American Psychological Association, researchers including Duke University behavioural economist Dan Ariely found that people who had the notifications from their devices sent in clusters of several at a time said they felt less stressed and happier than people who received them in the usual way, where they arrive sporadically throughout the day.
But the people who got their alerts in clusters also felt less stressed and happier than people who didn't get any notifications at all.
"Participants who did not receive notifications experienced higher levels of anxiety and fears of missing out," the researchers wrote. "These findings highlight mental costs inherent in today's notification systems (or of abandoning them)."
Wind Down puts your phone in grayscale

Google designed its other big Digital Wellbeing feature to be used at bedtime.
Wind Down drains the colour from your Android device's screen, so that it displays everything as a shade of grey. The rational behind the feature is similar to that behind Apple's Night Shift feature, which changes an iPhone's colour scheme from one tinged with bright blue light to one imbued with orange light.
Night Shift is actually based on some scientific research. Blue light, which is also given off by the sun, is nearly the brightest light in the visible spectrum.
In humans, blue light depresses the production of melatonin, a key hormone our brains use to tell our bodies to start preparing for sleep. That's something you don't want to be doing at night, especially as you're heading to bed.
Unlike Night Shift, though, Wind Down doesn't have much research behind it. No one has really scientifically studied how removing colour from a display affects users' attention, productivity, sleep, or mood.
All we have are anecdotal reports from a couple of users who've willingly experimented on themselves with the feature and claimed it helped them.
So feel free to try to find joy in missing out, but don't rely on a host of new Google apps to do it.
This article was originally published by Business Insider.
Mysterious Humming Sound Recorded in Sky over Sweden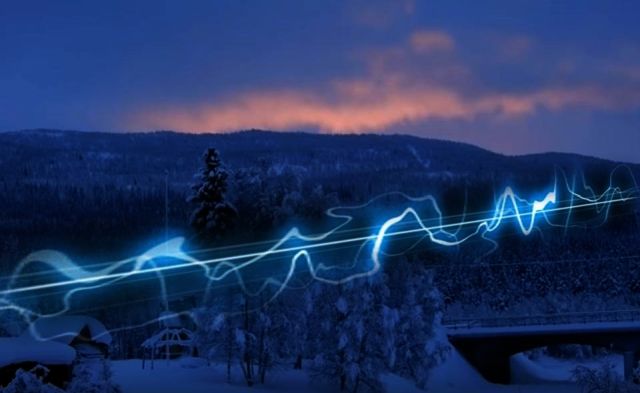 A mysterious humming sound that was said to have reverberated through the air for an astounding 45 minutes was recorded in Northern Sweden back in December.
According to the witness, the humming noise was constant and seemed to almost vibrate the air.
The witness goes on to say "it is usually a very quiet place here. But I'm sure the sound came from the sky or the atmosphere. The sound came from the whole sky. I could not locate if it came from north south east or west. it filled it all. Strange it was…."
Could the sound heard by the witness in Sweden may be connected to the larger mystery hum phenomenon heard in different parts of the world in recent years.
Some theories for what may be causing these sounds range from the conspiratorial, such as clandestine military weaponry, air displacement caused by slow-moving huge UFOs to prosaic possibilities involving natural events surrounding the magnetic field of the Earth.
Watch the Trailer for the New Peculiar Children Book 'Map of Days'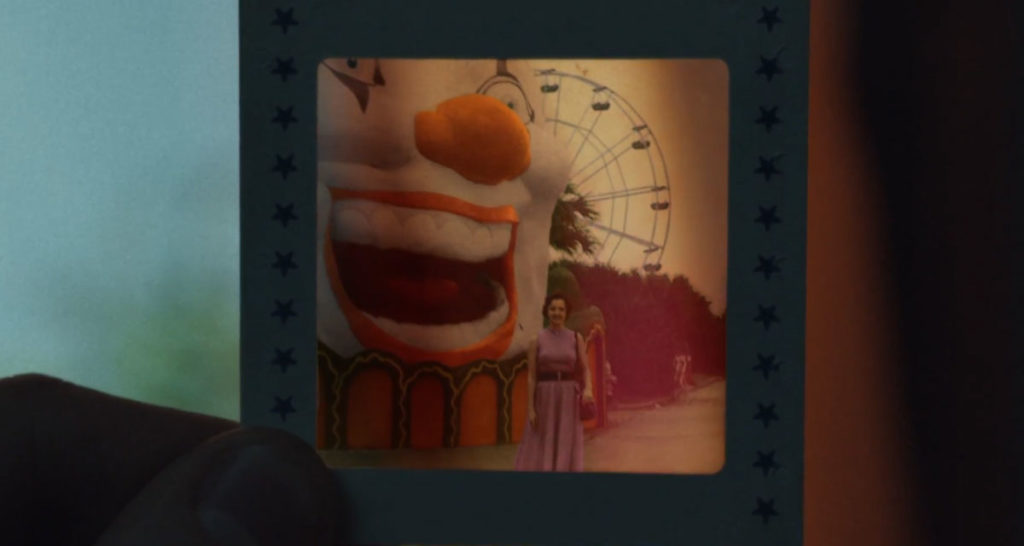 The peculiar children come to America and encounter unimaginable new dangers in Map of Days, the new novel in the Miss Peregrine series from Ransom Riggs.
Jacob uncovers new secrets about his grandfather's double life, leading the peculiar children on a dangerous new adventure in Map of Days, the latest book in the Miss Peregrine's Home for Peculiar Children series by Ransom Riggs.
Map of Days is part of the 2018 Cult of Weird Fall Reading List.
From the description:
Having defeated the monstrous threat that nearly destroyed the peculiar world, Jacob Portman is back where his story began, in Florida. Except now Miss Peregrine, Emma, and their peculiar friends are with him, and doing their best to blend in. But carefree days of beach visits and normalling lessons are soon interrupted by a discovery—a subterranean bunker that belonged to Jacob's grandfather, Abe.

Clues to Abe's double-life as a peculiar operative start to emerge, secrets long hidden in plain sight. And Jacob begins to learn about the dangerous legacy he has inherited—truths that were part of him long before he walked into Miss Peregrine's time loop.

Now, the stakes are higher than ever as Jacob and his friends are thrust into the untamed landscape of American peculiardom—a world with few ymbrynes, or rules—that none of them understand. New wonders, and dangers, await in this brilliant next chapter for Miss Peregrine's peculiar children. Their story is again illustrated throughout by haunting vintage photographs, but with a striking addition for this all-new, multi-era American adventure—full color.
Map of Days hits shelves on October 2.
13 spooky vintage board games to play this Halloween
Battle monsters, ghosts, voodoo curses, boobytrapped mansions, haunted carnival rides, and more with these vintage spooky board games.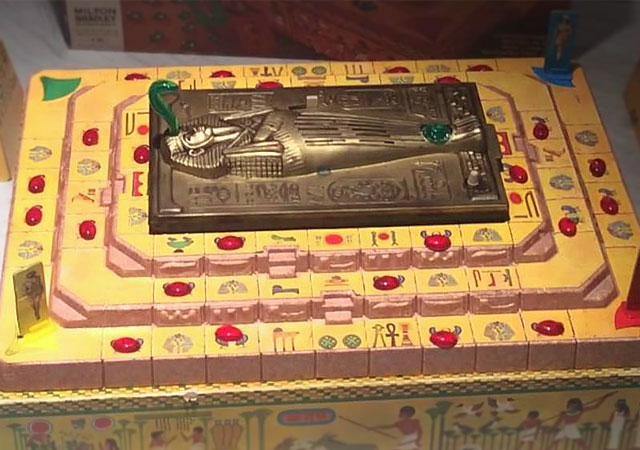 Voice of the Mummy board game
The Ouija board is the only board game known to cause so much fear that people refuse to touch it. But these vintage board games from the 1960s, 70s, and 80s are considerably spookier. We're talking about games where a mummy's voice echos from its tomb, an electronic Deathhead determines if you win a battle against demons or perish, a game where you put voodoo curses on the other players, and plenty of haunted mansions with traps, treasures, and monsters lurking around every corner.
With their eerie box art and creepy themes, these board games will add some spooky fun to the Halloween season without putting your mortal soul in danger.
1. Seance (1972)
Your dear Uncle Everett has died in this rare board game from Milton Bradley. According to the directions, Everett was a spiritualist. He believed his spirit would return from the grave to guide the distribution of his wealth.
Although he left the bulk of his estate to his parrot, players (his nieces and nephews, of course) gather in his creepy Victorian mansion to hold a seance and bid on his remaining possessions of unknown value. Everett's ghostly voice emanates from an actual record player hidden inside the seance table. When everything has been bought, Uncle Everett reveals how much each item is worth, or how much each player owes in taxes.
The player with the most money wins.
"When the game is over and the room is plunged into darkness," the instructions read, "it is said that the image of Uncle Everett may be seen."
2. Ghost Castle (1985)
Based on Milton Bradley's earlier Which Witch? and Haunted House (The Real Ghostbusters board game was also a re-themed version of this), players had to collect ghost card and avoid traps as they made their way up the stairs to close the coffin lid and "lay the ghost."
3. Mystic Skull: The Game of Voodoo (1964)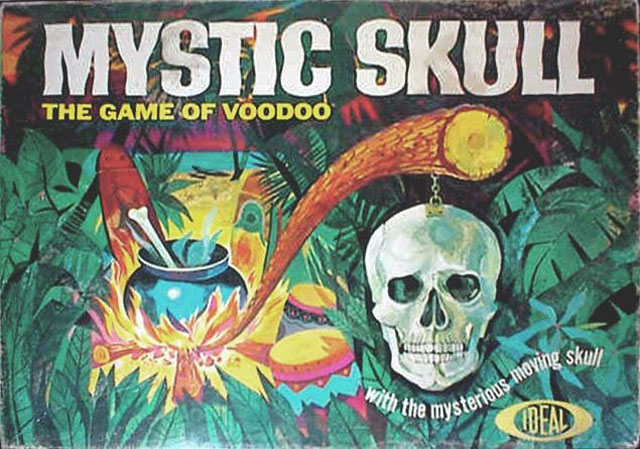 Each player is a witch doctor with a voodoo doll. When you stir the cauldron, the Mystic Skull spins and determines where you will place the next pin in your opponents doll.
4. Escape from Frankenstein (1983)
Players move around Frankenstein's castle looking for the key that matches their color, hoping to reach the laboratory and shut off the power before the monster comes alive.
5. Green Ghost (1965)

The Green Ghost board is on stilts, players can fall through trap doors, there's keys, bat feathers, bones, snakes, ghost children, pets, and it was the first board game to glow in the dark. I have no idea what you need all of these things, but the inclusion of everything creepy means it's obviously amazing.
6. Alien (1979)
Aliens have invaded the Nostromo. Each player is an astronaut trying to make their escape on the shuttle while using their own personal xenomorph to eliminate other players. While it may seem tempting, please refrain from laying eggs inside your opponents.
7. Ghost Train (1974)
Based on the Ghost Train amusement park ride, this game simulates the experience by including sudden and jolting changes of direction, dead stops, getting stuck, and mechanical ghosts. I'm keeping my fingers crossed for the expansion pack where you have to buy tickets, wait in line, and exit the ride feeling like you got seriously ripped off.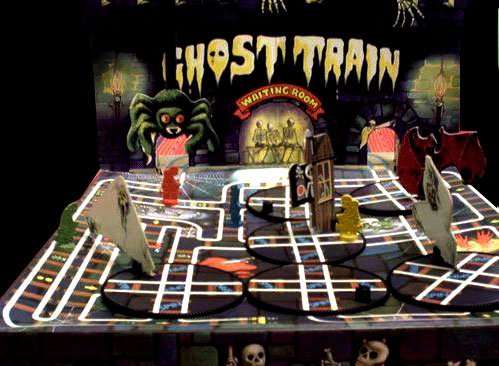 8. Mystery Mansion (1984)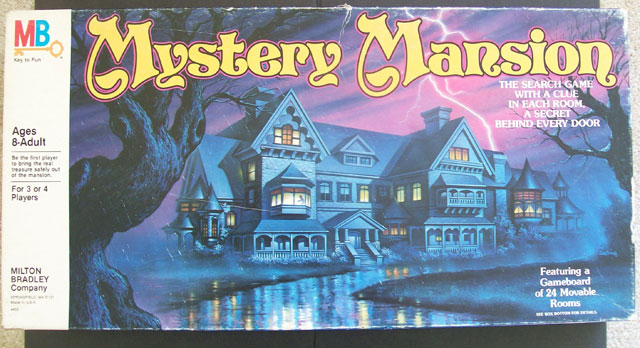 Roll the dice and search for clues as you build a Victorian mansion room by room in hopes of finding a treasure chest filled with gold and jewels rather than cobwebs and dust.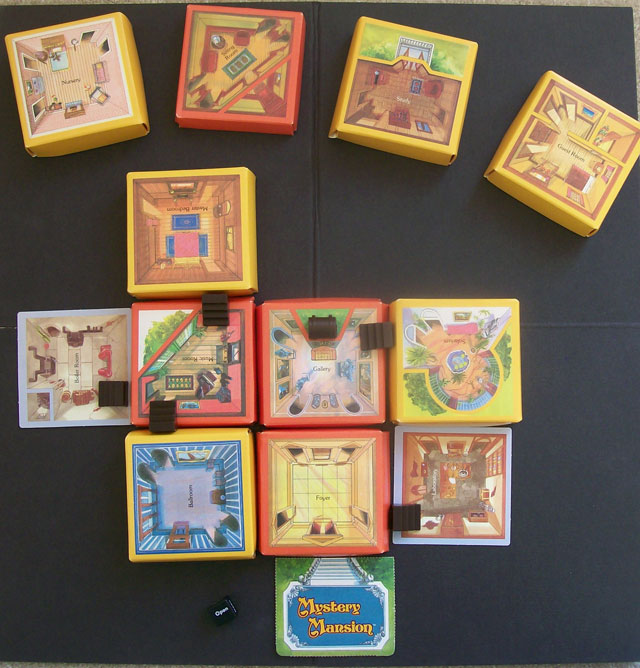 9. Voice of the Mummy (1971)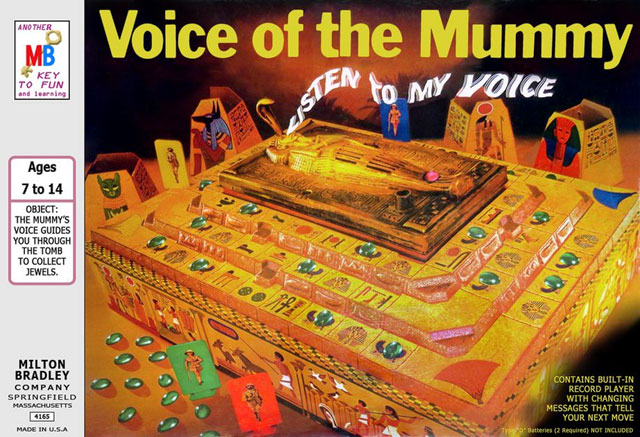 The precursor to Seance, Voice of the Mummy also has a record player inside. The mummy doles out instructions while players race around the three levels of the sarcophagus collecting gems. All the fun of looting tombs without all those pesky death curses.
10. Scream Inn (1974)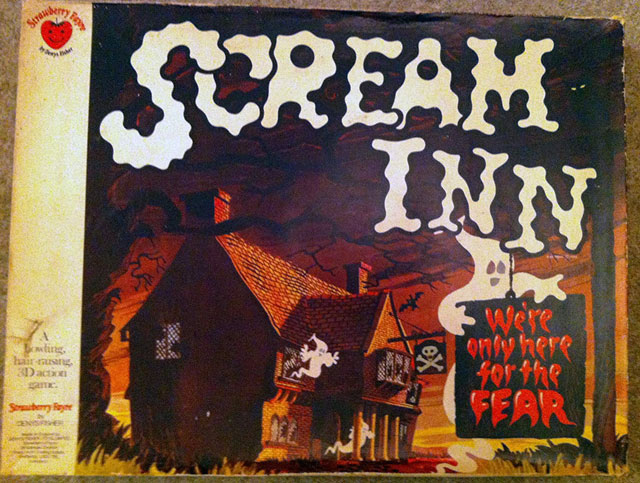 With a slogan like "We're only here for the fear!" this must be the world's first (only?) dark tourism board game. Players spin the wheel and try to get all of their pieces out of the haunted inn without disturbing a ghost.
11. Superstition (1977)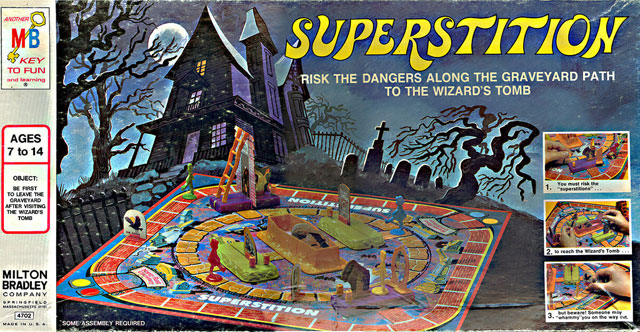 Players wander around a cemetery trying to reach the Wizard's Tomb, but the graveyard is full of rubberband-powered traps with superstitions like a black cat and a broken mirror that may fling your piece off the board.
12. It from the Pit (1992)
Players have to dash for the treasure chest while a giant green mechanical monster tries to pull their tiny plastic explorers into the pit full of bubbling green goo.
13. Horror House (1986)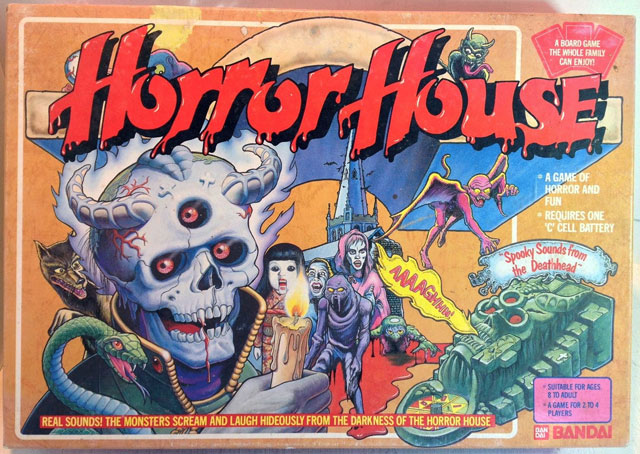 Face off against 45 monsters from around the world (including the dreaded Umbrella Monster!) in this electronic board game from Bandai. Players move through the house fighting these monsters while the Deathhead Roulette determines the outcome of each battle. The demons scream if you win. If you lose, a wicked laugh emanates from the Deathhead.
Be careful with this one, though. Bandai recommends you never play alone.
Which of these spooky board games was your favorite to play when you were young? Let me know in the comments below.