Have UFOs been spotted above the Jersey Shore?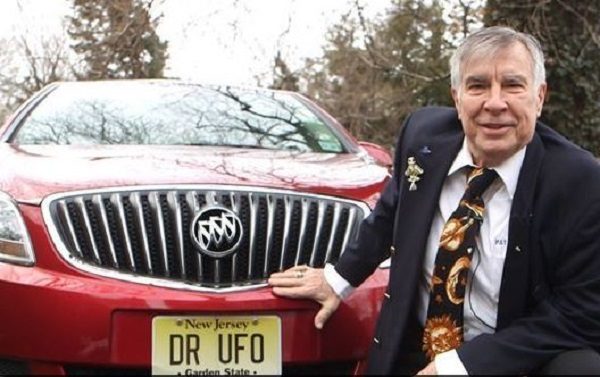 © Brian Johnston
Pat Marcatillio, aka Dr. UFO is the president and founder of the New Jersey/Pennsylvania UFO Paranormal Study Group.
Erik Larsen and Dan Radel
Asbury Park Press
What exactly was that in the night sky over Wall Township on St. Patrick's Day?
Was it a UFO, or was it something else?
Jeff Wallace, 43, of Wall, would sure like to know. He was driving to pick up his stepdaughter from the Quick Chek on Belmar Boulevard that Saturday night, when he observed three lights in a triangular pattern "moving very slowly" across the sky.
He stopped his vehicle and took several photos of the lights with the camera on his smartphone. The photos are dark; but a triangle of lights is faintly visible.
The Air Force, which commands Joint Base McGuire-Dix-Lakehurst, about 30 miles from Wall as the crow flies (or UFO), looked at the photos; it doesn't know what it was either.
"There's not enough from the photos … we weren't able to tell," said U.S. Air Force Staff Sgt. Lauren Russell, a spokeswoman for the Joint Base, after copies of the photos were circulated by personnel there.
And with that, Wallace joins the thousands of other New Jerseyans who say they have seen a UFO in the sky, without knowing for sure what they saw. The National UFO Reporting Center says on its website that it has received nearly 2,200 reports of UFO sightings in New Jersey, with the first one reported back in 1930. MUFON – the acronym for the nonprofit Mutual Unidentified Flying Object Network – says there were eight sightings, not including Wallace's, just in March.
Interest in UFOs has been on the rise of late, with more videos of UFO sightings from Navy pilots being declassified. One of the more recent included Navy pilots being amazed by what a UFO could do as they trailed it flying over the Eastern Seaboard in 2015.
What's out there?
On Feb. 26, a person reported seeing a 40-foot-long, disk-like craft with rows of red and white alternating lights hovering over the trees in Jackson, according to a report filed with the National UFO Reporting Center. The center also had two reports from Tinton Falls, one on Dec. 28 – a rapidly falling white-blue light – and another on Jan. 10, with a report of a black, oval-shaped craft.
Of the eight cases of UFO sightings over New Jersey in March reported to MUFON, spokesman Roger Marsh said two of the sightings involved triangular-shaped objects similar to what Wallace saw in Wall: One in Egg Harbor Township three days before the Wall incident, on March 14, and another over North Brunswick five days later, on March 22, Marsh said.
MUFON, which has been in existence since 1969, is a national organization of civilians that includes scientists, retired military personnel, aviation experts and ordinary people who have witnessed things they simply can't explain. The network catalogs and tracks cases of alleged UFO sightings on a daily basis from across the globe.
Michael Schratt, a military aerospace historian with MUFON, said he is convinced that about 95 percent of the "triangles" reported by eyewitnesses, are in fact man-made aircraft. The remaining 5 percent – unknown.
© Brian Johnston
Major George Filer III is the eastern regional director of MUFON.
"The primary focus of my research deals with 'black budget' classified aircraft built and test flown by the U.S. military-industrial complex," Schratt said. "Specifically, aircraft produced by manufacturing facilities along the West Coast – aka 'Aerospace Alley.'"
Schratt said he has come to believe this is the case after spending the past 35 years interviewing engineers, test pilots and contractors who have worked in what he refers to as the "black world."
Indeed, most UFOs that people see with any detail tend to be isosceles triangles – much like stealth airplanes. In many reports, the craft are reported to be moving slowly – too slow for commercial aircraft – and utterly silent.
The New York Times first reported in December about a mysterious $22 million Pentagon program tracking UFOs called the Advanced Aerospace Threat Identification Program.
At the same time as the story was published in The Times, the Defense Department declassified two videos from 2004 off the Southern California coast that were recorded by cameras aboard U.S. Navy fighter jets, which included the simultaneous audio of the radio communications between the pilots.
Pilots David Fravor and Jim Slaight, who were flying in F/A-18F Super Hornets, had described seeing an oval-shaped object hovering above the sea below them, USA Today reported.
When they flew lower to have a look at it, Fravor said, "it accelerated like nothing I've seen before," they told the newspaper.
Fravor told USA Today he was mystified by what he saw in the 2004 incident: "It had no (exhaust) plumes, wings or rotors and outran our F-18s. I want to fly one."
After that third video of UFOs over the Eastern Seaboard was released, The Washington Post published an opinion piece titled, "The military keeps encountering UFOs. Why doesn't the Pentagon care?" which was penned by Christopher Mellon, who served as deputy assistant secretary of defense for intelligence in the Bill Clinton and George W. Bush administrations.
"The videos, along with observations by pilots and radar operators, appear to provide evidence of the existence of aircraft far superior to anything possessed by the United States or its allies," Mellon wrote in The Post. "Defense Department officials who analyze the relevant intelligence confirm more than a dozen such incidents off the East Coast alone since 2015. In another recent case, the Air Force launched F-15 fighters last October in a failed attempt to intercept an unidentified high-speed aircraft looping over the Pacific Northwest."
But not everyone believes the videos are all that compelling.
Robert Sheaffer, author of "Bad UFOs: Critical Thinking About UFO Claims" and operator of the website "The Debunker's Domain," is a self-avowed skeptic.
"They have only released two very blurry infrared videos of objects that appear to be distant jets, without sufficient information to do a really good analysis of them," Sheaffer told Space.com for a Jan. 9 article. "So, ultimately, all you have are a few UFO believers in and outside government who were able to get away with funneling a few million Pentagon dollars to themselves for UFO research, and have very little to show for it."
'The truth is out there'
Ret. Air Force Major George Filer III, 82, who serves as the New Jersey director of MUFON, is one of the believers. As a former flight and intelligence officer with a 20-year service record, he said he has personally witnessed some pretty bizarre phenomena. He asserted that he knows firsthand that four-star generals and admirals are briefed regularly about "anomalous aerial vehicles."
When Filer was stationed in Great Britain and assigned to an air tanker unit at the height of the Cold War, he recalls flying aboard a military aircraft over Scotland that attempted to intercept such an object that appeared as big as a bridge on radar.
"When we got closer, we could see lights off in the distance – kind of like a cruise ship you would see at night, with multiple lights across it," he said. "As we got, I don't know, about 5 miles from it – it went up into space. And we were doing over 400 (miles per hour) and I would say it was doing 10, 20 times our speed and it was this huge object. So we were convinced that it was something that was not ours, let's put it that way. … To me, it looked like a long cylinder."
Filer doesn't know who or what is piloting these vehicles, but he has his own theories. If they are visitors from another world, that they may be using the world's oceans to conceal themselves from detection – which is why there are so many sightings near water, he postulates.
Ufology, the study of UFOs, attracts people from all walks of life. But because of the social stigma associated with seeing a UFO and the assumption that UFO means "alien spaceship," when it simply means that something is simply unidentified, most people won't even discuss their experiences unless someone first shares their own, Filer said.
In fact, Filer believes that many more people have seen UFOs than have not – but because of fears about being labeled a kook, they keep such accounts mainly to family and close friends.
The ridicule factor has been quite effective in silencing people, Filer said.
One colorful character from Mercer County, who embraces the eccentricity of this subculture is Pat Marcattilio, 75 – who goes by the nickname "Dr. UFO," which is also emblazoned across his personalized license plates.
Marcattilio, of Hamilton, is the founder of the New Jersey/Pennsylvania UFO Paranormal Study Group. Since 1984, the group has met monthly at the Hamilton Township Free Public Library to share their interest in the subject.
"I was coming home from Atlantic City with a bunch of guys in my car and the State Police pulled me over at Columbus," Marcattilio said. "So I pulled over and (the trooper) walks up to me and said, 'Hey, I gotta tell you my UFO story.'"
Marcattilio believes that the government is not only aware of the existence of extraterrestrial life, but is in fact concealing such evidence from the public. Why? To avoid the same mass hysteria that occurred not far from his home 80 years ago this October – when some Americans listening to their radios became convinced that Martians were invading Grover's Mill during a performance of "The War of the Worlds" led by Orson Welles.
"I think we've gone way beyond that, we accept them, I believe," he said. "I think it's time for them to be real and for the government to say that we have galactic neighbors and they're visiting us."
Back in Wall, Wallace doesn't know what he snapped a photo of on that night one month ago, when he said the sky was "clear enough to see stars."
Wallace was about a quarter-mile from Camp Evans, a former signal laboratory for the U.S. War Department, when he first spotted the object. The site witnessed a milestone in scientific history on Jan. 10, 1946, when Signal Corps scientists used a radar antenna to bounce radio signals off the moon.
"I guess you could call me a star gazer. I'm pretty observant of my surroundings," Wallace said. "I've been skeptical about UFOs my whole life, but the lights could have been a UFO. They started moving erratically in a pattern that was not like a plane."
Wallace said he observed a meteor once, but this wasn't like any meteor he ever saw. He noted that he had never seen a light pattern like the one he witnessed on March 17.
Then, after he took the photos, whatever it was just vanished.
Another TR-3B? Huge triangular UFO flew over New York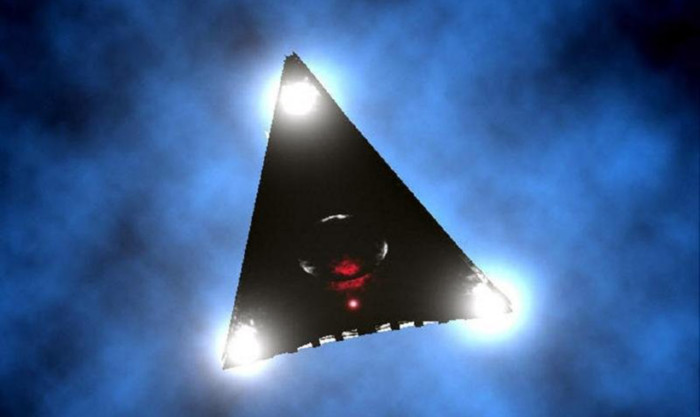 A resident of Bronx, New York, on January 16, 2021, saw three UFOs above the houses in his area, moving synchronously in the form of a huge triangle. The brightly shining points were very clearly visible in the night sky.
The man managed to capture a triangle slowly floating in the sky on video (see below) and posted it on his YouTube channel.
Since he was a very modest blogger who had only a few subscribers, his video went unnoticed for several days by UFO lovers, until finally it was re-posted on social networks, and from there it got to news sites.
The video shows how the author of the video is very surprised by what is happening, he looks up into the sky and says:
"They fly nearby and look like stars. It's a triangle and I don't know what it is."
Then he tried to ask someone from the passers-by about whether they knew that it was in the sky, but they could not answer either.
On social networks, this video caused a lot of comments from curious people who offered their versions of what they saw. From the fact that someone has programmed the drones to move in the form of a triangle, to the fact that they are actually Chinese lanterns.
The lantern version was quickly criticized, as the lights move at such a high altitude that Chinese lanterns could not continue to burn so brightly.
The drone version also drew a lot of criticism, because in order to launch several large drones over residential buildings in New York, you need to obtain special permission and it is not so easy.
The most popular was the theory that what he saw was a secret American reconnaissance aircraft TR-3B, about which there have been many rumors for a long time. Allegedly, it was developed on the basis of an alien ship that fell in Roswell, it can move silently and is practically invisible to radars.
Indians and aliens – "I was told that there are four aggressive species in the universe, and humans are one of them."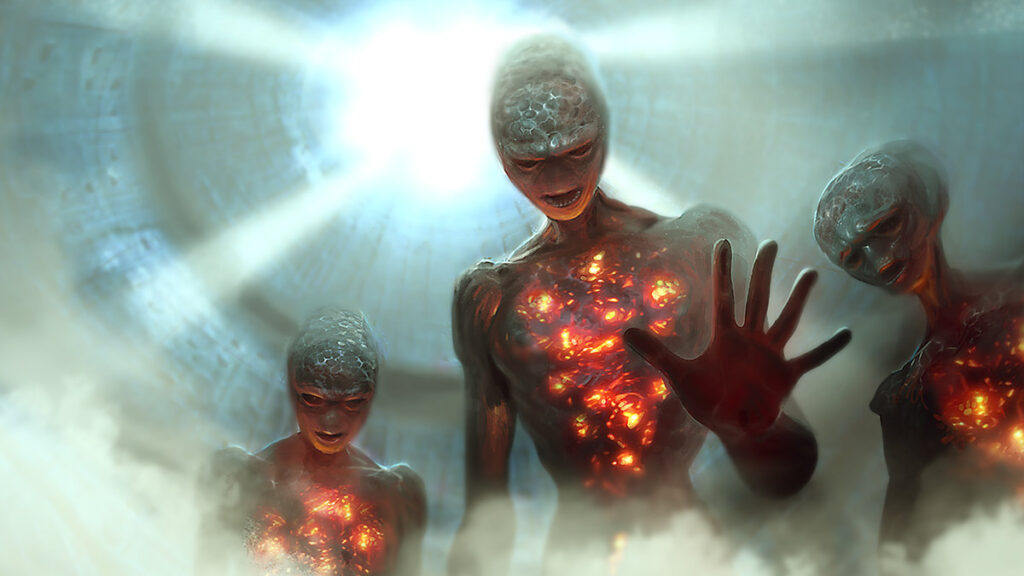 Dr. Ardi Sixkiller Clarke, professor emeritus at Montana State University, who is a native of the Cherokee tribe, has studied Indian stories about the "Star People" and collected stories of encounters between aliens and native Indians over the years.
Here is one of the stories she recorded, which she recorded from the words of a female elder named Tali:
I have seen star creatures all my life. The first time I was about 8 years old. I picked berries by the river. I watched the ship descend and land across the river. I crossed the river, stepping carefully over the rocks so as not to get my feet wet. I was curious; I've never seen anything like it.
As I approached, the door opened and I went inside. I remember that the star beings greeted me. There were two women. One combed my hair and said that I was beautiful. After that, I often met with them.
Sometimes I brought them flowers, sometimes stones. My grandmother told me that stones have a soul, and I tried to explain it to them. I don't think they understood. But they taught me to heal with my hands. Star doctors taught me how to treat diseases with my hands. They taught my grandmother how to heal.
When my grandmother died, the star beings were very saddened and I was tasked with continuing her work and learning about herbs and healing people naturally and metaphysically.
They are light, tall and thin. They are much smarter than us, but they are interested in our development. They travel the stars and learn from others throughout the star system. They collect information about the aging process of earthlings. They are trying to understand why we die so young.
Star people live much longer than we do. The normal age for them is 1000 Earth years. They do not have such diseases as we do. Their civilization does not consume alcohol and tobacco.
They choose who they will be, their job and stay on it forever. They become experts in their field, which leads to many discoveries that improve their lives. Star physicians visit Earth constantly. They mostly watch, but all over the world there are "helpers" who serve them. Both my grandmother and I were their assistants.
Star people call themselves observers.
They weren't cruel. I was told that there are four aggressive species in our universe. People are one of them."
Dr. Clarke ends the story like this:
"For the next five plus years, I frequently visited the reservation to meet Tali. She remained strong and mobile until her death at 95. On the day of her funeral, several people saw a UFO appear and hover in the sky. I was one of them."
Observers
In the stories of many people who have come into contact with representatives of extraterrestrial civilizations, there are references to the fact that they are just observers. It seems that some of these creatures are just curious observers of planet Earth, collecting data, as if some of them are carrying out scientific missions to bring information about other planets and civilizations back to their planet.
We are not alone in the universe. Perhaps one day we ourselves will become aliens for someone exploring another planet.
Can we change?
As for the fact that humans are one of the most violent species in the universe … We are empathetic beings with tremendous potential for good. We really can, but we do not change, and if you were an alien watching what is happening on our planet, you would probably be intimidated by how aggressive and cruel we are …
It is a pity that we are in a group of worlds characterized as aggressive, but I really hope that we will change. People can change, but only by standing at the edge of the abyss and realizing that if they do not change, human civilization will simply disappear. We are already on the edge of the abyss. We have actually destroyed the house we live in and the name of this house is Earth.
Humanity has only two ways – to change or die out.
The CIA has laid out all its information about UFO's in the public domain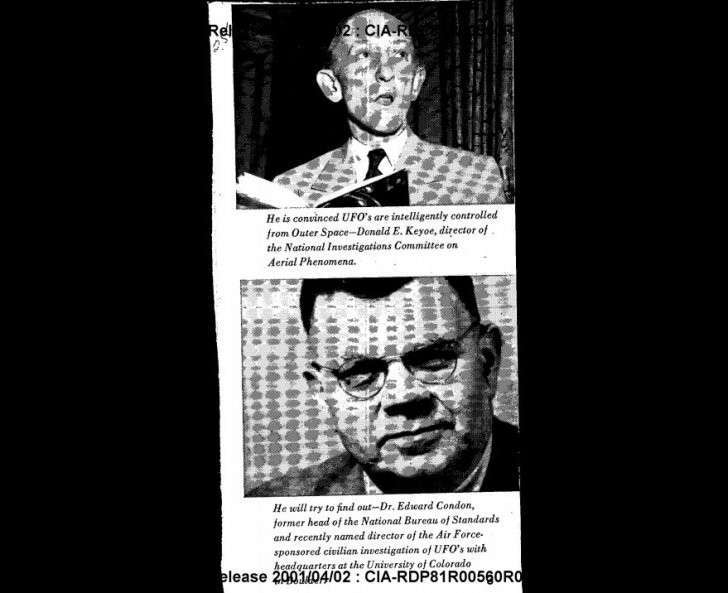 The Black Vault, which publishes declassified data, has posted on its website an impressive archive of CIA documents related to UFOs. The founder of the project, John Greenwald, says that he received all the documents by official means from the hands of the organization's employees.
And suddenly, the CIA declassified its entire database of UFOs. That is, the secret service has documents from the 1980s and everything shows that conspiracy theories are becoming a reality. Already, the "Black Vault" website contains several relevant documents, which can be downloaded by anyone.
The term "Unidentified Flying Objects" is commonly used in the documents.
Some of these may be due to light reflections or errors in the pilot instruments. However, some are objects of inquiry by the Pentagon.
The CIA claims that they have nothing else, but it is not possible to verify this statement.
It was possible to obtain information thanks to the Law on Freedom of Information, and the process itself was launched at the turn of the 70-80s of last century.
The representatives of the special services had to admit that the public ultimately has the right to find out the secrets of the government, but the process of transferring information is not really regulated. According to Greenwald, he spent 25 years in endless meetings, disputes and bickering with the CIA, until he finally got what he wanted.
But not everything is so simple – the researcher was handed a box with about 10,000 printed sheets of very low quality. He had to scan them manually, some things could not be disassembled at all, many documents were scattered. 
"Starting about 20 years ago, I struggled for years to get additional UFO records from the CIA," Greenwald said in an email to Motherboard. "It was like pulling teeth! I went around with them to try and do it, finally achieving it. I received a large box with a couple of thousand pages, and I had to scan them one page at a time."
The CIA used the rather outdated .tif format, so software processing is also difficult. Ufologists don't have to talk about a gift, it's more like trying to get rid of garbage in order to get rid of annoying researchers. 
"Researchers and curious minds alike prefer simplicity and accessibility when they look at such data dumps," says Greenwald. "The CIA made it INCREDIBLY difficult to use its archives in a sensible way. They offer a very outdated format (multi-page .tif) and offer largely unusable text output, which I think they intend to use as a "search" tool. In my opinion, this outdated format makes it very difficult for people to view documents and use them for any research purposes."
However, there are also enough mysterious stories there.
Thousands of files were uploaded in the first 24 hours after release, Greenwald said. Some documents are crisp and clear, while others are almost impossible to decipher.
According to Greenwald, one of the most interesting documents in this article relates to the fact that the Assistant Deputy Director of Science and Technology passed on some serious information about UFOs to the CIA back in the 1970s. After that, it became extremely difficult to obtain information from the government about extraterrestrial phenomena.
The release of the documents comes six months before the UFO report to be released by the US government. This means that the revelations are not made at this time randomly.
In particular, intelligence experts have 180 days to formulate an official report on signs or secret aircraft near US military bases, which will be released later.
Greenwald posts the files in the Black Vault, as he claims that publishing the files is a matter of public interest and notes that citizens have a right to know.
"The public has a right to know!" Greenwald says. "When I started my research almost 25 years ago, at the age of 15, I knew there was something about this topic. Not from viral online pranks, not from secret meetings with insiders that no one has ever seen. No, this is all UFO evidence straight from the CIA and NSA. I feel like I've almost achieved what I set out to do – give people easy access to important material so that people can form their own opinion about what's going on."
The aliens are already among us.