Have UFOs been spotted above the Jersey Shore?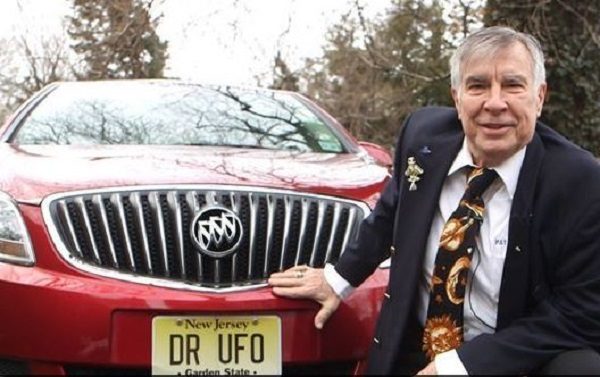 © Brian Johnston
Pat Marcatillio, aka Dr. UFO is the president and founder of the New Jersey/Pennsylvania UFO Paranormal Study Group.
Erik Larsen and Dan Radel
Asbury Park Press
What exactly was that in the night sky over Wall Township on St. Patrick's Day?
Was it a UFO, or was it something else?
Jeff Wallace, 43, of Wall, would sure like to know. He was driving to pick up his stepdaughter from the Quick Chek on Belmar Boulevard that Saturday night, when he observed three lights in a triangular pattern "moving very slowly" across the sky.
He stopped his vehicle and took several photos of the lights with the camera on his smartphone. The photos are dark; but a triangle of lights is faintly visible.
The Air Force, which commands Joint Base McGuire-Dix-Lakehurst, about 30 miles from Wall as the crow flies (or UFO), looked at the photos; it doesn't know what it was either.
"There's not enough from the photos … we weren't able to tell," said U.S. Air Force Staff Sgt. Lauren Russell, a spokeswoman for the Joint Base, after copies of the photos were circulated by personnel there.
And with that, Wallace joins the thousands of other New Jerseyans who say they have seen a UFO in the sky, without knowing for sure what they saw. The National UFO Reporting Center says on its website that it has received nearly 2,200 reports of UFO sightings in New Jersey, with the first one reported back in 1930. MUFON – the acronym for the nonprofit Mutual Unidentified Flying Object Network – says there were eight sightings, not including Wallace's, just in March.
Interest in UFOs has been on the rise of late, with more videos of UFO sightings from Navy pilots being declassified. One of the more recent included Navy pilots being amazed by what a UFO could do as they trailed it flying over the Eastern Seaboard in 2015.
What's out there?
On Feb. 26, a person reported seeing a 40-foot-long, disk-like craft with rows of red and white alternating lights hovering over the trees in Jackson, according to a report filed with the National UFO Reporting Center. The center also had two reports from Tinton Falls, one on Dec. 28 – a rapidly falling white-blue light – and another on Jan. 10, with a report of a black, oval-shaped craft.
Of the eight cases of UFO sightings over New Jersey in March reported to MUFON, spokesman Roger Marsh said two of the sightings involved triangular-shaped objects similar to what Wallace saw in Wall: One in Egg Harbor Township three days before the Wall incident, on March 14, and another over North Brunswick five days later, on March 22, Marsh said.
MUFON, which has been in existence since 1969, is a national organization of civilians that includes scientists, retired military personnel, aviation experts and ordinary people who have witnessed things they simply can't explain. The network catalogs and tracks cases of alleged UFO sightings on a daily basis from across the globe.
Michael Schratt, a military aerospace historian with MUFON, said he is convinced that about 95 percent of the "triangles" reported by eyewitnesses, are in fact man-made aircraft. The remaining 5 percent – unknown.
© Brian Johnston
Major George Filer III is the eastern regional director of MUFON.
"The primary focus of my research deals with 'black budget' classified aircraft built and test flown by the U.S. military-industrial complex," Schratt said. "Specifically, aircraft produced by manufacturing facilities along the West Coast – aka 'Aerospace Alley.'"
Schratt said he has come to believe this is the case after spending the past 35 years interviewing engineers, test pilots and contractors who have worked in what he refers to as the "black world."
Indeed, most UFOs that people see with any detail tend to be isosceles triangles – much like stealth airplanes. In many reports, the craft are reported to be moving slowly – too slow for commercial aircraft – and utterly silent.
The New York Times first reported in December about a mysterious $22 million Pentagon program tracking UFOs called the Advanced Aerospace Threat Identification Program.
At the same time as the story was published in The Times, the Defense Department declassified two videos from 2004 off the Southern California coast that were recorded by cameras aboard U.S. Navy fighter jets, which included the simultaneous audio of the radio communications between the pilots.
Pilots David Fravor and Jim Slaight, who were flying in F/A-18F Super Hornets, had described seeing an oval-shaped object hovering above the sea below them, USA Today reported.
When they flew lower to have a look at it, Fravor said, "it accelerated like nothing I've seen before," they told the newspaper.
Fravor told USA Today he was mystified by what he saw in the 2004 incident: "It had no (exhaust) plumes, wings or rotors and outran our F-18s. I want to fly one."
After that third video of UFOs over the Eastern Seaboard was released, The Washington Post published an opinion piece titled, "The military keeps encountering UFOs. Why doesn't the Pentagon care?" which was penned by Christopher Mellon, who served as deputy assistant secretary of defense for intelligence in the Bill Clinton and George W. Bush administrations.
"The videos, along with observations by pilots and radar operators, appear to provide evidence of the existence of aircraft far superior to anything possessed by the United States or its allies," Mellon wrote in The Post. "Defense Department officials who analyze the relevant intelligence confirm more than a dozen such incidents off the East Coast alone since 2015. In another recent case, the Air Force launched F-15 fighters last October in a failed attempt to intercept an unidentified high-speed aircraft looping over the Pacific Northwest."
But not everyone believes the videos are all that compelling.
Robert Sheaffer, author of "Bad UFOs: Critical Thinking About UFO Claims" and operator of the website "The Debunker's Domain," is a self-avowed skeptic.
"They have only released two very blurry infrared videos of objects that appear to be distant jets, without sufficient information to do a really good analysis of them," Sheaffer told Space.com for a Jan. 9 article. "So, ultimately, all you have are a few UFO believers in and outside government who were able to get away with funneling a few million Pentagon dollars to themselves for UFO research, and have very little to show for it."
'The truth is out there'
Ret. Air Force Major George Filer III, 82, who serves as the New Jersey director of MUFON, is one of the believers. As a former flight and intelligence officer with a 20-year service record, he said he has personally witnessed some pretty bizarre phenomena. He asserted that he knows firsthand that four-star generals and admirals are briefed regularly about "anomalous aerial vehicles."
When Filer was stationed in Great Britain and assigned to an air tanker unit at the height of the Cold War, he recalls flying aboard a military aircraft over Scotland that attempted to intercept such an object that appeared as big as a bridge on radar.
"When we got closer, we could see lights off in the distance – kind of like a cruise ship you would see at night, with multiple lights across it," he said. "As we got, I don't know, about 5 miles from it – it went up into space. And we were doing over 400 (miles per hour) and I would say it was doing 10, 20 times our speed and it was this huge object. So we were convinced that it was something that was not ours, let's put it that way. … To me, it looked like a long cylinder."
Filer doesn't know who or what is piloting these vehicles, but he has his own theories. If they are visitors from another world, that they may be using the world's oceans to conceal themselves from detection – which is why there are so many sightings near water, he postulates.
Ufology, the study of UFOs, attracts people from all walks of life. But because of the social stigma associated with seeing a UFO and the assumption that UFO means "alien spaceship," when it simply means that something is simply unidentified, most people won't even discuss their experiences unless someone first shares their own, Filer said.
In fact, Filer believes that many more people have seen UFOs than have not – but because of fears about being labeled a kook, they keep such accounts mainly to family and close friends.
The ridicule factor has been quite effective in silencing people, Filer said.
One colorful character from Mercer County, who embraces the eccentricity of this subculture is Pat Marcattilio, 75 – who goes by the nickname "Dr. UFO," which is also emblazoned across his personalized license plates.
Marcattilio, of Hamilton, is the founder of the New Jersey/Pennsylvania UFO Paranormal Study Group. Since 1984, the group has met monthly at the Hamilton Township Free Public Library to share their interest in the subject.
"I was coming home from Atlantic City with a bunch of guys in my car and the State Police pulled me over at Columbus," Marcattilio said. "So I pulled over and (the trooper) walks up to me and said, 'Hey, I gotta tell you my UFO story.'"
Marcattilio believes that the government is not only aware of the existence of extraterrestrial life, but is in fact concealing such evidence from the public. Why? To avoid the same mass hysteria that occurred not far from his home 80 years ago this October – when some Americans listening to their radios became convinced that Martians were invading Grover's Mill during a performance of "The War of the Worlds" led by Orson Welles.
"I think we've gone way beyond that, we accept them, I believe," he said. "I think it's time for them to be real and for the government to say that we have galactic neighbors and they're visiting us."
Back in Wall, Wallace doesn't know what he snapped a photo of on that night one month ago, when he said the sky was "clear enough to see stars."
Wallace was about a quarter-mile from Camp Evans, a former signal laboratory for the U.S. War Department, when he first spotted the object. The site witnessed a milestone in scientific history on Jan. 10, 1946, when Signal Corps scientists used a radar antenna to bounce radio signals off the moon.
"I guess you could call me a star gazer. I'm pretty observant of my surroundings," Wallace said. "I've been skeptical about UFOs my whole life, but the lights could have been a UFO. They started moving erratically in a pattern that was not like a plane."
Wallace said he observed a meteor once, but this wasn't like any meteor he ever saw. He noted that he had never seen a light pattern like the one he witnessed on March 17.
Then, after he took the photos, whatever it was just vanished.
US special forces engaged in combat with aliens during the Vietnam war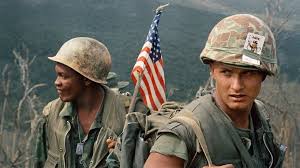 This incident happened in early 1972 during the Vietnam War. A US Special Forces group was secretly delivered at night and parachuted in an area on the Cambodia-North Vietnamese border.
The operation was vital: to destroy a facility in North Vietnam, which, as it was possible to establish by American intelligence, was secretly overhearing top secret conversations of the US Army in South Vietnam.
The SWAT team set up camp for the night, preparing to assault the North Vietnamese team at dawn. In the early morning, the commandos quietly crept up to the Vietnamese base, but what they saw there shocked and frightened them.
As the team got closer to the location of the North Vietnamese unit, they suddenly discovered that there was a large spherical ship that stood on three sturdy metal supports.
The ship suddenly began to hum, causing instant sickness, dizziness, and disorientation in the US military.
The group leader was about to issue a command to retreat when a group of strange looking humanoid creatures appeared.
Not believing what they saw, the special forces group was even more frightened by what these creatures were doing (according to the description of the soldiers, taking into account modern data based on numerous contacts, it can be assumed that they were "gray"): the aliens got out of a large pile various parts of human bodies and placed them in large containers – arms, legs, torso, heads; this terrible list went on and on.
Some were the remains of white people, others were black (US Army soldiers), and others looked like Vietnamese (Vietnamese soldiers from the base).
What they saw sobered and angered the special forces and the commander gave the order to open fire – the bullets hit the bodies of the creatures, but they did not do any harm, except for one who was killed by a shot in the head.
Several commandos were killed, and others were seriously injured by the effects of unknown weapons. Then the aliens quickly retreated into the ship and he quickly rushed into the sky,
Soon, another CIA team appeared on the scene, as one of the survivors said they were all given some kind of mind-altering drugs to try to make them forget about this incredible fight. And it worked, at least for a while.
However, in the late 1980s, two members of the special forces team who took part in that battle began to have nightmarish memories of the events of April 1972, which prompted one of them to contact many other special forces who were found and who were still alive.
Two had already died, three were not found at all, but the rest were able to meet in August 1988 and decided that this story should be told.
They turned to researcher and ufologist Leonard Stringfield and he published their story in his 1991 book.
The story is told in Stringfield's UFO Crash Retrievals: The Inner Sanctum. 
UK UFO case to be kept secret until 2072
The UK Department of Defense has blocked the planned release of a dossier detailing the famous UFO incident.
Back in August 1990, two tourists walking in the Scottish Highlands near Calvine, Pitlochry, witnessed a strange rhombic object hovering over the nearby landscape.
They managed to take pictures of the UFO before it flew away at significant speed.
Eager to share what they saw, the couple contacted the Scottish Daily Record and shared both their story and the photos they took.
Then the journalists shared the pictures with the UK Department of Defense.
It turned out that the tourists weren't the only ones who saw the object – the pilot of the RAF Harrier jet also witnessed the phenomenon – again near Calvine – after being forced to investigate this UFO.
Military intelligence officers sent these images to JARIC, which is the Joint Air Intelligence and Reconnaissance Center.
It is the UK's military center of excellence when it comes to image analysis. These intelligence officers concluded that these photographs were real and that no one had the slightest idea what they were.
Thirty years later, the dossier of the Ministry of Defense, including photographs, was scheduled for declassification and publication, which is typical of such documents.
However, the release has now been postponed for another 50 years for unknown reasons.
According to the 30-year rule, the file was supposed to be released on January 1, 2021, but if the ministry gets it, it won't be released until January 1, 2072 – an 82-year closure.
"By the time the world gets to see the file, the two witnesses will be dead. It is crazy. What are the authorities trying to hide?"
A complaint lodged under the Freedom of Information Act about the National Archives withholding the documents is now under investigation by the UK information watchdog, the Information Commissioner's Office.
The National Archives refused to comment further. The MOD refused to comment at all.
What are the authorities trying to hide?
FBI decrypted documents confirm that there are giant aliens
The topic of aliens has always attracted attention. Recently, foreign media disclosed that a declassified document released by the Federal Bureau of Investigation (FBI) once again confirmed the existence of UFOs and aliens.
FBI Declassified Document: Describes UFO and Aliens
The British "Daily Star" reported that earlier this year, the FBI released the decrypted documents in 1947. The 70-page decrypted report contained a "Memorandum 6751". The person who wrote the report was an anonymous university professor.
"Memorandum 6751″ mentioned that there were flying saucers, unidentified creatures, and " giant aliens resembling humans ".
The report stated that these aliens are like humans, "but larger in size. They are not from any planet known to people, but from the etheric." "Ether" is a term used in ancient Greece, generally referring to the atmosphere or sky.
There is also a description of the flying saucer in the decryption report, which refers to the fact that most of the flying saucers are loaded with alien creatures. The flying saucers have powerful radiation, are very fast, and have powerful attack capabilities.
"These flying saucers have a kind of radiant energy or light that can easily disintegrate any spacecraft that launches an attack. They can re-enter (earth) from the ether at will, or they can simply disappear from our sight without leaving a trace."
The report states, "If one of these (flying saucers) is attacked, the attacking aircraft will almost certainly be destroyed. As far as the general public is concerned, this may lead to proximity panic and international suspicion."
Tesla is a " Venusian "
In recent years, due to the expiration of the confidentiality period, the FBI has published many decrypted documents on its official website, including one about the famous inventor Nicholas. Tesla (Nikola Tesla) declassified documents, caused a public heat. The document mentioned that Tesla came from "Venus" and was an "alien".
The decrypted document is called "Nikola Tesla Part03 of03". It is the third document about Nikola Tesla decrypted by the FBI. It has 64 pages of content, some of which are blacked out and cannot be distinguished.
The remaining content that is not blacked out contains the following passage: "The people of the universe have contacted Nikola Tesla many times and told the FBI that Tesla was from Venus. Tesla was brought to the earth in 1856 to a Yugoslav couple to raise."
The publication of this document shocked the world. Faced with a wave of discussions and doubts from netizens, the FBI did not make any response or explanation, which is even more curious.
F-18 fighters chase UFO
"The Wall Street Journal" recently reported that the non-profit organization "National UFO Reporting Center" data shows that so far this year, UFO sightings have increased by 51% over the same period last year. The center has received approximately 5,000 sightings reported.
On September 8, the United States retired Lieutenant Colonel David. David Fravor accepted the Massachusetts Institute of Technology scientist Rex. In a live webcast interview with Lex Fridman, he talked about the bizarre experience of driving an F-18 fighter jet to chase UFOs 16 years ago.
On November 14, 2004, a UFO was found in the waters of San Diego, California, and Frevo piloted an F-18 fighter to investigate. Both he and the pilot of the other fighter saw a white Tic Tac mint-shaped flying object.
Subsequently, the pilot Chad Underwood flew an F-18 fighter jet, caught UFO on the radar, and successfully filmed UFO video with an infrared camera.
In April this year, the Pentagon released three videos of UFOs, one of which was taken by Underwood during this operation.
12 U.S. soldiers live on alien planets
Former Minister of Defense of Canada Paul. Paul T. Hellyer once disclosed that there are aliens living on the earth and working for the US government. Many US presidents have also admitted the existence of aliens on different occasions.
In addition, some U.S. military personnel disclosed that a top-secret exchange between the U.S. military and aliens was named "Operation Zeta," and an alien envoy came to the United States. In July 1965, 12 American soldiers secretly boarded an alien spacecraft to the planet Zeta.
Of these 12 people, 4 never returned to Earth. Of these 4 people, 2 died, 2 chose to stay on Zeta, and the remaining 8 returned to Earth 13 years later.