Haunted Eddy Brothers House: Séances and Bizarre Phenomena
In 1874, uncanny events were happening in the home of William and Horatio Eddy, two middle-aged illiterate brothers, and their sister, Mary.
According to newspaper and Spiritualist accounts in 1874, mysterious incidents were happening in a small Vermont farmhouse near Chittenden where the Eddy's lived. They resided in a two-story building that was reported to be infested with supernatural entities.
People came from all over the world to experience them in the house that Spiritualists dubbed the "Spirit Capital of the Universe." Prominent attorney Henry Steel Olcott was a skeptic until he experienced the paranormal incidents.
The Eddy Brothers' Early Years
William and Horatio were descended from a long line of psychics. Mary Bradbury, a distant relative, was convicted of witchcraft in Salem in 1692. Their grandmother had second sight and often went into trances and spoke to entities that no one else saw.
Their mother, Julia, was known for scaring neighbors with predictions and visions although her husband, Zepaniah, condemned her powers as the work of the Devil. She learned to hide her gifts from the cruel and abusive man.
When the couple had children, strange poundings began shaking the house, disembodied voices were heard in empty rooms, and, allegedly, babies vanished from their cribs. They were discovered in the house and outside.
As William and Horatio grew older, their paranormal powers strengthened. Zepaniah beat them with a rawhide whip. He tried everything he could to stop the paranormal incidents by abusing them. The events continued. He doused the boys with boiling water, on the advice of a "Christian" friend.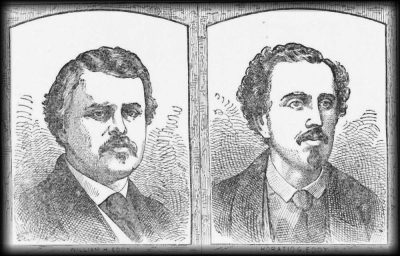 When this didn't work, he allowed this friend to drop a hot coal into William's hand to exorcize the devils. When he realized that he couldn't stop them, he was furious.
The boys couldn't attend school. The strange events, including invisible hands throwing books, levitating desks and objects flying about the room, kept happening.
Zepaniah realized they had money-making potential, so he sold them to a traveling showman, who, for the next fourteen years, took them all over America, Canada and Europe. He challenged audience members to try to awaken the boys from their trances, as part of their performance.
The Eddy's were locked into small wooden boxes to see if they could escape. Hot wax was poured into their mouths to see if they could produce spirit voices when they were unable to talk. Skeptics poked, prodded and punched the entranced brothers. On several occasions, they were stoned and shot at by angry crowds.
The brothers moved home after their father died. They and Mary opened the farmhouse as an inn, the Green Tavern.
Eddy Brothers' Validity Challenged
Were they genuine or a hoax? Henry Steel Olcott challenged the authenticity of the events at Eddy House. He had no interest in the paranormal before he read about the brothers in the Spiritualist newspaper, the Banner of Light. Although skeptical, he knew that if the stories were true, they were important in physical science.
Olcott traveled to Vermont, accompanied by newspaper artist Alfred Kappes. They planned to investigate the weird events in the Eddy farmhouse. If the stories were a hoax, they would expose the Eddy's in the Daily Graphic newspaper as charlatans. If they were genuine, Olcott would confirm the validity of Spiritualism. He was determined to be fair and unbiased.
Olcott's first impression was that the brothers were belligerent and unfriendly. They weren't the scamsters he expected. He attended an outdoor séance. A group of ten participants gathered in front of Honto's Cave, named in honor of the Native American spirit who often appeared there. Olcott investigated the cave and found no other egress. Horatio was the medium for the séance.
He sat on a stool in the cave's opening and was draped in a makeshift spirit cabinet formed by shawls and branches. As Horatio sat there, a gigantic man, in AmerIndian clothing emerged from the cave. While Horatio spoke to the spirit, someone cried and pointed toward the top of the cave.
There was another enormous AmerIndian. A spectral female materialized on a ledge. Ten specters appeared during the séance. After the séance ended, Olcott and Kappes carefully searched the cave and the surrounding area for footprints. They found none. Olcott found the séance convincing but wanted to try to detect fraud in the farmhouse.
Kappes and he carefully examined the large séance room. Olcott drew maps, charts and diagrams and took numerous measurements because he was sure he would find false panels, secret doors and/or hidden passages. He found nothing. He convinced the newspaper to hire experts to examine the house. Carpenters and engineers were the consultants. They found nothing unusual.
Eddy Brothers' Validity Established
Each séance was basically the same. Guests sat on wooden benches in the room. A platform was lit by a kerosene lamp, in a barrel. William, the primary medium, got on the platform and entered a small cabinet. Soft voices whispered in the distance.
Often, it was singing, accompanied by phantom music. Musical instruments soared over the heads of the audience, disembodied hands appeared, waving and touching spectators, odd lights and unexplained noises appeared. The first spirit emerged from the cabinet. They materialized, alone or in groups. Some seemed solid; others, transparent and otherworldly.
Olcott examined the spirit cabinet and platform and found no trap doors or hidden passages. There was no room in the cabinet for anyone other than the medium. Olcott was familiar with the work of stage magicians and fake mediums, but couldn't find any of their trickery in the Eddy house.
The apparitions sang and chatted with the sitters. Phenomena included rappings, moving physical items, spirit paintings, automatic writing, prophecies and levitations.
Olcott concluded that such a show would have required actors, costumes and would have cost a fortune. The brothers were nearly penniless. Olcott believed that fraud would have been physically and financially impossible.
Olcott documented the paranormal events in the newspaper and wrote a book, People from Other Worlds. The book contains meticulous drawings of the apparitions, the grounds, the house and blueprints of its construction that proved there were no hidden passages.
He collected hundreds of affidavits and testimonies to the events and reproduced dozens of statements from respected tradesmen and carpenters who examined the house for trickery.
The Eddy Brothers: Post Script
The Eddy brothers and Mary went their separate ways. Horatio died on September 8, 1922; William on October 25, 1932. Some people are inclined to dismiss the events as fiction; however Olcott's extensive documentation and investigations imply the events weren't a hoax.
He was skeptical and analytical during his ten-week stay at the farmhouse and he became a believer.
Sources: Dennis William Hauck, Haunted Places, Penguin Books, 2002., Rosemary Ellen Guiley, The Encyclopedia of Ghosts and Spirits, FactsOnFile, 1992., Troy Taylor, "The Strange Mystery of the Eddy Brothers," www.prairieghosts.com/eddy.html Accessed on October 20, 2011. By Jill Stefko
Top Japanese urban legends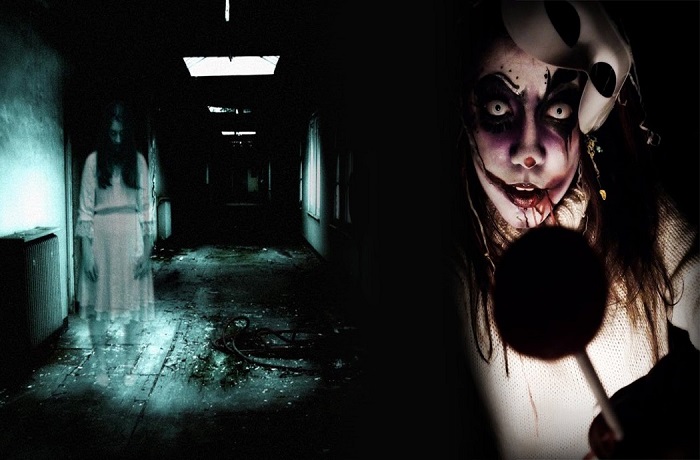 Japan is a distant and mysterious island. Before becoming a country full of buildings and businessmen, it was the land of samurai, martial arts and … urban legends.
An urban legend is a modern form of folklore, a story that is sometimes considered true, but not always, by its narrator. These legends are part of the collective memory. Obviously, despite its name, an urban legend does not necessarily take place in an urban area. The term is just used to differentiate modern history from ancient.
Japanese people are fond of urban legends and they have countless, here aew the most creepy Japanese urban legends. It's up to you if you are still ready to visit Japan after reading this.
1) Kuchisake-onna, the woman with the split mouth
During the Heian era (794-1185) there lived a very beautiful woman, wife of a very jealous samurai. But she was also not very loyal. The samurai ends up discovering the multiple deceptions of his wife. Dishonored and betrayed, he decided to kill her by slitting her mouth with commissures up to both ears, while yelling at her "Who will find you beautiful now?".
Today, it is said that the woman with the split mouth appears at night with a surgical mask to hide her "smile" and a long pair of scissors. When she meets a man, she asks him the question "Am I beautiful?". If he answers no, he is killed immediately. If he answers yes, she then removes her mask and asks "Even like that?". Answering no again means death. If the man says yes, she follows him to his home before killing him outside the door. The only way to escape her is to tell her that she is an ordinary woman, neither beautiful nor ugly.
2) Inunaki village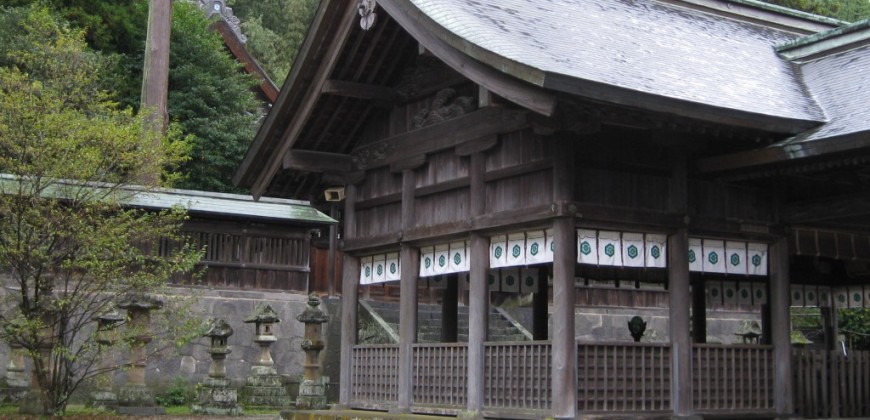 It's a mysterious village somewhere in Japan. At the entrance to the village, there would be a sign saying "the constitutional laws of Japan do not apply here". Residents of the village would live in quite a special way since incest, cannibalism and murder would be rampant there.
For unknown reasons, electronic devices would not work in the village. Everyone who has been there has never returned.
3) The O-kiku Ningyou doll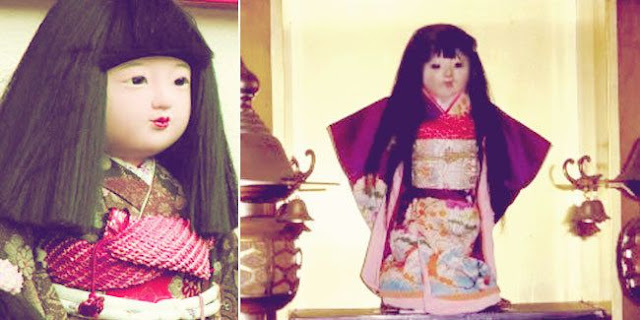 This doll belonged to a 3-year-old girl who died of illness in 1918. The family moved later and, not knowing what to do with the doll, they asked the Mannenji monastery to take care of it because it was a toy their little girl's fetish. Later, one of the monks was told that the doll's hair had grown longer. After verification, they had indeed grown!
The monk therefore decided to cut the doll's hair, but it became even longer. The hair was then analyzed and is believed to be of human origin! The doll would therefore contain the little girl's soul, and she would sometimes smile. Each year, a ceremony is held in honor of the girl, and the doll's hair is cut.
4) Hitobashira
The word Hitobashira means "human pillars". In the 17th century, it was customary in Japan to bury living people in the foundations or pillars of buildings. These sacrifices were to please the gods, who then blessed the buildings and ensured them a longer life.
But suddenly, the buildings in question would still be haunted by the spirits of the poor buggers who were buried.
5) The Kiyotaki tunnel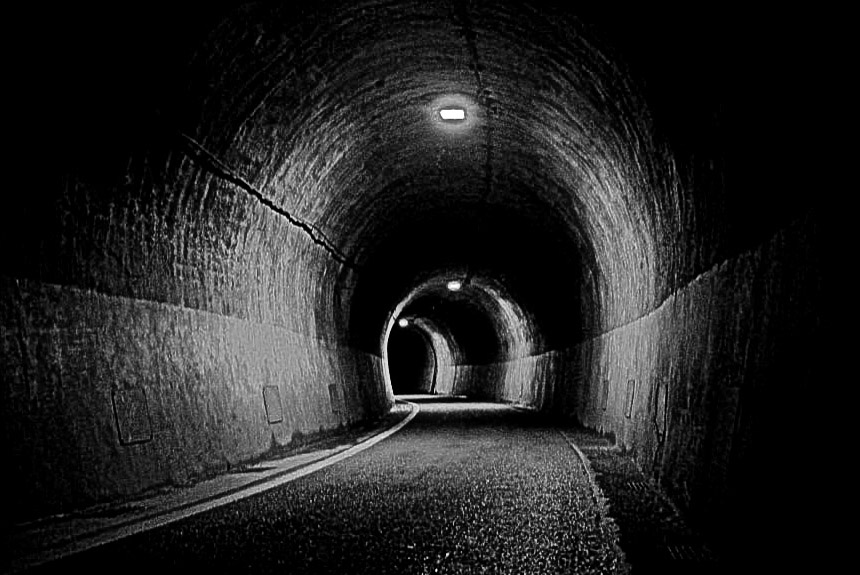 This tunnel, built in 1927, is said to be haunted by the spirits of workers who died during its construction, which took place in conditions close to slavery. The tunnel is 444 meters long, which makes it cursed since the number 4 is somewhat the equivalent of the number 13 in our country, its pronunciation being the same as the word "dead".
The ghosts of the tunnel would enter your car to scare you, causing an accident. Each new victim would be trapped in the tunnel, adding to the number of spirits. A mirror would also be placed in the tunnel. If you see a ghost looking inside, you die in excruciating pain.
And to add a layer, the length of the tunnel would change depending on the time of day!
A retired policeman spoke about how he saw a winged man in his childhood
In December 2019, the 60-year-old David Ramos, a former Chicago policeman who is now retired, contacted The Singular Fortean Society. Ramos worked in the Chicago police from 1994 to 2009, and in 1971, when he was 12 years old, he saw with his own eyes a winged humanoid creature.
"When I was a kid and I was 12 years old, we lived in the old Park Riverview Park area. A local company of teenagers usually played on the north bank of the Chicago River. That day, some of the boys had fun throwing pieces of rubble concrete into the water and competing who would make the biggest splash. I was further from the river as I didn't like being too close to the water.
At one point, I looked northward and i swear I saw there a skinny and very tall man dressed in something very black. He was about 200 feet (60 meters) from me. This man looked in my direction, and then threw up his arms, spreading his wings, and then he ran, flapped these wings and disappeared among the trees on the river bank. I looked at it, completely dumbfounded.
Then I stood up and ran to the other guys and began to ask them "Have you seen this guy?" I was not sure what I saw, I did not know what it was, maybe someone was involved in practical jokes or something like that. By the way, there always was something very creepy in that place by the river, spooky by the river, even in broad daylight. I tried to explain but [my friends] told me to shut up and didn't pay any attention to me, [since] I was smaller and younger than them

I am now 60 years old, I am a retired policeman and live in Florida. I had never told anyone about what I saw before, and I am writing to you because I stumbled upon your article (about the MothMan) now.

That event shocked me greatly, I felt somehow very angry and immediately wanted to get home almost as soon as possible. I remember trying to look at his face when he looked at me and it seemed to me scary, like a mask for Halloween. This face was not like the face of a man, he had big eyes and this is probably all of the details that I remember.

I am still scared by this memory and I know that Mothman is usually considered a harbinger of tragedy. I tried to remember what bad things happened shortly after this incident. I just remembered that one of the older boys that we were with that day shot and killed a rival gang member shortly after that sighting. He was 16 at the time and went to jail at 17 for at least five years for murder.
Researcher Tobias Weiland of The Singular Fortean Society contacted David Ramos on the telephone and learned learned from him some more details of that event.
"It was an autumn day, an ordinary gray day in Chicago, but it was still daytime. The figure I saw had something like a black cloak, but in general it resembled a very tall man in a cloak and a hood. I could see his large eyes, which from afar they looked like huge yellowish-red glasses.

When he threw up his arms and spread his wings, these wings were just huge in size! He managed to take a few steps and flap his wings before hiding behind the trees. I never came to this place when I was a child, but I know that back then a service station was built there. When I worked as a policeman and drove in there to check a car, I always remembered that day and I was very scared. "
The place where Ramos saw a flying humanoid with reddish-yellow eyes is just a few miles from Lake Michigan. Starting from 2017, at least several dozens of reports came from this area about sightings of a strange black winged creature that looked like either a huge owl or a person with wings.
Most often, this creature was seen near water and in parks. Researchers of anomalous phenomena can still only speculate on what all these people saw. Either some rare huge bird, or really something paranormal.
This story began in 1970 in Australia in the small town of Wagga-Wagga. A man named Carrie Walton arrived there for the funeral of his grandmother.
As a child, he often visited his grandma and loved to play in the yard. There, like all children, the first joys and first fears awaited him. Carrie's fear was a neighboring abandoned house. It seemed somehow ominous, the boy thought that ghosts lived there.
And so, the man decided to look into the eyes of his childhood fears and inspect the abandoned dilapidated house. Of course, this time, after many years, the house turned out to be quite a common wreck. Already at the exit from the building, where he did not find anything unusual, the man looked under the porch and found something that changed his life.
It was an old doll, a dwarf in a faded green camisole with a grin on her face. Having a huge nose and large glass eyes, she looked frightening. Carrie still, decided to take the doll, because it looked old, it could be expensive. He gave her the name Letta and took her home.
Walton's family took the doll hostilely. Dogs entered by barking at the sight of her, his daughters said that the doll was moving and were afraid to be near her. Without exception, all the neighboring households near the doll began to feel bad.
Carrie tried to sell it more than once, but even when everything was already agreed, the deal fell off at the last moment. He realized that the doll was related to otherworldly forces and decided to show it to a psychic. The medium said that this doll is about two hundred years old and there is a human soul in it, which a Romanian gypsy placed in it. Actually, Letta has human hair and there is a piece of human skin on the doll's head.
Since Carry could not get rid of the doll in any way, he decided to establish a relationship with her. Moreover, when this story became known, they began to invite him to various shows on TV, which allowed the family to have some income.
Since then, the man and the doll have found a way to coexist and live together. Carry jokingly calls her "a doll from hell."