Haunted by trauma, tsunami survivors in Japan turn to exorcists
HIGASHI-MATSUSHIMA: The tsunami that engulfed northeastern Japan two years ago has left some survivors believing they are seeing ghosts.
In a society wary of admitting to mental problems, many are turning to exorcists for help.
Tales of spectral figures lined up at shops where now there is only rubble are what psychiatrists say is a reaction to fear after the March 11, 2011, the disaster in which nearly 19,000 people were killed.
"The places where people say they see ghosts are largely those areas completely swept away by the tsunami," said Keizo Hara, a psychiatrist in the city of Ishinomaki, one of the areas worst-hit by the waves touched off by an offshore earthquake.
"We think phenomena like ghost sightings are perhaps a mental projection of the terror and worries associated with those places."
Hara said post-traumatic stress disorder (PTSD) might only now be emerging in many people, and the country could be facing a wave of stress-related problems.
"It will take time for PTSD to emerge for many people in temporary housing for whom nothing has changed since the quake," he said.
Shinichi Yamada escaped the waves that destroyed his home and later salvaged two Buddhist statues from the wreckage. But when he brought them back to the temporary housing where he lived, he said strange things began to happen.
His two children suddenly got sick and an inexplicable chill seemed to follow the family through the house, he said.
"A couple of times when I was lying in bed, I felt something walking across me, stepping across my chest," Yamada told Reuters.
Yuko Sugimoto and her son Raito pray at the site where their pet dog was buried in the yard of their house in Ishinomaki. —Photo (File) Reuters
Many people in Japan hold on to ancient superstitions despite its ultra-modern image. Yamada, like many other people in the area, turned to exorcist Kansho Aizawa for help.
Aizawa, 56, dressed in a black sweater and trousers and with dangling pearl earrings, said in an interview in her home that she had seen numerous ghosts.
"There are headless ghosts, and some missing hands or legs. Others are completely cut in half," she said. "People were killed in so many different ways during the disaster and they were left like that in limbo. So it takes a heavy toll on us, we see them as they were when they died."
In some places destroyed by the tsunami, people have reported seeing ghostly apparitions queuing outside supermarkets which are now only rubble. Taxi drivers said they avoided the worst-hit districts for fear of picking up phantom passengers.
"At first, people came here wanting to find the bodies of their family members. Then they wanted to find out exactly how that person died, and if their spirit was at peace," Aizawa said.
As time passed, people's requests changed.
"They've started wanting to transmit their own messages to the dead," Aizawa said.
Shinichi Yamada said life had improved since he put the two Buddhist statues in a shrine and prayed. He still believes the statues are haunted, but now thinks their spirits are at peace.
TV Show Ghost Nation captured apparition of legs walking across stairs
If you have been watching and keeping up to date with new TV show Ghost Nation on Travel Channel then you have more than like seen the episode 'Ghosts From the Battlefield'.
Jason, Steve and Tango investigate a property just outside of Gettysburg, Pennsylvania. The owners of the property claim of having possessed mannequins and seeing apparitions.
They believe that the property is being haunted by civil war soldiers from the battle of Gettysburg. One such apparition is a white figure seen on the steps.
During the investigation the Ghost Nation team captured an apparition of legs walking across the stairs where the white figure was seen.
Could this be some of the most compelling evidence of ghosts?
Jason Hawes believes it to be a residual type haunt rather than an intelligent type.
I thought this would have made more news than it has done, nothing much has been said about the episode or what they captured.
I wanted to post about this to get your opinion on the footage.
What do you think of it? Is it a genuine apparition?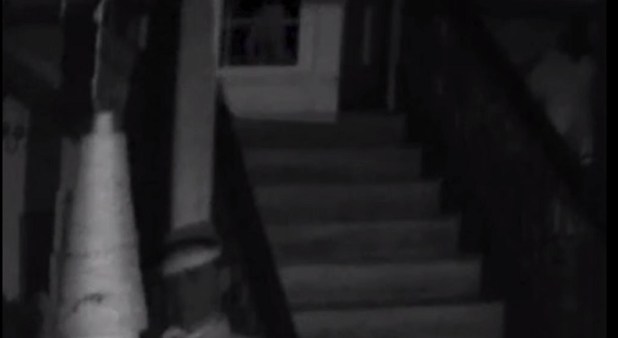 Story Of The Ghost Priest Of St. Nicholas Church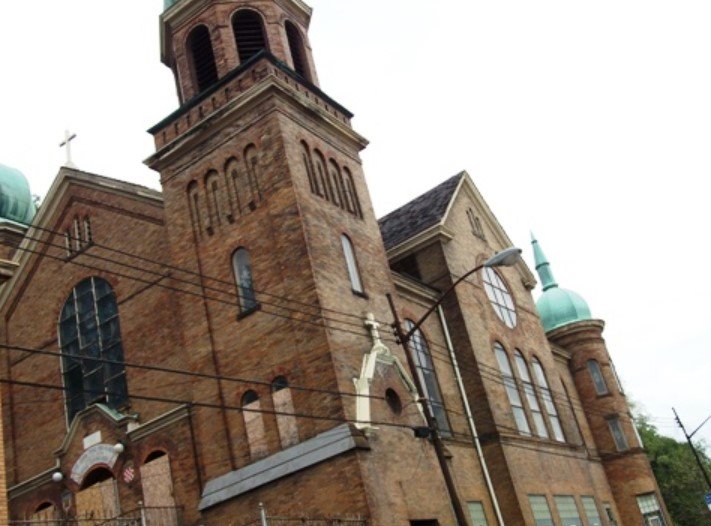 This story, of a ghostly priest in Saint Nicholas Croatian Roman Catholic Church in Millvale PA. is one of Allegheny County's most famous tales.
The story began when an artist was hired in April of 1937 to paint a mural on the walls of the church. On the second night he was there he heard a sudden long sound come from the organ in the back of the church.
On the fourth night, he glanced at the alter below him and there was a figure of a man in black moving and raising his arms and making gestures in the air. The artist assumed it was the priest who hired him to paint the murals and dismissed the incident. Unfortunately, that was not the end of it.
On the eighth night at about midnight, the specter appeared again. This time walking slowly down the main aisle of the church, mumbling rhythmically as if he was "praying". For a while he walked along the aisle, then disappeared.
This time the artist asked the priest if he had been in the church. The father had not – and had been asleep since nine that evening.
The following nights the priest decided to come into the church and stay with the artist until quitting time. The following evening the priest verbally taunted the specter with a summons to appear.
Soon the men heard knocks emanating from the back of the church. Soon after they saw an old man in black sitting in the fourth pew. He was there for a moment – then vanished. That night the priest also reported hearing knocks or clicks in his room.
As the artist continued his work the old man in black appeared again, this time moving down the aisle toward the altar where they saw him blow out the light of the eternal flame. In eight years that light had never been extinguished.
The spector appeared throughout the job-for two months, usually around eleven or twelve midnight. Sometimes he would burn candles on the chandelier in front of the alter.
Local people report that the haunting continues to this day. The current priest of St. Nicholas has said that his German Shepherds jump and bark furiously around something leading to the front door of the church, and always around 11 o'clock. He refuses to enter the church after a certain hour.
It is believed that the spirit of the old priest haunts the church because he stole money from parishioners and neglected priestly duties and has returned to make amends. Whatever the case may be, if you find yourself in Millvale PA, this is one church you may want to avoid.
This Terrifying Haunted House Will Give You $20,000 If You Can Make It to the End — but No One Ever Has (Video)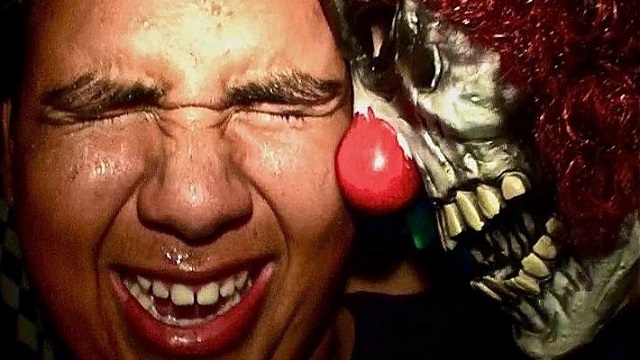 McKamey Manor in Summertown, Tennessee may lay claim to being the world's scariest haunted house. It's so scary that no one has ever completed it — but if you do, you'll win $20,000.
All it costs to enter is a bag of dog food. Russ McKamey, the owner and mastermind behind the manor, has five dogs to feed.
The haunted house has several eye-popping preconditions. Contestants who want to enter must get a letter from their doctor asserting they are physically and mentally fit, and there's a drug test day-of. Signing the 40-page contract alone takes three to four hours. Oh, and you have to have medical insurance because you'll probably get hurt.
"I'm a very straight laced conservative guy, but here I run this crazy haunted house that people think is this torture factory, fetish factory," McKamey told local news WFLA. "All of these things that it's not, but people believe that based upon the films that I have made."
McKamey concocts each "show" for every individual contestant who visits, cooking up particular stunts and tasks suited to their particular fears. It's been featured on the Netflix show Dark Tourism and Haunters: The Art of the Scare.
McKamey is adamant that nothing weird goes on in the manor, despite a report from The Guardian that said visitors may be "bound, masked and held under water, slapped and stomped on, and compelled to eat your own vomit" during the eight-hour tour — if they last that long. McKamey insists it's a more of a "mental game" between him and contestants, which he wins using hypnosis.
Each contestant's entire journey through the manor is filmed, which McKamey says is to protect himself against false accusations.
"When I use the hypnosis I can put you in a kitty pool with a couple inches of water and tell you there's a great white shark in there, and you're gonna think there's a shark in there," he told WFLA. "And so, when you have that kind of power over people, and have them do and see things that you want them to see, then they can leave here thinking it really happened, and they'll go to the authorities and say, 'oh, whatever,' and I have to come back and show the footage and say, 'it didn't go that way at all.'"
There's also a required two-hour video you must watch if you think other people are sissies and you're made of stronger stuff. "And Then There Were None" is one hour and 48 minutes of people giving up the haunted house, telling the camera and future visitors "you really don't want to do this."
If you think you've got what it takes, you can contact McKamey online to set up your own terrifying tour. For something a little less terrifying, here are houses with haunted pasts you can visit without signing away your life.
(Source: Travel And Leisure)