Has an elite cannibal restaurant been discovered in Los Angeles?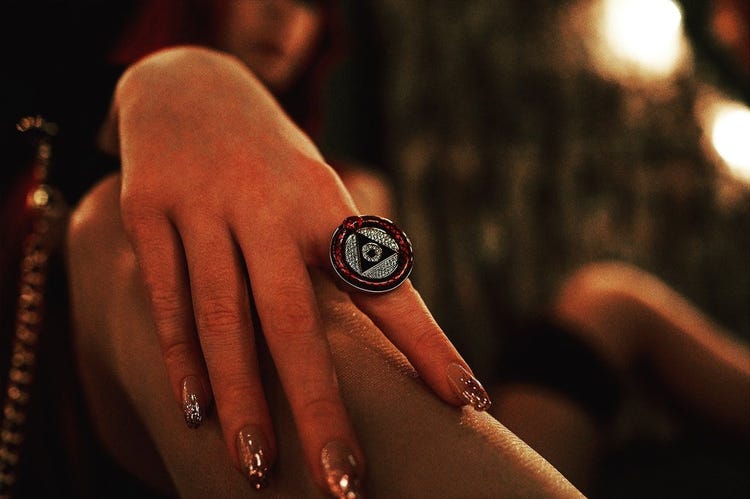 According to slightly shocked Americans, an advertising site for one wonderful super-elite restaurant in Los Angeles, has appeared on the network, which, as it turned out, has been operating since 2015. The institution is called The Hollydale and the advertisement is dedicated to the action of the institution, which is called Cannibal Cravings. The restaurant introduces us to the following:
Established in 2015, The Hollydale is a purveyor of the finest human flesh, harvested fresh from only the most attractive, willing donors, skillfully and reverently prepared by world-class master chefs.
The restaurant and staff are privately owned by Karina Belenoff, daughter of Somerset Belenoff, Countess of Banbury and Arran. Karina sits on the Board of Governors at the World Governing Council in Luxembourg, and she travels frequently to Los Angeles to ensure The Hollydale is always in tip-top shape! An exceptionally talented concert-level pianist, she has been known to deliver a surprise performance from time to time, entertaining guests at the Hollydale's Torso Room.
Due to California's licensing restrictions on the transport of human organs, we cannot allow guests to take food out of the restaurant. All half-eaten food is repackaged and transported by licensed personnel to charitable institutions such as shelters, orphanages and institutions for the elderly.
Sample Restaurant MENU:
Baked Oysters with mushrooms and cream – If you're allergic to shellfish, remember, these don't come from the ocean!
Tasty tongue, slow-cooked overnight with onion, garlic and bay leaves – Chopped and served over a green salad or coupled with fresh, homemade pasta
Hearts afire, braised in sherry and served with onions, peas and carrots
Salted brains Bogota and aged shrimp, topped with caramelized bell pepper jam with peppercorns and assorted fresh vegetables
Tokyo-style kidney pie, with locally-sourced baby carrots, potatoes, onions, and leeks
Irish hammered head cheese, made from whole-skull, beaten with a hammer, boiled in a pot with herbs and vegetables for 8 hours, then strained, pressed, and served piping fresh!
Blood pudding, traditional English-style, with onions, baby carrots, herbs, spices and barley
Fish and finger pie – a Yorkshire favorite! Real lady fingers, slow cooked to tender perfection so the meat literally falls right off the bone (distal, intermediate and proximal phalanges to be more precise!), along with Atlantic cod fried in a light beer batter
French thighs and pomme frites – leg of Frenchman in garlic and rosemary served with our bottomless steak fries, deep fried in freshly-rendered man tallow
Dulce de Leche salted caramel layer cake, made with vanilla bean brown butter glaze, served with heavy whipped cream and French vanilla ice-cream. All dairy ingredients from mother's milk
Restaurant visitor reviews:
Thanks to Karina and Hallidale. The people were amazing, the atmosphere was wonderful and everyone had a great time.
It's not very clear yet – is it such an idiotic advertising campaign of an establishment or is it really there? But even if it's a joke, the joke is weird, similar to the procedure of diluting the brains of the public before accepting the dogma of "normality of cannibalism". Some of the Los Angeles residents discussing the topic promised to take a ride and check what was there and how, and then report on their impressions to the people, so we follow the development of events.
The smallest man in the world died at the age of 27 from pneumonia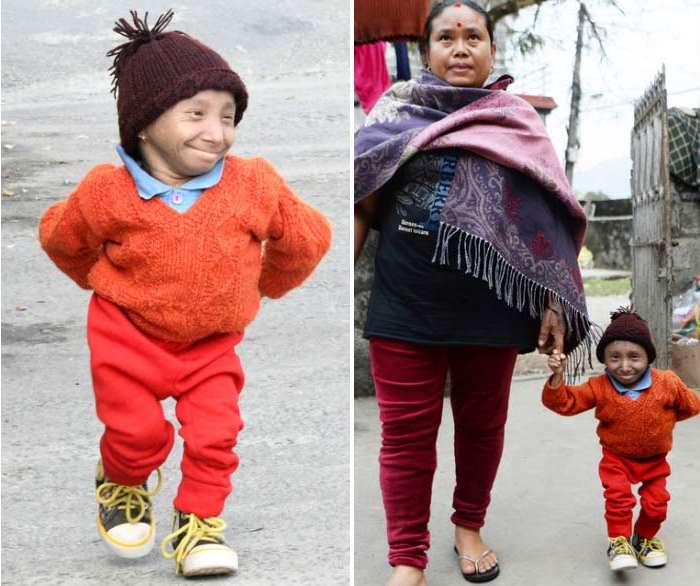 The little Nepalese took part in various television shows, traveled around the world, met with the highest people in the world and enjoyed the attention to his person.
Khagendra's height was only 67 cm and weight 5.5 kg. From a very young age, this little man was of miniature growth, born with primordial dwarfism. When he was a child, he was already known in many countries as the smallest boy in the world, and then as the smallest teenager.
After the official title of the Guinness Book of Records, Khagendra became a living symbol of Nepal, attracting tourists to this poor mountainous country.
Because of his abnormal growth, Khagendra often suffered from many medical problems, ranging from asthma to problems with breathing and bone pain. Shortly before his death, his heart began to ache often, and then he also caught pneumonia and his body simply could not withstand such a load.
Despite all the above problems, Khagendra remained a cheerful and optimistic person to the end. He was completely dependent on his parents and moved with great difficulty, but he had normal mental development and was well aware of his condition and position.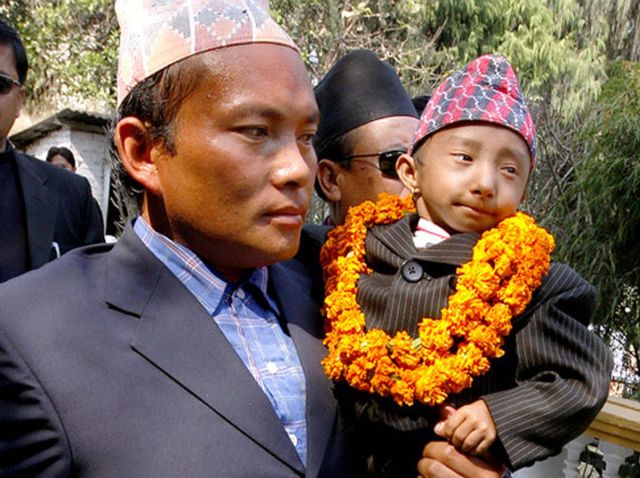 Khagendra had a younger brother, who was born completely normal and then helped Khagendra cope with various domestic inconveniences.
"He was so small at birth that could fit in the palm of my hand and it was very difficult for us to bathe and care for him," says Khagendra's father Rup Bahadur.
Before the death of Khagendra, the official smallest man in the world was recognized as Junrey Balawing from the Philippines, 56 cm tall, but he cannot walk on his own.
Of those dwarfs who can walk, now the smallest is the Colombian Eduardo Nino Hernandez (pictured below), whose height is 70 cm.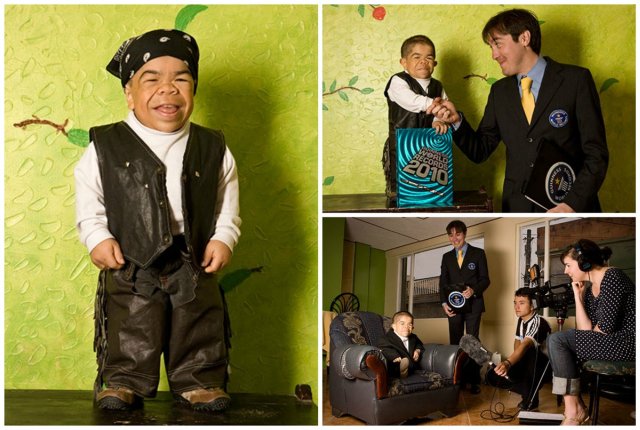 A chicken in Brazil laid an egg with a text message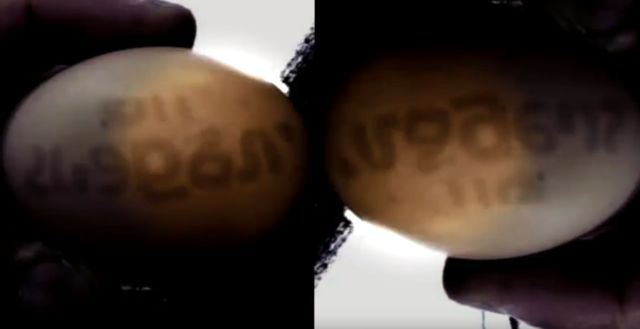 This happened in the municipality of Ceará, Brazil. According to reymisterios.com, a stunned farmer named Raimundo Aluceno came to the local newspaper and demanded that the jounalists send the best scientists to the poultry farm. The reason for this was one of his birds, which laid a somewhat abnormal egg.
Raimundo has long been engaged in his business and has seen everything. But for the chicken to lay an egg with some mysterious symbols – this is what he sees for the first time.
First, our hero shared the discovery with his neighbors, who, too, were stunned. Then at a meeting of the villagers, it was decided to send Raimundo to the scientists to explain this strange phenomenon.
Unfortunately, he did not reach the scientists, however, the TV channel Monólitos, broadcasting in Portuguese, became interested in the incident. The journalists went to the place and checked everything, after which they took a short interview from Raimundo.
The egg turned out to be real, not fake, and now no one knows how to interpret this event. The opinions of people are divided.
So, many people think that aliens are to blame for everything, since Brazil is a continuous anomalous zone. But why did aliens need this? Is this some kind of joke or message left to people?
On the other hand, many see the divine sign in everything. Moreover, since the symbols more closely resemble to numbers, not letters, believers see this as the date of prophecy about the Apocalypse.
The situation with this egg is funny on one hand, and not on the the other. Why it is not funny can be understood if we recall that many cultures of the world are engaged in coloring eggs – they draw some patterns, inscriptions and so on.
All this, of course, could be some kind of witchcraft, whose roots go back to times about which nothing is known. But, apparently, there was some reason for the ancient people to make inscriptions on chicken eggs.
Maybe the ancients really had some sacred birds through which some forces transmitted messages to people, painting something on the shell. Then the messages ceased and the people themselves began to draw some patterns, repeating a forgotten ritual.
If this assumption is correct, then probably these ancient and forgotten times are returning and now many birds in the world will be carrying some quotes and valuable advice, so we follow the development of events.
Strange multi-colored flashes in the night sky of Ohio still have not received a logical explanation
These strange multi-colored flashes in the night sky were shot last Sunday by an outdoor surveillance camera installed on a house in Bethel, Ohio.
The population of the town is only a little more than 2700 people and of course in such a small settlement there are no large stadiums, night clubs with spotlights and other institutions that could theoretically be involved in these bright flashes of light.
In addition to the camera, outbreaks were personally observed by the owners of the house on which this camera was installed. Tim Walker and his daughter Carolyn took up garbage collection late at night and literally froze in place when they saw colorful flashes that lit up the night sky.
The flashes lasted only a few seconds, and then stopped, but when the father and daughter went further along the road, the night sky again lit up with a bright flash. That is, if this happened intermittently, then this is clearly not a falling meteorite.
However, no one knows what it could still be , although news of these strange outbreaks soon appeared in many media. None of the logical versions could explain where these reddish-orange-pink-violet flashes came from.
According to Carolyn, at first she thought that something big had exploded there and felt very anxious. However, no loud sounds were heard.
And according to Tim Walker, what he saw reminded him of the explosions of shells that he saw while serving in the army. Except that here all this was completely soundless.
In the following days, reporters asked the local police and the Clermont County Emergency Department, to which the town belongs, but could not explain anything there. Also, nothing is said about whether it could be an accident on power lines or any substation.