HAARP, Chemtrails, and Weather Modification – The True Source of Climate Change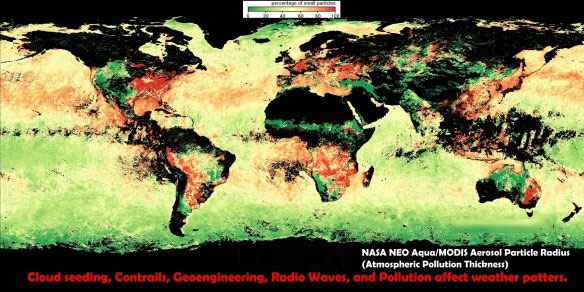 To state the obvious, the weather around the globe keeps getting more and more intense everywhere. It is getting much colder in some regions and much hotter in others. It is global warming and it is global cooling.
Record highs, record lows, record heat, record cold. Record swing in temperature changes, record droughts and record rains and record snows. And no one in global power mentions a word about the freaky weather affecting all, which should not surprise anyone paying attention because they don't talk of the continuing disaster that is Fukushima or the nearly daily gas spills and oil leaks going on across the United States.
England is having the greatest flooding it has ever experienced in 265 years. Recently Scotland was shut down with winds reaching 135 mph while the greatest typhoon in Indonesia destroyed swaths of the Philippines last Fall.
The Eastern half of the United States are getting hammered once again this week with crippling snow and unprecedented paralyzing ice storms. This past December there was a record difference in temperature variant of 117 degrees from New Hampshire to Florida.

California has never seen such a continued dry period since….well ever and they are the number one producer of agriculture in the United States, while 100,000 cattle were lost to another unprecedented flash freeze event in North Dakota. Cattleman in California are purging their yearling stocks due to lack of water and grazing grass. For the short-term beef prices will be stable but come summer we will see another dramatic increase in prices for years to come.
No leader in power is talking about the coming food crisis coming this summer and beyond, due to the lack of water in California. California is the "bread basket" of food produce and farmers will be cutting back severely on planting in the upcoming growing season.
Governor "Moonbeam" Brown has so far refused to declare a Stage I water emergency because the out-of-state owners of the fracking companies, who are outbidding farmers 3-1 for water supplies, need to keep fracking to pick up the slack caused by delays and shut downs across the rest of the country's frackers. Because of this unexpected shortage, natural gas prices have increased some 60% in just a few months after our President declared this country to be the heading towards energy independence.
Australia and Argentina are literally burning up with continual record high temperatures along with Alaska. During the Australian Open Tennis Championships the weather hit 109 degrees for three days followed by three days of 70 degree temperature and a record number of contestants dropped out rather than bake on the tennis hard courts.
We continue to rip out the lungs of the Earth in the Amazon rain forests while treating this planet as solely a supply house and a sewer for our global waste products. Nature balances… that's what she does when she gets out of rhythm. She is purging her system of the virus that is affecting her like we do when we have the flu. She is shivering and she is sweating and she is aching, all due to our incessant need to consume.
It is climate chaos, being greatly aided by the geo-engineering of weather by climate scientists attempting to cool down the Arctic up North to keep deadly methane gases from their accelerated releases from the newly exposed tundra. As Dane Wiggington of Geo-engineeringwatch.org has stated, "There is no normal weather anymore". It is all manipulated through intense regular chemtrail spraying and HAARP technology to steer weather around the planet.
This is where the biggest game of all is being played out that is causing much of the global weather weirding we are all experiencing.
The Most Important Chart You Will Ever See in Your Lifetime
Though you will not hear about it on your corporate nightly news simply because there is zero benefit for corporations to inform us, there is a desperate all out attempt that is being conducted night and day, 24/7, to use chemtrail spraying and HAARP heat ray guns (see below) to re-cover the Arctic with snow and ice so that the massive amounts of methane gas pools that are now seeping out refreeze once again. For over one million years trapped methane gas has stayed frozen but now significant melting ice sheets has caused the tundra to become exposed in the Arctic with accompanying released pools of methane gas releases occurring in wider swaths of the Northernmost regions.
Just recently the U.S. Navy released an extensive report that the Arctic could very well be ice-free by 2016, some 84 years ahead of most other climate models. (Source)
Previously, an exhaustive EPA study was conducted in 2008 which found methane gas releases were an astounding 50% higher than previous estimates due to fracking and….wait for it… cow flatulence increases:
"The study estimates that in 2008, the U.S. poured 49 million tons of methane into the air. That means U.S. methane emissions trapped about as much heat as all the carbon dioxide pollution coming from cars, trucks, and planes in the country in six months.

That's more than the 32 million tons estimated by the U.S. Environmental Protection Administration or the nearly 29 million tons reckoned by the European Commission. This study, however, was based on nearly 13,000 measurements from airplane flights and tall towers, the most used in any such research.

"Something is very much off in the inventories," said study co-author Anna Michalak, an Earth scientist at the Carnegie Institution for Science in Stanford, Calif. 'The total U.S. impact on the world's energy budget is different than we thought, and it's worse.'"

What those failing to acknowledge is the increased methane gas releases are coming down from the Arctic. A new study was conducted in 2012 but the findings have yet to be released by the EPA." (Source)
Methane gas contains 20 times more CO2 than other greenhouse gases and scientists have been extremely concerned about the acceleration of releases since 2007 to the point where greenhouse gases coming from the Arctic alone make up 10% of the total releases in North America today. Yet that is nothing compared to what is in store for us all if the melting in the North continues along its current trajectory.
In the atmosphere, methane is a greenhouse gas that, on a relatively short-term time scale, is far more destructive than carbon dioxide (CO2). It is 23 times as powerful as CO2 per molecule on a 100-year timescale, 105 times more potent when it comes to heating the planet on a 20-year timescale — and the Arctic permafrost, onshore and off, is packed with the stuff. "The seabed," says Wadham, "is offshore permafrost, but is now warming and melting. We are now seeing great plumes of methane bubbling up in the Siberian Sea… millions of square miles where methane cover is being released."
While the human body is potentially capable of handling a six to nine degree Celsius rise in the planetary temperature, the crops and habitat we use for food production are not. As scientist Guy McPherson of Nature Bats Last puts it, "If we see a 3.5 to 4C baseline increase, I see no way to have habitat. We are at .85C above baseline and we've already triggered all these self-reinforcing feedback loops."
He adds:
"All the evidence points to a locked-in 3.5 to 5 degree C global temperature rise above the 1850 'norm' by mid-century, possibly much sooner. This guarantees a positive feedback, already underway, leading to 4.5 to 6 or more degrees above 'norm' and that is a level lethal to life. This is partly due to the fact that humans have to eat and plants can't adapt fast enough to make that possible for the seven to nine billion of us — so we'll die."
So science and technology have decided they are going to solve this planetary problem by using massive amounts of chemtrail spraying and HAARP technologies in a desperate attempt to keep the remaining methane gases sealed or at least held in check.
The term the government scientists use to modify the weather with aircraft is "Solar Radiation Managing" (SRM). They now fear that if they stop the spraying we will immediately go to a hyper heated planet.
The Fifth Assessment Report of the Intergovernmental Panel on Climate Change (IPCC) warns that, despite global side effects and long-term consequences, geoengineering techniques involving solar radiation management (SRM) should be maintained:
"If SRM were terminated for any reason, there is high confidence that global surface temperatures would rise very rapidly to values consistent with the greenhouse gas forcing." (Source)
Solar radiation management comprises various techniques aimed at reflecting or diverting solar radiation back into space, essentially increasing the planet's albedo (reflectivity). Solar radiation management has "three essential characteristics," notes the International Risk Governance Council (IRGC), "It is cheap, fast and imperfect." Citing geo-engineering activist, David Keith, the IRGC explains that by injecting 13,000 tons of sulphate aerosol into the stratosphere on a daily basis, they would offset the radiative effects of a doubling of atmospheric CO2 concentrations. This compares to having to remove "225 million tons per day of CO2 from the atmosphere for 25 years."
"Block the sun but continue to spew billions of tons of carbon dioxide into the atmosphere," is how Eli Kintisch characterizes SRM in his 2010 book, Hack the Planet. In a world run by sanity, we would forego fossil fuels for free and abundant solar energy, coupled with Tesla's development of free electricity, to meet the world's energy needs, without destroying our nest by extracting and burning fossil fuels.
Several bills have recently been introduced into Congress to legalize to modify the weather at will.
S. 517: Weather Modification Research and Development Policy Authorization Act of 2005 in it stated: "(1) interdisciplinary research and coordination of research and activities to improve understanding of processes relating to weather modification, including cloud modeling, cloud seeding, improving forecast and decision-making technologies, related severe weather research, and potential adverse affects of weather modification" (Source)
The geo-engineers are also using HAARP technology to steer winter weather coming in from the Pacific Oceans off California and attempting to steer the storms up into and above Alaska. Unfortunately they are only making things worse. A lot worse. The Arctic melting and methane gas releases continues. Alaska is recording continual record highs and the storms the geo-engineers are steering and seeding are re-Arctifying but down into and through the Midwest and Eastern half of the United States all the way into the South East.
This is why California is dry, and will stay dry for the remainder of the "rainy season". California has become a sacrifice zone to save the Arctic from melting, though, you'll never here anyone say this except for people like Mr. Wiggington who has been following our government's secret weather modification programs for over a decade.
Please understand that weather modification has been admittedly going on since during the Vietnam war in the 1960′s by our government. (Source) If they wished to make it rain in California they could. Yet the geo-engineers are choosing not to and the only reason is because of the huge problem of the melting Arctic ice sheets and the planets rapid heating if methane gas pools continue to release in increasing amounts.
In China, some 560,000 manipulations of the weather have been conducted since 2002 using aircraft, rockets and projectiles carrying dry ice or silver iodide particles to stimulate rainfall, resulting with release of 490 billion tons of rain and saving about $10.4 billion in economic losses, the China Meteorological Association has reported. (Source)
China has also publicly announced a 500% increase in weather modification plans. Under a new national plan, which will run from 2013 to 2020, China plans to intervene with the weather by dividing the country into regions and setting up an interprovincial mechanism for weather control, said senior researcher of the Weather Modification Center under the China Meteorological Administration Yao Zhanyu, according to China Daily.
Each region will have an infrastructure and a command center for weather intervention, and programs for weather intervention will depend on the region. Particularly, programs in the northeastern, central, and southeastern areas will be used mainly to secure wheat harvest; the program for the northwestern area will focus on environmental protection; the program for the southwestern area will focus on helping with agriculture and hydropower operations; and the program for the north area will have water supplies in mind.
Corporations also regularly modify weather for increased snowfall in the mountains for ski areas and here in California by Pacific Gas and Electric to increase rainfall above their hydro-electric dams. (Source)
As they have attempted to steer West Coast weather up to the far North this winter they are greatly failing miserably to re-winterize the Arctic. In fact they are accelerating the warming while flash freezing the Eastern half of the United States. The jet stream is pushing the artificially modified, chemically nucleated weather back down onto the Midwest and Eastern climes of North America causing the severe cold, intense freeze and snow that doesn't melt.
Loss of Arctic sea ice is reducing the temperature gradient between the poles and the equator, thus causing the jet stream to slow and meander. One result is the creation of weather blocks such as the recent very high temperatures in Alaska. As a result, boreal peat dries and catches fire like a coal seam. The resulting soot enters the atmosphere to fall again, coating the ice surface elsewhere, thus reducing albedo and hastening the melting of ice.
As shown in this video, across the nation many are reporting snow that looks and feels different. It has tightly compacted crystals and, due to its nucleated chemicals, catches on fire and doesn't melt. On North facing slopes where I live in Northern California near the ocean coast we have frost that doesn't melt, even though temperatures reach 60+ degrees in the daytime.
*****
"Perhaps chemtrails is the most ignored government conspiracy crime of all time because it represents government and private corporations playing god with no rules and restrictions. Perhaps this is truly part of the mother of all conspiracies which I believe is control of the planet. Perhaps because it's all tied and intertwined with the universal global warming lie and the subsequent climate change religion that the globalists need to continue pushing to usher in their all-important global carbon tax and global control grid to control all human activity in the name of the environment. Perhaps it's time to connect the dots between "sustainable" cities, Agenda 21, depopulation, and the new world order end game of mass global control of humanity. Now that the government geoengineers are admitting that chemtrails spraying is real but that it is intended as a solution for global warming (which we knew all along was a lie), now we see the globalist connecting the dots for us. They seem poised to bring chemtrails into the spotlight when the time is right." Dane Wiggington
*****
LOOK UP!
This past weekend I attended a conference that featured some of the foremost experts on government weather modification including the cited Dane Wiggington of Geoengineeringwatch.org. After a very frank and honest discussion about humanities fate they premiered the best documentary to date on the subject called "Look UP". This documentary proves beyond a shadow of any doubt that we all are being used as a grand experiment while being bombarded with heavy toxic chemicals from overhead spraying which is causing such dramatic and quick changes to our weather.
Skyder Alert has even developed a new phone app so that citizens around the globe can photograph and post chemtrail spraying in their areas where they live. In just the past 7 months alone there have been over 7,000 photographs of sky painting across the planet posted so far.
http://www.skyderalert.com/
*****
Recently, David Keith, a government environmental scientists went on Colbert Report to "suggest" we start using Geoengineering, when in fact they have been "sky painting" since the 1960′s.
Very soon our government will announce they must take drastic measures and begin weather modification to "Save the Planet" and the sheeple will willingly accept it because the weather has gotten so out of hand and "something must be done". Mr. Keith, setting the table so our misleaders can declare a national emergency and Geoengineering will go mainstream and public because too many of us are becoming awakened and aware because truth is in plane (sic) sight for anyone who wishes to see. (Note how Colbert and audience aren't buying the b.s.)
*****
HAARP Sea-Based X-Band Radar (SBX) platform
HAARP is the largest ionospheric heater in the world. Capable of heating a 1000 square kilometer area of the ionosphere to over 50,000 degrees. It's also a phased array. Which means it's steer-able and those waves can be directed to a selected target area. What they have found is that by sending radio frequency energy up and focusing it, as they do with these kinds of instruments, it causes a heating effect.
And that heating literally lifts the ionosphere within a 30 mile diameter area therein changing localized pressure systems or perhaps the route of jet streams. Moving a jet stream is a phenomenal event in terms of man's ability to control nature, and their is no precedent for this huge attempt to play God with weather around the world.
This weapon of mass weather manipulation was brought into the world over a hundred years ago by Nikola Tesla and patented by Bernard Eastlund. (US PATENT #4,686,605 http://crashrecovery.org/haarp/US-Patent-No-4.686.605.pdf )
Bernard Eastlund's discoveries, are innovative applications of the work of Tesla and Faraday. His plans to provide power on any spot on the planet, to modify weather and eliminate drought, floods and hurricanes was usurped by the US military to make a death ray.
HAARP is a military project based on Eastlund's discoveries. It is a difficult program to discuss technically with non-scientists and, as such, it has eluded the spotlight of the popular press. But for years now, conspiracy web sites and some credible scientific publications have questioned what's going on and how messing with the ionosphere could be hurting the environment.
To make matters worse, HAARP has been maintained partially as a clandestine project, operated by the US Navy. The information that is made available to the public is carefully worded to make HAARP appear as a bland, harmless, unclassified, atmospheric research facility.
(For more information on HAARP technology see here: http://www.bariumblues.com/haarp1.htm)
What other species destroys its own nest so unconsciously and then, upon learning of its toxic actions, increases its actions to accelerate its own destruction?
It is critical that we reach critical mass knowledge about our government's secret weather modification programs as quickly as possible so that these programs can be halted immediately. We clearly have caused the planet's natural weather systems to be greatly altered by anthropogenic means so the answer is stop it. Stop it all and start begin a massive conservation effort at the grass-roots level.
We are the problem, yet the Geo-engineers are making it exponentially worse while spraying heavy metal toxins over our waterways and on our soil we where our food is grown.
This is the greatest planet emergency humanity has ever faced yet we must leave Nature to her means and ways to rebalance and heal and stop trying to hit everything with our huge technological hammers because everything looks like a nail to science.
Mother Gaia will survive Man's attempted technological remedies but like the days of Atlantis, Man might not survive Man's own stupidity and avarice.
Only through each one of us speaking out, buying the DVD "Look UP" and hosting showings or sending and sending out relevant emails through our mass personal communication devices will we be able to stop the madness by the geoengineers.
You would think that by now our leaders would be asking the citizens to CONSERVE but the only "C" word we here is to consume towards everlasting endless growth to keep higher highs on Wall Street, damn the planet and our children's future.
If we fail, the message is clear, our children have no future. And that is one hell of a legacy to leave this planet on our way out.
About the Author
Jamie Lee is the author of Tabu Blog, and a strong advocate of personal liberty and freedom from overbearing government.
Source: wakingtimes.com
TR-3B's are absolutely real but who 'owns' them?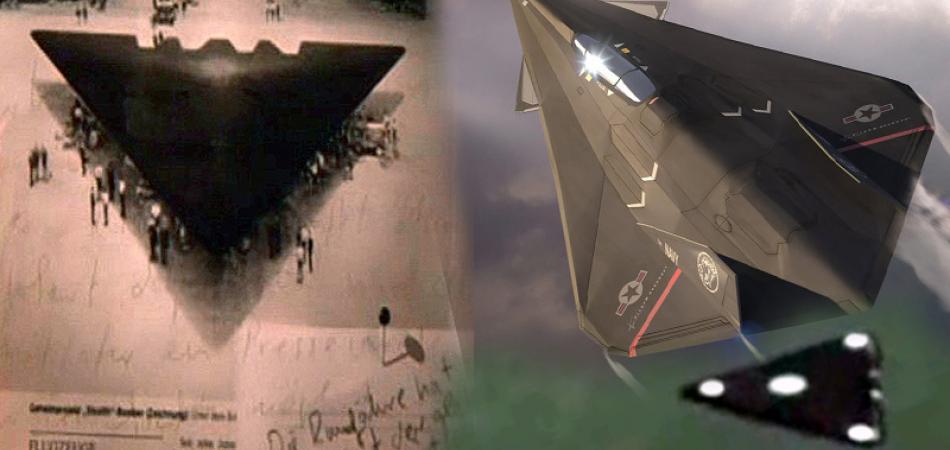 In early October, on many UFO channels, two very unusual UFO videos were discussed. Their unusualness is that, in contrast to many similar clips, their reliability is beyond doubt and the "discs" can be seen very well there – you can even see some details.
The first video was filmed from the International Space Station. For readers who, due to the remoteness from the city, have too expensive traffic, we present an enlarged program image of the "plate"
Well, this is the video itself:
A lot of incomprehensible video material comes from the ISS, but most often there are either just luminous objects in the frame, or some vague shadows, which skeptics later call pieces of foil, but here it is definitely not foil, and in general terms you can understand how these "saucer plates" look.
The second very unusual video was filmed the day before over the state of New York:
Direct link to the original mufon.
This is not a computer graphics, nor a secret drone. This is a TR-3B, which, as we can see, exists and can be viewed in detail. In the center there is some kind of basic, apparently, an engine, three engines (nozzles?) in the corners and they obviously work on some other principle – their color is different.
What are the three small lights along one of the edges of the triangle is not clear. Either it is some kind of device for taxiing the apparatus, or signal lights. And this thing bears little resemblance to some kind of "extraterrestrial device", which causes more and more concern among people. Why?
If the Pentagon has had such aircrafts for a long time (triangles have been observed in the sky for at least 30 years), then why all this circus with F-35 and other airplanes? To keep people busy in their production and rip off money from buyers? Or are the squadrons with these strange vehicles not under the control of the Pentagon? But who do they obey then?
Conspiracy theorists are now offering two main explanations for the situation – good and bad.
A good explanation suggests that Trump and his Space Forces are behind these secret 'ashtrays'. That is, either these TR-3Bs report directly to him, or Trump was promoted to the White House by the people who are behind the development of these devices. And now, visually flying over some cities of the United States, some secret military from Area-51 made it clear to the Deep State who is in charge in America and in the world in general:
The second possible explanation for the flashes of TR-3B is already very pessimistic and suggests that the military behind these technologies is precisely the same Deep State. In this case, the collapse of America is a foregone conclusion and no Trump can do anything there.
In any outcome of the elections, first unrest will begin in America, then China, the UN and other "peacekeepers" will climb there to restore order, during which the Chinese MiG-21s will bring down F-35 packs, since an invisible UFO will fly in front of them and do all the work … And the whole world will be surprised by the "great Chinese power".
Then China will begin to establish its own order, spreading hegemony throughout the world. Someone will fall under it voluntarily, but someone will not agree with such a new order and a hefty war will begin that will cover the entire planet. The last battle will obviously be somewhere in the Syrian desert, where the Chinese, according to prophecies, will bring 200 million people. And at that moment, TR-3B will appear from the clouds and burn all the army – both from one side and the other.
Further landing ramps will fall, some cyborgs or genomutants will be dumped from the miracle-ships in formation and will report that so they say and so – from now on we will all live without wars, according to new rules, in a new global and friendly world. This will be followed by a general command to chip.
We do not know which of the options is correct. We hope for the first, but the second is also not excluded. Everything will become more or less clear only after the US elections…
Chatham House – The Open Conspiracy Organization Emerged 100 Years Ago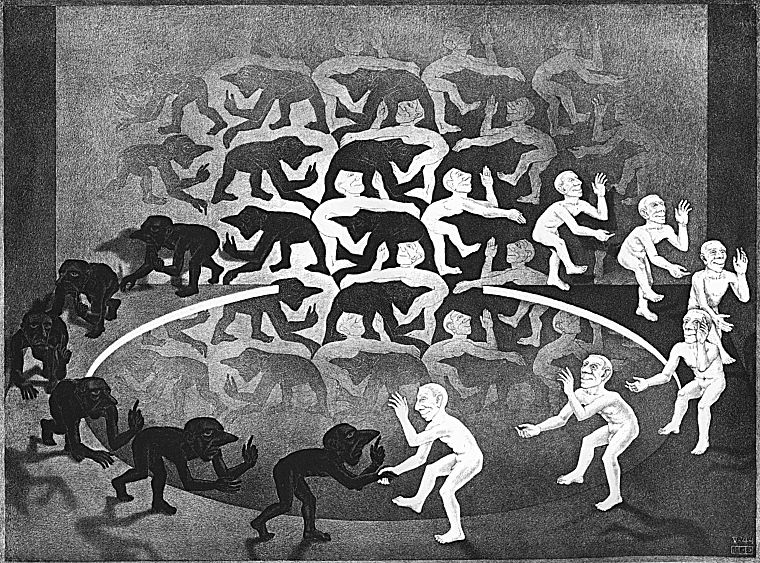 HG Wells in "The Open Conspiracy. Blue Prints for a World Revolution"(1928) wrote that in the twentieth century the world entered a dangerous phase of development, which could end in catastrophe and even destruction of mankind. The only way to prevent a catastrophe, Wells instructed, is the elimination of sovereign states and the creation of a One World Government, headed by a small group of people – representatives of the intellectual elite and big business.
The idea of ​​world domination has been nurtured for centuries by various secret societies (Templars, Freemasons, Illuminati). However, their plans and activities were hidden from the eyes of the authorities and the people. In the twentieth century, there was an argument to open these plans. And it was necessary to hurry, because scientific and technological progress was accelerating, remaining uncontrollable. The arms race continued and accelerated in exactly the same way.
At the 1919 Paris Peace Conference, these issues were discussed openly. It was decided to create the League of Nations, through which the British and Americans expected to begin building a new world order. True, there were disagreements between the ruling circles of the United States and Great Britain. London believed that the ideal basis for a united world was the British Empire, over which"the sun never sets." In Washington, it was believed that America became the No. 1 power after the First World War and that it was she who should lead the movement towards a new world order.
However, both in the USA and Great Britain there were politicians who considered these imperial ambitions to be "prejudices of nationalism", considering themselves a single elite of the highest Anglo-Saxon race. Such was Edward Mandel House (1858-1938) – diplomat, adviser to President Woodrow Wilson (Colonel House). Lord Alfred Milner (1854-1925), one of the key figures in the cabinet of David Lloyd George, was also a consistent supporter of Anglo-Saxon mondialism.
Colonel House was very upset when, while at a conference in Paris, he learned that Washington had rejected US participation in the League of Nations, the provisions of which were laid down in the Versailles Peace Treaty. He very much hoped that the League of Nations would become an instrument for the creation of a United State. After that, in the same place, in Paris, Colonel House met with British partners. They agreed that two organizations would be created in the United States and Great Britain, closely interacting and implementing the Anglo-Saxon project of building a new world order.
The first of these organizations was established a hundred years ago, in the summer of 1920. It was the British Institute of International Affairs (BIIA) , renamed toThe Royal Institute of International Affairs (RIIA) in 1926 and still exists under that name. The Institute is also known as Chatham House, which is the name of the building in which it is located (next to Westminster Palace in central London). In 1961, the RIIA changed location, but the Chatham House name remained.
The preparatory work for the establishment of the RIIA was carried out by Lionel Curtis , Lord Milner's secretary. The status of the institute is a non-governmental non-profit organization that exists at the expense of voluntary donations. The first donation of £ 2,000 was made by Thomas Lamont of J.P. Morgan Bank. John D. Rockefeller has contributed £ 8,000 annually to the RIIA since 1932. Later, the RIIA began to regularly receive large regular donations from American charitable foundations (the Rockefeller, Carnegie, and others).
The first head of the institute was Robert Cecil (1864-1958) – British lawyer, parliamentary, public and statesman, active employee and ideologist of the League of Nations, winner of the 1937 Nobel Peace Prize (for services to the League of Nations). Lionel Curtis was promoted to RIIA Honorary Secretary. The leadership of the institute also included former Foreign Minister Edward Gray , former Prime Minister Arthur Balfour , Lord Lothian, renowned English economist John Maynard Keynes, Alfred Zimmerman (Oxford professor, author of The League of Nations and the Rule of Law). Zimmermann had a capable student, Arnold Toynbee (1889-1975). On Zimmerman's recommendation, Toynbee became the institute's first paid employee. Toynbee was later appointed director of the institute. At Chatham House, Toynbee played the leading role for three decades (1925-1955). He directed scientific research and was at the same time a high-ranking officer of the British MI6 (intelligence) service. Much of the RIIA research was done on behalf of MI6 .
RIIA did not arise out of nowhere. It became a superstructure over the rather secret organization "Round Table". According to historians, this society arose as a secret in 1891 in South Africa at the initiative of Cecil John Rhodes (1853-1902), a famous figure of British imperialism, who linked his life with the British colonial expansion in South Africa. Rhodes, a gold and diamond miner in South Africa, was associated with the Rothschilds. In 1910, the Rothschilds established the Round Table in London; the main public figure for the Round Table was Lord Alfred Milner. During the Lord's lifetime, the Round Table was often called the Milner Group. Many historians believe that at the beginning of the 20th century the composition of the Round Table and the composition of the Committee of 300 (the world elite).
As Nicholas Hagger notes in The Syndicate, the history of the creation of a secret world government and the methods of its influence on world politics and economy ", the activities of the Round Table had two contours – external (open activity) and internal (secret activity). The task of the Round Table, writes the famous American historian Carroll Quigley (1910-1977) in the book Tragedy and Hope, was "no less than the creation of a world system of financial control, concentrated in private hands and capable of influencing the political system of each country and the economy of the world as a whole. This system will be completely feudally governed by the central banks of the world, acting in accordance with secret agreements concluded at frequent personal meetings and conferences. Quigley was very fond of the Round Table, being the official historian of this society.
The Round Table set out the task of creating a world government governed by international bankers. Many researchers of the Round Table activities believe that the program of this organization as a whole coincides with the program of the Illuminati Order in the 18th century. The successors of the Illuminati, members of the Round Table, viewed England as an Atlantic force, not a European one, and counted on the creation of a federation of English-speaking countries. Milner has established Roundtable Groups in South Africa, Canada, Australia, New Zealand, India and CIF. They were all run from England. They included the most famous politicians of the British government, and they were all devoted to the idea of ​​world government. The Roundtable has always wanted to transform the British Empire into a federal system that would eventually include both the United Kingdom and the United States.
The RIIA was a continuation of the Round Table. After the death of Lord Milner in 1925, references to the Round Table became rare, and more often people began to speak of the Royal Institution. In 1931, Toynbee gave a speech in Copenhagen, in which he declared:
"We are currently working with all who can make all the nation-states of our world forget about the mysterious power called sovereignty. And we constantly deny what we really do ."
Nicholas Hagger believes that Toynbee was more American than British, as most of the funding came from overseas, from the Rockefellers:
"For 40 years, Toynbee was actively involved in the RIIA's efforts to create a world government. In his writings, Toynbee argues that nation states are withering away and will be supplanted by the "Rockefeller" world government. Although Toynbee's work is fascinating, it is unfortunately completely unreliable ."
Toynbee was a prominent member of the Fabian Society, ideologically close to the Labor Party. Toynbee and his associates Herbert Wells, Bertrand Russell, Bernard Shaw, brothers Julian and Aldous Huxley did not rule out that the international socialist movement would become one of the possible ways to create the One State. In particular, Toynbee and his associates were very impressed by the Bolsheviks' commitment to internationalism, although the Fabians and employees of the Royal Institute did not share communist views.
Among those who surrounded Toynbee, many understood that the building of the One State was a task for the distant future. It is necessary to move towards the cherished goal gradually. The creation of a united Europe, in which individual states would dissolve their sovereignty, was considered as a closer goal. Toynbee managed to live up to this time, when the Treaty of Rome was signed in 1957 by six European states (1957), and later the European Economic Community (EEC) began to be created.
A year after the establishment of the RIIA, a mirror institution was created on the other side of the Atlantic Ocean, called the Council on Foreign Relations (CFR) . The origins of the organization were Colonel House and Paul Warburg (1868-1932) – one of the initiators of the creation of the US Federal Reserve System. CFR members included Woodrow Wilson, Colonel House, and a number of other influential politicians, bankers and businessmen. Particularly noteworthy are members of the Council such as John Foster Dulles (served as Secretary of State under President Eisenhower ) and his brother Alain Dulles (future first head of the CIA). A close informal relationship was established between John Dulles and Arnold Toynbee. John Dulles, as Chairman of the Board of Trustees of the Rockefeller Foundation, has helped ensure that the Royal Institution receives regular financial support from the Foundation.
All publications on the Royal Institution usually refer to the Chatham House Rule . It assumes that participants in closed meetings have no right to disclose the authorship of those other opinions outside the small circle of RIIA members . Opinions can be published, but as impersonal. The rule is intended to encourage maximum openness and frankness in internal meetings. The official mouthpiece of the institute is International Affairs and World Review .
Since 2005, the Royal Institution has established a prize – the Chatham House Prize . It is awarded annually to "the statesman or organization that Chatham House members believe have made the most important contribution to improving international relations in the past year ."
Meteorite as a false flag? Shadow government prepares kinetic orbital strike
According to watchers, citing top NASA officials, on September 24, 2020 at 11:18 UTC, an asteroid designated as 2020 SW will approach the Earth.
The asteroid is small, about 10 meters, but the distance will also be quite small – 0.07 LD / 0.00019 AU / 28 423 km / 17 661 miles:

Meanwhile Express, again with reference to the nice guys from NASA reports that two more asteroid rocks are flying towards us – RH6 2020 and RQ3 2020, which will pass by the Earth in the next day. Both asteroids are about 50 meters in diameter, the distance to them will be crazy (about 10 LD), so the probability of something falling to Earth is excluded. However, the options may be somewhat different.
As the famous American conspiracy theorist Michael Salla recalls in his video for September 16, the Earth may collide not with an asteroid, but with a real orbital bombardment. Cleverly, this is called "kinetic orbital impact":
As you can see from this explanatory video, a satellite placed in orbit can launch heavy and large tungsten rods on the Earth, the impact of which will be comparable in force to a meteorite impact. That is, practically an atomic bomb, but without undesirable damaging factors in the form of radioactive contamination.
Michael is a person known without any exaggeration and he has been studying the topic of orbital bombing for many years, suggesting that sooner or later the Deep State will use these weapons to organize one or another false flag. In particular, Michael posted another big article about this at the end of August.
When Michael Salla was just starting to raise awareness on this topic, they laughed at him, because people did not believe that certain intruders would shoot such things at their country. But much has changed since then, and the same fires in California leave no doubt about the deliberate arson. Therefore, if someone could encroach on California from orbit / from an airplane, then why not strike, for example, on New York?
In light of this possibility, any reports about asteroids are already suggestive, especially if these asteroids are trumped at all angles. There are also conspiracy theorists, who could well have given information – tomorrow a large stone will fall on Earth, but just do not tell anyone, since we told you the information in secret. And when something falls from heaven, everyone will know, there will be no need to explain anything to anyone.
On the other hand, something really flies near the Sun: If we assume that it is Nibiru, which brought a cloud of asteroids with it and these asteroids begin to fall on their heads, then the authorities may try to hide even this. And in this situation, people such as Michael Salla, who are sometimes called by the term "useful fools" by the special services, will become especially useful. That is, a person, speaking from a pure heart and not in any cooperation with the FBI / CIA, brought to the people information about some kind of "orbital strike", which could be blamed for everything and even then start a small retaliatory nuclear war.
In general, the options can be different and, as it were, mutually exclusive, nevertheless, with any of the options, something healthy falls on the city and the people living there will absolutely not care whether it flew in Nibiru, or is it an orbital strike, or even a nuclear war.
That is why the probability of a false flag with bombing from orbit must be borne in mind – especially when NASA publicly discovers something there or conducts exercises about meteorite fall. As Michael Salla reminds, according to the scenario of the last NASA / FEMA exercises, the meteorite arrived in 2020, on September 20