Group set to hunt USS Nimitz 'Tic Tac' UFOs
Image Credit: US Navy
The USS Nimitz UFO incident occurred back in 2004. 
A team of military veterans, scientists and entrepreneurs are aiming to track down 'unidentified aerial phenomena.'
Known as UAP eXpeditions, the new Oregon-based non-profit group is headed up by Kevin Day – a retired US Navy Chief Petty Officer and radar operator who served aboard one of the vessels in the Nimitz Carrier Strike Group at the time the Tic Tac-shaped UFOs were detected and pursued.
Day recalls tracking the objects along California's coastline using the USS Princeton's advanced radar system and believes that they may continue to operate on the same trajectory even to this day.
The group's stated goal is to "field a top-notch group of uber-experienced professionals providing the public service of field testing new UAP related technologies."
It will also use "classical observation techniques, by trained observers and scientists, while using the latest experimental technologies – in the right places and the right times."
This technology will include state-of-the-art cameras and experimental monitoring systems used to track and photograph the objects in an effort to learn as much as possible about them.
The team will include former NASA Ames Research Center scientist Dr. Kevin Knuth.
"The goal of the expedition is to give us some ground truth," he told Motherboard. "We aim to try to observe these objects directly, and record them using multiple imaging modalities."
According to Knuth, the project will have two phases – the first involving the use of satellite imaging to look for anomalous objects in the region and the second to essentially park a large boat in the water off the California coastline to directly track and observe the objects as they pass by.
Other team members will include the USS Princeton's former Chief Master-at-Arms Sean Cahill and UFO researcher Bruce Macabee.
Whether the group will actually find any trace of the objects however remains to be seen.
Source: Vice.com
'Discovery' Space Shuttle photographed an Alien Spaceship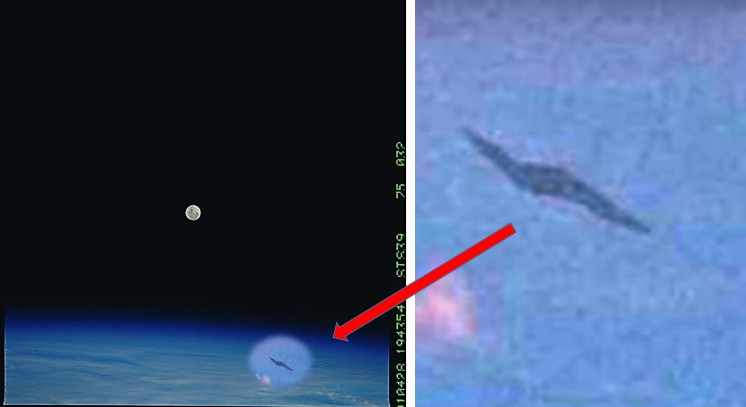 The UFO researcher and Alien hunter Scott Waring, has found photographic material from the NASA archive, coming from the 'Discovery' Space Shuttle, where mysterious presences can be observed in the space.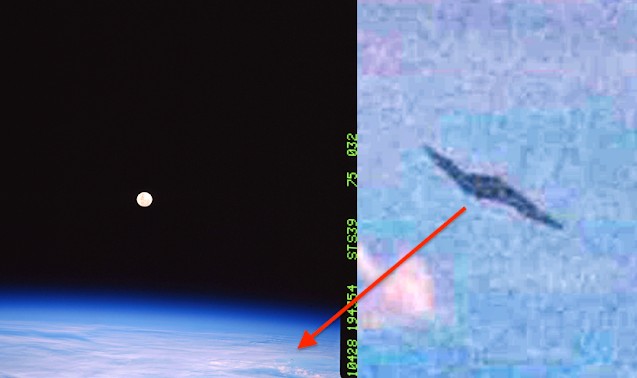 "I was looking through the NASA archive photos and saw this beautiful photo on the Moon taken from the Discovery Shuttle. I didn't think I would find anything at the time, I just thought it was a beautiful photo. I zoomed in and set it to auto focus and found something extraordinary"
"There was a huge object, a UFO, visible in the lower right corner of the photo. I have never reported a UFO of this form. It is very rare and unlike anything I expected. And yet, there it was, above the clouds of sunset in Earth's orbit, visible in a photograph at the NASA website. This is 100% proof of the existence of beings from other worlds who watch over the earth ". by Scott C. Waring
Former NASA Astronaut Admits To Seeing UFOs Aboard Space Station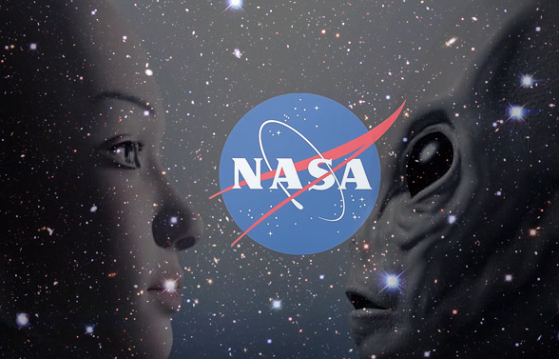 Jerry Linenger has revealed there were multiple instances that made the entire space crew aboard the International Space Station scratch their heads. Linenger, a former NASA astronaut, referred to the anomalies as unidentified flying objects while requested the media not to take him out of context.
Linenger admitted to seeing multiple bizarre objects or unexplained things during his five-month stay in space.  He recalled how he and colleagues could only guess and ask among themselves what they witnessed. He claimed to have seen stuff that made him call his crewmates over.
Linenger, who's also a former captain of the U.S. Navy Medical Corps, not only stayed at NASA's ISS but also did a stint at the Russian Space Station Mir, which operated from the mid-1980s to 2001.
Along with two Russian crewmates, he spent five months at the SS Mir, which was situated 50 million miles above Earth while orbiting the planet 2,000 miles. He was the first American astronaut to perform a spacewalk from a non-American space station while wearing a foreign space suit.
Linenger has made a disclaimer, though, that he made no mention of seeing aliens but only UFOs.
NASA admits that "Mysterious Objects" photographed in space are "unknown"
NASA has labeled the strange sightings that occurred during Shuttle space missions as "unknown objects" on an official website. Since then, the images have resurfaced after being published on YouTube.
The NASA cameras captured three strange objects in space – and the agency cannot explain what they are. The images on the Gateway to Astronaut Photography of Earth website from NASA resurfaced after being shared on YouTube by controversial conspiracy theorist Scott C. Waring. In a 1985 photo, a snake shaped object, like many seen from Earth, floats on the dark background of space.
A second photo of the same year shows a large object that bizarrely imitates a screw or a rivet. And a third object – photographed by the Space Shuttle astronauts in 1990 – shows an object similar to a grid suspended over the Atlantic Ocean, off the coast of Brazil.
Mysteriously, all the images were classified as "unknown objects" by the space agency – apparently contradicting the consensus that these structures are simply space junk.
Scott – who has earned a reputation in the past for his bizarre claims of having found mysterious life on Mars – found the photos disconcerting and shared them on his YouTube channel. He was more fascinated by the snake-like UFO, which suggested it could be "alive, organic".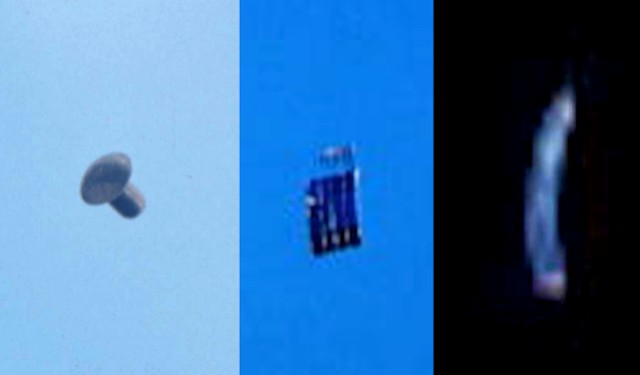 "It seems that it floats in space like a real animal," said Scott, mentioning a conversation he had with an astronaut earlier this year who said he saw something "that looked like a semi-transparent living creature" outside of the International Space Station.