Government Secrecy Exposed: Examples That Show It Goes Far Beyond Snowden, Wikileaks & Area 51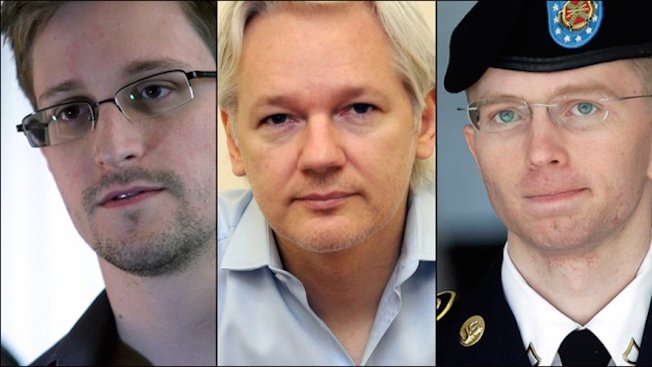 The world of secrecy is truly out of control. Most people don't think about the fact that millions of pages of documents every year are classified and kept from public viewing, and that's just in the United States alone. If a historian wanted to study the history of their country, how could they properly do it when a majority of their history remains 'classified?' It was only only three years ago (2013) when the Central Intelligence Agency finally admitted to the existence of Area 51. Although it didn't 'officially' exist before the CIA made this admission, it was pretty clear that something secretive was going on in the Nevada desert. That secretive something would be the testing of secret aircraft and technology that the public has absolutely no idea about. Take for example the U.S. air strike against Libya in 1996. An f-111 jet was used, which had been operational since 1983, but its existence was still kept secret for a number of years after.
The efforts of Edward Snowden, Julian Assange, Bradley Manning and all of the other whistleblowers that you never hear about, are heroic, and no doubt important, but it's interesting to ponder jus how far down the rabbit hole government secrecy goes. It's in our nature to be curious, especially when it's a known fact that there are things being concealed from us.
The United States has a history of government agencies existing in secret. The National Security Agency (NSA) was founded in 1952 but its existence was hidden until the mid 1960's. Even more secretive is the National Reconnaissance Office, which was founded in 1960 but remained completely concealed for 30 years.
The real menace of our Republic is the invisible government, which like a giant octopus sprawls its slimy legs over our cities, states and nation … The little coterie of powerful international bankers virtually run the United States government for their own selfish purposes. They practically control both parties … [and] control the majority of the newspapers and magazines in this country. They use the columns of these papers to club into submission or drive out of office public officials who refuse to do the bidding of the powerful corrupt cliques which compose the invisible government. It operates under cover of a self-created screen [and] seizes our executive officers, legislative bodies, schools, courts, newspapers and every agency created for the public protection.  – John F. Hylan was Mayor of New York City from 1918-1925 (source)(source)
Here is a great video illustrating the pyramid of financial dominance
The point of this article is to let more people know that our world is drenched with secrecy, and recent revelations in multiple areas are sparking, for some, a shift in consciousness. New information about our world that was once not known can always change things. Imagine if we lived in a world that was completely transparent, one that developed technology from a place of peace, one that used science to push the human race into greater depths of understanding regarding the true nature of reality.
In this day and age, it's best to keep an open mind as new information is constantly surfacing challenging the belief systems of many.
There are so many reasons why transparency is important. Below are a few of many examples of government secrecy,
Examples of Government Secrecy
The U.S. Patent and Trademark office is is a great example. The office is supposed to legally protect the inventions of entrepreneurs and companies, some of whom have developed ground breaking technology. Unfortunately, that's not the case as new documents obtained via the Freedom of Information Act (FOIA) reveal how the Patent Office has been using a secret system to withhold the approval of some applications.
This 50-page document was obtained by Kilpatrick Towsend & Stockton, LLP, who commonly represent major tech companies that include Apple, Google and Twitter (to name a few). You can view that entire document HERE. (1)
The program delaying patent applications is called the Sensitive Application Warning System (SWAS). Usually, when an application is submitted for a patent approval it requires a couple of examiners who work with the Patent office to go through their process of approval. This process usually takes approximately 1 to 2 years, but  applications that are filed in SAWS must be approved from several people, and can be delayed for a number of years.
"There is no official channel to notify an applicant once their patent is placed in the system, and the Patent Office has denied requests to divulge what applications are on the SAWS list." (source)
The documents also indicate areas of technology that might have a patent application placed in the SAWS program – these include smartphones, internet-enabling systems and more. This information is set to be published in an online journal called "Law360" to inform the public. Tech Columnist Alyssa Bereznak at Yahoo News states that most companies are fully aware of this.
I first came across this recent information in her article, which you can view here, but I felt compelled to add more information.
As you will see below, there is more information that has surfaced prior to these documents that suggest this type of "invention secrecy" goes far beyond these technologies.
One great example (out of many) of delayed patent applications comes from Dr. Gerald F. Ross. He filed a patent application for a new invention he had devised to defeat the jamming of electromagnetic transmissions at specified frequencies. It was not until June 17, 2014 (almost 37 years later) that this patent was granted. (2)
s great as it is to see new information pertaining to invention secrecy come to light, it's also important to note (as reported by the Federation of American Scientists; see annotated bibliography) that there were over 5000 inventions that were under secrecy orders at the end of Fiscal Year 2014, which marked the highest number of  secrecy orders in effect since 1994.(3)
This is all thanks to an act many people are unaware of. It's called the "Invention Secrecy Act" and it was written up in 1951. Under this act, patent applications on new inventions can be subject to secrecy orders. These orders can restrict their publication if government agencies believe that their disclosure would be harmful to national security.(4)(5)
As mentioned earlier, "national security" has become an excuse and justification for the classification of a large amount of information on a variety of topics that the public is deliberately kept in the dark about. Apparently, many of these projects and inventions go far above and beyond presidential knowledge.
"It is ironic that the U.S. should be fighting monstrously expensive wars allegedly to bring democracy to those countries, when it itself can no longer claim to be called a democracy when trillions, and I mean thousands of billions of dollars, have been spent on projects which both congress and the commander in chief know nothing about."  (source) – Paul Hellyer, Former Canadian Defense Minister.
So what type of technology is under restriction under the Invention Secrecy Act? We don't really know, but a previous list from 1971 was obtained by researcher Michael Ravnitzky. Most of the technology listed seems to be related to various military applications. You can view that list HERE. (6)
As Steven Aftergood from the Federation of American Scientists reports:
"The 1971 list indicates that patents for solar photovoltaic generators were subject to review and possible restriction if the photovoltaics were more than 20% efficient. Energy conversion systems were likewise subject to review and possible restriction if they offered conversion efficiencies in "excess of 70-80%." (source)
"There exists a shadowy government with its own Air Force, its own Navy, its own fundraising mechanism, and the ability to pursue its own ideas of the national interest, free from all checks and balances, and free from the law itself." – Senator Daniel K. Inouye, the highest ranking Asian-American politician in United States history (source)
Black budget programs  consist of Special Access Programs (SAPs). From these we have unacknowledged and waived SAPs. These programs do not exist publicly, but they do indeed exist. They are better known as 'deep black programs.' A 1997 US Senate report described them as "so sensitive that they are exempt from standard reporting requirements to the Congress." (source)
The Washington Post revealed that the "black-budget" documents report  a staggering 52.6 billion dollars that was set aside for operations in the fiscal year 2013. Although it's great to have this type of documentation in the public domain proving the existence of  these black budget programs, the numbers seem to be off according to some statements made by some very prominent people who have been involved in the defense sector for years. There is a lot of evidence to suggest that these programs are not using billions of dollars, but trillions of dollars that are unaccounted for. Here is a statement given by Canada's former Minister of National Defence, Paul Hellyer in 2008:
It is ironic that the U.S. would begin a devastating war, allegedly in search of weapons of mass destruction when the most worrisome developments in this field are occurring in your own backyard.  It is ironic that the U.S. should be fighting monstrously expensive wars  allegedly to bring democracy to those countries, when it itself can no longer claim to be called a democracy when trillions, and I mean thousands of billions of dollars have been spent on projects which both congress and the commander in chief no nothing about(2)
We are talking about large amounts of unaccounted-for money going into programs we know nothing about. There have been several congressional inquiries that have noted billions, and even trillions of dollars that have gone missing from the federal reserve system. On July 16, 2001, in front of the house appropriations committee, Secretary of Defense Donald Rumsfeld stated:
The financial systems of the department of defence are so snarled up that we can't account for some $2.6 trillion in transactions that exist, if that's believable (3)
We don't really hear about black budget programs, or about people who have actually looked into them.  However, the topic was discussed in 2010 by Washington Post journalists Dana Priest and William Arkin. Their investigation lasted approximately two years and concluded that America's classified world has:
Become so large, so unwieldy and so secretive that no one knows how much money it costs, how many people it employes, how many programs exist within it or exactly how many agencies do the same work (4)
Another person was aviation journalist Bill Sweetman. Within the Pentagon, he estimated that approximately 150 special access programs existed that weren't even acknowledged. These programs are not known about by the highest members of government and the highest ranking officials in the military. He determined that most of these programs were dominated by private contractors (Lockheed Martin, Boeing, etc.) and that he had no idea as to how these programs were funded(5)(8).
The amount that the US sets aside for sensitive operations each year is not allowed to be published for eyes outside of the intelligence community. We are in an age where the US is having a difficult time keeping sensitive information under wraps, and although there is an abundance of blatant information for the world to wake up to, that which is still kept under tight wraps has also become more transparent. Many phenomena previously labelled as merely a "conspiracy theory" are now surfacing as true and verifiable day after day.
The Corporate Connection To Government
"Because there's absolutely no question. There are people in government, who truly agree when I talk with them, they agree that this mine shouldn't go ahead, or that damn shouldn't be built, or Monsanto shouldn't be allowed to test its seeds here. It's corruption really, the might of money, the corporations that hold governments in their hands, because of lobbying power and so forth, it's really frightening." – Jane Goodall
Because of this influence that corporations have over governments, a lot of information is swept under the rug. This happens in all industries, from energy to health, all the way to finance and education.  I've written a lot about medical fraud, and it's a great way to show how corporate influence dominates our world, and manipulates/distorts important information.
The latest example comes from an independent review found that the commonly prescribed antidepressant drug Paxil (paroxetine), is not safe for teenagers, despite the fact that a large amount of literature already previously suggested this. The 2001 drug trial that took place, funded by GlaxoSmithKline, found that these drugs were completely safe, and used that 'science' to market Paxil as safe for teenagers.
"It is simply no longer possible to believe much of the clinical research that is published, or to rely on the judgment of trusted physicians or authoritative medical guidelines. I take no pleasure in this conclusion, which I reached slowly and reluctantly over my two decades as an editor of the New England Journal of Medicine"    Dr. Marcia Angell, a physician and longtime Editor in Chief of the New England Medical Journal (source)
To view the most widely accessed article in the history of the Public Library of Science (PLoS), click here: Why Most Published Research Findings Are False.  It was a study published more than a decade ago bringing more awareness to this topic.
"The case against science is straightforward: much of the scientific literature, perhaps half, may simply be untrue. Afflicted by studies with small sample sizes, tiny effects, invalid exploratory analyses, and flagrant conflicts of interest, together with an obsession for pursuing fashionable trends of dubious importance, science has taken a turn towards darkness." Dr. Richard Horton, the current editor-in-chief of the Lancet (source)

"The medical profession is being bought by the pharmaceutical industry, not only in terms of the practice of medicine, but also in terms of teaching and research. The academic institutions of this country are allowing themselves to be the paid agents of the pharmaceutical industry. I think it's disgraceful."  – (source)(source) Arnold Seymour Relman (1923-2014), Harvard Professor of Medicine and Former Editor-in-Chief of the New England Medical Journal
Another example comes fromA merican psychologist Lisa Cosgrove, who investigated Financial Ties between the Diagnostic and Statistical Manuel of Mental Disorders (DSM) panel members and the pharmaceutical industry. They found that, of the 170 DSM panel members 95 (56%) had one or more financial associations with companies in the pharmaceutical industry. One hundred percent of the members of the panels on 'mood disorders' and 'schizophrenia and other psychotic disorders' had financial ties to drug companies. The connections are especially strong in those diagnostic areas where drugs are the first line of treatment for mental disorders. In the next edition of the manual, it's the same thing. (source)(source)
The list here is a long one, and I just wanted to provide a brief example, and a place to start if you are further interested in continuing your research.
What's Going On In Space?
"This thing has gotten so highly-classified… it is just impossible to get anything on it. I have no idea who controls the flow of need-to-know because, frankly, I was told in such an emphatic way that it was none of my business that I've never tried to make it to be my business since. I have been interested in this subject for a long time and I do know that whatever the Air Force has on the subject is going to remain highly classified." – Senator Barry Goldwater, Chairman of the Senate Intelligence Committee (source)
Space news has been at an all time high lately, especially with the recent discovery of water on Mars.
Also in the news recently, the Russian government has called for an international investigation into the United States moon landings. They are concerned about the disappearance of film footage from the original moon landing, as well as the missing 400 kilograms of lunar rock that was taken from multiple missions. You can read more about that here.
Perhaps one of the strangest things is the recent disclosure of UFO files by multiple countries around the world. These files indicate that governments have spent a great deal of resources investigating this very serious/real phenomenon.
For example, here is an article that sources various documents detailing what happens when a UFO is tracked on radar.
Here is a document (1 of thousands of pages) from the FBI illustrating what type of documents were typed up, and the 'important' people they were sent to. It provides details of extraterrestrial bodies and craft on pages 21 & 22. You can read more about that document here.
Here is an NSA document pertaining to UFOs, and here is another.
"I'm skeptical about many things, including the notion that government always knows best, and that the people can't be trusted with the truth. The time to pull the curtain back on this subject is long overdue. We have statements from the most credible sources – those in a position to know – about a fascinating phenomenon, the nature of which is yet to be determined." – John Podesta, Councillor to Barack Obama, former Chief of Staff at the White House under the Clinton administration, and current head of Hilary Clinton's presidential campaign (taken from Leslie Kean's 2010 New York Timesbestseller, UFOs: Generals, Pilots, And Government Officials Go On The Record, in which Podesta wrote the forward)
Here is a video of him at the National Press Club speaking about the issue.
Here is the latest batch of files released by the UK government.
Keep in mind that these files, in my opinion and according to my research, are not even the tip of the iceberg when it comes to government secrecy about UFOs and extraterrestrial life. Who knows what information remains hidden from the public, or why it is so?
All of these now-public documents and statements, like the one below, have people turning their heads.
To view some more statements like the one below, you can browse through THIS heavily sourced article.
"There is a serious possibility that we are being visited and have been visited for many years by people from outer space, from other civilizations. That it behooves us, in case some of these people in the future or now should turn hostile, to find out who they are, where they come from, and what they want. This should be the subject of rigorous scientific investigation and not the subject of 'rubishing' by tabloid newspapers." (source) – Lord Admiral Hill-Norton, Former Chief of Defence Staff, 5 Star Admiral of the Royal Navy, Chairman of the NATO Military Committee
"Decades ago, visitors from other plants warned us about where we were headed and offered to help.  But instead, we, or at least some of us, interpreted their visits as a threat, and decided to shoot first and ask questions after." – Paul Hellyer, Former Canadian Defense Minister (source)
"Intelligent beings from other star systems have been and are visiting our planet Earth. They are variously referred to as Visitors, Others, Star People, Et's, etc…They are visiting Earth now; this is not a matter of conjecture or wistful thinking. – Theodor C. Loder III, Phd, Professor Emeritus of Earth Sciences, University of New Hampshire (source)
Excerpt from the book "A.D. After Disclosure" written by Richard Dolan and Bryce Zabel
Richard Dolan's Thoughts on the "Breakaway Civilization"
By now, the classified world has moved far beyond the reach of the public world, and far beyond in its power and capabilities. Consider the story of a former NSA scientist who spoke with the authors. According to this individual, the NSA was operating computers during the mid-1960s with a processing clock-speed of roughly 650 megahertz(MHZ). To put that in perspective, it took 35 years for personal computers in the consumer market to reach that speed. Indeed, in 1965 there were no personal computers at all. Immediately, the near-fatal Apollo 13 mission in 1971 comes to mind, with its reliance on slide-rulers by mission specialist to guide the damaged NASA spacecraft back to Earth. When presented with this image, the NSA scientist shrugged and stated that secret computational capabilities were too important to share with NASA. So in, in computing, the National Security Agency was an amazing 35 years ahead of the rest of the world. This leads one to wonder what its computational powers are today.
Another example was the U.S. air strike against Libya in 1986. The raid employed f-111 fighter aircraft. Left out of the mission, however, was the F-117A Nighthawk, better known as the stealth fighter. It had been operational since 1983, but was still classified in 1986. In a form of logic both perverse and rational, the F-117A was so radically advanced that keeping it secret was more important than using it for this military mission.
Given the mixture of a treasure chest of government money, and private connections, the likelihood exists that six decades later there is a clandestine group that possesses:
Technology that is vastly superior to that of the "mainstream" world.
The ability to explore areas of our world and surroundings presently unavailable to the rest of us.
Scientific and cosmological understandings that give them greater insights into the nature of our world
A significant "built off the grid" infrastructure, partially underground, that affords them a high degree of secrecy and independence of action
This might well qualify them as a separate civilization – one that has broken away from our own, in effect, a breakaway civilization. Still interacting with our own, its members probably move back and forth between the official reality of what we are supposed to believe, and the other reality which encompasses new truths and challenges.
FIVE Reasons to Ditch YouTube and Switch to REAL.video
As we're all well aware by now, YouTube is no longer a platform for freedom of expression. Over the last two years, YouTube has systematically censored, demonetized and banned video channels that cover cannabis, liberty, natural health and firearms self-defense. This has turned YouTube in an echo chamber of stupiditydriven by corporate narratives and globalist disinfo.
REAL.video launches in July, providing a free speech alternative to YouTube. Upon launch, it will almost instantly become the new hub for the most powerful and well-informed videos on the 'net, covering everything from daily independent news to censored science and medicine.
As I explain in my video below, there are five powerful reasons to ditch YouTube and switch to REAL.video. These reasons include:
REAL.video is a platform engineered to protect your free speech. It's run by independent-minded free thinkers, not an evil globalist corporation like Google. This means you can finally stop censoring yourself and actually tell the whole truth in your videos without fear of being cut off.
REAL.video has an affiliate program that can earn you revenues from the massive e-commerce retail operation launching with it. (More details coming soon.)
Our editorial team may help you promote your videos and video channel by writing articles about your video content. This costs you nothing.
You are free to attract your own sponsors and get paid by your sponsors for your video views. We don't get involved in your sponsorship arrangements, and we don't take a cut of your revenues, either. (Unlike Google / YouTube, which demands a cut.)
See more reasons in my video below:
Request your free video channel now at REAL.video. The system goes live in July.
Source:
https://www.naturalnews.com/2018-06-03-five-reasons-to-ditch-youtube-and-switch-to-real-video.html
How YOU Can Undermine the 'Evil Cabal'
Over the years, the description of the tyrants and psychopaths that so often occupy positions of power in our world has evolved, and today it is fashionable to refer to this nebulous group by using the term 'Evil Cabal.'
Language is perhaps the most important device we have for creating reality, and just as George Orwell knew, the more linguistically vague, simplistic, ambiguous and nondescript the language, the more room there is to shape perception. This is called Newspeak, and in the case of the 'Evil Cabal,' the term fails to fully describe our complex world, but succeeds tremendously in maintaining the prison of fear that actually inhibits freedom.
In a catch-all phrase like 'Evil Cabal,' there really is little substance in the language to inspire meaningful action or reaction. In fact, the opposite is true. By generalizing the widespread depravity in the world with such a vague yet loaded term, the result can only be fear and inaction.
But, just for rhetorical purposes, let's suppose for a moment that the world's troubles can indeed be wholly attributed to a singular, top-down, all-knowing, all-controlling evil cabal that has its wicked tentacles inserted into every facet of our lives. Let's imagine that every bit of the injustice and calamity we see is intentionally orchestrated and narrated by an untouchable group of all-mighty criminals.
If this is in fact the case, one very serious question emerges: What exactly are YOU going to do about it? 
My thoughts on this are expressed below, and are derived from two decades of peering deeply into the abyss of conspiracy fact and alternative history. I've learned in time that such intense and singular focus on conspiracy and international wickedness is corrosive to the soul, inviting acrimony and triggering impotency into what should be the blessed, joyful gift of a life well lived.
How YOU Can Undermine the Evil Cabal
Firstly, understand that systems of political and economic control are actually more heavily dependent on the acquiescence, cooperation, and participation of many millions of people. They are much less dependent on brute force, even though the perception is that brute force controls everything. This notion is accurately presented by Larken Rose in his short animated presentation, The Tiny Dot. The acquiescent masses vastly outnumber any evildoers.
It is imperative to also understand that the world is heavily influenced by the management of public perception, and that holding onto a chiefly negative and fearful worldview severely limits your potential to create and experience the world in which you actually wish to see materialize.
Furthermore, you must recognize that taking it upon yourself to assemble and collate every possible fact and insight into every conspiracy and every nasty event is self-destructive. That is, by becoming a library of terrible truths, you are willfully  imposing upon yourself a subtle but powerful form of mental slavery.
The tendency to want to convince and awaken every person you meet to your point-of-view is ultimately caustic to personal relationships and can quickly lead to isolation. Take notice of the fact that individual isolation is exceptionally beneficial to any controlling power in our world, and therefore, it is imperative to connect with others and allow them to express their own personal truths without sparking your judgement and condemnation.
So many of us today adhere to a destructive worldview, and to counter this, it is critical to set an example for others in your life by living in such a way as to inspire a love for freedom, independence and individuality. This is done, first and foremost, by giving freedom to others. Allow people the privilege to walk their own path and think their own thoughts.
Moreover, to undermine a cabal that primarily rules by psychological control, it is essential to recognize that all humans have a tendency to want to control things, and that as human beings we all share similar shadow traits. The desire to control others, and even to control nature, is evident at every level of society, meaning we are all inherently capable of extraordinary evil and cruelty. It is your duty and priority to recognize this and to manage this tendency within yourself and only yourself.
Also, remember that energy goes where attention flows. If you are totally consumed with the wicked deeds of the evil cabal, as so many otherwise righteous people are, you are inadvertently giving away your personal power and energy, thus contributing to their ability to control people with fear.
When you are engaged in an endless and all too often speculative discussion about the evil deeds of others, you are engaged in a form of worship that puts one in a state of continually imagining the uninhibited power of some other mysterious and unnameable other. This makes their power much more real than it may actually be. Stop worshiping psychopaths and evil people by giving them so much of your attention, because exposing corruption alone is not enough to create a better world. In order to see positive change we have to shift our attention to those ideas and people who are contributing to the healing of the earth and its people.
Additionally, recognize that in today's media landscape, even those who may seem to have your best interest at heart often profit wildly from perpetuating fear and despair. We live in a viral information culture where buzzwords, distortions, and over-simplifications get clicks and earn advertising dollars. There is an enormous profit motive in keeping people teetering on the margin of despondency and hope. We've built an entire economy out of fear, and it's up to you to break this cycle and smash this paradigm. You can do so by checking in with your heart and asking if the information you're consuming is inspired by fear or by love.
Finally, use the freedom you still have. Use it right now to become the person you are supposed to be. Follow your heart and find your place, wherever it may be. If you are interested in politics or otherwise directly confronting injustice and corruption in the system, throw yourself wholly into this effort, with heart. However, if your calling is beneficial in any other way, do not diminish the positive effect that you can have on the world by simply being a force of good, big or small. If all you have to offer at this moment is a smile, use it generously.
Ultimately, there are many ways to resist evil, and as George Herbert wrote, 'the best revenge is living well.' Heal yourself and become an agent of joy. Whether there is, or is not, a round-table evil cabal of untouchables is ultimately irrelevant to how you live your life right now. Get on with the business of living well.
Final Thoughts
I wrote this piece as an indirect response to an email I recently received from a reader. I'm noting it here because in my position I see this sentiment quite frequently, and I feel that it needs to be called out. Here is the note in full:
Hi there.
I really don't appreciate your website getting VERY POLITICAL.
I am going to quit reading it now and will recommend the same thing to all of the people I know.
Obviously, there is a lot of info you don't know and you are wasting your time playing into the hands of the Evil Cabal. I have no time for little minds.
Very Sincerely,
L
Clearly this person, L, cares about the world we live in and the future we create together, yet, based on my own personal experience, personal growth, and ever-evolving understanding of the world, I feel like this mindset needs to be acknowledged as counter-productive and harmful to one's well-being and mental stability, while ultimately contributing to the oppressiveness in our world today.
It does need to be said, though, that there are undoubtedly evil people, institutions, corporations, and diabolical plans at play in our world, so again, I ask you, what exactly are you going to do about it?
About the Author
Dylan Charles is the editor of Waking Times and co-host of Redesigning Reality, both dedicated to ideas of personal transformation, societal awakening, and planetary renewal. His personal journey is deeply inspired by shamanic plant medicines and the arts of Kung Fu, Qi Gong and Yoga. After seven years of living in Costa Rica, he now lives in the Blue Ridge Mountains, where he practices Brazilian Jiu Jitsu and enjoys spending time with family. He has written hundreds of articles, reaching and inspiring millions of people around the world.
This article (How YOU Can Undermine the 'Evil Cabal') was originally created and published by Waking Times and is published here under a Creative Commons license with attribution to DylanCharles and WakingTimes.com. It may be re-posted freely with proper attribution, author bio, and this copyright statement.
Important Details To Consider As North Korea Commits To Denuclearization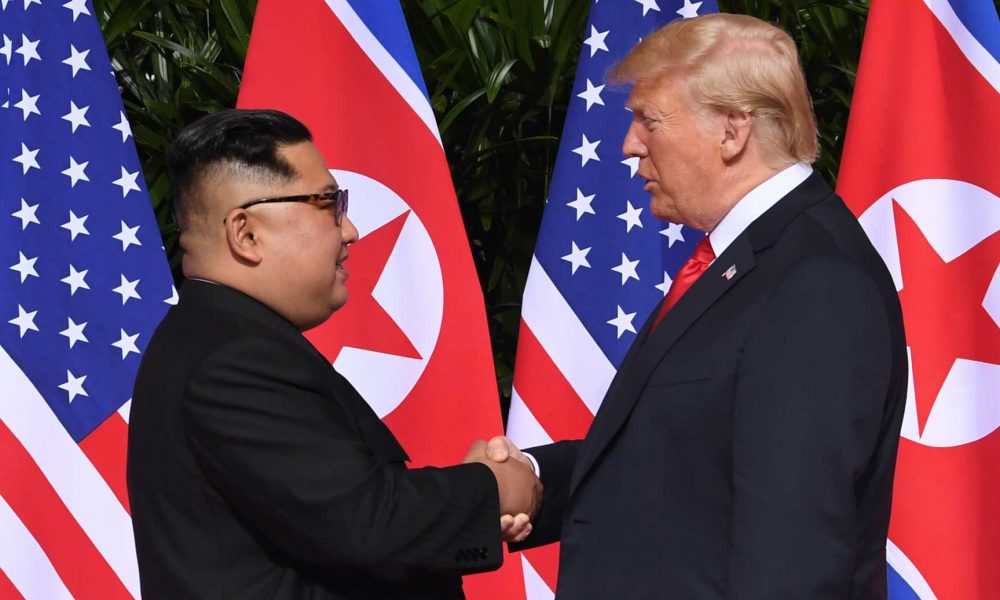 The Facts:Historic meetings between Trump & Kim Jong Un move towards peace talks between the two nations. What's really going on here is about disrupting the old elite regime.
Reflect On:Who really holds the power in our world? Are we getting a true picture of what is going on with events like this from the mainstream media? Is the hate for Trump a result of his level of disruption of elite plans?
The first thing we should all consider, and something that should be downright obvious by now, is the fact that our perceptions of events and people are purely programmed into us by the machine that is mainstream media.
When it comes to Donald Trump, historian Richard Dolan put it quite well, saying that: "It is important to understand why Trump was demonized. Sure, his character can make it easy. There is no shortage of narcissistic, sexist, or otherwise intense statements in his repertoire. But I have never, and will never believe, this is why he was demonized. Ultimately, Trump is a disruptor, and his disruption falls squarely against the two key pillars of the American ruling elite's ideology: neoliberalism and neoconservatism."
I often wondered how it was possible for so many people to support Obama & Hillary when the same geopolitical agenda continues unchanged for decades, I compare it to a global holocaust, in the Middle East and within many other parts of the world. A powerful group of people, using politics as their tools & politicians as their puppets, is and has been imposing their will on other countries by creating events and then proposing a solution, all to justify back home reasons for "infiltration." Patriotism is heavily used, especially to hold up the perspective that our militaries are actually used to defend a country and bring democracy to other nations. In some cases yes, in most cases, no, unfortunately, they've been used by old men for unthinkable purposes.
There are so many examples to choose, from 9/11 to the recent supposed chemical gas attacks in Syria by Assad.
The conscious and intelligent manipulation of the organized habits and opinions of the masses is an important element in democratic society. Those who manipulate this unseen mechanism of society constitute an invisible government which is the true ruling power of our country. We are governed, our minds are moulded, our tastes formed, our ideas suggested, largely by men we have never heard of." – Edward Bernays ("the father of public relations"), Propaganda, 1928 (note that Bernays' book, Propaganda, begins with the above quote).
Yes, when another politician speaks upon these facts, like Vladimir Putin outlining the 'magical and mythical' threats the global elite use to impose their will on other countries, it's labelled as propaganda by mainstream media.
So, it makes absolutely no sense to really think anything of Trump, except as an outsider, one who was not "controlled" by the corporations, and the big banks like the Clinton's, and Obama's, and many presidents before them. Trump represents a difference in that sense, a change, but also has numerous suspicious ties and associations that are similar to the likes of Deep State puppets as well.
Again, genocides have occurred under presidents past, yet they are viewed as heroes and celebrities…News reports of Hillary Clinton covering up a massive pedophile ring in the state departments, and strange WikiLeaks documents, have also simply been brushed off as 'propaganda.'
Things are certainly strange within the realm of politics, to say the least.
Trump is a great example, and one of many who has said and acted different in their campaign, but then all of a sudden change when their presidency takes place. It seems they become aware of things they were not once aware of, and greater powers begin to influence their decisions. Perhaps they are 'checkmated' by the national security community?
The Real 'Powers'
The bottom line is, when it comes to politics, there are powers greater than the presidency calling the shots, and we can never really know what's going on. All we get are the puppets, some of which may attempt in some ways, to oppose various groups within the Deep State or those who rank among the worlds 'elite.' They are simply used for us to point our fingers at, or idolize and worship as Gods while people behind the curtain pull the strings.
This is why the whole idea of voting is completely useless, it simply continues a cycle and system that clearly doesn't work.
You never change things by fighting the existing reality.
To change something, build a new model that makes the existing model obsolete. – Buckminister Fuller
Another thing to really consider is the fact that, as retired Professor (Emeritus) of Sociology at Binghamton University and adjunct professor at Saint Mary's University, Halifax, Nova Scotia, Canada, James Petras recently wrote,
The world is riven with class conflicts in Latin America, political conflicts between the Anglo-Americans and Russians, and economic conflicts between Washington against Europe and Asia. The conflicts have called into question the capacity of ruling elites to promote growth, to secure international stability and to foster global as co-operation.
All this comes, simply because of the fact that there is a secret government in control of politics, and what we are presented with, we never really know the details and what is really going on. Presidents throughout history have called awareness to this entity, and there are several great examples where they've voiced their concern of, in some cases, what they had become apart of.
Behind the ostensible government sits enthroned an invisible government owing no allegiance and acknowledging no responsibility to the people. To destroy this invisible government, to befoul the unholy alliance between corrupt business and corrupt politics is the first task of the statesmanship of today. – Roosevelt
North Korea & Nuclear Weapons
Another important fact to consider is that the entire world is making nuclear weapons. Just look at the nuclear deals happening between Israel and Saudi Arabia, how come nobody is talking about that? What about America and their inventory of nuclear weapons? The fact that nuclear weapons even exist is troublesome, and what's even worse are findings like the one Dr. Helen Caldecott, a researcher and anti-nuclear advocate describes:
In 2015, ninety-two American missile officers were suspended because they had been cheating, taking drugs, or sleeping in the missile silos. These men are employed to guard and to operate 150 nuclear missiles at F.E. Warren Air Force Base in Wyoming which constitutes one-third of the 400 Minuteman 3 missiles that stand "on hair trigger alert" 24 hours a day in silos which are scattered across the northern Great Plains…

During the investigation, fourteen airmen had allegedly been using cocaine. Other drugs involved were ecstasy, cocaine, LSD and  marijuana.  All in all roughly one hundred officers were involved in the cheating scandal in 2015 and 2016.
After that, she goes on to describe more shocking "episodes of gross malfeasance," stating that it's amazing to her that  "we are still here having not been incinerated in a global nuclear holocaust. Suffice it to say, we are in the hands of fallible men armed to the teeth with missiles and hydrogen bombs."
This is why I don't even want to get into North Korea & Trump because our geopolitical world is completely out of control. I don't know what's going on, but I do know that the powers that be and the countries that they control have been imposing their will on the world for a very, very long time, and have used us, the human race, and our own consciousness, our own perceptions, to justify this behaviour.
The statesmen will invent cheap lies, putting the blame upon the nation that is attacked, and every man will be glad of those conscience-soothing falsities, and will diligently study them, and refuse to examine any refutations of them; and thus he will by and by convince himself the war is just, and will thank God for the better sleep he enjoys after this process of grotesque self-deception –  Mark Twain (source)
There is always some sort of problem in another country, and North Korea is a great example, that gives the Deep State an upper hand with regards to intervening, but thankfully the world is beginning to see through this. Even US Generals, like Ex-Supreme Allied Commander General Wesley Cark, have outlined the fact that this plan, to basically take over the world, has been in the works for years.
Again, let's use Syria as an example.
The CIA began its active meddling in Syria in 1949—barely a year after the agency's creation. Syrian patriots had declared war on the Nazis, expelled their Vichy French colonial rulers and crafted a fragile secularist democracy based on the American model. But in March of 1949, Syria's democratically elected president, Shukri-al-Kuwaiti, hesitated to approve the Trans Arabian Pipeline, an American project intended to connect the oil fields of Saudi Arabia to the ports of Lebanon via Syria. In his book, Legacy of Ashes, CIA historian Tim Weiner recounts that in retaliation, the CIA engineered a coup, replacing al-Kuwaiti with the CIA's handpicked dictator, a convicted swindler named Husni al-Za'im. Al-Za'im barely had time to dissolve parliament and approve the American pipeline before his countrymen deposed him, 14 weeks into his regime. – Robert F. Kennedy
One thing that is encouraging, however, is the denuclearization of any region by any country. The fact remains, the US has always wanted to emphasize the nuclear programs other other countries who do not currently have a central bank, and countries whose resources that the US and their allies could use. Is this agreement between Trump and the North Korean president something that only a president who opposes the Deep State could do? Because it's hard to imagine any other president doing so.
This is the first time a president has been able to sit down with the leader of North Korea, and have come to some sort of peaceful resolution. That being said, most of these things are done with political, greedy and elitist goals in mind. Not peace…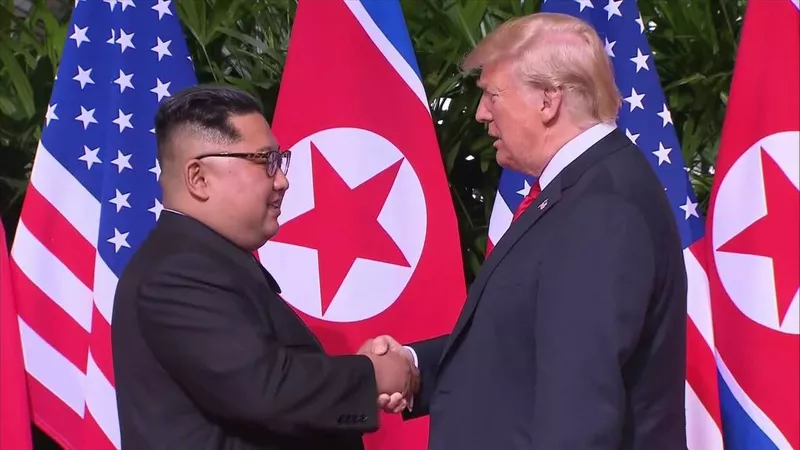 The North Korean president referred to the meeting as a "historic turning point."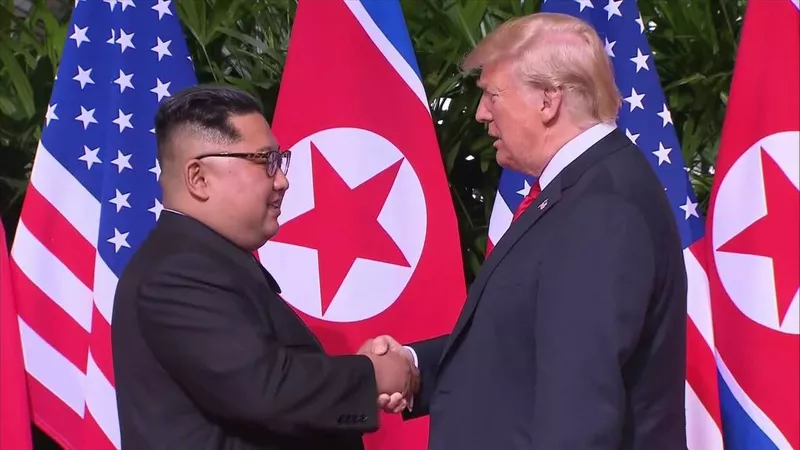 In western mainstream media, Trump is praised by some outlets, like fox news, and others, like CNN, you will get a completely different perspective. It's best to just not really through any negativity, fear, and judgment into what you are watching, and understand that you don't really have any piece of the story unless you turn off your T.V. and spend a considerable time doing some independent research.
Trump Is Challenging Us To Reflect & See
If you haven't read our stance on Trump, check it out. The amount of anger, emotions, and frustration we collectively have had about Trump being president is incredible. While I believe this shows how much we collectively need to shift our perspectives on things in general, I also believe that in many ways our emotional outcries are where things start. We have to observe our emotions and what they telling us about our beliefs and perspectives in order to see how we can move beyond them. We are massively limiting our world and reality by holding on so rigidly to what we believe. To be clear, we cannot change things from a state of anger or aggression, we must first move past this. This is a lesson humanity is learning big time right now.
"The real menace of our Republic is the invisible government, which like a giant octopus sprawls its slimy legs over our cities, states and nation . . . The little coterie of powerful international bankers virtually run the United States government for their own selfish purposes. They practically control both parties . . . [and] control the majority of the newspapers and magazines in this country."   John F. Hylan was Mayor of New York City from 1918-1925 (source)(source)