Gorgeous Haunted Houses and their Haunted Histories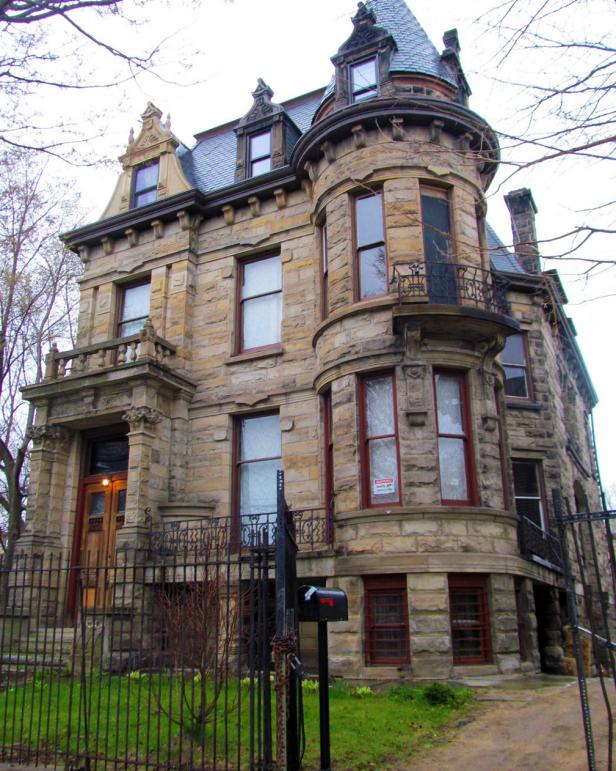 Sometimes, the most beautiful homes are also the most haunted.
Stately Southern mansions, vibrant Victorians and even well-cared for Colonials can harbor undead inhabitants and boast spine-tingling tales of ghosts, murder and intrigue. Read on to learn about five of America's loveliest yet most haunted houses below.
The Winchester Mystery House
Winchester Mystery House, Copyright Winchester Mystery House
Even with no knowledge of its chilling history, the stately Winchester Mystery House stands out. The quirky Queen Anne-style Victorian, under construction from the late 1800s until the death of its owner in the early 1900s, is made even more eye-catching by its hodgepodge of window shapes, pointed finials, turrets, gables and bold exterior paint. Comprised of over 160 rooms, the gigantic San Jose, California mansion was occupied by Sarah Winchester, widow of William Wirt Winchester (heir to the Winchester Rifle fortune) until her death in 1922.

 
The House of the Seven Gables
©iStockphoto.com/kickstand
At a glance, the House of the Seven Gables, or the Turner-Ingersoll Mansion, is simple and stunning. The dark clapboard siding provides a lovely contrast to the bright gardens, and the many large, Georgian style windows create an incredibly attractive facade for the Salem, Massachusetts house.
Built in 1668, this Colonial-style home is thought to be among the oldest wooden structures in America and is remarkably well-preserved for its 300-plus years. Some might know this house from Nathaniel Hawthorne's 1851 novel of the same name or the related movies, but it's also famous for its slew of paranormal activity. Mysterious shadows have been seen in the upper windows, as well as unexplained activity from faucets and lights. Some also say that the ghost of Hawthorne's cousin, Susanna Ingersoll, who lived in the residence, as well as that of a young boy, still occupy the space.
Built in the mid-1800s, Ashton Villa is a stately mansion in Galveston, Texas and is the oldest brick home in the state. Built by businessman James Moreau Brown, the structure is a handsome specimen of the Italianate Villa style, with a symmetrical construction, dramatic eaves and ornate wrought iron railings and columns adorning the front balcony.
Ashton Villa is reported to still be inhabited by one of its previous residents, Bettie Brown, daughter of James Brown. Her once over-the-top personality seems unwilling to fade in the afterlife. People report seeing Bettie in the house's Gold Room and on the staircase. Aside from that, there are reports of fans turning on and off, furniture with a mind of its own and even ghostly piano music that some attribute to Bettie's sister, Matilda.
Another Queen Anne Victorian, Franklin Castle in Cleveland, Ohio, has been called one of Ohio's most haunted locations. The imposing stone structure with its turrets, balconies and intricate stone carvings is at once creepy and captivating. With its imposing appearance, it's not surprising that this home boasts a doleful past, marked by rumors of murder, an arson attack and paranormal happenings.
The home's story begins in the late 1800s, when it was built for the Tiedemann family. Subsequent owners and visitors would report mysterious occurrences, such as light fixtures moving of their own accord and the voices of crying children. In addition, there have been more sinister discoveries in the home, such as that of human bones hidden in the tower room. As if that weren't creepy enough, there are tunnels concealed beneath the house that were supposedly the site of murderous acts committed by the home's first owner.
Bogdan Oporowski/Wiki Commons
From the outside, this stately St. Francisville, Louisiana house is the picture of elegance and class. The residence features delicate ironwork on a spacious veranda, hand-painted stained glass and an over 300-pound crystal chandelier. General David Bradford built the home in 1796 after fleeing imprisonment for his involvement in the Whiskey Rebellion. Since that time, it's rumored that the home has been the site of numerous tragic deaths and paranormal occurrences. On more than one occasion, shadowy figures have appeared in the background of photographs taken at the property. Other strange happenings include a piano played by unseen hands, sightings of the ghostly figures of a previous owner's two children and unexplained handprints on a reportedly haunted mirror.
Source:http://www.hgtv.com
High Strangeness at a Haunted Japanese Schoolhouse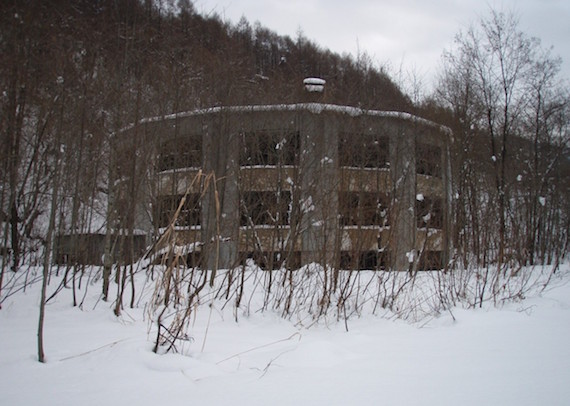 Up in the cold, northern reaches of Japan is the nation's second largest island, Hokkaido. Known for its spectacular natural vistas and picturesque scenery, it is perhaps not a place one would at first associate in any way with haunted locales and ghouls and ghosts. Yet here in the rural town of Bibai, nestled among the beautiful vistas and right up against the Lake Miyajima wetland lies the creepy and enigmatic ruins of a former schoolhouse that has accrued a sinister reputation as one of the most haunted, weirdest places in Japan.
The building itself was apparently built back in 1906, and was designed in a distinctive round shape from which it earns its simple nickname "The Round Schoolhouse." From the 1940s up until the 1970s it was used as an elementary school, after which it was closed for unknown reasons and simply left there where it stood to fall into ruin. Rather creepily, the structure seems to have been left as is, with tables and desks still set up collecting dust in the crumbling structure, all lined up as if expecting students that will never come. This would have once been a place of children playing and laughing, yet now the surrounding grounds have become a thick tangle of overgrown brush that hungrily surround the building, the playground buried in forest growth to poke forth like the skeleton of some half-buried prehistoric beast, and any road that led there was long devoured by the forest, making the only way to reach it on foot from the nearest road.
Dark rumors and stories sprang up almost immediately after the closing of the school, beginning with locals claiming that the woods in the vicinity were haunted by bobbing, mysterious lights and half-glimpsed shadowy figures, and the night often pierced by disembodied screams as well as other less discernible anomalous noises. Additionally, there were rumors of several children who had gone out to play in these woods and never come back. It was not long before these phenomena and rumors were linked to the abandoned former school house, and things would get spookier still.
Through the late 70s and 80s the Round Schoolhouse became a popular place to go and try and see ghosts, and by all accounts it was absolutely infested with them. Frightened trespassers to the site would come back with terrifying tales of encountering all manner of supernatural phenomena on the school grounds or within its dilapidated building, and it has steadily become increasingly well-known on into later years as an absolute hotspot for the paranormal. Paranormal investigators who have been there consistently put this location in top ten lists of Japan's most haunted places, and there have been Japanese spirit mediums who have been so overwhelmed with negative spiritual energy here that they refuse to come back. Japanese videos on YouTube of macabre adventure seekers in the ruins have also become quite popular, whether they show anything paranormal or not, and the legend of the haunted Round Schoolhouse of Bibai has surged.
Even above and beyond talk of hauntings, more sinister rumors tell of people going off to explore the ruins only to disappear without a trace, and stories abound of abandoned cars found on the nearby road, their occupants said to have gone off towards the schoolhouse to never return. Perhaps worse yet are those said to have come back completely stark raving insane, driven over the brink of madness by whatever it was they had seen in that forsaken place. Stories of the missing or of people going mad at the Round Schoolhouse are very persistent on Japanese paranormal sites, with comments of witnesses common.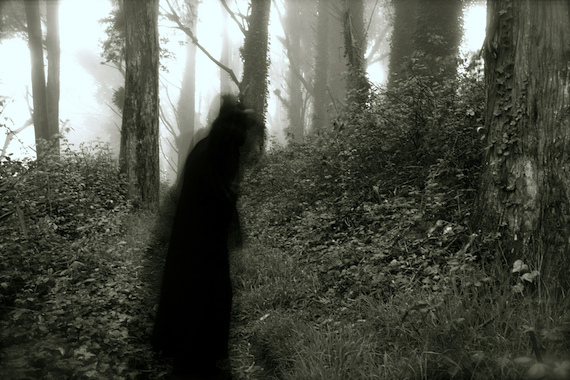 While much of the information on the Round Schoolhouse is rather ambiguous and murky as to its veracity, there have been a few accounts that I have tracked down that seem particularly interesting. By far one of the oddest reports I have seen was of a group of three curiosity seekers who one day in 1998 went off to the ruins to poke around and seem to have gotten way more than they bargained for somewhere in the bowels of that old, darkened building. It started innocently enough, when the group of friends decided to make a trip out to the place after seeing one of the many videos of it on YouTube. They parked their car along the lonely road and began their trek through out the forest and its tangle of trees towards the main building.
Once there, the main witness claims that they were almost immediately overcome by a clinging, unsettling cold, and that they sensed that they were being watched from the shadows by an unseen force that seemed to creep along following them. This was followed by a series of escalating paranormal experiences, such as items being knocked over, doors slammed shut, and most frightening of all the startled shout of one of the friends when he was apparently aggressively shoved by some invisible entity. The longer they stayed, the more the intensity of these phenomena increased, until they got to the point where they had seen enough and made their way back outside. As they did, a black form allegedly congealed out of the shadows and followed them. The witness would say (translated by me):
That shadow stalked us all the way out of the building and into the woods. We couldn't see it much as it was hiding, but we knew it was there. We could catch glimpses of it, and it made us pick up our pace. As we got closer to the car it became more visible, tangible, and more threatening. We finally got into the car and that was when something very black, large, and heavy slammed into us. It was as if a black bear had hit the car, but then it was gone without a trace, and we were alone in the forest again.
An even weirder account seems to suggest that there is some sort of vortex or inter-dimensional doorway within the Round Schoolhouse. This apparently happened as recently as 2000, and again involves a couple of amateur paranormal investigators, drawn to this location by all of the mysterious tales and creepy stories. Perhaps it was their mistake to come here in the evening hours, but whatever the reason they certainly came across something rather outlandish in that building.
Even as they made their way through the forest towards the schoolhouse they purportedly heard strange sounds coming from the trees, such as what sounded like someone banging on a tree with a stick, the sounds of someone snapping twigs, and what one of the witnesses swore was the sound of giggling. Things didn't get any more normal when they reached their destination, and disembodied footsteps seemed to echo out all around them, but it was when they reached one particular room where things would take off into the truly bizarre. Here they came across a faintly glowing opening in the wall, which supposedly shimmered and rippled. The witness would say of what happened next (again my own translation):
We stared at this glowing patch upon the wall for several moments, and that was when something seemed to come out of it. It looked like a hunched over figure but it was impossible to see the face. Then there were others, coming out two at a time, until they were looming all around us in that dank confined space. My friend and I looked at each other and ran. He says he looked back and the glowing was gone, but those shapes. They were everywhere.
Unsettling to say the least, and it is not apparent what happened after that but they apparently made it out in one piece. One has to wonder just what these people saw. Was this some sort of portal? Was it all an illusion? Who knows? It does seem to fit into the idea floated around that this is a site that harbors some sort of doorway through dimensions, and that all of this is not a haunting, but rather a bleeding over of another realm into our reality. Indeed, the Round Schoolhouse has never had any particular tragedy or violent incident as far as anyone knows, so is this the result of something even stranger than ghosts? Or is this an urban legend orbited by creepy pasta tales and spooky stories? If you are ever in the vicinity of Bibai, Hokkaido, maybe you can go check it out for yourself, if you dare.
SOURCE: Mysterious Universe
Parents terrified after seeing a ghostly face next to their baby's crib
Have you ever seen or heard a ghost? Many people say that there are ghosts in their homes, which appear in any room and at any time of the day. And the reality is that there are ghostly apparitions in all places, from old houses, new houses, forests, cemeteries, offices or restaurants.
Sometimes, these appearances are caused by tragic death, or due to residual energy, or simply are not ready to move on to the next life. But whatever the reason, they exist. But if we have to talk about terrifying experiences with ghosts, are those related to strange noises and whispers in videos, psychophonies and even appearances in baby monitors.
New mothers have many worries, and even more so if a ghost harasses their child. Unfortunately, there are many cases of ghostly voices recorded in baby monitors . And terrified mothers have two options: ignore the sound or investigate and try to find a solution. But what would you do if instead of listening to the voice of a ghost you saw it? We do not know, but some parents have been terrified to see a strange presence by the cradle of his son.
The ghostly face
The video, published on Reddit , shows a child moving in his crib late at night. At first nothing strange, but if we look better you can see something really disturbing. In the background, just behind the baby, there is a spooky face, similar to the face of a girl.
"This is the moment when concerned parents installed a camera to monitor their child and were surprised when they watched the video" , says the description that accompanies the video. "The images show the child moving in the crib late at night. But if we look better we see a disturbing truth. In the background there seems to be a spooky object that looks like a face. It does not move through the video, but the images are cut before we know what happened to the child. "
The terrible paranormal experiences of the family
After the publication on social networks, the mother explained the story behind the video. According to its version, the recording corresponds to the afternoon. But the phenomena began in September 2016, after suffering a miscarriage. On the night of the abortion, her other 18-month-old son had an electronic toy. Since then, his son's toys were inexplicably ignited , talking and singing. And it did not matter if the batteries were worn out, they just went to work.
However, this has not been the only supernatural incident that parents have experienced. The mother assures to listen regularly to the cable of the lamp in her room moving and hitting against the back of her bedside table.
"We do not have mice and I can not think of any logical explanation of why this is happening,"explains Melanie Meez, the baby's mother, on Reddit. "The last time I heard it was the night of the video right after I got into bed."
Also about two months ago he heard a repeat of beats as if it were Morse code in the middle of the living room during the night. It was strong enough for parents to come down to see what it was. But he stopped when they entered the room. They were in the room for about 30 seconds and they heard the strange noise again. It sounded like a fingernail hitting a plastic with no pattern or rhythm . It lasted about 20 seconds and the sound came a few meters away from where they were standing and it seemed to come from the wooden stairs. They had never heard that noise before or heard it again.
And there's more, as last week the lid of his son's cup fell into the sink for no apparent reason. Her husband decided to place two empty cups of their children with their caps near the sink. When they returned, they were all inside the sink.
"I'm just a mom with two great kids. I have always looked for logic in situations and it seems that I can not explain what happens in our house " , concludes the mother.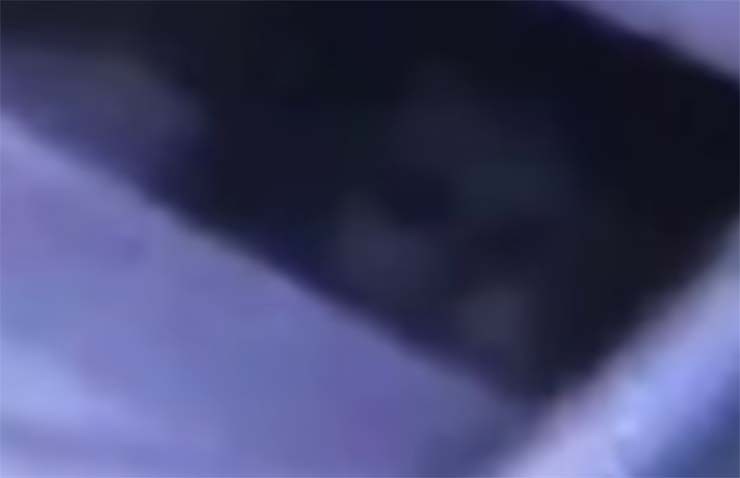 Debate on social networks
No doubt it is a video and a really scary story. And as such, it has had some repercussion in social networks. Believers in the paranormal have different opinions, some believe that it may be the ghost of an unborn child protecting what should have been his brother , while others suggest that it is an evil entity harassing the child, so Parents should seek help from a professional in the field.
But skeptics have another opinion about the incident. If it is not a video edition, then there could be a lot of objects or toys that could create that effect . Although what they do not take into account are the experiences of this poor family, which could be a victim of some kind of negative entity. But of course, for them that is the least important thing.
What is the mysterious face that you see in the video? Is it some kind of entity? Or can it be a mundane object creating an optical effect?
Man Who Claims His Apartment Is Haunted Provides Chilling Proof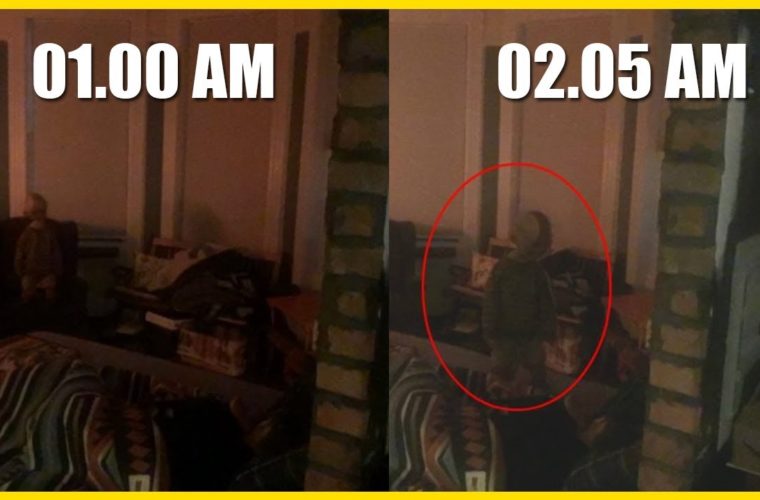 Man who claims his apartment is haunted provides chilling proof.
We take a look a man who claims his apartment is haunted & provides chilling proof.
Whether or not you believe in supernatural beings, ghost stories have a way of captivating even the biggest of skeptics. Though most of these tales are fiction, a special few are believable. Such was the case for one New York cartoonist named Adam Ellis.
Adam recently took to Twitter to tell his followers about a haunting experience. At first, his friends weren't sure if they believed him. But when he showed them the bone-chilling evidence, they were left stunned.