Goldman Sachs Made 400 Million Betting On Food Prices In 2012 While Hundreds Of Millions Starved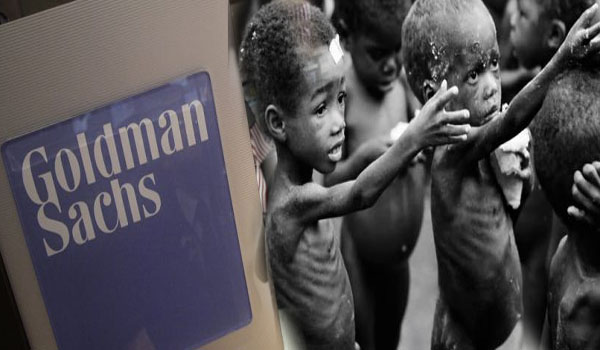 Why does it seem like wherever there is human suffering, some giant bank is making money off of it?  According to a new report from the World Development Movement, Goldman Sachs made about 400 million dollars betting on food prices last year.  Overall, 2012 was quite a banner year for Goldman Sachs.  As I reported in a previous article, revenues for Goldman increased by about 30 percent in 2012 and the price of Goldman stock has risen by more than 40 percent over the past 12 months.  It is estimated that the average banker at Goldman brought in a pay and bonus package of approximately $396,500 for 2012.  So without a doubt, Goldman Sachs is swimming in money right now.  But what is the price for all of this "success"?  Many claim that the rampant speculation on food prices by the big banks has dramatically increased the global price of food and has caused the suffering of hundreds of millions of poor families around the planet to become much worse.  At this point, global food prices are more than twice as high as they were back in 2003.  Approximately 2 billion people on the planet spend at least half of their incomes on food, and close to a billion people regularly do not have enough food to eat.  Is it moral for Goldman Sachs and other big banks such as Barclays and Morgan Stanley to make hundreds of millions of dollars betting on the price of food if that is going to drive up global food prices and make it harder for poor families all over the world to feed themselves?
This is another reason why the derivatives bubble is so bad for the world economy.  Goldman Sachs and other big banks are treating the global food supply as if it was some kind of a casino game.  This kind of reckless activity was greatly condemned by the World Development Movement report…
"Goldman Sachs is the global leader in a trade that is driving food prices up while nearly a billion people are hungry. The bank lobbied for the financial deregulation that made it possible to pour billions into the commodity derivative markets, created the necessary financial instruments, and is now raking in the profits. Speculation is fuelling volatility and food price spikes, hurting people who struggle to afford food across the world."
So shouldn't there be a law against this kind of a thing?
Well, in the United States there actually is, but the law has been blocked by the big Wall Street banks and their very highly paid lawyers.  The following is another excerpt from the report…
"The US has passed legislation to limit speculation, but the controls have not been implemented due to a legal challenge from Wall Street spearheaded by the International Swaps and Derivatives Association, of which Goldman Sachs is a leading member. Similar legislation is on the table at the EU, but the UK government has so far opposed effective controls. Goldman Sachs has lobbied against controls in both the US and the EU."
Posted below is a chart that shows what this kind of activity has done to commodity prices over the past couple of decades.  You will notice that commodity prices were fairly stable in the 1990s, but since the year 2000 they have been extremely volatile…
The reason for all of this volatility was explained in an excellent article by Frederick Kaufman…
The money tells the story. Since the bursting of the tech bubble in 2000, there has been a 50–fold increase in dollars invested in commodity index funds. To put the phenomenon in real terms: In 2003, the commodities futures market still totaled a sleepy $13 billion. But when the global financial crisis sent investors running scared in early 2008, and as dollars, pounds, and euros evaded investor confidence, commodities — including food — seemed like the last, best place for hedge, pension, and sovereign wealth funds to park their cash. "You had people who had no clue what commodities were all about suddenly buying commodities," an analyst from the United States Department of Agriculture told me. In the first 55 days of 2008, speculators poured $55 billion into commodity markets, and by July, $318 billion was roiling the markets. Food inflation has remained steady since.

The money flowed, and the bankers were ready with a sparkling new casino of food derivatives. Spearheaded by oil and gas prices (the dominant commodities of the index funds) the new investment products ignited the markets of all the other indexed commodities, which led to a problem familiar to those versed in the history of tulips, dot–coms, and cheap real estate: a food bubble. Hard red spring wheat, which usually trades in the $4 to $6 dollar range per 60-pound bushel, broke all previous records as the futures contract climbed into the teens and kept on going until it topped $25. And so, from 2005 to 2008, the worldwide price of food rose 80 percent –and has kept rising.
Are you angry yet?
You should be.
Poor families all over the planet are suffering so that Wall Street bankers can make bigger profits.
It's disgusting.
Many big financial institutions just seem to love to make money on the backs of the poor.  I have previously reported on how JP Morgan makes billions of dollars issuing food stamp cards in the United States.  When the number of Americans on food stamps goes up, so does the amount of money that JP Morgan makes.  You can read much more about all of this right here: "Making Money On Poverty: JP Morgan Makes Bigger Profits When The Number Of Americans On Food Stamps Goes Up".
Sadly, the global food supply is getting tighter with each passing day, and things are looking rather ominous for the years ahead.
According to the United Nations, global food reserves have reached their lowest level in nearly 40 years.  Global food reserves have not been this low since 1974, but the population of the world has greatly increased since then.  If 2013 is another year of drought and bad harvests, things could spiral out of control rather quickly…
World grain reserves are so dangerously low that severe weather in the United States or other food-exporting countries could trigger a major hunger crisis next year, the United Nations has warned.

Failing harvests in the US, Ukraine and other countries this year have eroded reserves to their lowest level since 1974. The US, which has experienced record heatwaves and droughts in 2012, now holds in reserve a historically low 6.5% of the maize that it expects to consume in the next year, says the UN.

"We've not been producing as much as we are consuming. That is why stocks are being run down. Supplies are now very tight across the world and reserves are at a very low level, leaving no room for unexpected events next year," said Abdolreza Abbassian, a senior economist with the UN Food and Agriculture Organisation (FAO).
The world has barely been able to feed itself for some time now.  In fact, we have consumed more food than we have produced for 6 of the last 11 years…
Evan Fraser, author of Empires of Food and a geography lecturer at Guelph University in Ontario, Canada, says: "For six of the last 11 years the world has consumed more food than it has grown. We do not have any buffer and are running down reserves. Our stocks are very low and if we have a dry winter and a poor rice harvest we could see a major food crisis across the board."

"Even if things do not boil over this year, by next summer we'll have used up this buffer and consumers in the poorer parts of the world will once again be exposed to the effects of anything that hurts production."
We desperately need a good growing season next summer, and all eyes are on the United States.  The U.S. exports more food than anyone else does, and last summer the United States experienced the worst drought that it had seen in about 50 years.  That drought left deep scars all over the country.  The following is from a recent Rolling Stone article…
In 2012, more than 9 million acres went up in flames in this country. Only dredging and some eleventh-hour rain kept the mighty Mississippi River from being shut down to navigation due to low water levels; continuing drought conditions make "long-term stabilization" of river levels unlikely in the near future. Several of the Great Lakes are soon expected to hit their lowest levels in history. In Nebraska last summer, a 100-mile stretch of the Platte River simply dried up. Drought led the USDA to declare federal disaster areas in 2,245 counties in 39 states last year, and the federal government will likely have to pay tens of billions for crop insurance and lost crops. As ranchers became increasingly desperate to feed their livestock, "hay rustling" and other agricultural crimes rose.
Ranchers were hit particularly hard.  Because they couldn't feed their herds, many ranchers slaughtered a tremendous number of animals.  As a result, the U.S. cattle herd is now sitting at a 60 year low.
What do you think that is going to do to meat prices over the next few years?
Meanwhile, the drought continues.  According to the U.S. Drought Monitor, this is one of the worst winter droughts the U.S. has ever seen.  At this point, more than 60 percent of the entire nation is currently experiencing drought.
If things don't turn around dramatically, 2013 could be an absolutely nightmarish year for crops in the United States.  If 2013 does turn out to be another bad year, food prices would soar both in the U.S. and on the global level.  The following is from a recent CNBC article…
The severe drought that swept through much of the U.S. last year is continuing into 2013, threatening to cripple economic growth while forcing consumers to pay higher food prices.

"The drought will have a significant impact on prices, especially beef, pork and chicken," said Ernie Gross, an economic professor at Creighton University and who studies farming issues.
So let us hope for the best, but let us also prepare for the worst.
It looks like higher food prices are on the way, and millions of poor families all over the planet will be hard-pressed to feed their families.
Meanwhile, Goldman Sachs will be laughing all the way to the bank.
Experts Horrified by Leaked CRISPR Baby Study
Chinese scientist He Jiankui's creation of the world's first gene-edited human babies was undoubtedly one of the most impactful science stories of 2018.
But for as much attention as the experiment received, the paper detailing it was never actually published — until now.
On Tuesday, MIT Technology Review published excerpts from a copy of He's manuscript, titled "Birth of Twins After Genome Editing for HIV Resistance," which it obtained from a source earlier in 2019.
The outlet also shared the manuscript with a legal scholar, a doctor specializing in in vitro fertilization, an embryologist, and a gene-editing specialist — and the experts' reactions to He's CRISPR baby study confirm that it was an absolute ethical nightmare.
The MIT Tech Review story highlights 13 problems the experts found with the paper, not least of which is the fact that the researchers behind it never managed to actually prove their claims that the experiment was "successful."
Additionally, the experts note that He and his co-authors seem to have made deliberate attempts to conceal some key information, such as by not naming the doctors involved in the experiment.
In other instances, He's team appears to have outright lied, for example by noting in the manuscript that the twins were born in November 2018 when people familiar with the experiment have said the birth occurred in October.
The experts told MIT Tech Review that reading the manuscript not only left them concerned that the parents involved in the CRISPR baby study only participated to gain access to in vitro fertilization — and not to prevent their offspring from inheriting the father's HIV — but also that the doctors involved in the experiment might not have even known what was happening.
"Approaching this document, I was hoping to see a reflective and mindful approach to gene editing in human embryos," Rita Vassena, scientific director of assisted reproduction company Eugin Group, told MIT Tech Review.
"Unfortunately, it reads more like an experiment in search of a purpose," she continued, "an attempt to find a defensible reason to use CRISPR/Cas9 technology in human embryos at all costs, rather than a conscientious, carefully thought through, stepwise approach to editing the human genome for generations to come."
FBI launches a new phobia: You're being watched on smart TVs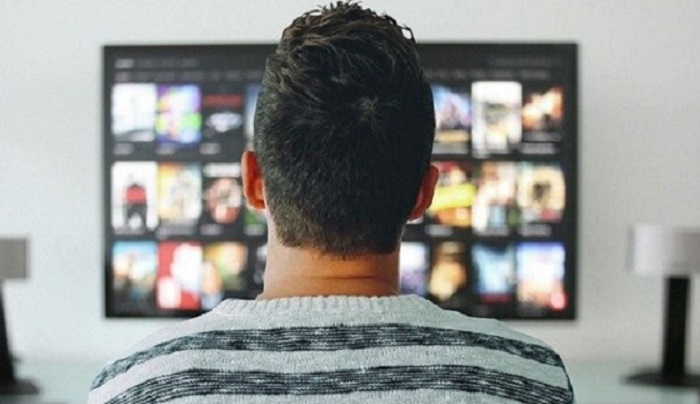 Federal Bureau of Investigation warned US citizens that hackers can watch and monitor them through modern TVs.
It goes without saying that ordinary people can be watched via smart camcorders. Therefore, these cameras must be "sealed " when not in use.
Smart TVs have built-in internet access to watch streaming media content.
Technically, it's a hybrid between a PC and a TV. That's why the FBI triggered the alarm – any ordinary computer can be hacked, which means it can be done with smart TVs.
Many smart TVs are equipped with camcorders and microphones. If hackers break into your TV, they will be able to watch and hear you, and you won't even notice it.
But, hackers will not stop until they penetrate your TV. If their activity is not stopped, they will reach your smartphone and laptop using your data.
The FBI advises:
"Don't rely on the default settings. Protect your privacy by putting, for example, an opaque adhesive tape on your cameras when not in use. "
This warning was posted on November 26, 2019 by FBI staff at the Bureau's official website.
The warning was deliberately issued before Black Friday and Cyber ​​Monday, known for selling people a variety of things, including digital equipment and smart TVs.
The warning also says:
"If they get access to your equipment, in the simplest case, they will modify your channel list or show inappropriate videos to your children. At worst, they will unnoticed, turn on the camera and microphone, even in your bedroom."
It is reported that if citizens spot cyber fraud cases, they can always 'knock' at the FBI's local office or file a complaint online through a dedicated website.
All of this provokes conspiracy theorists to ask questions, such as: who should be more guarded by hackers or special services? Isn't this evidence that the FBI is spying on people the same way? Why is this information given? What is the FBI's intended purpose?
Latest Tests Reveal Children's Cereals Still Contaminated with Toxic Glyphosate
The Environmental Working Group (EWG) has compiled fresh data on the levels of toxic glyphosate (Roundup) found in several popular oat-based breakfast cereals, and the verdict is this: All of them contain at least trace amounts of the cancer-causing herbicide, while most of them are loaded with it.
Olga Naidenko, PhD, a senior science advisor at EWG, along with Alexis Temkin, a toxicologist at EWG, identified the presence of glyphosate in all of the 21 oat-based cereals and snack products they tested. And all but four of these products were found to contain glyphosate at levels higher than what EWG considers to be "protective for children's health with a sufficient margin of safety."
The worst product was General Mills' Honey Nut Cheerios Medley Crunch, which clocked in at 833 parts per billion, or ppb, of glyphosate. In second place was General Mills' Cheerios Toasted Whole Grain Oat Cereal, which tested at 729 ppb of glyphosate.
General Mills' Honey Nut Cheerios was one of the few cereal products that tested below EWG's children's health benchmark of 160 ppb of glyphosate, containing 147 ppb of glyphosate according to EWG's tests. The best-testing product was Nature Valley Fruit & Nut, and Dark Chocolate & Nut, Chewy Trail Mix Granola Bars, at 76 ppb of glyphosate.
A whole slew of other General Mills and Nature Valley products tested at somewhere in between these upper and lower levels, while still mostly exceeding EWG's children's health benchmark of 160 ppb of glyphosate.
These latest findings are significant in that they once again prove that children's breakfast cereals, especially those that aren't organic and contain oat ingredients, are a toxic nightmare that's being completely ignored by federal health authorities.
The Environmental Protection Agency (EPA), for instance, has yet to act on a petition filed by EWG that calls on the agency to "sharply limit" the amounts of glyphosate residue allowed on food. EWG has also called on the EPA to put an end to the use of glyphosate as a preharvest desiccating, or drying, agent.
But the EPA rarely acts on behalf of the general public, it's important to note. In fact, the agency has been colluding with Monsanto (now Bayer-Monsanto) for years to keep glyphosate on the market by claiming that the chemical is completely safe for humans – this being a total lie.
Amid ongoing litigation concerning glyphosate's cancer-causing properties, Bayer-Monsanto is desperate to keep a lid on the truth – and the EPA is actually helping the company to continue deceiving the public about it. But EWG's petition, which includes 19 food companies that agree with its demands, has already been signed by more than 80,000 people, meaning the EPA can't ignore it forever.
Prior to 1993, the EPA actually had standards in place to prevent excess glyphosate from getting into food. But those standards have since been abolished, which explains why the American food supply is becoming increasingly more toxic with each passing day.
"EWG's petition, currently under consideration by EPA, calls on the agency to return to its health-protective 1993 standard," EWG reports. "But it could take years for EPA to act, and the agency has been caught colluding with Monsanto to promote the claim that the chemical is safe."
"The only way to quickly remove this cancer-causing weedkiller from foods marketed to children is for companies like General Mills and Quaker to use oats from farmers who do not use glyphosate as a desiccant," EWG goes on to explain, adding that more than 236,000 people have already signed a petition calling on these two companies to stop sourcing oats from farms that use glyphosate as a preharvest desiccant.
You can sign that petition yourself at this link.
Ethan Huff
Natural News