Globalists Suggest Engineering Smaller Humans to Preserve Natural Resources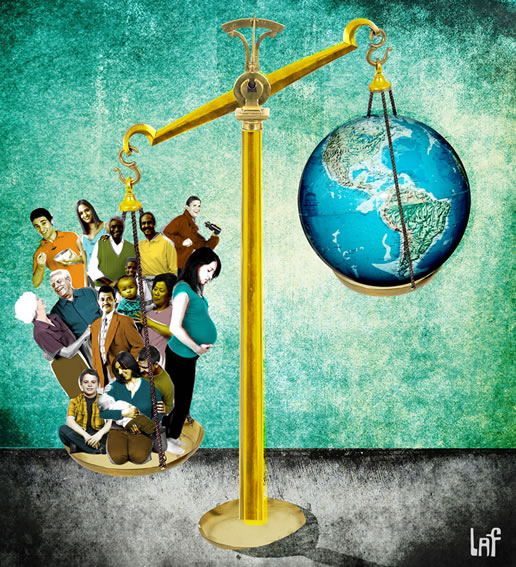 Herman Daly, ecological economist and professor at the School of Public Policy (SPP) of the University of Maryland, has assisted in developing guidelines for defining sustainable development. Daly is a former senior environmental economist for the World Bank. His work as an eco-visionary for economics established the discipline of eco-economies, policies and programs that placed the ideals of eco-fascism and the global acquisition of all biodiversity over the necessities of the world's population.
Daly has recently warned in a publication that part of the population problem is that populations require resources to sustain a specified metabolic rate which is somehow correlated to environmental depletion and excess of pollution. Because sustaining life is a symbiotic relationship between humanity and the planet, it is humanity that is dependent on the biodiversity of earth.
In this way, Daly asserts that the adage, "more for everyone" has become "the defacto purpose" of consumerism which is the weakening glue that holds society together. Daly offers that a "cure for overpopulation" may be the development of technologies that maintain lower birth rates while controlling the necessities of sustenance for those already born.
As an economist, he views this dilemma as such: "Our economy has a growth-oriented focus on maximizing production flows (birth rates of artifacts) that keeps us in the pre-transition mode, giving rise to growing artifact populations, low product lifetimes, high GDP, and high throughput, with consequent environmental destruction. The transition from a high-maintenance throughput to a low one applies to both human and artifact populations independently. From an environmental perspective, lower throughput is desirable in both cases, at least up to some distant limit."
Other economists claim that overpopulation is causing poverty in underdeveloped nations. In the Philippines, there is an initiative to control the burgeoning population by forcing family planning onto the citizens. Josefina Natividad, director of the University of the Philippines' Population Institute (UPPI), explains: "If you increase access to contraceptives for women … you will have births averted."
The UPPI began with a grant from the globalist think-tank the Ford Foundation in 1964. They influence the Philippine government with research and coercion to push population control agendas with a focus on its impact on local and international communities. The UPPI works with UN-sponsored non-governmental organizations (NGOs) to receive technical assistance in providing reproductive health products.
Back in April, S. Matthew Liao, Anders Sandberg, and Rebecca Roache published a paper that called for human beings to become more energy efficient for the sake of lowering our ecological carbon footprint.
Liao suggests that taking a pill that would cause nausea when a person ate meat would eventually create a lasting aversion to meat-eating. The UN Food and Agricultural Organization (UNFAO) have reported that 18% of the world's greenhouse gases and CO2 equivalents can be directly contributed to livestock. If we had less animals raised for consumption, we could cull considerable environmental benefits.
Engineering human babies to be smaller is used in pre-implantation genetic diagnosis in fertility clinics today. Embryos are selected for implantation on the basis of certain characteristics. Why not choose to create smaller babies?
To control the world's human population, many different schemes have been deployed simultaneously in order to cover their intended purpose. When all fronts are joined together in the assault, it is difficult pin-point the origin of the problem.
According to the RAND Corporation, the push for family planning services have had a tremendous effect on the human population globally. It is in a massive decline that will begin to show itself beginning in an estimated 50 years. Based on the agendas of the UN fertility rates worldwide have fallen in underdeveloped nations and these trends are expected to continue.
Because the global Elite claim that global population growth drains our economy and resources, as well as provide a costly burden to the citizens of a nation, the women of developing nations must be refocused to believe that family planning programs and contraception will improve their lives.
Liao, like Daly, believes that parents could use genetic engineering or hormone therapy to birth smaller babies that would be less resource-intensive throughout their lifetime. Larger people consume more food and energy over their life. Smaller people consume less. Liao states that larger people use more fuel per mile in their cars, need more clothing to cover them, wear out their shoes, carpets and furniture faster because of their weight. Liao suggests that the average US citizen's height should be reduced by 15cm. This would reduce the body mass by 21% for men and 25% for women. A massive reduction in height and mass would slow down metabolic rates by 15% – 18%, meaning less energy and nutrient needs.
The Bill and Melinda Gates Foundation have in their arsenal Depo-Preovera; an implantable fertility control provided from Shanghai Dahua Pharmaceuticals, and donations from Merck to further their advancement of the UN's Millenium Development Goals which states that there be a 75% reduction in births under the guise of maintaining maternal mortality.
By 2020, Melinda Gates hopes to extend the use of forced sterilization through manipulation of foreign governments to further the scheme of preventing 80 million of "unwanted pregnancies" in places like Africa, India and Southeast Asia. Gates believes she can prevent 40% of people who would otherwise have been born, thereby justifying family planning as a scheme to make women healthier who have "families are more successful and their communities are more prosperous."
Population stabilization, the true meaning behind family planning is evident in the World Bank and UN Population Fund's push against sovereign nations to reduce their populations by rule of the "global consensus" which dictates human rights policy by deeming some fit to live and others not.
Based on the Rockefeller Commission report, population stabilization is an endeavor worth pursuing, although its success would take decades because of the high incidents of reproduction by marriage. However, with the destruction of the family, this problem could be solved. Furthermore, the stabilization of the global population would reallocate resources to be better spent in terms of quality versus quantity.
Concluding that the best way to achieve population stabilization is to coerce the nation's citizens that they freely choose abortion and not having a child at all as part of an acceptable societal norm. By way of implementation of social barrier and cultural pressures, the average citizen would rather go with the flow and chose not to procreate for the sake of being part of the herd.
Simultaneously, by reforming the acceptable amount of children born into a married household, the impact of population growth would seem to be natural. And trends would take care of social conformity. Those who had more children would be shunned.
Increasing access to abortion clinics with the inception and popularity of Planned Parenthood would give unacceptable pregnancies a viable solution. This would distract and control another Baby Boom from occurring. Using images on television, film and print media control the ideals of the modern family to fit the model of a population stabilized by no longer being plagued with "run-a-way" births; but focusing on the example of small-families as the best way to go.
Was an Angel filmed over a house extinguished by firefighters?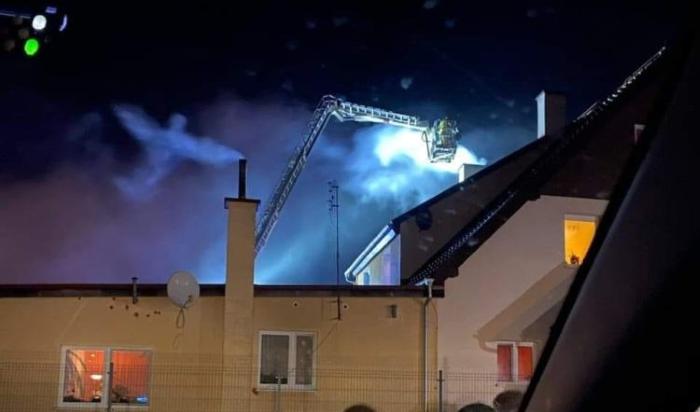 Having appeared on the network, this photo caused a lot of comments – from the fact that it really was a Guardian Angel who guarded the firefighters during work, to those who assured that all this was just an illusion, no more complicated than a cloud in the shape of a lamb.
At the end of December 2020, while extinguishing a fire in the Polish village of Maldyty, an Angel hovered over the firemen, or at least something like an Angel. This photo appeared on the Facebook page of the Maldyta fire station and generated many comments.
"This is something that was formed during the last extinguishing of the fire from the ignition of soot in the chimney in Maldyty. Write in the comments your thoughts about it," was written under the picture on their FB page.
Poles are known to be very religious and there are plenty of people willing to comment on the picture.
Many indeed believed that the Angel oversaw the work of the firemen and, perhaps, even helped them to extinguish the fire. But there were also enough of those who believed that it was all just a random silhouette between clouds in the sky and pareidolia (illusion). The photo was taken by an unspecified person sitting in the cab of a car parked next to the burning house.
"Christians have always believed in the existence of guardian spirits. Some call them Guardian Angels. The Bible confirms their existence," Pastor Leszek Kozheniecki told reporters, commenting on this photo.
By the way, Kozhenetskiy is a well-known Polish pastor who believes in the existence of supernatural beings.
Three years ago, he told the press that he had driven out the evil spirit that settled in his house in Turza Wielka. One of the firefighters who worked on the extinguishing of the house that night said:
"If we have this kind of protection watching over us, I am pretty calm about safety during work."
The skeleton of a mysterious "prehistoric beast" found in Antarctica?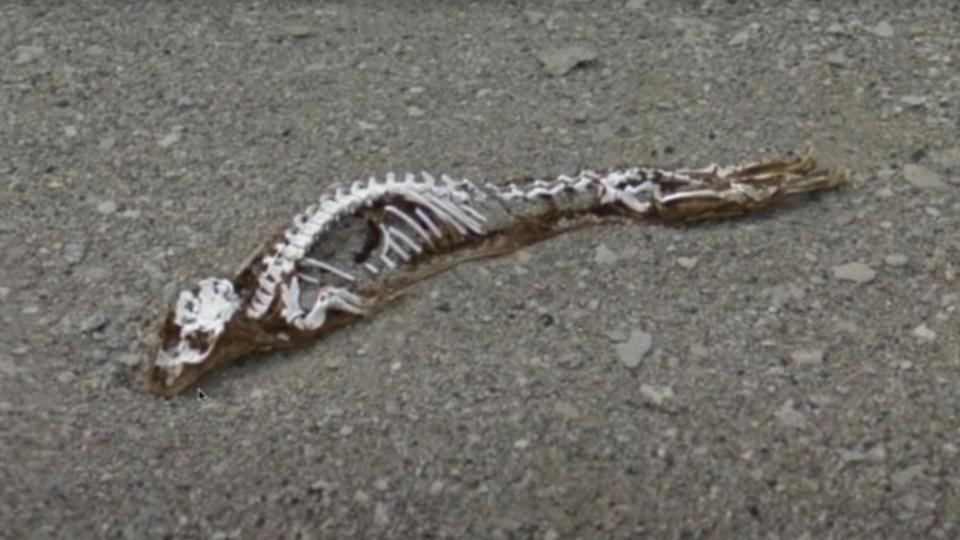 Blogger MrMBB333 shared an image of a "mysterious creature." It was discovered 80 kilometers off the coast of Antarctica in a remote region of Antarctica, according to the Sun.
According to the blogger, the pictures are screenshots from the Google Earth service, which were sent to him by his subscriber and conspiracy theorist under the nickname BONKERS.
They estimate the length of the remains at 3.6-6 meters.I don't know if it was frozen for thousands of years or appeared recently,- the blogger said.
MrMBB333 believes the skeleton belonged to a dinosaur. He came to this conclusion by examining the front and hind limbs of the creature. His subscribers are sure that these are the remains of a seal.
A google search for seal skeleton images shows a pretty good match,- one of them wrote.
Other subscribers call the skeleton "suspicious". They explain that "seals have no hind legs." Another wrote that the remains belonged to an alligator or some other reptile.
In the comments, conspiracy theorists also expressed their opinion that "Antarctica is full of unexplained phenomena that may be related to ancient aliens."
It is also believed that most of the "discoveries" made by users of Google Earth can be explained by the unusual shape of ice or other natural phenomena.
MrMBB333 uploaded his investigation video to YouTube on January 5. Since then, the video has been watched more than 200,000 times.
150 thousand years old Metal pipes in Tibet, contradict the official history
It is said that there is a mountain in Tibet that contains a network of special formations that extend to the nearest lake. Many researchers believe that this is an artificial pipeline system. But, strangely enough, its origin dates back to the era of the Neanderthals.
This mountain rises about 40 km from the city of Dalingha in the Tibetan Autonomous Region. It is called Baigongshan (White Mountain). In the world, it is better known for the wonderful formations that are in its heart and wide surroundings – they are called the Baigong pipes.
This miracle has been the subject of controversial discussions for many years. Some believe they are a natural formation, but there are many who are sure that someone built them in the distant past to drain the lake. They base their arguments on research results, but there is a catch; the mysterious aqueduct should have appeared 150 thousand years ago. Traces of settlements around the mountain are not even older than 30 thousand years. So who could build metal pipes inside an uninhabited mountain?
There are three caves at the foot of Mount Baigongshan, two of them have already collapsed and are inaccessible, but the largest of them has since been the target of many tourists who come to the area.
The cave looks like it was artificially created by someone. Visibility is enhanced by a massive pipe about forty centimeters in diameter that sticks out of the stone.
Another apparently hollow pipe of the same diameter ran into the cave from the top of the mountain. Another one came from the bottom of the cave somewhere below.
At the entrance to the cave, you can see several other pipes with a diameter of 10 to 40 cm. All this gives the impression of the remains of some ancient system or mechanism. About 80 meters from the cave, Lake Toson sparkles with a large number of scattered pipes on the beach.
They stretch from east to west and have a diameter of 2 to 4.5 cm, these archaeological finds are described by the Chinese scientist Liu-Shaolin:
The unmistakable rust color indicates that they are made of metal. And their craftsmanship showcases advanced attachment techniques. Who could have built such a complex pipe system? Only one who knew well what he was doing and why.
The version that such an engineering miracle was created by the Chinese disappears immediately. The inhabitants of the Middle Kingdom could not build something like that 150 thousand years ago. As the authors of many amazing inventions, bureaucracy became one of them. Therefore, it is simply impossible to imagine that such a large-scale and, without exaggeration, a great construction project was reflected in any ancient Chinese source. Any emperor, during whose reign this happened, would make sure that his great deed was not forgotten by descendants.
Baigong tubes are another unsolved mystery in human history. This find once again refutes the facts of the official history. Where is the true and where is the misconception? Maybe there will be people among the readers who will logically explain the origin of the ancient aqueduct.