Giant Hidden World of Intraterrestrials is Living Underneath Our Feet
I feel the earth move under my feet
I feel the sky tumbling down
I feel my heart start to trembling
Whenever you're around
Carole King was obviously referring to a guy in her iconic song, but today those same lyrics might apply to a newly-discovered world of "intraterrestrials" living deep under the feet of virtually every human in a pristine environment that excited researchers are calling a "subterranean Galapagos." In fact, it's making them "get hot and cold, all over, all over, all over, all over." Let's find out why.
Two types of microbes—bacteria and archaea—dominate Deep Earth. Among them are millions of distinct types, most yet to be discovered or characterized. This so-called microbial "dark matter" dramatically expands our perspective on the tree of life. Deep Life scientists say about 70% of Earth's bacteria and archaea live in the subsurface.

Deep microbes are often very different from their surface cousins, with life cycles on near-geologic timescales, dining in some cases on nothing more than energy from rocks.

The genetic diversity of life below the surface is comparable to or exceeds that above the surface.

While subsurface microbial communities differ greatly between environments, certain genera and higher taxonomic groups are ubiquitous – they appear planet-wide."
In a statement released prior to the American Geophysical Union's annual meeting, over 1,000 scientists from 52 countries with the Deep Carbon Observatory unveiled the results of their 10-year project which involved drilling hundreds of deep (up to 3 miles/4.8 km) holes on the surface and under the oceans. They found that 70% of Earth's bacteria and archaea exist in the subsurface, with many of them being alive for thousands of years, moving only when there are earthquakes, volcanic eruptions or plate shifts.
Not only are these organisms old and diverse, they're strange. One found 1.5 miles/2.5 km down appears to live on methane instead of sunlight and doesn't reproduce but instead has just been repairing itself for eons. Another lives in hydrothermal vents on the ocean floor at 250 degrees Fahrenheit (121 degrees Celsius), above the boiling point of water at 212 degrees F (100 degrees C).
And there's not just a few of them in holes … there's TONS of them everywhere – an estimated 2 to 2.3 billion cubic km (almost twice the volume of all oceans) with a carbon mass of 15 to 23 billion tons, which is 245 to 385 times greater than the carbon mass of all humans on the surface.
Is your heart trembling at the thought of being outnumbered and outlived by so many subsurface intraterrestrials? Robert Hazen, a mineralogist at the Carnegie Institution for Science, thinks this study is just scratching the subsurface.
"We must ask ourselves: if life on Earth can be this different from what experience has led us to expect, then what strangeness might await as we probe for life on other worlds?"
How would that make Carole King feel?
I feel the sky tumbling down, a'tumbling down,
A'tumbling down, a'tumbling down, a'tumbling down, a'tumbling down, tumbling down!
SOURCE:
Couple Gets Kidnapped And Tortured By Cannibals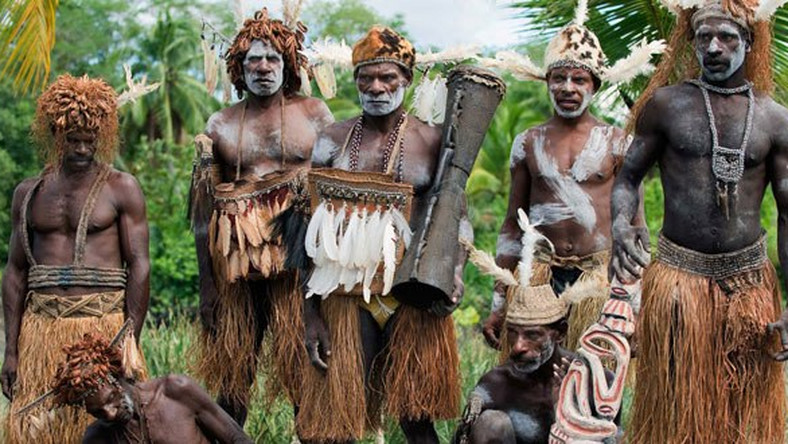 While a British and American couple were traversing through Papua, New Guinea they were beaten and captured by wild cannibals. The pair were lucky to escape with their lives, according to 'The Telegraph'. Both of them were later taken to a hospital located in Port Moresby.
It is no secret that for quite some time, some areas of New Guinea have been plagued with this ancient practice. One known tribe in particular, are still eating people. The Korowai tribe, is one of the last known tribes in the world to have been cannibals. There may be a few others still out there as well. A creepy thought no doubt.
Human cannibalism is a very old practice. It is a repulsive thought that anyone could eat another human being. But it has happened, people have actually eaten the internal organs of others before among their flesh.
The actual expression of cannibalism has become part of zoology. The reason for this is become of the practice. When one individual of a species actually consumes all or part of the same species as food, they are a cannibal.
This practice has never been accepted mainstream throughout history. It was forbidden and likely those doing this were tracked down and killed themselves. It makes one wonder, how many different incidents were quietly swept under the rug and forgotten about in the past.
Both Matthew Iovane and his girlfriend Michelle Clemens were quite lucky, they could have been killed by these wandering mad men. They were both forced to strip naked and were cut up and beaten by these savages. The then 31-year-old, starred on Channel 4's Shipwrecked. According to 'The Sun' the couple were savagely beaten up with machetes when they attempted to flee the jungle.
Their day started out as a getaway adventure, yet turned out not what they expected it to be. Iovane and his American girlfriend were enjoying an adventure type holiday together before all of this happened.
Iovane went on to say, "They both had machetes with huge blades and one had a long wooden spear with a crude arrowhead and they were grunting. I thought we were being robbed so we put down our bags and tried to calm them, saying they could take everything when they started pushing and threatening us."
"They took our belongings, I was naked in the most remote jungle on Earth with no shoes and Michelle was bleeding buckets beside me in her underwear. But nothing mattered except getting away, so we ran."
When questioned further about the incident, the pair explained that they were both stripped naked, bound with vines and blindfolded before being subjected to a horrifying 'torture game'.
After fleeing, the naked couple left all their belongings behind including an iPhone. Apparently, the tribesmen recognised it and even tried using the device.
The couple were later spotted by a man, who helped them get to safety where they were later treated for their injuries.
Scientists Discover an Edible Mushroom that Eats Plastic, Could Potentially 'Clean' Landfills
Whether we like it or not, our society has become completely reliant on plastic. From food preservation to water transportation, computer technology to healthcare and medicine, plastic can be found in nearly every facet of the human experience.
But as we well know, plastic is a double-edged sword, with massive amounts of plastic waste not only piling up in landfills, but floating in the most remote depths of our oceans and water supplies. And despite our knowledge of plastic's harmful effects on the environment, we've become so reliant on plastic that there seems to be no end in sight. In fact, plastic production is growing on a yearly basis – and posing a potentially mortal threat to us all.
However, a newly-discovered type of mushroom could not only play a crucial role in slashing plastic pollution, but could have myriad other uses in addressing the environmental crises the planet faces.
Discovered in 2012 by Yale University students, Pestalotiopsis microspora is a rare species of mushroom from the Amazon rainforest that's capable of subsisting on a diet of pure plastic, or more accurately, the main ingredient in plastic – polyurethane – before converting the human-made ingredient into purely organic matter.
And not only can Pestalotiopsis microspora live off of our plastic waste, it can also live without oxygen-meaning that the rare breed of mushroom would make an ideal agent for landfill clean-up, literally from the bottom-up.
While the idea sounds fantastic, some scientists have expressed hope that the plastic-consuming fungi can form the basis of the community waste treatment centers of the future – replacing our current practice of dumping our trash into centralized, massive landfills with small, mushroom-centered community composting centers or even home recycling kits, according to Epoch Times.
And as it turns out, Pestalotiopsis microspora isn't alone in the world of plastic-eating mushrooms – and some of its plastic-consuming kin are even perfectly safe for us humans to consume.
In a study led by Katharina Unger for Utrecht University in the Netherlands, oyster mushrooms and other types of mushrooms were placed in agar cups with plastic waste and held in a climate-controlled dome-shaped environment. After about a month, the roots of the mushroom consumed and transformed the plastic into an edible biomass – or food – that was completely free of any toxicity from the polyurethane.
Not only was the finished product completely free of plastic, but they also had an appealing taste, according to Unger, who described them as "sweet with the smell of anise or licorice."
Yes, that's right: for the very first time in history, plastic trash could be a part of our food chain – in a deliberate and surprisingly healthy way. Indeed, such a discovery – if refined – could be a part of a novel solution to food scarcity in a world brimming-over with plastic waste yet scarce on food for hundreds of millions of people.
"Our research partner [Utrecht University] expects that the digestion will go much quicker once processes are fully researched and optimized," Unger told Dezeen magazine, adding that her team "imagined it as being used with a community or small farm setting."
The benefits of plastic-eating mushrooms seem limitless. At the State of the World's Fungi 2018 event in Kew Gardens, London, fungi that process polyurethane were also found to be suitable as "mushroom bricks," or a durable and sustainable building material that could be suitable for building homes.
The management and elimination of plastic waste is among the greatest challenges we face in saving our environment. But if the natural rate of decomposition can be reduced from 400 years to a mere few months, then these fungi could soon be taking over the world.
Elias Marat
The Mind Unleashed
Previously Unknown Human Relative Found On Philippine Island
Thirteen fossil bones and teeth excavated in a cave in the Philippines represent an enigmatic previously unknown human species, probably small in stature and possessing an unexpected mix of archaic and modern traits.
The discovery of remains of at least three individuals from this species, named Homo luzonensis, in Callao Cave on the northern part of the island of Luzon marked the second time in the 21st century that a bygone member of the human family has been found on southeast Asian islands.
The researchers were unable to extract DNA but did determine that one of the individuals lived 67,000 years ago and the other 50,000 years ago.