Giant Beings Seen Rapidly Climbing Mexican Volcano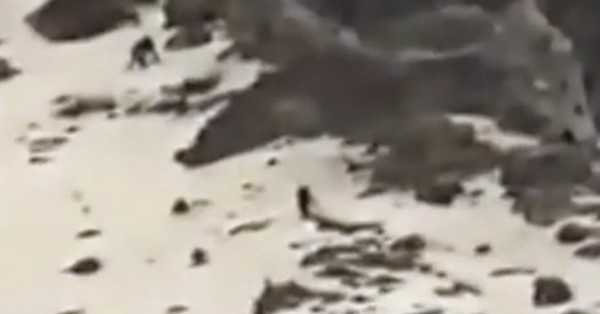 The Popocatepetl volcano in Mexico has long been a hotbed for UFO sightings, even though it is highly active. Now a mountain rescue team claims it has witnessed giant creatures climbing up the slopes of the mountain faster than humanly possible.
Watch the video below!
Popocatepetl is located in the states of Mexico, Puebla and Morelos in Central Mexico. At 5,426 meters (17,802 feet), it is the second highest peak in Mexico. UFOs have been reported frequently in the area, with some witnesses seeing thementering or leaving the mouth of the volcano.
In a recent interview on Tercermilenio television, climber Guillermo Vidales, also known as Huracán Vidales, said that mountain rescue crews on Popocatepetl saw humanoid creatures measuring about 2.5 meters (8.2 feet) in height at an altitude of over 4,000 meters (13,000 feet). Seen on more than one occasion, the beings appeared to be thin and brown and not wearing any visible clothing. They showed amazing speed and skill, according to Vidales.
In addition to the photographs, Vidales says the teams have found footprints that don't resemble humans.
What are these creatures? Are they aliens from one of the UFOs seen in the area? Relatives of Sasquatch? Perhaps they dwell in the inner earth around the volcano. Whatever they are, Popocatepetl may not be happy that they've been discovered. According to Mexico's National Disaster Prevention Center, the volcano erupted 28 times in less than 24 hours on New Year's Eve.
Ghost of James Bond Seems to Visit His Daughter Frequently
"There was no one in the street and this little Japanese man in his trainers came up to me with this mobile phone. He started pointing at it, going, 'MI5, MI5, James Bond, James Bond, MI5?' I said, 'Are you looking for the MI5 building?' He went, 'Yeah, yeah, James Bond, 007.' Now, of all the people to come up to in the street, it's me."
"Me" is Moore, Deborah Moore, and the James Bond she's referring to is her late dad, Sir Roger Moore, who played the iconic 007 in Live and Let Die, The Man with the Golden Gun, The Spy Who Loved Me, Moonraker, For Your Eyes Only, Octopussy and A View to a Kill. In a recent interview with The Sun, Ms. Moore revealed that she has had a number of strange experiences that she attributes to her father's ghost making its presence felt to her.
"I was like, 'Dad, this is you having a laugh.' So there's all these little things which always make it feel as though he's around me."
The encounter with the man looking for the MI5 building occurred in England as she was on her way to the grocery store and she believes there's no way he could have known her identity and relation to James Bond. Her only appearances with her father were as a child (billed as Deborah Barrymore) on an episode of the TV show The Pretenders! and in the non-Bond comedy Bullseye!. Coincidentally, Ms. Moore appeared in another Bond film — as a flight attendant in the 2002 Bond film, Die Another Day – and as a secretary in the 1989 biopic Goldeneye: The Secret Life of Ian Fleming.
"I was walking along the beach and there was this big Russian boat and when it moved the colors changed and the side said 007."
That incident happened while she was in France for the christening of her brother's children (Roger Moore's grandchildren).
"And then the friend that I was with, her first day back in work — she lives in Sweden — she said, 'The only picture in this entire office was of your father.'"
These incidents have Ms. Moore convinced James Bond visits her regularly, but she shouldn't be surprised. While reported the death in 2017 of the 89-year-old actor, Surrey Live revealed that a young Roger Moore had multiple encounters himself with ghosts at the Angel Hotel in Guilford in Surrey. The first elicited a very non-Bond-like reaction from Sir Roger.
"I was frozen. I wanted to call out and scream, but couldn't speak. I was numb – paralyzed from head to toe. I was sitting bolt upright in my bed and watching a white ghostly figure moving towards me. It was the apparition of a man. The shape of the body was clearly defined. There was a head, body and legs – but it was mist-like. I pulled myself together, somehow calmed myself and then tried to communicate with the ghost.

I said softly: 'What do you want? Are you troubled?' As I went to move from the bed the ghost disappeared – just vanished!"
Shaken AND stirred (you knew it was coming eventually) by the first encounter, he was a little more prepared the next night when the ghost returned.
"It returned at the exact same time – about 2am. I was petrified. I thought 'It's after me. What does it want with me? I tried to make contact once again, but to no avail. It vanished again."
Being James Bond, he decided to stick it out for a third night. When he entered the room the bible was mysteriously opened to the 23rd Psalm (The Lord is my shepherd; I shall not want). He left it that way and no ghost appeared. However, in the morning he encountered a maid who stunned him by asking if he'd seen the ghost. When he said no, she replied "I didn't think you would."
"The hotel is rumoured to be haunted by several ghosts, with nuns reportedly seen walking down staircases and a 19th century Eastern European soldier staring at a couple out of their room's mirror for so long the husband sketched a picture of it."
According to an old article about the hotel's ghost found by Surrey Live, Moore's maid knew that the 23rd Psalm scared away these ghosts and left the bible open for Moore.
Is Deborah Moore in contact with the trick-playing ghost of her fun-loving father? They could all be coincidences – except for Sir Roger's own encounter with much scarier spirits. Did they teach him how to do it?
Or did he learn them while playing The Saint?
Source: Mysterious Universe
'Nuke Mars': Elon Musk sets Twitter on fire with interplanetary declaration of war
Serial entrepreneur and part-time meme enthusiast Elon Musk has once again whipped the internet commentariat into a frenzy, this time with a simple, two-word proposition on Twitter: "Nuke Mars!"
The idea isn't necessarily new, Musk has discussed using thermonuclear weapons to 'nuke' the Red Planet's poles to assist in terraforming the planet for future human colonization for years, but never one to miss an opportunity to stir the pot, Musk took to Twitter on Friday to gauge support.
Predictably, many answered Musk's call to arms with memes and good-natured mockery. "Well that escalated quickly. But I support your decision Lord Elon. Nuke it," one commenter quipped.
The idea behind 'nuking Mars' is to release trapped CO2 from various sites on the planet, creating a greenhouse effect on the planet by trapping liquid water on the surface before it could either freeze or evaporate. Sounds straightforward, if a little fiendish, but there's just one problem, as NASA pointed out in a study into terraforming the fourth planet from the Sun.
"Our results suggest that there is not enough CO2 remaining on Mars to provide significant greenhouse warming were the gas to be put into the atmosphere,"said Bruce Jakosky of the University of Colorado, who led the study.
"In addition, most of the CO2 gas is not accessible and could not be readily mobilized. As a result, terraforming Mars is not possible using present-day technology."
Nuking the ice caps would only double Mars' atmospheric pressure to 1.2 percent of the pressure on Earth. Even if we could somehow extract all of the CO2 trapped in the rocks and soil on Mars it would only bring the atmospheric pressure to 6.9 percent of the Earth's.
So, while the idea is defunct, it doesn't mean the wily, borderline bond-villain-esque Musk can't make a quick buck with some good old-fashioned Mars-bait.
Military officer 'shot an alien' back in 1978
Image Credit: CC0 Pixabay
Did George Filer encounter an alien entity ? 
A new book has told the story of how Major George Filer encountered and killed an alleged extraterrestrial.
The remarkable story, which has been described in John L. Guerra's new book "Strange Craft: The True Story of an Air Force Intelligence Officer's Life with UFOs", reportedly took place in the early hours of January 18th, 1978 at Fort Dix, New Jersey.
Air Force Major George Filer had been driving through a remote part of the base in a police pickup truck attempting to pursue a mysterious low-flying object that had been observed at around 2 a.m.
After driving around for two hours, he became aware that the object he was pursuing, which was producing an eerie blue-green glow, was in fact directly above him.
The next thing he knew, an entity – which he described as slender and grayish-brown in color – stepped out of the darkness in front of his car where it was illuminated by the headlights.
Filer drew his weapon, ordered the creature to freeze, then fired.
According to his report, the entity succumbed to its wounds and gave off a foul, ammonia-like stench.
The body was later collected by a recovery team from Wright-Patterson Air Force Base in Ohio. Filer noted that the men who came for it did not seem particularly surprised by its existence.
"The senior master sergeant runs everything, from who sweeps the floors to organizing the staff schedules and making sure phones and faxes are up and running," he said.
"He was agitated; his face was pale and his eyes were wide open."
When Filer asked him whether the creature had come from another country, the sergeant replied:
"No, it was from outer space, a space alien. There are UFOs buzzing around the planet like mad."

Source: App.com